Cleaning and storing dry garlic is super easy. Many of you guys liked my previous garlic post: Harvesting and Curing Garlic so I thought I'll show you the final step of cleaning and storing the garlic harvest.
To remind you, I planted my garlic cloves last Fall. For us here in the South, November is the time to plant garlic. It doesn't matter how cold the Winter is where you live, you should plant your garlic in the Fall, about two weeks before the first frost. Don't worry about the snow, plant the cloves 1 inch deep, 4 inches apart and cover with mulch (dry Fall leaves are great and free). When Spring comes, and the temperatures start to rise, your garlic will start coming up. You'll know when it is ready for harvest when the leaves start to brown.
Here is my garlic after three weeks or curing (you can read more about growing, harvesting, and curing garlic here ). You can see that the leaves and stems are completely dry. You can leave the garlic like that if you like, and just hang it in your house somewhere, then cut one head and use the cloves. Or you can clean it up a bit.
I start by cutting the roots as close to the base of the garlic as I can.
Than I cut the stem half an inch from the top of the head.
I brush it a bit with my finger to get the dry soil off.
And there you have it. Isn't it beautiful?
Store the garlic in a dry, cool place in your house or maybe in the basement if you have one. It will last for months but check the harvest every couple of weeks to make sure it is still dry. If you find a damaged garlic head, remove it so it won't "infect" the rest of the heads.
If you have enough room in your garden, you can easily become self-sustained when it comes to garlic. Figure out how many heads you use in a year. Let's say your family uses 50 heads of garlic in one year. In the Fall, plant 85 cloves of garlic, this should give you enough heads to use and enough heads to break into cloves and plant again next Fall. You will never have to buy garlic at the grocery store again, and you will never have to buy cloves for planting from seed companies.
I hope this helps!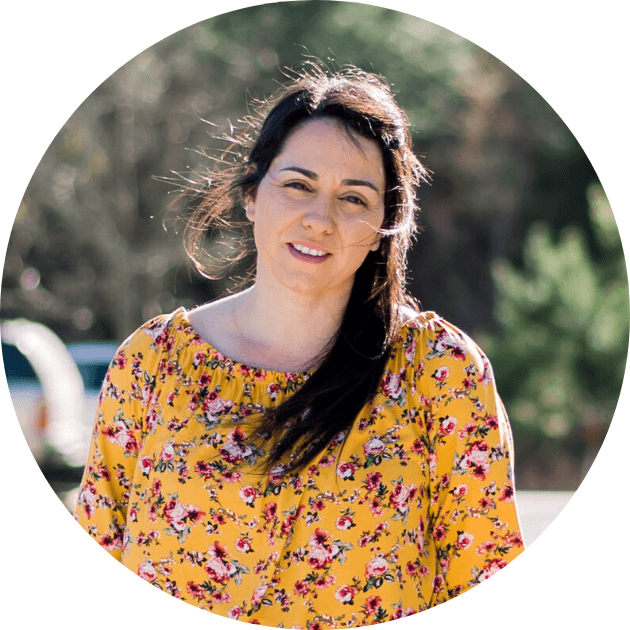 Hi! I'm Lady Lee. I help homesteaders simplify their homesteading journey while still producing a ton of food! I am a single mother of four, I was born in Israel and raised in an agricultural commune called a Kibbutz. Now I homestead in central NC.