This is the first year I am growing yellow onion in my garden. Last week was time to harvest and store my yellow onion.
In Spring of 2013, I planted onion seeds in my garden. They didn't grow so well, and at the end of the season I harvested little, baby onions. Basically, I had onion sets in my hands. I could have added them to a stew of some sort and used them as shallots but instead I decided to save them for this year's Spring. At the beginning of April, I planted my sets, and last week harvested a bunch of beautiful onions.
I do very much want to figure out how to grow onions from seeds, since the seeds are much cheaper than sets, so I researched some more and discovered that some growers plant onion seeds in September (to remind you, I am in NC, zone 7b). The seeds germinate and grow few leaves, then stop growing in the Winter but don't die. In the Spring when the temperatures start to warm up the onions start growing again. I think I'll try this in the Fall. When do you plant your onions? From seeds or sets?
Last week was time to harvest the onions. It is very easy to figure out when to harvest onions….
As you can see, the tops fall to the ground….
They also start to yellow.
If the soil is too hard around the onion, you can use a garden fork to loosen it a bit…
However, in most cases I could simply pull it out of the soil gently.
I used dry Fall leaves as mulch around my onions, and I have to confess that I did not weed this area once since I planted the onions. I would very much recommend that you collect as many dry leaves as you can this Fall. It is free, and will save you 70% of garden work if you use it around your plants next year.
I brushed the soil gently off of the onions…
And set them on the ground. Onions need to rest for three or four days before you cut the tops off. You can leave them outside as long as they are in a dry spot and not in full sun.
After four days, I brought them inside and started cleaning by cutting off the top. As you can see in the picture above, there is a spot where the plant bends easily…
I cut the leaves at that spot.
Then I cut the roots as close to the onion as I can, and brushed it from dry soil taking care not to ruin the protective layer.
I ended up with a nice harvest of onions. I read that you could wrap each onion in newspaper and store them in the refrigerator so they'll last longer. I would love to do that, however, unfortunately, I don't have enough room in my fridge for them. So I will just keep them in a cool area of my house, and hopefully they'll last long enough.
I would love to hear about your experience with yellow onion. How and when do you plant? How do you store your onions? What verities you had success with?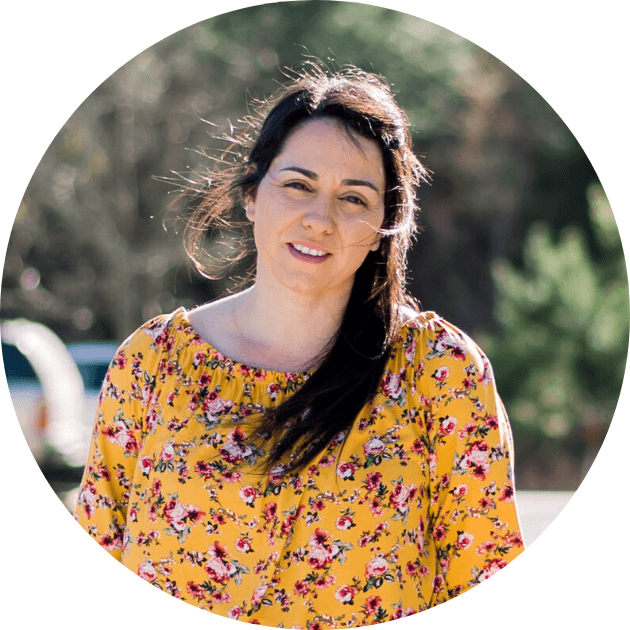 Hi! I'm Lady Lee. I help homesteaders simplify their homesteading journey while still producing a ton of food! I am a single mother of four, I was born in Israel and raised in an agricultural commune called a Kibbutz. Now I homestead in central NC.