It's right about two months since I planted my potatoes in my homemade potato towers. It took them around a week to germinate and since then they are growing beautifully. Knock on wood… So far I didn't encounter a single potato beetle. After what happened last year with my 100ft row of potatoes, I watch for them like a hawk.
Aside from keeping the beetles away, the most important thing to do when growing potatoes is to hill the plants. (If you want to learn more about how to grow potatoes, check out this post).
Hilling means to pile soil around the plants as they grow. This will allow more potatoes to grow from the vine and will keep the soil temperature at the tubers level cool, just like the potatoes like it to be.
First hilling is usually done two or tree weeks after the potatoes germinate, when they are 8"-10" tall.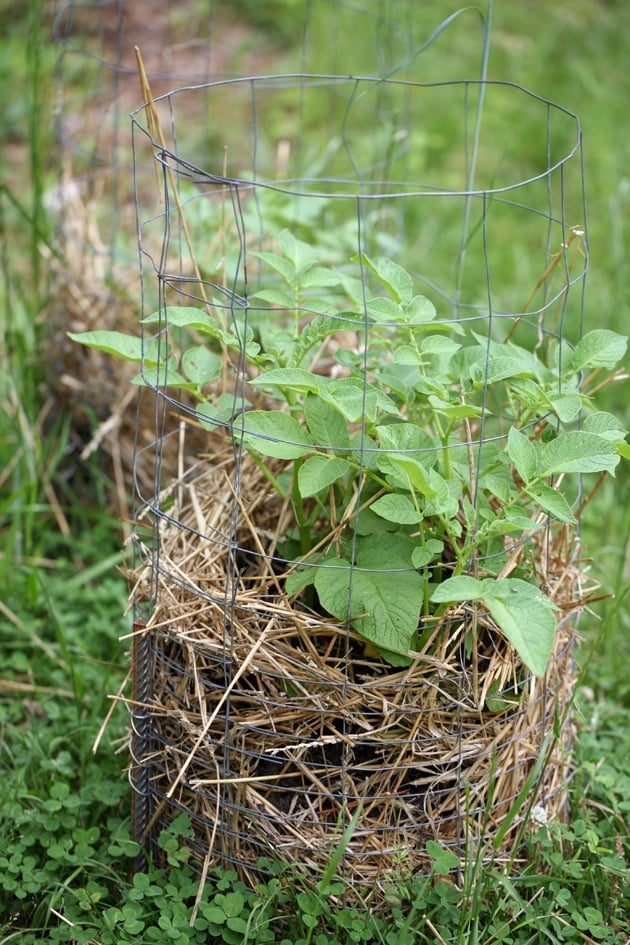 I already hilled those potatoes once, and you can see that it is time to hill them again.
It's pretty easy to do with the towers because the tower is holding the soil. If you plant them in the garden, you just have to bring more soil around the plants, making sure not to damage the already growing tubers.
I was really tempted to dig a little bit and find out if there are any potatoes growing down there, but I decided not to.
Instead I added some more straw around the tower/cage…
And made sure to gently bring back in any vines and leaves that were sticking out of the tower through the openings.
I held the plant to one side and added garden soil, then held it toward the other side and added soil there spreading it all around.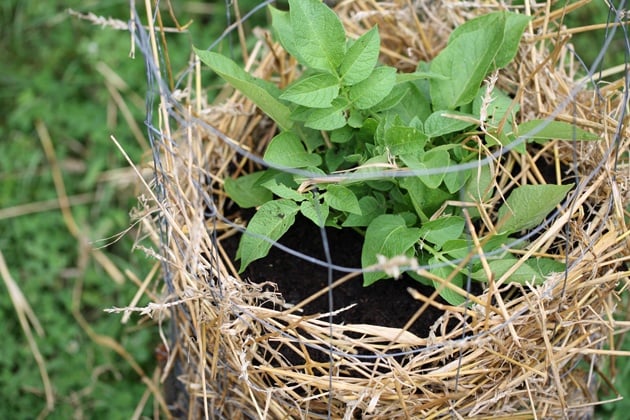 I like to use the straw because it's holding the soil around the plants. I left about 10" or so of the plants uncovered.
My potato plants are almost all the way to the top of the tower now. I will probably hill them one or two more times before it is time to harvest. Usually, here in NC, we harvest sometime in June. So I still have a few weeks to wait. I hope I'll get a good harvest from those towers. I really like this method so far.