In this tutorial, we will learn how to grow a mint plant from cuttings. Mint is a very simple plant to grow that you can enjoy year round. If you plant it in a container, you'll be able to bring it indoors for the winter and as long as you provide it with good lighting it will keep growing. There is nothing like a cup of hot tea with fresh mint and some honey when it's super cold outside!
I have three plants from the mint family growing in my garden: spearmint, peppermint, and lemon balm. The pictures below are from the garden I had when we lived in town. Now that we are in the country, I keep my mint in containers.
They were super easy to move! I didn't have to dig the plants that I had in the garden in town, instead, I just started new plants from cuttings like you will see below.
I grow them mainly for tea, but I also add spearmint to salads. My tea is very simple… Boiling water, a spring of mint, and half a teaspoon of honey. No tea bag.
How to Grow a Mint Plant From Cuttings
Of course you can get a small mint plant at the local plant nursery, but if you know of someone that has mint in their garden, or if you come across a mint plant somewhere all you have to do is grab a couple of stems and you are on your way to having your own mint plant. I'll show you how.
Mint grows best in rich soil that is high in organic matter. Mint loves a moist environment, however, the soil has to have good drainage.
You can plant mint in full sun or a partially shady location in the garden. All types of mint spread vigorously, so make sure to give them enough room or simply plant them in containers.
In fact, it might be a good idea to plant your mint in a container even if you have enough room for it in the garden. This allows you to move it indoors in the winter and so it won't take over and make it hard for your other plants to grow.
I am gardening in zone 7B, and as you can see, my mint was planted in the garden but it was a small garden for the mint family only. I started to cover it with dry leaves in the fall.
Mint actually love the cooler temperatures (50 – 60 F), but as the temperatures drop, I kept piling the dry leaves on the plants. At the end of the winter, they looked pretty bad and I usually wondered if they were going to be able to recover, but they always did.
If you plant your mint in a pot, you can easily move it indoors in the winter and place it by a sunny window. It will keep growing just fine and you'll get fresh mint year around. Learn more about indoor herb gardening here.
So now let's see how you can easily start your own mint plant…
How to Grow a Mint Plant from Cuttings (also called propagating mint)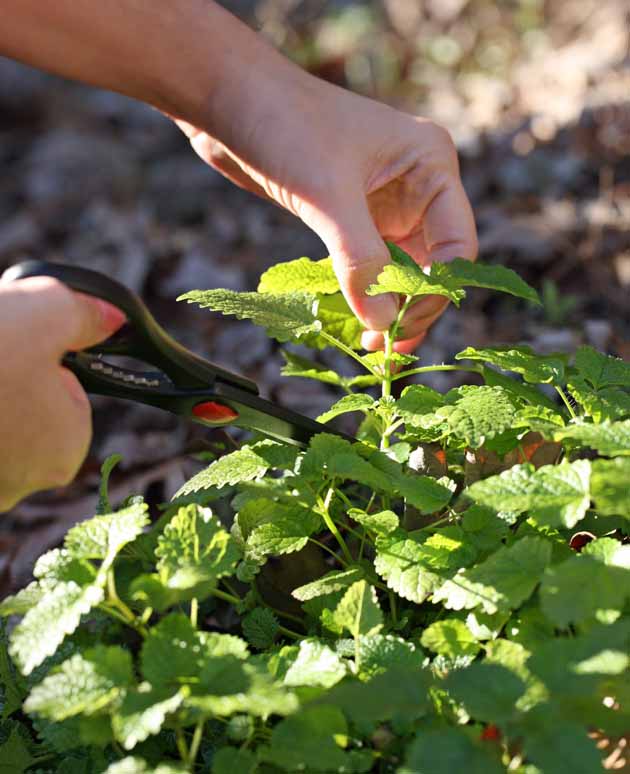 1. Cut a stem of mint – Find a nice looking mint plant. It doesn't matter if it grows inside or outside or if it grows in the ground or in a pot. You are just looking for a healthy, green, vibrant plant.
Use a sharp knife or scissors to cut a stem of new growth, about 4 inches long…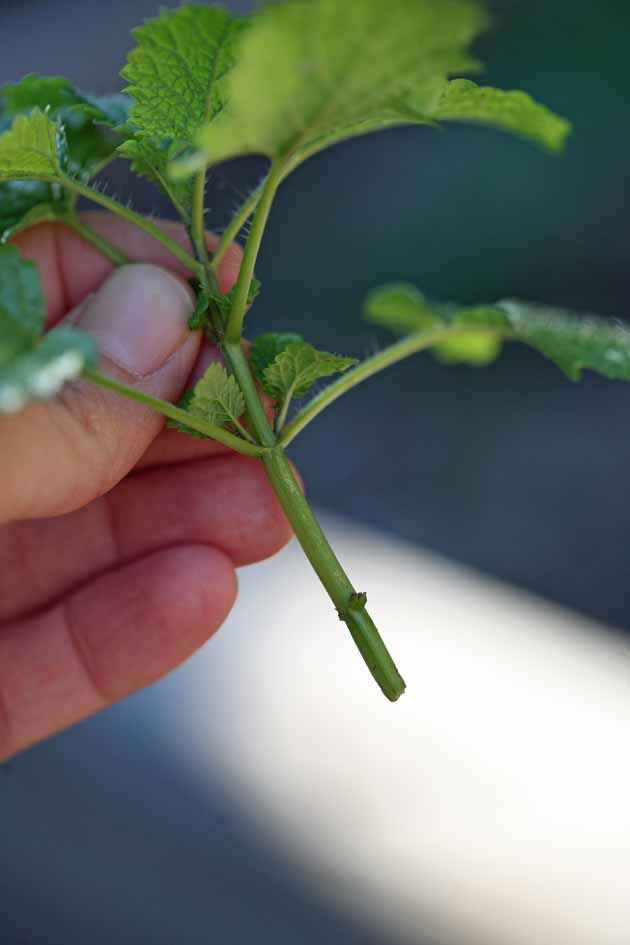 2. Clean lower leaves – clean the lower leaves from the cutting so you are left with an inch of bare stem. Use the leaves you removed to make a hot or cold cup of tea!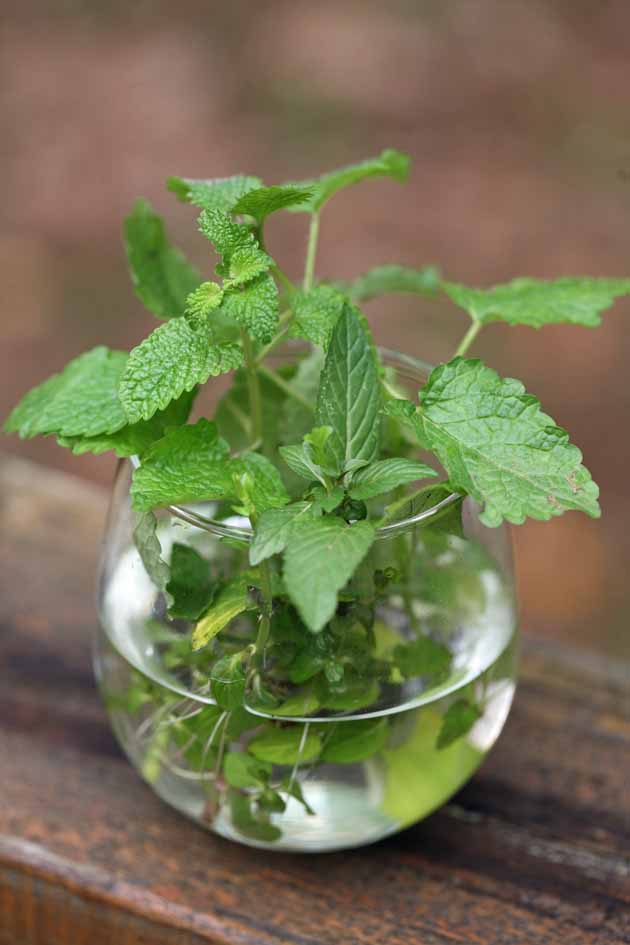 3. Place cutting in water – place your mint cutting in a glass of water on the kitchen counter or another well-lit location in your house, a window sill will work great.
I usually have this glass of water on the kitchen counter to use for tea. I prefer keeping the plants alive like that than storing them in the refrigerator.
If you ever bought mint at the store in one of those flat plastic containers and placed the container in the fridge, you probably noticed that the mint turns black pretty quickly. It's because it doesn't like the low temperatures. It's much better to take it out of the container and place the stems in a glass of water instead. They might even root for you.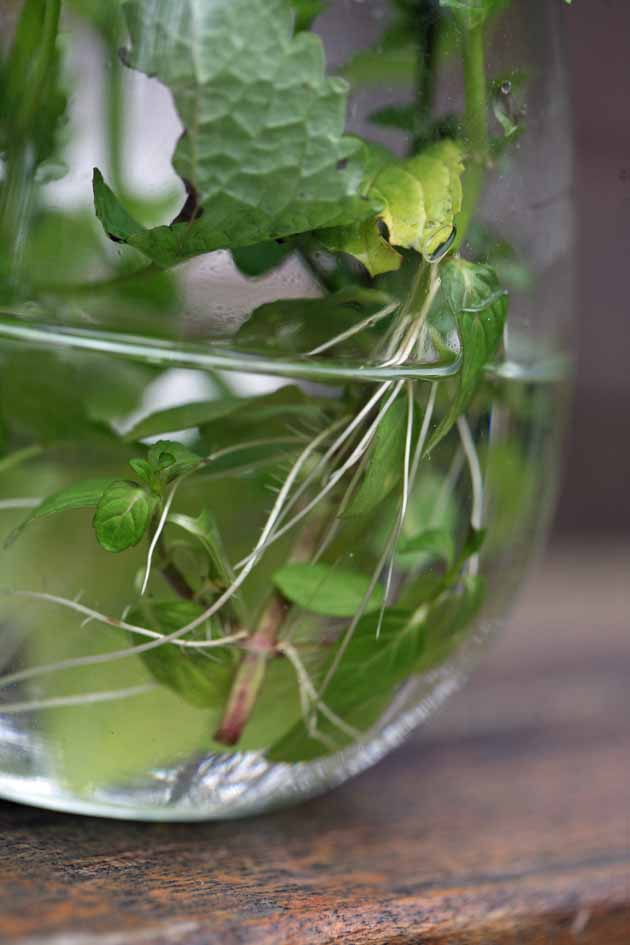 4. Change the water – change the water every couple of days to keep things fresh. You'll start seeing roots in just a few days (usually around 5 – 7 days).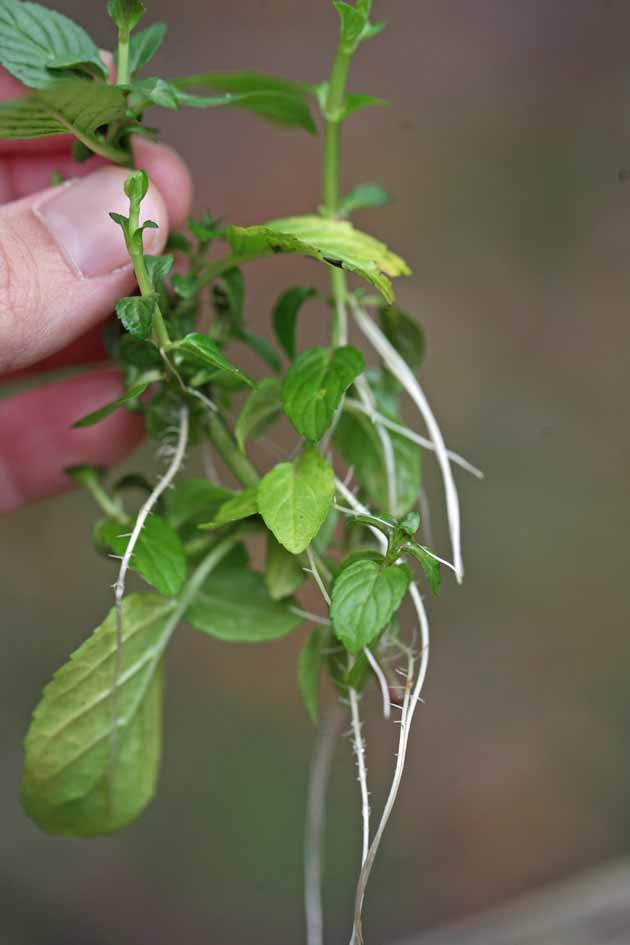 5. Remove your rooting mint cutting – once the cutting has established roots at least half an inch long, you can remove it from the water and plant it.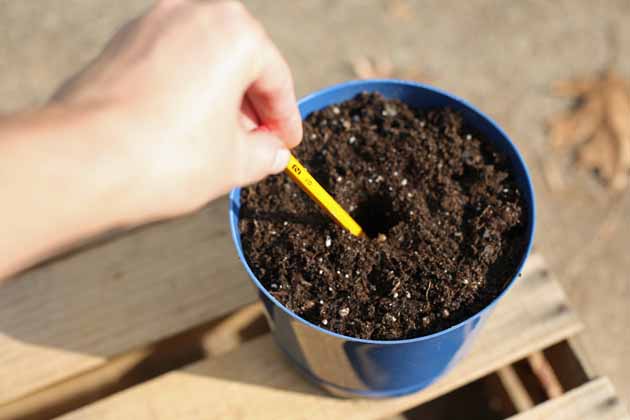 6. Plant your cuttings – it depends on what you are planning to do with your mint plant. If you just want it to establish in soil and then move it to the garden, you can use a small pot (3-4 inches). Maybe one of those Cow Pots that you can plant in the soil so transplanting to the garden is easier.
It's better to let it establish a bit before you plant it in the garden, but mint is a pretty strong plant so if you really want you can try planting it in the garden right away.
I've decided to keep this peppermint that I am planting in a pot so I can move it indoors in the winter, so I am using a 6" pot. You can go as large as you want with the size of the pot. As long as your mint is happy, it will keep spreading according to the size of the container it's in.
So once you choose a pot, fill it with good potting soil. Most potting soils have fertilizer mixed in them so you should be good for the first six months or so, however, I still added a bit of my worm castings.
Stick a pencil in the center of the pot and move it around to create a hole.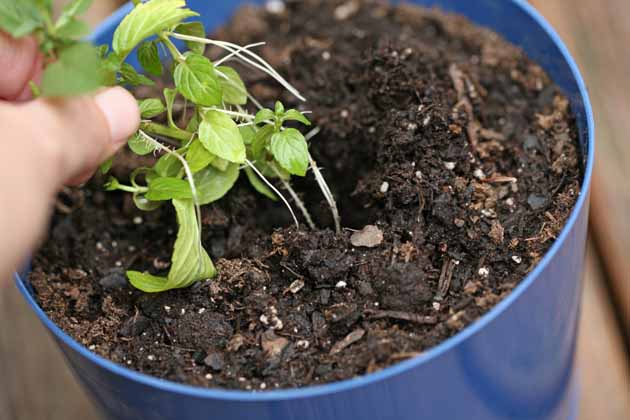 Plant your rooting mint in the hole. Be careful not to break the roots.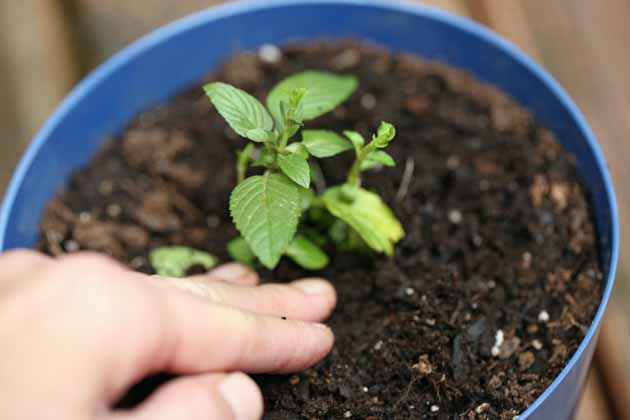 Pack the soil around the planted mint and water well.
Place it in a well-lit location in your house but not in direct sun. Keep the soil moist until you see new growth, then you can water when the soil feels dry (once a week or so).
This is a great gardening chore for the winter. By the time spring rolls around you'll have nice mint plants to plant in the garden. Also, if you start this five weeks or so before the holidays, you can give a potted herb as a gift. Plant it in a cute, small pot, or let your kids decorate a small clay pot, plant the cutting, wait for it to establish, add a nice ribbon around the pot and you have an awesome gift.
I love mint and enjoy growing it very much. It's one of those plants that you just can't kill. You don't need to pay much attention to it once it's established and the more you harvest the more it grows.
Till next week…
For more tips on growing herbs, check out my post 10 Tips for Growing Herbs in Containers.
And here is another great post from Traditional Cooking School on how to grow mint from cuttings.
~Lady Lee~