I've underestimated how crazy spring is when you are a farmer.
Before, when we lived in town, I had to plant my raised beds and take care of a few container plants and a bit of other landscaping. I also had the chickens and the dog but it was all manageable.
How different my life is right now! How different it is when you have 9 goats, a couple of dogs, baby chickens all over the place, meat chickens, and an unknown number of laying hens. And don't forget about the homeschooled kids.
But we are going to forget about the animals and the kids for a moment… Instead, let's talk about an acre of vegetables!
Oh man, it's brutal. BRUTAL.
Oven Roasted Chicken With Potatoes And Onions
There are two billion things to do just in the garden. We set up a new germination room for seedlings, we dug a new waterhole, we set up a water collection system from the roof of the germination room, we set up a drip irrigation system for the field, we plowed, tilled, built beds, planted, transplanted… It goes on and on and I absolutely LOVE it!
All this bending, building, moving materials from here to there, running up and down the field, milking goats, hauling feed… It makes you strong.
I started this spring just a couple of months ago barely able to lift a hay bale and transplant 7 plants, and now? I know I am getting stronger, I can feel it! 200 tomato plants to transplant? Bring it on, I've got it!
Friend, if you want to get in shape, start a farm.
The funny thing is, that the farmers, i.e those who grow food for themselves and hopefully others, are the ones who don't have time to prepare a meal for themselves!
Maybe it's not so funny…
What I know for sure is that every farm has to have a Ree Drummond in it.
It should be provided by the country if you ask me. If you grow food for market you are eligible to receive a Ree to your farm for spring and summer in hopes that she wouldn't want to ever leave.
Oh, how sweet it will be to have someone deliver yummy food to the field!
But it doesn't look like it's on Trump's agenda for anytime soon and I ain't no Ree that's for sure.
So I'll tell you a secret that I hope you won't tell anyone else; all the local farmers meet at the gas station down the road around noon every day because there is a greasy, country grill over there.
And this here farmer might have joined them a time or two because, buddy, with all due respect for my awesome organic lettuce, it's just not gonna cut it.
Plus you can milk the local farmers for some great growing information.
Jeez, Lee… Milk the local farmers? That's a bad visual right there…
Anyway look, it's crazy around here, and I know it will get better, but for now, we are in survival mode because the weeds and the colorado beetles are all over us.
But there are some days that I am in total control and the pans and pots are in full use and the number of dirty dishes almost reaches the ceiling (that part is usually out of control…).
On those days, I try to find recipes that are quick, easy, tasty, healthy, and that include ingredients I can grow myself.
Just like this chicken dish, which takes approximately 2 minutes to put together!
Can you raise meat chickens? Yes.
Can you grow your own potatoes? Sure.
Can you grow your own onion? You bet!
How about thyme? Can you grow some thyme? Easy!
All you need is a few more spices and you are good to go.
Let's do it…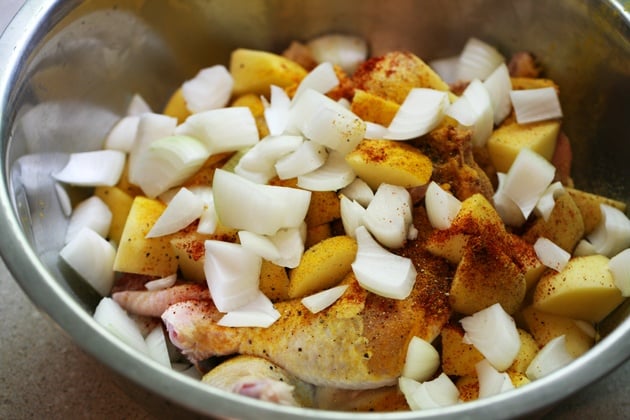 In a large mixing bowl, mix:
Eight pieces of chicken (whatever parts you like),
Five or so large potatoes that you cut into one-inch pieces (you can peel them or not, your choice),
Two medium onions, diced,
And:
1 teaspoon sweet paprika,
1 teaspoon curcumin
1 teaspoon garlic powder
Salt and black pepper to taste.
Drizzle it with some olive oil, about 1/4 cup or so…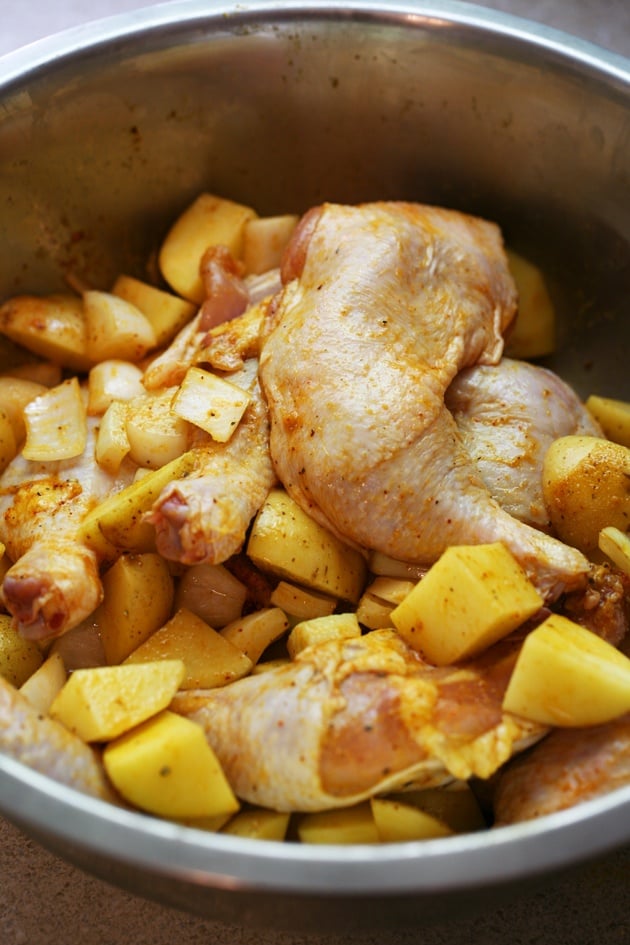 And then mix it all together with your hands until the chicken, potatoes, and onions are coated with the spices.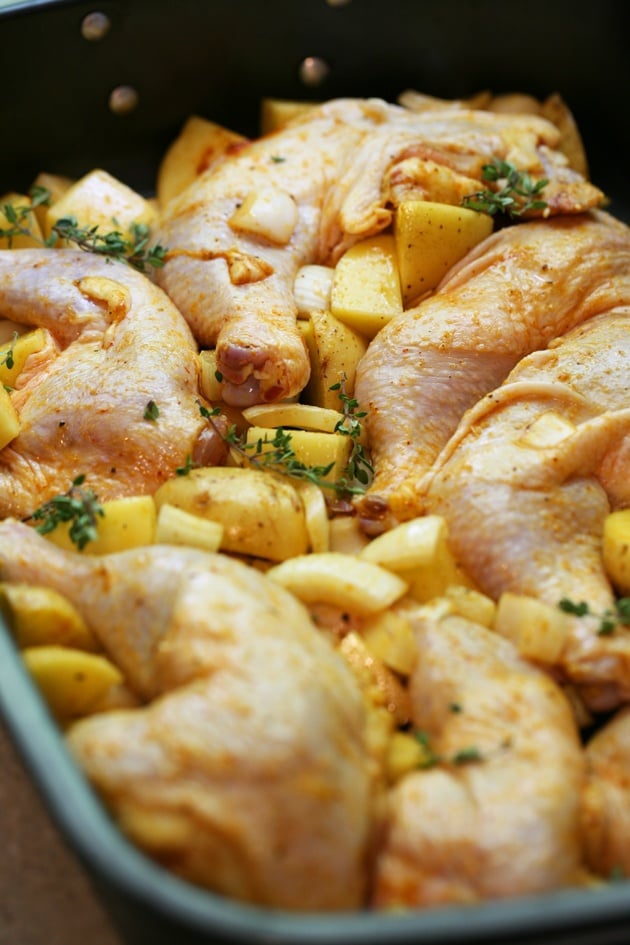 Transfer it to a roasting pan, spread the ingredients in one layer and add a few stems of thyme, dry or fresh, on top.
Cover and roast on 350F for an hour and a half.
Then uncover and roast for an additional 30 minutes.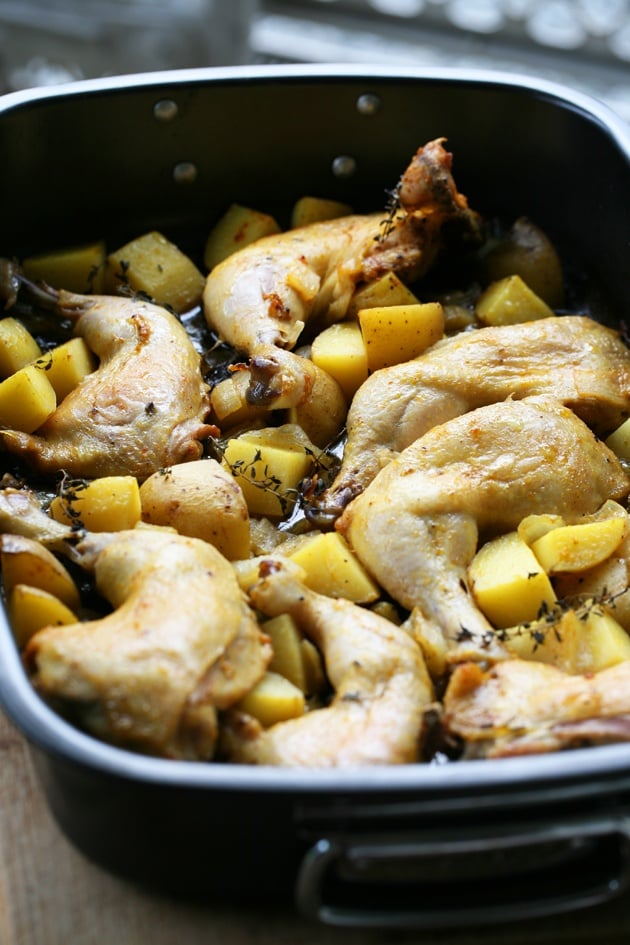 That is all there is to it. A whole meal in one pan that takes 2 minutes to put together. This is pretty much all I can handle these spring days.
We usually eat this dish with a simple salad. The other day I had lettuce and sugar peas ready for harvest so I tossed them together and seasoned with salt, lemon juice, and olive oil.
If spring is crazy at your homestead too to the point that you don't know when was the last time your kids brushed their teeth, the bathroom was cleaned, a load of laundry was done, or the last time you made an actual dinner… Chill, you are not alone.
This too shall past!
Back to the garden now…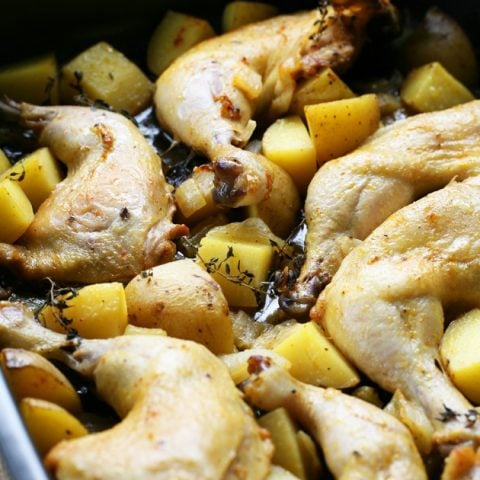 Oven Roasted Chicken With Potatoes
Total Time:
1 hour
10 minutes
Delicious Mediterranea roasted chicken with potatoes.
Ingredients
8 pieces of chicken
5 large potatoes or eight medium ones cut into one-inch pieces
Two medium onions, diced
1 teaspoon paprika
1 teaspoon curcumin
1 teaspoon garlic powder
Salt and pepper
1/4 cup olive oil
A few stems of thyme
Instructions
Preheat over to 350F
In a large mixing bowl, mix all the ingredients.
Transfer the ingredients into a roasting pan, spread in one layer and add the thyme.
Cover with tin foil and roast for one and a half hours, uncover and roast for an additional 30 minutes.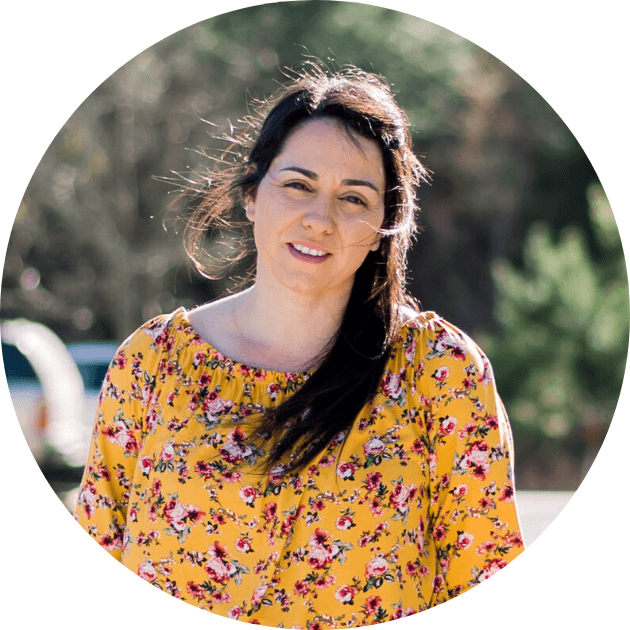 Hi! I'm Lady Lee. I help homesteaders simplify their homesteading journey while still producing a ton of food! I am a single mother of four, I was born in Israel and raised in an agricultural commune called a Kibbutz. Now I homestead in central NC.