This was the cucumber year around here. In the beginning of the season, a couple of weeks after the last frost date, we transplanted 76 cucumber plants that we started in our germination room.
This was the first year we grew this variety, it's called Marketmore 76 and I purchased them from Southern Exposure Seed Exchange.
Cucumber Salad With Peppers and Onions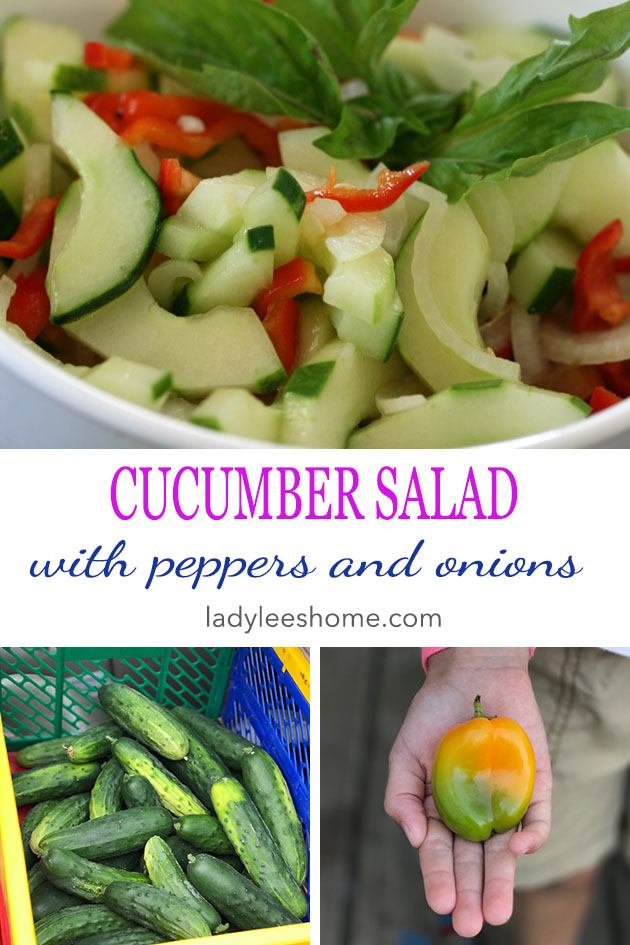 They were AMAZING. The vines produced so much we almost couldn't handle all of them. Actually, the only reason we were able to handle the amount of cucumber we had was that I took them to the farmers market and sold most of them.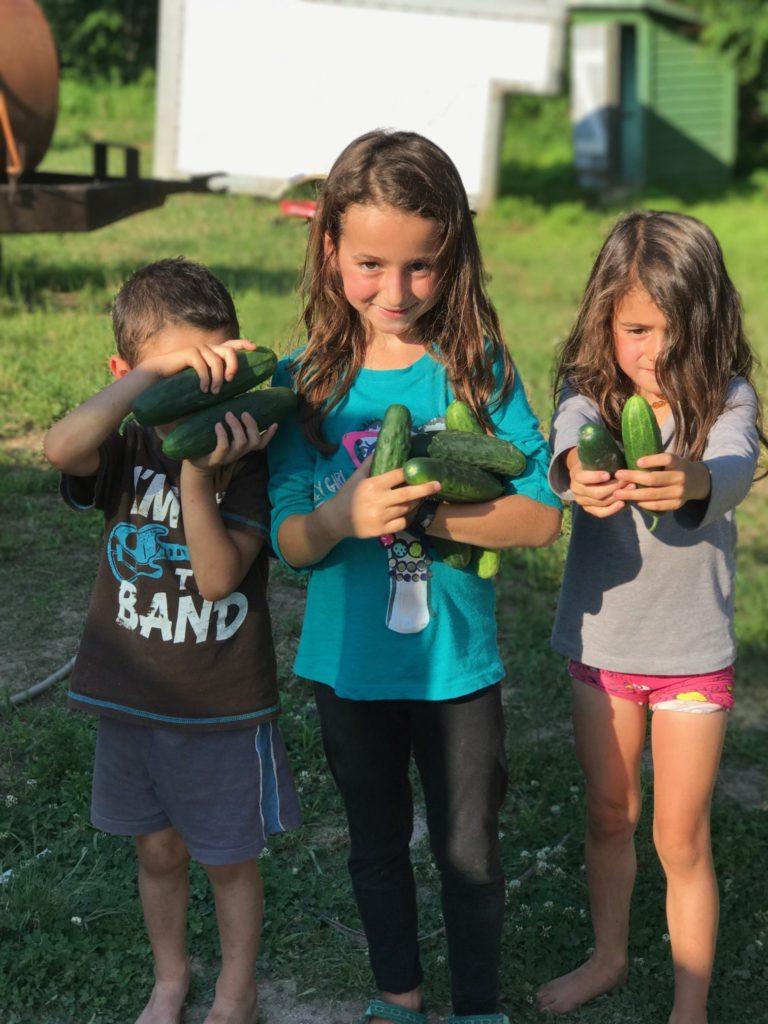 At some point, I was the only one left with cucumbers since the plants kept giving and giving, so people knew they had to come my way for cucumbers. Pretty cool!
They grow big super fast. One day they are in the right size for pickling and the next they are three times bigger. Once the plants start producing, you have to pick every other day, especially if you want them small for pickling.
A few notes about these cucumbers…
First, I am even more impressed with them because we planted them in a new area at the farm where we never had anything growing before so the soil is less than ideal there. They still produced so much and didn't have any pest issues. I think we fertilized with fish fertilizer once (and I am not even sure we did that…).
Second, we built a trellis for them and I want to say they liked it even though they didn't climb it very high (less than half way up) and we had to help them find it most of the time. But I have to admit that most of the plants were on the ground because we didn't keep up with the task of trellising them by hand. They still did really good. If you go to minute 9:09 in this video you can see how low they were.
Third, because they grow so fast, we didn't get to all of them when they were small, but even if they get big their seeds are not too huge and they still are firm and super tasty. The peal does become a bit thicker, though, but you can always use a potato peeler and take some of it off.
Fourth, the chickens love them! We ate plenty, I made some fermented pickles, I sold soooo many at the farmers market and STILL had a lot to feed to the chickens. Saved us some chicken feed money this summer.
If you're looking for a good all around cucumber, try Marketmore 76. I think you'll like them.
Anyway, I want to share with you this super simple cucumber salad today…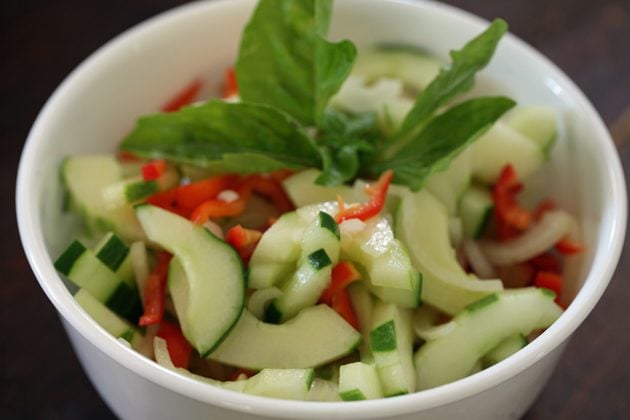 I used my cucumbers, peppers, and onions – all from the garden!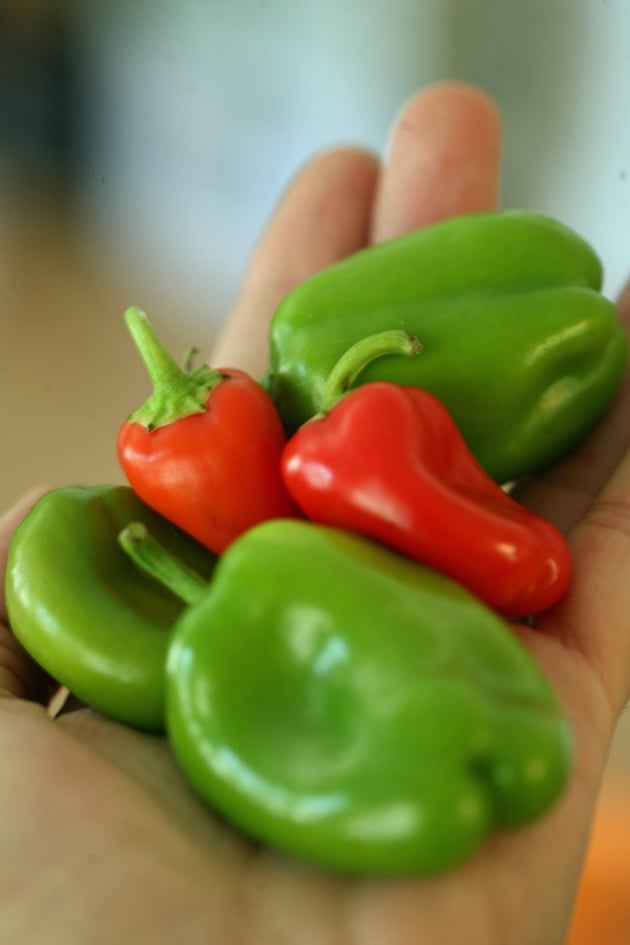 Those little lunch peppers also did very very good. They are called Lunchbox peppers mix and I got the seeds from Johny's Selected Seeds.
I started these seeds in the germination room as well. I can't remember how many plants I planted but you really don't need many. Each plant produces a ton of little peppers.
They are sweet, like a bell pepper, but not as thick and they have almost no seeds at all inside of them.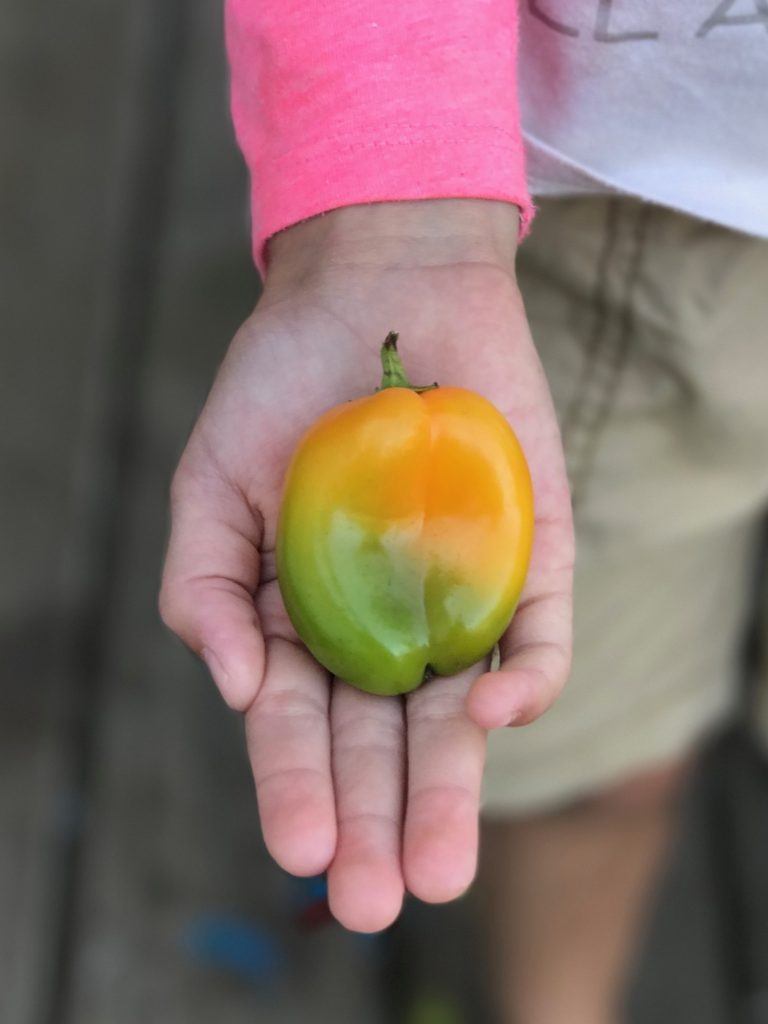 We harvested most of them green and it was the cutest thing ever to see them change colors!
Some stayed green, some turned red, some turned yellow, and some turned orange. My kids loved watching the transition.
Just a side note here, cut the top of those and fill them with cream cheese or your homemade soft cheese and you have the best snack ever!
Last but not least are onions that also came from the garden.
These are the Candy variety from Johnny's selected seeds and I got them as little plants that I planted in the beginning of March.
They are sweet, just like the name implies, seriously like a candy. I thought I had enough for a whole year when I harvested 110 onions in the middle of June but it is the end of August and they are almost gone! That was fast, huh?
I'll have to up my game next year and plant five times more. The thing with onions is that it's not easy to care for them because they don't compete very well with weeds since their tops are slender and don't shade the ground around them so you constantly have to weed which is a lot of work.
I am thinking that maybe next year I'll try to plant them and then plant rye grass around them. Rye grass is a cover crop that can improve your soil. If you want to read more about cover crops, check out this post.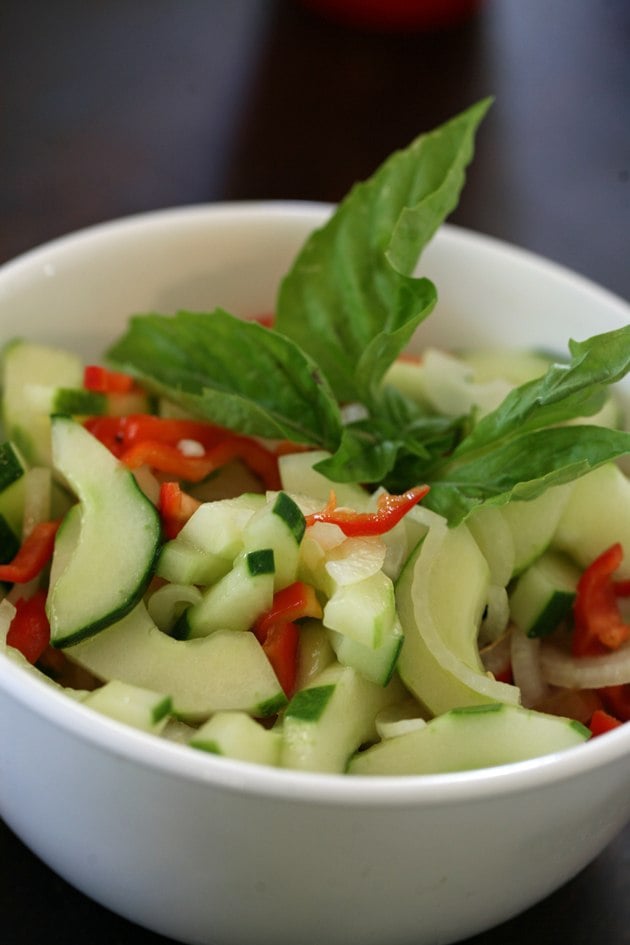 So after we gathered all the ingredients from the garden it's time to slice them.
You can do this however you want; thin, thick, large, small… Doesn't matter…
And then we dress the salad. In Israel, we use salad dressing much less often than in the US. The way we dress most salads, and how I dressed this one, is with salt, freshly squeezed lemon juice and good olive oil. That's it.
It's light, super healthy, and you can actually taste the vegetables. I often find that if I add ranch or another kind of dressing to a salad all I can taste is the dressing… With lemon juice, olive oil, and salt you can actually taste the vegetables you are using, and if you worked hard to grow these precious, organic, tasty vegetables, you want to be able to taste them.
The only thing you have to make sure is that you add the salt right before you serve the salad. If you make it ahead of time and let it sit with the salt it will get soggy and the vegetables will become soft. So if you dress a salad this way just remember to leave the salt out until you are ready to serve it.
That's it, my friends. I hope you grow and make cucumber salad and I hope you give those vegetable varieties a try, I think you'll like them!
See you next time!
Yours,
~Lady Lee~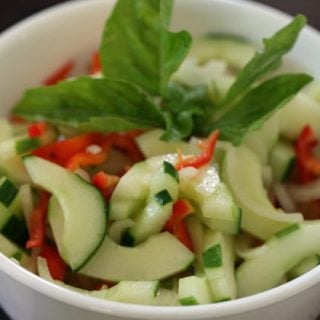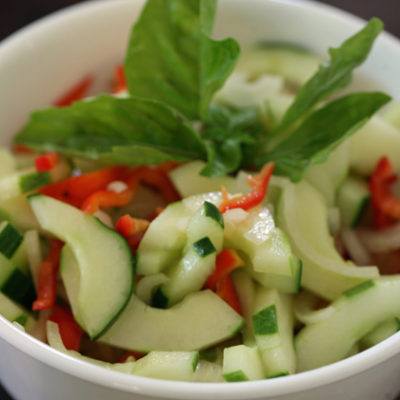 Cucumber Salad With Peppers and Onion
Ingredients
2 or 3 medium cucumbers
1 large bell pepper or a handful of lunchbox peppers
1 small sweet onion
Salt to taste
1 tablespoon of good olive oil
2 tablespoons fresh lemon juice (or to taste)
Instructions
1. Slice all vegetables.
2. Add lemon juice, olive oil and salt and mix.
**Note, add the salt right before you serve.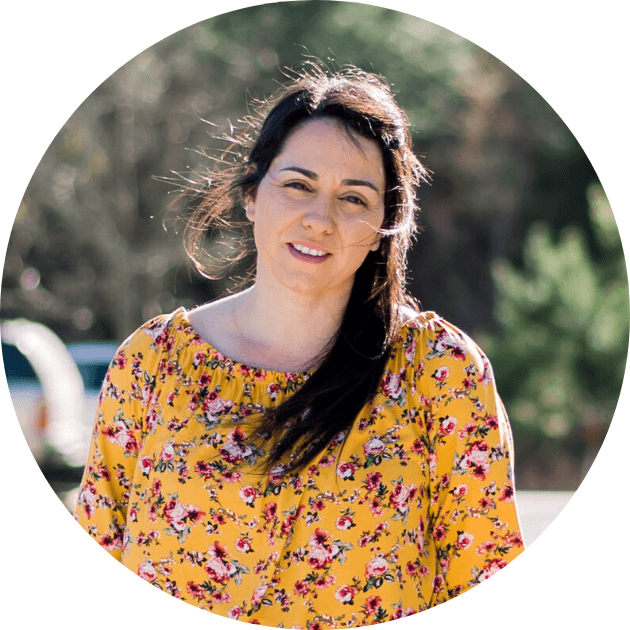 Hi! I'm Lady Lee. I help homesteaders simplify their homesteading journey while still producing a ton of food! I am a single mother of four, I was born in Israel and raised in an agricultural commune called a Kibbutz. Now I homestead in central NC.