This baked purple sweet potato recipe is so simple! You can make it just as I do or you can play around with it and add on top of the baked purple sweet potato whatever it is that you like to top a baked sweet potato with. It takes just a few minutes to put it together and place it in the oven. Even though it takes some time to bake, there is not much work to be done on your part and the result is a delicious baked purple sweet potato! Let's do this! The printable recipe is at the end of the post.
I couldn't believe how simple it is to make and how tasty this baked purple sweet potato was! It's not that I've never baked sweet potato before, of course I did, it's just that purple sweet potato is not as sweet as the regular orange sweet potato that is more common and I didn't expect it to be special or different.
But it was! Purple sweet potato is denser than the orange one, some will say that it's dryer. So when you roast it (which is another great way of cooking purple sweet potato, see my roasted purple sweet potato recipe here) it sometimes feels a little dry. It's easy to correct with a yummy garlic sauce, but still, I was concerned that if I baked it, since more oven time is required because it's not cut into small pieces, it might get even dryer…
I was surprised that the opposite was true!
Baked Purple Sweet Potato…
I wrapped it in tin foil on purpose. I know that when you bake a potato, you don't really have to do that. It will bake just fine without the tin foil. But my thought was that if I wrap it I'll be able to keep the little bit of moisture the purple sweet potato has around the potato and not lose it and make it even dryer.
I think it worked really well! It was soft and juicy and I dare say, sweeter than when I roasted it! I guess something in this way of cooking the potato made it even sweeter than usual.
It still is a very dense potato. It's heavy and creamy and very filling. That night, it was my dinner. I simply added fresh vegetables next to it like sweet peppers and snap peas and I was set. Nothing else was required, I was so full at the end of that dinner!
Ok, let's bake this potato!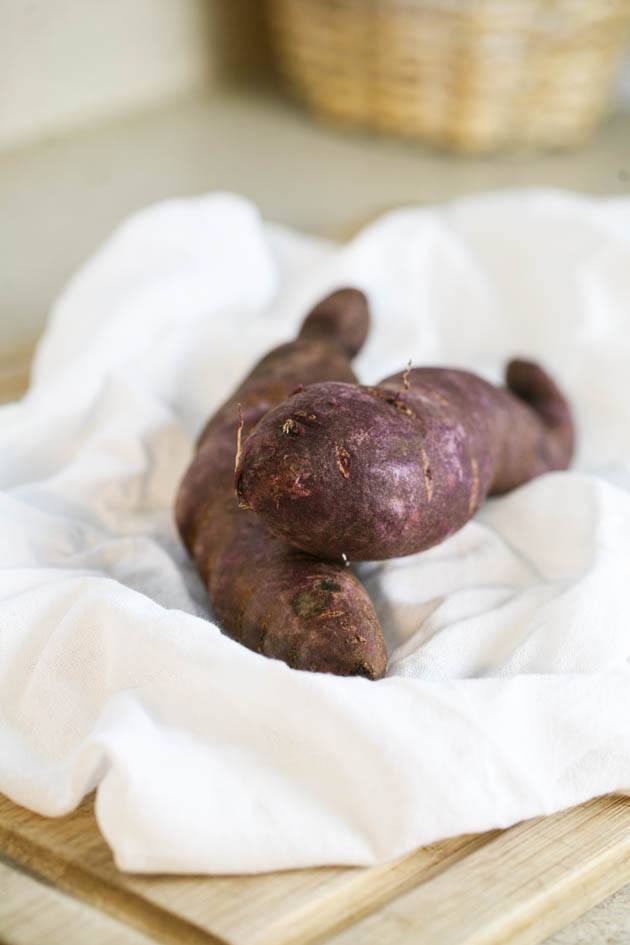 In my post, Growing Purple Sweet Potato, I shared with you some information on how I am back to growing my own sweet potatoes. If you are a homesteader, this is a very easy crop to grow! It's not so easy to find slips to buy, but there are a few places that I mention in that post and you can also sprout your own potatoes.
Even if you are not a gardener, I encourage you to visit that post because I included a lot of general information about purple sweet potatoes like where they came from, health benefits, nutrition, and more. So if you are interested in learning a little bit more about this specialty potato, that will be a great place to start.
Since I really wanted to share with you some recipes and I hadn't grown purple sweet potatoes for a few years, I went ahead and purchased a big box from a company called Frieda's. I bought their organic box so I can (hopefully) sprout the potatoes and use the slips to grow my own potatoes, but in the meantime, I got to cook and taste these amazing sweet potatoes.
So if you are looking for a place to purchase purple sweet potatoes I recommend this company, but if you are here, potatoes in hand and ready to bake, let's get started.
So first, wash your potatoes well and dry them with a kitchen towel. No need to peel them.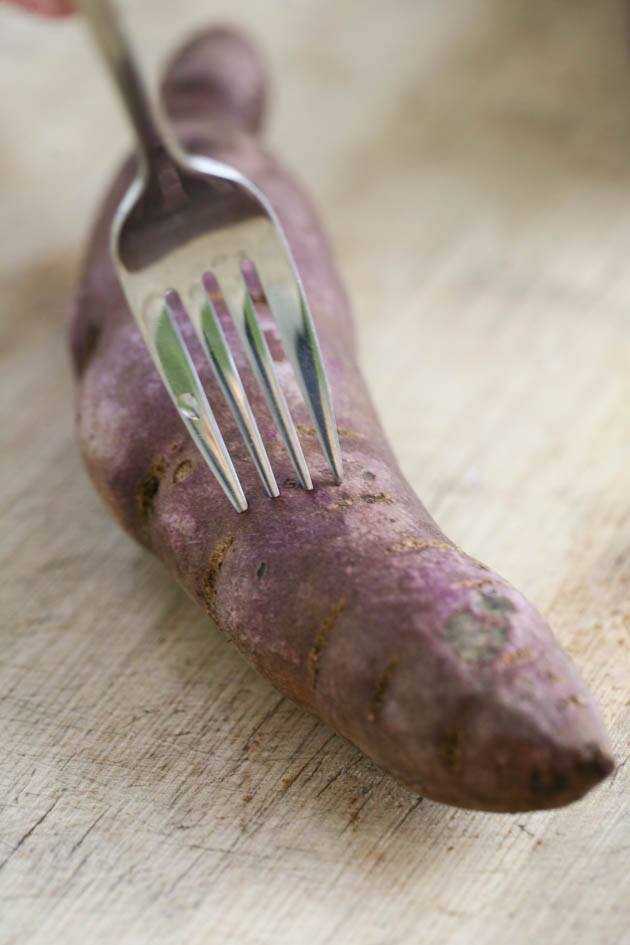 Next, take a fork and stab the potato all over, this will make it easier for it to bake.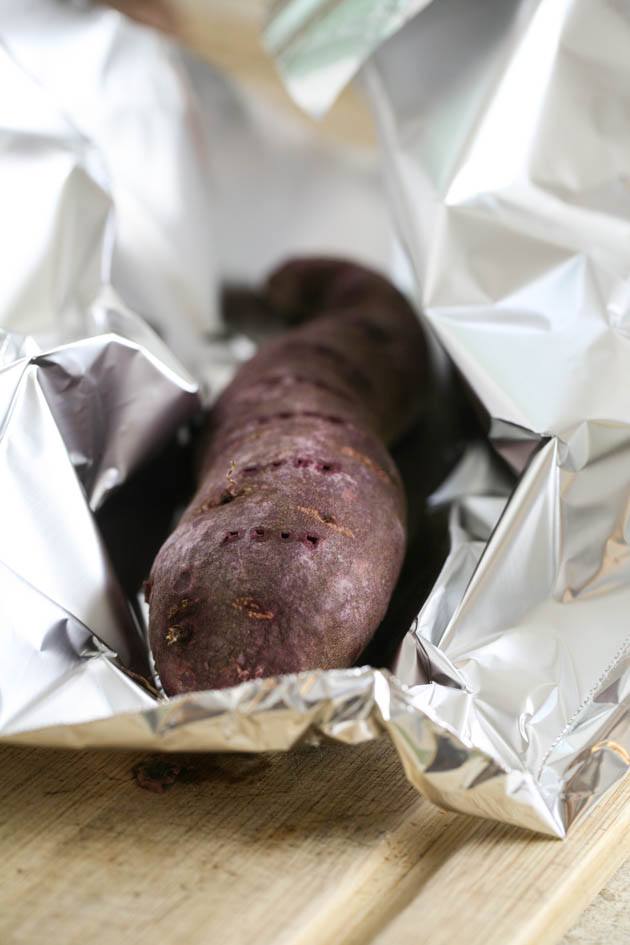 Next, wrap the potato in tin foil. I've read or heard somewhere that you want to place the shiny side in. I've never verified that it actually makes a difference in the baking process but I did it anyway, so shiny side in.
Again, I wanted to wrap the potato to keep the moisture in, it seemed to work very well.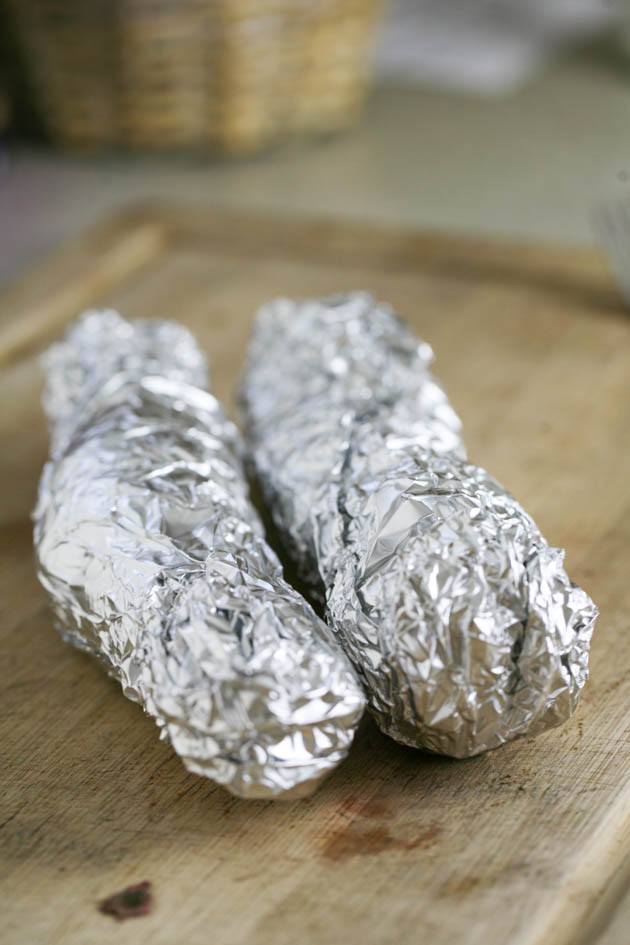 I pre-heated my oven to 425 F, placed those two wrapped potatoes on a baking sheet and baked them for about an hour.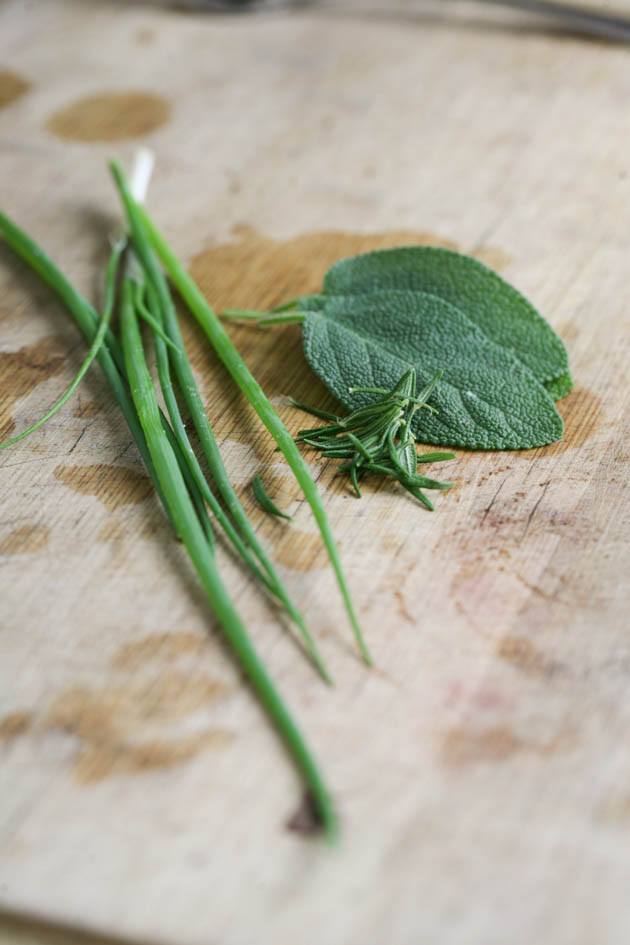 Once your potato is baked, there are no limits to what you can top it with, I am sure you know that. Some people like sour cream, bacon, melted cheese… Whatever you like goes!
I like to keep it very simple. While my potato was in the oven I got a couple of sage leaves, a couple of young green onions (chives will work great too!), and a couple of stems of rosemary. All fresh from the garden.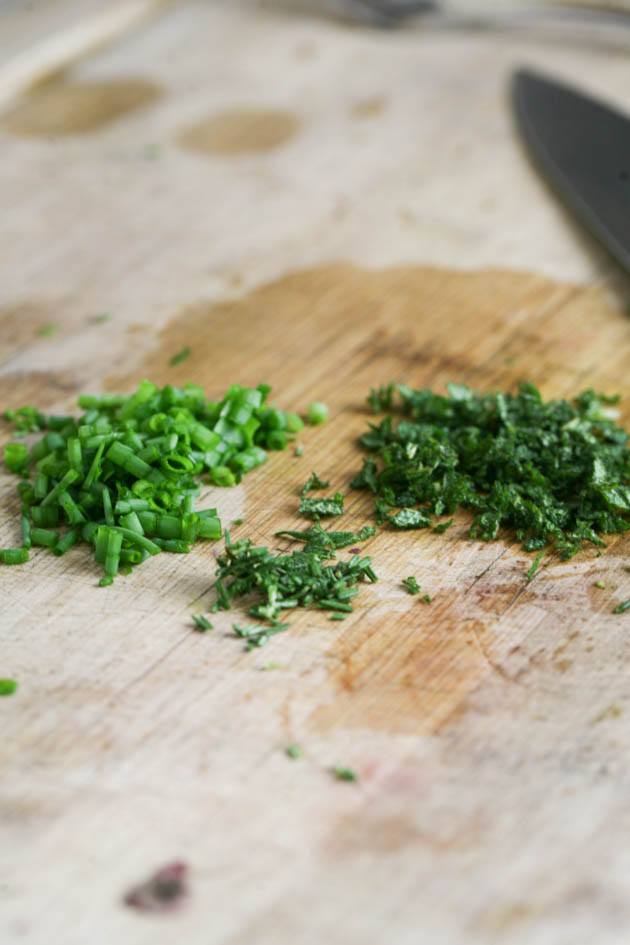 I chopped them all really fine…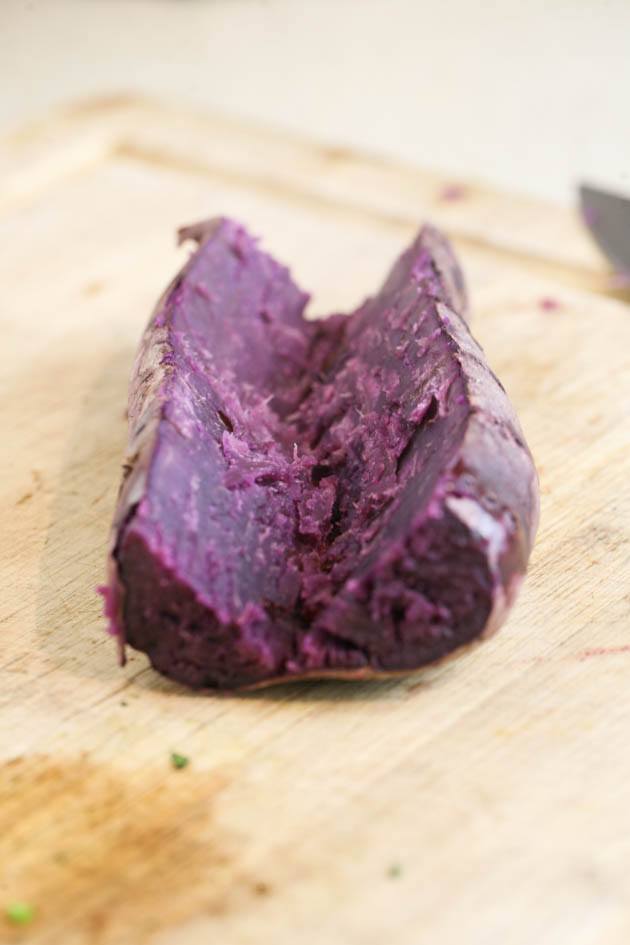 After about an hour, I removed my potato from the oven, unwrapped it carefully and checked with a fork if it was soft (If not soft yet, return it to the oven for a few more minutes.).
When it was done, I unwrapped it, cut the two ends off, and sliced the potato along the center lengthwise.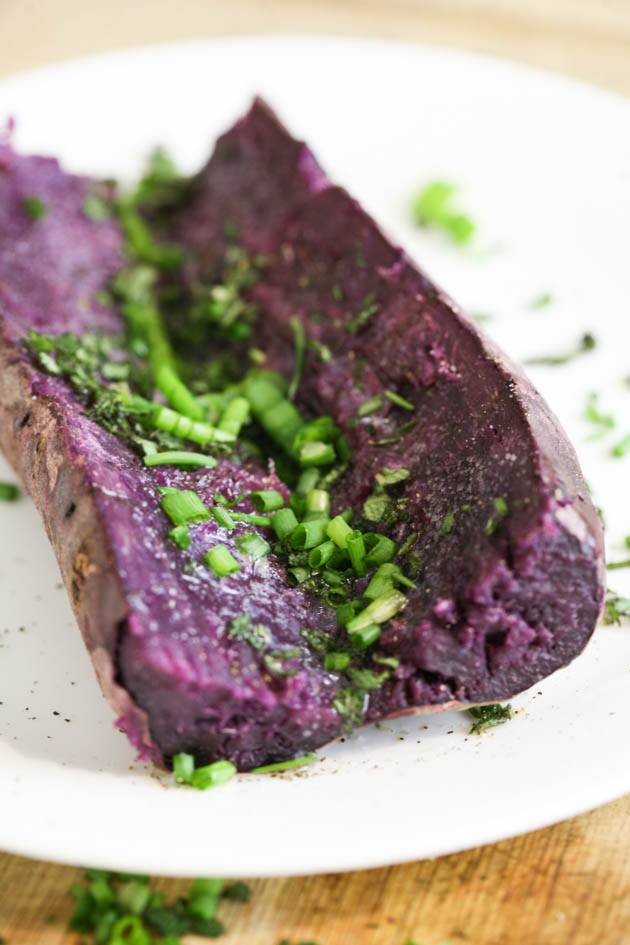 Then, while it's still steaming hot, I added a couple of tablespoons of butter (do me a favor and don't hold back on the butter please!), salt and black pepper to taste and added the herbs. I just sprinkled all of the green onions, rosemary, and sage on top of the potato.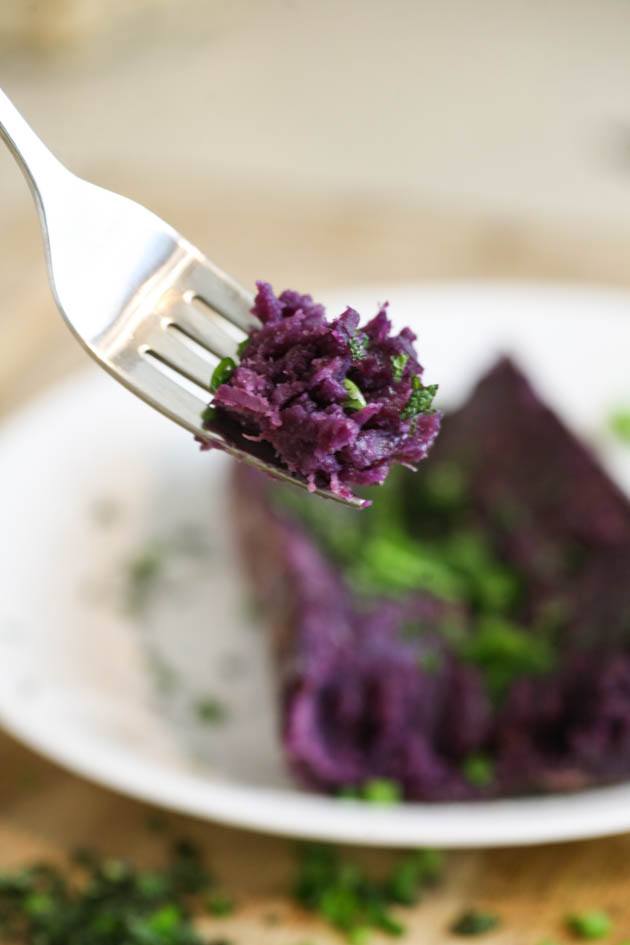 I gave the butter a minute to melt and then I dug in! Oh goodness, it was so good.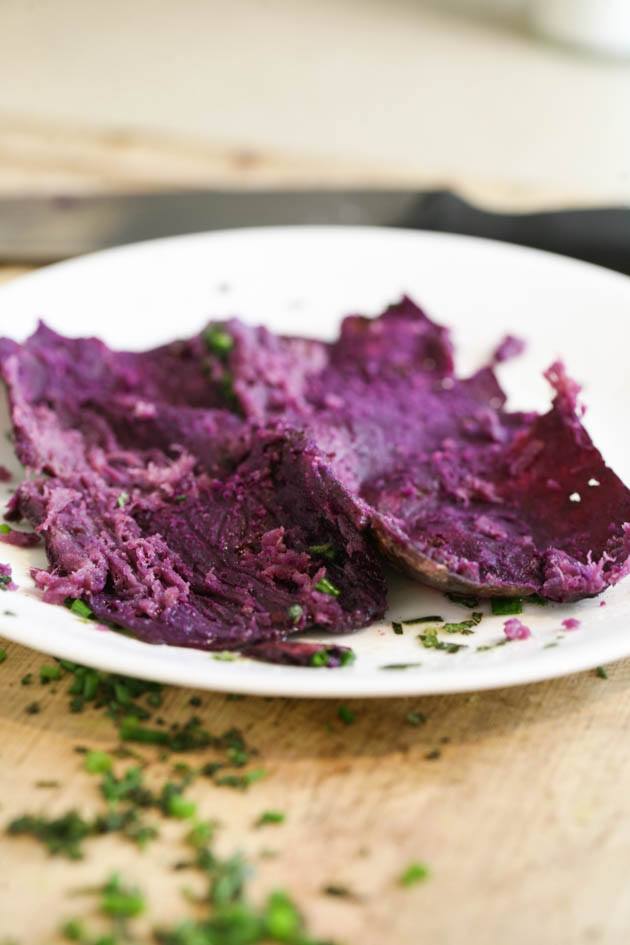 I only added a few fresh vegetables next to it like sweet peppers and sweet peas and that was it for dinner. It was a healthy and filling dinner for sure.
I can think up a million things you can top this potato with. From fried onions and mushrooms to bacon, sour cream, herbs… The options are endless and I am sure every combination you'll come up with will be amazing and tasty.
Aside from baking purple sweet potatoes you can also roast them or take this recipe one step further and mash your potatoes to make mashed purple sweet potatoes. I also make these oven baked sweet potatoes fries, you can make purple sweet potato fries exactly the same way.
But there is so much more! Make sure to check out my Purple Sweet Potato Recipe Roundup for 42 amazing purple sweet potato recipes including amazing dessert recipes that you won't believe that you can make with this potato! There are so many dishes that I want to try.
Purple sweet potatoes are full of vitamins and are very low in carbohydrates and fat and are also full of natural antioxidants. They are easy to grow, last in storage for a long time, and very tasty. If you want to learn more about purple sweet potato nutrition, make sure to check out this great article from Dr. Axe.
I love them! And I definitely think they are a great vegetable to have around!
Here is the handy printable…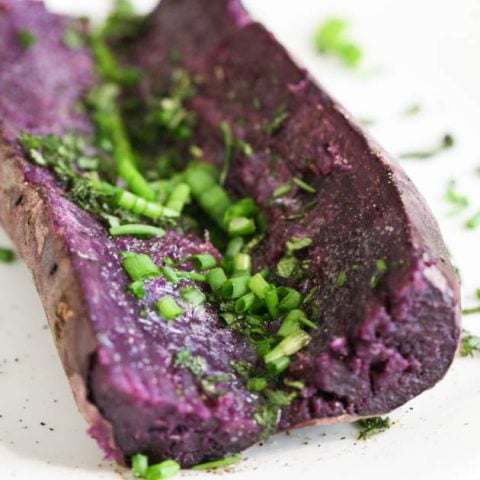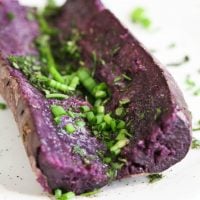 Baked Purple Sweet Potato
Total Time:
1 hour
5 minutes
A delicious baked purple sweet potato that can be topped with a million different things! A very healthy and filling dish.
Ingredients
2 purple sweet potato
2 tablespoons of butter
2 sage leaves, finely chopped
2 stems of rosemary, finely chopped
2 young green onions, finely chopped
salt and black pepper to taste
Instructions
Pre-heat oven to 425 F.
Wash potatoes well and dry them with kitchen towel.
Stab potatoes all over a few times with a fork.
Wrap potatoes in tin foil (I placed the shiny side in).
Place potatoes on a baking sheet and bake for about an hour or until they are soft.
Once the potatoes are done, remove from the oven and remove the foil carefully.
Cut both ends off and slice the potato in the middle lengthwise.
Add the butter, herbs, and salt and pepper on top. Give the butter a minute to melt and serve!
Nutrition Information:
Yield:

2
Serving Size:

1
Amount Per Serving:
Calories:

228
Total Fat:

12g
Saturated Fat:

7g
Trans Fat:

0g
Unsaturated Fat:

4g
Cholesterol:

31mg
Sodium:

426mg
Carbohydrates:

29g
Fiber:

5g
Sugar:

9g
Protein:

3g