This is a simple mashed purple sweet potatoes recipe. These special potatoes are good in so many different ways and mashed is one of them. I'll show you my basic mashed purple sweet potato recipe and from there you can take it anywhere you want and add whatever it is you like added to your mashed sweet potatoes. I have the handy printable for you at the end of the post.

A few years ago I came by purple sweet potatoes at a local farmer's market here in NC and couldn't resist buying a few. I've never seen purple sweet potatoes before and I was super curious to taste them.
I tell you the whole story in my post Growing Purple Sweet Potato, but the short version is that I came home, put them in a basket somewhere and basically forgot all about them. I didn't cook a single one.
A few months later, early in the growing season, I tried to sprout a regular orange sweet potato so I could plant its slips in the garden but it didn't sprout. It was getting too late to place an order for slips but I really wanted to plant some sweet potatoes. Then I remembered that I had those purple sweet potatoes I got at the farmers market!
I placed a potato in water and what do you know, it sprouted faster than FedEx could deliver a box of slips to me (especially since for some reason they insist on leaving my boxes at a different address on a regular basis!).
Mashed Purple Sweet Potatoes…
I ended up planting those slips and harvesting my first crop of purple sweet potatoes that year. I cooked them many different ways and even though they are not as sweet as the orange sweet potatoes, they are delicious, very healthy, and very easy to store and grow.
I wrote about growing purple sweet potatoes and that post became a very popular one. Many people, just like me that day at the farmer's market, didn't even know that there was such a thing as purple sweet potatoes, and some were looking for growing information and landed here on the blog.
I ended up sending slips to many readers and it was a joy sharing this amazing crop with others. After a few years, I decided to take a break from purple sweet potatoes and plant regular orange sweet potatoes (we really like eating them as oven-baked sweet potato fries).
This year I decided to go back to growing purple sweet potatoes. I couldn't find a good source of slips but I did find a company that sold a box of organic purple sweet potatoes.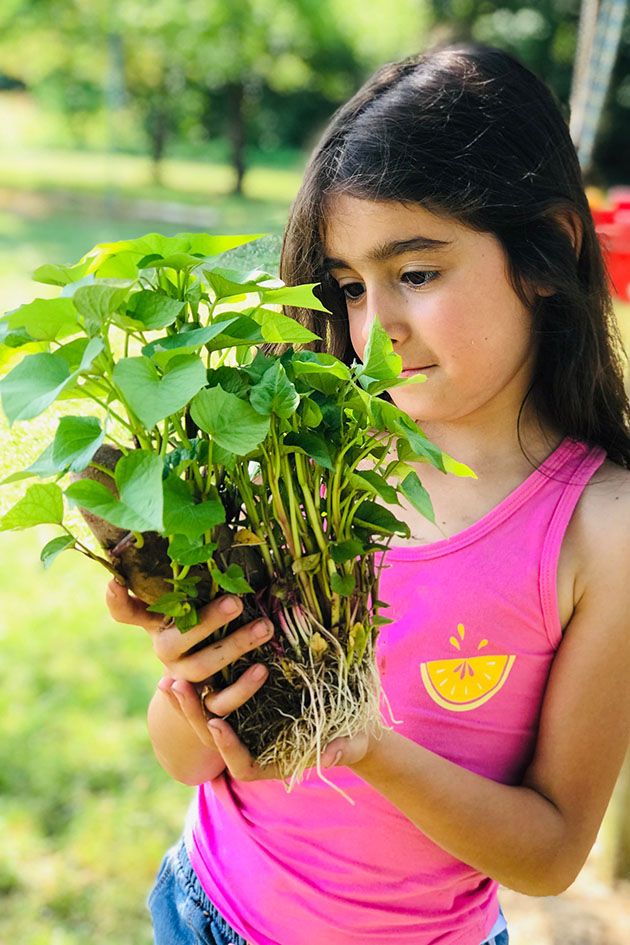 I bought that box and placed a few potatoes in water. I could not handle the amounts of slips I got!
I ended up sharing with others and planting a large bed with purple sweet potatoes and they are growing beautifully. I can't wait to see what kind of harvest I'll get at the end of the season.
Meanwhile, I happily cooked the rest of the potatoes I got and shared the recipes with you. I made roasted purple sweet potatoes and baked purple sweet potatoes and purple sweet potato chips. Today we are going to make mashed purple sweet potatoes.
Also, make sure to check my Purple Sweet Potato Recipe Roundup for many many other purple sweet potato recipes including amazing dessert recipes with this potato!
There are two ways to soften any kind of potato…
The first is to boil it and the second is to stick it in the oven. You can do either with your purple sweet potatoes but I personally prefer to bake them in the oven.
Purple sweet potatoes are not as sweet as the regular orange potatoes and they are much drier. They are dense and therefore very filling. One potato will hold you for hours if you can even finish it!
Anyway, I found that if you bake the potato as I am about to show you, the little moisture that this potato has will stay right inside the potato and it feels to me like the flavor is enhanced and the texture is much better. I bake mine but, of course, you can try to boil your purple sweet potatoes if you'd like.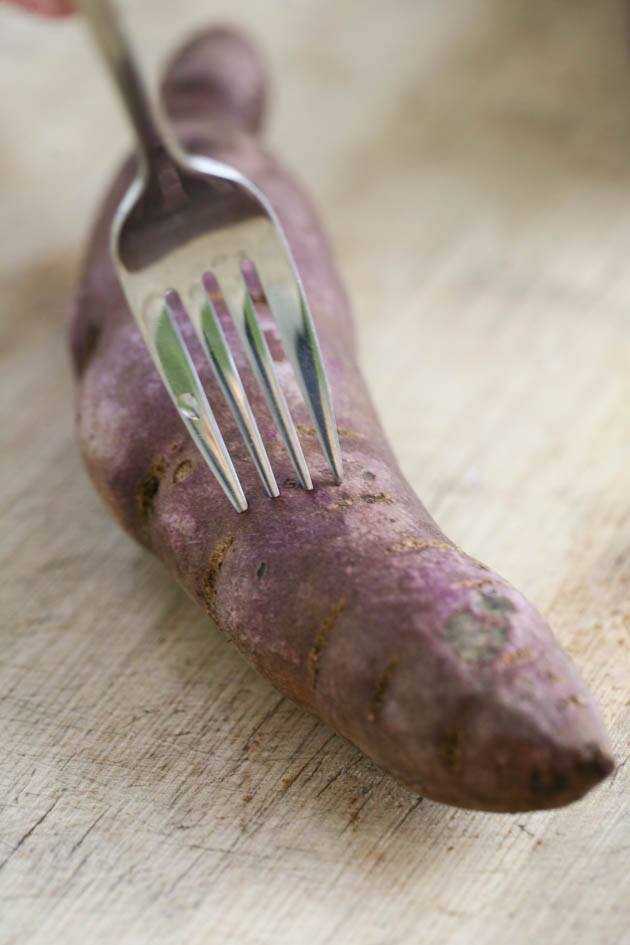 I stab the potato with a fork a few times…
Then wrap them in tin foil with the shiny side of the tin foil in. I place them on a baking sheet and stick them in the oven to bake on 425F for about an hour.
Once they are soft, I take the potatoes out of the oven and let them cool just a tiny bit to the point where I can touch them. I want them to still be hot so they'll melt the butter but not hot enough to burn my fingers.
I unwrap the tin foil, slice the potato all the way down its center…
And peel off the skin. It comes off real easy.
I add the flesh of the potatoes to a mixing bowl. I used four medium potatoes here and added four tablespoons of butter. So as a general rule you can do one tablespoon of butter per one medium potato but it's butter… The more the merrier so add as much as you'd like!
Next, I added about 1/4 cup of maple syrup. Since purple sweet potatoes aren't as sweet this adds a tiny bit extra natural and delicious sweetness.
Here too, you can add more or less depending on how sweet you want your mashed purple sweet potatoes.
By this time the heat of the potatoes have melted the butter and I use my hand mixer to mash it and mix it all together. If you find that the texture is a bit too dense for you milk, sour cream, or whipping cream can be added.
This time I kept it simple with just the maple syrup and butter but I'll often add a little bit of milk.
I have to say that the color of this vegetable always amazes me! They are just so purple!
My kids don't even like mashed sweet potatoes but they will eat mashed purple sweet potatoes just because they think it's cool to eat something so purple.
This works for me because purple sweet potatoes are really healthy. They are low in carbohydrates and fat and are a great source of fiber and vitamins like vitamin A and C.
They are also a great source for calcium and potassium, but maybe the greatest health benefit of purple sweet potato is their richness in antioxidants.
Once everything is mixed well together I transfer the mashed purple sweet potatoes to a serving bowl and serve hot. This is a great side dish for any meal.
I also think it can be an interesting twist on mashed sweet potatoes for any holiday meal. You can go another step and add the mashed potatoes to a baking dish, add marshmallows on top and let it bake in the oven for a few minutes.
It sure will be a great conversation starter around the holiday table!
These purple mashed potatoes are also great for freezing. So if you grow your own and want to preserve your harvest somehow this is a great option. Do the basic recipe, add it to freezer bags and freeze. When you thaw, you can heat your purple mashed potatoes up and enjoy!
Let me know what you think! Have you ever tried purple sweet potatoes? Did you like them? Have you tried growing them yourself?
Here is the handy printable…
Mashed Purple Sweet Potatoes
Additional Time:
10 minutes
Total Time:
1 hour
15 minutes
Not too sweet and very dense, healthy and filling. It's super easy to make these mashed purple sweet potatoes!
Ingredients
4 medium purple sweet potatoes
4 tablespoons butter
1/4 cup of maple syrup
1/4 cup milk, whipping cream, or sour cream (optional)
Instructions
1. Preheat your oven to 425F.
2. Wash your potatoes well.
3. Stab the potatoes a few times with a fork.
4. Wrap the potatoes in tin foil, shiny side in.
5. Place your wrapped potatoes on a baking sheet and bake for about an hour.
6. Remove from oven and let cool for a few minutes.
7. Unwrap your potatoes, peel the skin and add the flesh to a large mixing bowl.
8. Add the butter and maple syrup. Let the butter melt for a couple of minutes and then use a hand mixer to mash and mix everything together. If you feel that the texture is too dense, add a little bit of milk, whipping cream, or sour cream.
9. Transfer to a serving bowl and serve hot.
Nutrition Information:
Yield:

4
Serving Size:

1
Amount Per Serving:
Calories:

277
Total Fat:

12g
Saturated Fat:

8g
Trans Fat:

0g
Unsaturated Fat:

4g
Cholesterol:

32mg
Sodium:

142mg
Carbohydrates:

41g
Fiber:

4g
Sugar:

21g
Protein:

3g