I am having so much fun selling our vegetables at the local Farmer's market!
I wasn't sure that we will have anything to sell, but I've already been to the market three times this year and the vegetables keep coming in from the field too fast for me to preserve them all.
It's a small market in a small town. I can come and go whenever I want with whatever produce I have. There is no politics, not "new-age" farmer's market drama, no fees… Just local farmer's and their goodies.
Kale Chips Recipe – a Healthy Snack
Everyone who sells there except one sweet lady and her son can pretty much be my parent or even grandparent. The amount of farming knowledge between those guys is overwhelming.
When we were working to set up our acre or so of a garden, I kept thinking over and over again how easy it would have been if we just had a grandpa to teach us farming, if we didn't have to figure out everything on our own.
Well, I feel like now we have a few.
Every Saturday, I'll set up my table next to someone else at the market, and when we have a quiet moment we'll talk. I learned so much already, where to buy seeds and plant starts locally, when to plant this and that, what fertilizer they use, what equipment they use… Everyone is just so willing to share and it amazes me because they know me no more than a few hours.
I am not even sure how to convey in words how grateful I am. I love going to the market, I love offering our vegetables at affordable prices to the community, and I love getting to know the local farmers and absorbing all the great information they give me.
I also feel much more connected to the community since I started selling at the market.
It's in a small town, so the same people come to shop every Saturday and I already know so many of them and what they like.
This is actually the best way for a farmer to learn what to grow. I can sit in front of a seed catalog and add to my list the kind of stuff I love to eat, but when you grow for someone else it doesn't matter. It matters what they like to eat not what you like to eat.
So the farmer's market is a data collecting time for the young farmer. You learn what people in the community spend their money on, what will they want more of, do they like small cucumbers or large ones, green tomatoes or super ripe ones and on and on…
You take this information to the field and work it in a way that serves the customers. I can already see how much clearer next year is going to be. Where at the beginning of this year I had no clue what to expect, for next year we'll be so much more prepared.
But this is not to say that you should not introduce new vegetables to the community. I grew a kind of buttercrunch lettuce this year that is called speckled bibb. Everyone who came by the table asked about the lettuce because it was just so beautiful. So many of the people who bought it came back to ask for more because they loved if so much. I will definitely grow it again in the fall.
A surprise to me was that most people don't know what to do with kale. WHAT? Kale is so precious! Is so easy to grow! Is so delicious!
Even though, I sold so many bags of kale, and I credit that to my rumbling about kale chips, because, seriously, who doesn't love chips? And when you tell people that there is a much better, healthier alternative to potato chips from the store, they usually want to try.
So let's make kale chips, just in case you never tried it before…
You start with… Kale! Surprising, huh?
It can be any kind of kale, doesn't matter. What does matter is that your kale is very dry. So if you wash your kale you need to dry it. You can use those salad spinners if you have one or just a towel, or you can leave it on the counter for some time to dry or do a combination of those.
Whatever you do, kale chips won't work if your kale is not dry, it will just cook to be a soggy bunch of leaves, which, by the way, are still tasty but just not what we are going for here.
Once your kale is dry, remove the leafy part from the harder stem…
And with your fingers, break the leaves into chips size pieces.
Place them in one layer on a baking sheet lined with parchment paper or those non-stick silicone mats and drizzle with olive oil. Then sprinkle with seasoning. You can get creative here and season it any way you'd like. I usually do salt and garlic powder.
You can use seasoned salt, black pepper, cayenne pepper if you want it hot, paprika, onion powder… Whatever it is you like.
Then, with both hands, mix the leaves to coat them with the olive oil and seasoning evenly and rearrange them in one layer on the baking sheet.
Bake them in a 350F preheated oven for 15 minutes. Take the chips out and inspect them, if they are not chipsy (is that a word?) yet, put them in for two more minutes. Be careful not to burn them!
They will look like that when ready. Dry and slightly brownish at the edges.
You'll have to let them cool down a bit, just for a few minutes, while trying to keep the kids and husband away so they don't burn their fingers…
Then just transfer the chips to a bowl and enjoy. It's that simple.
There are many other wonderful kale dishes, but by far my favorite is kale chips.
The other way I love using kale is making a sweet salad with kale, cranberries, roasted pecans, and apple, with honey mustard dressing.
Do you eat kale? What is your favorite way of eating it?
Kale Chips Recipe
Ingredients
Very Dry Kale Leaves
Olive Oil
Salt
Garlic Powder
Instructions
1. Remove the leaf from the hard stem.
2. With your hands, cut the leaf into chips size pieces.
3. Lay on a baking sheet lined with parchment paper in one layer.
4. Drizzle with olive oil.
5. Season with salt and garlic powder.
6.Mix with your hands to coat the kale evenly with the olive oil and seasoning.
7. Bake on 350F for 15-17 minutes.
8. Remove from the oven, let cool and enjoy.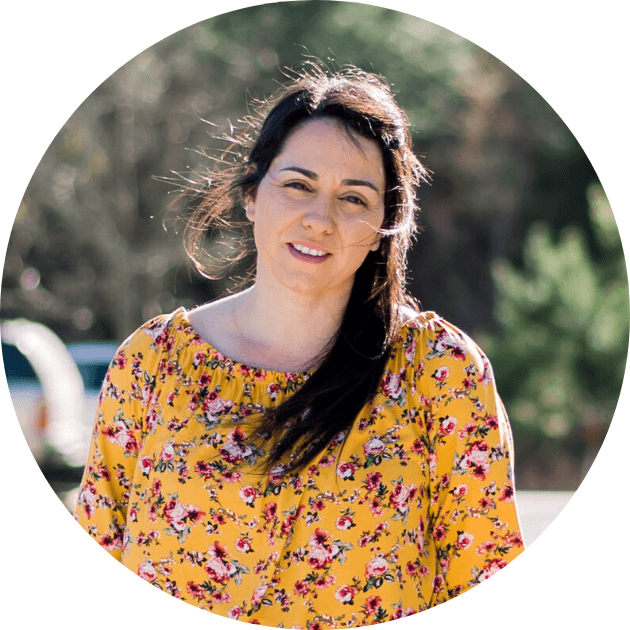 Hi! I'm Lady Lee. I help homesteaders simplify their homesteading journey while still producing a ton of food! I am a single mother of four, I was born in Israel and raised in an agricultural commune called a Kibbutz. Now I homestead in central NC.