This is a simple and absolutely delicious Israeli yellow split pea soup recipe. It takes only a few ingredients to put it together plus a few seasonings. It's also very easy to turn it to a vegan yellow split pea soup. It's a very healthy yellow split pea soup and of course, filling.
---
I have to admit that I am not a huge fan of soups.
There is no specific reason for this… I guess that when it comes down to making and eating a filling meal that will give me a good amount of energy for a while, I usually choose something other than soup.
But I love peas! I grow Sugar Snap peas in the spring and they usually last us through the summer. We eat them fresh and we love them.
Then, during the winter, to get our pea fix, we eat pea soup from dry split peas.
Israeli Yellow Split Pea Soup Recipe…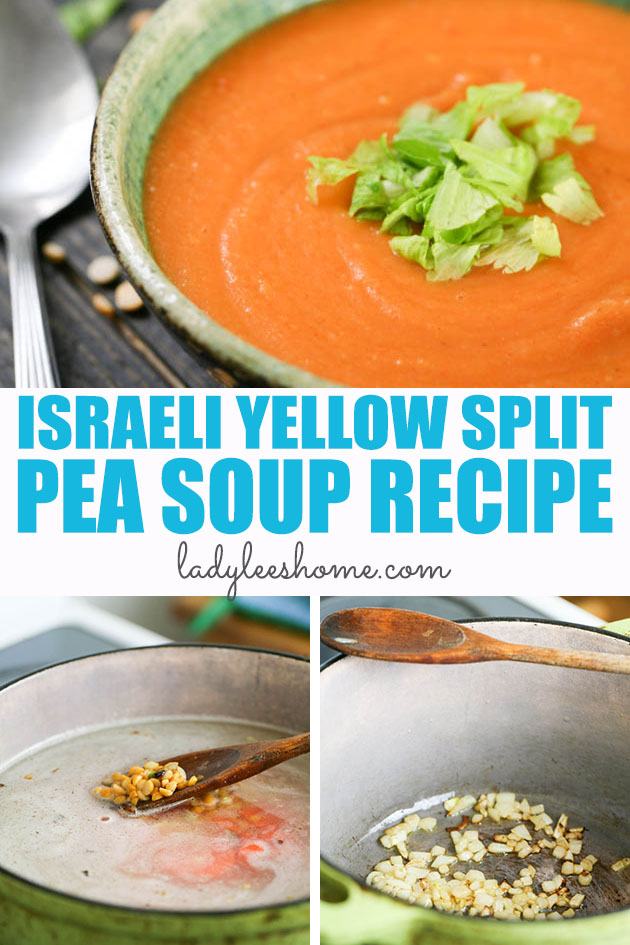 We love both green split peas and yellow (they are really orange…) split peas.
I happened to have a bag of yellow split peas in the pantry so I used it, but this Israeli yellow split pea soup recipe can be made with both kinds of dry peas; green or yellow. It's delicious both ways.
It's a really simple recipe. It's a recipe that used to be a regular winter meal when I was growing up.
Like almost any Israeli recipe (like this delicious bean soup recipe), it starts with garlic and onion and olive oil. Then, it's just peas, carrots, stock, and seasonings.
Instead of using chicken stock, feel free to use vegetable stock which will really easily make it a vegan yellow split pea recipe.
I am not vegan, and I love using chicken stock so that's what I am using, but making it vegan is definitely an option.
Ok, let's get to it…
Kitchen Tools That We Are Going to Need…
Let's gather all the stuff that we are going to need to make this soup…
Strainer – we'll use the strainer to wash the yellow split peas.
Cutting board – I love my wooden cutting boards and that's what I use when I dice vegetables. We'll use the cutting board to dice the onion and the garlic.
Kitchen knife – for the dicing…
Dutch oven – you don't have to use a dutch oven, it can be a regular pot. It's just that I personally believe that everything tastes much better in a dutch oven or some other sort of cast iron cookware.
Measuring cups – to measure the peas and carrots.
Measuring spoons – to measure the seasonings.
Wooden spoon – to stir the goodness…
Immersion blender – I use the blender to smooth the soup. If you like a more chunky soup that's fine, you don't have to blend it until all the vegetables are completely pureed, but I think that you'll need it anyway to some extent.
Ok, we are all set, let's get started…
How to Make Yellow Split Pea Soup…
I start with a medium onion and five garlic cloves. I peel the cloves and dice both the onion and the garlic cloves.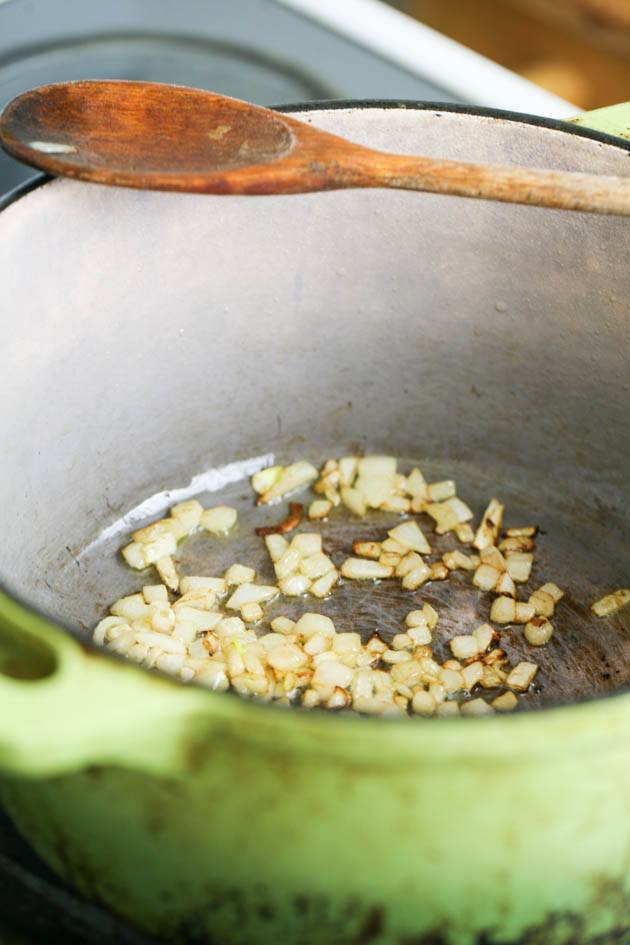 Next, I heat two tablespoons of olive oil in my dutch oven. When the oil is hot, I add the diced onion and lower the heat to medium-high.
I keep stirring the onion frequently until it starts to brown. This takes a few minutes (7 or so…).
While the onion is cooking (or you can do this before), I peel and slice two cups of carrots. You can use fresh carrots, although, I actually used frozen carrots that I preserved earlier this year.
I also add 2 cups of yellow split peas to the strainer and wash them. I go through them briefly and if I see any small rocks or bad peas I remove them.
Once the onion is slightly brown, I add the diced garlic and stir for a couple of minutes.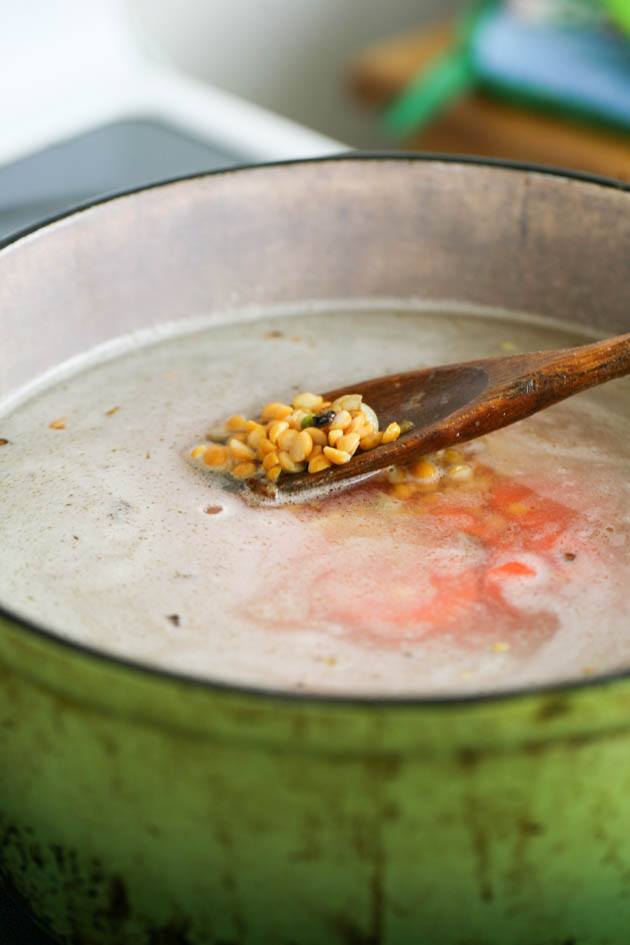 Then I add the sliced carrots, the peas, and 8 cups of chicken stock (again, you can use vegetable stock instead to make it vegan).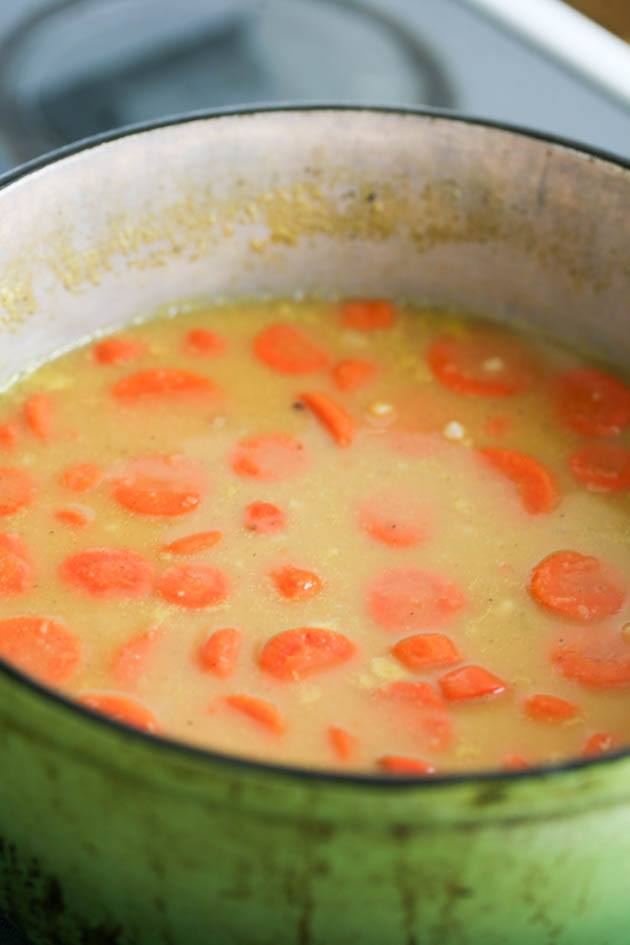 I turn the heat back to high and let it come to a boil. Once the soup is boiling, I season with black pepper (1/2 – 1 teaspoon depending on how much you like black pepper…), and salt to taste (I added 1 teaspoon. Of course you can adjust this later).
Then, I lower the heat to medium and cover the pot and cook the soup for 30 minutes.
During those 30 minutes, I stir the soup a couple of times and I also bring some water to a boil…we might need it later.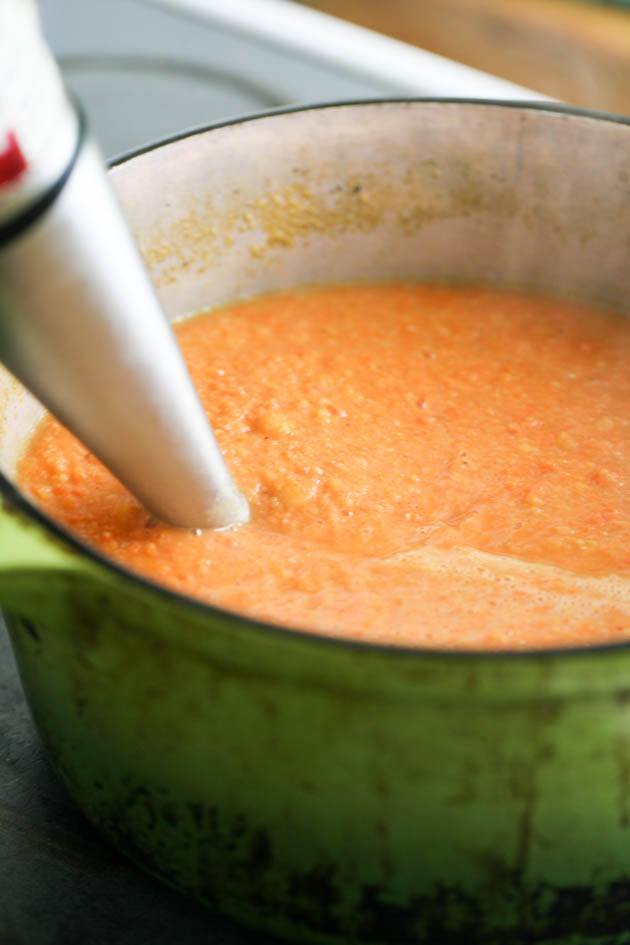 After 30 minutes, I check to make sure that the peas are soft. If they are not, I'll cook for a few more minutes but usually they are pretty soft by this time.
I use the immersion blender to blend everything smooth. I like to blend it all the way, you might like to leave larger chunks of peas and carrots… You can do whatever you'd like.
If you do this like I did and puree the soup completely, it might get too thick at which point we are going to add some of the water that we boiled while the soup was cooking.
I ended up adding an additional 3/4 cup of boiling water to bring this to the consistency that I like.
Once everything is blended, I give it a taste and add some more salt and black pepper if I want and that's it. This yellow split pea soup is ready!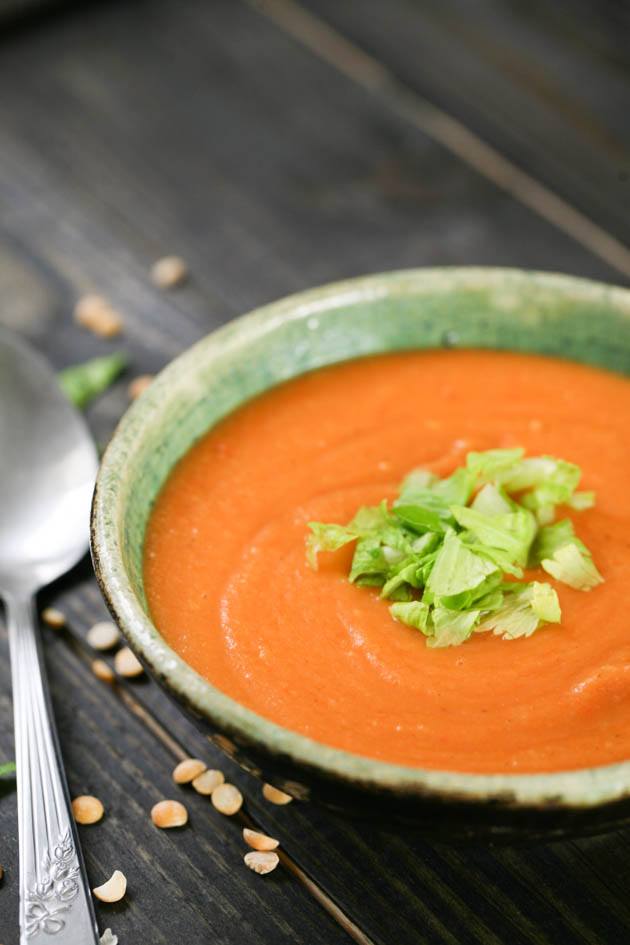 I gotta make sure that I bring it to your attention that this is the best baby (and elderly!) food that you can make. We grow up on this stuff in Israel!
Also, it's important that you know that this Israeli yellow split pea soup goes really well with a fresh garnish.
Most of all, I love to chop some of the center of a celery (the young stalks and leaves) and add this after I scoop some of the soup into a bowl. It's sooo good with fresh celery!
You can also do parsley or cilantro. This will work really well too.
Lastly, everyone should know about the best croutons that exist on the planet of this earth, THESE ONES. Seriously, they are the best thing ever!
In Israel, we say that the soup is just an excuse to eat the croutons… And it's totally the truth, so if you have a chance I really recommend that you try them but if you find yourself addicted please don't blame me!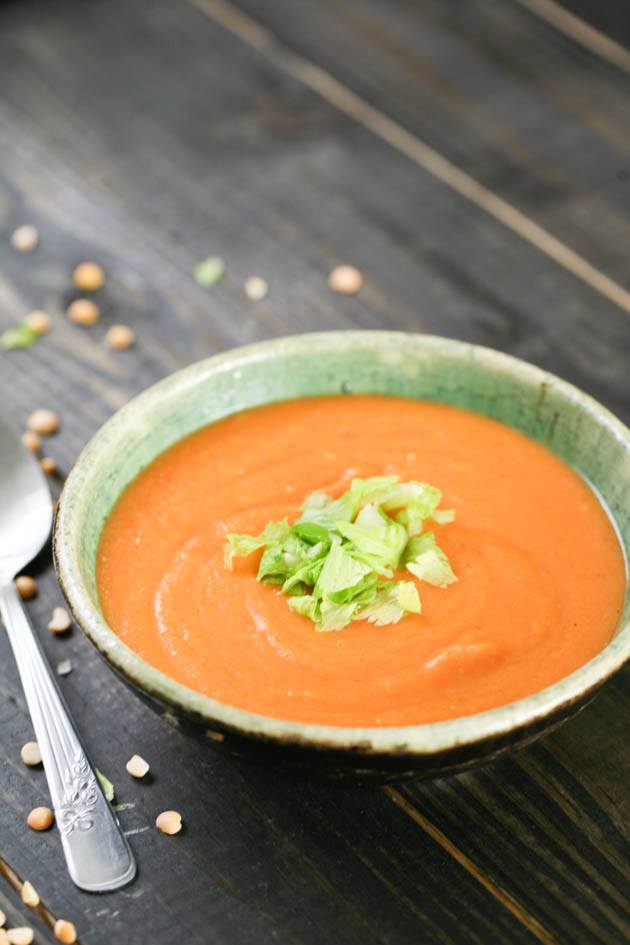 Here are a few frequently asked questions…
Can I Freeze This Yellow Split Pea Soup?
You sure can! I freeze this soup in quart jars. I make sure to wait until the soup has cooled almost all the way (so the jar doesn't crack when I place it in the freezer) and I leave about an inch of headspace. Then I cover the jar with a freezer lid and freeze it.
This soup will last many months in the freezer but as a rule of thumb, I always try to use my frozen food within a year.
Can I Can Yellow Split Pea Soup?
Yes, you can can yellow split pea soup if you want to preserve it but don't want to freeze it (we all need that room in the freezer!).
Even though I don't add any meat to my yellow split pea soup, peas are still a low acid food, so if you want to can this soup you will have to process it in the pressure canner.
Is Yellow Split Pea Soup Healthy?
Yes! Dry peas are low in fat and high in fiber, protein, and all kinds of vitamins and minerals. We added onion, garlic, carrots, and chicken (or vegetable) stock which are all very healthy as well.
This soup is a filling, delicious and very healthy meal!
Do Yellow Split Peas Need to Be Soaked?
No, they don't need to be soaked before cooking them. They do, however, need to be rinsed and sorted since you'll often find tiny rocks in there.
Do Dry Green Split Peas Taste Different Than Yellow Dry Peas?
To me, they don't taste that different… Maybe to you, they will taste a little different but either way, they are delicious and split pea soup is a really great way to use them.
This recipe works with both green or yellow split peas.
---
All right my friends… Here are a couple of other recipes that I think you might like…
Pumpkin and lentil Salad recipe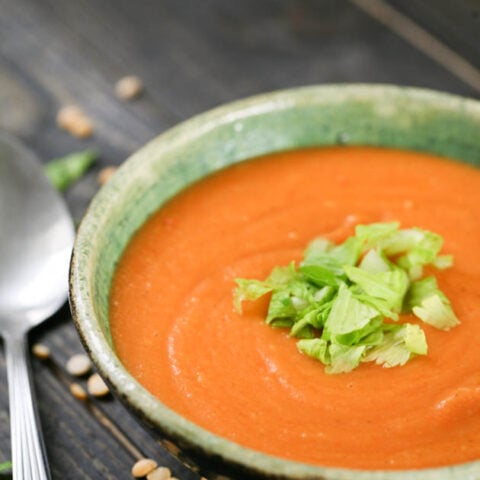 Israeli Yellow Split Pea Soup
Healthy, filling, and delicious Israeli yellow split pea soup recipe.
Ingredients
2 tablespoons olive oil
1 medium onion, diced
5 garlic cloves, peeled and diced
2 cups of carrots, peeled and diced
2 cups of yellow split peas, washed and sorted
8 cups of chicken stock (or vegetable stock)
1 teaspoon salt
1/2 (to 1) teaspoon of black pepper
Chopped celery, parsley, or cilantro for serving (I really recommend celery!)
Instructions
Heat 2 tablespoons of olive oil in a dutch oven (or any other soup pot).
Add the diced onion and lower the heat to medium-high. Cook for 7 minutes or so until the onion starts to brown, stir frequently.
Add the diced garlic and stir. Cook for two more minutes until the garlic is fragrant.
Add the carrots, peas, and chicken or vegetable stock. Stir, turn the heat to high and bring to a boil.
Season with salt and black pepper, lower the heat to medium, cover the pot and cook for 30 minutes.
Check if the peas are soft. If they aren't soft yet, cover the pot and cook a few more minutes. When the peas are soft, use an immersion blender to puree the soup. You can leave larger chunks or blend it all the way. If the soup is too thick you can add 1/2 a cup of boiling water at a time to make it a bit thinner.
Once you are done with the blender, taste and correct seasonings if you need to.
Turn the heat off and serve with fresh celery, cilantro, or parsley.
Notes
You can freeze or can this soup. Instructions on how to do this are in the post.
Nutrition Information:
Yield:

8
Serving Size:

1
Amount Per Serving:
Calories:

198
Total Fat:

7g
Saturated Fat:

1g
Trans Fat:

0g
Unsaturated Fat:

5g
Cholesterol:

7mg
Sodium:

637mg
Carbohydrates:

24g
Fiber:

6g
Sugar:

7g
Protein:

11g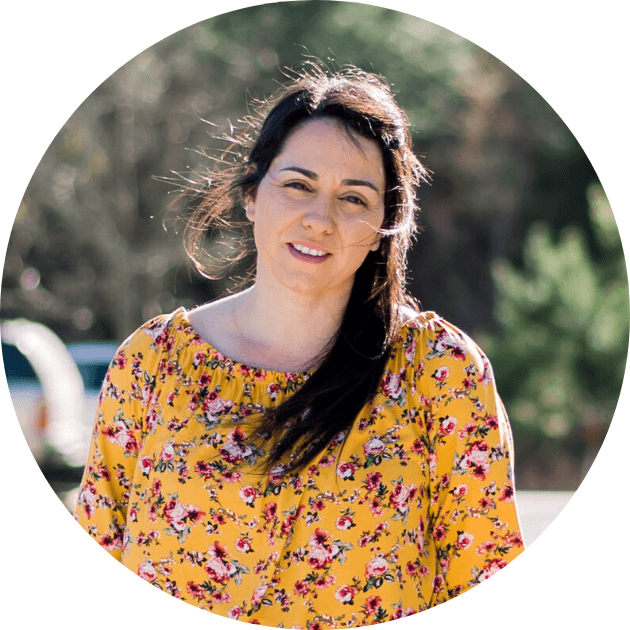 Hi! I'm Lady Lee. I help homesteaders simplify their homesteading journey while still producing a ton of food! I am a single mother of four, I was born in Israel and raised in an agricultural commune called a Kibbutz. Now I homestead in central NC.