Every fall, we go to visit a pumpkin patch. Even though we have our own farm now we still keep the tradition because visiting other farms in our area is always so much fun and because those farms have a bunch of fun games for the kids that we don't have.
It's a fall activity to look forward to and talk about.
OK, let's also admit that I am not the best at growing pumpkins…
I haven't found a fool-proof way to grow organic pumpkins in central NC… Unless I am willing to sleep by the plants so I can catch the bugs as they appear by the thousands.
I love camping out but there are other things to do around the homestead during the summer so camping in the garden is out.
I did try diatomaceous earth and neem oil and also essential oils and all of them work great. The problem is that I have to spray them constantly after every rain and we have a lot of rain here during the growing season. I find it hard to keep up with the task.
Lentil Pumpkin Salad With Celery and Cranberries
So this year I planted many plants; probably around 25 pumpkin plants. I got two nice pumpkins. It's not a lot, but really, 2 pumpkins plus the bazillion butternut squash we harvested is more than enough for us.
And of course, there are the pumpkins we pick at the pumpkin patch.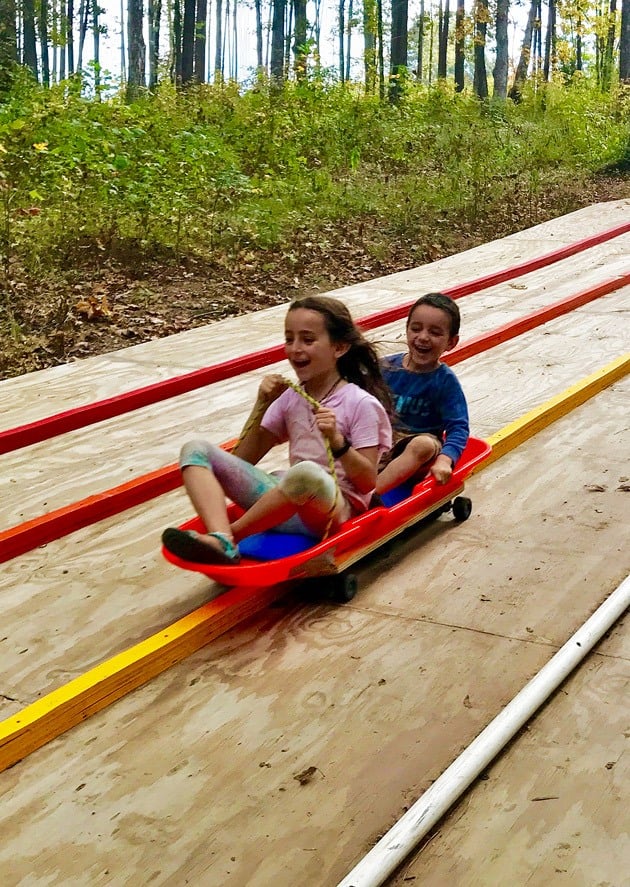 After a few hours of playing games, when mama was about to drop dead, we picked our pumpkins and headed home. My kids always choose relatively small pumpkins which I am totally ok with because they are much easier to handle.
The only downside with the small pumpkins is that they don't have many seeds and I love roasting the seeds with cumin and garlic. So I make sure we have at least one large pumpkin as well.
The kids usually play with their pumpkins for a few days and when they get tired of them I cook them.
This time I was looking for a new recipe that I never made before and is a bit different from the traditional American recipes that I know and love. So I texted my mother (in Israel) and asked her for a pumpkin recipe.
My mother is a foodie. She spends 85% of her time in the kitchen. She has two kitchens actually, two ovens, two refrigerators, and three freezers. She bakes, cooks and feeds people all. the. time.
So within minutes, I was showered with 17 pumpkin recipes. After sifting and sorting I decided to go with this pumpkin lentil salad I am about to share with you.
It was a good choice. A really good choice.
I love salads that are a meal. You can't get your tummy full and satisfied by eating lettuce and tomato salad. It just doesn't do it. But put lentils or beans, pumpkin or avocado in a salad and it's a different story.
So that Thursday, this was dinner…
You start by cutting the pumpkin in half so you can clean the center. You can save the seeds for roasting or for your goats (I've heard that pumpkin seeds are a good dewormer) or just give the hole center mess to the chickens, they love it.
Next, drizzle the pumpkin with olive oil and season with garlic powder, and salt and pepper to taste.
Preheat the oven to 350F and roast the pumpkin for about 30 minutes. The roasting time will depend on the size of your pumpkin, of course. You can check if it's ready by poking it with a fork.
While the pumpkin is roasting, wash 3/4 cup of lentils and add them to a small pot…
Then cover them with 3 (or so) cups of water and place on the stove top to boil. Once the water is boiling lower the heat a bit. You still want the water to boil but just an easy, rolling boil.
Once the lentils are soft (this also took about 30 minutes or so) transfer them into a colander to drain and set aside to cool.
The pumpkin should be ready by this time so take it out of the oven and set aside to cool as well.
Once the lentils and pumpkin cooled it's time to assemble the salad.
One thing we use a lot in Middle Eastern cuisine that I don't see in the U.S. is celery leaves. For some reason, you can't find a celery in the grocery store that still has its leaves on… Why? I can't figure this out.
There are so many wonderful dishes with celery leaves and they are so healthy for us. I guess it's a good reason to grow it yourself.
Anyway, I didn't have any celery from the garden so I took the large stalks off of the grocery store celery and used the center part that has some leaves to it.
Chop your celery…
And add it to your salad bowl with the cooled lentils.
Next, make lengthwise and crosswise cuts in your pumpkin trying not to cut through the peel and use a spoon to take the little pieces out.
I tried to keep the pumpkin cubed and for the most part, I was successful but not completely. However, it didn't matter much anyway. Next time I might try to peel and cut the pumpkin before roasting it.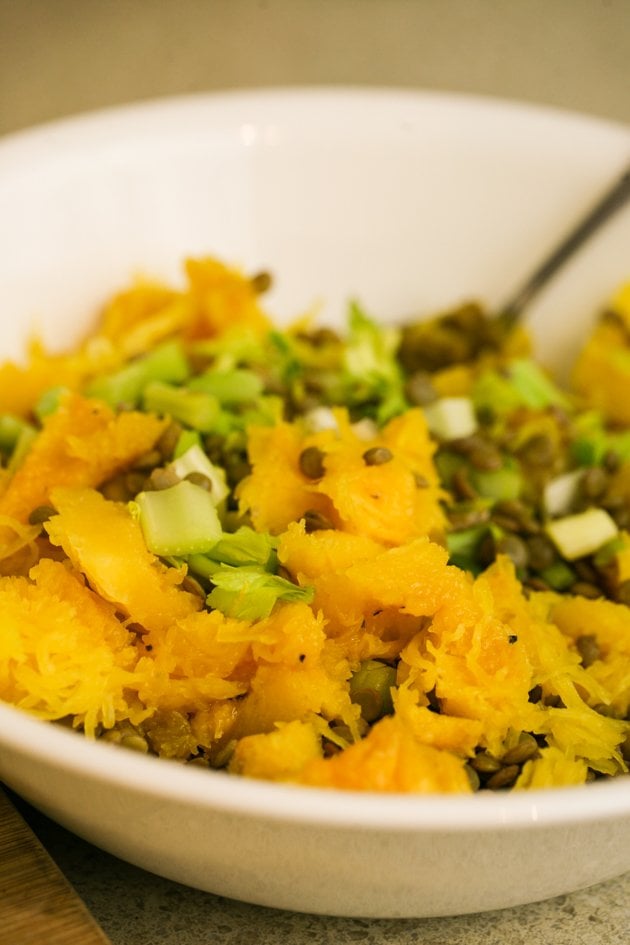 Add the pumpkin pieces to the salad bowl…
And then add some dried cranberries. Another great addition here will be roasted pecans or peanuts. I didn't have any on hand so I went without but I am sure they'll add great flavor so add them if you have them.
For the dressing, mix two tablespoons of honey, one teaspoon of mustard, one minced garlic clove, juice of one large lemon, 1/4 cup of olive oil, and salt and pepper to taste.
Another option is to go with a simple honey mustard dressing. Place two tablespoons of honey, one tablespoon mustard, 1/4 cup mayo, and juice from one lemon in a jar, close the jar and shake.
This is definitely going to become a staple fall salad around here.
It's so filling and healthy and delicious!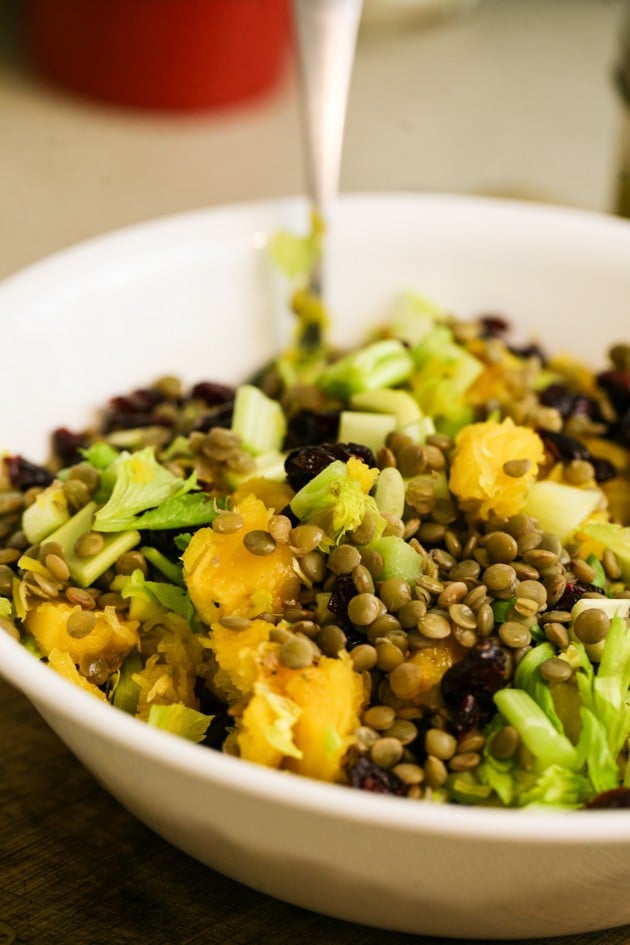 Also, it can be stored in the fridge for a couple of days if you keep the dressing separated which makes it a great make-ahead salad for a holiday dinner or for any busy mom who needs to make dinner while the kids take their nap.
Here is the printable!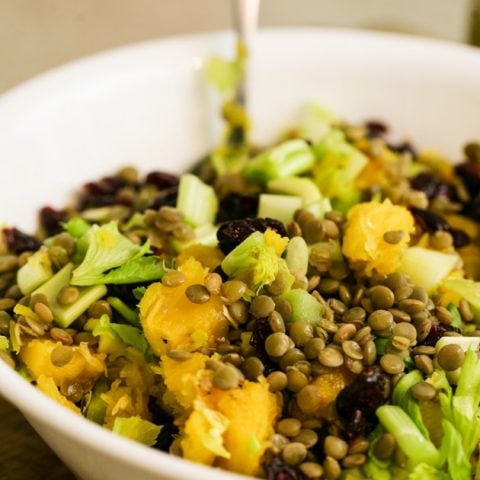 Pumpkin Lentil Salad
Ingredients
1 small pumpkin
3/4 cup lentils
5 celery stalks
dried cranberries
Roasted pecans or peanuts
FOR THE DRESSING
2 tablespoons honey
1 teaspoon mustard
1 garlic clove minced
Juice of one large lemon
1/4 cup olive oil
Salt and pepper to taste
OR,
Make a simple honey mustard dressing by mixing
2 tablespoons honey
1 tablespoon mustard
Juice of one lemon
1/4 cup mayo
Instructions
1. Heat oven to 350F
2. Halve the pumpkin and clean out the seeds. Drizzle with olive oil and season with garlic powder, salt and pepper. Roast until soft, about 30 minutes.
3. While the pumpkin is baking, wash lentils and add to a pot. Add 3 cups of water and bring to a boil. Lower the heat a bit to keep a rolling boil until the lentils are soft (should also take around 30 minutes).
4. Transfer the lentils into a colander and let cool.
5. Remove the pumpkin from the oven when ready and set it aside to cool as well.
6. Chop celery. Add it to a large salad bowl with the lentils.
7. Make lengthwise and crosswise cuts in your pumpkin trying not to cut through the peel and use a spoon to take the little pieces out. Add them to the salad bowl as well.
8. Add cranberries and nuts.
9. Mix the dressing ingredients until combined and add to the salad.
10. Enjoy!