This is a pumpkin and beetroot salad recipe with celery, apple, gorgonzola cheese, and sesame and sunflower seeds. It's not only delicious and healthy, but it's also filling. Really, it's a whole meal, however, you can also serve it as a side dish.
---
I am in a state of pumpkin salad craze!
Every fall I find myself in one or another sort of pumpkin craze because I love pumpkins and I can't see any of them go to waste.
I love all the sweets so I always make my low-sugar pumpkin bread and my delicious pumpkin cheesecake. I can a whole lot of pumpkin (see my how to can pumpkin tutorial) and I also freeze a lot of pumpkin puree so I can make these delicious recipes all year plus the puree is also for my pumpkin soup which is always an amazing dinner.
But this year, for some reason, it's all about pumpkin salads. I made this delicious pumpkin and lentil salad, then this pumpkin and feta salad, and now I am going to share with you this amazing pumpkin and beetroot salad.
Pumpkin and Beetroot Salad…
I find that because I'm home by myself a lot now, these salads are my preferred meal.
In previous years, my kids were home-schooled and even though they like pumpkins, a pumpkin salad wasn't exactly their favorite meal.
Since they are all in school now and I work from home, I find that a salad is often enough for me especially if it's one that has lentils or quinoa or nuts and seeds in it. Add to that the delicious heaviness of the pumpkin and the cheese and it's really all I need for a good lunch.
I also love that I can make a huge bowl and keep it in the fridge. I don't season the salad and I don't add the nuts and seeds until I am ready to eat, but when I'm ready, I scoop as much of the salad as I want to eat into a smaller bowl and the rest is left in the fridge for the next day.
Often a big salad like the one we are going to make here will last me for a couple of days.
Ok, let's start making this goodness. You'll see that we have a little bit of cooking to do but I promise that it's totally worth it because this pumpkin and beetroot salad is delicious.
Kitchen Tools we are Going to Need…
Before we start, let's go over the kitchen tools that we need for the job…
Kitchen knife – whichever knife you prefer for cutting vegetables.
Cutting board – I love to use wooden cutting boards when cutting vegetables.
Baking sheet – we are going to roast the pumpkin so we'll need a baking sheet for that.
Oil spray bottle – we are going to coat the pumpkin that we roast with olive oil. I still don't have this spray bottle but I imagine it would be so much easier to spray the oil instead of brushing it on the pumpkin.
Kitchen oil brush – since I don't have the spray bottle that I linked to above I'm brushing my olive oil with a kitchen brush.
A small pot – to cook the beetroot in.
A vegetable peeler – to peel the beetroot.
A large mixing bowl – so we have enough room to mix all the ingredients together.
Smaller serving bowl – this salad serves two to four. If you are by yourself, don't dress the whole salad. Just add to a smaller serving bowl whatever portion you'd like and dress that. I'll show you below.
1 tablespoon measuring spoon – to measure the ingredients for the dressing.
Roasting the Pumpkin…
I use whatever pumpkin I have. Sometimes it's the big one like the one in the picture above and sometimes it's the smaller pie pumpkin.
I think that most grocery stores sell the big pumpkins for people to carve but for me, a pumpkin is a pumpkin and they are all delicious.
The smaller one would probably be easier to handle, though. And we are only going to use two cups of cubed pumpkin in this salad anyway.
I did roast all of this huge pumpkin. I made a puree from what I didn't need for the salad and sent it to the freezer in zip-lock bags so I can make other pumpkin recipes later.
I start by cutting around the stem…
And removing it.
Then, I clean the stringy mess that is inside the pumpkin. I keep the seeds and roast them because they are very healthy and the rest I give to the chickens.
Once the pumpkin is clean, I keep cutting into smaller pieces…
Then I place a few pieces of pumpkin on a baking sheet…
Drizzle each piece with olive oil…
And use a brush to brush it well…
And then season with salt and black pepper.
Remember that we are only going to use 2 cups of cubed pumpkin so if you are planning to use the rest of the pumpkin in sweet recipes you might want to roast some of it without the seasoning and the oil.
I preheat my oven to 375 F and roast the pumpkin for around 30 minutes until it's soft (stick a fork in it to check if it's soft).
This time might change depending on your pumpkin so just check the softness of the pumpkin every 10 minutes or so.
When the pumpkin is ready, I take it out of the oven and place it on the cutting board to cool a little bit.
Once it's not too hot to the touch, I slice it…
I use my knife to remove the skin from each piece…
And cut it into smaller pieces…
And set them aside to cool completely.
Cooking the Beetroot…
I usually work on preparing the beets while the pumpkin is roasting in the oven. For this pumpkin and beetroot salad, I am using one large beetroot…
I remove both ends…
And then peel the beet and slice it.
Then, I add the beetroot to a small pot and fill it with 2 or 3 inches of water. I set this pot on the stovetop, turn the heat to high and bring the water to a boil. Then I lower the heat just a bit to keep it at a rolling boil and cook the beetroot for around 30 minutes until it's soft (you can also use canned beets if you'd like).
Usually, I roast the pumpkin and cook the beetroot at the same time.
How to Make Pumpkin and Beetroot Salad…
While the beetroot is cooking, I chop some celery.
Celery leaves are so tasty! Unfortunately, the celery that we get at the store has it's leaves removed so to get just a little bit more leaves, I use the center of the celery.
Also, the stalks in the center are younger and more flavorful and are better in salads. I leave the older, outer stalks for cooking.
I chop my celery and set it aside as well. We need about two cups of chopped celery.
The beetroot is probably ready by this time so I drain the water and set the pieces of beetroot on the cutting board to cool while I chop the apple.
You can use whatever apple you like. My favorite varieties are Honeycrisp and Pink Lady. The one in the picture above is a Honeycrisp apple.
After I give it a good wash, I slice it in half…
Then in half again. Then I put each piece so that one of its sides is to the cutting board, I position my knife in a diagonal right above the core and cut it out.
I then slice each quarter into three smaller slices…
And then dice the smaller slices.
The beetroot is usually cool by this point, so I dice it as well.
I have everything that I need and it's time to put this pumpkin and beetroot salad together. I add the celery to a bowl first, then the apples, pumpkin, and beetroot.
This is where I stop if I'm eating this by myself. Instead of mixing it all together and adding the rest of the ingredients, I take from this bowl as much as I want to eat and add it to a smaller bowl.
Then, I cover the large bowl with plastic wrap and store it in the fridge.
Serving Pumpkin and Beetroot Salad…
So once I added my smaller portion to a personal bowl, I give it a gentle toss and dress the salad.
You can use whatever dressing you like but I don't really use any. Instead, I season this salad with a little bit of sunflower oil, fresh lemon juice, and salt to taste…
Then I give it another gentle toss and add 2 tablespoons of Gorgonzola cheese, a tablespoon of sunflower seeds (raw or roasted), and a teaspoon of sesame seeds (raw or toasted).
This is what I add to my smaller, personal portion. I have the measurements for the whole salad below in the recipe card.
I think that this is as healthy as it gets as far as lunch goes!
Of course, it doesn't have to be your whole meal, you can serve this salad as a side for any sort of meat dish or whatever other dish you are making.
I love beetroot salad! Usually, I make this Israeli beet salad that my mother showed me how to make when she was here for a visit a couple of years ago and honestly, I wouldn't have thought about combining beetroot with pumpkin if she hadn't suggested it.
---
They work so well together! In fact, you can even leave the celery out if you'd like and just do beetroot, pumpkin, and apple with the cheese and seeds. I just love celery so I stick it everywhere as you've probably noticed if you've read my other recipes.
Anyway, I hope you'll give it a try and I hope you like it! Make sure to check out all of my other pumpkin recipes on my pumpkin recipes page.
Pumpkin and Beetroot Salad
Pumpkin and beetroot salad with celery, apple, Gorgonzola cheese, sunflower seeds, and sesame seeds.
Ingredients
2 cups roasted pumpkin cubes (instructions on how to roast below)
1 large cooked beetroot, diced (instructions on how to cook below)
2 cups chopped celery ((use the center of the celery and try to get as many leaves as you can)
1 large apple, diced (I like to use Honey Crisp or Pink Lady but you can use any apple that you like)
4 oz Gorgonzola cheese, crumbled
1/2 cup sunflower seeds (roasted or raw)
1/4 cup sesame seeds (toasted or raw)
To Dress the Salad...
3 tablespoons of sunflower oil
Juice of one medium lemon
salt to taste
Instructions
To prepare the pumpkin... Cut around the stem and remove it. Cut the pumpkin in half and remove the seeds.
Keep cutting the pumpkin until you have manageable sized pieces. We only need 2 cups of roasted pumpkin cubes for this salad. You can roast the whole pumpkin and use the rest of it for other dishes or you can just roast whatever you need to make 2 cups of pumpkin cubes for the salad.
Preheat oven to 375F.
Place your pumpkin on a baking sheet and spray or brush it with olive oil. Season with salt and black pepper to taste. Roast until the pumpkin is soft (roasting time will change according to the size of your pumpkin pieces. Usually it's around 30 or 40 minutes but make sure to check your pumpkin once in a while). When the pumpkin is done, take the baking sheet out of the oven and transfer the pumpkin onto a cutting board to cool.
Once the pumpkin has cooled a little bit, remove the skin and cut the pumpkin into small cubes. Set the pumpkin aside to cool (again, we need about 2 cups of pumpkin cubes).
While the pumpkin is roasting you can work on the beetroot. Wash it well and remove the top and the root.
Use a vegetable peeler to peel the beetroot and then slice it into 1/2'' thick slices.
Place the beetroot slices in a small pot and add 2-3 inches of water. Place the pot on the stovetop and bring the water to a boil. Lower the heat to keep a rolling boil and cook the beetroot until soft (around 30 minutes as well).
Once the beetroot is cool, take the pieces out and place them on the cutting board to cool for a few minutes, then dice the beetroot slices.
Chop the celery and dice the apples. The pumpkin and beets should be cool enough once that is done. Cube the pumkin and dice the beets. To a mixing bowl, add the chopped celery, diced apple, pumpkin cubes, and diced beetroot.
Season the salad with sunflower oil, lemon juice, and salt to taste and give it a gentle toss.
Add the Gorgonzola cheese, sunflower seeds, and sesame seeds and enjoy!
Notes
This is a great make-ahead salad. Just make sure to store it in the fridge and don't season it. Season and add the cheese and seeds right before you serve the salad.
Of course, you can use any dressing you like with this salad. Personally, I prefer to dress it with just sunflower oil, lemon juice, and salt, but the choice is yours.
Nutrition Information:
Yield:

4
Serving Size:

1
Amount Per Serving:
Calories:

434
Total Fat:

30g
Saturated Fat:

8g
Trans Fat:

0g
Unsaturated Fat:

21g
Cholesterol:

21mg
Sodium:

1680mg
Carbohydrates:

34g
Fiber:

7g
Sugar:

20g
Protein:

13g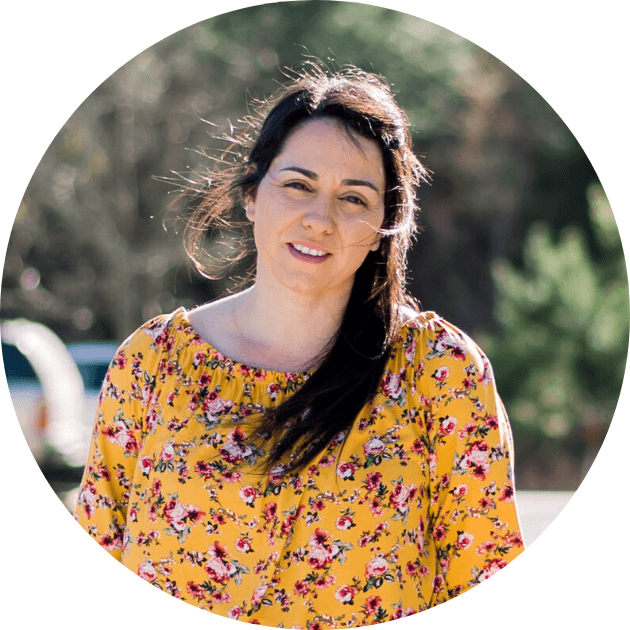 Hi! I'm Lady Lee. I help homesteaders simplify their homesteading journey while still producing a ton of food! I am a single mother of four, I was born in Israel and raised in an agricultural commune called a Kibbutz. Now I homestead in central NC.