Fermenting beets is easy and the result is both tasty and healthy. It's another great way to preserve your harvest and enjoy it longer. In this tutorial, I'll show you just how easy it is. You can find the printable recipe card at the end of the post.
I don't have a root cellar, yet. If you've been clicking around on this blog, you probably noticed that I love canning my garden harvest.
The thing is… What I love most is to consume everything that comes out of the garden fresh.
Of course, it's not possible and this is why I can some of it, but if there is a way for me to preserve a vegetable without cooking it or processing it in heat, I really do prefer that.
Fermenting is just that way. Throw fresh vegetables in a jar with some seasonings, add the brine, close the jar and let it be.
Not only is it so simple, but the result is also tasty, healthy, and fresh. It's kinda like eating the vegetables fresh from the garden, just with a little tasty twist.
Fermenting Beets…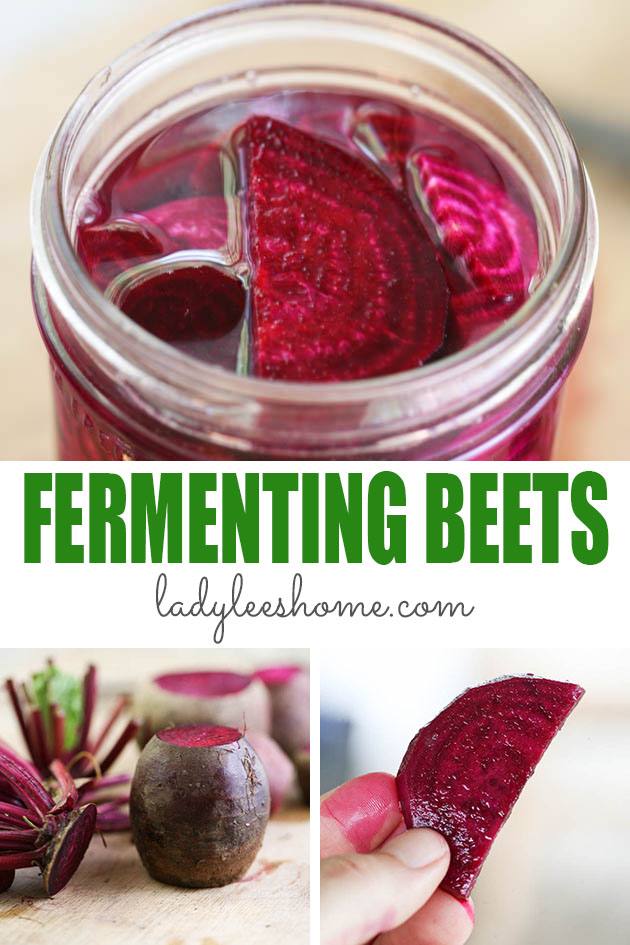 I ferment my radish, I LOVE fermented cucumbers I ferment green beans, and I even ferment tomatoes. Lately, I also started to ferment my beets.
Yes, it will be better to store the fermented beets in the fridge or in a root cellar but I found that since the beet is so hard, it lasts for a few months at room temperature just fine (more on this later).
This saves me a good amount of room in the fridge which is always a good thing.
What is Fermentation…
Fermentation is the process of using microorganisms, such as bacteria or yeast, to convert carbohydrates to alcohol or organic acids under anaerobic conditions.
There are a couple types of fermentation…
Alcoholic fermentation is when we use yeast to break down sugars into carbon dioxide and ethanol. This is the process we use to make beer, wine, and bread.
Lacto fermentation is the process of using bacteria, named Lactobacillus, to convert sugars into lactic acid. This bacteria (some form of it) is actually present in our digestive system naturally and is also present on the surface of plants.
Lactic acid is a preservative that helps us preserve foods by preventing the growth of harmful bacteria. Lacto fermentation, which is the process we are going to use to preserve our beets, also increases the vitamin and enzyme level of the vegetables we ferment.
Adding those foods to our diet can help us introduce additional probiotics, or in other words, beneficial bacteria to our digestive system in a natural way. Beneficial bacteria help us digest food, help us support a healthy metabolism.
So we take our beets, let them sit in a solution and steep for a few days, the sugars in the vegetable break down and start promoting the growth of beneficial bacteria.
Lactic acid is formed and prevents the growth of harmful bacteria which makes it possible for us to preserve what's in the jar (in cold storage).
We get to add beneficial bacteria to our gut and are able to keep the food for a longer period!
That's a win-win situation no matter how you look at it!
What Kind of Beets Can I Ferment?
You can ferment any kind of beets. There are many varieties of beets; some are round and some are longer and narrower.
Some are pink, some are yellow, and some are deep purple/red…
They are all great and suitable for fermenting. Just make sure to choose fresh, hard beets.
Kitchen Tools We Are Going to Need…
Before we start with the tutorial, let's gather our kitchen tools…
Cutting board – I always work on a wooden one.
A peeler – to remove the skin from the beets.
A knife – to cut the beets.
A jar with a lid- you can use whatever size you want. I used a 24 oz jar here but it's just because I had it laying around. I usually use quart or pint jars.
Measuring spoons – to measure the salt.
2 cup measuring cup – to measure the water.
Fermentation weight – I still don't have fermentation weights! I tell myself at the beginning of every season that I'm going to buy weights and somehow the season ends and I still haven't bought them.
I've used so many last-minute tricks (we'll talk about them later), but believe me when I say that your life is going to be much easier if you use fermentation weights.
Preparing Beets For Fermentation…
Beets are not the easiest thing in the world for me to grow, I have to admit.
Not sure if this is the case for everyone but I seem to either hit or miss. One season we can have an amazing harvest and the other a bunch of tops with no nice, large roots.
I think that beets are a little picky when it comes to what's available for them in the soil and they also need consistent watering (which I am not great at providing… Hopefully, I'll fix that soon with a drip irrigation system).
Anyway, I now start my beets indoors, under light and I have a much better result but still, it's a big deal for us to get a really good beet harvest!
Just another reason to want to preserve them for as long as possible.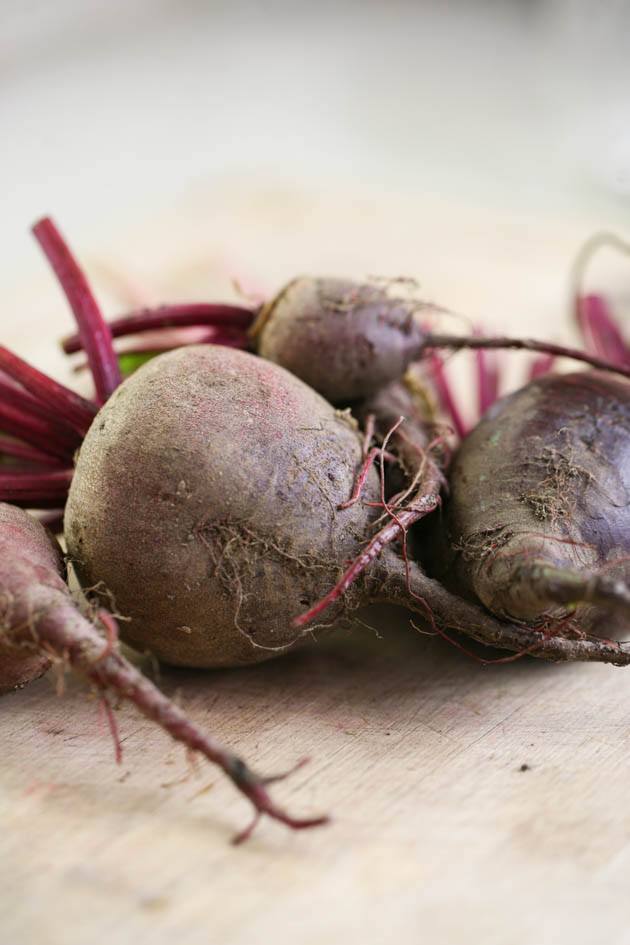 After we harvest our beets, I cut off the greens (and use them to make veggie patties or add them to meatballs or salads) and wash the beets.
Next, I cut off the tops and the roots (these go to the chickens)…
And then I peel the beet with a vegetable peeler.
The next step is to slice the beets. It doesn't really matter how you do this. You can slice them thin or a little thicker, however you prefer eating them.
Packing the Jar With Beets…
Once the beets are ready, I pack the jar (I wash the jar with warm water and dish soap beforehand). I try to fit as much as I can in there but make sure to leave about an inch of headspace.
Then, I add the seasonings.
There are many ways you can go here and many different combinations to choose from.
You can add mustard seeds, peppercorns, red chili flakes, dill, rosemary, pickling mix, thyme… Really there are so many options. You are going to have to try and see what you like best.
I kept it super simple this time with just a teaspoon or so of mustard seeds.
Adding Brine…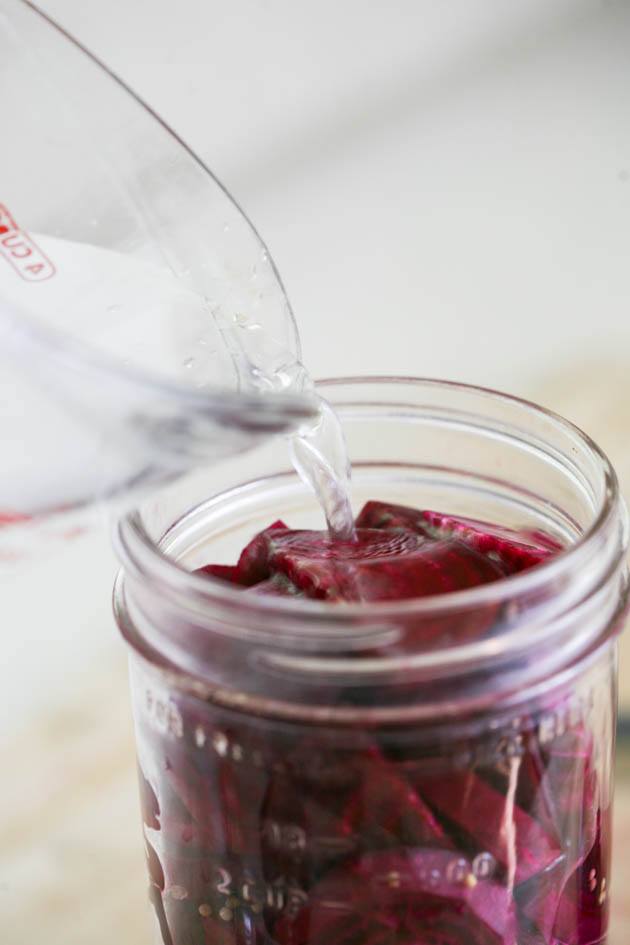 Once the beets and seasonings are in the jar, it's time to mix the brine.
I like a very salty brine so I mix one tablespoon of salt per one cup of water. I stir this until the salt dissolves and then add to the jar.
A couple of notes here…
First, use sea salt, kosher salt, or pickling salt, or in other words, use non-iodized salt.
Second, if you like the taste of vinegar, feel free to add a tablespoon of vinegar per cup of water as well. I show how to do that in my preserving peppers in vinegar and salt post.
Third, you can make a brine that is a little less salty but don't do less than a teaspoon of salt per one cup of water.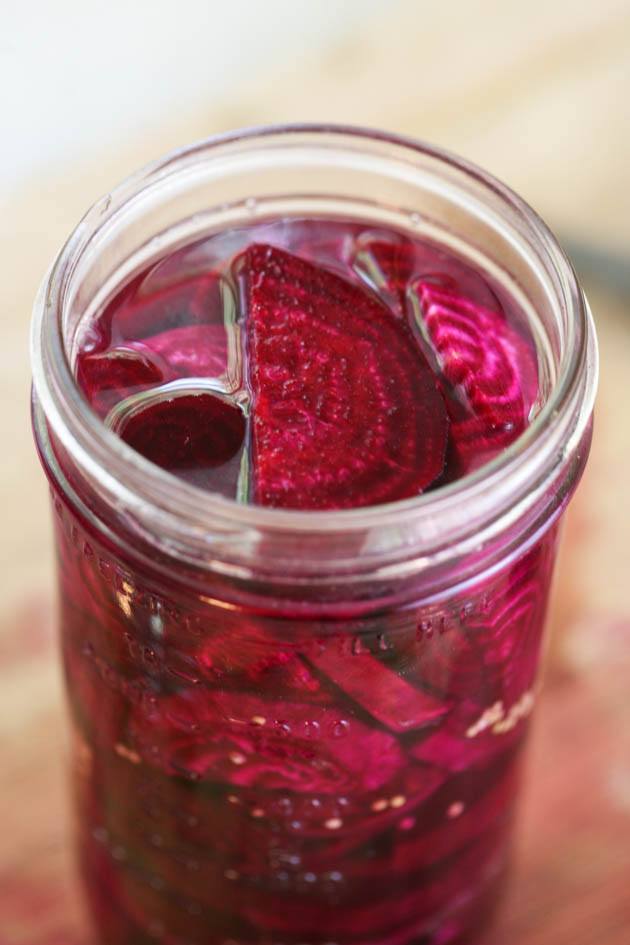 I fill the jar all the way, leaving just a little bit of room at the top. When I add the weight, some of the brine spills out but that's fine.
Closing the Jar and Fermenting…
Now all I have left to do is place the fermentation weight and close the jar.
As I confessed before, I don't yet own fermentation weights. Usually, I fit a freezer lid turned inside of the jar and fill the lid with more brine to create a fermentation weight.
But I couldn't make it work in this jar for some reason so I came up with the idea of using an apple.
This has been done before but I need to let you know that if you do this, you have to make sure that the apple is covered with brine for the most part as well or you'll have a disgusting mess on your hands.
In the picture above you can see the tiny white worms that grew in my fermented radish. I had to give the whole thing to the chickens. They did like the dish a lot so I suppose it wasn't completely wasted.
Anyway, I hope you have fermentation weights. If you don't, I've heard of people who used a rock, a zip lock bag filled with water, a cabbage core, or a few other creative ideas.
I did go ahead and use the apple this time. I made sure to push it down well and to cover it with the brine.
Then, I closed the jar.
I set it on a plate and place it on the kitchen counter to ferment. Fermentation time will change according to the size of the jar. For this jar, it took about a week to ferment.
First, after a couple of days, you'll start to see bubbles inside the jar, make sure to open the jar once a day ("burp it") and let the gas out (you can also use fermentation lids that let the gas out without you needing to open the jar).
Then, you'll notice that the brine becomes foggy, that's just fine. When it clears again, it means that the beets are fermented and it's time to store the jar.
Just know that the beets are going to dye the brine purple. That's completely normal!
How to Store and Use Fermented Beets…
So, the best way to store your fermented beets is in cold storage. Somewhere with a 30-40 degrees temperature. This can be the fridge or the root cellar.
However, if your beets are covered well in brine (you can add brine if some spilled out during the fermentation process), you can leave them at room temperature for a while.
I left my beets out on a shelf at room temperature for 3 months. They held great and I had no problem. The only thing that I noticed is that after about three months they start to soften.
If you like your beets soft than that should be ok. I like them firm so I moved the jar (I had one left) into the fridge.
If you leave your jar at room temperature, make sure to open it once a week or so and check that everything looks fine inside.
When you grab a beet from the jar, make sure to always use a clean fork so you don't introduce the wrong kind of bacteria.
I use my beets mainly as a snack, in salads, or as a side.
I eat them whenever I feel like snacking a little something (they are a much better choice than a cookie or chips!) or when I eat a sandwich. They are a great side for any sandwich.
They are also a great addition to many salads. They will be a great addition to this Mediterranean egg salad, or this feta and pumpkin salad or many others.
They are a yummy, healthy, and easy dish to make! I hope you'll give them a try.
If you liked this recipe, you might also like…
Preserving Peppers in Salt and Vinegar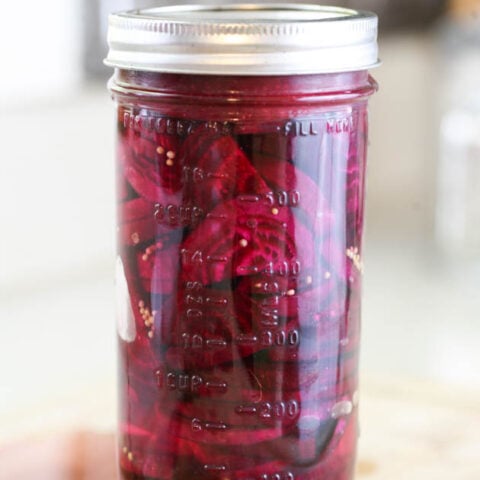 Fermenting Beets
Yield:
One quart of fermented beets.
Total Time:
7 days
10 minutes
Delicious and healthy and simple fermented beets.
Ingredients
Enough beets to fill a quart jar
1 tablespoon of mustard seeds
Sea salt, kosher salt, or pickling salt
Instructions
Remove the greens and wash your beets.
Remove the top and the root.
Use a vegetable peeler to remove the skin.
Cut your beets as you wish (you can go with thin slices or cube the beets... It doesn't matter).
Wash your jar with warm water and dish soap.
Pack the jar with the beets. Make sure to leave 1'' headspace.
Add the mustard seeds or other seasonings (see notes).
Dissolve a tablespoon of salt in a cup of water and add it to the jar. Repeat until the jar is filled with the brine.
Place a fermentation weight on top of the beets. Make sure the beets are covered with the brine.
Close the jar with the lid and band and set on a plate to catch any liquid that will spill out in the fermentation process.
Place your jar at room temperature to ferment.
After a couple of days, you'll see bubbles starting to form inside the jar. Make sure to open the jar once a day to let the gas out then close it again.
The brine in the jar will become foggy and then after about a week, it will clear again. When the brine is clear again the beets are ready.
Store the jar in the fridge or a root cellar (30-40 degrees is best).
Notes
If you like the taste of vinegar, feel free to add a tablespoon of vinegar per cup of water as well. 
You can make a brine that is a little less salty but don't do less than a teaspoon of salt per one cup of water. 
You can add mustard seeds, peppercorns, red chili flakes, dill, rosemary, pickling mix, thyme... Really there are so many options. I like to keep it simple but you can try different seasonings and figure out what you like best. 
Nutrition Information:
Yield:

1
Serving Size:

1 quart
Amount Per Serving:
Calories:

119
Total Fat:

3g
Saturated Fat:

0g
Trans Fat:

0g
Unsaturated Fat:

2g
Cholesterol:

0mg
Sodium:

12844mg
Carbohydrates:

22g
Fiber:

5g
Sugar:

16g
Protein:

5g