This venison burger recipe from scratch is a regular at our home. The meat is so healthy and available for us because we hunt every fall. There are so many great ways to use venison meat (I pretty much use it just as I use beef and can replace any beef recipe with venison) but these venison burgers might just be our favorite way of using deer meat. I have the Venison Burgers Recipe printable for you at the end of the post.
---
It must be what it feels like to die and go to heaven. Sinking your teeth into a homemade, from scratch venison burger that is. I am sure of that!
I love venison, if you follow this blog you probably already know that. If I can, I try to only use venison and not beef from the store. One day I'll raise my own cows and they will be happy cows that sunbath all day and consume a massive amount of fresh, green grass, but even then, I can assure you that if I'll still be able to put my hands on venison I'll keep using it.
It's simply amazing meat that is so very healthy for us. I love that it comes right from nature, I love that these deer had the freedom to roam around and I love that they could decide for themselves what they'd like to eat.
The health benefits of eating this kind of meat are very noticeable. You don't need anyone to research this stuff and show up with statistics, you can feel it in your body. Problems like gas or unbalanced hormones in many cases just go away completely. I personally don't feel that "heavy" feeling after eating venison which directly results in feeling like my energy level is where it should be.
Venison Burger Recipe…
I use venison instead of beef. Many recipes that call for beef can be done with venison, but sometimes since there is not much fat on a deer and the animal actually moved when it was alive the meat can be a bit tough. This is not a big deal, in many cases before I use deer meat I'll pressure cook it to make sure that it's soft enough.
With burgers, I don't have to go through the pressure cooking process. We ground our meat here at home and when you cook it as a hamburger or meatballs its texture is just the same as the texture of meat from the store.
I'll show you how to make venison burger, but a venison burger recipe is a flexible thing, you know. You can use this as your base recipe but create your burger any way you want.
Here are our steps:
Preparing deer meat for venison burger recipe.
Venison burger seasoning and forming the burgers.
How to cook venison burgers.
Building delicious venison burgers.
Preparing Deer Meat for Venison Burger Recipe…
I got this beautiful deer ham from my neighbor the other day. In past years my husband used to go hunting and we'd have three or four deer in the freezer by the end of the season which would be enough meat for the rest of the year (see my post about deer processing to learn more). We've separated, so for now, my neighbors take care of us as much as they can.
In this small country community, we barter a lot. They may use my tractor attachments and then bring me meat a few days later. Someone can weld something for me one day and I'll drop a basket of vegetables on their front porch a few days later.
I love it! It makes farming and homesteading so much more fun and easier too.
On my list of things to learn (which is as long as HWY 95…) is learning how to hunt. Hopefully in the near future, I'll figure it out but for now, I am welcoming any meat I get from my neighbors.
I took all the meat off the bone. I canned some of the meat and used the bone to make bone broth and canned some of it and left about 2.5 pounds for burgers.
Deer meat has virtually no fat in it. And when you butcher the animal you want to remove any fat you come across because it doesn't taste good at all.
I give the deer fat to my dog and usually, if I make stew, or deer jerky in the oven, or pulled venison wrap, I don't add fat.
But when I ground the meat I like adding some fat. It gives it a better texture and it tastes really good. So here I added a little bit of beef fat. I get it at a local butcher shop for $0.99 a lb. You can add as much as you want. I usually add about 10% fat.
Now that I have the cubed meat (one-inch cubes) and the fat, the next step is to ground all this together.
The kids love doing it, but honestly, it's hard and not fun at all! It's easier if your meat is a little frozen but honestly, I think that my next investment would be a meat grinder attachment for my Bosch Universal Mixer. Or maybe I'll purchase a standalone meat grinder.
We love hamburgers and meatballs and chili and in the future, I also want to learn how to make sausage so I think it's time to upgrade to an electric grinder that will save me a whole lot of valuable time.
Ok, let's stop whining and start working, yes?
I alternate between the meat cubes and the fat cubes. When they come out everything is pretty much mixed together but most of the time I run it through the grinder one more time.
Then I give it one more good mix with my hand.
Venison Burger Seasoning and Forming the Burgers…
I add 1 teaspoon of salt and 1/2 teaspoon of black pepper and mix it in. Make sure not to overwork the meat!
Next, I scoop some meat and shape it into a hamburger patty. Remember that the meat is going to shrink a bit when we cook it so make your patties a bit larger than your bun.
Now the secret ingredient! This steak seasoning that I got from Costco (you can also find it on Amazon here).
I do not eat a steak or a hamburger without this thing! It's such a good blend of seasoning, I would live in the container if I could.
Ok, so a little bit (I am trying really hard to control myself in this step!) on each side of each hamburger…
And I set them on a piece of a plastic wrap on the counter.
How to Cook Venison Burgers…
Now let's cook these babies! I add a couple of tablespoons of oil to a pan… I use a cast iron pan here but you can use any pan or, even better, not use a pan and grill the burgers instead.
I don't eat dairy and meat together so I use olive oil or sunflower oil, but you can use butter as well.
I wait until the pan is really hot, then I add the burgers and lower the heat a bit.
I like my burgers well done so I cover the pan to make sure they cook all the way. It also helps with the smoke a little bit.
After 4 or 5 minutes, I flip them, cover the pan and let them cook a couple more minutes.
You gotta cook them as you like. If you like them raw then you might not want to cover the pan and you might want to cook them less. But always start with a very hot pan so they get this nice brown color.
Also, if you like cheese on your venison burger make sure to add it after you flip the burgers so it has time to melt.
Once they are done on the other side, I take them out and set on a plate.
Building These Delicious Venison Burgers…
I make hamburger buns at home (using this recipe), because the buns at the store taste like cardboard and the meat is so tasty that it deserves better! And I deserve better too.
Make sure you have all of the other stuff ready. I keep it super simple…
I spread mustard on one side of the bun…
Mayo on the other side of the bun…
And then the hamburger, lettuce (this one is fresh from the fall garden!), and tomato.
You can add cheese, pickles, bacon, mushrooms, onions… Whatever you like.
It's just so so good, I mean, look at it!
I wish I could give you a bit! The bun is so soft and the meat is so tasty. That steak seasoning really takes it to a different level in my opinion.
Once I have a normal meat grinder this process would be easier but even now it's so worth the effort! The hunting, the butchering, the processing, and the cooking… Each step adds more flavor to that final result.
This venison burger recipe is a regular at our house and will probably stay for a long time. The kids love to help make them and they love building their own venison burgers and it's a meal you don't have to convince them to eat! Or me…
Another great recipe and a meal you wouldn't need to convince us to eat is this amazing BBQ venison neck recipe. Give it a try!
Here is the handy printable…
Ground Venison Burgers From Scratch
Yield:
8 venison hamburgers
Delicious venison burgers that are the perfect hunter's meal!
Ingredients
2.5lb cubbed venison meat
5 oz cubbed beef fat (or more, you can go up to 20% fat which is 8 oz)
1 teaspoon salt
1/2 teaspoon black pepper
2-4 tablespoons of Montreal Steak Seasoning (depending on taste)
3 tablespoons of oil for frying
Hamburger buns, dressing, cheese, and vegetables of your choice
Instructions
Chill your cubbed meat and fat before grounding so that they are firm but not completely frozen.
Ground the meat and the fat. If you need, use your hands to mix them together but don't overwork the meat.
Add salt and pepper to the ground meat mixture and mix it in.
Form your patties a little wider than the bun.
Season patties on both sides with the steak seasoning.
Heat oil in a pan and add your burgers, then lower the heat a bit.
Cook burgers a few minutes on each side according to how you like the meat cooked. I like them well done so I cover the pan to make sure they cook all the way.
Remove your burgers onto a plate when they are done.
Build your burger on your bun however you like it!
Notes
1. Add between 10% to 20% of fat to your ground venison.
2. You can also use pork fat instead of beef.
3. If you want to freeze these burgers, pack them before you add the steak seasonings. Add the seasonings right before you are ready to cook your burgers.
4. You can use butter, lard, or other fat for frying these venison burgers.
5. If you like cheese on your burgers, make sure to add the cheese after you flip the burgers (a slice or two of cheese on each burger) so it has time to melt.
Nutrition Information:
Yield:

8
Serving Size:

1
Amount Per Serving:
Calories:

321
Total Fat:

27g
Saturated Fat:

11g
Trans Fat:

0g
Unsaturated Fat:

14g
Cholesterol:

71mg
Sodium:

166mg
Carbohydrates:

3g
Fiber:

0g
Sugar:

0g
Protein:

15g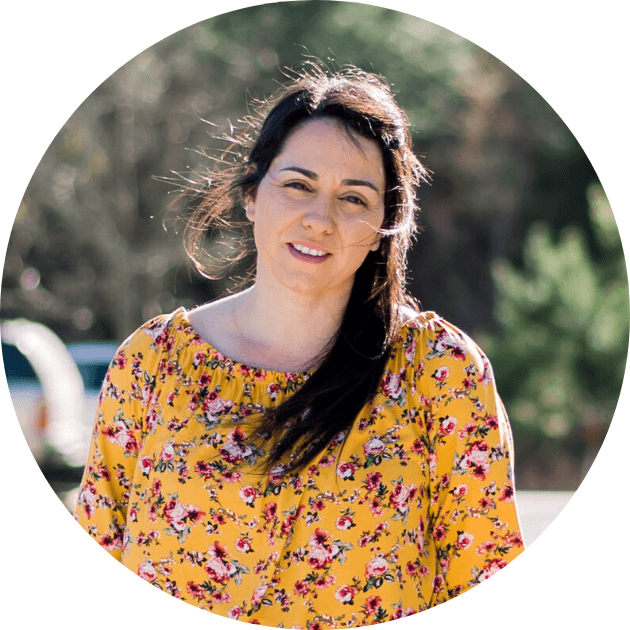 Hi! I'm Lady Lee. I help homesteaders simplify their homesteading journey while still producing a ton of food! I am a single mother of four, I was born in Israel and raised in an agricultural commune called a Kibbutz. Now I homestead in central NC.