This is a simple recipe for purple sweet potato chips. A great healthy and delicious recipe that is very easy to make. These purple sweet potato chips are special, different, and fun for the whole family!
---
My affair with purple sweet potato started a few years ago… I was walking around the farmer's market and noticed a vegetable that I'd never seen before. I knew that it was a potato but nothing other than that.
Of course, I had to try it so I bought a few and headed home. And then I completely forgot about the potatoes… That year, I tried to sprout a regular orange sweet potato so I could plant the slips in the garden and it didn't work. The potato refused to sprout… And then I remembered that I purchased those purple looking potatoes at the market…
Purple Sweet Potato Chips…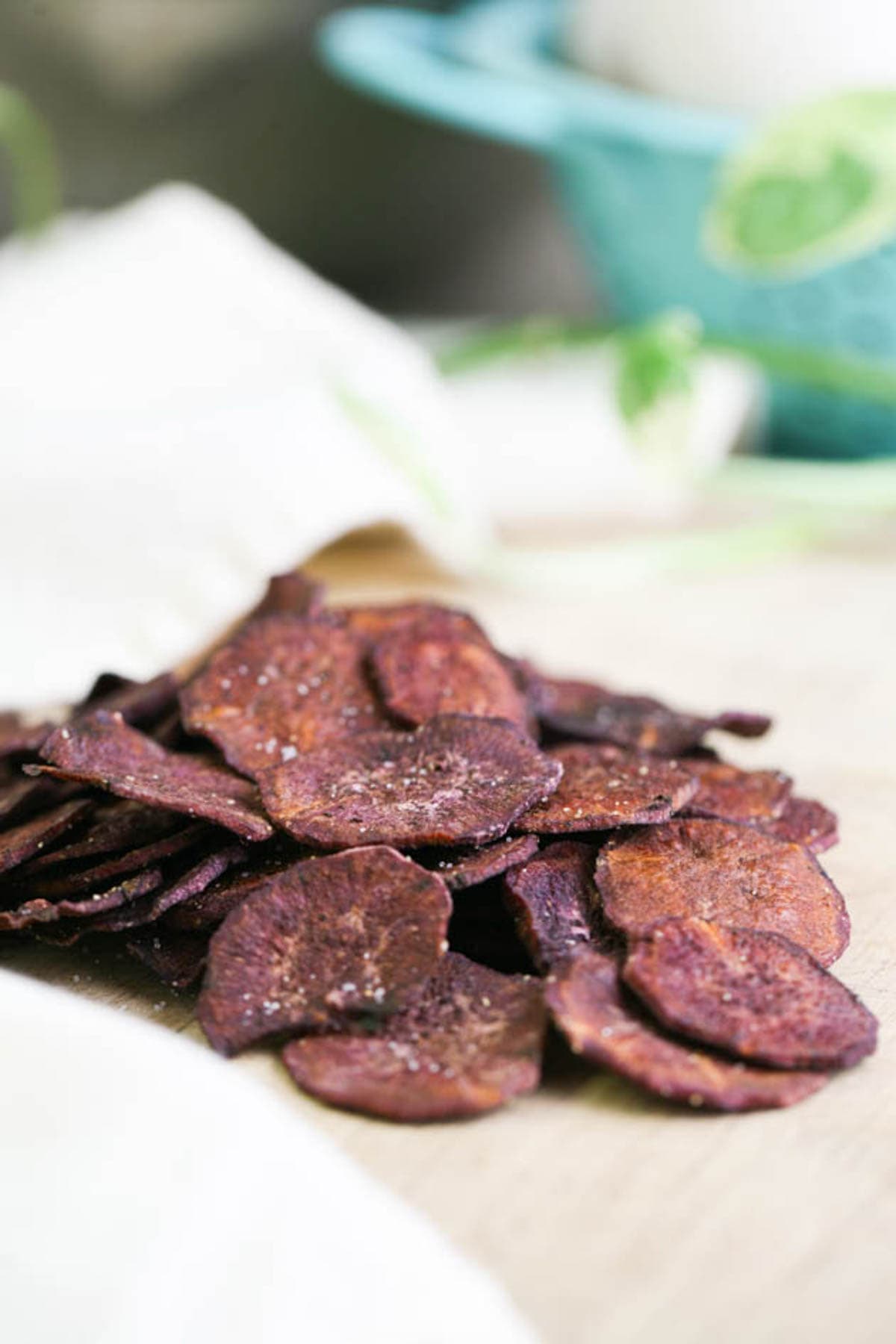 I placed a couple of them in water and what do you know!? A few weeks later I had so many slips to plant in the garden. That year I was able to produce a whole lot of potatoes from the couple that I bought at the farmer's market and it was time to try and cook my purple sweet potatoes.
I fell completely in love with this vegetable! If you follow me here on the blog you've probably noticed that I prefer my food with less sugar… I make my jams with much less sugar than the traditional amount (like this sugar-free strawberry jam and peach jam, mulberry jam, and fig jams), I make my bread with less sugar (like this pumpkin bread, zucchini bread, or strawberry bread)…
I love sweets all right… But I don't like that the sweetness is overpowering the other tastes. Anyway, I was pleasantly surprised to learn that purple sweet potatoes are not as sweet as the common orange sweet potatoes. they are still plenty sweet for me and they are dense and creamy and filling.
Since that year, I've been growing purple sweet potatoes on and off and trying a few different recipes like baked purple sweet potato, mashed purple sweet potato, and roasted purple sweet potato. I love them all and today I want to share with you a new one… Purple sweet potato chips!
These purple sweet potato chips are easy and fun and healthy and delicious. It's a great snack to make that the whole family is going to love! Let's start with a little bit of background in case this vegetable is new to you…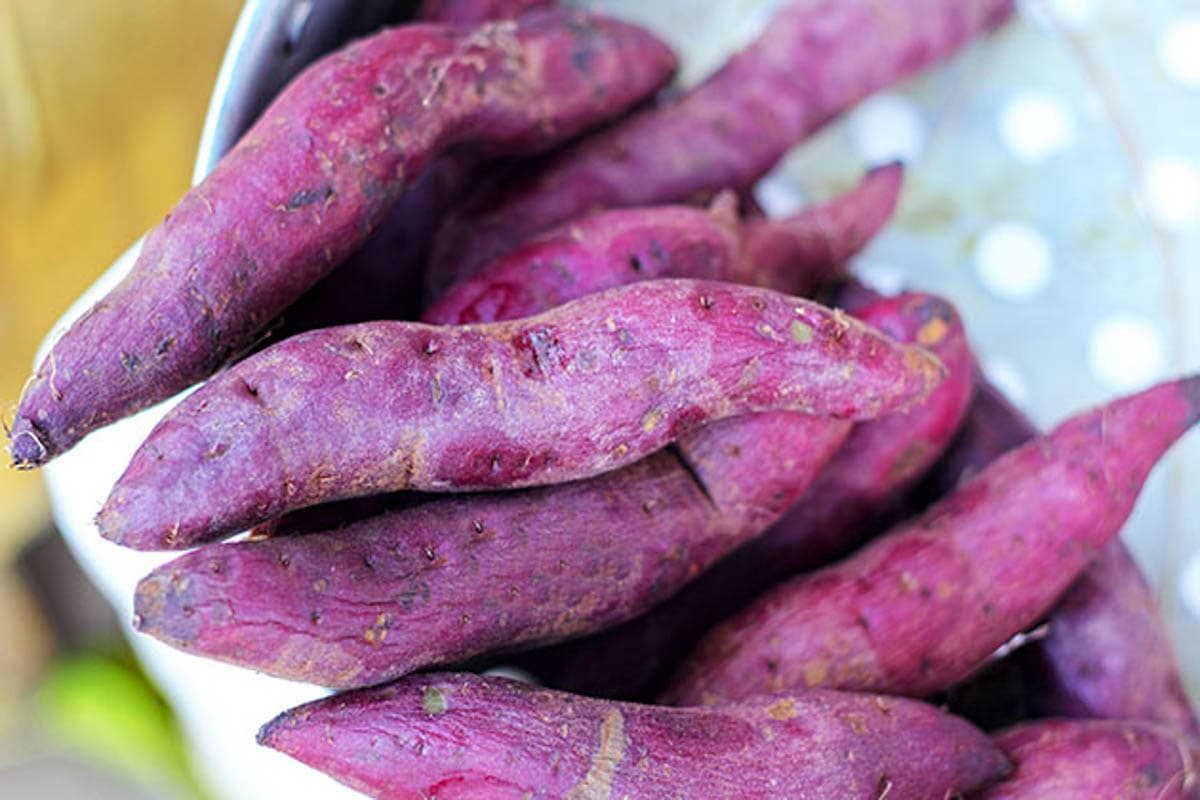 Table of Content…
What is a Purple Sweet Potato?
There are three different varieties of purple sweet potatoes (there might be more but these are the main ones)…
Okinawan Purple Sweet Potato – has a whitish skin and purple flesh. It is believed to have come to the Philippines and China area from South America around 1490. The plant reached Japan around 1600 and was initially planted in the island of Okinawa before farmers all over Japan started growing the crop.
Somehow, this potato ended up in Hawaii and became an important part of Hawaiian culture. This is where it is cultivated today for the American market and therefore it's known today as Hawaiian Purple Sweet Potato.
Molokai Purple Sweet Potato – these are purple on the outside and purple on the inside and were developed on the island of Hawaii. I've never tried them but it sounds like they are very similar in shape and taste to the Stokes potato.
Stokes Purple Sweet Potato – this variety has purple skin and a deep purple flesh. They are dense, a little dry, very very healthy, and a little less sweet than the orange potato we know.
They are an American made potato, originated in Stoke County, NC, but are now grown mainly in central California. As far as I understand, a mysterious woman gave a farmer from NC some potato slips many years ago. He planted them and ended up with purple sweet potatoes. He liked them so much that he kept growing them and eventually they were registered under the name Stokes potatoes. These are the ones that I am growing.
You can make purple sweet potato chips from all of these varieties in the same way.
Purple Sweet Potato Health Benefits…
Aside from being tasty, sweet and creamy, these tubers are very healthy! Purple sweet potatoes are low in carbohydrates and fat and are a great source of vitamins like vitamin A and C and fiber.
They are also a great source for calcium and potassium, but maybe the greatest health benefit of purple sweet potato is their richness in antioxidants. This is a common benefit that all the purple vegetables share.
Where to Buy Purple Sweet Potato…
Now, that's the main reason to grow them yourself! It's hard to find purple sweet potatoes in stores. As I mentioned before, the first ones I got were from a local farmer but I've never seen them in stores and I've actually never seen them in the farmers market again…
You might be able to find them in Chinese markets but even in our only Chinese market in the closest big city, I couldn't find them. Online, I found two places…
Friedas sells the Stokes variety by the crate. I received beautiful and firm potatoes in a very reasonable time and I don't think that I paid for shipping so I definitely recommend this company.
Veggie Farm is based in Hawaii and sells the Okinawan Purple Sweet Potatoes. I have never ordered from them before.
I also found these on Amazon but I am not sure how good they are. The reviews vary.
Anyway, I assume that if you landed on this post chances are that you already have purple sweet potatoes in your possession and that you are ready to make purple sweet potato chips!
Ingredients…
Purple sweet potato – again, you can use any kind of purple sweet potato to make chips. I was able to fit one medium potato per baking sheet.
Olive oil – or, you can use coconut oil instead.
Seasoning – in this recipe, we are only going to use salt and black pepper. Purple sweet potatoes are very flavorful and I wanted to keep the seasonings to a minimum, however, feel free to use any seasoning that you'd like. You can try cumin, or paprika, or ground chili for some heat.
Kitchen Tools…
How to make Purple Sweet Potato Chips…
Step one – prep the potato. Start with one purple sweet potato. You can make as many as you want of course but one medium potato usually fills one regular baking sheet.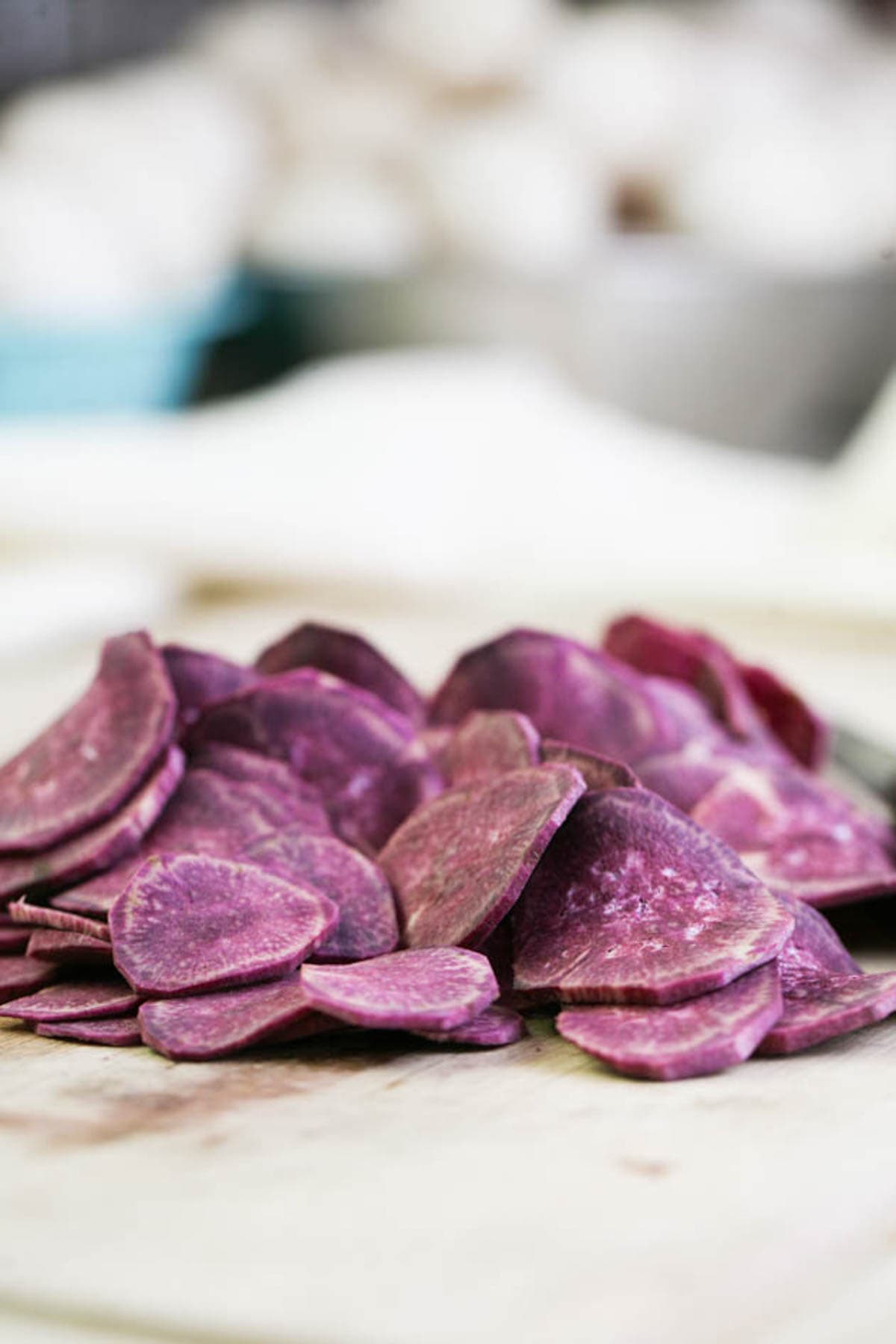 You don't have to peel your potato but I usually do. Then, use a knife or the mandoline to slice the potato into really thin slices. If you are using a knife, try to make sure that the slices are even in thickness.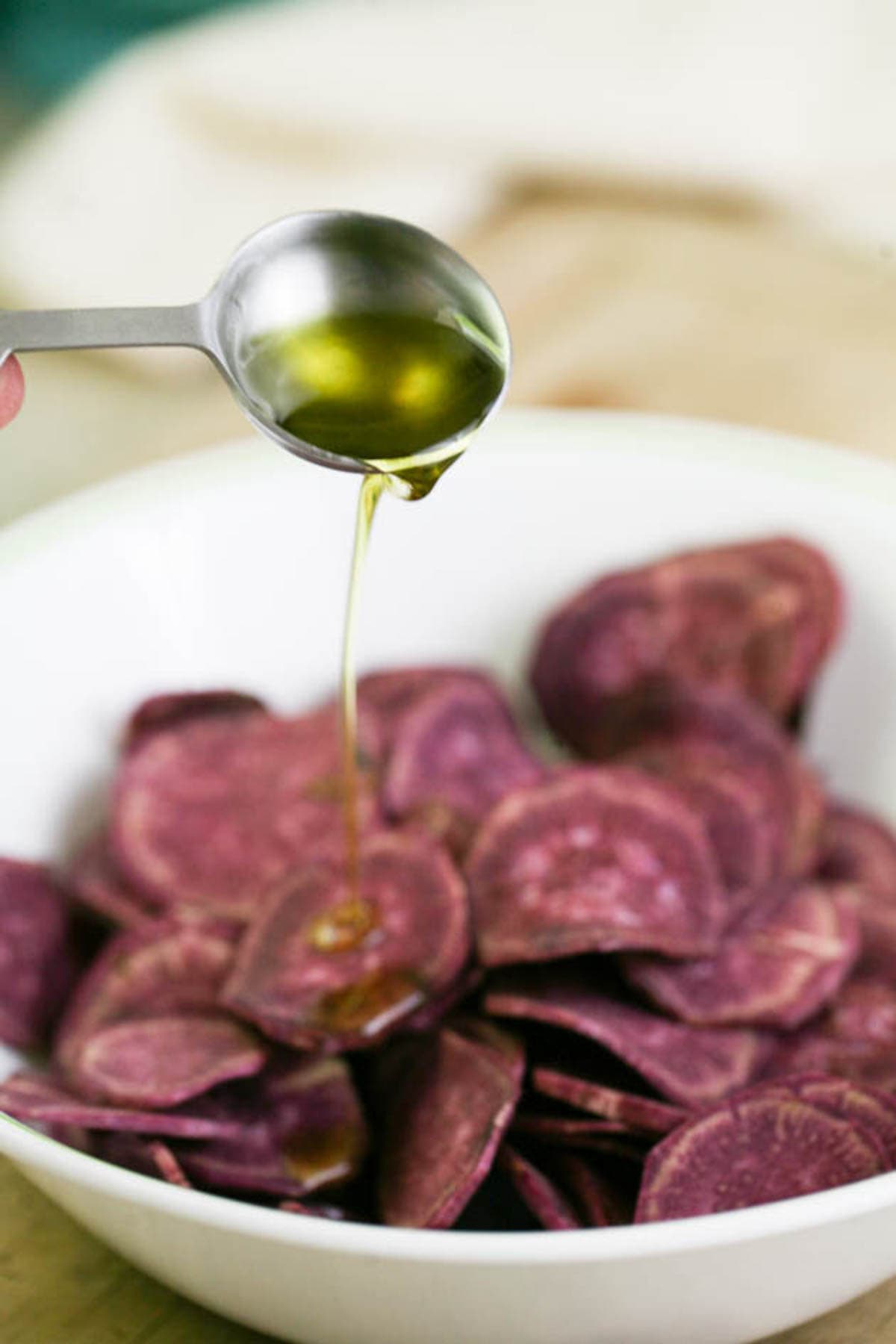 Step two – season the potato. Add the potato slices to a mixing bowl and add one tablespoon of olive oil and salt and black pepper to taste. You can get creative here and add different seasonings. You can do cayenne pepper or ground chili pepper if you want to add heat to your chips. You can add garlic powder or onion powder. Just sprinkle whatever seasoning you want right on the potatoes…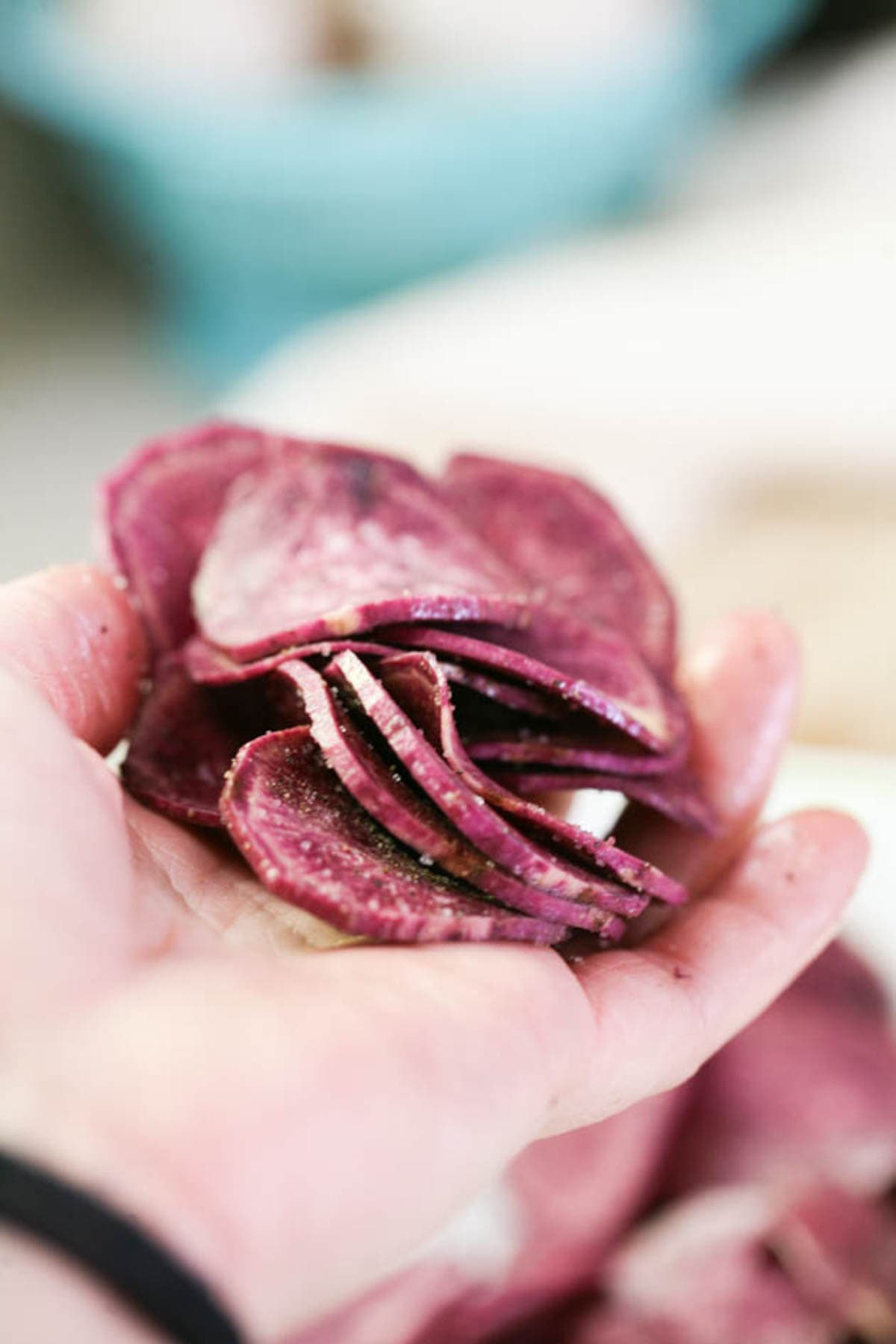 Then, use your hands to toss it all together and coat all of the potato slices with the oil and seasonings.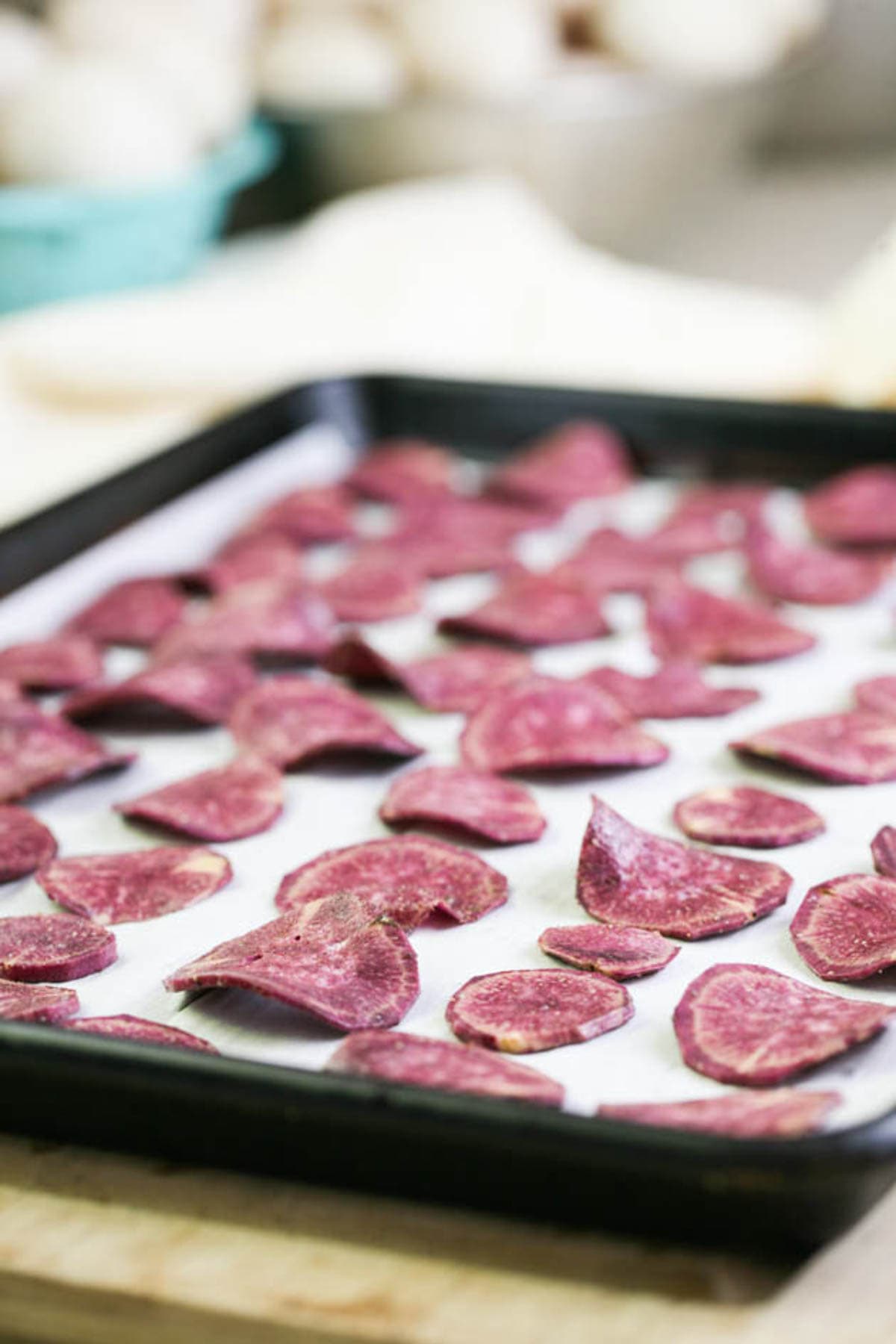 Step three – bake the potato chips. Line a baking sheet with parchment paper and lay the sweet potato slices in one layer on the baking sheet. You can place them really close together, they will shrink a little bit as they bake and dry.
The potato is baked in a preheated 250 degrees F oven for about 70 minutes until they are completely dry. You can try to bake them in a slightly hotter oven but when it comes to drying food usually low and slow is the best way to go. The slices are very thin and it's easy to burn them if you go with a higher temperature. In fact, even if you bake them at 250 degrees F I still recommend to check them every 10 minutes or so after the first 30 minutes.
Bake for 30 minutes and then take the baking sheet out of the oven and check your chips. If they are not dry and crispy yet, bake 10 more minutes and check again. For me, it takes about 70 minutes. However, if you sliced your purple sweet potato thinner than I did it might take you less time. Just make sure to check your purple sweet potato chips so they don't burn. Also, after the first 30 minutes you can use tongs to flip the potato slices. This will help them dry faster.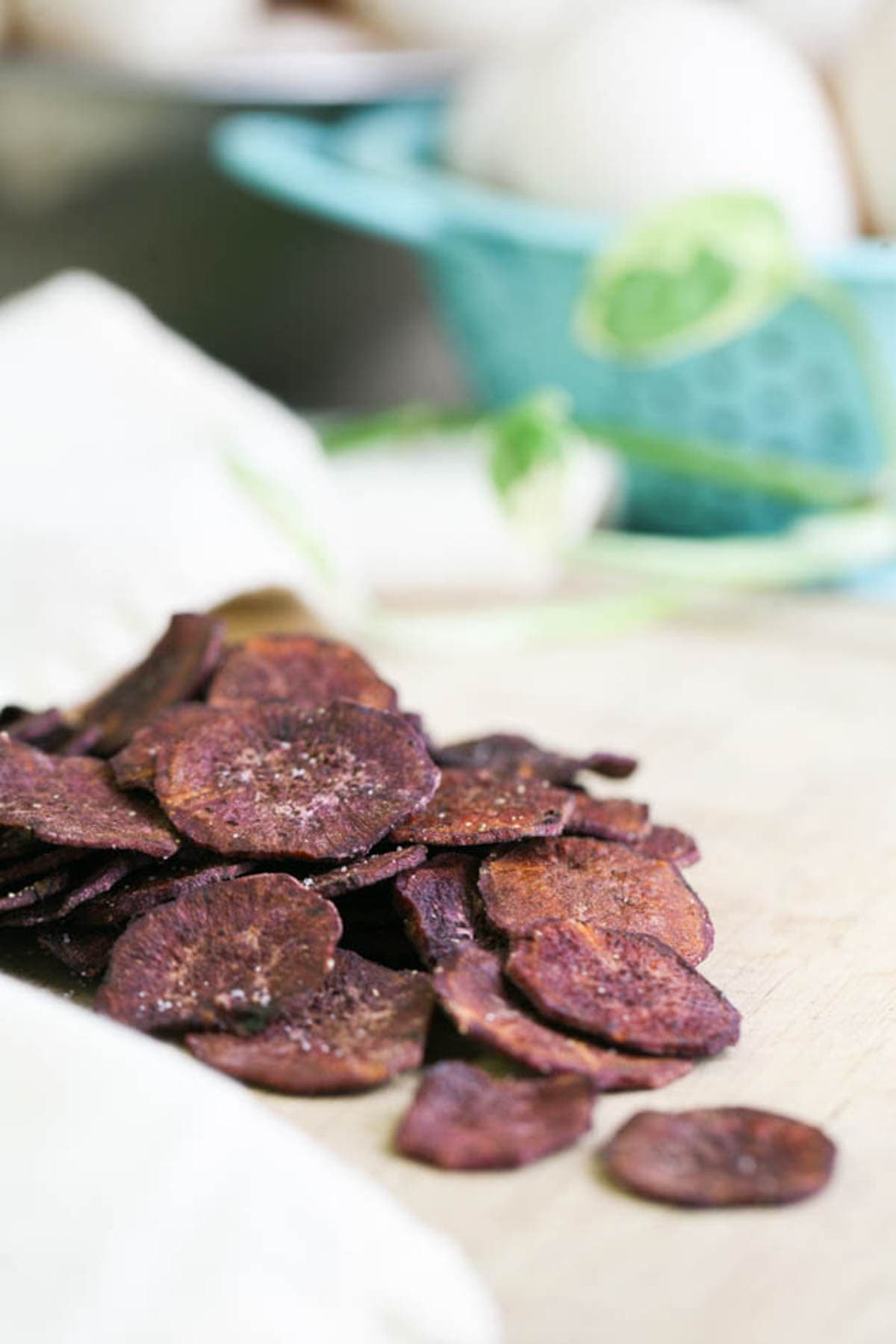 Serving Purple Sweet Potato Chips…
Once your chips are out of the oven, let them cool to room temperature before serving them. Then, I usually serve them one of two ways…
As a snack – purple sweet potato chips are a snack for us. They are much healthier than regular potato chips from the store and much more flavorful in my opinion.
As a side – to any sandwich like a burger, or pulled BBQ, or a wrap.
How to Store Purple Sweet Potato Chips…
I usually make just enough for us to eat fresh. Usually, there aren't any leftovers for me to store since these are highly addictive! However, if you find yourself with some leftovers, store them in a ziplock bag and keep them at room temperature for a couple of days.
---
Purple sweet potato chips are easy to make in the oven and are a great snack for the whole family. If you grow your own purple sweet potatoes and store them for the winter, this is an easy and fun way to use them. I hope that you'll give this recipe a try!
You Might Also Like…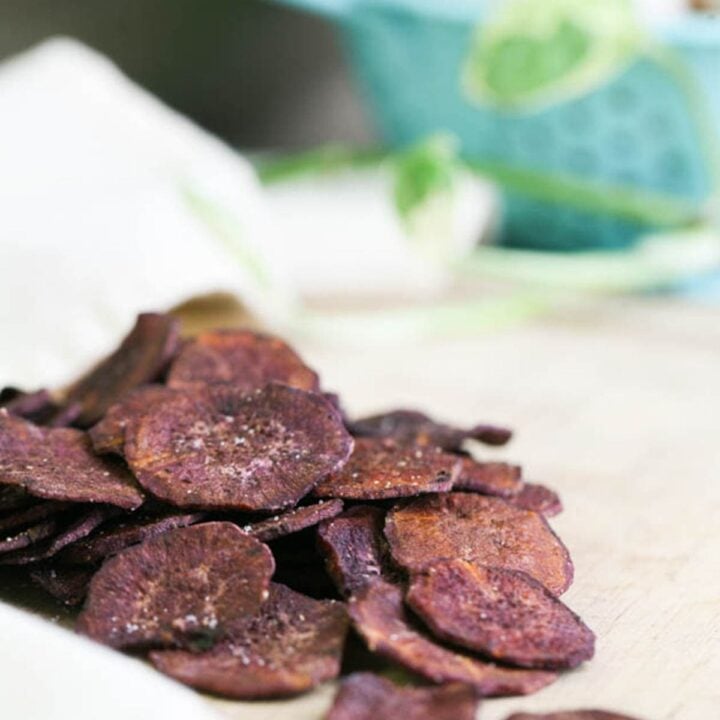 Purple Sweet Potato Chips
Cook Time:
1 hour
10 minutes
Total Time:
1 hour
15 minutes
A simple and delicious snack. Purple sweet potato chips are easy to make and very healthy.
Ingredients
One purple sweet potato
1 tablespoon olive oil (or coconut oil)
Salt and pepper to taste
Instructions
Preheat your oven to 250 degrees F.
Wash and peel your potato.
Slice your potato very thin. If you have a mandolin, use it. It makes this job much easier. If you are using a knife, try to make your slices as consistent as you can so they will bake evenly.
Add all of the potato slices into a mixing bowl, add the olive oil, salt, and black pepper to taste (see notes for more seasoning options). Use your hands to mix the potato slices until they are coated with the oil and seasonings.
Line a baking sheet with parchment paper and set the potato slices on the baking sheet in one layer.
Bake for 70 minutes or until dry (see notes).
Cool before serving.
Notes
You can play around with the seasonings and add whatever you like. If you want to add heat, you can season the potato slices with cayenne pepper or ground chili pepper. You can add garlic or onion powder... Whatever you feel like adding.
Be careful not to burn the chips. The length of baking really depends on the thickness of your potato slices. For me, it usually takes around 70 minutes but I suggest that you bake your chips for 30 minutes and then check them.
If they are not dry yet, place them back in the oven and check again after 10 more minutes. Keep going, baking and checking every 10 minutes until the chips are dry and done.
Cool before serving.
To store, use a zip lock bag or an airtight container.
Nutrition Information:
Yield:

2
Serving Size:

1/2 a potato
Amount Per Serving:
Calories:

111
Total Fat:

7g
Saturated Fat:

1g
Trans Fat:

0g
Unsaturated Fat:

6g
Cholesterol:

0mg
Sodium:

168mg
Carbohydrates:

12g
Fiber:

2g
Sugar:

4g
Protein:

1g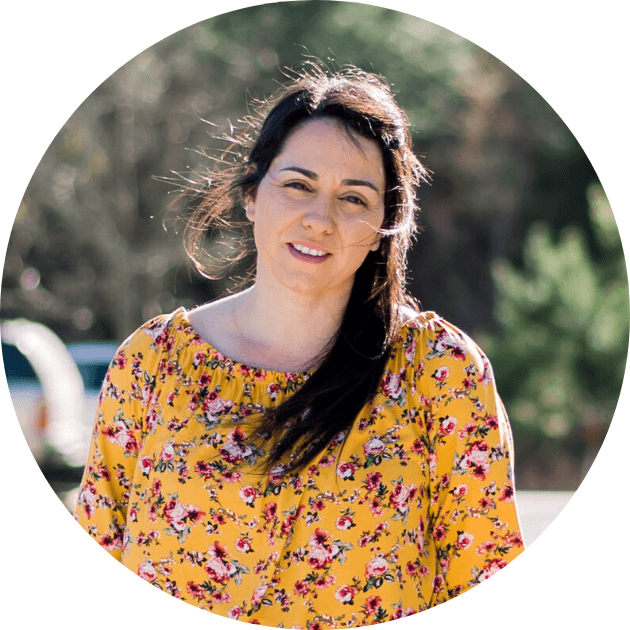 Hi! I'm Lady Lee. I help homesteaders simplify their homesteading journey while still producing a ton of food! I am a single mother of four, I was born in Israel and raised in an agricultural commune called a Kibbutz. Now I homestead in central NC.