I've been wanting to try a sugar-free jam for a while now and finally got around to make a couple of jars. I'll be honest and say that I kinda have a problem with the idea… When I think about jam I think sweet, sticky goodness and no matter how sweet the fruit is, or how much honey you add, it never as sweet as when you use sugar.
My jams never have the traditional ratio of 1:1 between sugar and fruit anyway. If I use 2 lb of fruit, I usually add 1/4 th of that in sugar, so I was already on my way to much less sugar before, but I really wanted to try the sugar-free version too.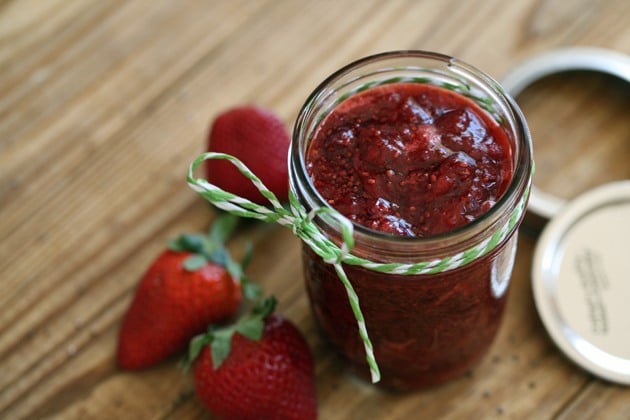 Since we are talking healthy here, I decided to add some chia seeds to the mix as well for more crunch and added nutrition value. When you use chia seeds in jams, there is really no need to use pectin, the seeds thicken the jam very quickly.
I never use store-bought pectin anyway, though. I use lemon seeds instead which have natural pectin in them. If you would like to see how I usually make my jams, without pectin and less sugar, check out this peach jam recipe.
OK, let's make sugar-free, super healthy strawberry jam, shall we?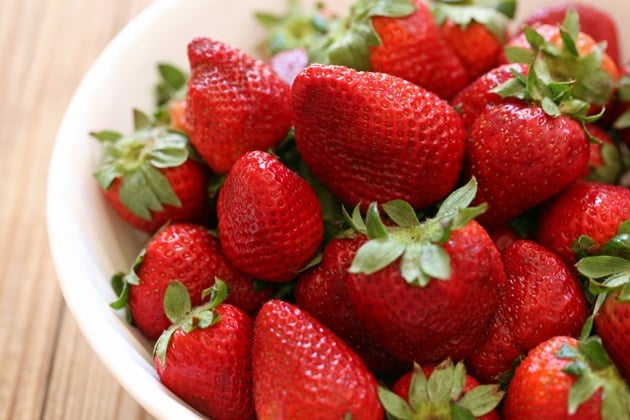 It all started when I noticed these strawberries…
I mean, look at them… How can you leave these in the store on a cold shelf?
I couldn't, so I got 6 lb of them.
2 lb were gobbled up with no mercy what so ever on the way home by my three little termites. Another 2 lb turned into a strawberry shortcake (can't go wrong there), and the last 2 lb participated in the sugar-free jam experiment.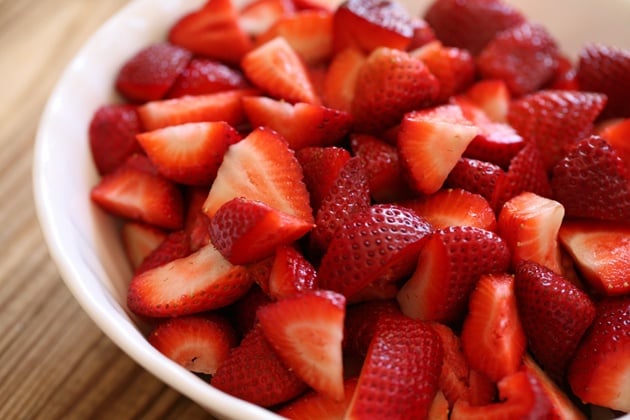 After I cleaned them from the tops and cut them into pieces, I was left with 1 lb 10 oz of fruit.
In a shallow pot they went…
I added 1/2 cup of honey and turned the heat to medium-high…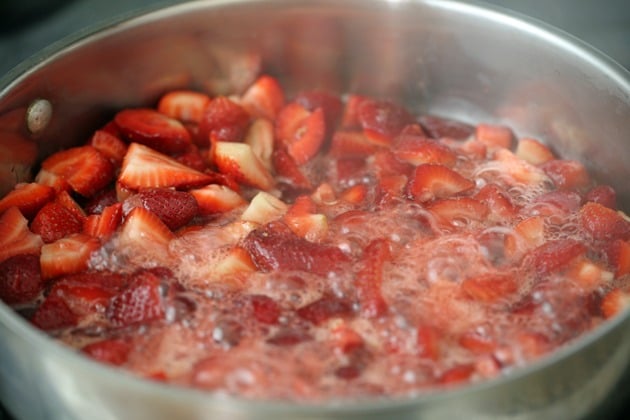 Until it started to boil. I left it at this stage for a couple of minutes and then lowered the heat to between medium and low for about 20 minutes or so until the fruit was soft.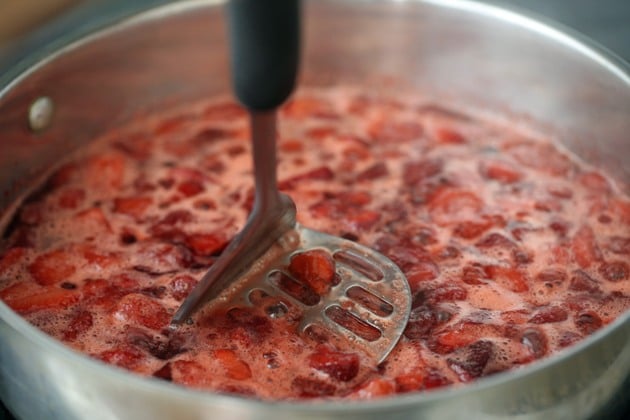 I used a potato masher to mash the strawberries and then I let them gently boil for another 10 minutes.
During those 10 minutes, I fished some of the foam out from the sides of the pot. It doesn't bother me too much so I don't go crazy trying to get it all, just the majority of it.
I also added about 1 teaspoon of fresh lemon juice to the jam.
This is also the time to prepare the jars. I prepare my jars in the oven instead of in a water bath… Much less messy.
Heat the oven to 320F, place your jars without the lids on a baking sheet and stick them in the oven for 10 minutes. At the same time fill a bowl with boiling water and put the lids in the water.
Do this about ten minutes before your jam is ready, so your jars and jam are ready approximately at the same time and you can transfer the hot jam into the hot jars.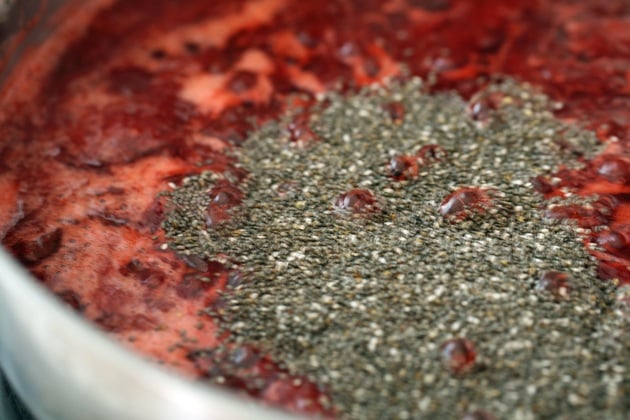 OK, so after 30 minutes or so, the jam is starting to thicken but is not quite there yet. At this point, I added 3 tablespoons of chia seeds and mixed them in…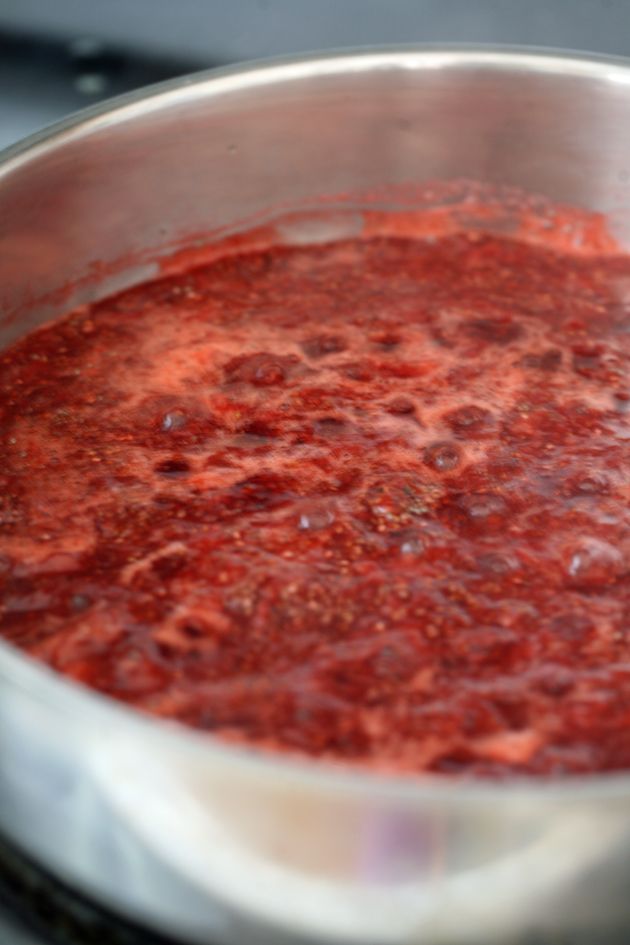 And a couple of minutes later the jam was thick enough. It takes some practice to learn when a jam is ready, but after making jams a couple of times you'll know to recognize this stage. When you move the jam around in the pot with a spatula, you can feel it's thick and there is not too much liquid flowing around.
At that point my jars were ready so I filled them with the jam (make sure to leave about 1 cm of space at the top like in the picture below). This is a small batch, so I only needed 2 half pint jars.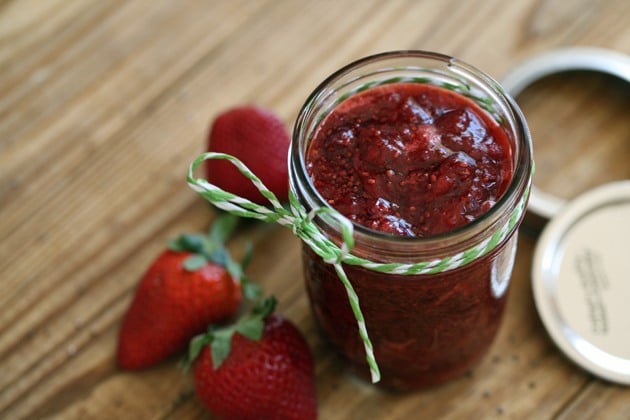 I covered them with the clean lids and the screw bands (not too tight), then placed them on a kitchen towel on the counter. They both sealed within a couple of hours. I tightened the band and placed them in the pantry.
We had a little bit of leftover in the pot that I used to make cookies with, it was a great cookie filling.
The kids got a taste of the jam and they love it. Considering they have no problem eating fresh strawberries with no added sweeteners, I knew they'll love the jam. I think it can be a great way to balance the sweetness of peanut butter too (they make it so sweet these days) if you use it in a sandwich. And of course, if you are diabetic, you should definitely go sugar-free when it comes to jams.
Have you ever made sugar-free jam? Do you make it this way?
Sugar-Free Strawberry Jam
Ingredients
2 lb ripe strawberries, washed, cleaned of tops, and cut to pieces.
1/2 cup honey.
1 teaspoon fresh lemon juice.
3 tablespoons chia seeds (optional).
2 half pint jars with lids and rings.
Instructions
1. Add strawberries into a wide pot.
2. Add 1/2 cup honey.
3. Turn heat to medium high and bring to boil, let boil for two minutes. Stir.
4. Turn heat down to medium-low and a gentle boil for 20 minutes until the fruit is soft. Stir frequently and fish out some of the foam during those 20 minutes.
5. Use a potato masher to mash the fruit.
6. Add lemon juice and stir. Let jam gently boil for another 10 minutes.
7. Meanwhile prepare your jars in the oven or in a water bath.
8. Add chia seeds to the jam and stir.
9. Jam should be ready a couple of minutes after you added the chia seeds.
10. Transfer hot jam into hot jars leaving 1 cm space at the top. Cover the jars with the lid and screw the bands on, not to tight. Set on a towel on the counter.
11. Once jars sealed, tighten the screw band and store jars in the pantry.
https://ladyleeshome.com/sugar-free-strawberry-jam/
This recipe was taken from LadyLeesHome.com