In this post, I am going to share my peach jam recipe with you! I don't make my jam the traditional way… I use less sugar and no store-bought pectin. I hope you'll learn a few tricks here that you'll try when you make your own homemade peach jam. This is also a peach jam canning recipe, so you can go ahead and make a large batch and can your jam, we will go over all the canning instructions as well.
---
I don't have my own peach tree… Yet. It's soooo up there on my list, you guys. I HAVE to have a peach tree or three very soon, but for now, since I'm still not sure that I'm going to stay in this house, I'm not planting one.
Anyway, it doesn't prevent me from making this delicious peach jam almost every year (or from canning peaches!). I either wait until peaches go on sale at the grocery store during the peak of summer and buy a whole lot of them so I can make a big batch of homemade peach jam for the rest of the year or I drive the hour and fifteen minutes to the state farmer's market.
Peach Jam Recipe…
Yes, yes. I will drive far for peaches! You see, we have this huge State Farmer's Market here in NC. In the back, there is a huge building where large farms can sell vegetables and fruit by the crate to restaurants. I sneak in there once a year and pretend to be a known chef.
I fill my car with crates of fruit (I grow my own vegetables so it's only fruit that I am in need of usually…) and drive home with a smile on my face like I've just won the lottery!
When I get home I usually take a few days to just process jam. We eat a lot of jam during the year, and my goal is always to end up with enough jam for the rest of the year. Sometimes it's this delicious low sugar peach jam, sometimes it's my strawberry jam, sometimes it's mulberry jam, sometimes it's a blueberry jam. We like them all.
I don't make my jams the traditional way. Personally, I feel like a 1:1 ratio of sugar and fruit is just too much sugar for me. It's too sweet and I can't taste the fruit. So I cut back on the sugar by 50%. I've made my jam like this for years and not only that, in my opinion, it's much tastier. I also have never had a problem canning my jams and keeping them for the rest of the year.
I also don't add store-bought pectin. I don't have a specific problem with it… I just actually have never used it and I honestly don't even know what is in the little container and where that pectin comes from.
But there is no need to spend time investigating. I simply use lemon seeds which have natural pectin in them. I use a ton of lemons because I season my salads with olive oil, lemon, and salt, so there are always more than enough lemon seeds in my kitchen!
How to Make Peach Jam…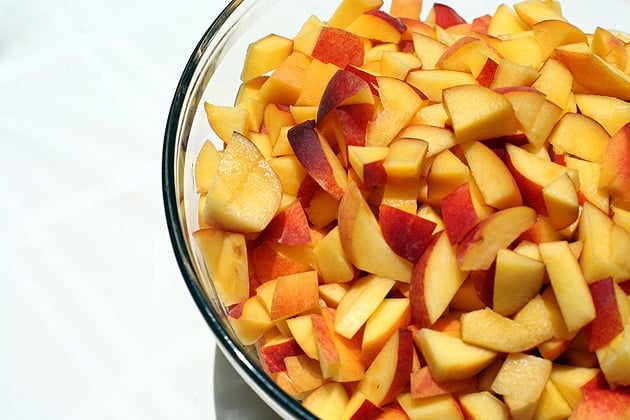 I measured the amount of fruit and sugar that I used so I can share measurements with you but it may be hard for you to follow this recipe and make it with exactly the same measurements, so just pay attention to the process and ratios and follow the ratios and cooking process.
Jams are pretty forgiving. If you add a little bit more or a little bit less sugar nothing bad is going to happen. If you cook your homemade peach jam five minutes longer, it will be fine. Just follow the jam making principals and have fun in the kitchen.
Ok, I started with 9 pounds of peaches. After washing them, cutting them into chunks, and getting rid of the pits, I was left with 4.7 pounds.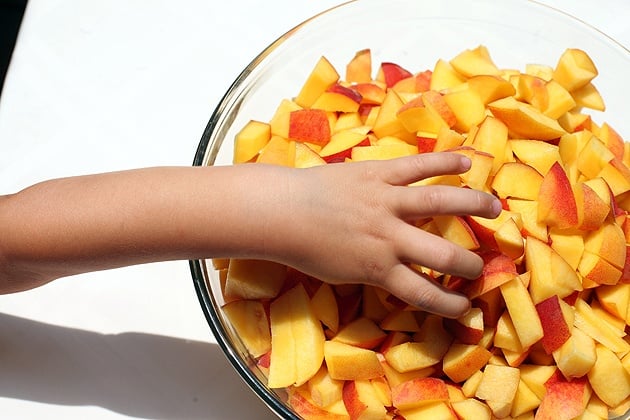 Mmmm… Now that I'm thinking about it, it might have been a little less than 4.7 lb… It's advised to make this jam during nap time or late at night when the thieves are asleep 😉
Another note here… You probably noticed that I didn't remove the skin of my fruit. I have no problem with the skin, I actually like it in my jam. You'll see soon that we mash the whole thing with a stick blender so at the end of the process I can barely find a piece of skin in the jam so I don't see a reason to spend time removing it.
It's up to you, though. If you'd like, go ahead and remove the skin or your peaches. You will have to blanch them in boiling water for 45 seconds, then let them cool in ice cold water for a couple of minutes before removing the skin.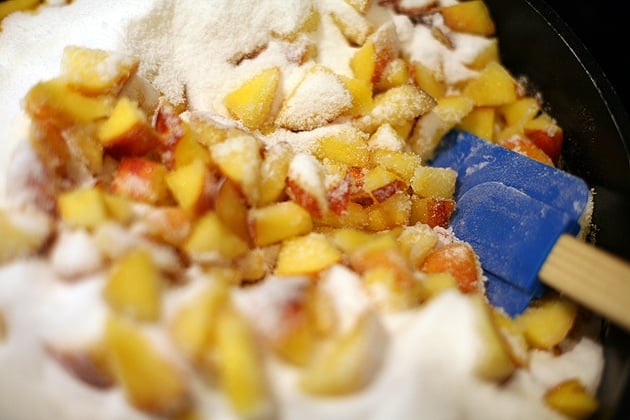 I add the fruit to a large, shallow pot and add sugar. This is the rule I follow for all of my jams unless they are sugar-free… I add half of the weight of the fruit in sugar. So if you are cooking 3 pounds of fruit, add 1.5 pounds of sugar.
It is still plenty of sugar… Add this amount of sugar to a ripe fruit that is already plenty sweet and it's more than enough sweetness in my opinion. It is also enough sugar to preserve the jam and keep it for months. Again, I usually make a yearly supply of jam and have never had any of my jam go bad (as long as the jars are sealed correctly).
I have to admit that in many cases I even round down… So, in this case, I added 2 pounds of sugar even though I had a little over 4.5 pounds of fruit but the general rule I follow is a ratio of 1 part fruit to 1/2 part sugar.
Once I add the sugar, I turn the heat to medium-high and let the fruit/sugar mixture come to a boil while I stir frequently.
I let it boil for about 8 minutes, then lower the heat to medium.
I let the fruit cook for a few more minutes on medium heat and once the peaches are soft, I put my hand blender to work.
You can mash your peach jam completely or just a little depending on how you like it. I sometimes leave chunks of fruit and sometimes I mash everything all the way. With this jam, I gave it a good blend and didn't leave any big chunks.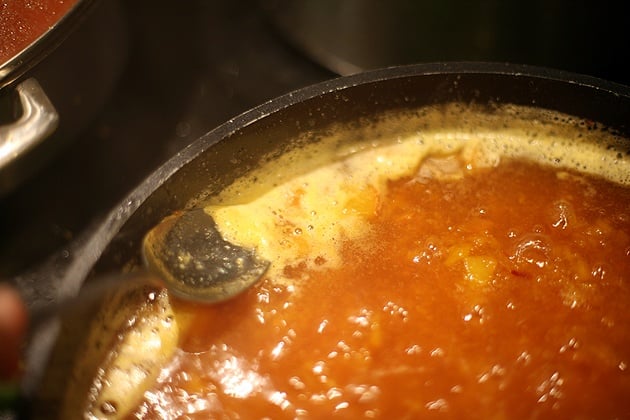 At this point, we are about 25 minutes in. I make sure to keep stirring frequently and I fish some of the foam that accumulates on the edges of the pot out. I don't go crazy trying to remove all of it… Whatever I can remove easily I remove.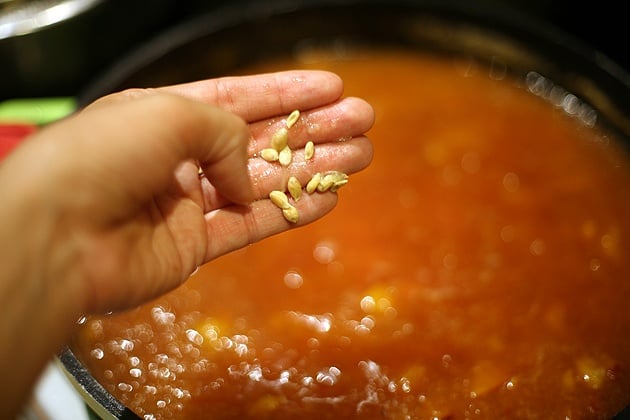 After about 35 minutes of cooking, I add the juice of half a lemon to the jam and stir.
Then, to start the thickening process, instead of using store-bought pectin I add the seeds of that same half lemon I used. Lemon seeds have pectin in them. When you throw them in the jam and let them cook they release this pectin and thicken your jam.
Like I said in the beginning, I am not sure what's in the store-bought pectin, but this is a natural way to thicken jams and you can do this in any jam you make.
You can also dry the lemon seeds during the year by simply placing them on a paper towel and letting them dry for a few days. Then store them in a jar and keep them for when you make jam. Add 5 to 10 seeds to the jam.
I usually just throw them in and fish them out later before I can my peach jam (or any other jam).
While the jam is cooking with the lemon seeds prepare your jars for canning.
You can do this by boiling them in water for a few minutes or you can do this in the oven.
I find the oven method much easier and much less messy. Simply heat your oven to 320F, place the jars on a baking sheet and stick in the oven for 10 minutes. Meanwhile, place the lids and rings in a small pot, fill it with water to cover the lids and rings and bring it to a boil. Let this boil for around five minutes or so before you turn off the heat.
Always make sure to use new lids. This way you know for sure that the seal is good and new, but you can definitely reuse rings.
**Note – this is also a good time to fill your big water bath canner with water and start heating the water. You want to keep the water simmering until we are ready to process the jars in the water bath. Make sure you fill it with enough water to cover your jars by an inch.
After ten minutes, take the baking sheet with the jars out of the oven and set on the counter. make sure you do not touch the mouth of the jars.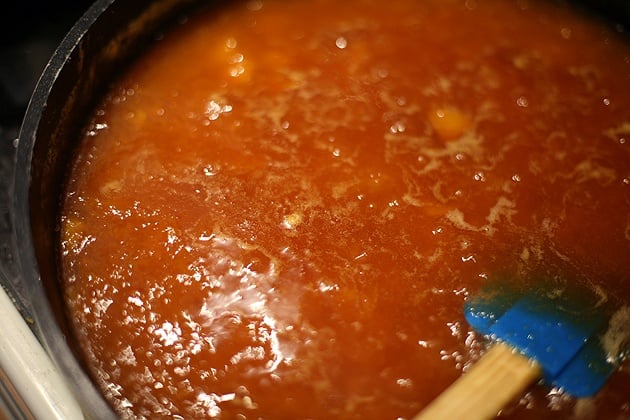 50 minutes in, and it looks like the jam is ready. It's a bit tricky to learn how to recognize this stage. If you over-cook or under-cook a few jams, it's totally normal.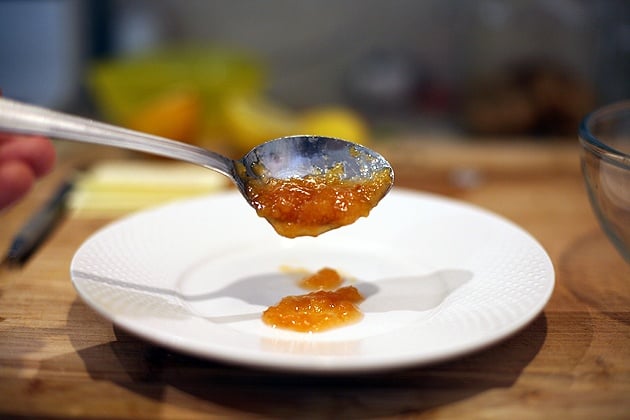 After making a few jams, you'll be able to recognize this stage easily but at the beginning, you can do a spoon test. Just spoon a tablespoon of jam and let it cool for a couple of minutes. Then, I let it drop to a plate and watch the thickness. Take into consideration that the jam will thicken even a little more as it cools completely.
Canning Peach Jam…
Now it's time to fill the jars with the jam. I use a canning funnel, bring the pot of jam close to the jars and spoon the jam into the jars…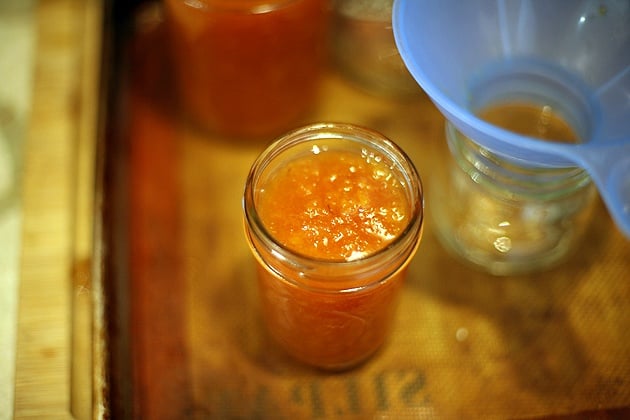 Leaving 1/4 inch of headspace. This is important, too much or too little headspace, and your jars won't seal.
Next, remove air bubbles with the bubble remover, clean the rim of the jar with a clean paper towel making sure not to touch it with your fingers. Use your lid lifter to grab a lid from the pot of hot water and place the lid on the jar. Grab a ring and screw it on the jar finger tight (or in other words, not tight).
The last step is to process these jars in a water bath. Use your jar lifter to grab the jars and set them on the water bath rack, make sure they don't touch each other. Lower the rack to the hot simmering water in the water bath, make sure the water cover the jars by an inch. Cover the pot, bring the water to a boil and process half pint jars for 10 minutes.
Don't forget that processing time depends on your altitude so if you live above 1000 feet in altitude, make sure to check this post for information on how to adjust processing time.
For this amount of fruit, I ended up with seven half-pint jars.
**If you want to see how the whole water bath processing works, I show it in a step by step picture tutorial in my post How to Can Tomato Sauce.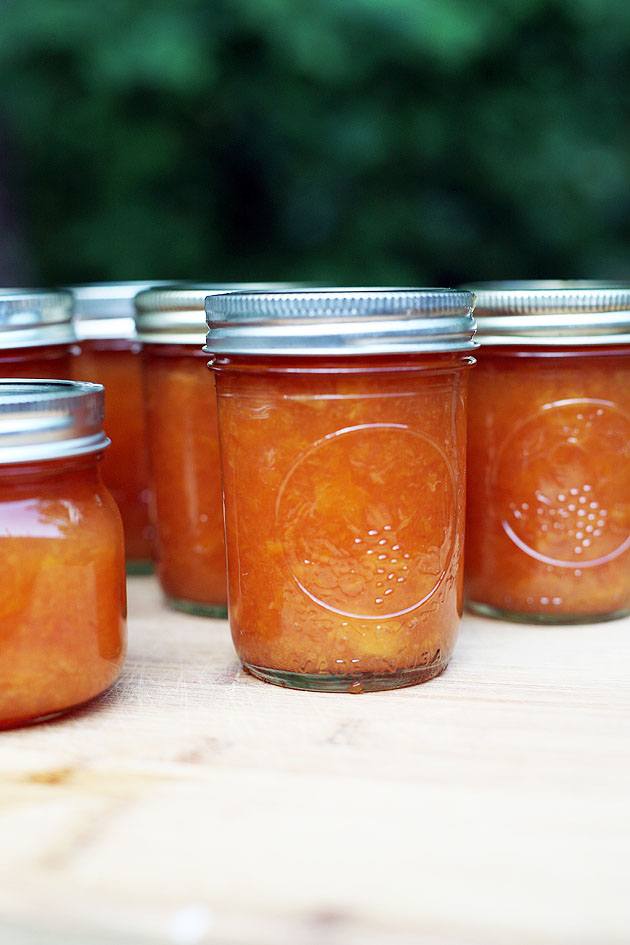 After 10 minutes of processing, use your jar lifters to remove the jars from the water bath and set them on the counter. Let them cool completely undisturbed for at least 12 hours.
After 12 hours, check that all of your jars sealed by pressing your finger in the middle of the lid. If the jar has sealed there will not be any movement in the lid. If you find a jar that didn't seal you can remove the lid, clean the rim and use a new lid, cover the jar again and process it again. Or you can simply place it in the fridge and use that one first.
It will keep in the fridge until you are 90 years old but I am sure you'll use it before then.
To store your jars, remove the rings and place the jars in the pantry. They should be good for the next year.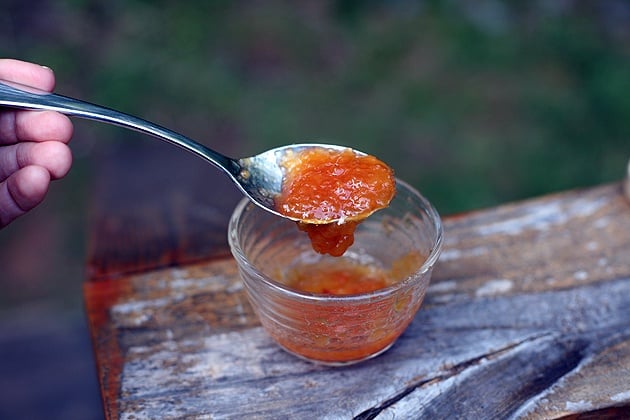 This is it for this low sugar peach jam recipe! On to the next fruit and the next batch of jam.
You can take this method and use it to make any jam you want! Use this same ratio and the same process just use a different fruit. Here is how I make mulberry jam pretty much the same way, and here is a recipe for low sugar strawberry jam and for cantaloupe jam, sugar-free strawberry jam and chia blueberry jam… You might also like my candid oranges that are a bit different from a jam but are seriously to die for!
And let's not forget the mango jam!
If you want to check out another way of making peach jam that includes blanching the fruit to remove the skin, check out this post from A Sweet Pea Chef.
Here is the handy printable…
Canning Peaches
Peaches canned in light syrup.
Ingredients
10 lb of peaches (approximately)
9 cups of water
1 cup of sugar or honey
Instructions
Bring a large pot of water to a boil. Add a few peaches at a time to the boiling water and leave them for about 2 minutes.
Use a slotted spoon to scoop the peaches from the boiling water and right into a bowl of ice-cold water. Leave them in the cold water for a couple of minutes.
When the peaches are cool, peel them. Often you can just do this with your hands. If you need, you can use a knife or a potato peeler.
Cut your peaches and remove the pit. Then dice or slice them (or you can do halves if you'd like).
Fill your waterbath canner with enough water to cover the filled jars by an inch. Bring water to a boil. Keep the water simmering while you work on packing the jars.
Clean your jars with warm water and soap. Pack each jar with peaches, leaving one-inch headspace.
In a saucepan, bring 9 cups of water and one cup of sugar (or honey) to a boil. Stir until the sugar dissolves.
Use a canning funnel and a ladle to fill the jars with syrup making sure to leave one-inch headspace.
Use the bubble remover to remove bubbles.
Use a paper towel to clean the rim of the jar before placing the lid. Close the jar with a ring finger tight. Repeat until all of your jars are full.
Use the jar lifters to place the jars inside the canner on the rack.
Bring the water in the canner to a boil and process pint jars for 20 minutes and quart jars for 25 minutes if you live under 1000 feet in elevation.
(Add five minutes to the processing time if you live in elevation between 1000 to 3000. Add 10 minutes to processing time if you live in elevation of between 3000 to 6000, and 15 minutes if you live above 6000 feet.)
When the processing time is up, use your jar lifters to remove the jars from the canner. Place your jars on a kitchen towel on your countertop and allow them to seal and cool completely.
Store your sealed jars in the pantry without the rings for up to a year.
Notes
Make sure to use yellow-flesh peaches that are not too ripe.
Feel free to add a cinnamon stick or a couple of whole cloves to each jar for flavor.
Canned peaches change their color just a tiny bit. Some people add a little bit of lemon juice to each jar to prevent this from happening.
Your peaches are still great even if they are a tiny bit darker in color.
When opening your jar, remember that you can use the syrup too, not only the peaches!
Nutrition Information:
Yield:

20
Serving Size:

1 cup
Amount Per Serving:
Calories:

127
Total Fat:

1g
Saturated Fat:

0g
Trans Fat:

0g
Unsaturated Fat:

0g
Cholesterol:

0mg
Sodium:

4mg
Carbohydrates:

32g
Fiber:

3g
Sugar:

29g
Protein:

2g