This simple no-knead artisan bread looks so fancy, it tastes so good, yet it's super easy to make. It takes only a few minutes to mix all the ingredients and then you let it ferment for a few hours. What makes it look and taste so good is the way you bake it in high temperatures in a dutch oven pot. It will be everyone's favorite!
---
This is one of my favorite bread recipes!
There is no need to knead the dough, it is made of simple ingredients that are super cheap, and it looks and tastes like a fancy bread from a professional bread maker from a small village in the lush green hills of France.
Did you get the visual?
Simple, No-Knead Artisan Bread…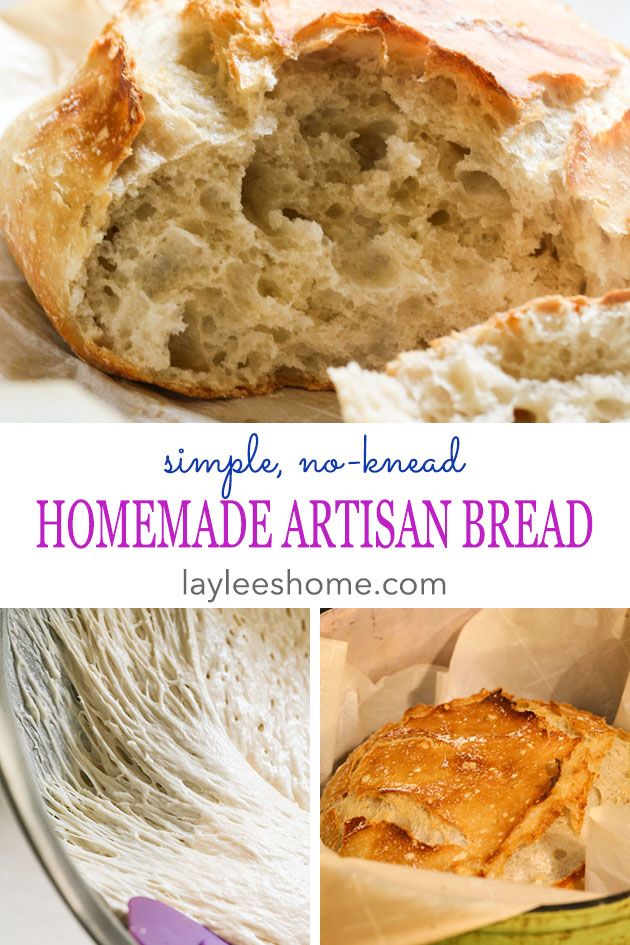 Seriously, you spend two minutes mixing the ingredients in the evening, go to sleep, bake in the morning and your family thinks you are one of the wonders of the world.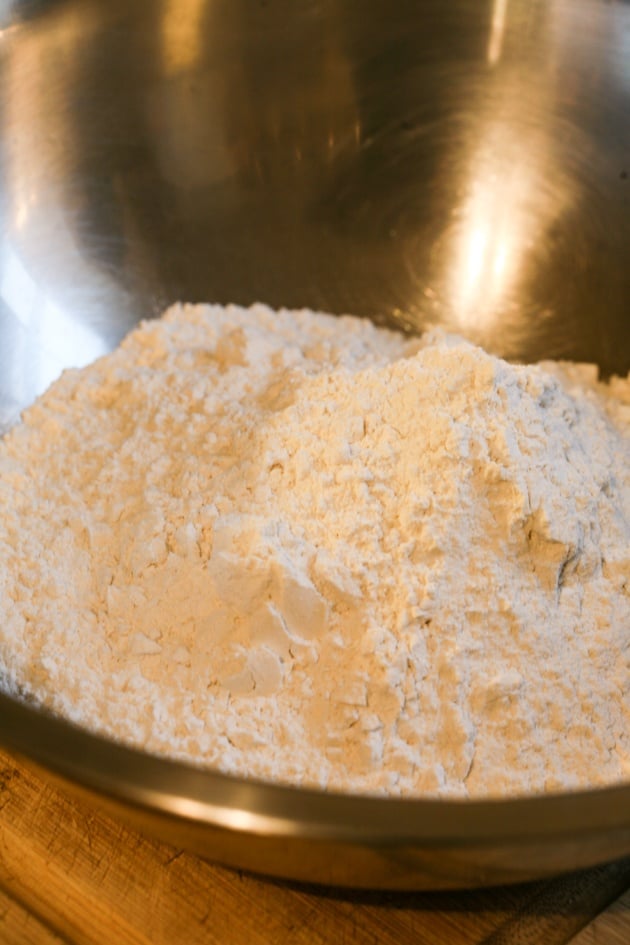 It starts with 3 cups of flour. Use whatever flour you want. I just used the basic all-purpose here, but you can do whole wheat or part whole wheat, you can use spelt flour or anything else.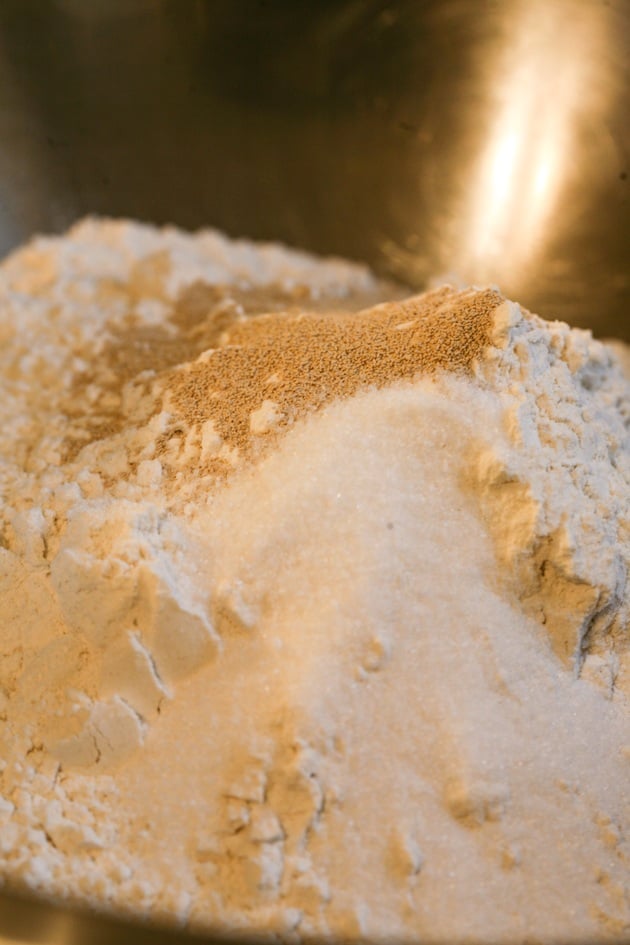 Then add two teaspoons of salt and one teaspoon of dry yeast.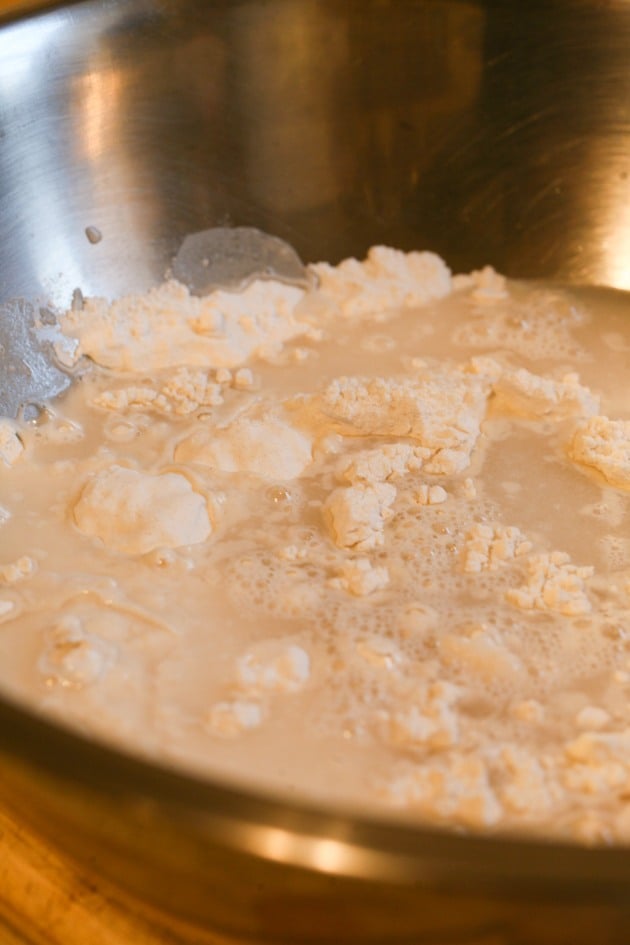 Start with a cup and a half of water and as you mix the dough add more if you need to…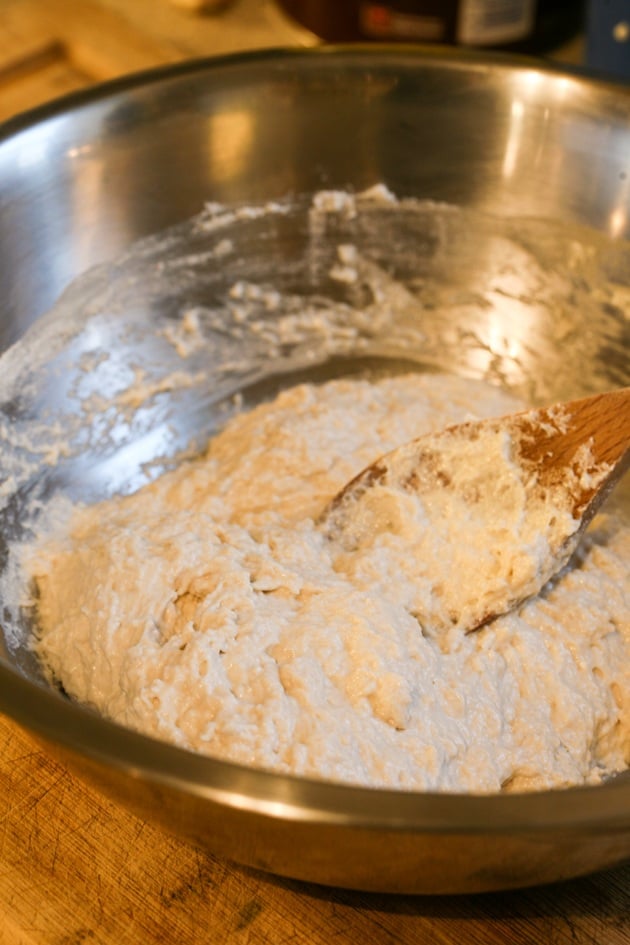 The dough should be very sticky. I ended up using two cups of water here.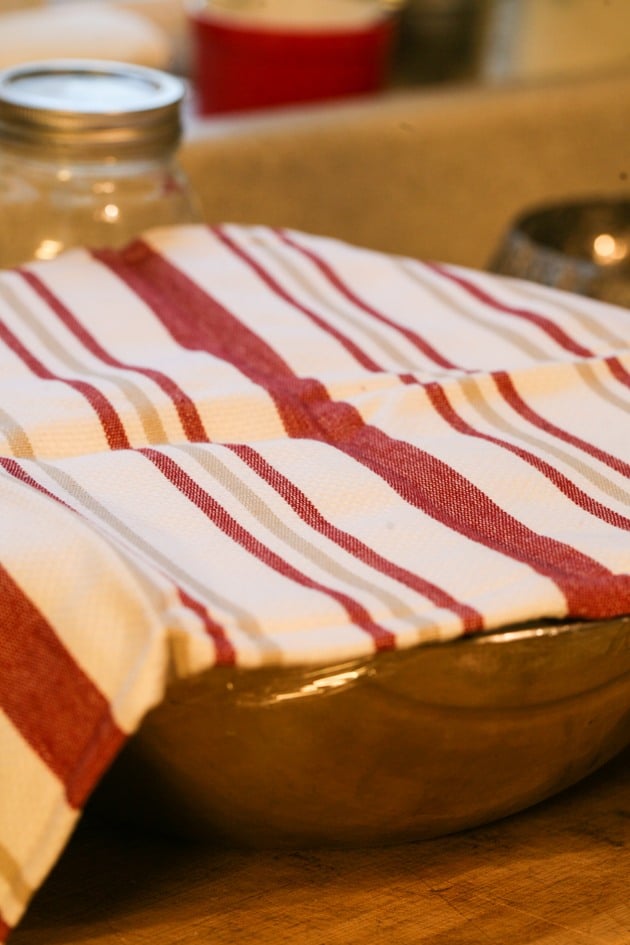 Next, cover the bowl with a plastic wrap and a kitchen towel over it and let it sit for at least 12 hours at room temperature.
I usually mix it when I make dinner and let in sit overnight.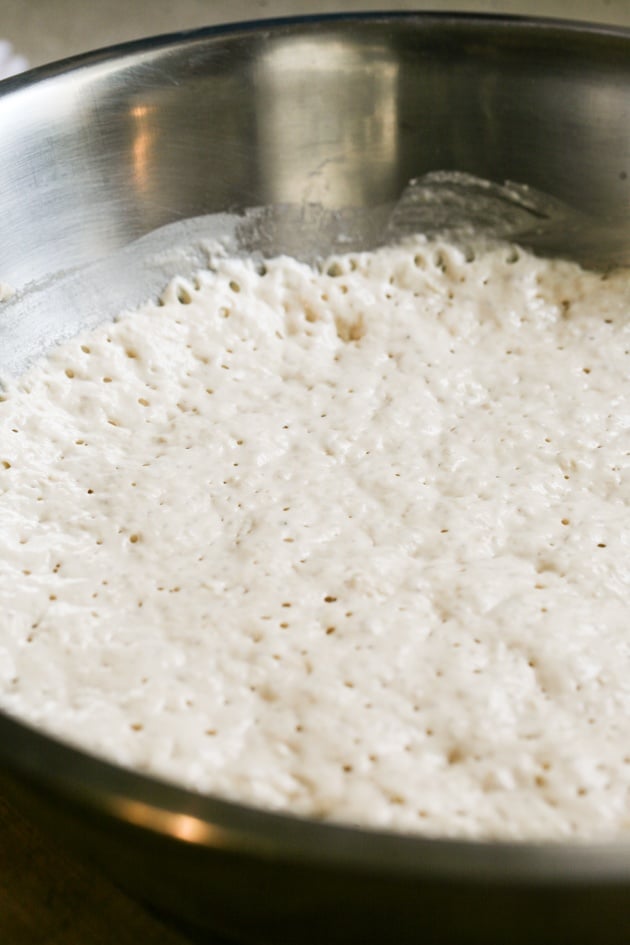 This is how it will look in the morning… A bubbly goodness.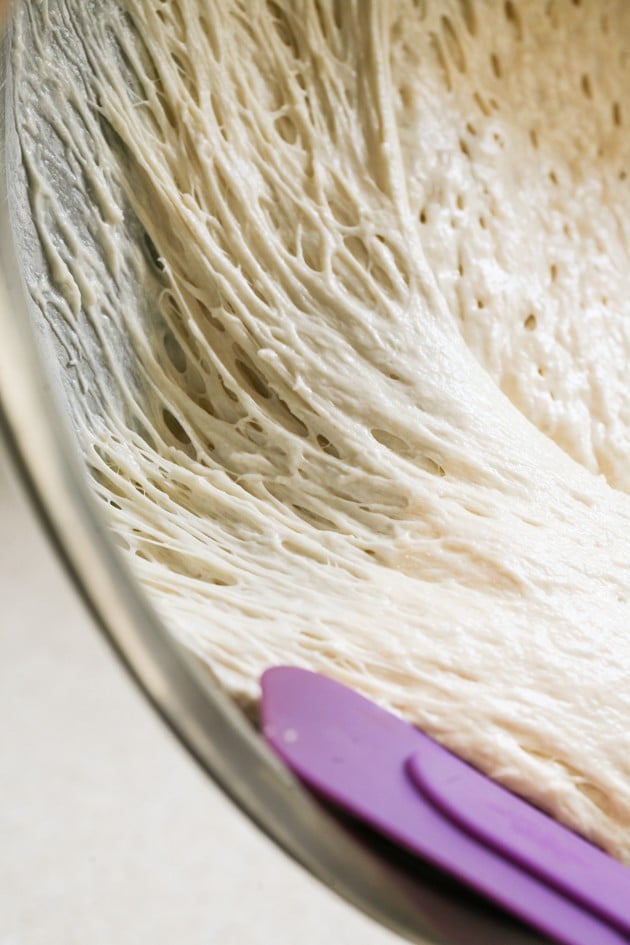 Spread a good amount of flour on the counter and use a spatula to scrape the bowl and transfer the dough onto the floured surface.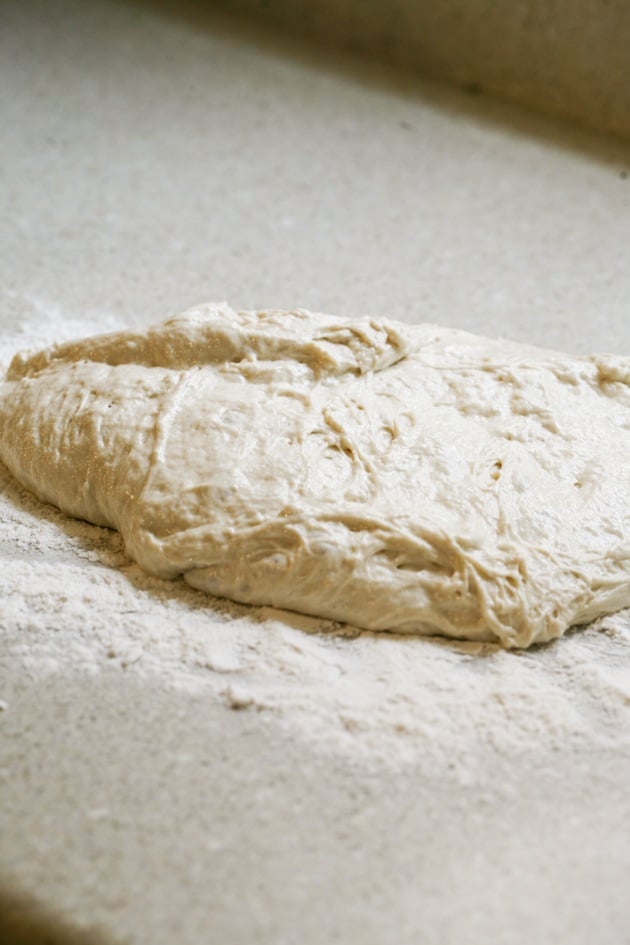 Like so…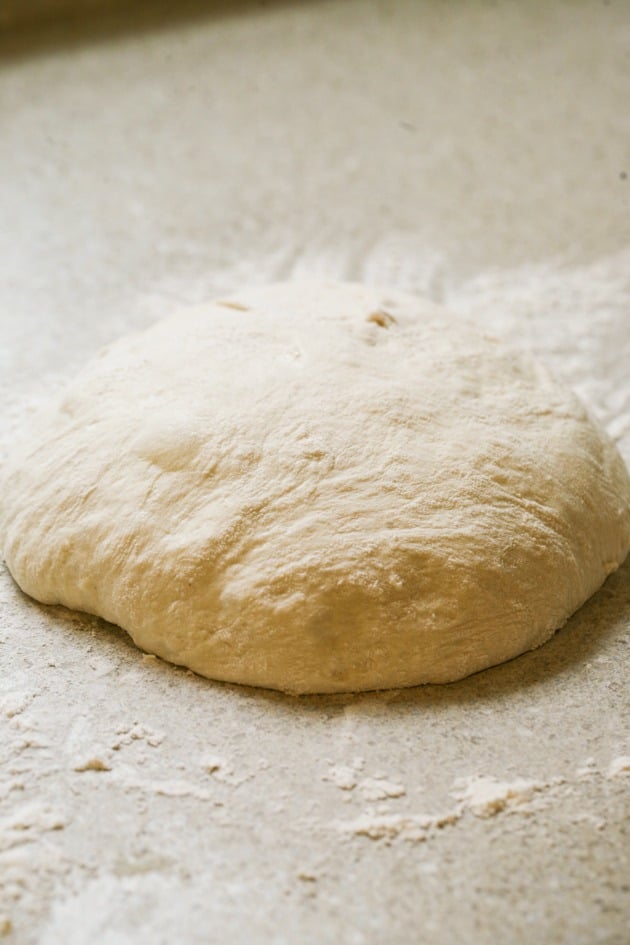 Then, move it around a little to create a better-looking ball. You are not kneading because it is super sticky still, just move it around in the flour for a minute until you make a nicer loaf shape.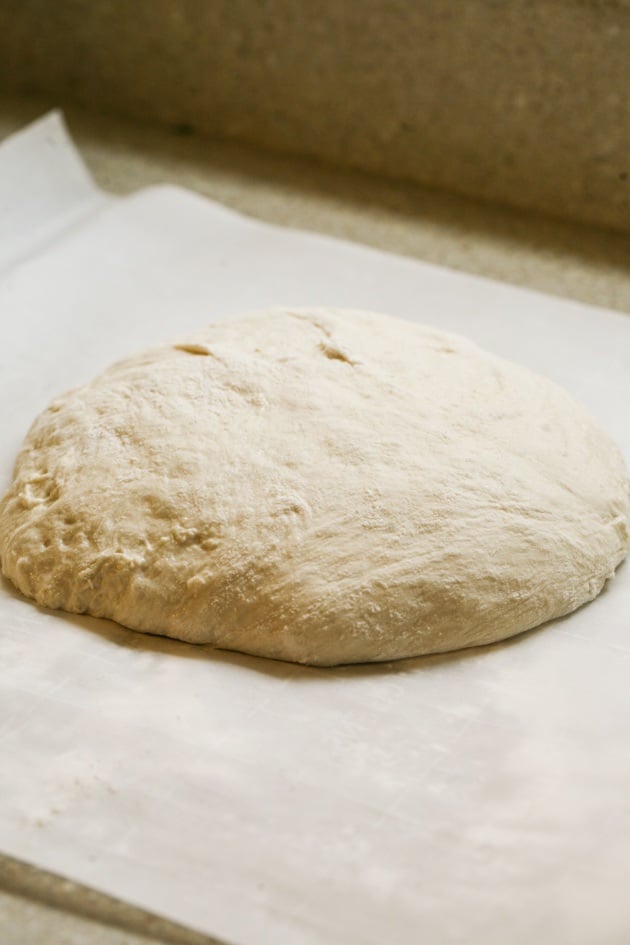 Ok, now, cut a large square of parchment paper and place the loaf on its center.
There is nothing special about the ingredients of this bread, so you know there must be something special in the baking of it…
That special something is your dutch oven pot. Pull this baby out and place it empty in your oven. Then turn the oven on to 450 F. The pot will heat as the oven heats.
Once your oven is at 450 F, give it a couple more minutes and then pull the pot out. Make sure to be careful and use pot holders, it's going to be hot!
Lift the parchment paper with the dough and place it in the pot…
Cover the pot and put it back in the oven for 30 minutes.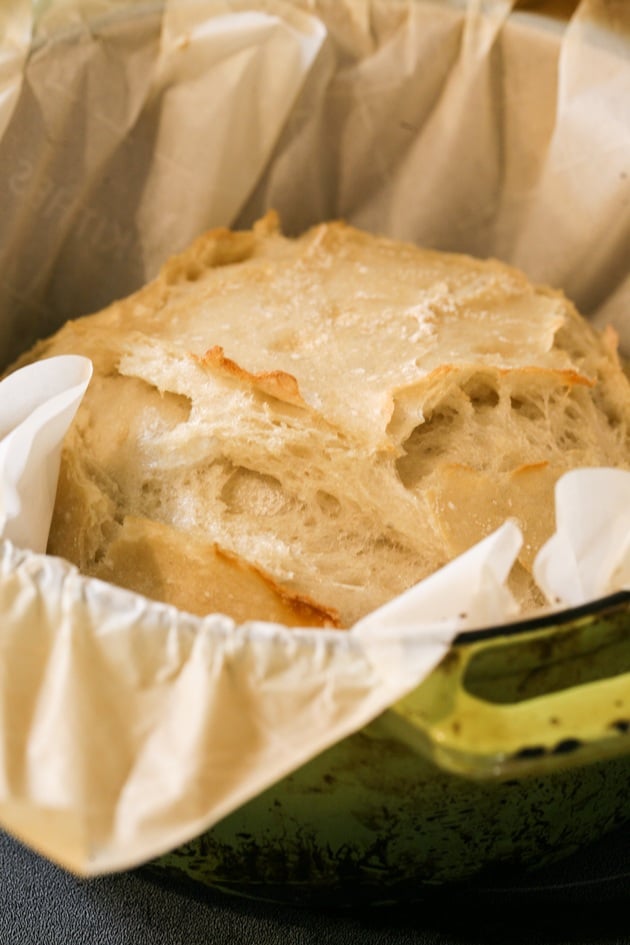 This is what you'll get after 30 minutes…
Remove the lid of the pot and put the bread back in the oven for another 15 minutes.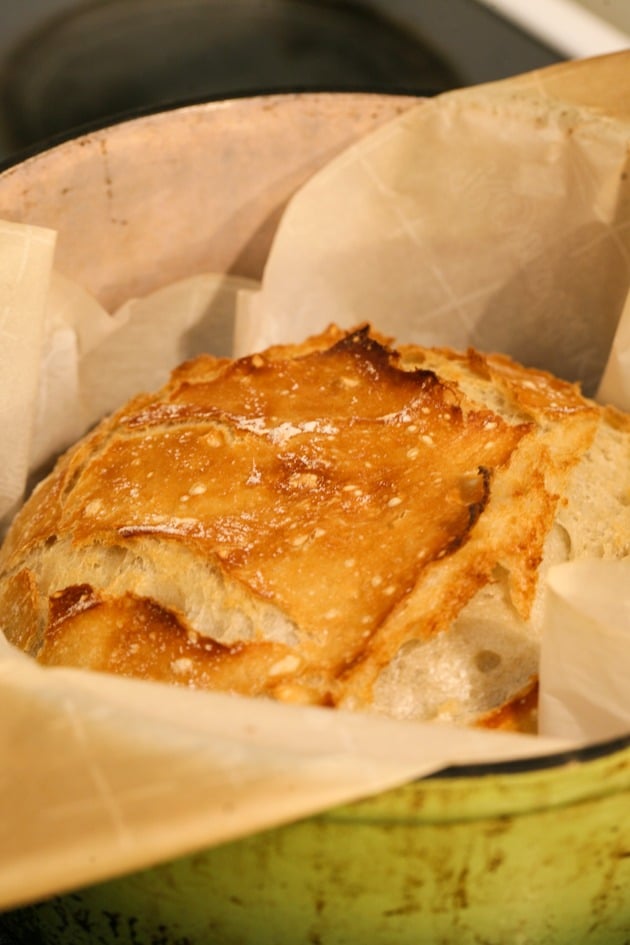 It will get this beautiful golden color and the crust will harden.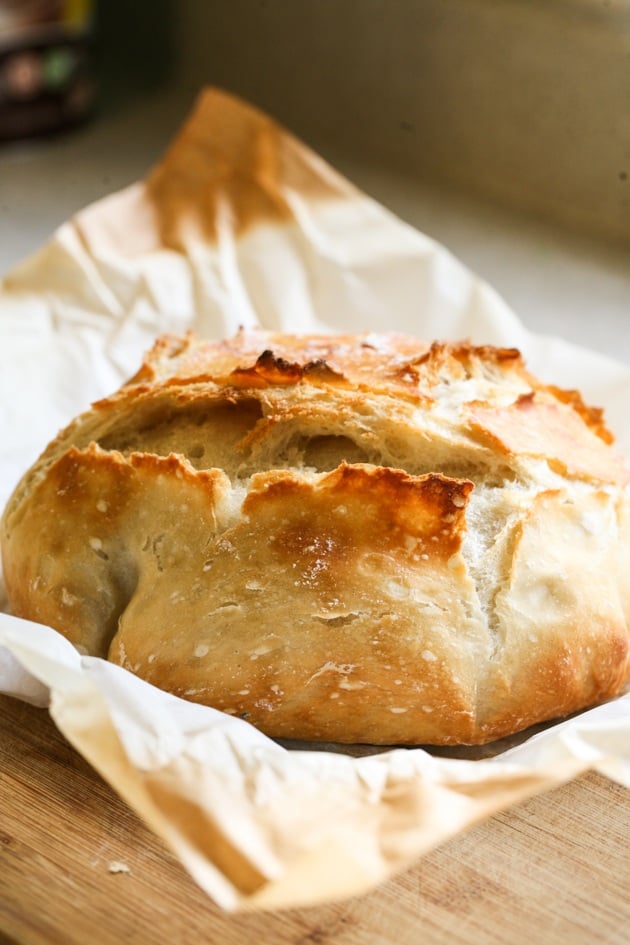 Let it sit in the pot for a couple of minutes, then grab the parchment paper and pull it out. Place it on a drying rack to cool.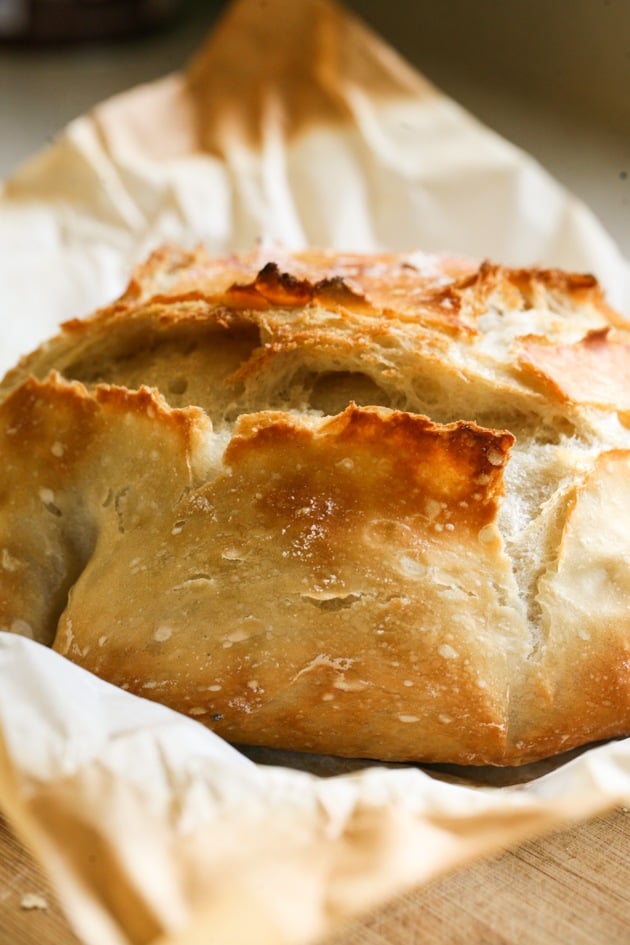 The crust of this bread is absolutely delicious! It's flaky and hard, some areas are just a tiny bit burned giving it a strong flavor.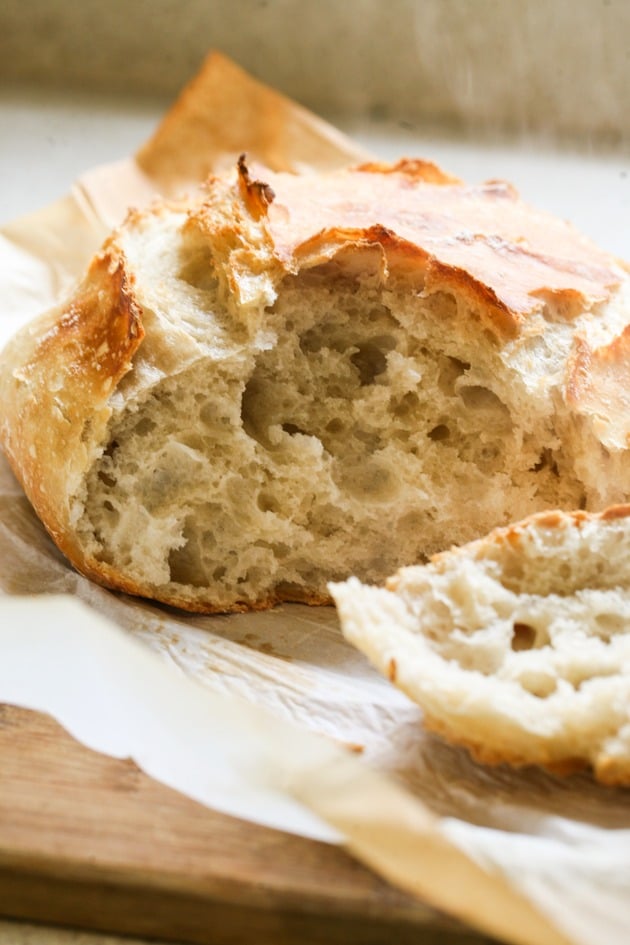 The inside, on the other hand, is so soft and airy.
If you have a smaller dutch oven you can divide the dough and make smaller loaves. You will have to adjust the baking time but then you can cut a circle at the tip, remove the inside and use it as a bread bowl.
I made this size loaf for a customer once and she used it as a dip bowl in an event she had. She told me it held the liquid very well and looked amazing. I believe her!
Forget about a bread knife, though…
You are going to have to go wild and just tear it apart.
Also, don't let it cool all the way (not that you think that you'll have the strength to wait that long…). Dig in while the bread is still hot.
Butter and a slice of tomato from your summer garden is what you need here. Trust me. Then pull out the container of Nutella and have at it.
Make sure you are alone because the moaning-in-delight thing can make others think you are doing something other than sinking your teeth into a piece of bread over there in the kitchen (*wink *wink * wink).
Here is the printable…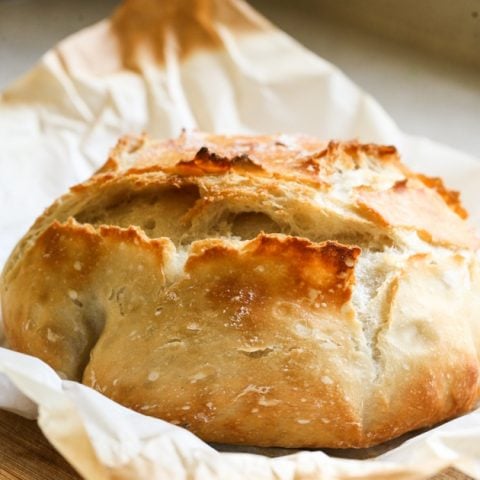 No-Knead Artisan Bread
Total Time:
12 hours
50 minutes
A delicious no-knead artisan bread recipe that looks so fancy, tastes so good, yet is so easy to make. Crusty but soft inside.
Ingredients
3 cups all-purpose flour
2 teaspoons salt
1 teaspoon dry yeast
2 cups warm water
Instructions
Add all ingredients to a mixing bowl and mix.
Cover with a plastic wrap and a kitchen towel.
Let sit at room temperature for at least 12 hours.
Transfer dough to a well floured surface and move it around a bit to shape it into a loaf.
Transfer the loaf onto a piece of parchment paper.
Place your dutch oven pot in the oven and turn the oven to 450 F.
Once the temperature reaches 450 F wait a couple more minutes, then remove the pot carefully and place the dough with the parchment paper into the pot.
Bake for 30 minutes, then remove the lid and bake for 15 more minutes.
Remove from the oven, transfer to a cooling rack and let cool slightly before you dig in.
Nutrition Information:
Yield:

16
Serving Size:

1
Amount Per Serving:
Calories:

86
Total Fat:

0g
Saturated Fat:

0g
Trans Fat:

0g
Unsaturated Fat:

0g
Cholesterol:

0mg
Sodium:

147mg
Carbohydrates:

18g
Fiber:

1g
Sugar:

0g
Protein:

3g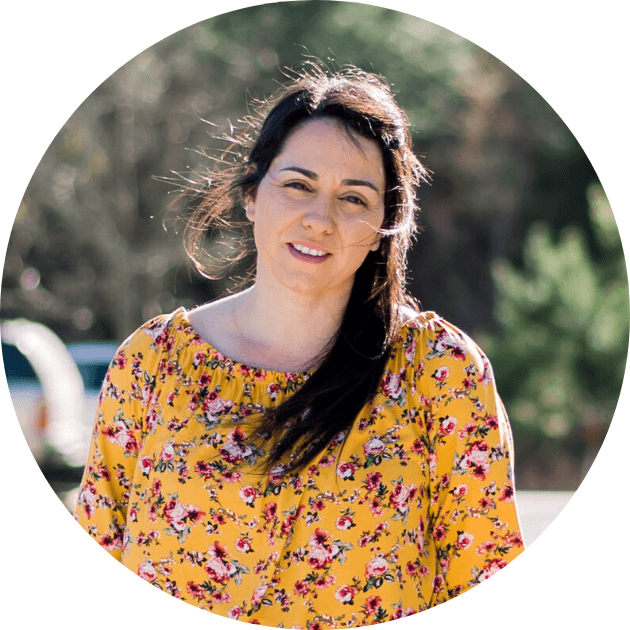 Hi! I'm Lady Lee. I help homesteaders simplify their homesteading journey while still producing a ton of food! I am a single mother of four, I was born in Israel and raised in an agricultural commune called a Kibbutz. Now I homestead in central NC.