This Rosh Hashanah honey cake recipe is a tiny bit different than the classic honey cake recipe. I use butter (or coconut oil) instead of vegetable oil and brown sugar (and less sugar!) instead of white sugar. This Rosh Hashanah honey cake is moist, easy, and delicious! I have the honey cake printable recipe for you at the end of the post.
---
For an Israeli, September is always a special month. On one hand, kids go back to school and life goes back to its usual routine, but on the other hand, the holiday season is coming and there is this festive energy in the air (kinda like Christmas time in the U.S.).
It also helps that the pomegranate trees are at their peak and they are everywhere. Full of red, beautiful fruit that is a natural ornament. The apple trees are also full and there are many of them all over.
Summer is still going strong in September in Israel and with all the trees at their peak, the pollinators are everywhere. There is a buzzing of new beginnings and new life.
Like with every holiday, Rosh Hashanah also has a traditional menu. That menu has a lot to do with pomegranates, apples, and honey (a symbol for the sweet year ahead). Aside from apples dipped in honey, one of my personal favorite items on that menu is Rosh Hashanah honey cake.
You'll never ever find anyone making honey cake any other month. It's a September cake that fills the house with a delicious smell and that fact alone, the fact that you have to wait for that special time to eat this goodness, makes it even better and more special.
Rosh Hashanah Honey Cake…
However, honey cakes have a problem… They tend to be a bit on the dry side and in my opinion, most of them have too much sugar in them.
So I set out to create my own moist honey cake recipe. If you've been following this blog for a while, you know that it also has to be relatively simple to put together and has a little less sugar.
I want to share my honey cake recipe with you and invite you to join the Jewish new year celebration!
If you keep bees, you already harvested your honey a couple of months ago. It's had a bit of time to improve on the shelf and even though I know that there is no shortage of things that you can make with it, I hope that you add this Rosh Hashanah honey cake to the list.
I hope that very soon I can put my own homemade top bar hive to good use and harvest my own honey. I know that it will make this cake even more special!
How to Make Honey Cake…
I start by adding 1/2 a cup of raisins to a small bowl and covering the raisins with water. I like hydrating the raisins while I make the batter, it helps to add a bit of moisture to the cake.
You don't have to add raisins, of course, and if you do you can use golden ones or dark ones, it doesn't matter.
I am also going to add 1/2 a cup of walnuts, but that is also optional. You can leave this honey cake plain or add nuts, seeds, dry fruit… You can get creative if you want.
Mixing Wet Ingredients For Rosh Hashanah Honey Cake…
While the raisins are hydrating in the small bowl, I add 3/4 cup of brown sugar and one cup of honey into a mixing bowl…
If you use a stand mixer, you can add everything to the mixer bowl. I use my KitchenAid hand mixer for pretty much everything but bread or pizza dough so I just use a large mixing bowl.
It's important to say here that I think that you can use any kind of honey… I use clover honey but feel free to use any kind. Of course, the taste will change a little bit according to the kind of honey you use.
To the honey and sugar, I add one cup (2 sticks) of melted butter…
Then I dissolve one teaspoon of instant coffee in 3/4 cup of warm water and add that to the bowl. The coffee gives the cake an extra richness.
The water only needs to be warm enough to help the coffee dissolve. You don't have to boil water for this.
Next, I use my hand mixer to start mixing these ingredients, and while the mixer is working, I add three eggs to the batter, one at a time and mix it in well.
These are the wet ingredients for this Rosh Hashanah honey cake. I set this bowl aside for a moment and get to work on the dry ingredients…
Adding Dry Ingredients to the Rosh Hashanah Honey Cake Batter…
To my trusty old sifter, I add 2 1/4 cups of all-purpose flour, 1 1/2 teaspoon of baking soda, 1 teaspoon of cinnamon, and 1/4 teaspoon of nutmeg.
I sift the dry ingredients right into the mixing bowl…
And use my hand mixer to mix the dry ingredients into the wet ingredients.
Adding Add-Ins and Baking this Honey Cake…
All that is left to add to this honey cake recipe are the add-ins. I added 1/2 cup of dark raisins and 1/2 cup of chopped walnuts.
Of course, if you hydrated your raisins as I did, make sure to get rid of the water before you add them to the batter.
You can try this cake with any kind of nuts. I imagine almonds will work really well too or even cashews. I love golden raisins or you can try to add chopped apricots. Just feel free to get creative.
One thing that I am definitely going to try to add next time I make this cake is an apple. I love apple cakes! And this honey cake should be the perfect host to a medium apple chopped into pieces.
I'll update here when I try it, but if you try it before I get the chance please comment below and let me know how it turned out. I think that adding an apple might even make this a more moist honey cake than it already is.
Once I have all the add-ins I use a spatula to mix them with the batter.
I used to just butter the two loaf pans but it was still a challenge to get this honey cake out of its pan, so I now take a moment to line the pans with parchment paper before I divide the batter between the two pans.
Now, all there is to do is bake the honey cakes in a 350 F preheated the oven for 50 minutes to an hour.
After 50 minutes, I take the pans out of the oven. Remember that we want a moist honey cake. I use a toothpick and stick it in the middle of the cake. Then I pull it out. If it comes out super wet, I bake my honey cake a few more minutes.
But I try to make sure that I don't over bake it so it doesn't come out dry.
Once the honey cakes are ready, I let them rest in the pans for a few minutes and then just pull the parchment paper out with the cake and place it on the rack.
I then let the cake cool for a few more minutes before I remove the parchment paper and let the cakes cool all the way.
Letting the Honey Cake Ripen…
The smell of this honey cake baking is going to drive you absolutely mad, and I am very sorry about that.
But I have even harsher news for you…
A honey cake gets better as it sits. In other words, it has to ripen. In other words, let it rest for three to five days before you eat it.
WHAT?
I know, it's the harshest form of Jewish torture if you will but I am telling you it's going to be worth it.
The flavor is really much stronger if you let the honey cake ripen for a few days and you gotta look at the bright side here…
You can make this cake a few days in advance. So if you are hosting a big fall dinner or a Rosh Hashanah dinner it can be baked ahead of time and save you some work before the event.
This Rosh Hashanah honey cake is also great for freezing. Just wrap it up in a plastic food wrap and freeze.
It will be just fine at room temperature for about two weeks but I often keep my honey cake in the fridge after the five days of ripening.
It will keep in the fridge for a couple of weeks. When I slice it, I warm the slice in the microwave for 20 seconds before serving it. It's an amazing cake to have with your morning or afternoon coffee.
I hope you like this recipe! If you do, you might also like my Death by Chocolate Zucchini Bread, pumpkin bread, my banana bread, and my zucchini bread which all are super easy to make and have less sugar in them.
Here is the handy Rosh Hashanah Honey Cake printable…
Rosh Hashanah Honey Cake
Simple and moist Rosh Hashanah honey cake.
Ingredients
3/4 cup of brown sugar
1 cup honey
1 cup butter, melted (226g)
3/4 cup water
1 teaspoon instant coffee
3 eggs
2 1/4 cups all-purpose flour
1 1/2 teaspoons baking soda
1 teaspoon cinnamon
1/4 teaspoon nutmeg
1 cup add-ins (I used 1/2 cup raisins and 1/2 cup chopped walnuts)
Instructions
Preheat oven to 350 F.
If you are going to use raisins, add them to a small bowl, cover with water, set aside and let them hydrate while you mix the batter.
To the bowl of a stand mixer or to a large mixing bowl if you are using a hand mixer, add the sugar, honey, and melted butter.
Dissolve one teaspoon of instant coffee in 3/4 cup warm water and add it to the bowl.
Mix until combined. While the mixer is on low speed, add one egg at a time and mix it in. Set aside.
To a sifter (if you don't have one you can use a strainer) add the flour, baking soda, cinnamon, and nutmeg.
Sift the dry ingredients into the bowl over the wet ingredients.
Use your mixer to mix the dry ingredients with the wet ingredients.
Add one cup of add-ins if you like. If you hydrated the raisins, make sure to drain the water before adding them to the batter. Use a spatula to incorporate the add-ins into the batter.
Line 2 9' x 5' loaf pans with parchment paper. Divide the batter equally between the pans.
Bake for 50 minutes. Take the cakes out of the oven and stick a toothpick in the center of the cake. If it comes out wet with batter, bake a few more minutes.
Make sure not to over bake so the cake doesn't come out too dry.
Once the cake is ready, remove from the oven and from the pans and set on a cooling rack. Let it cool all the way before wrapping it in food wrap and setting aside. This Rosh Hashanah honey cake is best after it has time to ripen for 3 to 5 days.
Notes
1. You can certainly enjoy this honey cake right away, however, it is well known that honey cakes get even better after a few days. So be strong, wrap your cake in a food wrap after it had the time to completely cool and let it sit at room temperature for 3-5 days.
2. After those 3-5 days, you can keep it at room temperature for a few more days or store in the fridge for a longer period.
3. If I keep my honey cake in the fridge, I make sure to warm each slice in the microwave for a few seconds before I serve it.
4. This cake also freezes very well so you can keep it in the freezer.
Nutrition Information:
Yield:

22
Serving Size:

1
Amount Per Serving:
Calories:

201
Total Fat:

9g
Saturated Fat:

6g
Trans Fat:

0g
Unsaturated Fat:

3g
Cholesterol:

48mg
Sodium:

165mg
Carbohydrates:

29g
Fiber:

0g
Sugar:

19g
Protein:

2g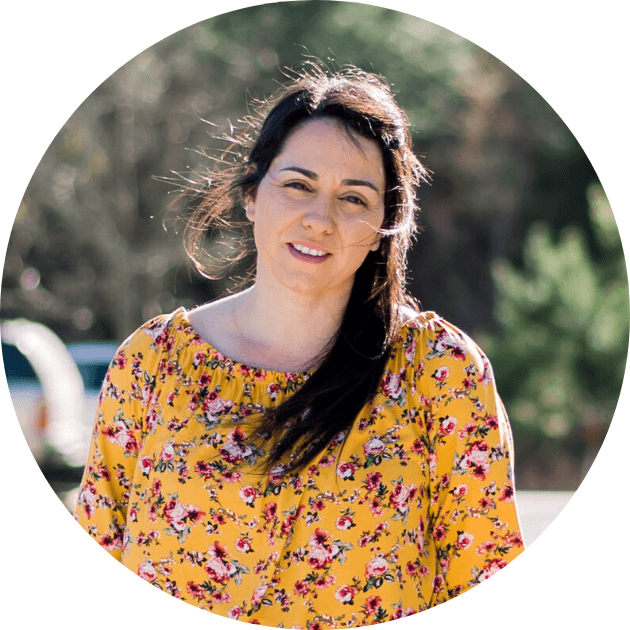 Hi! I'm Lady Lee. I help homesteaders simplify their homesteading journey while still producing a ton of food! I am a single mother of four, I was born in Israel and raised in an agricultural commune called a Kibbutz. Now I homestead in central NC.