This sweet potato bread recipe is simple to make and so so delicious. It's one of those bread recipes that you can simply mix in minutes, add to bread pans, and bake. Sweet potato bread can be served for breakfast, as a great mid-day snack, or served next to your coffee!
---
If there is one crop that grows well in NC, it's sweet potatoes! Orange sweet potatoes or purple sweet potatoes, we can easily plant slips in May, leave them alone, and watch them take over. They love our hot and humid summer, and they are so tough that nothing bothers them (except the occasional bunny, but they usually don't do much damage).
The thing is… There are a lot of commercial sweet potato farmers in NC and often there are just too many sweet potatoes. We have a public food pantry in town and at least once a year a tractor-trailer will dump a mountain of sweet potatoes right in the parking lot. I always wait a few days to see if other people that are in need pick them up, but usually, there are so many of them that they start to go bad…
Simple Sweet Potato Bread Recipe…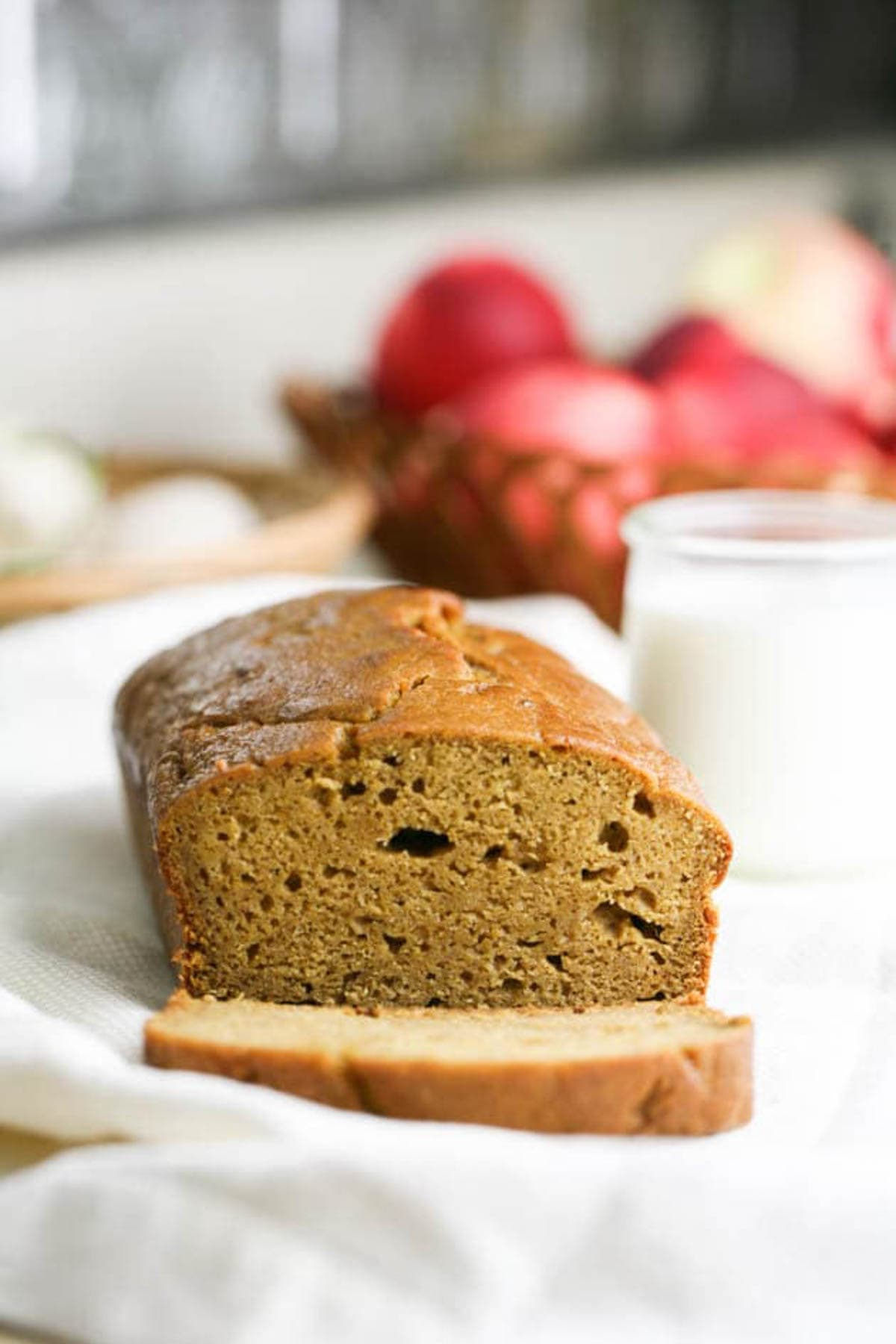 So in addition to what I grow in my garden, I also pick up a huge crate of sweet potatoes from the pantry at least once a year. The thing is… Besides myself, no one likes sweet potatoes around here (insert forehead slap!). All those delicious and healthy sweet potatoes and my kids just won't eat them no matter how I serve them. I had to find a way to use the sweet potatoes in a way that my kids would like.
I was searching Pinterest one day for a sweet potato recipe when I noticed sweet potato bread. I had never tried sweet potato bread before, never even knew that it was possible to make bread from sweet potatoes but I knew right away that this was what I had to do.
I looked up a few sweet potato bread recipes and moved things around a little bit to make it my own in a way that I know we would like it (like less sugar and so on…). My sweet potato bread turned out so so delicious! It's now one of our favorite bread recipes to make and eat. So now, when I pick up or harvest a huge amount of sweet potatoes I can either make a few loaves and freeze them or I can make and freeze mashed sweet potatoes in portions for bread making in the future.
Ingredients…
Sweet potato puree
Sugar – we are going to use both white and brown sugar.
Water
Oil – you can use vegetable oil or coconut oil if you want to substitute for something a bit healthier.
Eggs
All purpose flour
Baking soda
Baking powder
Salt
Nutmeg
Cinnamon
Pecans or other add-ins – optional. I like sprinkling pecans on top of the batter before I bake the bread but you can also add them in the batter as well. Other add-ins that will work well with this sweet potato bread recipe are dry cranberries, chocolate chips, raisins, pumpkin seeds, other kinds of nuts… Feel free to try something new each time.
Kitchen Tools…
How to Make Sweet Potato Puree…
Making sweet potato puree for this sweet potato bread recipe is very easy. You can do it in one of two ways…
Boil the potatoes – peel your potatoes and slice them into slices that are 1/2 inch thick. Place the potatoes in a pot and cover with water. Set the pot on the stovetop and bring the water to a boil. Turn the temperature down to keep a gentle, rolling boil and boil until the potatoes are soft (probably about 20-30 minutes). Use a large spoon to scoop the potatoes out of the water, set on a large plate or in a bowl and puree.
To shorten the time of boiling, I usually use my pressure cooker.
Bake your potatoes – leave the skin of the potato on them, cover the potatoes with tin foil and set on a baking dish. Preheat the oven to 415 degrees F and bake the potatoes for about 30 minutes or until they are soft (check by sticking a fork in them). Take the potatoes out of the oven and uncover them. Let them cool before peeling and mashing them.
Note – I'm sure that there are other ways to make sweet potato puree… Like, maybe you have one of those instant pot thingy's that I have no experience with. No matter which way you choose, make sure that you let the sweet potato puree cool before you use it to make bread.
How to Make Sweet Potato Bread…
Step one – mix the wet ingredients. Add the sugars and sweet potato puree into a mixing bowl…
Add the water, oil, and eggs…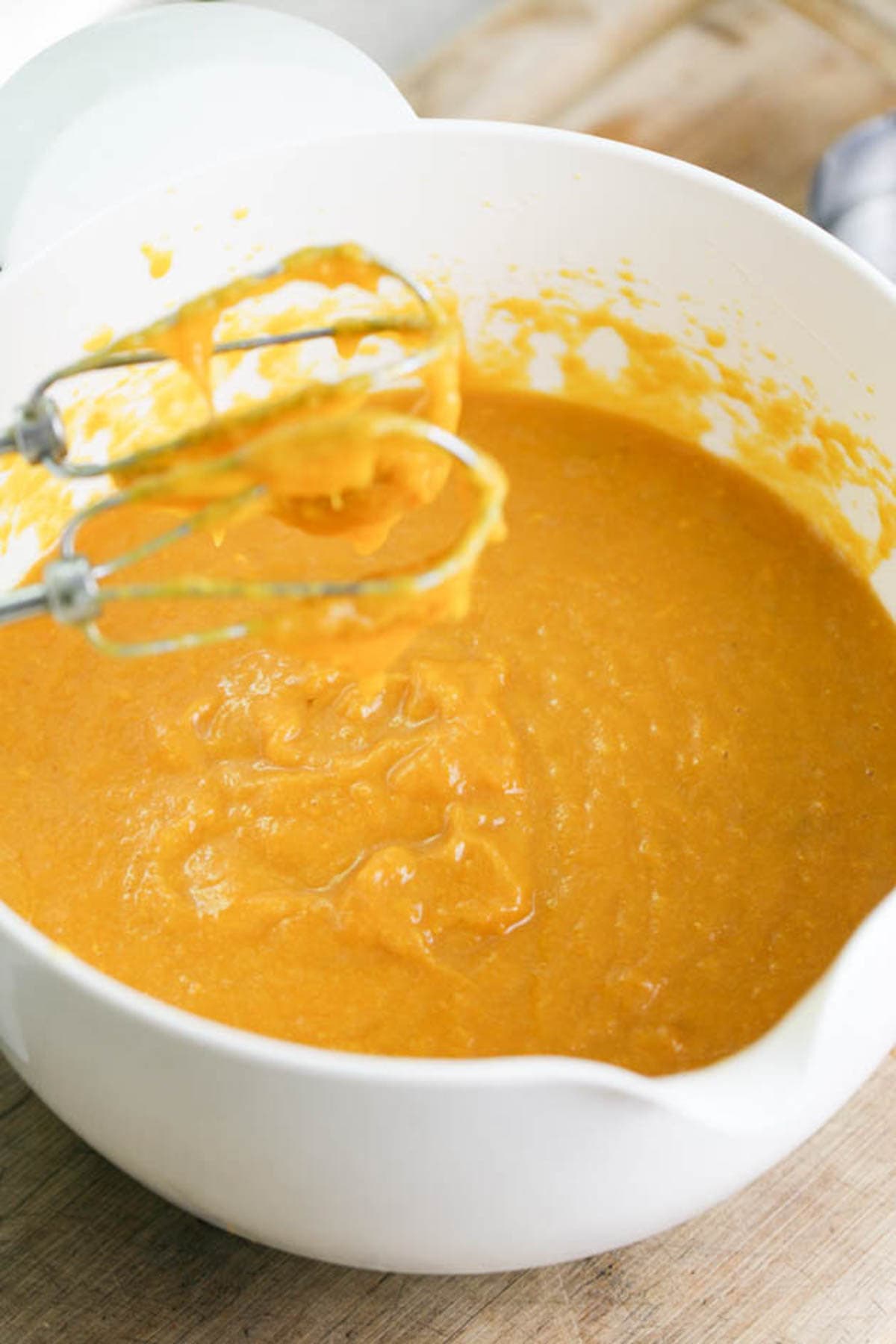 And use your mixer to mix it all together.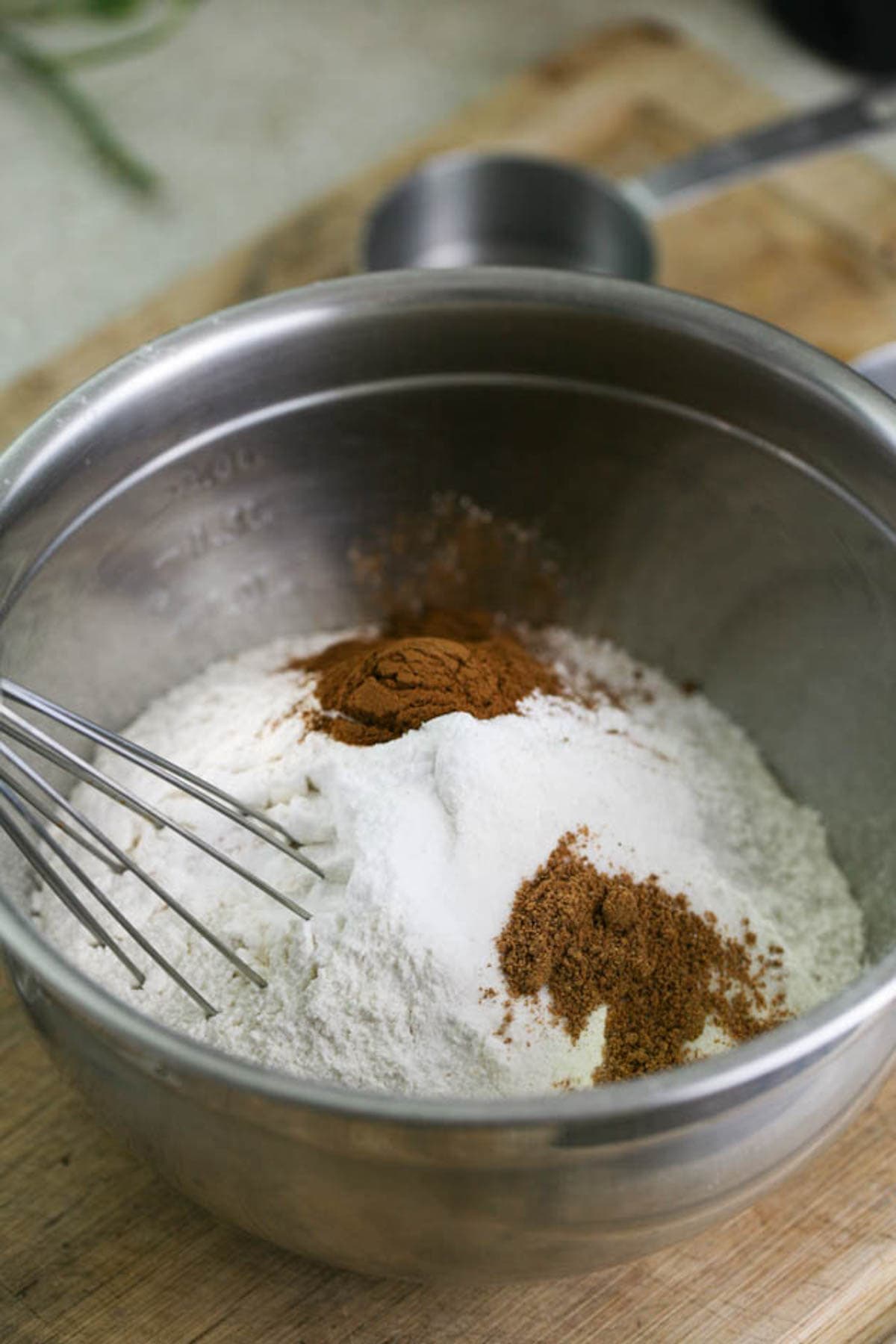 Step two – mix the dry ingredients. To another bowl, sift the flour and add the baking soda, baking powder, salt, nutmeg, and cinnamon. Use a whisk to mix these together.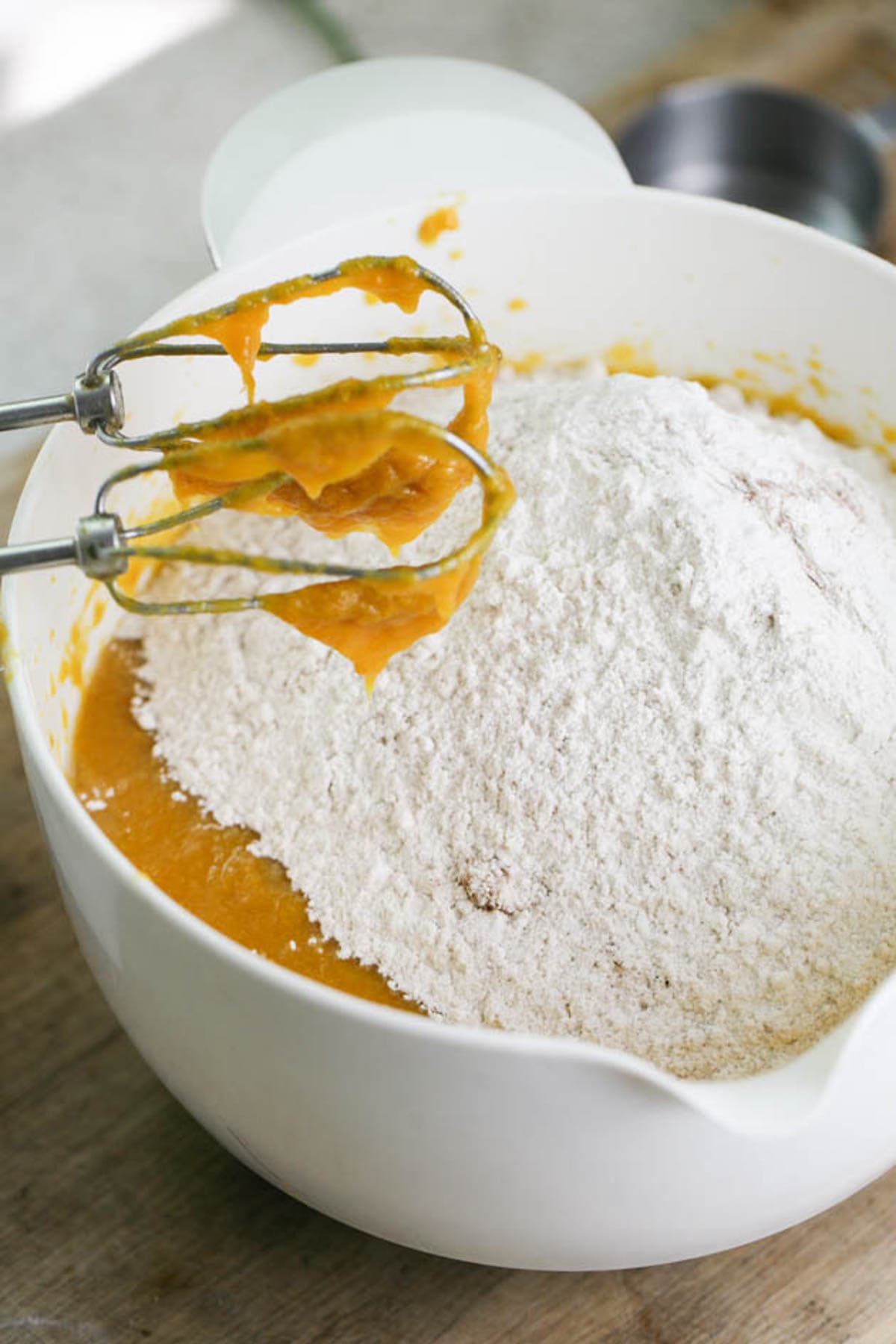 Step three – mix the wet and dry ingredients. Add the dry ingredients to the bowl of the wet ingredients…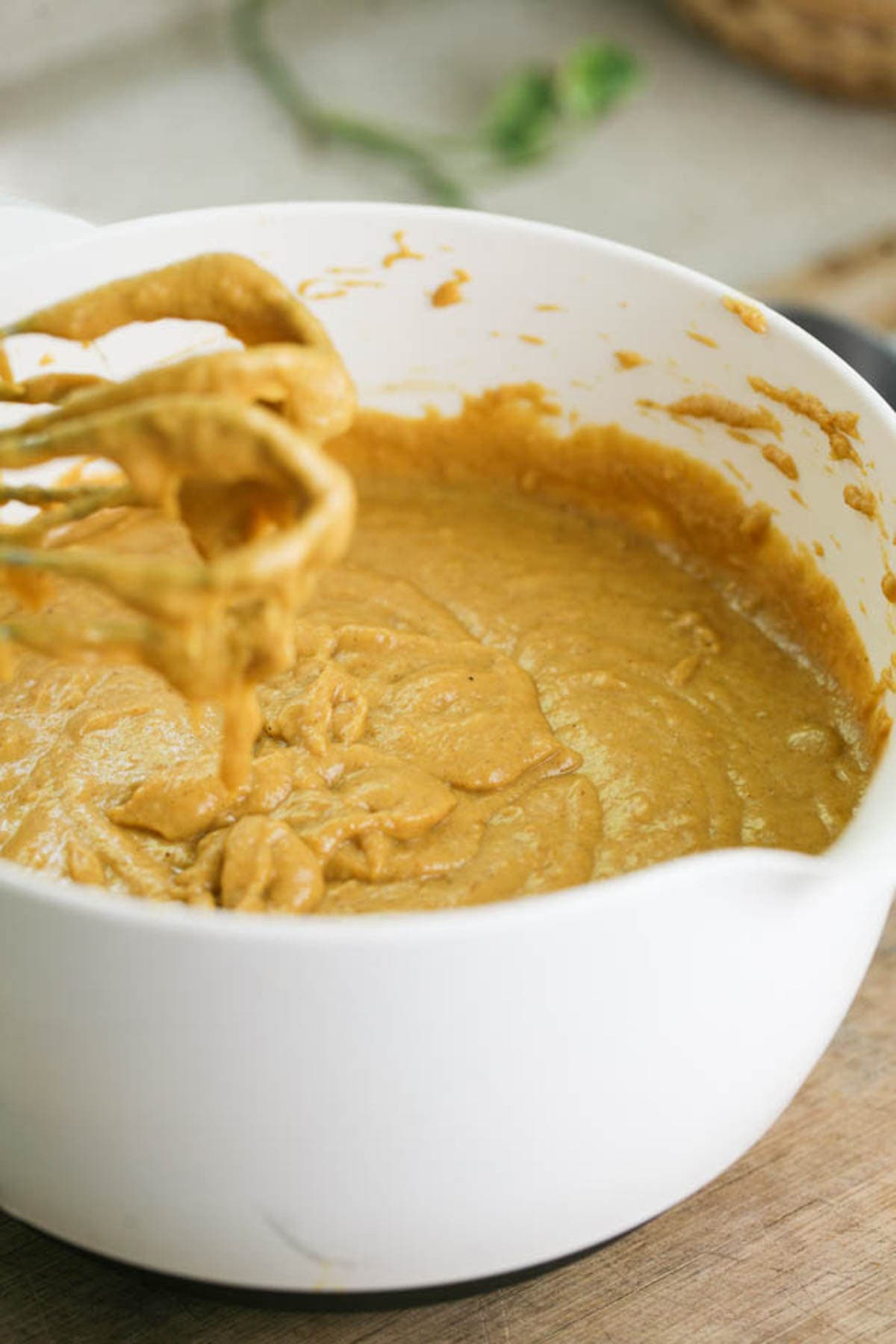 And use the mixer to combine them. If you want to add any add-ins to the batter this is the time to do it. You can add chocolate chips, dry cranberries, raisins, all kinds of nuts (I usually add pecans), and so on… Make it your own and add whatever you'd like.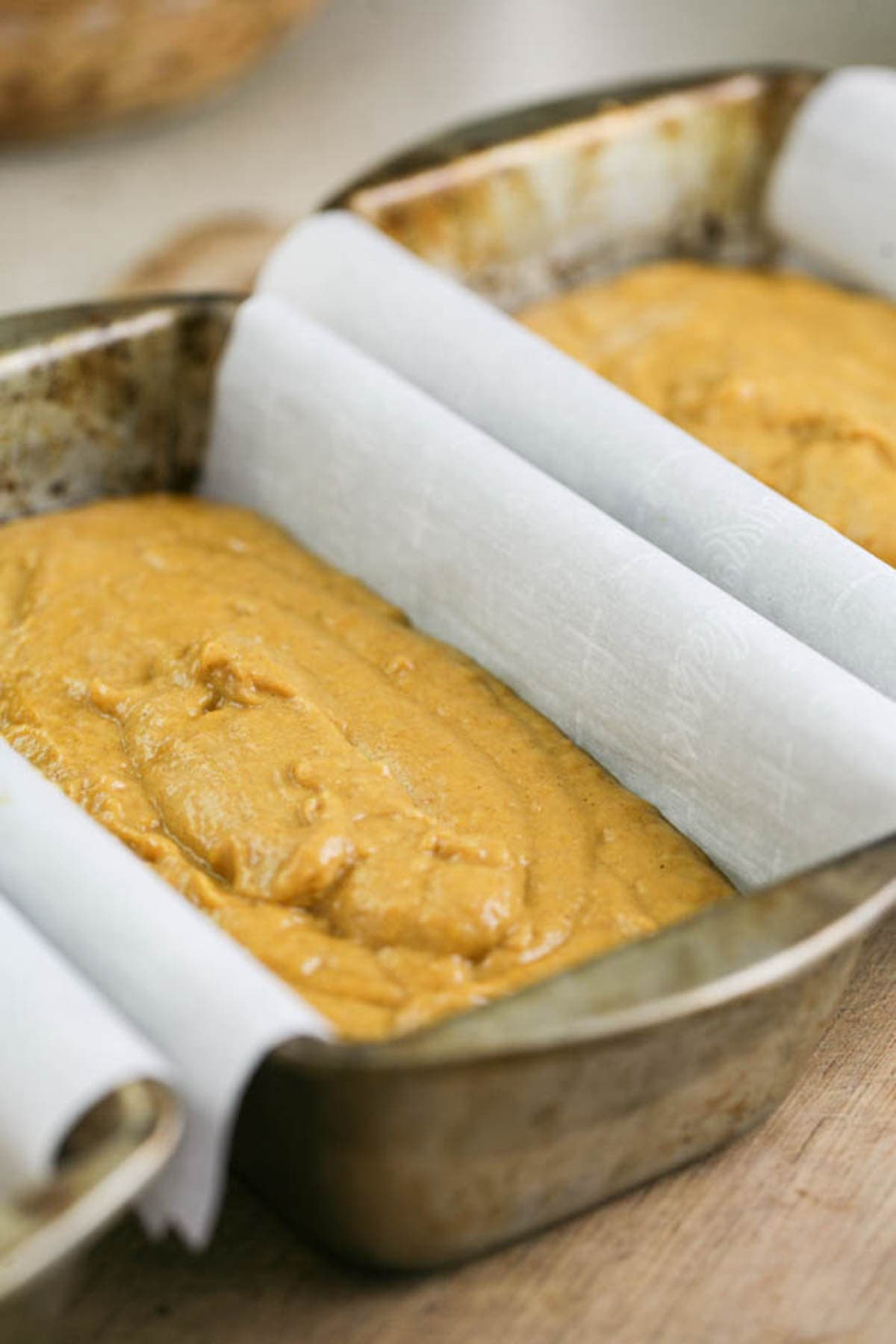 Step four – bake the bread. Line a bread pan with parchment paper, oil the ends of the pan, and transfer the batter to the pan. If you want to sprinkle pecans or dried fruit on top of the batter this is the time to do it.
Bake the bread in a 350 degrees F preheated oven for about 50 minutes or until it's done. To check if the bread is ready, you can insert a toothpick in the center of it. If the toothpick comes out dry, the bread is ready. If it comes out wet, place the bread back in the oven and bake a few more minutes before checking again.
Once the bread is ready, take it out of the oven and let it cool for a few minutes. Then, take it out of the pan and set it on a cooling rack to cool to room temperature.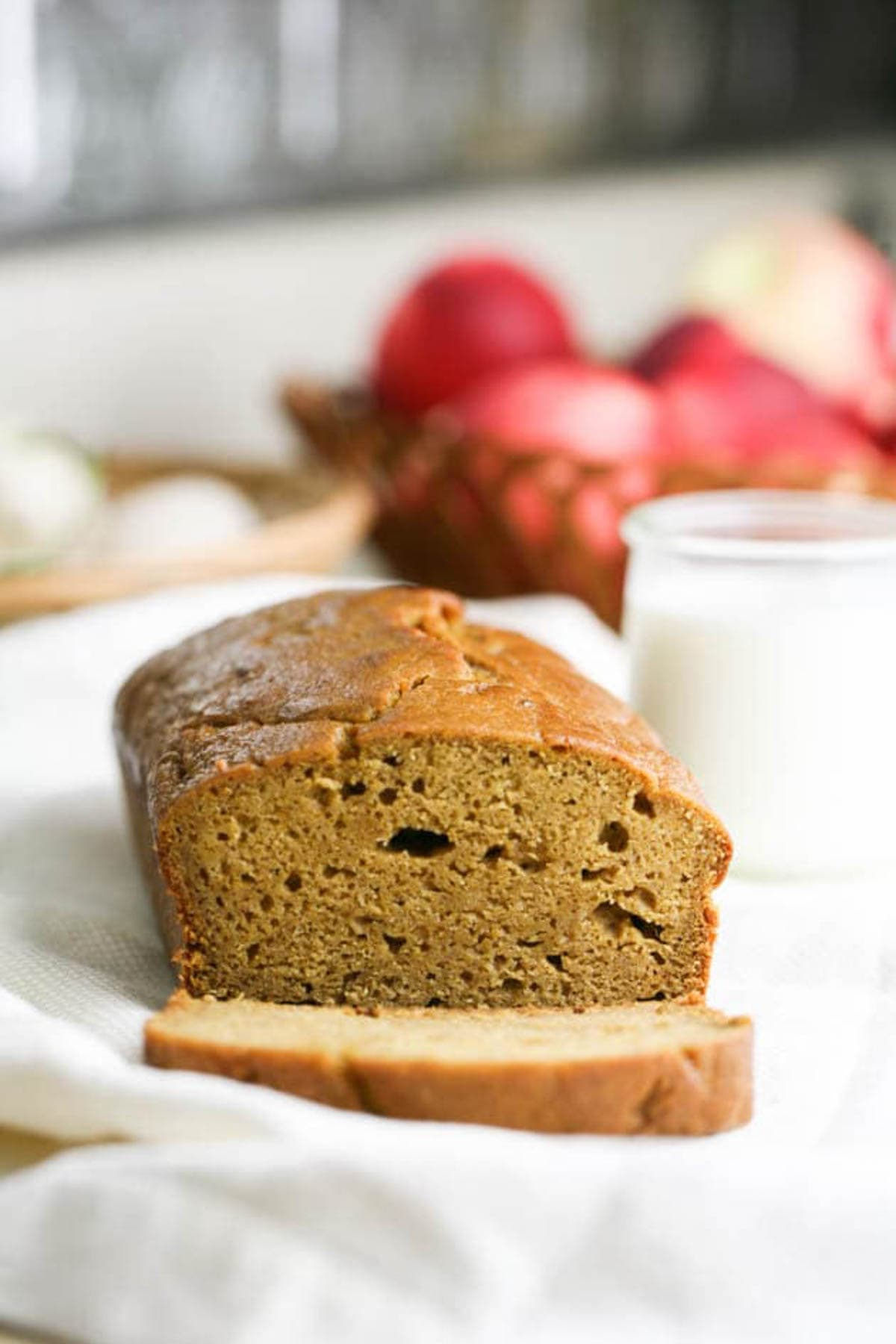 How to Serve Sweet Potato Bread…
For breakfast – a slice of sweet potato bread, a slice of good cheese, and some sort of fruit is a great breakfast in my book.
During the holidays – since this bread has nutmeg and cinnamon in it, it's a great choice to serve during the holidays. Before the party or after!
With your afternoon coffee – this bread is an amazing coffee cake and pairs great with a good cup of steaming hot coffee.
As a snack – I keep it on the kitchen counter and the kids simply slice themselves a piece if they feel the need for a little snack.
With jam – it's delicious just by itself, however, sometimes we feel like adding something on top of a slice… Apple butter, plum and apple jam, or orange jam work especially well!
How to Store Sweet Potato Bread…
At room temperature – if it's cool in your house, this bread can stay at room temperature for two or three days easily. Just make sure to place it in an air tight container, wrap it with tin foil or plastic food wrap, or place it in a ziplock bag.
In the fridge – it will last a couple of weeks in the fridge. Again, make sure to wrap it.
In the freezer – this is one of the best things about this sweet potato bread. It freezes really well. I usually wrap it in a couple of layers of plastic food wrap and place in the freezer. It will last up to a year in the freezer. When you are ready to serve it, take it out and let it thaw on the kitchen counter. Then slice and serve at room temperature or heat each slice for just a few seconds in the microwave or a toaster oven.
Frequently Asked Question…
Can I double or triple this recipe?
Yes! In fact, I do this every week when I make this bread for the farmer's market. I triple the recipe and then use disposable bread pans which are a bit smaller than the regular 9×5 loaf pan. I end up making seven loaves of sweet potato bread at a time.
Can I use this bread to preserve sweet potatoes?
Yes. If you have a lot of sweet potatoes and, for some reason, you can't store them in cold storage for the winter, make a few loaves as I described above and freeze them for later.
Can I use store-bought sweet potato puree?
I've never tried but I'm sure that you can. However, nothing beats a fresh vegetable in my opinion!
---
This bread is moist and delicious. It's full of fall flavors but, to be honest, I make it all year round. It's a regular in our home and I hope that you'll give it a try!
More Quick Bread Recipes…
Sweet Potato Bread Recipe
Simple, soft, and delicious sweet potato bread recipe.
Ingredients
1.5 cups sweet potato puree
1/2 cup sugar
1/4 cup brown sugar
1/3 cup water
1/3 cup vegetable oil (or coconut oil)
2 large eggs
1 3/4 cups sifted all-purpose flour
1 teaspoon baking soda
1/4 teaspoon baking powder
1/2 teaspoon salt
1/2 teaspoon nutmeg
1 teaspoon cinnamon
1/2 to 1 cup add-ins (optional. I love adding pecans. Find more ideas in the notes)
Instructions
Preheat your oven to 350 degrees Fahrenheit.
Add the sweet potato puree, sugars, water, oil, and eggs to a large mixing bowl and mix with a hand mixer (or add to the bowl of a stand mixer and mix) until combined.
To a different bowl, add the sifted flour, baking soda, baking powder, salt, nutmeg, and cinnamon and mix.
Add the dry ingredients into the bowl of the wet ingredients and use the mixer to combine.
You can add the pecans now and mix them in or you can add them on top of the bread batter after you transfer it to the bread pan.
Line a bread pan with parchment paper and add the bread batter to the pan.
Bake for 45-50 minutes or until a toothpick that is inserted in the center of the bread comes out clean.
Notes
Feel free to add up to one cup of raisins, other kinds of nuts, dry cranberries, chocolate chips or any other kind of add-ons you like.
When the bread is ready, remove it from the pan and let cool before serving.
You can easily freeze this bread for later. Just let it cool to room temperature, then wrap it with plastic food wrap and store it in the freezer. It should last for months.
Recommended Products
As an Amazon Associate and member of other affiliate programs, I earn from qualifying purchases (there is no change in product cost or charge to you! Thank you for helping me support the blog).
Nutrition Information:
Yield:

9
Serving Size:

1 slice
Amount Per Serving:
Calories:

311
Total Fat:

14g
Saturated Fat:

1g
Trans Fat:

0g
Unsaturated Fat:

12g
Cholesterol:

41mg
Sodium:

301mg
Carbohydrates:

43g
Fiber:

3g
Sugar:

19g
Protein:

5g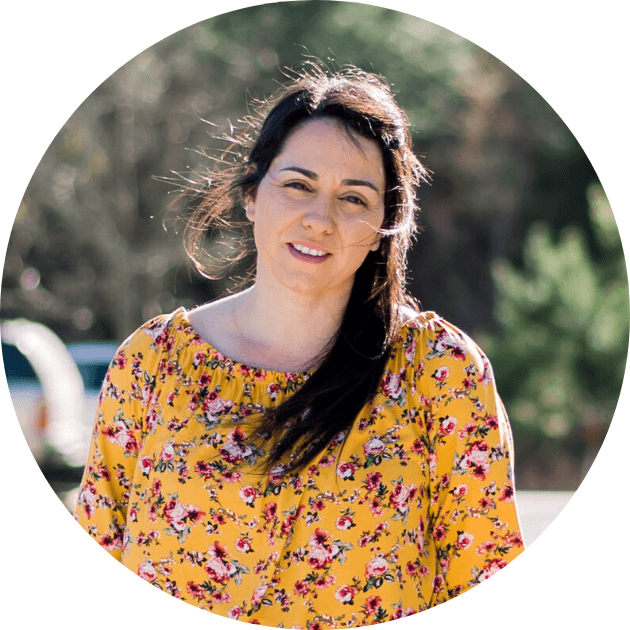 Hi! I'm Lady Lee. I help homesteaders simplify their homesteading journey while still producing a ton of food! I am a single mother of four, I was born in Israel and raised in an agricultural commune called a Kibbutz. Now I homestead in central NC.