Growing purple sweet potatoes is super easy and anyone can do it. You can even grow them in containers! Purple sweet potatoes are healthy and filling and they store very well. In this post, we'll go over everything that you need to know in order to grow purple sweet potatoes.
---
Purple sweet potatoes are a bit different than the common orange sweet potatoes that we know so well.
They have a different texture (heavier and creamier) and they are not as sweet as the orange potatoes. They are super healthy for us (more details on that later) and they are just as easy to grow as orange sweet potatoes.
I got my first purple sweet potatoes at a farmer's market years ago. I was walking around and noticed a vegetable that I hadn't seen before. I got curious and bought a few of them.
I didn't mean to grow them, I simply wanted to taste them. I tried to sprout a regular orange potato that year to produce slips that I could plant in the garden but it didn't work… My potato grew many roots but not one slip.
Growing Purple Sweet Potatoes…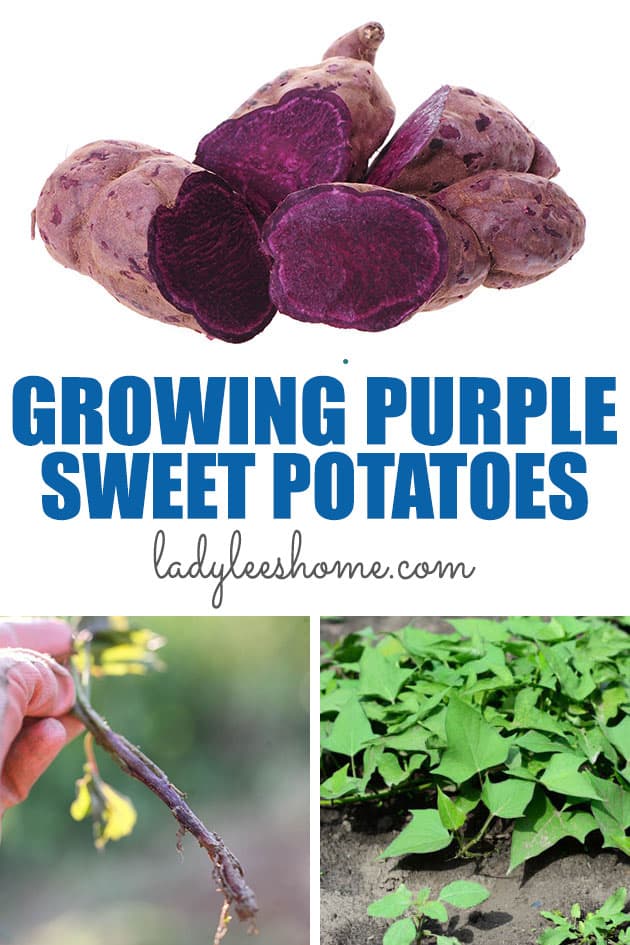 Then I remembered that I had the purple sweet potatoes I had bought at the market in the pantry and decided to see if they would sprout. I placed a couple of them in jars of water and within days they sprouted and the slips started growing like crazy.
That year, I ended up growing a raised bed full of purple sweet potatoes. They weren't as sweet as the orange potatoes, but still delicious. I saved some of them, sprouted them the next spring, planted, harvested, stored… For years, I have had a nice supply of delicious purple sweet potatoes.
How to Grow Purple Sweet Potatoes…
Here is what we are going to go over in this tutorial:
What is a Purple Sweet Potato?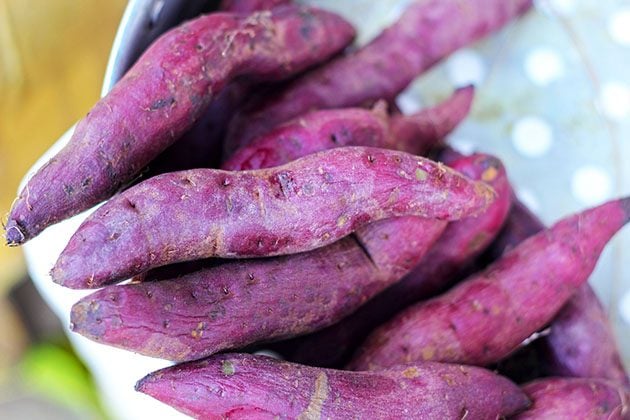 A purple sweet potato has the same shape (more or less) as the orange sweet potato but its flesh is purple. It's a little less sweet, it's dense, healthy, and creamy. Some purple sweet potatoes are purple on the outside as well but not all.
There are three main varieties of purple sweet potato…
Okinawan Purple Sweet Potato – has a whitish skin and purple flesh. It is believed to have come to the Philippines and China area from South America around 1490. The plant reached Japan around 1600 and was initially planted in the island of Okinawa before farmers all over Japan started growing the crop.
Somehow, this potato ended up in Hawaii and became an important part of Hawaiian culture. This is where it is cultivated today for the American market and therefore it's known today as Hawaiian Purple Sweet Potato.
Molokai Purple Sweet Potato – these are purple on the outside and purple on the inside and were developed on the island of Hawaii. I've never tried them but it sounds like they are very similar in shape and taste to the Stokes potato.
Stokes Purple Sweet Potato – this variety has purple skin and a deep purple flesh (the ones in the photo above). They are dense, a little dry, very very healthy, and a little less sweet than the orange potato we know.
They are an American made potato, originated in Stoke County, NC, but are now grown mainly in central California. As far as I understand, a mysterious woman gave a farmer from NC some potato slips many years ago. He planted them and ended up with purple sweet potatoes.
He liked them so much that he kept growing them and eventually they were registered under the name Stokes potatoes. These are the ones that I am growing.
Ube – it's important to mention this vegetable here. It looks kind of like the purple sweet potato, it's flesh is purple but the skin is a bit more on the brown side, and many people mistake it for a purple sweet potato, but the ube is actually a yam and not a potato.
It is a staple in the Phillipino and Asian kitchen and you might be able to replace it for a purple sweet potato in recipes that call for ube, but it's important that you know that it's not the same thing.
Where to Buy Purple Sweet Potatoes…
Now, that's the main reason to grow them yourself! It's hard to find purple sweet potatoes in stores. The first ones I got were from a local farmer but I've never seen them in stores and I've actually never seen them in the farmers market again…
You might be able to find them in Chinese markets but even in our only Chinese market in the closest city I couldn't find them.
Online, I found two places…
Friedas sells the Stokes variety by the crate. I just bought the organic crate and I am hoping to sprout them (I received beautiful and firm potatoes in a very reasonable time and I don't think that I paid for shipping so I definitely recommend this company). Once I do that I should be able to keep a few potatoes from my harvest every year and sprout them in the spring for the garden.
Veggie Farm is based in Hawaii and sells the Okinawan Purple Sweet Potatoes. I have never ordered from them before.
I also found these on Amazon but I am not sure how good they are and if they will sprout. The reviews vary. If you buy them just for eating they might be fine, but if you want to attempt to sprout the potatoes so you can grow your own, I think it would be better to buy directly from the farmer and make sure that your potatoes were not sprayed with anti-sprouting chemicals.
So let's say that you managed to purchase a few purple sweet potatoes… Let's learn how to grow purple sweet potatoes…
Starting Purple Sweet Potato Slips…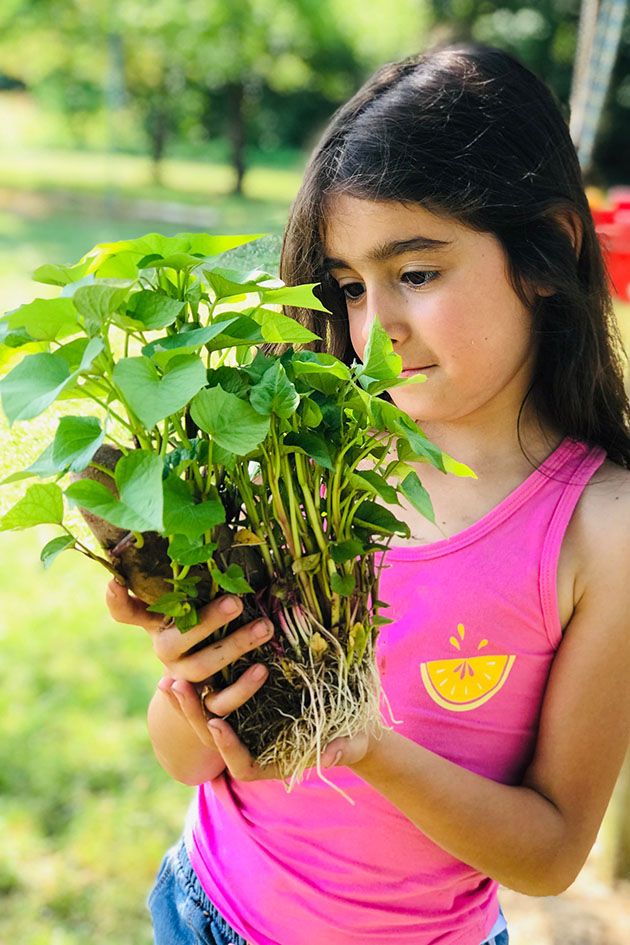 We grow sweet potatoes from vine cuttings called slips. You can choose to sprout your own potato or buy slips.
If you want to buy slips, Southern Exposure Seed Exchange sells the Stokes slips (I think that's what they are, they don't state a variety…) and Baker Creek Heirloom Seeds used to sell slips for the Molokai Purple (last time I checked they didn't have them though…).
It might not be a simple task to find slips for sale so an easier way in my opinion is to buy potatoes from the companies I mentioned above and sprout your own potatoes and grow slips. There are a few ways to do this…
Option 1 – your first option is to cut your potato in half and place the flat side down in a dish that you filled with a little bit of water. This way the tip of the potato is pointing up and the potato will sprout from there.
Option 2 – fill a jar with water. Stick a few toothpicks around the middle of the potato and use them to hold the potato on the rim of the jar so its bottom half is in the water but not touching the bottom of the jar and its upper part is above the jar.
The potato will sprout from the top. Try to check your potato to see if you can spot "eyes" on one of its ends and keep that end out of the water.
I once had a potato that just didn't sprout, I ended up flipping it after a couple of weeks in the water and a week later it sprouted.
Option 3 – take a shallow container (maybe 10 inches tall or so) fill it with potting soil and bury a few potatoes in there. Make sure the soil stays moist. The sprouts should start popping out from the soil within a couple of weeks.
You can see how I do this in my Growing Sweet Potato Slips video.
Tips For Growing Purple Sweet Potato Slips…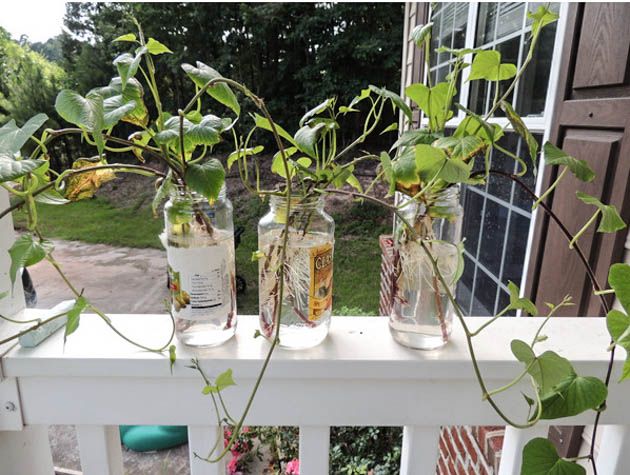 Sweet potatoes love heat so the warmest place in your house will do best or if you have a greenhouse that keeps warm early in the season that's a good option too.
Don't forget that once the potatoes sprout the leaves are going to need light to grow so you either need to set up grow lights or place them close to a well-lit window.
Once the potato sprouts, the slips grow pretty quickly. When they are 8" long (or so), you can cut them at the base and separate them from the potato.
If the time is right, you can go ahead and plant them in the garden right away, they will grow their roots right there and take off. If it's a bit early in the season, you can keep them in a jar of water by the window or under the lights until it's time to plant outside.
Soil Prep For Purple Sweet Potatoes…
Make sure your row, bed or container is in full sun. Purple sweet potatoes love the sun and love the heat. They are not very spoiled as far as soil requirements.
A regular garden soil pH of about 6 is just fine for these potatoes. You can add compost to your bed but make sure not to add too much. Sweet potatoes don't like soil that is too rich.
Make sure you don't add compost or fertilizer that is too rich in nitrogen. If there is too much nitrogen in your soil the vines will grow beautifully all over the place but the plant won't form many potatoes underground.
The main thing to pay attention to is that you are planting your slips in soil that is loose and drains well. We want at least 10 inches of fluffy soil. You can till the ground or use a broad fork to loosen the soil, you can build a raised row or you can plant in a raised bed or a large container.
Planting Purple Sweet Potato Slips…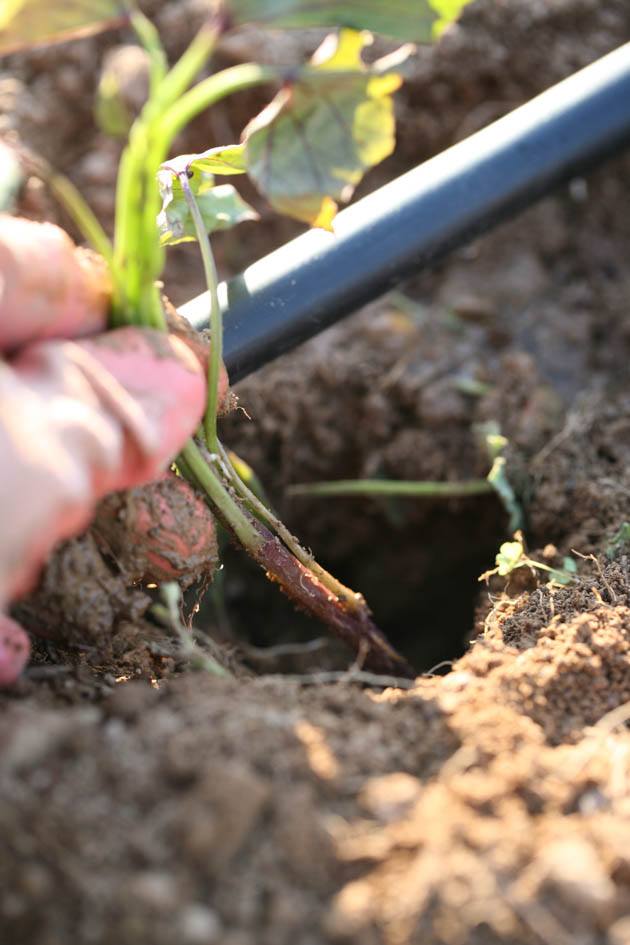 Sweet potatoes can't survive in cold temperatures. Be patient and wait until all danger of frost (even light frost) is gone. Outside temperatures should be in the upper 60's lower 70's at least before you plant and soil temperature should be in the 60's (preferably).
Here in zone 7b, I plant my purple sweet potatoes in mid May.
It's super easy to plant the slips. Dig a hole that is about 6" deep, stick the slip in there and cover. That's it.
Space your plants 12" apart and your rows 3′ apart. These vines are going to go everywhere and probably take over your walkways but feel free to trim them back a bit if you feel that they are out of control.
Like with every transplanting, make sure to water well and it's always beneficial to mulch the plants with straw to help keep the moisture around the young plants and shade them from the sun a bit (you can find more information on how to transplant seedlings in this post).
Caring For Purple Sweet Potato Plants…
Weeding and pruning – In the beginning, you are going to have to do a little bit of weeding but once the plant starts spreading it will cover the ground completely and there will be very little you'll have to do.
Again, you can cut back the vines a bit if you feel that they're crawling is out of control. In fact, some people report that they harvest larger potatoes if they cut the vines back a bit since then the plant can focus its energy on growing the tubers instead of supporting the huge vines.
You should also know that you can harvest young purple sweet potato leaves and add them to your salads! They are as healthy as spinach.
Pests – sweet potatoes usually don't have pest problems. I came across two issues… First, the rabbits and the deer love the leaves. They come by often and can eat a lot of them and damage the plant so you might want to consider a fence. If you are looking for an affordable fence idea check out this affordable deer and creature fence idea.
The other pests I've heard about are the sweet potato weevils and wire-worms. I've never experienced them in my own garden but a few of my readers pointed out that they have had issues with them. I think that these pests might be more common in commercial agriculture because sweet potatoes are planted in the same field year after year and these pests overwinter in the soil.
In the home garden, weevils and wire-worms are generally not as common because it's much easier for us to practice crop rotation. So make sure to not grow your purple sweet potatoes in the same area year after year.
If you spot the weevils on the leaves you can try spraying neem oil and if you are concerned about the weevils you'll have to dig during the season in a couple of places and take a potato sample (you'll spot holes in your potato).
However, I am not sure that during the season, if you take a sample potato and you spot wire-worms you have much to do… You'll have to make sure to treat the soil after you harvest your potatoes and plant in a different spot the following year.
Watering – purple sweet potatoes, like most garden plants, need 1" of water a week. Here in the South, we have enough rain during the summer that I don't need to water my potato plants at all. If you live in dry climates, like Arizona for example, you might need to water your plants a couple of times a week.
Harvesting Purple Sweet Potatoes…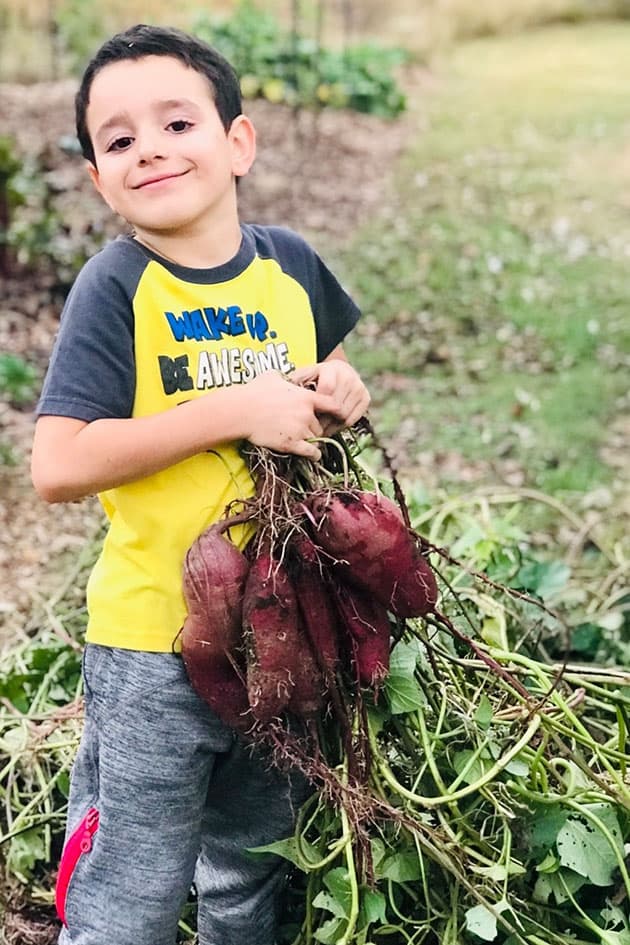 Sweet potatoes need a long growing season, at least four preferably five months of good summer heat. Here in the South (again, I am in central NC, zone 7b), I plant my sweet potatoes in the middle of May and harvest in the middle of October or towards the end of October.
Sweet potatoes can't handle a hard frost but they might benefit from a light frost. Some say that it improves their sweetness. So just make sure to harvest before the first frost date (find your first and last frost date by zip code here).
At the end of the season, some of the vines will start flowering and after that, they'll start yellowing. The leaves won't be as vibrant as they used to be and that is the time to harvest your potatoes.
Pull or cut the vine back and clean the top of the bed, then, you just dig! Watch my harvesting purple sweet potato video to see how we do this.
Your hands are the best tool (check out this amazing deal on the most amazing gardening gloves!). If you choose to use a shovel or a pitchfork make sure you don't stab a potato while digging. The potato skin is very thin at this stage and any damaged potato will not store as well as a whole one.
Make sure to never wash your potatoes after harvesting, just brush the soil off of them gently.
How to Cure Purple Sweet Potatoes…
After you harvest your bed of potatoes, it's time to cure them if you want to store them over the winter.
Yes, you can cook your potato right after harvesting, nothing will happen to you, but curing makes the potatoes even sweeter and harder and they can last much longer in storage.
The ideal way to cure them is in a location that can hold a temperature of 85 F and 85% humidity for about ten days. Here in the South, we sometimes have warm spells like that at the end of the growing season and we can just leave the potatoes on a table in one layer in the shed.
Make sure to never leave them outside in the garden. Nights can be wet and it can rain and we don't want the potatoes to get wet.
How to Store Purple Sweet Potatoes…
After curing you can brush the soil off of your potatoes and transfer them to a cardboard box. The best thing to do is to wrap each one of your potatoes with a layer of newspaper and place it in the cardboard box. Then, make sure to store your box of potatoes in a cool place like a root cellar or a basement.
If you have any damaged potatoes, set them aside and use them first.
After six weeks or so in storage, your potatoes are at their sweetest and you should take advantage of it and eat them! Just make sure to leave a few so you can sprout them again the next year and grow more potatoes.
For more information on harvesting, curing, and storing sweet potatoes, make sure to read my post How to Harvest Sweet Potatoes.
How to Cook Purple Sweet Potatoes…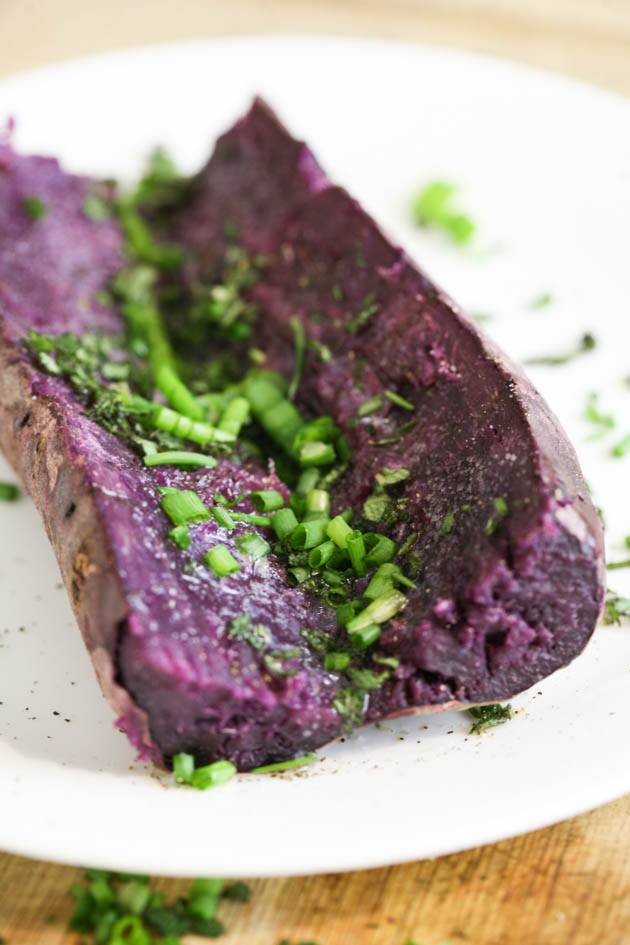 When it comes to cooking purple sweet potatoes they are not much different than your regular orange potatoes. You can bake them whole in the oven or boil them in water.
You can peel them, cut them, and roast them. You can make oven baked sweet potato fries or fry them in oil.
Here are my roasted purple sweet potatoes that are delicious! And here is how I make a baked purple sweet potato and mashed purple sweet potatoes. And for a healthy and fun snack, you can make purple sweet potato chips!
I compiled 42 different purple sweet potato recipes in my post Purple Sweet Potato Recipe Roundup. You won't believe the amazing recipes there are out there using this special crop. Make sure to check it out.
Purple Sweet Potato Nutrition…
These tubers are very healthy! Purple sweet potatoes are low in carbohydrates and fat and are a great source of fiber and vitamins like vitamin A and C.
They are also a great source for calcium and potassium, but maybe the greatest health benefit of purple sweet potato is their richness in antioxidants.
Purple Sweet Potato Calories…
Of course, it's hard to say because it depends on the size of your potato, but just to give you an idea a medium sweet potato will have somewhere around 250 calories.
---
I hope that you are going to give purple sweet potatoes a try! They are really easy to grow, the plants are beautiful and produce a lot of food, they are tasty and store well, and there is a lot to do with them in the kitchen.
I'd love to hear from you. Do you grow purple sweet potatoes? Have you ever tasted one? How did you like it?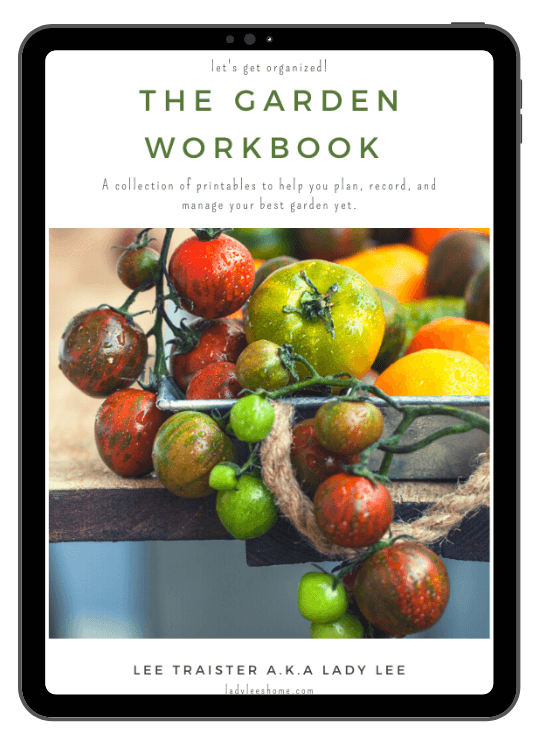 The Garden Workbook is Here!
In part one of this book, we'll go over how to set up and grow your best garden yet.
Part two consists of 16 garden printables to help you plan, record, and manage your garden properly!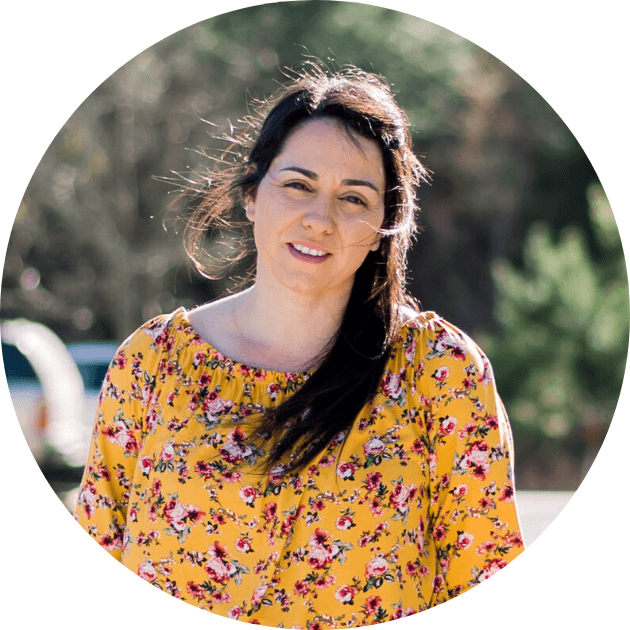 Hi! I'm Lady Lee. I help homesteaders simplify their homesteading journey while still producing a ton of food! I am a single mother of four, I was born in Israel and raised in an agricultural commune called a Kibbutz. Now I homestead in central NC.