Are you looking for an affordable and easy-to-set deer fence? I think that this fishing line deer fence might be the right solution for you! You might be surprised at how effective a simple fishing line can be when it comes to keeping deer out of your garden.
---
Dear Deer, from my young, fresh, green spinach you shall not eat, and don't even think about biting a red, sweet beet, I may not have a lot of cash to put up a fancy fence, but, what do you know… I can still defend my garden from your offense!
You are not completely wrong if you think I've lost it… What can I say, this farming business can drive you mad. Maybe it's the hours in the sun or too much fresh air, but as you battle yet another project in the field, you find yourself talking to the grass, trees, ladybugs, and spinach. Oh yeah, and to the deer tracks on the ground.
Fishing Line Deer Fence For the Garden…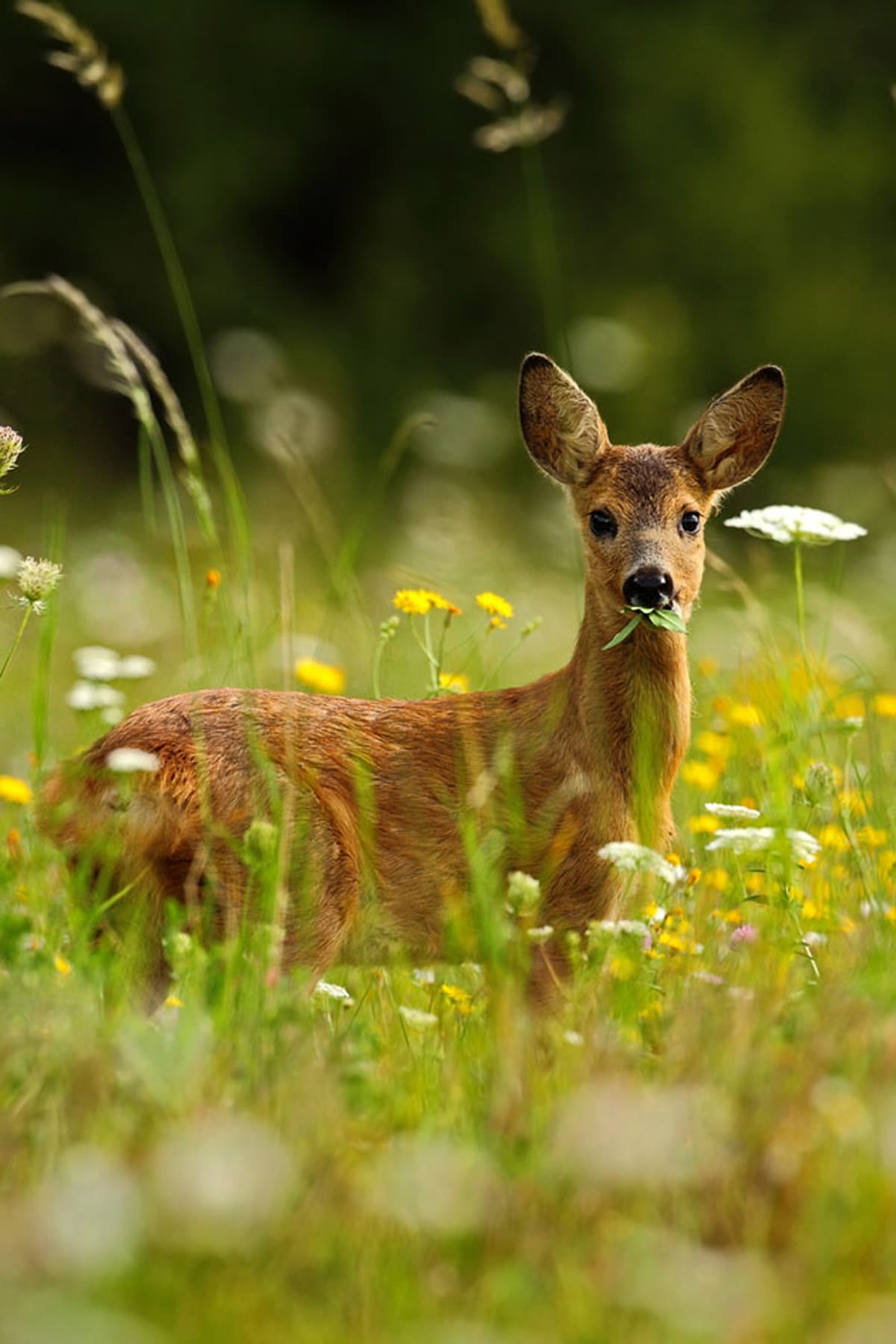 They are everywhere! The tracks, I mean. The deer are nowhere to be found. They walk on my vegetable beds (can't they see there are walkways marked?!), at night, I assume, inspecting the growing greens. I tried to ignore them, but it's not possible. I will never have anything to eat or sell if I don't find a way to keep them out.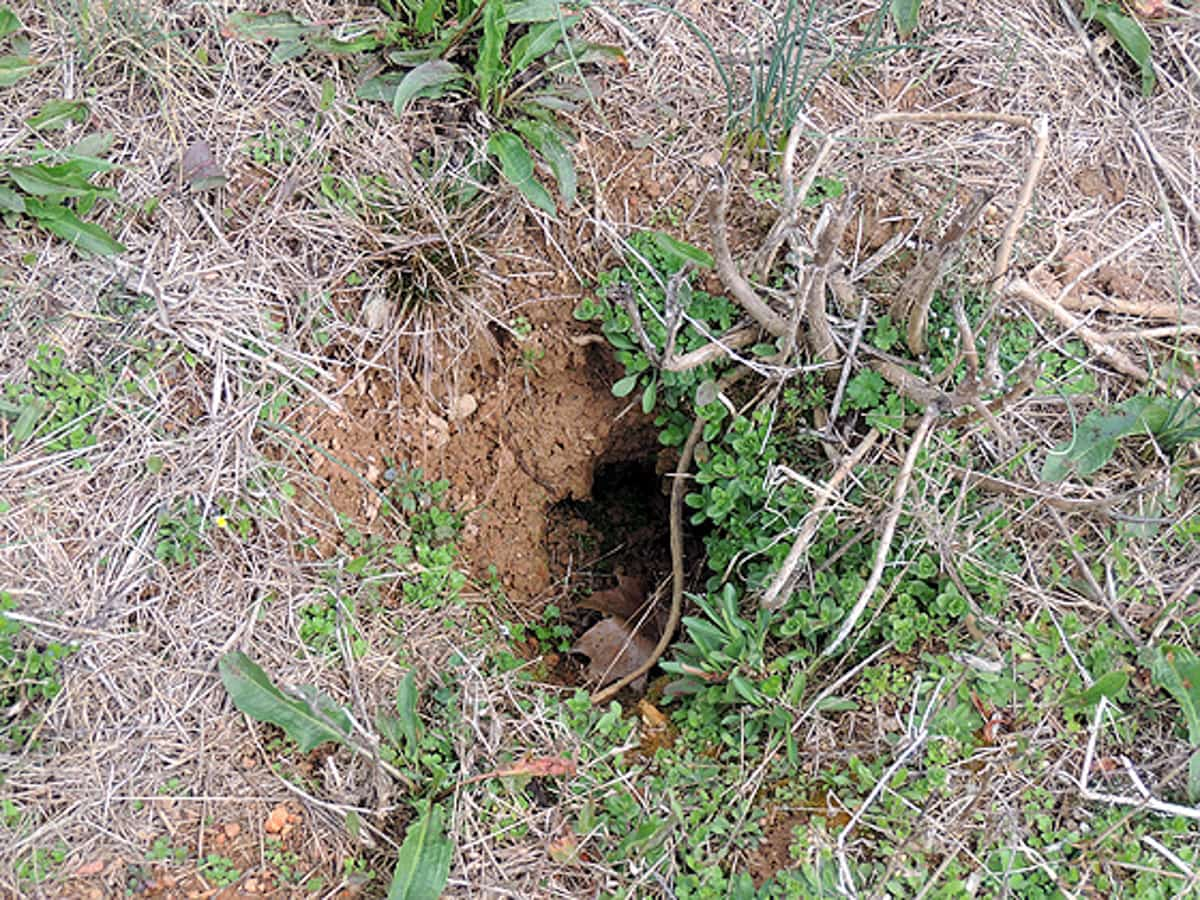 The Issue…
But the deer are not the only visitors to my vegetable garden. See this lovely hole in the ground in the image above? See? See? Do you know who lives there? A groundhog, that's who! A big, fat, groundhog. And he loves vegetables! So I had to find a deer fence that would keep the deer out, and the groundhogs out, and if we are at it, let's keep the rabbits, elephants, and hippos out as well.
Now, before we continue to talk about solutions to this issue, let me just mention that there would not have been an issue if I lived next to this garden simply because my amazing dog would have kept all the creatures away from the garden. However, this garden is on my 20 acres of farmland and I don't yet live there. It's pretty much a playground for all the creatures that we have around here.
Options For a Solution…
An electric fence – this type of fence might work against the deer, but I've heard that it needs to be at least 8′ tall because if it's shorter the deer can jump it easily. Also, it won't keep the rabbits and groundhogs out and… I didn't have money for that anyway.
A permanent fence – was out of the question, because, you guessed it, I don't have the money for that, and anyway, I wanted something that I could easily move later on since I'm sure things are going to change around the garden or I might decide to use the field for something completely different in the future.
Since those two options weren't going to work for me, I went on to do some research in hopes of finding a different solution. A couple of hours into my research I came across a YouTube video that unfortunately is no longer available on YouTube. In that video, the guy showed how to make a simple fishing line deer fence, the one that I am about to share with you below. I was very skeptical but it was so cheap and simple that I had nothing to lose so I decided to try it. My fence is up for a month now. There are still many deer tracks on the field, but they are all on the outside of the fence. None inside!
Equipment Needed…
Note – if you are only looking for a fishing line deer fence you won't need the chicken wire, wire, gloves (although those always come in handy), and long sleeve shirt (the shirt is just to protect you from ending up with seven million scratches on your arms from the awful chicken wire. But, if it's cold, do wear a long sleeve shirt so you don't freeze, yes?)
T posts – I used 6′ posts
30 pounds fishing line
Chicken wire – I used rolls of 4′ x 150′ of chicken wire that has 2" holes instead of the common 1".
Another note… this is an old project, since then, I have to admit that I realized that I hate chicken wire and that I would never Ever EVER use chicken wire on my farm again. If I were to build this fence again, I would probably find another kind of wire to use. But for that time, it worked. It was cheap and easy to get from a local store.
Wire – for tying things together.
Tomato stake – used that for the gate. Again, it was cheap and easy to get, however, I would probably find a better solution if I were to build this fence again.
Gloves
Long sleeve shirt – if you are going to install the chicken wire and you don't want to end up with bloody arms and family members who wonder if they should admit you to the nearest mental hospital.
Setting a Fishing Line Deer Fence…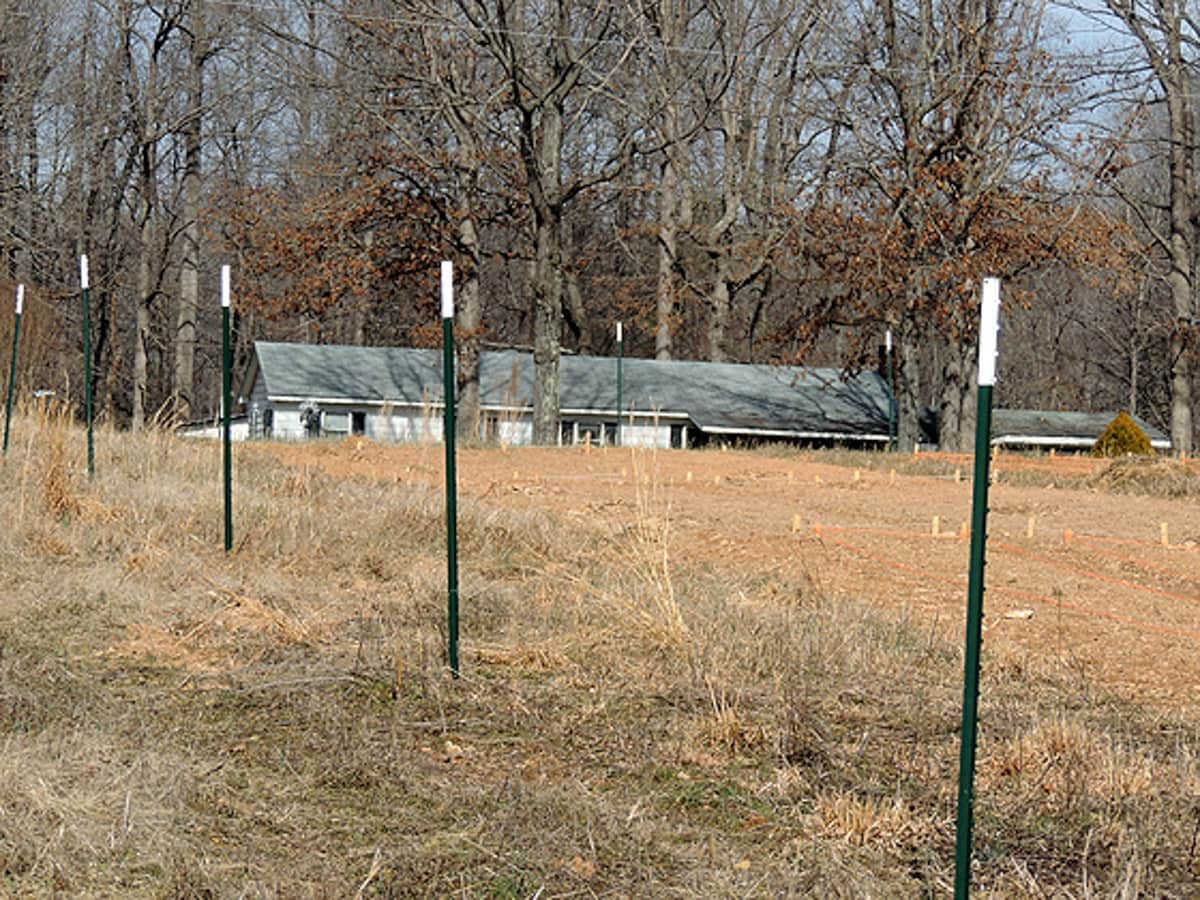 Step one – set the t-posts. One foot of the 6′ posts was pounded into the ground, leaving 5 feet of the post above ground. I placed the t-posts 15 feet apart. I think that it's better to place them closer (10 feet apart is best, I think), however, I had 400 feet of fence to build so I decided to place them a bit further.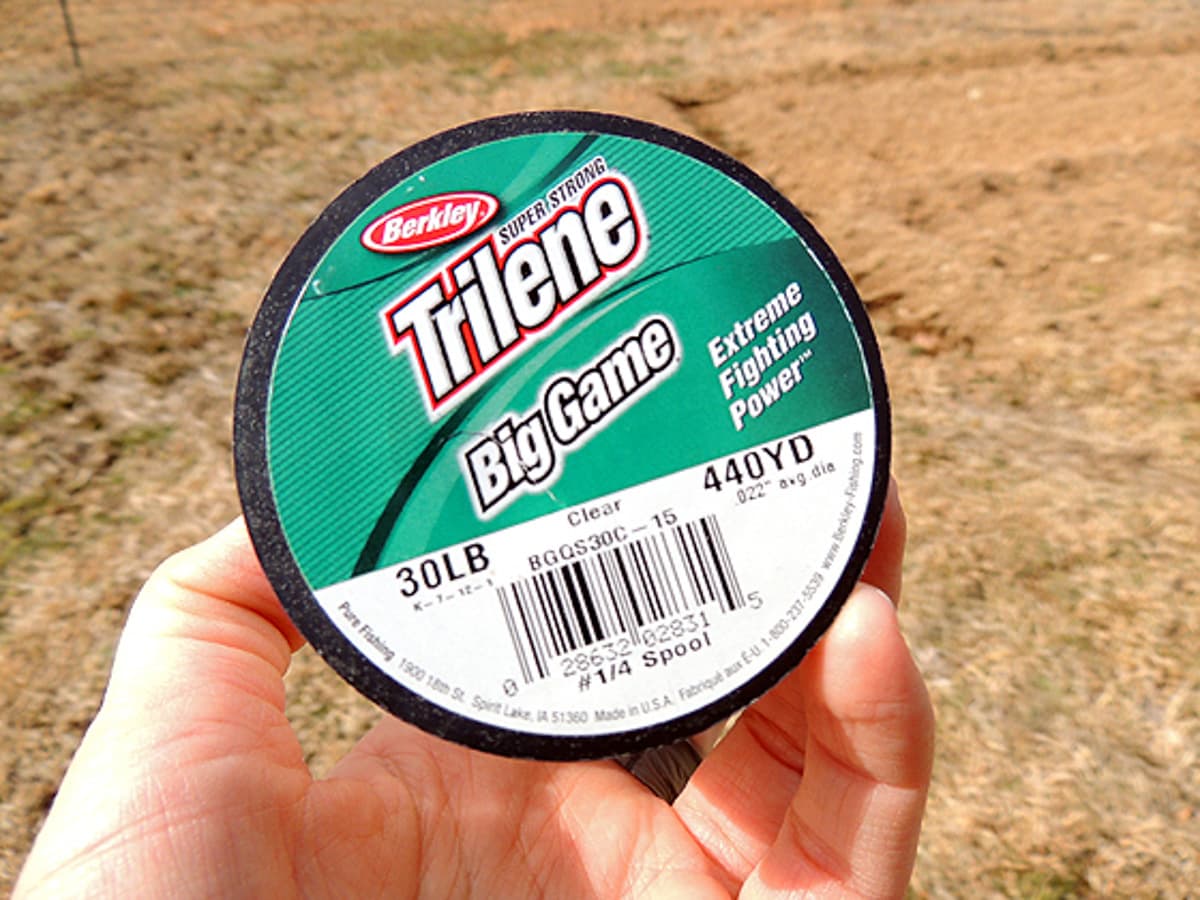 Step two – add the fishing line. I placed the fishing line every two feet on the posts, looping it around each post a couple of times. I didn't have to go all the way to the ground because I was going to place the chicken wire on the lower two feet to keep other creatures out. If you're not going to use the chicken wire and only want this fence to keep deer away, you can add another line on the lower part of the posts instead of the wire.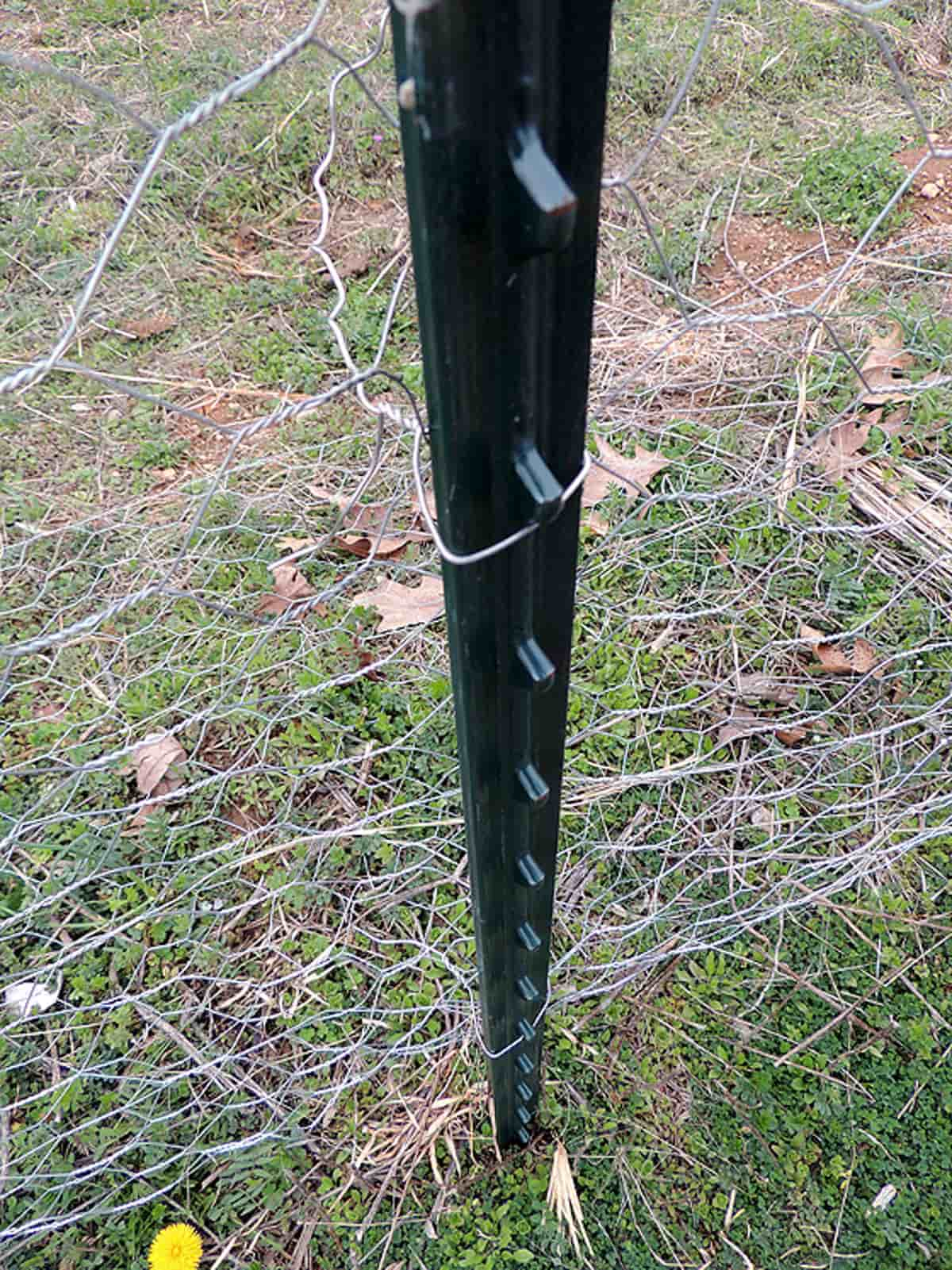 Step three (optional) – adding the wire fence. I attached 2′ of the wire to the posts using electric fence wire that I had in the shed, the other 2′ was laid on the ground so creatures won't dig under the fence. If I couldn't make the chicken wire tight between two posts (which is not an easy job…), I used the electric wire to help it stay upright by tying it to one post, weaving it through the top of the chicken wire, and tying it to the other post.
When you get to a corner, you have to cut the lower two feet of the chicken wire so you can turn the corner. Make sure you have heavy rocks to hold the chicken wire down because it will curl up and try to kill you with no shame. None at all.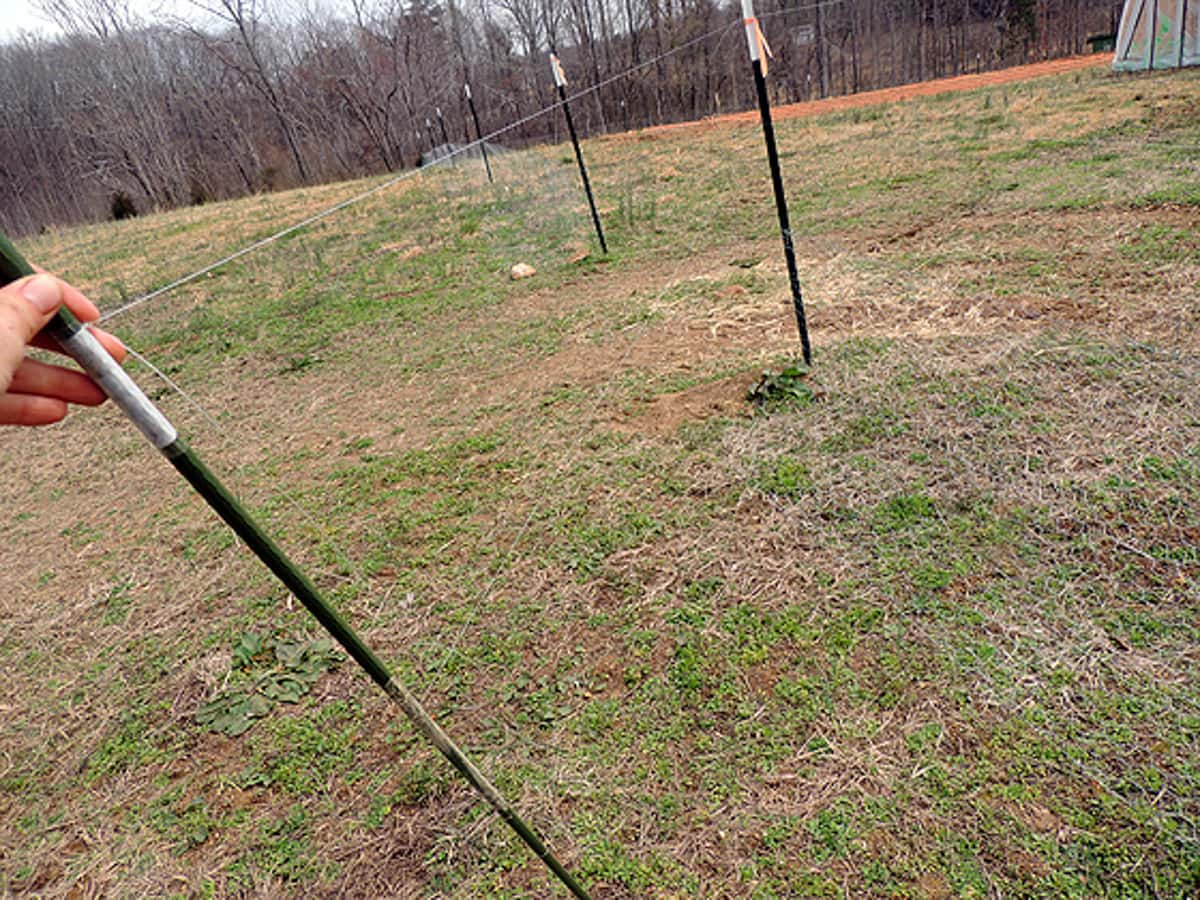 Step four – building the gate. I made two gates, one on each side of the field. I used a tomato stake that I got from Lowe's and tied the fishing line to it every two feet. I didn't find a solution for the lower part of the gates. One solution I considered was to just cut the chicken wire to fit the width of the gate and tie and untie it to the post every time that I open the gate. To close the gate, I tie the tomato stake to the post with the electric wire.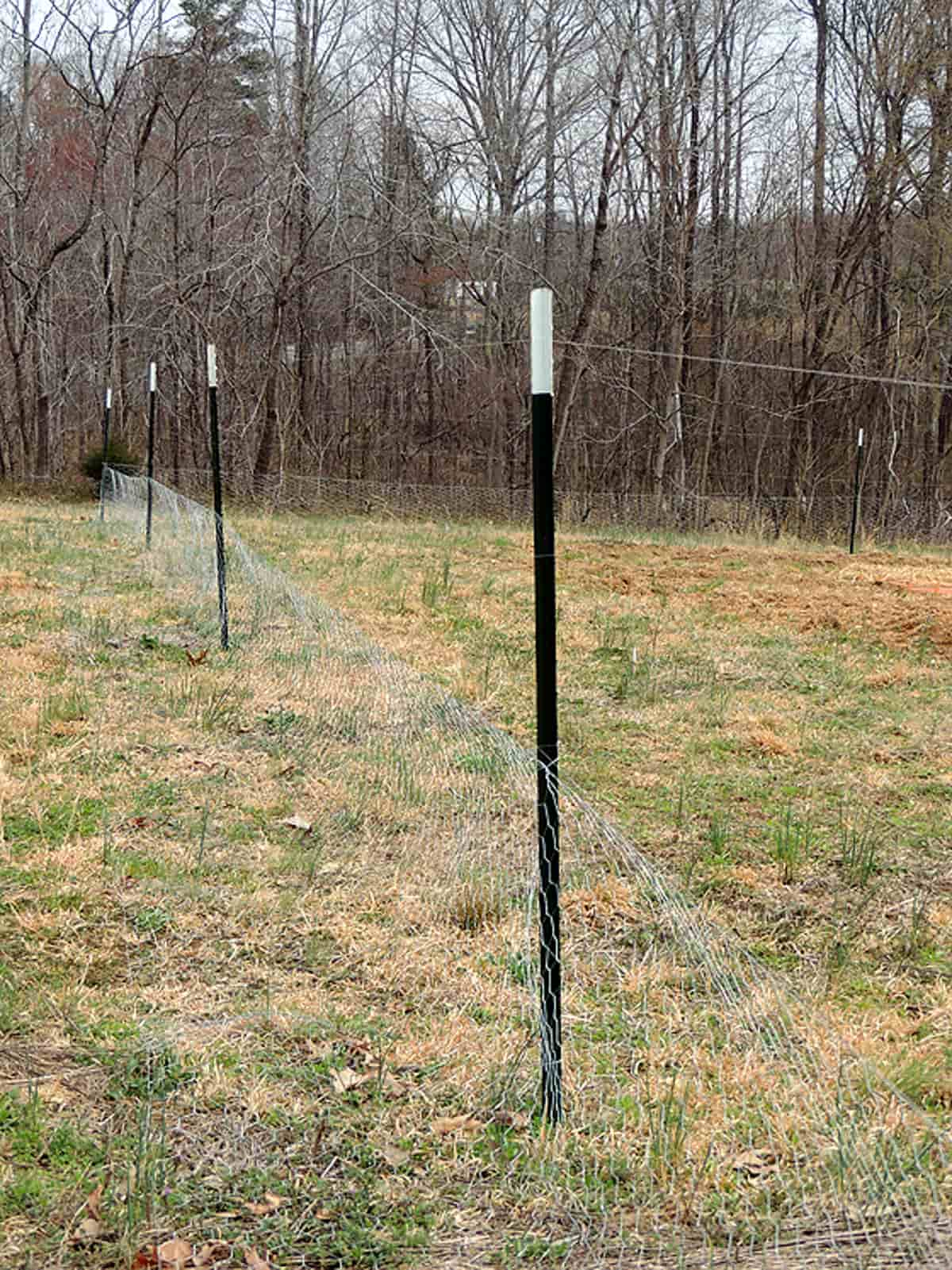 It's a job best suited for two, but I did most of it by myself, and I am still alive. Make sure you use gloves and have a long sleeve shirt on when dealing with the chicken wire, or you will end up with arms full of bloody scratches and silver hands.
Pretty it's not. Doable it is. Easy to move it is. Affordable it also is. But most of all, it is effective. So far. Knock on wood.
Frequently Asked Questions…
Should I mark the fence?
No! The reason that this fence works is because it is invisible. The deer can't see it so when they get too close to the garden and the line touches them they spook and run away.
How often should I replace the wire?
Chances are that every time a deer touches the fence, the fishing line will break and you'll have to re-tie a new fishing line (only takes minutes). In the beginning, you are going to have to check often but you won't believe how fast the deer learn, and re-tying or changing the fishing line becomes less and less often.
Does it have to be 30 pounds fishing line?
I have never tried with a thinner line, 30 pounds seems to work really well.
---
So, what do you think? Are you going to give this a try? Since I building this fence I've inspired a few friends who have also tried it (without the chicken wire at the bottom). Some did it to protect flower beds on the edge of their property and some to keep the deer from eating their lawn. It worked for everyone I know and I think that it will work for you as well. Give it a try!
More Homestead DIY Tutorials…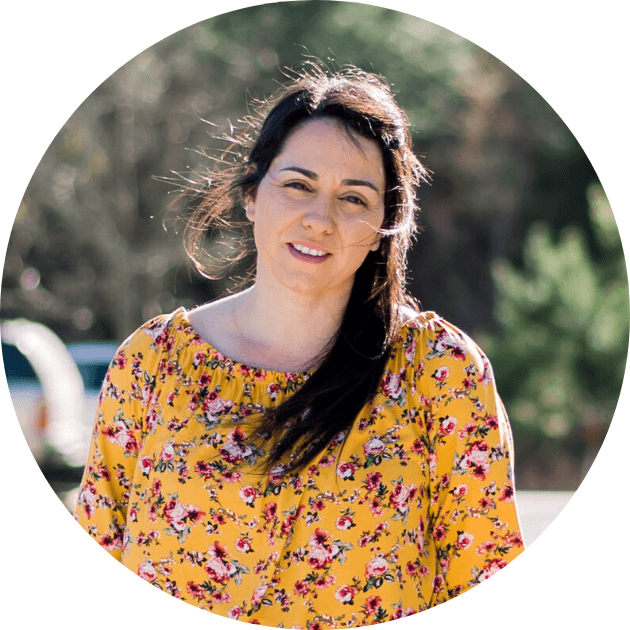 Hi! I'm Lady Lee. I help homesteaders simplify their homesteading journey while still producing a ton of food! I am a single mother of four, I was born in Israel and raised in an agricultural commune called a Kibbutz. Now I homestead in central NC.