This is a VERY graphic post. If you choose to scroll down and read it please don't leave me comments on how I abuse animals and how disgusting it is. We are going to learn a simple way to extract the deer brain. If you are interested in tanning deer hides with brains, then this post is for you! I will link below to my step by step tutorial on tanning deer hides with brains. This post will help you understand how to extract the deer brain so you can use it for tanning.

We choose to eat meat – it is important to me that the animals we eat lived a natural life. It doesn't get more natural than free in nature, so we hunt. We respect the animals we hunt by using the whole animal (what we don't use we feed to other animals or give back to the earth).
If you are concerned for the welfare of animals I suggest you do some research about hunting. You'll find that it actually benefits the overall population of wild animals.
Unfortunately, many of us are so removed from nature these days that we don't see this as natural. Well, you and I and everyone around would not be here today if our ancestors hadn't hunted. I can assure you that they weren't vegetarians. When most of your time is spent living in nature a salad just ain't gonna cut it.
If you chose to stop here I assume you have an interest in hide tanning using the animal's brains (here is a step by step tutorial on how to do it) like the natives used to do for many years. If that's true, then you'll need to extract the animal's brain.
If you stumbled here somehow but have no interest in hide tanning, you are welcome to stay. But if you choose to stay, please be respectful.
Ok, enough of this… This is actually going to be a quick post.
Tanning Deer Hides With Brains – How to Extract the Deer Brain…
If you read my step by step post on how to brain tan a deer hide you saw that I suggested using a small ax to open the skull. You can certainly still do that, however, I found a much better way that I would like to share with you today.
The problem with the ax method was that I ended up with a brain that had a lot of tiny pieces of bone in it. Maybe I didn't do it right or maybe my ax wasn't sharp enough, but it smashed the bone and I had to spend time fishing sharp little pieces of bone from my brain tanning solution so they won't damage my deer hide.
So I was looking for another way to do this and found a very simple one…
Instead of using an ax, use a hand saw equipped with a blade meant to saw metal.
We also use this saw when we butcher deer on the homestead. It really works well when you need to handle bones.
Start with a head that is fresh or thawed (if you stored it in the freezer), you can scoop a frozen brain but I found that it's easier to handle it when it's not frozen.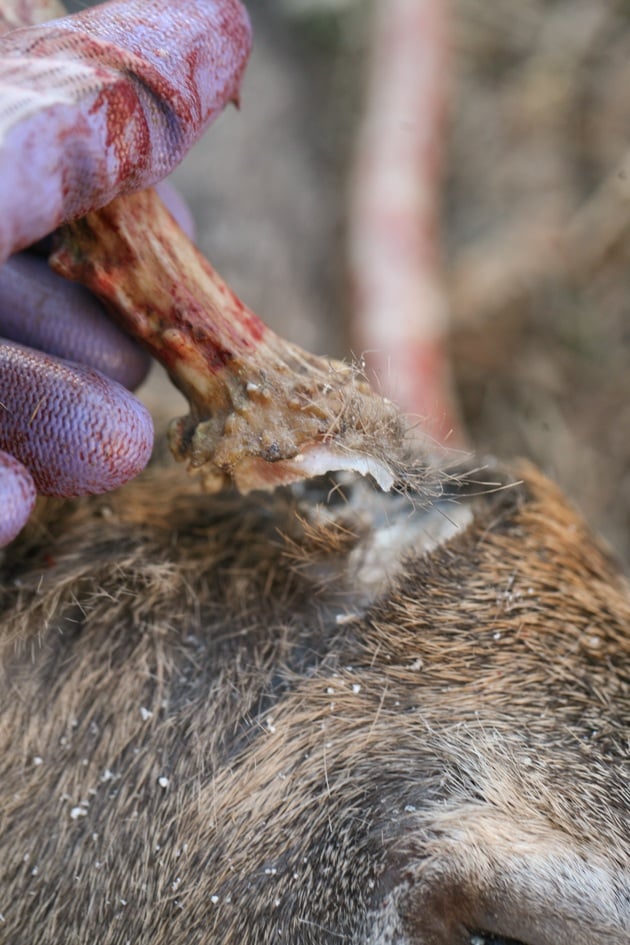 If you have a buck's head, go ahead and use the saw to remove the antlers. Save those for buttons, craft, or for the kids (my kids love playing with them).
Here is the head after I removed the antlers. Now we can work more comfortably.
Make a V cut on the top of the skull to remove the skin. You can do this with a knife or simply use the saw. I did everything with the same saw.
Please make sure you wear rubber gloves from this point on.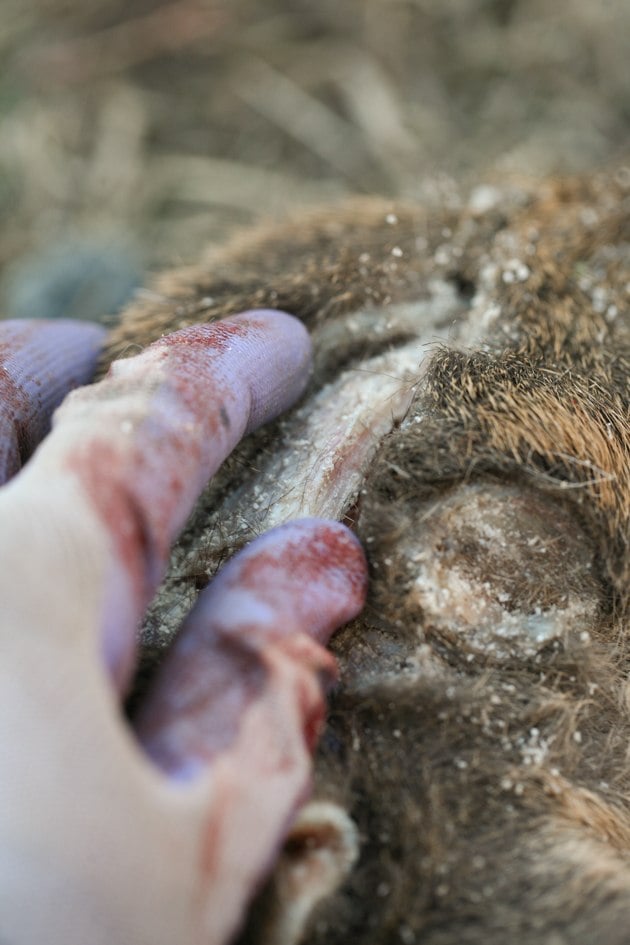 Once you have the skin removed or peeled backward, go ahead and saw the bone in the same V shape but add another cut on the base to form a triangle. This only takes minutes since the skull bone it not thick at all. You'll feel it when your blade goes all the way through.
If your three cuts crossed each other to form a triangle, you'll be able to remove the triangle from the top of the head to expose the brain.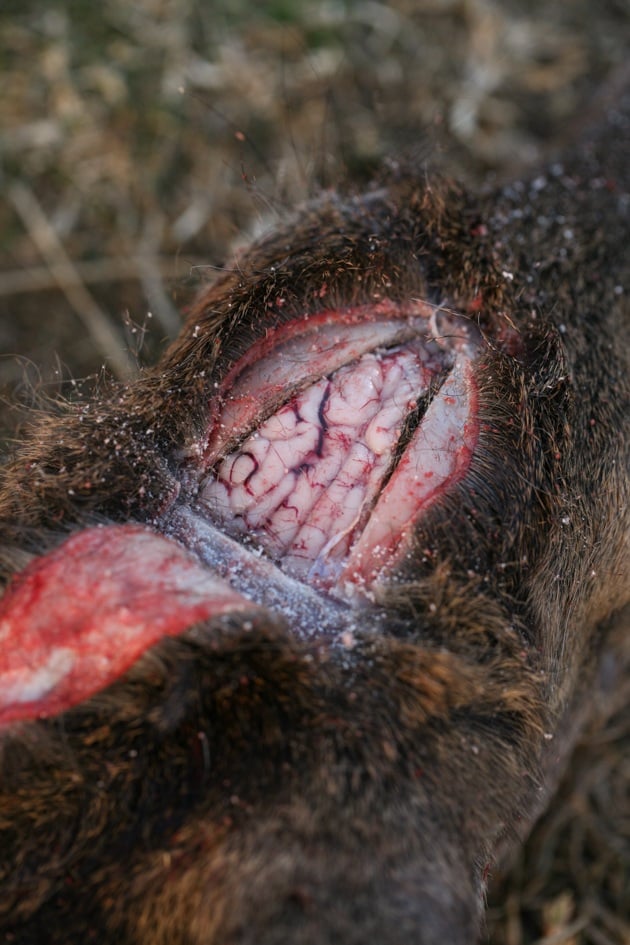 Now you are ready to remove the brain…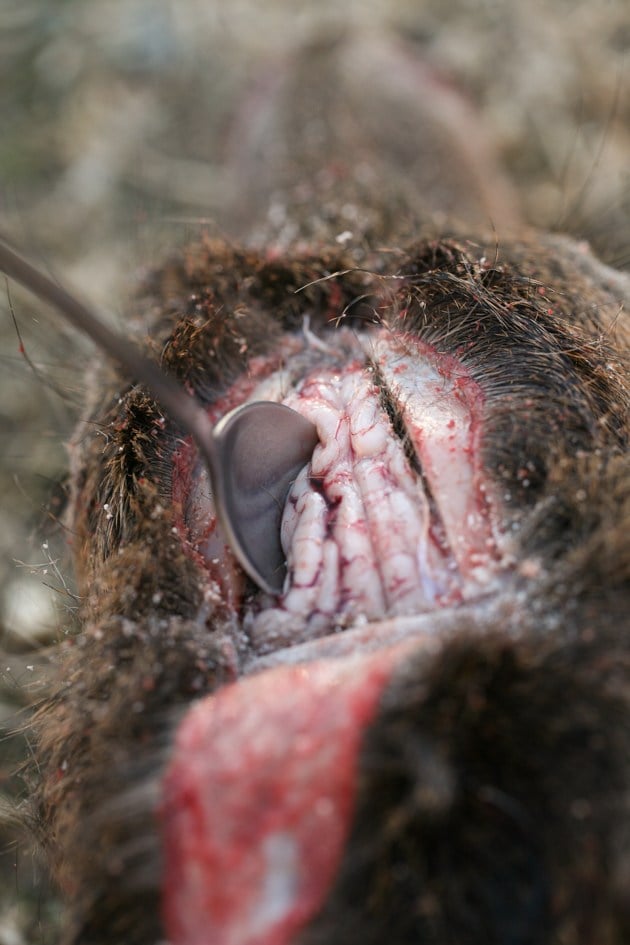 Use a teaspoon to scoop it out…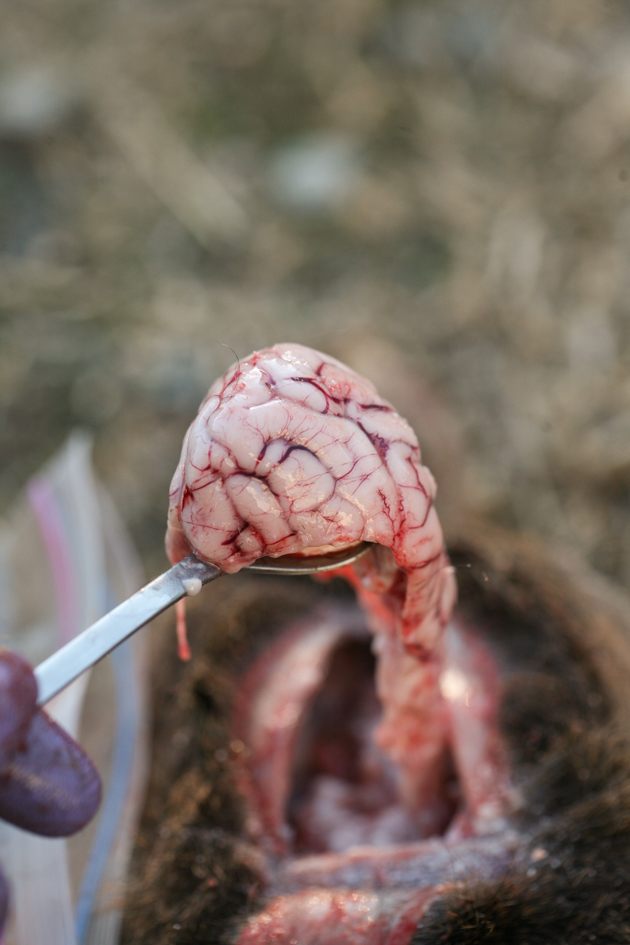 And place it in a ziplock bag.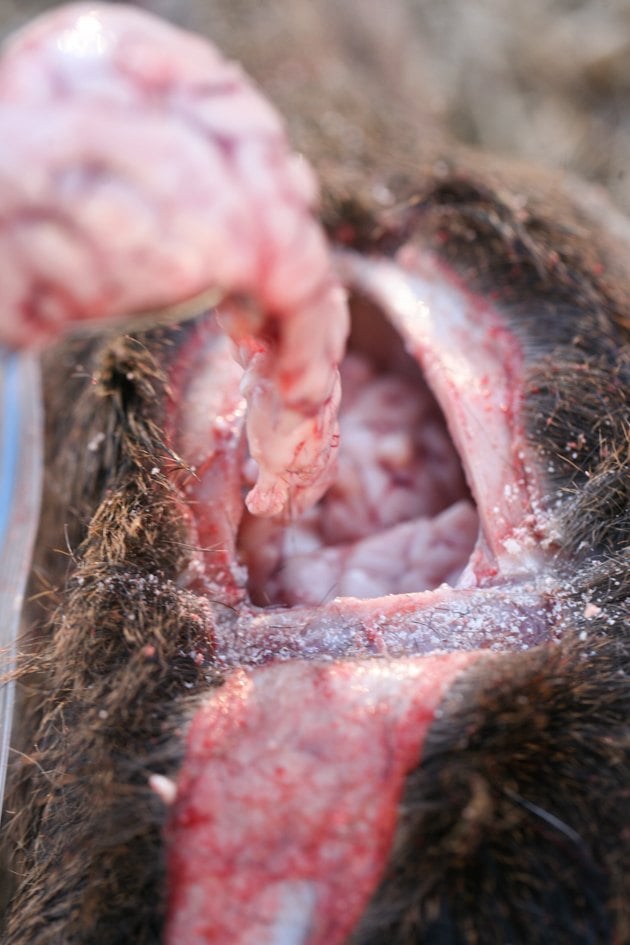 It will take a few minutes to empty the skull.
The brain is protected by bone from all sides so you don't need to worry about scooping something else by mistake. Just go ahead and scoop as much as you can.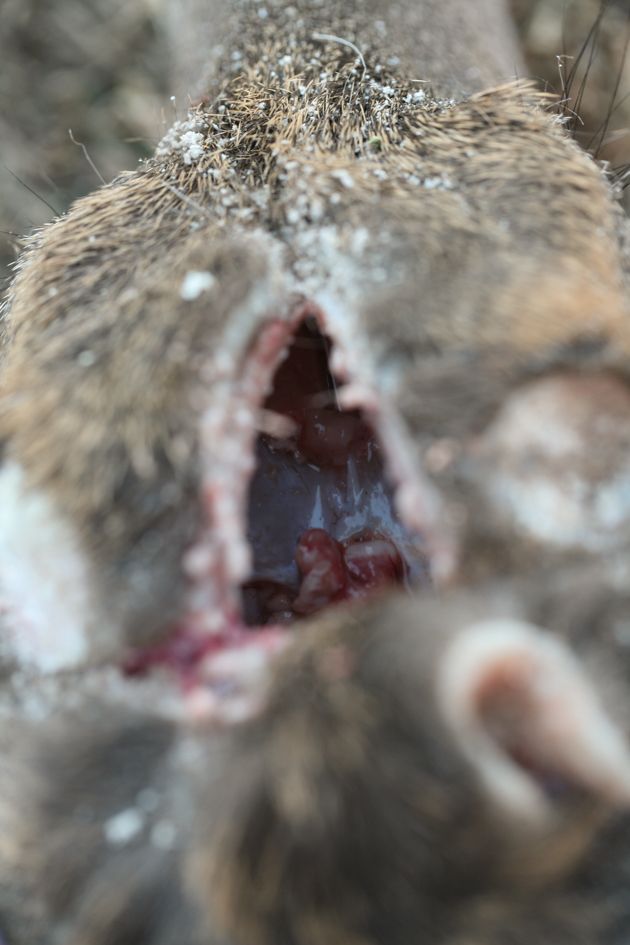 That's it. When there is no more brain in there you are done.
I give the skull to the dogs. They eat what they can and usually expose the deer teeth really well in case you want to collect and use them for crafts.
If I do more than one animal I make sure to place one brain per bag because I use one brain per hide.
I store the bags in the freezer with the hides and when I'm ready to tan the hide I thaw one bag of brain for one hide.
It is really much easier to use the saw than to use an ax. If you do this another way please share it with me in the comments below.
Tanning deer hides with brains is not an easy job although it's fun and very rewarding! I was happy to discover that at least the brain extraction part was relatively easy.
I hope this helps!