In this post, I'll show you how to process buckwheat and how to make buckwheat flour. This is not the "right" way to do it… Just my way but it worked for me and I was able to dehull buckwheat, mill it, and make my own buckwheat flour. You can make your own buckwheat flour in a few different ways and I'd like to share my way with you. It was a fun project!
---
I didn't title this post "How to Process Buckwheat," because quite frankly, this is not how you should do it. In fact, after this past week, a few people officially concluded that I have gone mental. And they are probably right…
You see, if you were to grow buckwheat (which I strongly recommend for many reasons listed below), and make your own gluten-free buckwheat flour, you would probably want to use a grain mill like the Country Living Grain Mill and then, follow their instructions for dehulling and grinding the seed.
But what's to me, Lady Lee, and following instructions? Absolutely nothing. I am known around the family for doing things backward, upside down, or sideways. And I wouldn't want to ruin the reputation I worked so hard to build, now would I?
How to Process Buckwheat Without a Grain Mill…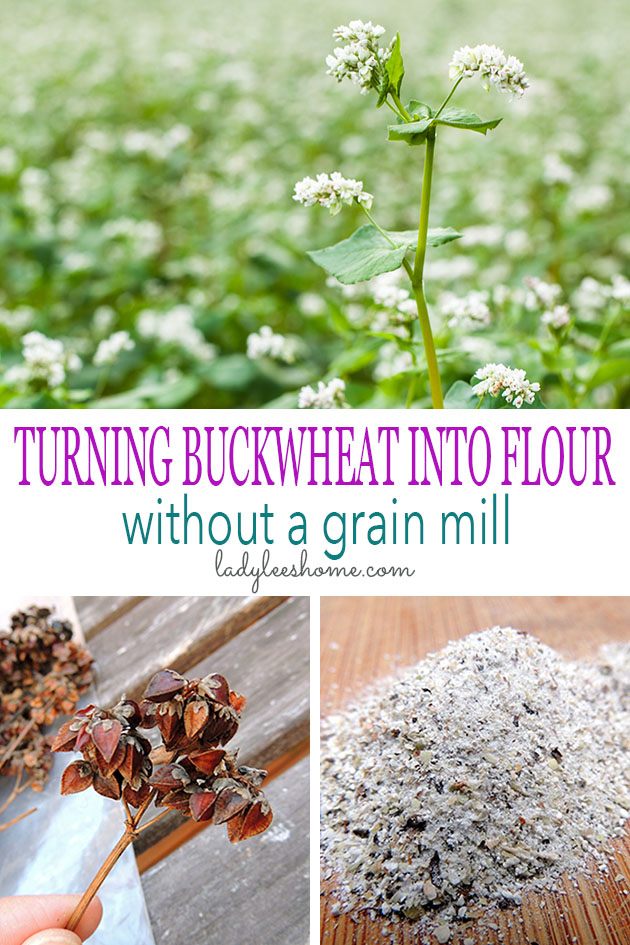 So I went ahead and planted a whole field of buckwheat. Yeah, you read that right, I said a field.
The plan was to use the buckwheat in the compost heap and to till it under as green manure at the end of the summer. Then, plant the field with winter cover crops (read: Learn How Cover Crops and Green Manure Crops Will Change Your Garden).
But it didn't happen… Don't ask me why. I really have no clue.
What did happen is that the buckwheat went to seed, reseeded itself, grew again, and went into seed again. At that point, it was too cold outside for the seeds that dropped to the ground to germinate, and many others stayed on the dry stems that were still standing in the field.
I was so busy preparing the other end of the field for spring planting that I completely ignored the buckwheat. Until last week, that is…
I was trying to measure and mark the beds of vegetables for next year. One child was pulling the stakes out of the ground, the other was messing with the twine, while the last one was stepping all over the bed after I removed him and explained 17 million times that we DO NOT step on the vegetable beds. Can't a one and a half-year-old understand the principles of soil compaction for crying out loud?!
Anyway, it was either going for a walk or having the neighbors call child services. So we went for a walk… And came across a field of dry buckwheat.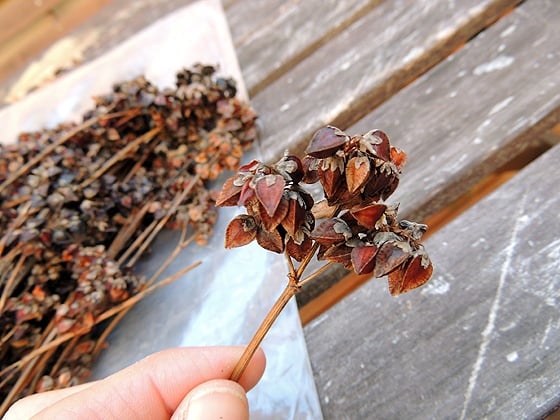 I am not sure what is it about kids, but they love to pick stuff. Everything (including their noses)…
So they started picking those wonderful stems with the clusters of dry seeds on top and I joined in. We ended up with a nice bunch of buckwheat to take home.
Even though my initial plan was to plant buckwheat as green manure this time around, I always wanted to grow grains and seeds (buckwheat is a seed and not a grain because it doesn't contain gluten) to make my own flour. If I can grow grains for us and turn them into flour, I can, in my eyes, pretty much do anything.
OK, maybe I can't go running naked around downtown, or drink from my nose, or say – meet the Kardashians – but seriously, who wants to do those things anyway?
Buckwheat was on the top of my list of grains/seeds to grow because…
It grows super fast. 4 weeks to flower and another 4 weeks to seed.
It grows in any soil. No special soil requirements.
The bees love it. Buckwheat honey is said to be black and delicious, and one's gotta help the bees if one can (read: 61 Plants That Attract Honeybees).
It seeds itself. The seeds just drop to the ground and germinate.
The flowers are beautiful. A cluster of tiny, white flowers.
You can cook the seeds as a side dish just like rice (if you break them a bit, not mill them all the way into flour).
It makes gluten-free flour (great for a gluten-free diet).
Buckwheat has so much protein in it. It can be used as a substitute for meat.
It's a great companion plant. If you have a bed of tomatoes, for example, you can plant buckwheat around the tomatoes. It will suppress weeds, attract pollinators, and no special spacing is required.
It's great for our digestive system.
It can help reduce blood pressure because it's a good source of magnesium.
You can use the hulls as mulch. Or you can make a buckwheat pillow! (This looks like such a cool project).
And the list goes on and on and on…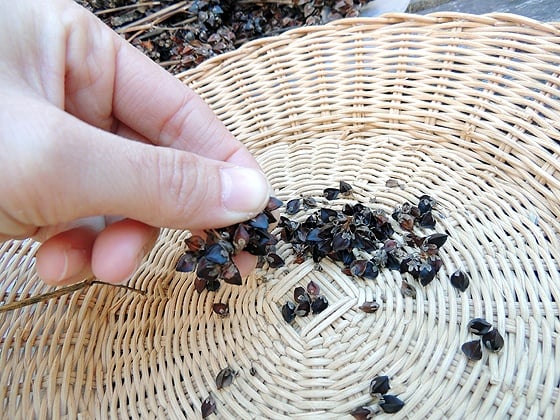 But the reason I didn't grow seeds or grains until now is that I don't have a grain mill. Simply can't afford it at the moment but I know that I need it if I want to process grains.
So what was I going to do with all those buckwheat seeds? I wasn't sure, but I started by separating them from the stems and cleaning them a bit. I also removed a bunch of empty seeds.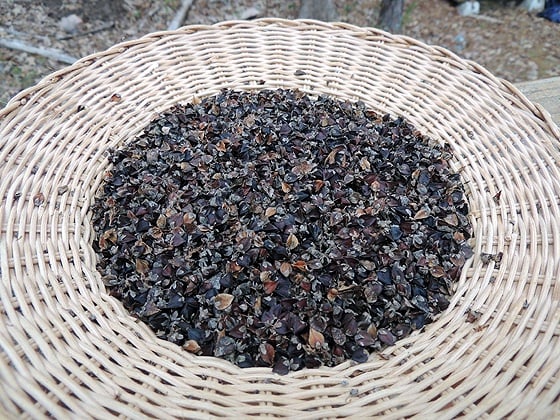 Then I started walking around the seeds like a pack of jackals around a circled gazelle, or werewolves around vampires. Or is it vampires around werewolves? I guess it depends on if you are team Jacob or team Edward…
Anyway, I was trying to find a way to de-hull those seeds. Not. An. Easy. Task. I found someone online suggesting to put them in a blender. It didn't work.
I went to consult my pile of old homesteading books. They suggested cracking them with rocks. This is where the concern for my mental health began…
I cooked them, used a rolling pin, sang to them, and begged. Nothing worked.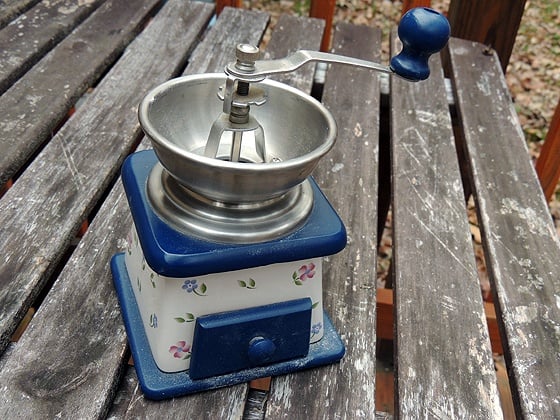 And then I remembered! I remembered I had this beautiful spice grinder that I once gave my ex-mother-in-law as a present but then took back because she had two.
What? She doesn't need two! Well, anyway, I gave her the poor-girl look, and she told me I could take it. She still loves me. I think (**Update – she doesn't love me anymore because I divorced her son, oh well).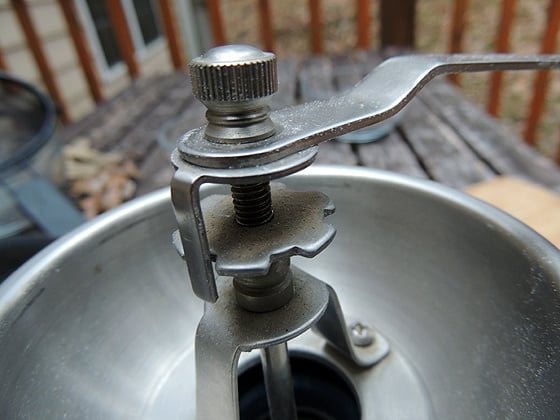 I will try to explain how it works. You unscrew the top part, then screw the gear (the plate with the teeth) up or down. This controls the space between the two grinding stones at the bottom.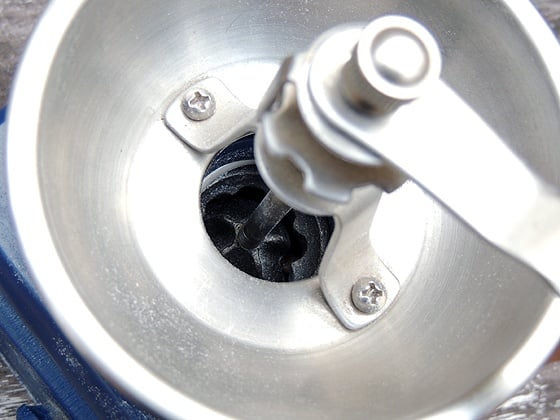 You can see them here. Once you have it set to the space you want (when the stones are close to each other the grinding is finer, when they are spaced apart, it is more coarse…), you screw the top back on which holds the handle in place.
You place the spices in the bowl, let's say, black pepper, and turn the handle that turns the stones that grind the pepper.
Then, there is a cute wooden drawer to catch the ground spices. What a great present to give to someone… And then take back.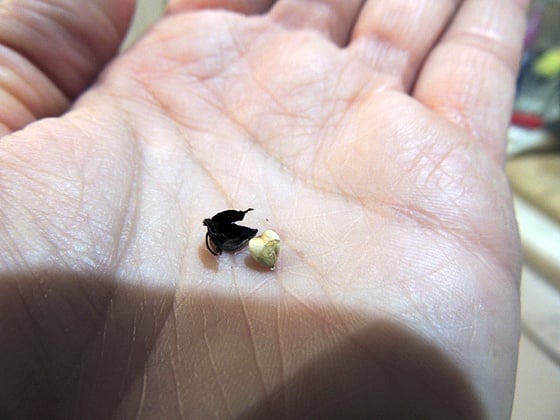 The ultimate goal here is to separate the seed from the hull. If you do this with a machine that was made for this task, you should end up with a bowl of creamy de-hulled seeds that you can then run through the grinder again and mill into flour. In order to open the hull but not crush it, I opened the space between the stones to a rather large one.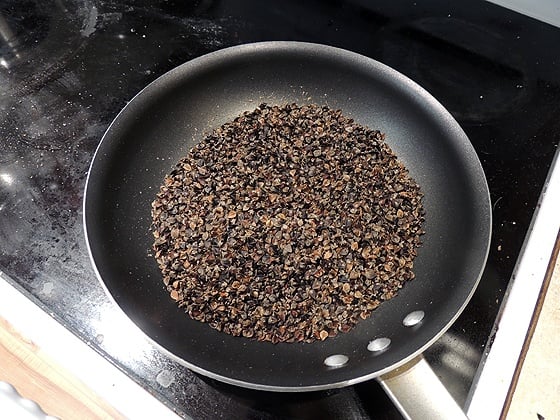 I've learned, the hard way, of course, that anything you want to do with buckwheat seeds works much better if they are super dry.
So before I ran them through the spice grinder, I placed the seeds in a pan and turned the heat to medium. I roasted them for about 7 minutes or so, stirring constantly, so they didn't burn.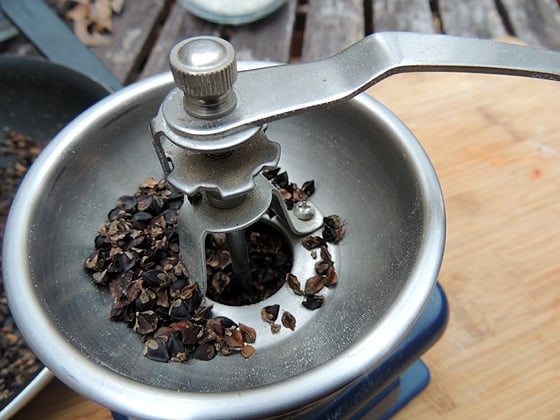 I let the buckwheat cool for a few minutes and then added a small amount to the bowl of the spice grinder.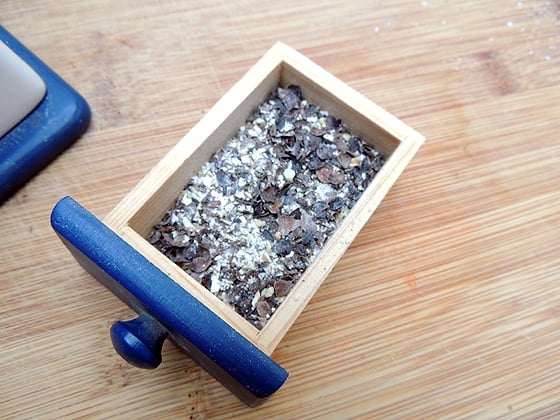 I turned the handle a few times, and here is what I got.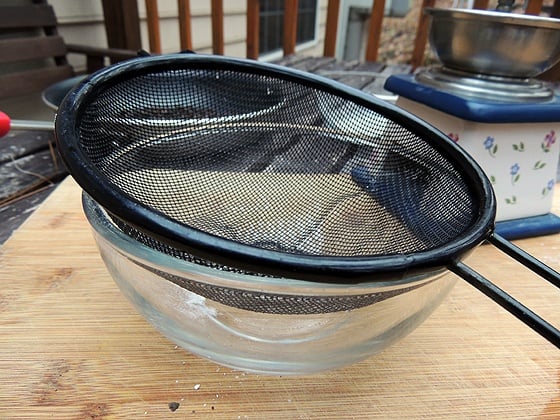 I placed a strainer over a clean bowl…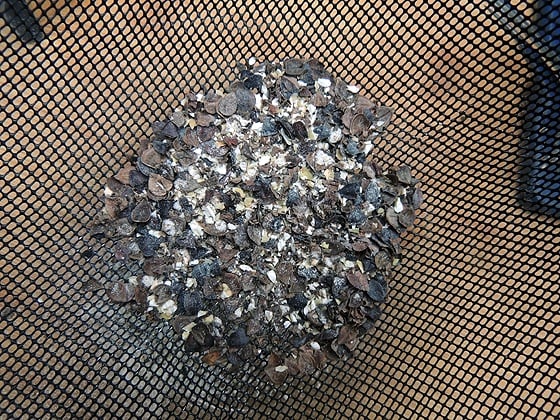 Dumped the content of the drawer in the colander and shook it over the bowl.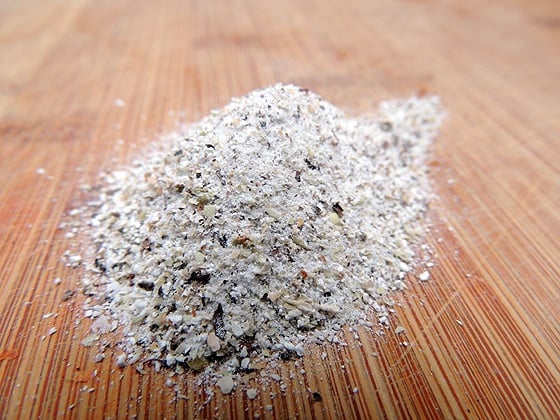 Ta-da flour! Well, it's not pure white flour, it's got some tiny crushed hulls in it, but I am looking at it as whole wheat buckwheat flour. Gotta stay positive.
You can keep working it and maybe run it through a finer strainer or run it through the spice grinder again if you'd like.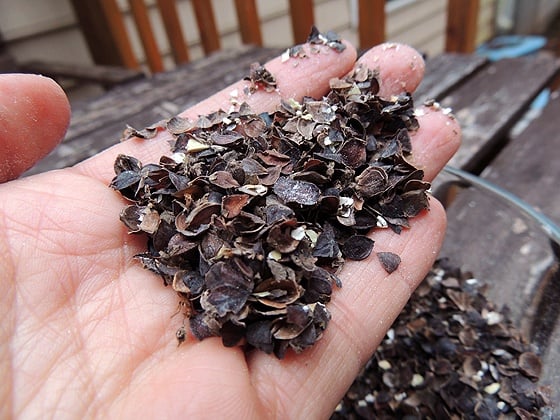 These are the hulls. As I said before, you can use them as garden mulch, or make a buckwheat pillow. Also, I am sure my worms will love them.
I ended up with about a cup of flour. A lot of my seeds were sacrificed in my scientific experiments. The good news is that there are still a lot of plants in the field. So I have more to work with. I see a batch of homemade buckwheat pancakes in our future.
So after this experience, and if you lasted all the way to the bottom of this post, here are my wishes for you…
Don't be concerned if people think you've gone mental.
Don't follow the rules, make them.
Take your kids on as many walks in nature as possible.
Plant something. It doesn't have to be a whole field. A pot of green onions is good enough.
Harvest something.
Be creative.
Experiment.
Always, ALWAYS, see the positive side of everything!
OK, I am off to meet the Kardashians now. See you next time!
~Lady Lee~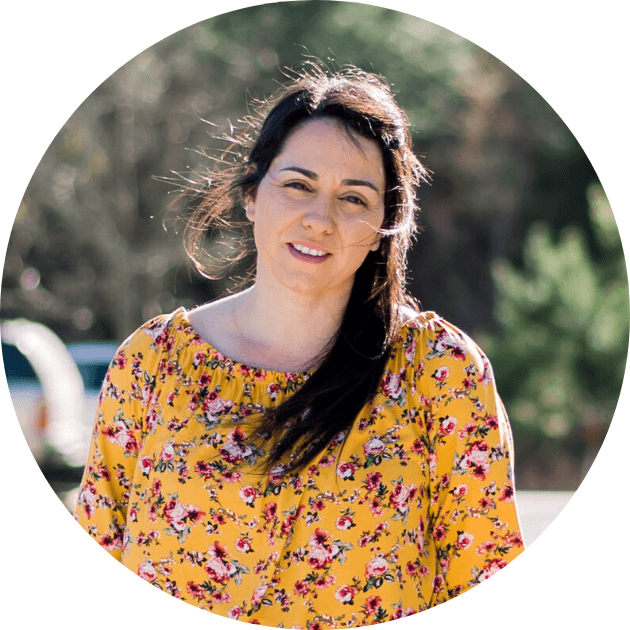 Hi! I'm Lady Lee. I help homesteaders simplify their homesteading journey while still producing a ton of food! I am a single mother of four, I was born in Israel and raised in an agricultural commune called a Kibbutz. Now I homestead in central NC.