This is a simple recipe for a delicious, filling, and super healthy Mediterranean egg salad. Fresh, healthy ingredients and a simple and healthy dressing. This salad can be a meal on its own or you can add it as a side for a larger meal. Follow the pictures in the post or you can scroll down to the bottom to find the handy printable. You are going to love this salad!
---
My mother made me a healthy Mediterranean egg salad for lunch the other day and it was divine! I had to share this with you.
It's NOTHING like the egg salad we are used to with mayo and such and you can't really eat it in a sandwich, I ate it with quinoa just because I had some cooked quinoa and it was a great pairing that filled me up completely and held me for hours.
You can just eat this salad by itself for breakfast, lunch, or dinner or you can have it as a side. It's super healthy and very filling.
I have a ton of eggs from my Black Australorp chickens (read: 10 Reasons to Raise Black Australorp Chickens) and this salad is going to be added to my make-at-least-once-a-week list.
Mediterranean Egg Salad Recipe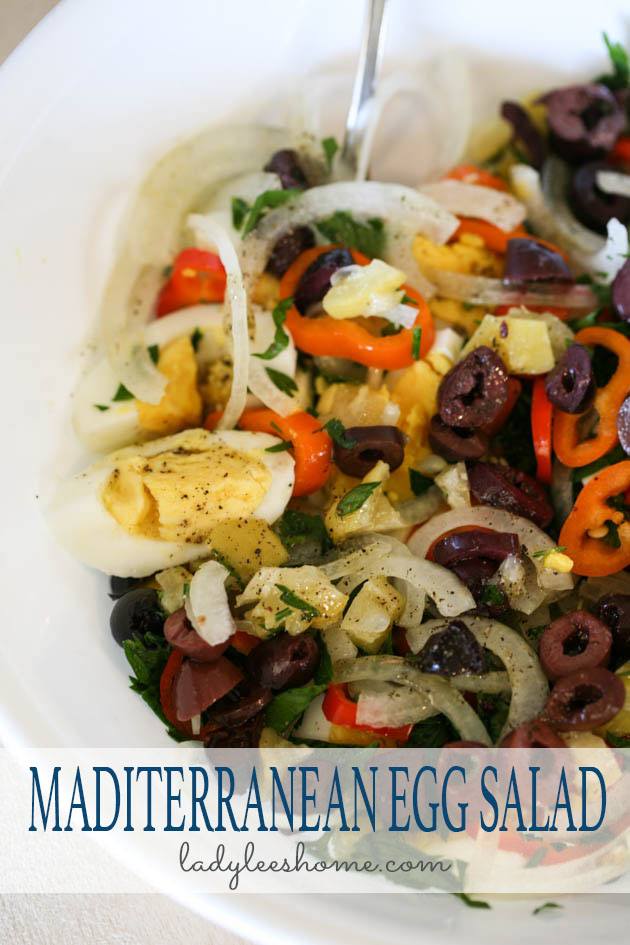 As with all salads, you can get creative and change things as you wish. You can use different kinds of peppers or olives or red onion instead of white onion.
I try to grow as much food as I can and most of the ingredients in this salad can come from the homestead but, of course, you can find all of this in the grocery store as well. So if you landed here and you are not a homesteader, please stay! This is going to be tasty.
Ok, here is what you need to make this Mediterranean egg salad…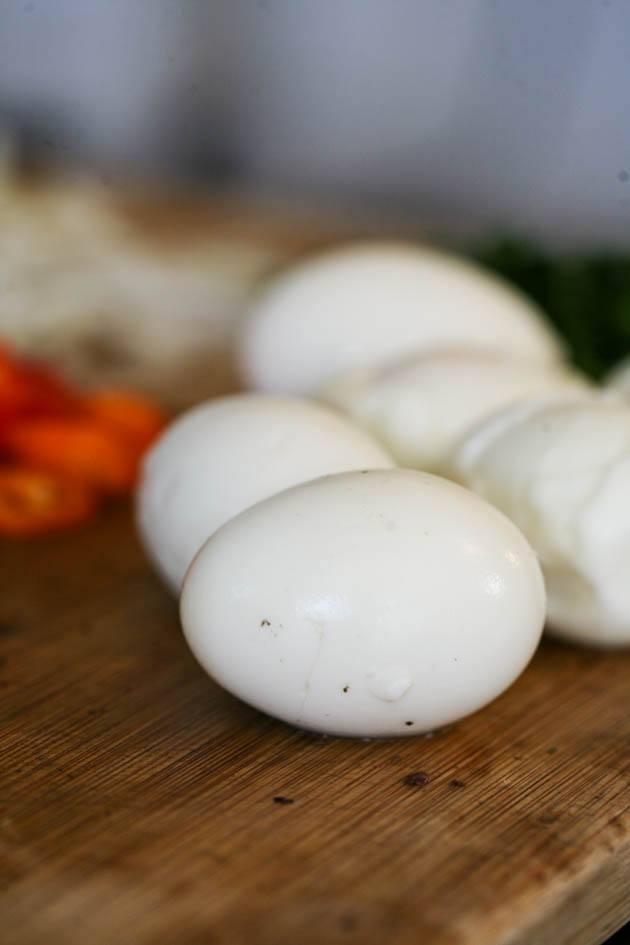 Hard-boiled eggs, of course… We used six eggs here.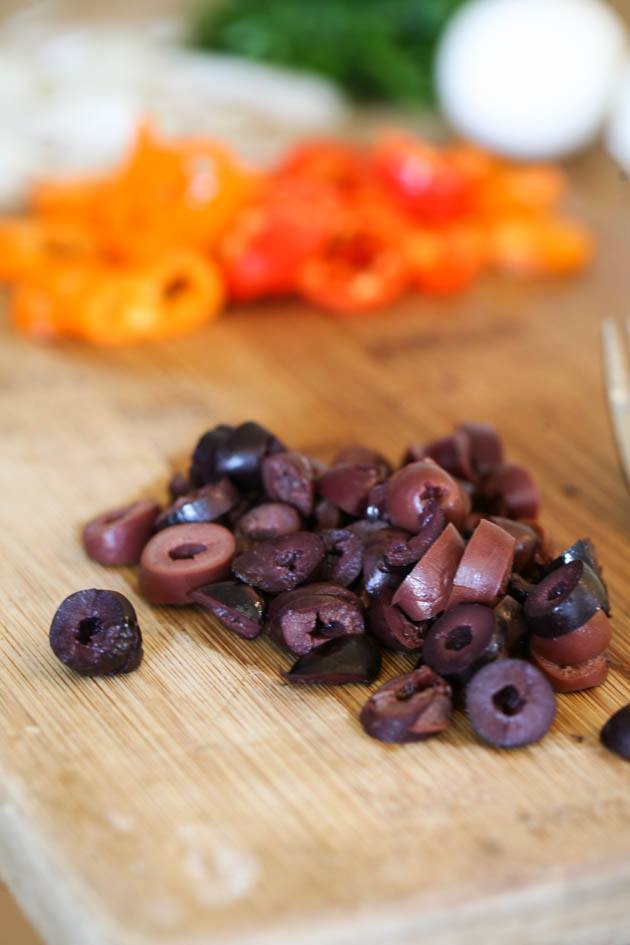 20 or so black olives. We used Kalamata olives which in my opinion are much more flavorful than the regular black olives. You can find them in Costco or here on Amazon.
Feel free to also substitute with green olives if you'd like.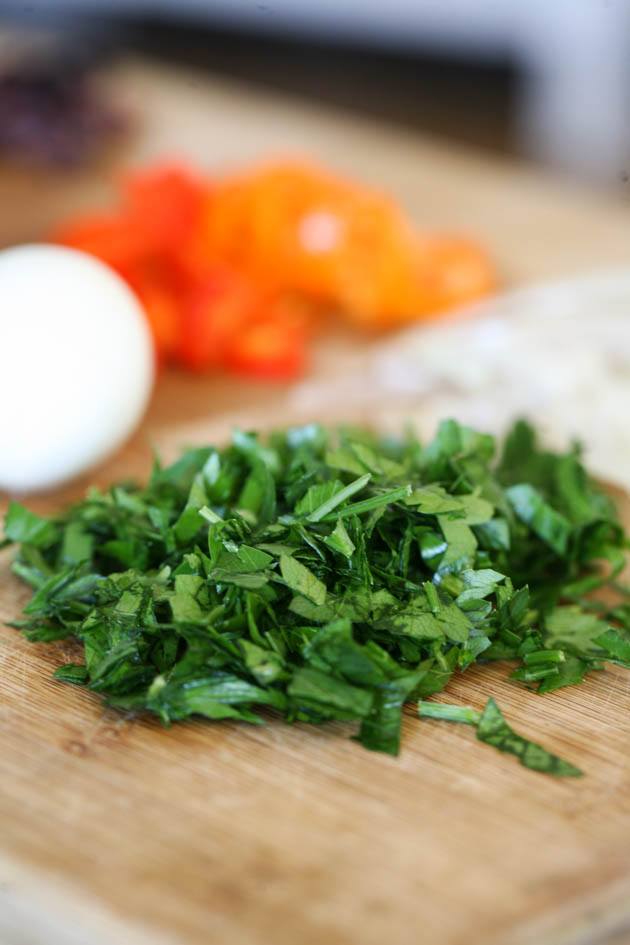 A handful of chopped, fresh Italian parsley (flat leaf)…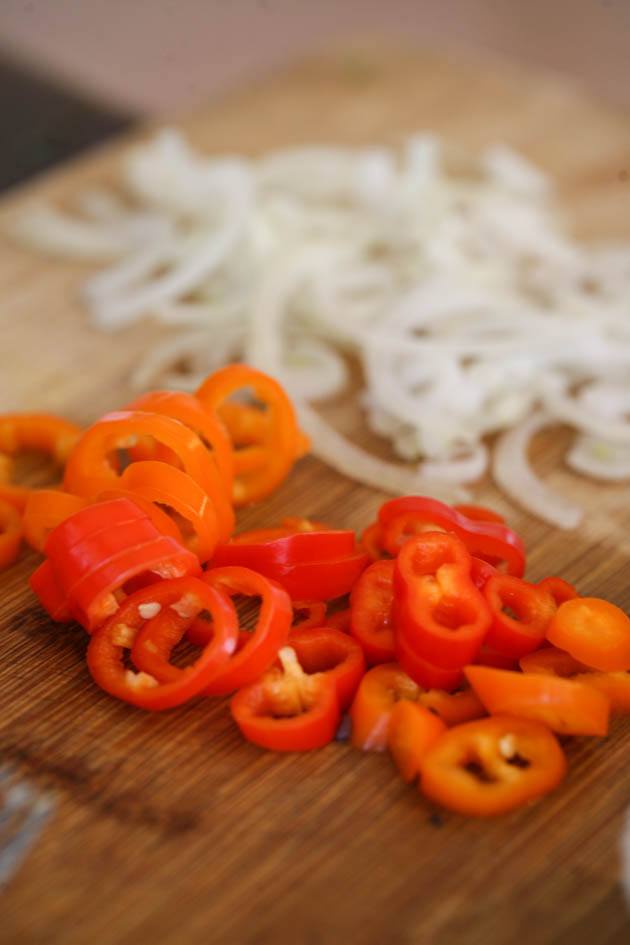 2 lunchbox sweet peppers, sliced. I grow these in my garden every year and love them. They have thin flesh and are very sweet. In the off-season, since I can't go without them, I get bags of them at the local Wal-Mart.
If you can't find them you can use half a sweet red pepper instead and dice it.
Next, we need 1/4 of an onion. This can be red onion or white onion sliced thin.
And finally, 1/4 cup of preserved lemon peel diced. I show you how to preserve lemon peels in my post How to Preserve Lemon Peel and I really encourage you to take the time to make it (it's super easy and quick!) because it adds such a wonderful taste to this salad and many others.
Of course, you can just leave the lemon peel out if you don't have it.
Ok, so now that we have all of the ingredients let's build this salad…
Quarter the eggs and add them to a large bowl…
Then just start piling everything up. On the eggs, add the onions, then the peppers, the preserved lemons, the olives, and finally, sprinkle the parsley on top of everything.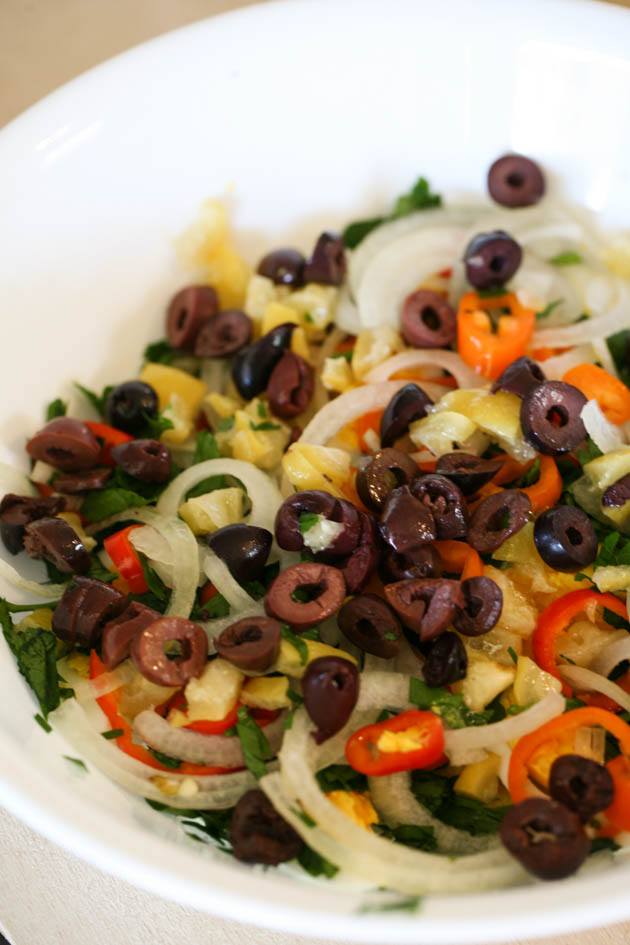 It's a beautiful bowl of colorful, healthy goodness. There is no need to mix this salad…
Now, let's dress it… Squeeze one small lemon…
To the lemon, add 1.5 tablespoons of good quality olive oil…
Then add 1/2 teaspoon of black pepper…
And salt to taste. Mix all this together…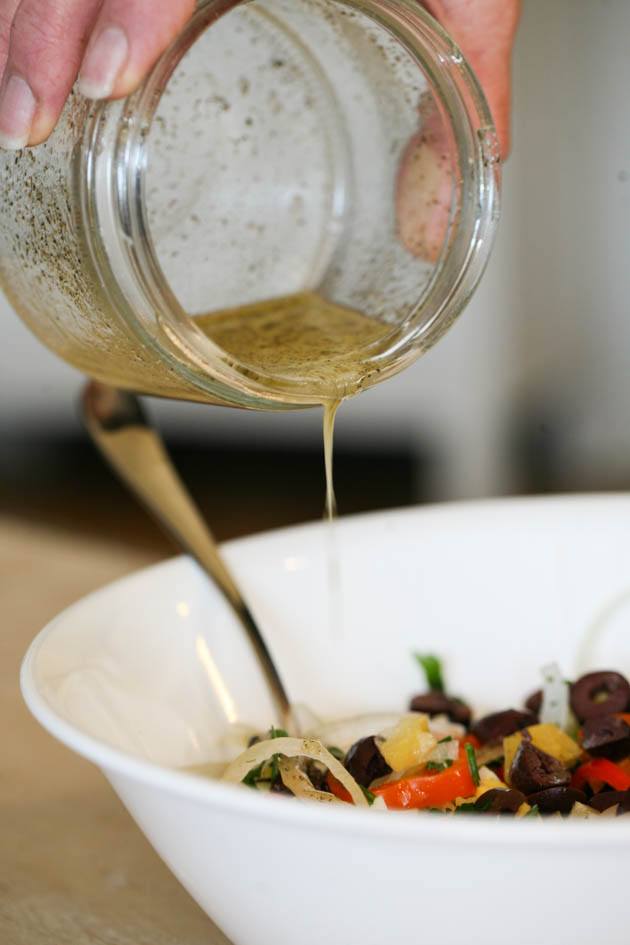 And drizzle the whole thing over the salad.
It's a whole, satisfying meal really! You can just dig in and eat it by itself or you can add it to a larger meal as a side.
I ate it with dark quinoa and it was a great combination of tastes. I love the Mediterranean diet (I am from Israel) because it's full of vegetables and it's mostly very healthy. We dress most of our salads the way I showed you here, with olive oil, fresh lemon juice, salt, and pepper but even back home I am used to an egg salad with mayo and such.
This was such a refreshing change and I loved it! I hope you'll like it too.
Here are some other salad recipes you might like…
Celery Salad With Cranberry and Pecans
Red Cabbage Salad with Mayo and Fresh Garlic
Israeli Beet Salad With Onion and Cilantro
And here is the handy printable…
Healthy Mediterranean Egg Salad Recipe
A healthy Mediterranean egg salad that can be a meal by itself or added to a bigger meal as a side dish.
Ingredients
6 hard-boiled eggs peeled and quartered
1/4 onion (red or white) sliced thin
2 lunchbox sweet peppers, sliced (or 1/2 a red pepper, diced)
1/4 cup preserved lemon peel (optional)
20 black olives preferably Kalamata olives (green olives will work too)
A handful of flat-leaf Italian Parsley
For the dressing...
Juice from one small lemon
1 1/2 tablespoons of olive oil
1/2 teaspoon of black pepper
Salt to taste
Instructions
Layer all the salad ingredients in a large bowl by the order they are listed.
In a small jar, mix all the dressing ingredients.
Drizzle the dressing on the salad and dig in!
Nutrition Information:
Yield:

4
Serving Size:

1
Amount Per Serving:
Calories:

216
Total Fat:

16g
Saturated Fat:

3g
Trans Fat:

0g
Unsaturated Fat:

10g
Cholesterol:

280mg
Sodium:

558mg
Carbohydrates:

10g
Fiber:

3g
Sugar:

4g
Protein:

11g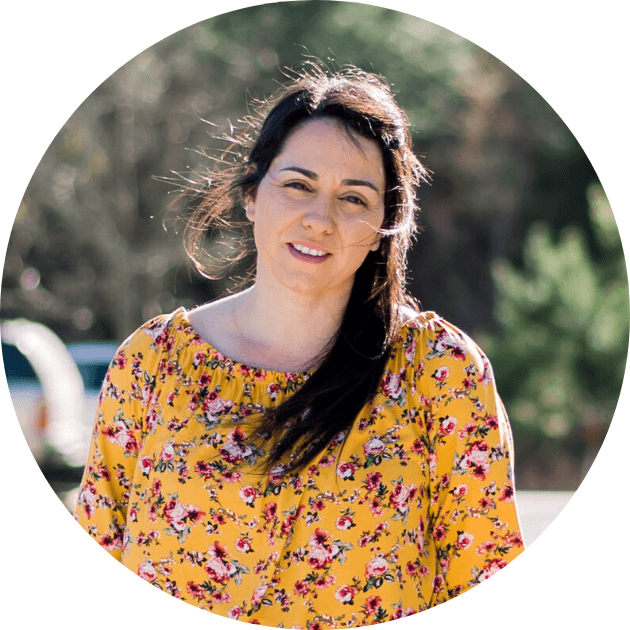 Hi! I'm Lady Lee. I help homesteaders simplify their homesteading journey while still producing a ton of food! I am a single mother of four, I was born in Israel and raised in an agricultural commune called a Kibbutz. Now I homestead in central NC.