In this post, you will find 32 winter salad ideas to try this winter. Winter vegetables are so delicious and filling. Vegetables like kale, carrots, beets, fennel, celery, brussels sprouts… They are super healthy for our body and very filling. Some of those salads are no side dish. They are a full meal all on their own.
---
Seriously, there is nothing better than a salad.
I grew up in Israel and over there in the Middle East our diet is based on vegetables. Don't get me wrong, there is plenty of meat and gluten and all the other stuff, but there is no meal without vegetables.
For breakfast, we usually eat eggs, cheese, bread, and vegetables. Lunch is our main meal so meat, a side like rice for example, and always, always a salad (or three…). Dinner will usually be some sort of sandwich with vegetables in it.
When you enter an Israeli supermarket, more than half of the floor is filled with stands of vegetables.
I haven't lived in Israel for many years, but back then when I was young there wasn't much importing going on and since the country is so small everything is so fresh. It's not an unusual thing to see vegetables with soil still on them at a market in Israel.
I always loved a vegetable salad, even as a little girl. I used to mix it with the rest of the food and eat everything together.
We usually don't use dressing, instead, we dress our salads with fresh lemon juice, real olive oil, and salt. The salt pulls the juices from the vegetables so you have to dress it right before you eat (so your veggies are not soggy) but you end up with the most delicious salad juice that we always used to fight over.
Anyway, over the years I started making salads that were a meal in themselves by adding eggs or quinoa or nuts… They are so good!
32 Winter Salad Ideas to Try This Winter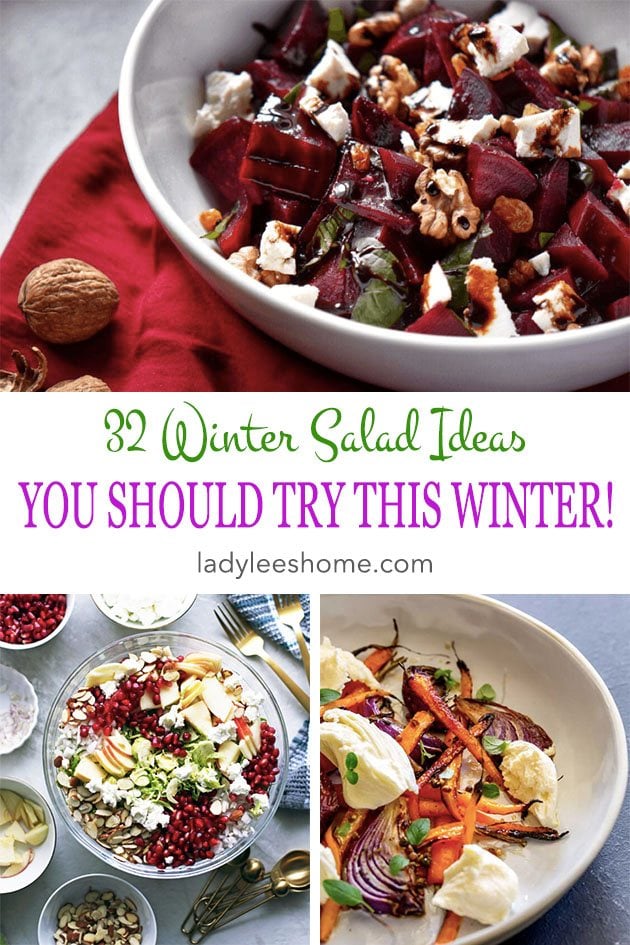 You'll find a few of my own salads in the list of recipes below but I wanted to compile a lot of great recipes in one place so I called at my blogger friends for help and oh boy, there are some great salad recipes out there!
We are going to focus on winter vegetables simply because this is the season. I am going to put my fall garden to rest in the next few days and when I look at it and think about harvesting everything that is left I see many many salads in my near future.
Beet Salads –
Seriously, is there anything better than beets? I LOVE beets! First, they are beautiful. That deep deep purple is so rich and special. Then, you add the sweetness and it's just perfect.
I have to admit that I don't feel like I've mastered the art of growing beets but I'm working on it. I am glad and so very appreciative that there is always the grocery store for back up because I am not going through the winter without a beet salad!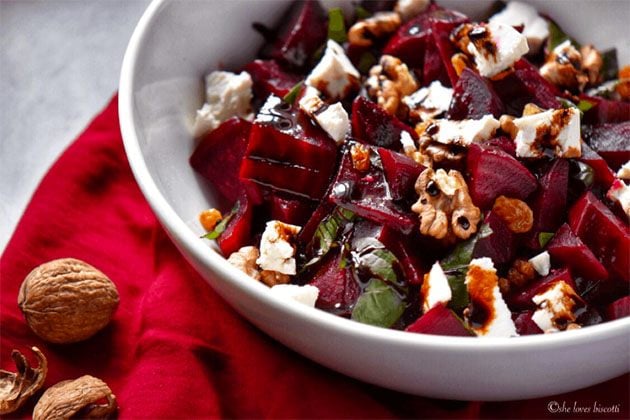 Ricotta Salata Roasted Beet Fall Salad – from She loves Biscotti this salad looks so good! Roasted beets, walnuts, raisins, ricotta, and I especially love that the beet tops are used as well.
Parma Ham and Beet Salad – from Recipes From a Pantry, this beet salad has prosciutto in it in addition to feta cheese which is always a good thing to add to anything, and also pomegranate seeds. Not something I would have thought about myself but definitely will try.
Israeli Beet Salad – this one is mine. A traditional Israeli salad that was on many Shabat dinner tables at my childhood home. It has onion and cilantro in it and it's super healthy.
Halloumi and Beetroot Salad – I love halloumi cheese! When it's hot right out of the frying pan it's so good on a salad. This salad also has toasted pine nuts and sliced red onion. From Neli's Healthy Meals.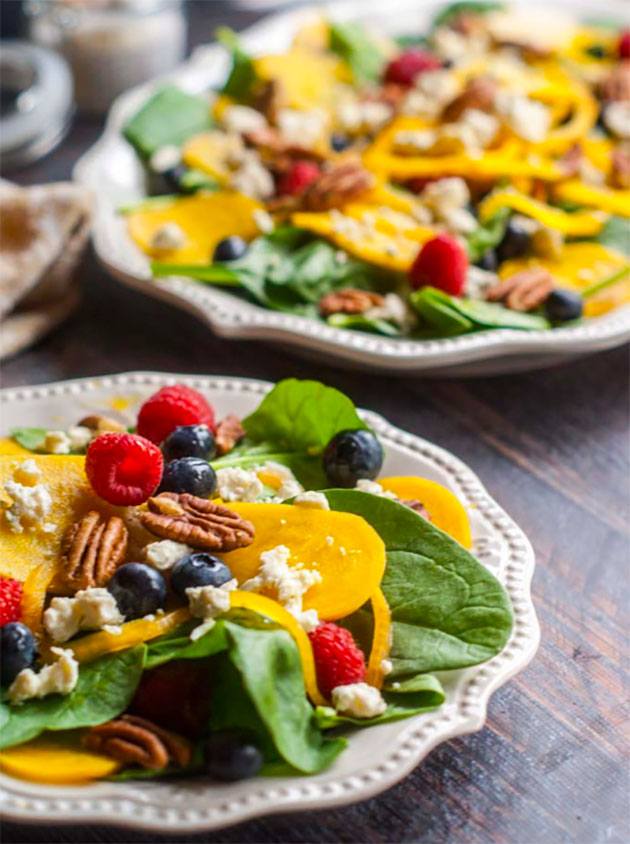 Pickled Beet & Gorgonzola Spinach Salad – from My Life Cookbook, what I liked most is that she uses yellow beets. I should try growing a yellow variety, I always go with the basic purple one but I know there are many colors and they are all beautiful. This salad also has berries in it and of course, cheese. This time it's gorgonzola.
Winter Beet Salad with Goat's Cheese Dressing – from Caroline's Cooking, this salad has beets, fennel, and persimmon in it which sounds like an amazing combination. In addition, hazelnuts are added with goat cheese dressing. This salad sounds and looks really good.
Shredded Beet Salad (With Carrot, Apple, & Walnuts) – This salad reminds me of home! It combines shredded beet, carrot, apple, and parsley. The dressing is light and sweetened with honey. From Earth Food Fire.
Russian Beet Salad with Prunes and Pecans – this one is from Magelicious. I love that there are prunes in this salad and I love even more that there is fresh garlic in there. Beets, prunes, garlic, and pecans… Sounds like a very good combination to me!
Carrot Salads –
It's always a great idea to have a few recipes for carrot salad on hand. First, carrots are very affordable at the grocery store, they are super healthy, and if you grow them in the garden, you can leave them in the ground for the whole winter.
I am not sure if this is possible in very cold cilmates (although I think it is…), but here in the South, I can grow a large bed of carrots in the fall and then just leave them in the ground through the winter and harvest carrots as I need them. I sometimes cover them with an agriculture fabric but even a thick layer of straw or dry leaves is good enough.
Roasted Carrot Salad with Mozzarella and Red Onion – this is a salad made with roasted carrots and onions, add fennel seeds, red chili flakes, garlic, mozzarella, and a few other unique ingredients and you have a very special salad! From Sprinkles and Sprouts.
Moroccan Raw Carrot Salad – another salad that is a regular at my mother's table (she is Moroccan). This is a very simple salad, just carrots and parsley, add a great dressing and you have a delicious winter salad. This one is from Panning the Globe.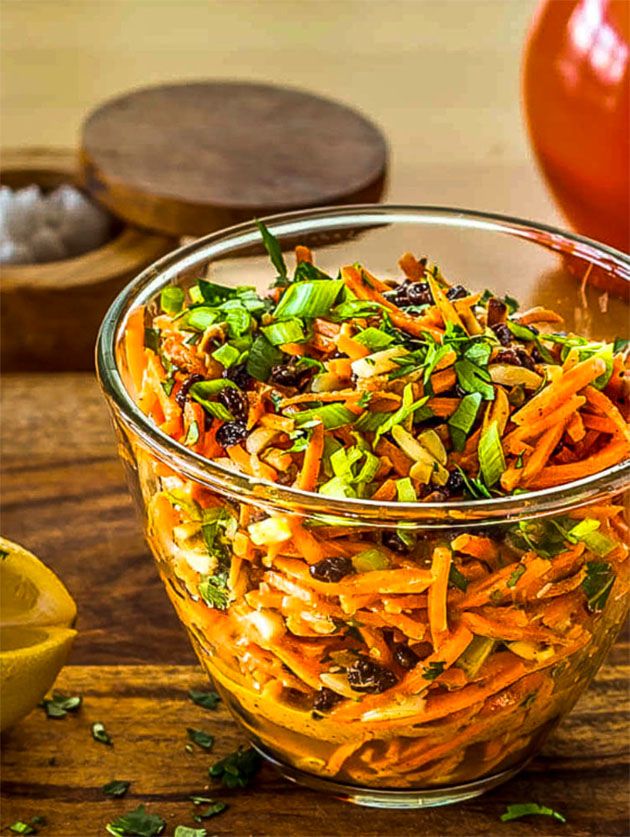 Moroccan Carrot Salad with Lemon Dressing – a variation of the same salad but this one also has currants, almonds, scallions, and cilantro, in addition to the carrots. It looks so good! From Beyond Mere Sustenance.
Carrot Raisin Salad Recipe – this one is from Thrifty Jinxy. In addition to carrots, this salad is made with raisins and pineapple. Dressed with yogurt and lemon juice. I never added pineapple to a salad s this was definitely interesting to me.
Celery Root Carrot Apple Salad – from Mother Would Know, this salad is made with celery root, carrots and apples. I don't use celery root much but I probably should. I bet it works very well with the carrots.
Kale Salads –
Kale is one of the best things you can grow in your garden! It's a plant that just keeps giving. I cut some leaves and more will show shortly after. As long as the weather is not too hot you'll have kale.
If the weather is too hot the plant will just hang out in the garden and when it cools down again, it will come back to life. It's absolutly amazing and saves us a ton of work.
So I grow a lot of kale and I use it all the time. My favorite thing to make with it is kale chips but salads come close after…
Kale & Wheat Berry Salad With Lemon and Tahini Dressing – so I am from Israel and when you say the word tahini to an Israeli you pretty much know for sure that you got them. And let me tell you, tahini on a salad is divine! This great salad is from Cadry's Kitchen.
Kale & Apple Salad With Honey – this one is from The Kitchen is My Playground. I have to say that kale and apples work really well together. This salad also has some sunflower seeds in it which I sure add amazing taste to this salad.
Lemony Kale and Chickpea Salad – another recipe that appeals to my Israeli taste buds. Lemon, chickpeas, and of course, kale. It also has parmesan cheese and garlic powder in it, it's definitely on my list! From Cooking with Carlee.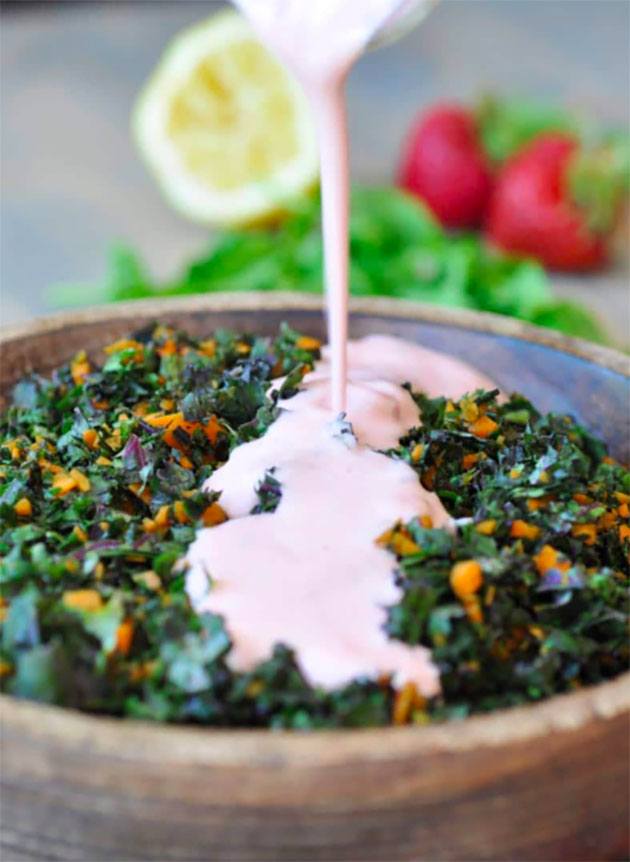 Kale Winter Salad With Walnut Vinaigrette – from Spinach Tiger. This salad is made with pomegranate and walnuts which sounds like a great combination to me. With a homemade vinaigrette dressing.
Massaged Kale Salad with Savory Granola – this salad is really a meal on its own. There are oats, buckwheat groats, pumpkin seeds (which are really healthy for us), hazelnuts and many other filling ingredients in it. It looks delicious and makes me hungry. From A Virtual Vegan.
Massaged Kale Salad WIth Roasted Squash, Goat Cheese, And Pepitas – this one is from Good Life Eats. Squash is a summer vegetable but I decided to include it anyway because t looks really good! So aside from the kale and squash, you'll also find red onion, agave, goat cheese, and more.
Festive Roasted Beet and Kale Salad – this one is from Delicious Obsessions. This salad is made with pistachios, ricotta (here is how to make ricotta at home), kale, and beets. It looks delicious!
Orange Cranberry Kale Salad Recipe – this one is from Taste and See. I never made a salad with lemon zest before and I think it's about time. This salad is made with dried cranberries, a zest of orange, almonds, and kale.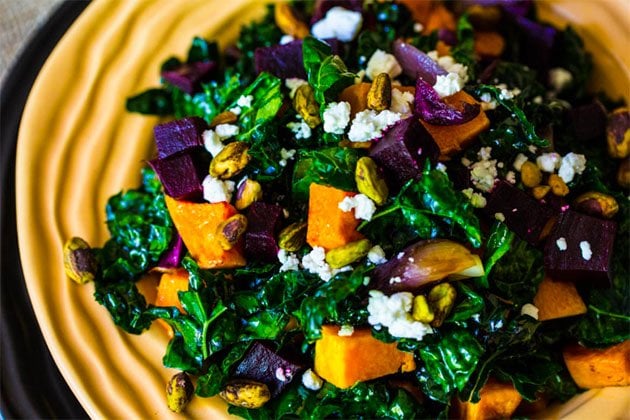 Tuscan Kale Salad With Roasted Butternut Squash & Beets – I love butternut squash! Last year I had a ton on it in the garden, this year, I had nothing. Anyway, this salad is made with kale, beets, butternut squash, red onion, goat cheese, and pistachios. It looks amazing! From Vicki Bensinger.
Asian Kale Salad Recipe – from Eating Richly. This salad is simple, kale, snap peas, and bell peppers, but the dressing is probably what makes it super delicious. I love Asian food and I love peanut sauce or dressing especially! So this definitely makes the list.
Other Salad –
Here are a few others from different vegetables…
Celery Salad – this one is my own. I love celery and cranberries together and I also add pecans here. I make a homemade honey mustard dressing for this salad. It's really good.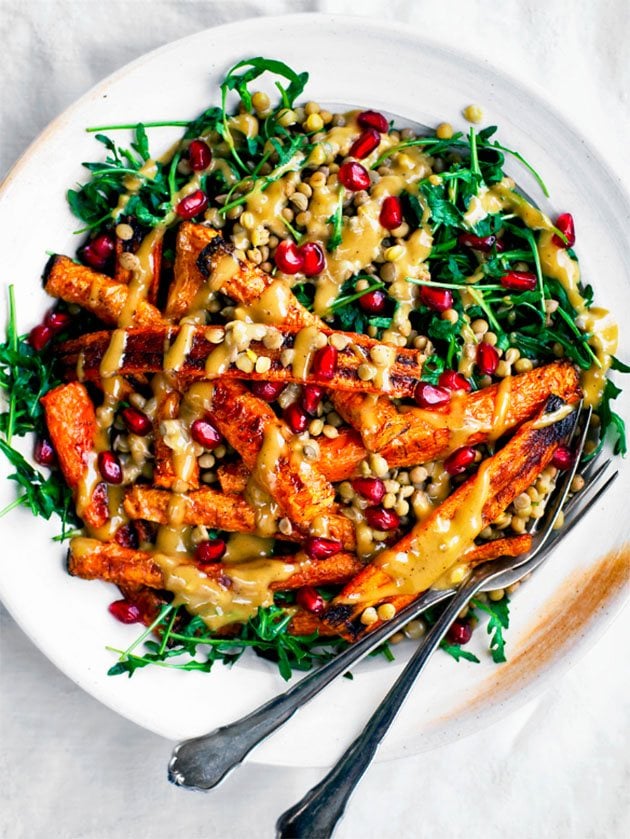 Spicy Roasted Carrots With Tahini Lentil Salad – OMG! This looks so yummy. Again, I love those salads that are a whole meal and this one is definitely it. Roasted carrots and lentils on a bed of greens with pomegranate and tahini vinaigrette. I am dying. From Occasionally Eggs.
Red Cabbage Salad with Fresh Garlic – another one of my own salads. It's so simple and cheap yet so delicious. It surprising to me every time that I make it how my kids dig in and eat cabbage and raw garlic as if it's the best thing that ever happened to them.
Wilted Red Chard With Fennel and Roasted Beets – this one is from Platter Talk. The chard is wilted quickly, then fennel, beets, and garlic are added, then the dressing. It looks different, interesting, and delicious.
Lentil Pumpkin Salad – also my own. This one is my favorite pumpkin salad with lentils and celery and cranberries.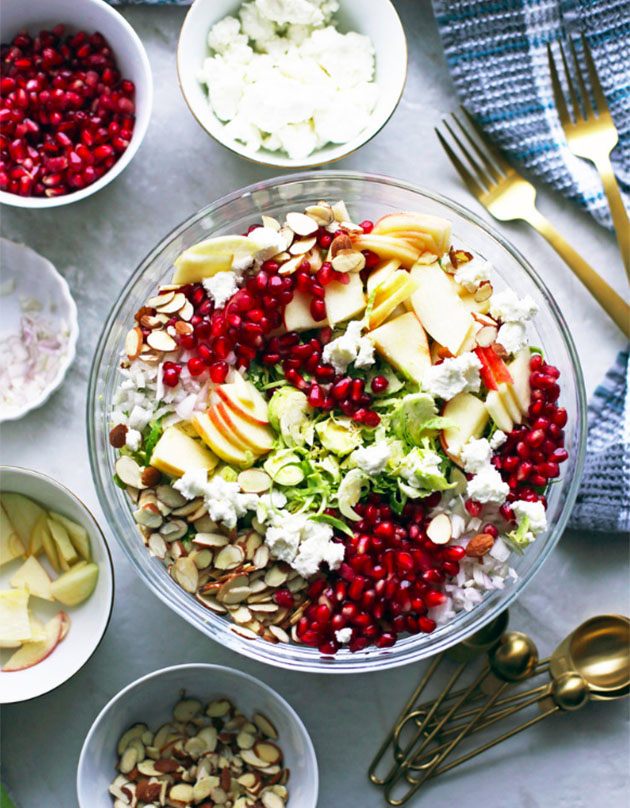 Shaved Brussels Sprouts and Pomegranate Salad – from Yay! For Food. The brussels sprouts are shaved in the food processor, then to them are added apples, almonds, pomegranate seeds, red onion, and cheese. Delicious.
Roasted Butternut Squash, Cranberry, and Spinach Salad – another roasted butternut squash salad that looks delicious! This one is laying on a bed of spinach with shaved parmesan and maple syrup.
Ok, I think this list will pretty much take care of winter for me. Between salads, soups and artisan homemade bread I think that I'll be fine this winter.
It was fun putting this together. Don't forget to pin the first image so you can come back and choose your next winter salad. If you made any of those let me know which one you liked best (although they all look too good!).
Till next time…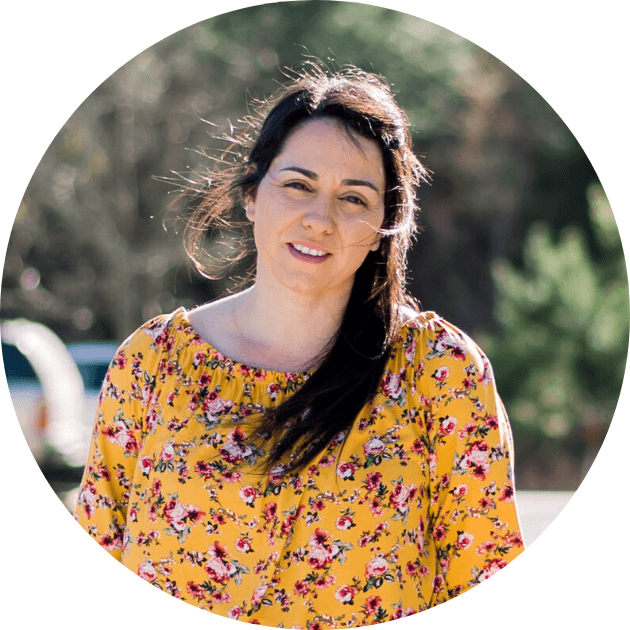 Hi! I'm Lady Lee. I help homesteaders simplify their homesteading journey while still producing a ton of food! I am a single mother of four, I was born in Israel and raised in an agricultural commune called a Kibbutz. Now I homestead in central NC.