In this post, we will learn how to make ricotta from whey. After making cheese, we are left with a good amount of whey, making ricotta from it is simple and quick. If you have your own dairy animals or if you use store-bought milk to make your cheese, it takes some effort to process cheese at home. Using the whey to make ricotta will allow you to make one more kind of cheese with very little effort.
There are many things you can do with the whey that is left after you make cheese at home.
Honestly, I usually do one of two things… I either give it to the animals or I use it when making bread as a replacement for the water in the recipe.
Recently, I found out that before I use it for those things, I can make one more kind of cheese from it — Ricotta.
This recipe is good whether you are using store-bought milk or raw milk, goat milk or cow's milk… I will be using my raw goat's milk.
It takes some serious effort to keep goats alive here in NC. I am not sure if everyone all over the country experiences this but here in NC goats die like flies.
We have very hot and very humid summers. The perfect ground for so many parasites. Not only are they abundant, they are also aggressive and very resistant to medications.
Anyway, this is a topic for another post, but what I am trying to say is that when I do get delicious goat milk from my goats, you can bet that I am going to do the best I can to use it to the fullest.
So I make goat milk soap, and I make feta cheese, and chèvre cheese, and another kind of simple goat cheese, and yogurt, and sometimes I can my milk… And now, I have also added homemade ricotta from whey to my list.
I love that I can make it from whey, so it's always an addition to whatever other cheese I make. And I love that it's super simple and quick.
How to Make Ricotta From Whey…
Again, in this step-by-step tutorial, I will be using my raw goat milk but you can do the same with cow's milk or store-bought milk.
There are a couple of different ways to make ricotta, but you know me… I like the old traditional ways, so we are going to stick to the simple ways of the good ol' past.
What is Ricotta Cheese…
Ricotta cheese is creamy white, mild, and soft texture cheese.
Traditionally, Italian cheese makers made ricotta from whey left behind after making Mozzarella or Provolone cheese.
Ricotta consists of delicate granules that are moist and is very rich in calcium.
You can use ricotta cheese in pasta, especially filled pasta like lasagna, ravioli, and tortellini. You can season it and add to salads or sandwiches, and it is so good as a dessert with some honey, fruit, chocolate, or jam.
Making Ricotta From Whey the Traditional Way…
After making my simple goat milk cheese, I was left with about a gallon of whey.
I didn't remove the whey from the pot to measure how much I had exactly so I am just estimating that it's about a gallon… It might have been a little less but that is fine, we don't have to be super exact here.
I kept the whey in the fridge overnight since it was too late in the day to make another cheese the day before. You can make ricotta right away after you are done with whatever cheese you're making but I thought it would come handy to mention that it's also ok to stick it in the fridge for a day if you need.
The first step is to heat the whey to 195F.
Make sure to set the heat to medium and slowly bring it to 195F while stirring it frequently so it doesn't scorch.
Once the whey reaches 195F, remove the pot from the heat and add 1/4 cup vinegar.
So whatever amount of whey you are processing, remember 1/4 cup of vinegar per one gallon of whey.
I used my homemade apple cider vinegar (it gave my ricotta a bit of a rosy color), but you can also use distilled white vinegar.
Stir the vinegar into the hot whey and you'll see it starts to curdle. Let it do its thing for a couple of minutes…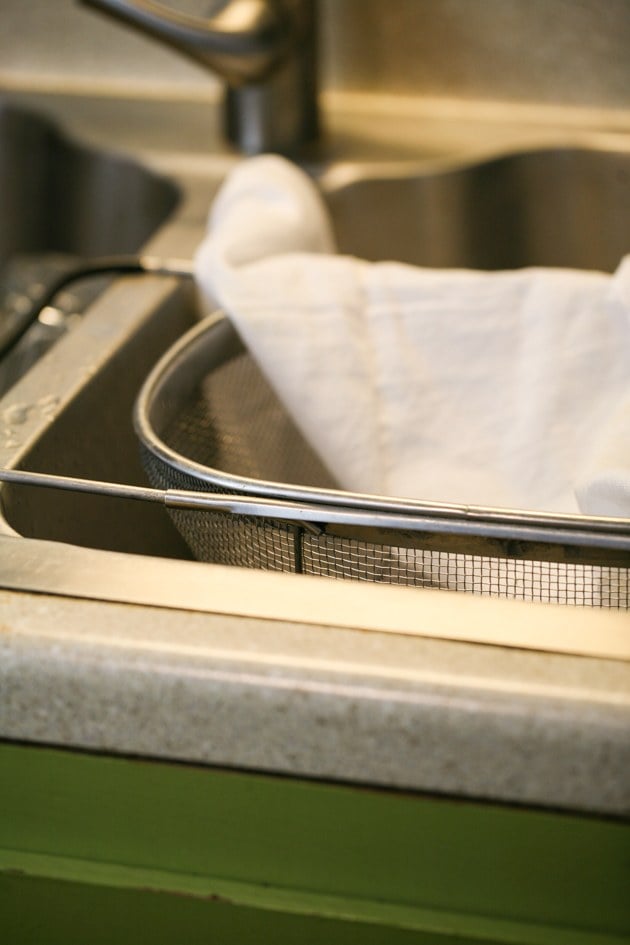 Place a colander over the sink or over a bowl if you want to catch the liquid…
Line the colander with cheesecloth or, let me share a secret with you here… They sell a pack of four or five flour sack towels at our local Walmart for about $4, if I remember correctly, and they are just as good for cheesemaking as the fancy cheesecloth.
What you see in these pictures is the flour sack towel. I reuse them a few times and wash them in the washer.
If you can't find them at your local Walmart, you can find them on Amazon.
** If you would like to check all my favorite homesteading supplies, check my Amazon store HERE.
Then, pour the whey into the colander…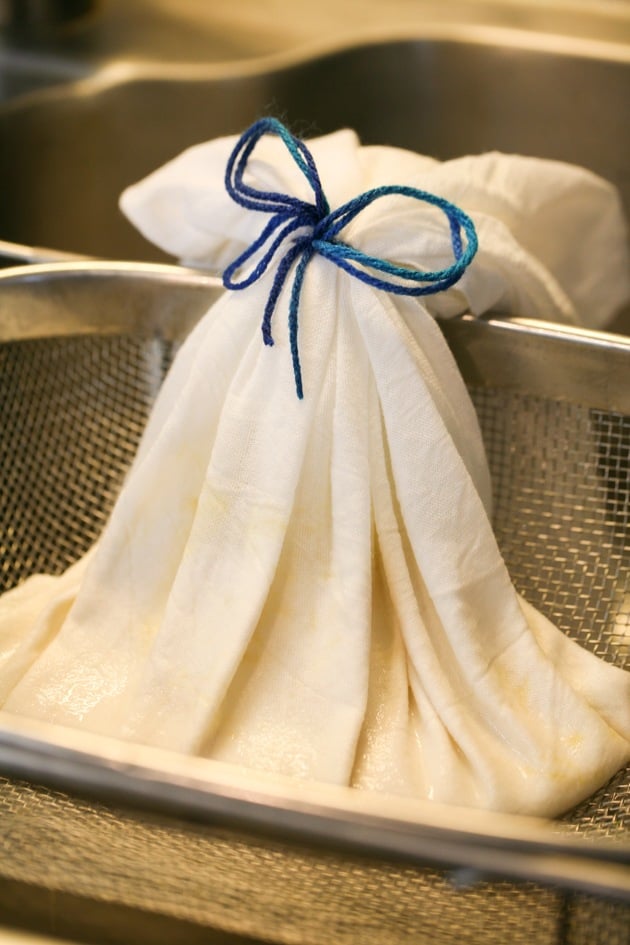 Gather the ends of the cheesecloth and tie them…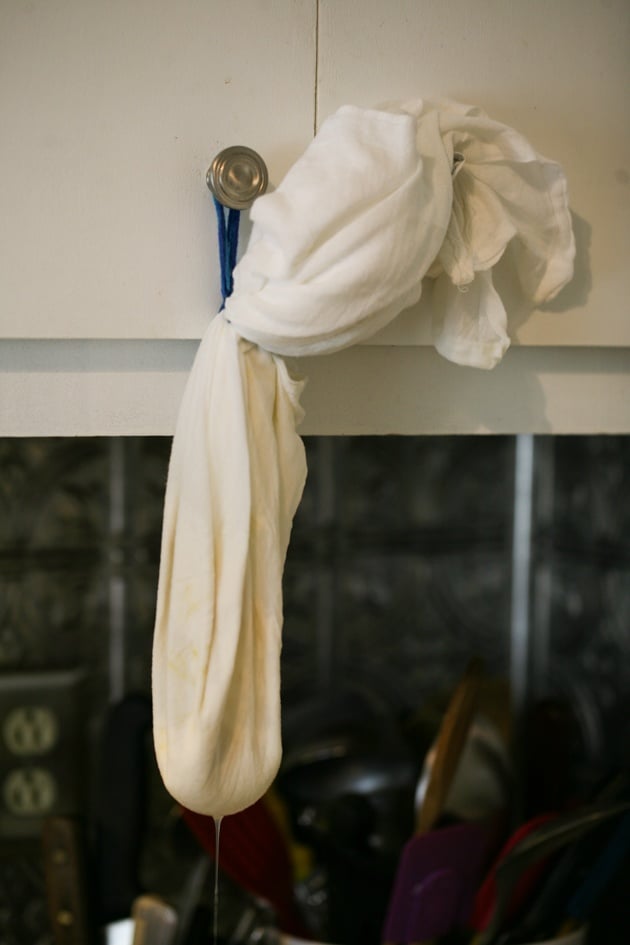 Then hang the cheesecloth on one of your kitchen cabinets with a bowl underneath it to catch the remaining whey.
Depending on the amount of whey you are processing, you might need to leave the bag hanging from one hour to five or six or seven hours. Really it just depends on the amount of whey and the consistency that you want your cheese to be.
If you like it dry, leave it for longer, if you like it moist, take it down once you see that there is not much whey dripping out of it.
I left this for about an hour. Since it's just a little bit of cheese it was enough.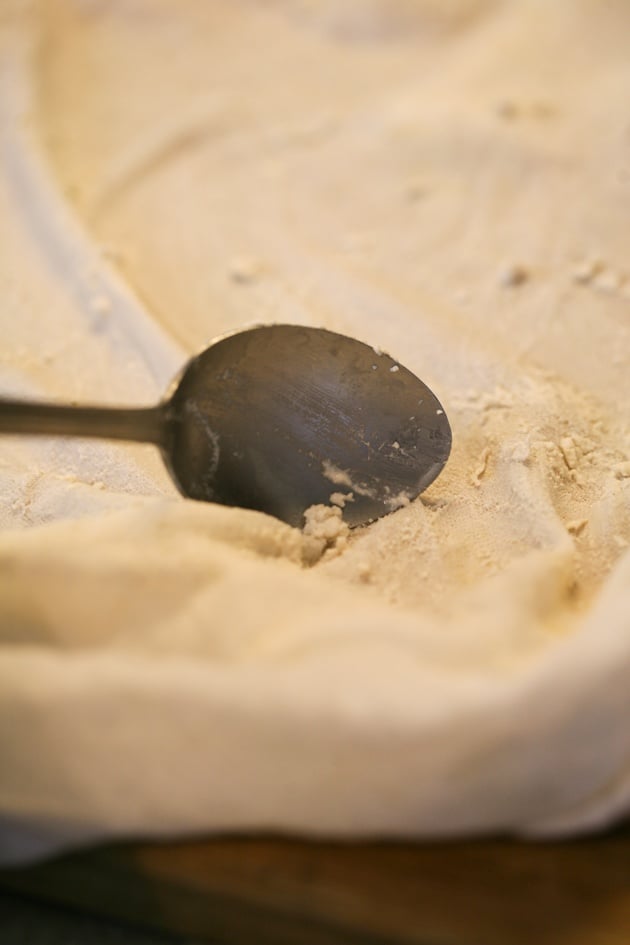 Open your cheesecloth and use a spoon to scrape the soft ricotta into a bowl.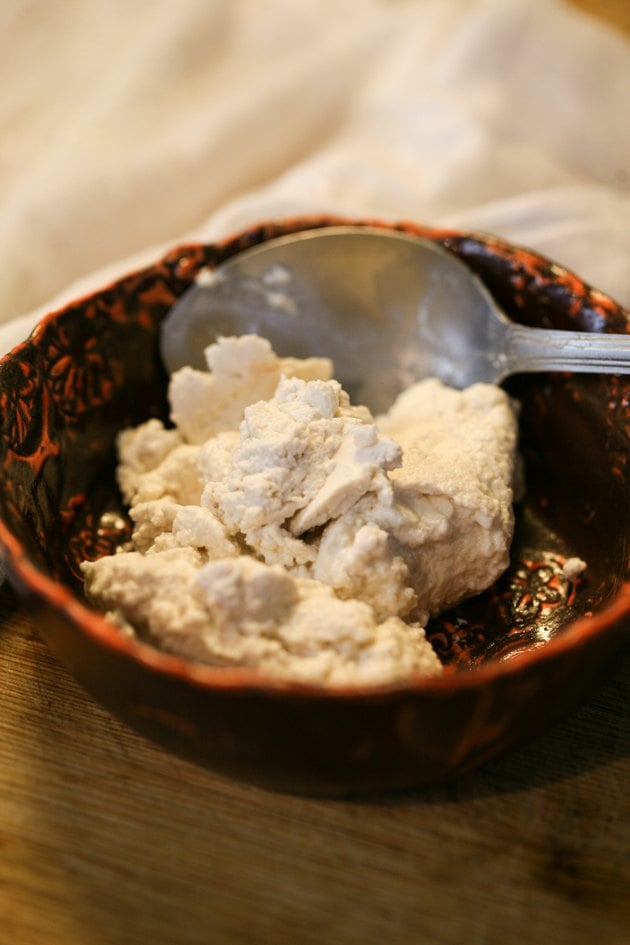 Like so…
Then the last step is to salt your cheese. Again, the amount of salt depends on your taste, I used about half a teaspoon for this amount of cheese (a little less than a cup of cheese).
Make sure you use cheese salt or kosher salt. You want a non-iodized salt (iodized salt will make your cheese green-blue…).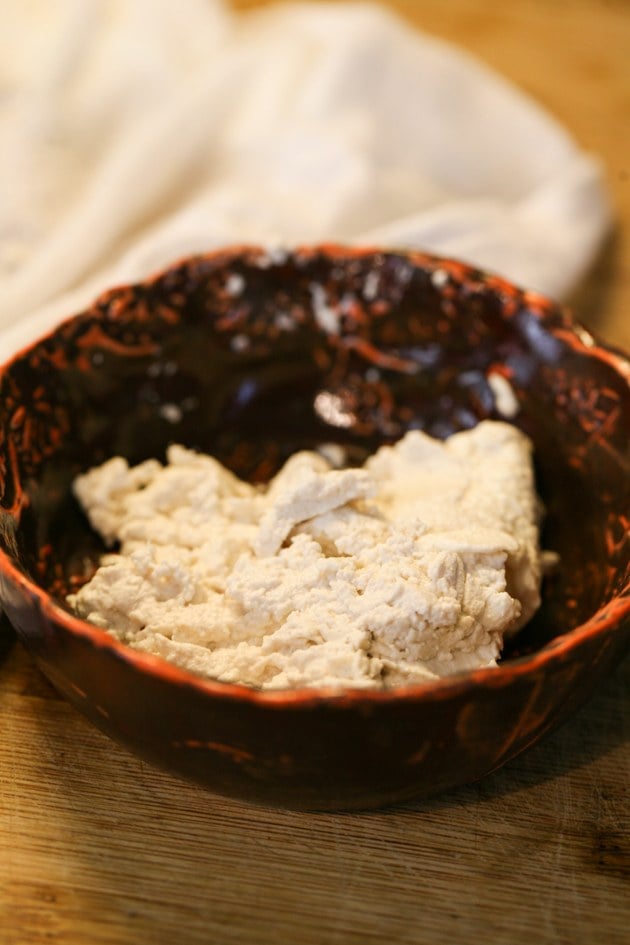 Give it a good mix and you are done!
This can be used right away or you can store it in the fridge like any other cheese. I didn't try to freeze it yet but I am guessing it freezes very well since it's similar in consistency to another cheese I make and freeze.
I have to admit that the reason I didn't make ricotta cheese until now is that I don't like ricotta cheese! Ha!
Well, I figured I'd make it anyway just so I know how to do it and so I can take full advantage of my raw milk and maybe I'll use it to make lasagna, but I tasted it when it was done and this ricotta is so much tastier than the one from the store!
It's creamy and salty and I like it a lot!
So I actually ended up eating it on a toast with fresh tomato. It was delicious!
Let me know what you think in the comments below, do you make ricotta at home? If you tried it, did you like the result?
Here is a handy printable…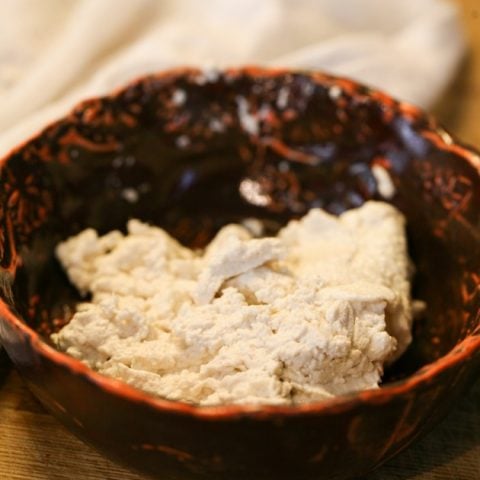 Ricotta From Whey
Total Time:
1 hour
10 minutes
Delicious ricotta from whey that is left over after making cheese.
Ingredients
A gallon of whey
1/4 cup vinegar (apple cider or distilled white)
1/2 teaspoon cheese salt or kosher salt
Instructions
1. Heat the whey to 195F over medium heat. Stir constantly to prevent scorching.
2. Remove from heat, ad vinegar, stir and set aside for a few minutes.
3. Line a colander with cheesecloth, add the whey...
4. Collect the ends of the cloth, tie them, and hang to drain anywhere from one hour to a few hours depending on how much whey you are processing.
5. Remove the ricotta from the cheesecloth and salt to taste with cheese or kosher salt.
Nutrition Information:
Yield:

6
Serving Size:

Tablespoon
Amount Per Serving:
Calories:

60