I've been raising Lamancha goats for a few years now. Maybe you are here because you're considering owning a goat and you're researching goat breeds, or maybe you already own goats and want to learn more about this breed, whatever it is, this post will help you learn more about the Lamancha goat and the pros and cons of raising this breed.
My first experience with goats was with Nigerian Dwarf goats. We just moved out of town to the country and I couldn't wait to put my hands on some farm animals.
Dear friends gifted us a buck and two does. This trio wasn't very friendly. In fact, they had little human interaction and were very scared of people. I wanted a milk goat, I've been experimenting a little bit with making cheese back then and I knew that I wasn't ready to own a cow for a few different reasons, but I could handle a couple of milk goats.
I figured that I'll take the time to work with the two does and maybe I can manage to make them friendly enough so I can milk them. This never happened, I saw very quickly that it would take a lot of time on my side and the amount of milk I'll be able to get from a Nigerian Dwarf just wasn't worth it for me.
We ended up using this trio to clear land at the farm. They were great for that! You can read more about it and watch the video here: Clearing Land With Goats.
Raising Lamancha Goats, What You Need to Know…
So I was back on the market looking for milk goats. I am a minimalist and even though I love farm animals I like taking really good care of just a few of them instead of collecting a million animals.
Do you know the kinda person who goes into Tractor Supply in the spring for a couple of seed packets and leaves with 10 chicks and 5 ducklings? This is not me.
It's a known syndrome among homesteaders and I totally get it, I'll be the one that leaves with half the rack of seed packets, but it's much easier to take care of seed packets (before you actually plant them…) that 15 chicks.
Anyway, I was looking for a goat breed that will give me a good amount of milk per goat so I don't need to own a lot of them to support all of our dairy needs. If I can have three does and one buck and have all the milk I need this would be ideal for me.
I was looking for a large breed… After years of experience with horses, I know for a fact that the larger the animal is the friendliest and kindest, and easiest it is to care for (ponies are mean, man!).
As far as temperament goes… I didn't realize that I could choose. I thought a goat is a goat, they are naughty beings who jump fences and bite everything.
I started researching and after a while, it boiled down to three goat breeds: Nubian, Alpine, and Lamancha.
All three of those breeds are known to be amazing milkers but what sold me on Lamancha goats (aside from milk production) was their breeding season, their temperament, and the fact that they carry proudly the sign "Made in America". Gotta love and support your country, baby.
Let's get to know this breed a little better…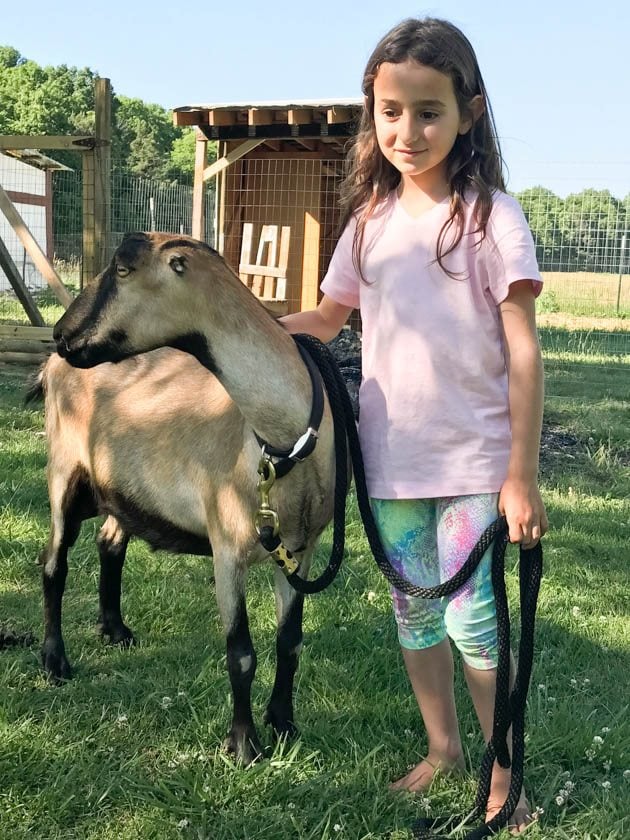 History of Lamancha goats…
Lamancha goats (also called American Lamancha goats or LaMancha…) were bred by Eula Fay Fery in about 1927. She lived in California and later moved with her herd to Oregon.
Lamancha's distinctive characteristic is their nonexistent ears. Although throughout history there is a record of short-eared goats (mainly in Spain) there was never a registered breed of "earless" goats in the world.
Eula noticed a couple of goats with very short years in her herd. They were really good milkers and were very friendly and she decided to selectively breed them. Within a few years, she was able to keep certain characteristics breeding after breeding and the Lamancha breed came to be.
This is the only dairy goat breed that was ever developed in the United States. The breed was recognized as a distinct breed in the early 1950's and formally registered in 1958.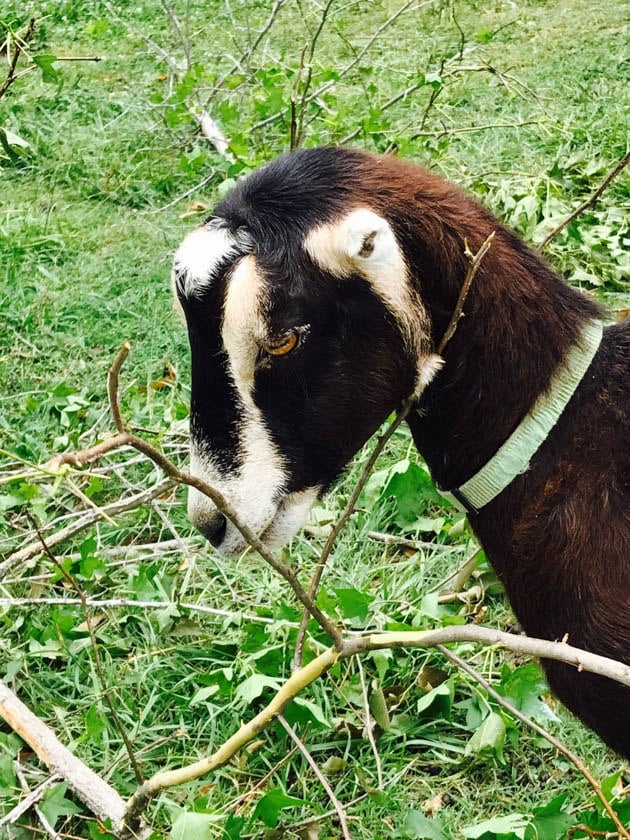 Lamancha Goat Physical Characteristics…
The first time I looked at a photo of a Lamancha goat I was thinking where the heck this alien came from!?
It takes a few long minutes of staring at a Lamancha goat to get used to an animal without years…
Obviously, they do have ears and the shape of their ears is their main distinctive and special characteristic. A registered Lamancha dairy goat can have two kinds of years…
Elf ears – are about 2" long, wrinkled at the bottom, and their tip is usually pointing down but can sometimes point up.
Gopher ears – are about 1" long (I would say less!), there is really not much of an ear, it's just folds of skin around the opening of the ear. The little bit of tip they have is pointing up.
All of my Lamanchas have gopher ears just like Starlight in the picture above. I actually never seen a Lamancha with elf years (except in photos).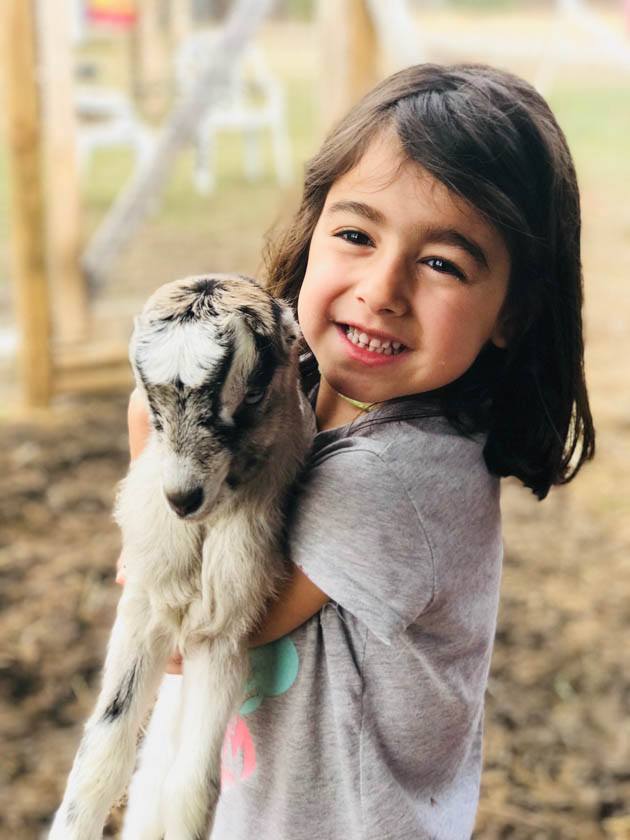 I say, if you are having a hard time looking at a Lamancha goat, start with staring at Lamancha kids. They are so stinken' cute! In no time, you'll fall in love and graduate to adult Lamanchas.
Other than the ears, they are large goats. A buck stands at around 35" in the withers and weighs around 165 pounds and a doe will be just a bit shorter and around 130 pounds.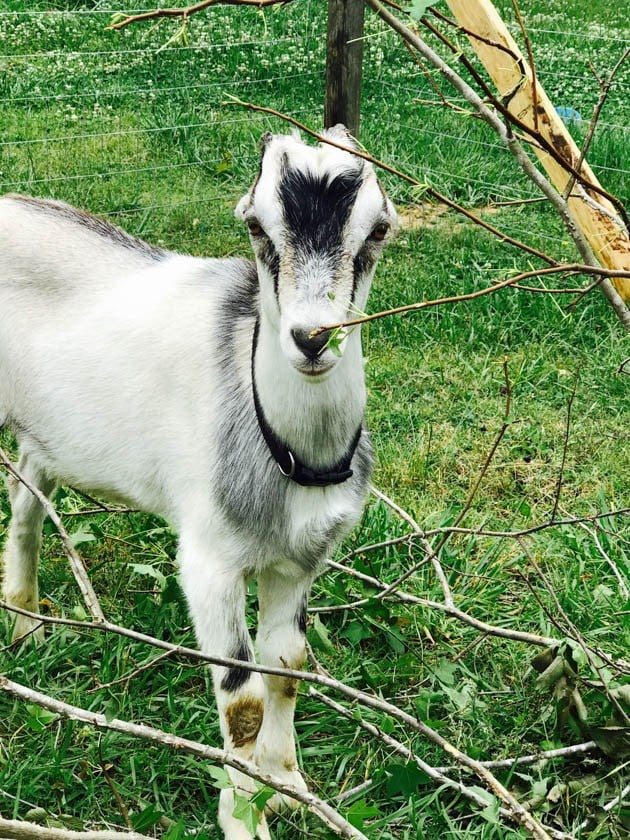 They come in all colors and amazing color combinations. Most of their markings are symmetrical, especially in the head. There can be different marking on either side of their body but from what I see so far they all have symmetrical markings on their head.
Lamancha goats live between 7 to 10 years. This is a little shorter than other breeds so it's important that you take that into consideration.
Lamancha Goat Personality…
Do you know all the stories about goats jumping fences and chewing everything?
You don't have this stuff with Lamancha goats!
They are a gentle animal. They are very friendly but not in an annoying way. I have a dear friend who owns Nigerian Dwarfs. Every time I go inside their fence the first thing they do is start chewing my boots. Sure, it's cute…. Until you have to buy new boots.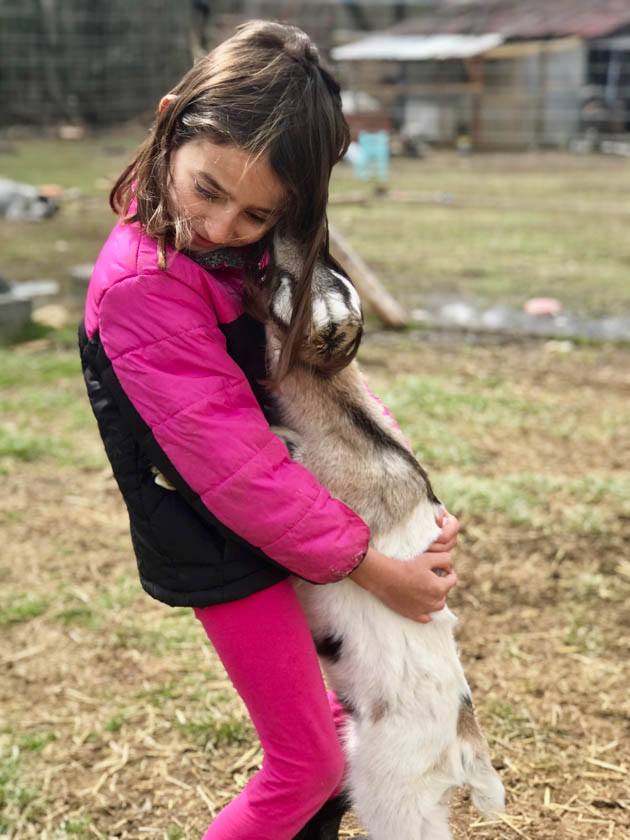 I guess that Lamancha kids are as playful and chewy as other goat kids, but as they grow and become adults they mellow down and become this slow, gentle, sweet animal that is easy to care for.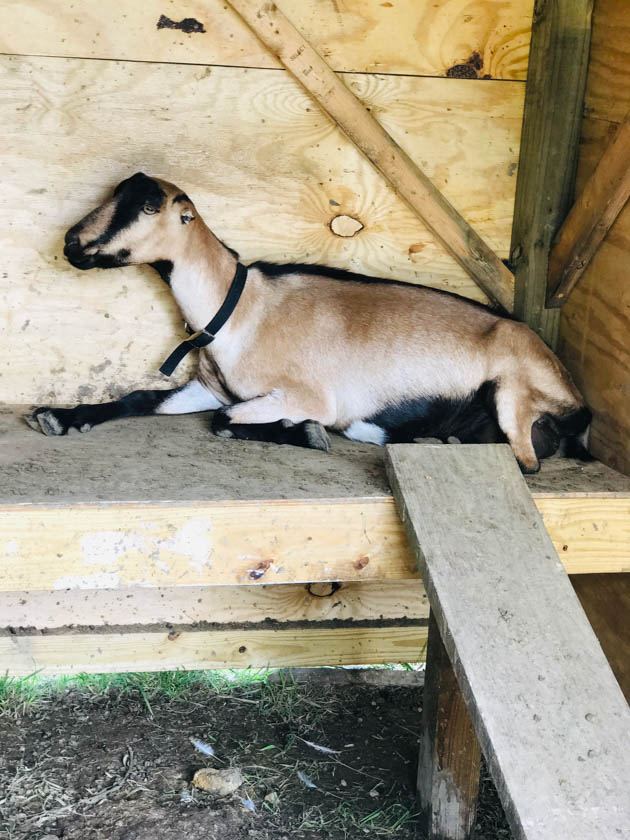 They spend most of their day just laying down somewhere. You'll see them sunbath on the ground a lot when it's a nice day. When it's winter or a rainy day or just not so nice outside they spend a lot of time in their goat house. We installed a two feet (high and deep) shelf for them in their goat house and they love laying on it. You can easily do this (all goats love it!) or you can find a $5 old coffee table somewhere and place it in their house.
The bucks are just as gentle as the does. They are not aggressive at all. The breeder I bought my goats from had the does and bucks sharing a fence and I had to ask them how that worked for them. I thought to myself that the bucks most likely go nuts when a doe is in heat…
They said it worked great and that they never had any problem. There was a little electric wire along the inside of the fence but that was it.
Another thing… If you don't care about milk production and are just looking for a pet goat, Lamancha goats can make a wonderful pet goat!
Lamancha Goat Breeding Cycle…
This is another great thing I liked about Lamancha goats but I do recognize that not everyone would think it's a good thing.
Lamancha goats have a short breeding cycle. They will go into heat every 21 days for a day or two during the fall (from my observation it's September, October, November).
When I found that out I immediately thought to myself that the main benefit here is that I don't have to separate the buck from the does. Since I want them to get pregnant every year and they only are in heat for that short time period I can leave everyone together.
I've seen people do that but there are a few things you should take into consideration here…
First, if you care about bloodline and want to register your goats then that might not be a good idea. There is a huge debate about breeding sisters with brothers, fathers with daughters and so on.
I can tell you from seeing huge herds of goats in my home country Israel, where people actually still herd their goats like they used to do in the bible, that the herd is living together and breeding just happens.
But here in the US, it might be a little difficult to sell a registered goat if its a result of a breeding between a brother and a sister. Not because of the goat, she or he might be perfectly fine, but because of how this sounds to humans.
So if you want more control of who is breeding to who, you'll have to separate the bucks and the does.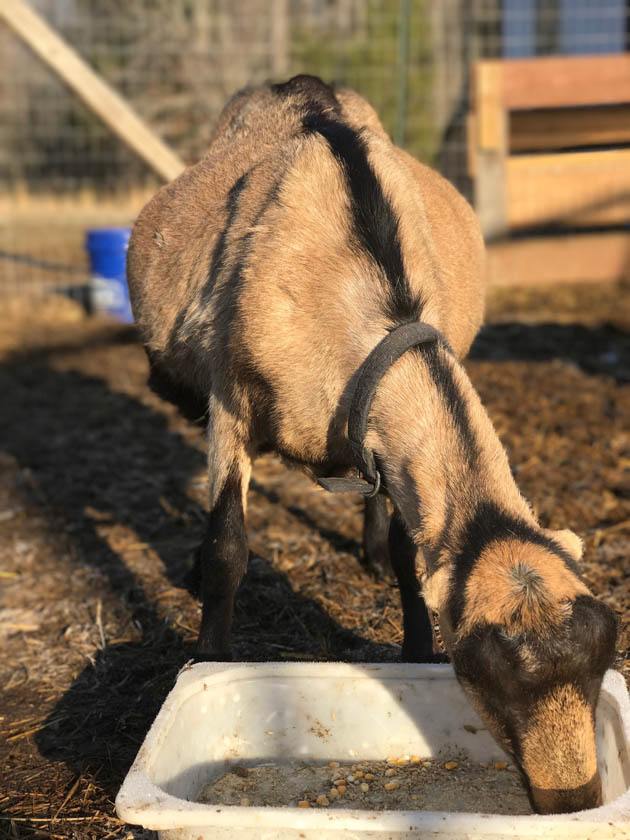 Second, I found out that I'll need two fenced areas anyway because the does are not ready for breeding in their first fall. Let's say a doe bred in the fall of 2018, it then has a 155 day pregnancy period so let's say it gaves birth (usually to twins or triplets) at the end of February, 2019.
The kids will not reach full size in the fall of 2019. The bucks WILL be ready to service in the fall of 2019 even though they are not full size. The does WILL go into heat (most likely) in the fall of 2019 but their body will still be relatively small. In fact, if you ask me, they might still be rather small in the fall of 2020 but you'll probably be able to breed them then.
This is important and you have to take this into consideration. You might need to wait 2 or 2.5 years until you can breed a Lamancha doe whereas with other goat breeds, let's say Nigerians, you can breed after a year or even sooner.
So even if I decided to leave the bucks with the does I would still have to separate the young does because I don't want them to get pregnant before they are physically ready. I ended up just keeping the does in one pan and the bucks in another.
I do still love the fact that they go into heat for just a short period. God knows there are a million things to do on the homestead and it makes it much easier for me when I need to deal with breeding just once a year. I just place the does I want to be bred with the buck in the same fence and let them hang out together in the fall. Then I return the does to the doe fence and that is it.

Lamancha Goat Milk Production…
This might be the best thing about Lamancha goats… They are great milkers!
You can probably find all kind of information online about the amount of milk they'll give but I'll just tell you from my experience, Reece, the tan goat you see above, gave me between a quart to quart and a half in every milking after her second freshening (the second time she gave birth).
Starlight, the dark brown one (her picture is before the characteristics section) gave me a pint to a pint and a half after her first freshening. This year (hopefully) will be her second freshening and I am curious to see if her milk production will increase.
2 or 3 quarts of milk a day from one goat was enough for us (family of, back then, six. Now there are five of us since I separated from my husband). Honestly, I could not handle any more milk.
A Lamancha goat can keep giving you milk for two years without being bred. I liked that a lot because it meant I can rotate my does and give their body a break from pregnancies. Of course, you do have to make sure you feed them right always but especially while they produce milk for you. They better their diet the more milk you'll have and the better it will taste.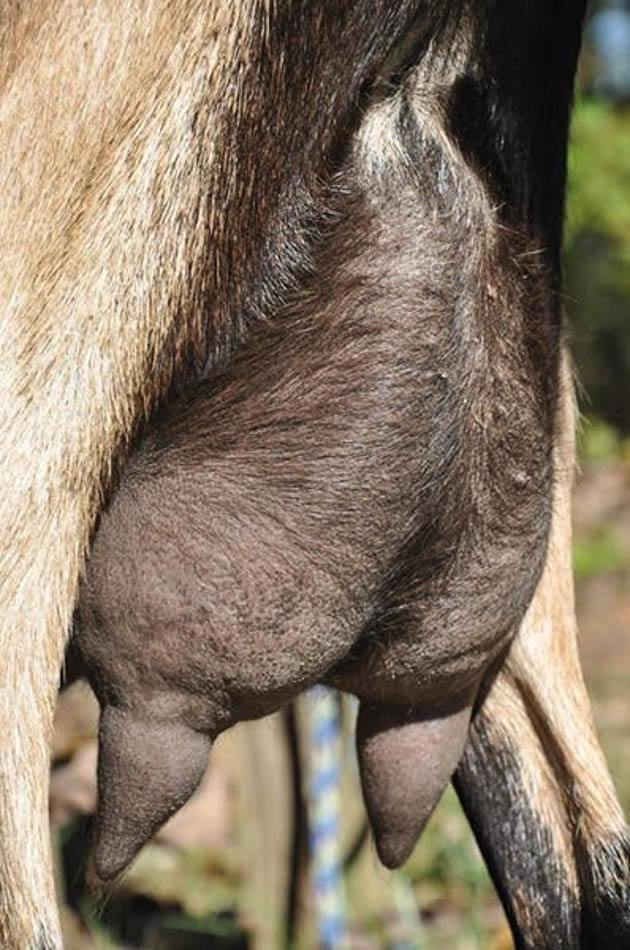 This is Reece's udder BEFORE her second freshening. In other words, this udder is empty. You can see that her tits are long which makes it very easy to milk, you don't have to deal with tiny things you can barely hold.
Lamancha milk contains 3.1% proteins and 3.9% butterfat. This is a good amount of butterfat but please don't expect to make butter from goat milk. Is it possible? Yes. Does it worth your time? I say no. It will take you a long time to collect enough fat to make butter from goat milk (any goat) so I say just stick with cheese and make butter from cow cream.
Lamancha's milk is so sweet. It's delicious! You do, however, want to use it as fresh as you can. After about four days or so in the fridge, it will start getting this goaty flavor.
Here are things I've done with my goat milk…
How to Make Ricotta Cheese From Whey
Super Simple Homemade Chevre Cheese With Olives (or without…)
Easy Raw Milk Goat Cheese (my favorite!)
Homemade Crock-Pot Yogurt From Store Bought Milk (I made this a few times with my goat milk).
How to Make Feta Cheese From Store Bought Milk (same exact process for raw goat milk).
Goat Milk Soap Recipe Easy and Fast! Step-by-Step Picture Tutorial (my favorite soap).
This is how it works… My goats give birth in February. I don't touch their milk for two months, it's all for the kids. After two months, I separate the kids from their mother at night, milk the mother in the morning and then let the kids with their mother for the rest of the day. I do this for another two or three months.
This is a long period of keeping kids on mother's milk. You can separate them completely at eight weeks if you want and milk morning and night and have all the milk for yourself. However, I found that kids that stay on mother's milk for a long time grow up to be much stronger, much more productive, much bigger goats. Makes sense, yes?
I also do just fine with a quart of milk a day, and that if I milk only one goat. So then when September rolls around you might notice a little drop in milk production during the breeding season which is normal but you can keep on milking if you breed your goat or not.
If I breed my goat, I'll keep milking until the middle of January. Then I'll dry her so she can have a break before she gives birth again and so I can have a break from milking. I try to make sure that I preserve as much milk as I can before I dry her (read: How to can Milk.)

Caring For Lamancha Goats…
We are not going to get into many details here because this can be a post of its own. Caring for Lamancha goats is pretty much like caring for any other milk goat.
It boils down to a few things… Good housing (where your goat is staying), good feeding, controlling parasites and deworming, and hoof trimming. In my experience, those are the main things to pay attention to when taking care of goats.
Unfortunately, I've learned a lot of this the hard way. I lost Reece after her third freshening, it's still ripping my heart just thinking about it, she was my first milk goat and she was an amazing milker. I was trying to go all natural when it comes to deworming and it just wasn't enough. I also lost two bucks since then.
NC is hard on goats. The humidity is so high here and it's great breeding conditions for all sorts of parasites. A farm next to me lost nine goats in one year!
Since then I adjusted a few things and thank goodness I have not lost a goat in a long time and I sure hope I can keep it this way. Again, this is a topic for another post, but just know that when it comes to goats prevention is where your attention needs to be. Once a goat is down the chances for survival are slim to none.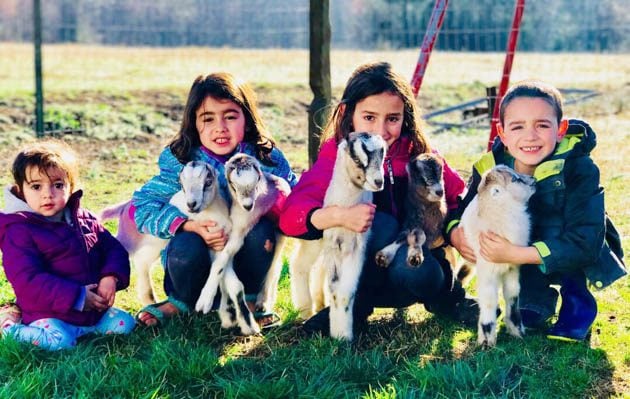 I sure hope this information helped you. I know there is a lot to consider when choosing a goat breed but just know that every breed has pros and cons.
What made me choose Lamanchas at the end was…
Their calm temperament, I knew they will be amazing around my little kids. I was also looking forward to having a much easier time with the bucks. I had a Nigerian buck before and he was a mess! Ripped fences, broken goat house, he was so loud and stinky… You name it. This guy did not make me love goats! Now I have it a million times easier.
The amount of milk they produce, which meant for me that I can have three does and one buck which is how many goats I want to care for but I can still have enough milk to support us.
Their breeding cycle, I am more than fine dealing with breeding only once a year and then having a kidding season which passes before the garden starts to pick up so I can shift my focus.
They are made in America! There is pride in that, people!
I still would love to own a cow, I have to admit, especially for the cream… But as long as I can I'll have a goat around, and if I have a goat around, it will probably be a Lamancha. I feel no need to try another breed.
I'd love to hear your thoughts! Please comment below and let me know if you own goats, which breed, the pros and the cons of that breed, what do you think about Lamanchas, and anything else you want to share that we can all learn from.