If you are considering clearing land with goats this post and video will help you see how it can be done. We had a great experience using three Nigerian Dwarf for clearing land. The best thing about it was that the goats themselves seemed to be enjoying the work. They were chewing non-stop and loved their brushy home.
---
After we got our goats we decided that instead of keeping them at the house we would designate their fence area at the farm so they could start clearing some land for us (we live across the road from our 20 acres land. Read: How We Bought a $34,000 House in the Country).
This was both a good idea and a bad one.
It was a good idea because they are did great work over there! They seemed to love being in the brush. In the beginning, they were a bit in shock and didn't move away from the goat house.
We got this trio as a gift from friends. They didn't have a lot of human interaction and they weren't bottle-fed when they were young so they were kinda scared of people. The catching and transporting them to our farm was a bit of an unpleasant experience for them.
And so, for the first week or so they were just standing there by the goat house, not sure what to do or where they were or if someone was going to come after them again… But slowly they become more comfortable and started venturing away from the goat house and pretty soon they started chewing and chewing and chewing.
Clearing Land With Goats…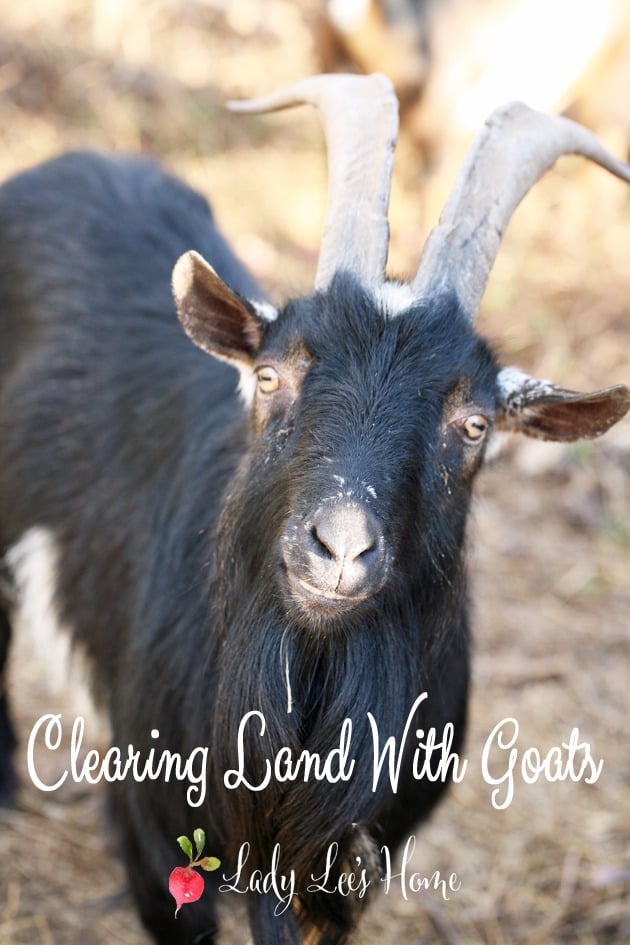 After only 3 or 4 weeks I could already see a huge change. I could actually see to the other side of the fenced area and I could see the ground.
I could see that we had a couple of large stumps there then needed to be dealt with which I couldn't see before we put the goats there. If we tried to get there with the tractor without knowing about those stumps we might have damaged the equipment, so even though we still had a lot of clearing work to do, the goats made it possible for us to plan accordingly and save the money we would have spent on fixing equipment.
It was a bad idea because it is so hard for me to work with them now. My plan was to work with them to the point that I could milk the two does.
But because it's a large fenced area, every time I get close they just run away, catching them is a fight that just scares them even more. Looking back, what we should have done is have them get to know us better before we moved them to the farm.
A small fenced area close to the house would have been perfect, then I could have feed them from my hand and touch them all over so they could get used to the touch. Only then I would let them out where they are now. But if your goats are friendly and were raised right you shouldn't have this problem.
I ended up buying Lamancha goats a few months later for milk production and I keep them close to the house so it would be easier to milk. That worked great since they are very friendly and produce a lot of milk.
Ok, here is a video that will show you exactly how we did this. Excuse me for the quality! I am just starting to figure out the whole video thing and obviously I have a lot to learn…
A couple of notes…
The company we got the fence from is Premier 1 Supply.
This is the energizer we got.
This is the net we got. We got 2 white 100′ rolls.
These are the additional support posts we got. We got 8 of them but I am going to buy a few more.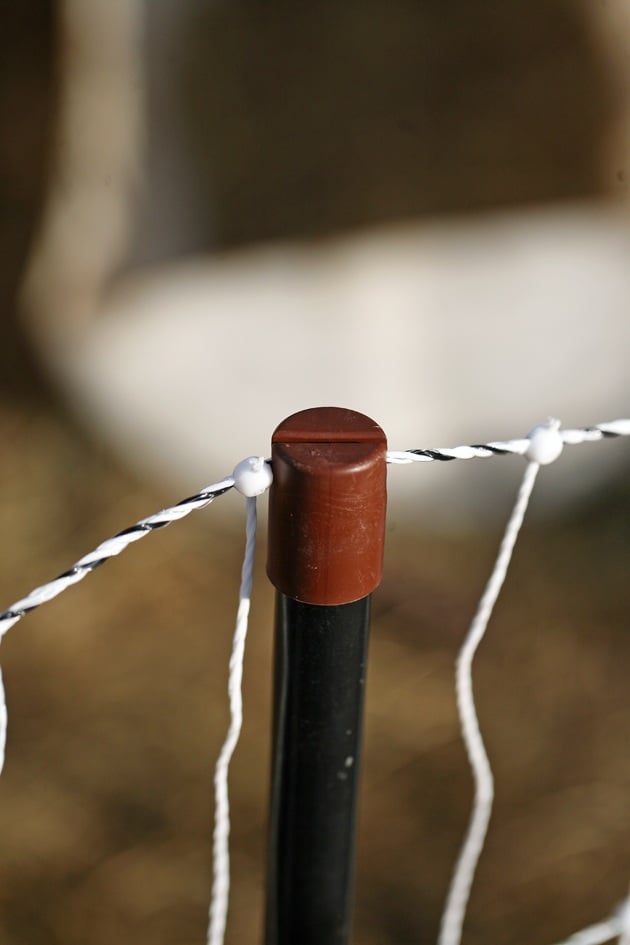 At the top of each support post, there is a slot to insert the top thread of the fence. This helps to keep the fence off the ground. So you can either use them next to the white posts for additional support or in between the white posts to lift the fence off the ground.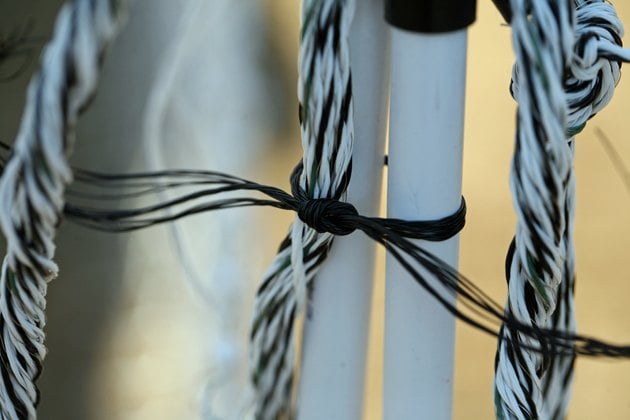 There is a gate that you can buy but we didn't. We tied the first and last posts together with the thread that comes with the fence and when we want to get in the fenced area we turn off the energizer and untie the posts.
They ended up spending a few weeks in that fenced area. During those few weeks, they cleared all the brush. We could see the trees and the ground. We then moved them to another spot and came in with a chain saw to this area to clear it completely.
After that it was time for tractor work… Removing stumps and large rocks and so on.
It's not as if the goats go into the brush and make it a nice pasture for you, yes? There is still a lot of work to be done after the goats but they make it possible to see what's going on, they eat all the leaves of the briars and make it much easier to deal with those annoying plants, and they make it possible for you to see what kind of land you are dealing with so you know what kind of equipment you need for the job.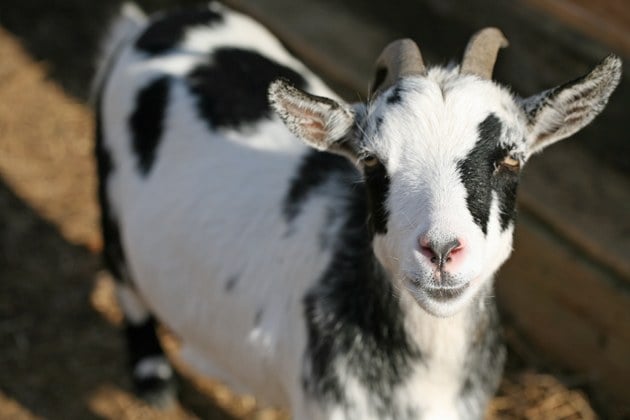 Overall, this was a great experience and I would definitely do this again. Like I said, in the beginning, the goats themselves loved it! This is their preferred diet and you could see that they had a lot of fun in that brush.
Another thing… We did not spend a dollar on hay for these goats! We fed them a little bit of grain every morning and evening and that's it. It was great savings and the best nutrition for the goats.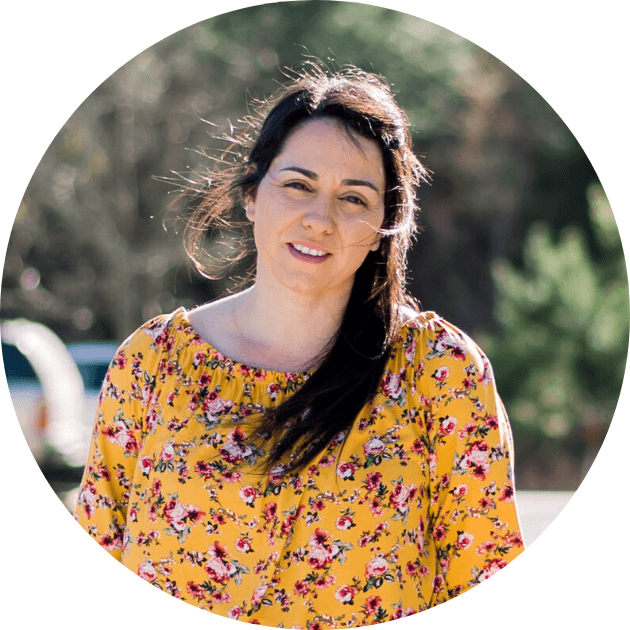 Hi! I'm Lady Lee. I help homesteaders simplify their homesteading journey while still producing a ton of food! I am a single mother of four, I was born in Israel and raised in an agricultural commune called a Kibbutz. Now I homestead in central NC.