I've owned black Australorp chickens for a couple of years now and even though they are still a chicken (we'll talk about the good and bad of that later) they are special in a way. I wanted to share with you why I love them so much so here are 10 reasons to raise Black Australorp chickens.
I have raised chickens for years now. When I first started keeping chickens I received a few Red Star hens from a friend. They were great chickens. They lay huge brown eggs that were very tasty.
They start laying relatively early and keep going until their egg production goes down around two years old. They really were good chickens.
When we moved to the country, we built them a temporary tractor that cost us nothing. They liked it, we kept collecting and eating eggs… All was well.
As I got deeper and deeper into all this homesteading thing I developed the desire to raise as much of our meat as I could. We already had a good supply of meat from the deer the guys brought home every fall so chicken meat was naturally the next step since we eat a lot of chicken.
So, on I went and ordered some Cornish Cross chicks from the hatchery. This is the main meat chicken out there, there are also Freedom Rangers but they take a bit longer to raise to butchering size and I've heard they weight a bit less after they are processed. I decided to just go with the basic Cornish Cross and see how it goes.
10 Reasons to Raise Black Australorp Chickens
You can find out how it went in my post Raising Cornish Cross Chickens for meat. In short, I did not enjoy raising those animals.
In my head, I was going to let them go free and forage, eat all those great bugs and summer greens so we can have high-quality meat… The birds didn't step away from the feeder. They were literally sitting by the feeder and eating all day long, pooping on themselves and — I swear to God — eating each other.
It didn't sit well with me… Why would I go through all the trouble of raising chickens for meat if the result was so close to what I was already buying in the store? Yes, I could feed them a better quality of feed with no antibiotics in it and all that but they were so engineered for quick growing that their behavior didn't feel natural to me.
I wanted real chickens.
Another thing that bothered me is that I felt like I was simply switching the grocery store with the hatchery. I was still dependent on someone else for my meat here… You butcher Cornish Cross around 8-9 weeks. They don't lay eggs, they don't have a future.
So every time I'd want chickens for meat I'd need to buy them from the hatchery… Mmmm I wanted to create a self-sustained system. If I don't need to go to the grocery store but I need to go to a hatchery, then what good did I do here?
Yes, yes, I know that it's still better to grow my own meat for the better quality but to tell you the truth it didn't justify the huge amount of work I had to put into it. Not for me at least.
So I started digging. I decided to find a way to create a system. I wanted to own a breed that is good for both meat and eggs, that will hatch their own eggs and take care of their own babies. A breed of chickens that actually move and forage…
This is how I got to Black Australorps…
I started looking into heritage breeds. The most important thing for me was to own a chicken that can hatch its own eggs. The brooder experience was not fun for me and I didn't want to repeat it if I could avoid it.
I could not find a whole lot of information about Black Australorp chickens… But I was for some reason drawn to them so I decided to give them a try.
It has been more than two years, and although they do really do all the annoying things free-range chickens do (like poop everywhere and make a nest in the aloe vera pot), they are an amazing breed of chickens!
Before we start, let's go over a little bit of history…

Black Australorp Chickens
Black Australorps were introduced to the U.S. during the 1920's after a number of hens broke world records of egg production (one hen laid 364 eggs in 365 days!!).
They are of Australian origin and were developed from Black Orphingtons. The goal was high egg production without compromising on bird size (if you ask me, it was accomplished!).
The only Australorps recognized in America are the black ones, but in Australia, you can find them in blue and white as well.

Why I Love Black Australorps…
They are beautiful – maybe this is why I was drawn to them from the beginning… They are just beautiful! Their feathers are black and they have a green shine to them. You see it coming and going as they move and it's so beautiful!
The catalog said that there was also a purple shine to them. I can see it on some of my roosters but I've never noticed the purple shine on a hen.
They are big birds and I love that. They are full of feathers, the roosters are very big and the hens are a good size too. They have bright red, large combs.
They are friendly – they are the friendliest chickens I've ever owned. They have no problem coming close to you, my kids catch them easily even though our chickens free-range so they can run as far as they want, they are slow and easy going, they are quiet and gentle.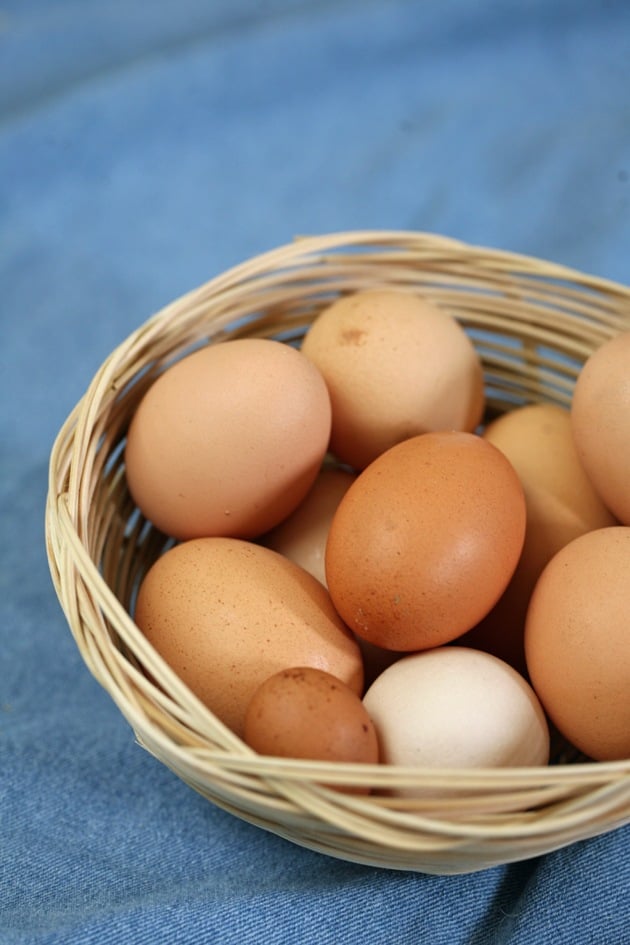 They lay consistently – OK, I have to admit that I have a problem reporting to you accurate information here because my flock free-ranges and, to be honest, most of the time I am having a hard time finding eggs!
But, I know they lay because once in a while I'll find a huge nest somewhere and when they were fenced I got a lot of beautiful eggs every day.
If you are thinking, well, Lee why don't you fence them if you can't find the eggs? The answer to that is that I am having a hard time seeing them confined in a relatively small space… If I could put them in a huge fenced pasture I'd do it but right now I can't. It's a problem because they are chickens after all and just a few days ago they found their way into the garden and literally in just a tiny bit of time ate three garden beds full of vegetables.
Soooo… I am working on a solution but I am not there quite yet so they remain free for now.
They will start to lay around 6-7 months of age and their eggs are brown.
They lay medium eggs – some might not see this as a benefit but I am a bit OCD and I like my egg cartons to close thank-you-very-much!
It's really hard to haul eggs to the market if you can't close the cartons and stack them. I'm getting mad just thinking about it.
So it's not like they are tiny eggs, not by any means, but they are not jumbo eggs either. Just the right size in my opinion.
Of course, the eggs are also super delicious! Here is a shakshuka recipe you might like.
Non-aggressive roosters – I have something like eight right now (I have a whole lot of butchering to do!) and you almost never see them fight with each other. It was a great surprise to me… Maybe it's also due to the fact that they free-range and have so much space to get away from each other, I don't know. But they almost never fight, I never have to step in between roosters and it works for me.
In the past two years, I don't know exactly how many roosters I had but it was probably somewhere around 15 or so. From those, I only ever had one rooster that attacked my son (for some reason he only had a problem with my son… He didn't bother the girls).
After a couple of times, we butchered him.
They go broody easily – this is my favorite thing about Black Australorp chickens! If you leave their eggs in the nest the hens will go broody easily. This past spring I had five hens sitting on nests at the same times all over the homestead and it was so much fun to watch nature at work.
To me, this is the essence of self-sufficiency! And it saves you SO MUCH work. No brooder, no heat lights, no cleaning chicken poop and changing brooder bedding… I mean, who has time for that?
Nature can do it all if you just choose the right animal and give it a fitting habitat.
They are great mothers – the best mothers! Really. They stay close to their chicks, they are big chickens, remember? So they can sit on a large nest, hatch many eggs, and provide heat to many chicks, there is a lot of room under a Black Australorp hen!
I transferred a couple of families to my outdoor brooder at the beginning of spring because I was afraid of snakes. It seems like when the snakes wake up around here they are so hungry that they have no fear, in past years we have seen snakes crossing the yard right in front of us, they are not afraid of anything.
I left the top of the brooder open because when I leave ducks there the mama will fly out and go for a swim or to eat, but the Black Australorp hen will not leave the chicks at any cost for any reason!
They are non-aggressive mothers – they are great mothers and they won't leave the chicks, but they are non-agressive as well. I can reach under a hen, grab a chick and she won't even peck.
You can do this with eggs under her too which makes it easy to add eggs if you want or remove eggs if you want.
I also raise Muscovy ducks. They are amazing mothers too, but if you try to grab a duckling you better make sure you have good health insurance because, baby, you are going down!
They are dual purpose – their meat is relatively white and they taste like… chicken! They are a very good size after you clean all the feathers. I never really weighed them but I estimate probably between 4-6 lb with the roosters weighing more than the hens.
There is a catch here though… It takes them a long time to reach maturity.
Here is the set up I figured before I got my black Australorps chickens…
I started with 16 Black Australorp hens and 3 Black Australorp roosters. I also ordered six hens from other breeds but those hens lay colored eggs or white eggs while the Australorps lay brown eggs. I set it up in a way that I will be able to have fun getting different colors of eggs but I will still be able to keep the Austrlorps pure because I will only let the hens hatch brown eggs.
Smart, huh? I know, sometimes I even surprise myself!
Anyway, my plan was to let them do their thing and multiply. I really don't need a lot of eggs so I left many nests for them to sit on.
Chicks hatched and the mothers did a great job. It's working but I have two options, I can either butcher them at, let's say three months and have a relatively small chicken, or I can wait until 7 months or so and butcher them at full size. The thing is… It takes a lot of feed to raise a chicken 7 months.
Now, for me, it's not a big deal because they free-range and I really don't feed them much but I realize that it's something you should take into consideration if you are going to raise them for meat.
Another thing… I am discovering that when it comes to raising animals for a specific purpose, it matters a lot what animal you choose and which breed you choose.
For example, my Muscovy ducks are just as easy as the Australorps yet they are ready for butchering (full size) by 3 months of age. Duck meat is amazing! So it really makes sense for me to concentrate on the ducks more when it comes to meat production.
If you are looking for a meat chicken that you can butcher at 8-9 weeks, read my Raising Cornish Cross post. Also here is how to butcher a chicken and here is how to skin a chicken.
They are still chickens – you know… For the good and the bad, they are still chickens.
They can till your garden, make sure your yard is clean of ticks in the summer, fertilize your plants and so on, but they also poop everywhere, will eat your garden, scratch the heck of everything and so on.
Also, they need a coop, so make sure you check out how I built them a chicken coop from pallet wood and if you do fence them, here is how to clip their wings so they don't fly over the fence.
I have a whole lot of butchering to do. My flock is just too big for me after this summer. I've also decided to focus more on ducks when it comes to meat production but I'll still let the hens hatch eggs in the spring and summer because I want to make sure that I have young egg layers. And, of course, because it's fun having cute chicks everywhere.
I absolutely love that I don't need to buy anything from the hatchery ever again if I don't want to. It is important to me to make sure I keep my breed pure so they keep the same natural characteristics and behavior.
I somehow ended up with a Silky rooster and things got a bit out of control during the month of May since I was in Israel. I now have a few chickens that are mixed but it will be easy enough to clean them up since I can tell by the colors who is a true Australorp and who is mixed.
If you are researching chicken breeds, I hope this post helped you become more familiar with this breed. I also found this post where you can get more information on this breed.
It's truly a wonderful breed of chickens and I hope you'll give them a try!! Feel free to ask questions in the comments below or share your experience.