In this post, we are going to learn about Cornish Cross chickens. I can't tell you that they are my favorite kind of chicken and you'll see why in a minute, but if you are looking for information about raising Cornish Cross chickens, which are the most common breed of meat chickens, then this post is for you. We had an interesting experience with Cornish Cross chickens and I hope that you'll be able to learn from it.
Raising chickens for meat always seemed like the logical thing for us to do as soon as we can. After all, we love the meat, we are set up for raising chickens since we have laying hens, and it's an affordable and easy animal to grow.
Pretty perfect for the homesteader who wants to grow their own food…
Or is it?
I dare say, our first time raising Cornish Cross chickens for meat didn't exactly go as I planned.
I also dare say, it was much more work than I expected.
I think I can blame that on not being ready… Even though I thought I did my research before I ordered the Cornish Cross chicks.
So in this post, I am going to put the topic of raising meat chickens in front of you in the fullest way I know; from beginning to end, from ordering your birds to bagging your meat.
I'll tell you what we did, what I think you should do if you are going to raise meat chickens, what difficulties we encountered and how I think we could have prevented them, and how I plan to make this whole meat chicken business much more grower friendly and sustainable.
Cornish Cross Chickens – Brooder to Butcher…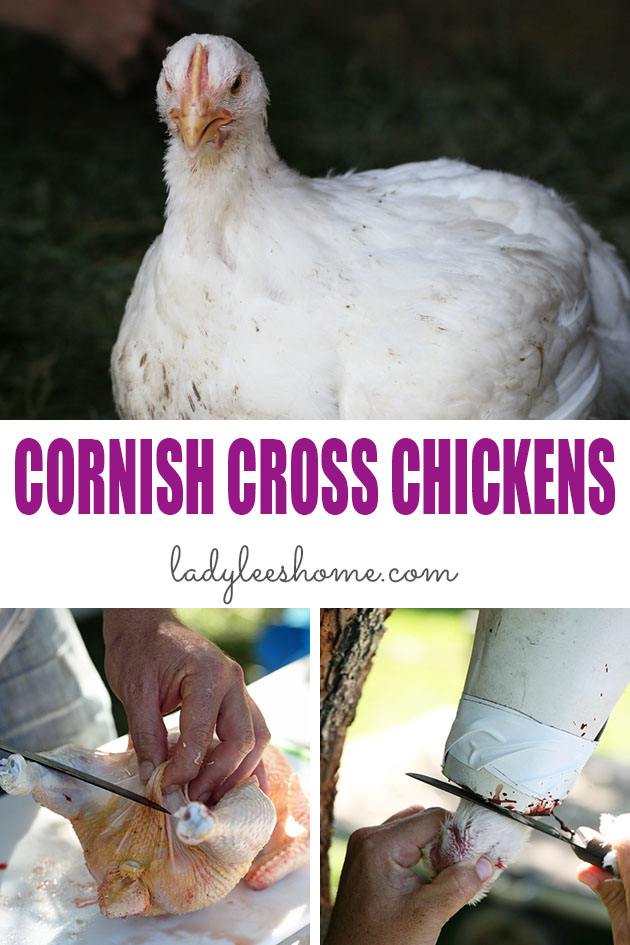 I've been raising chickens for meat for a while now, but I do remember how confused I was at the beginning as to what this whole project is going to require.
My hope is that by the end of this post, you'll have a very good understanding of what you are getting into and I hope it will make it easier and more enjoyable for you since there is really a lot of value in growing your own meat.
Ok, let's start at the beginning…
Breeds of Chickens for Meat Production…
You made the decision to grow chickens for meat, now, you are probably wondering what are your options when it comes to chicken breeds…
Cornish Cross – (also called Cornish X, Broilers, Cornish Rock, or Jambo Cornish Cross) are the most common meat birds. They are not genetically modified as many people think but are simply a cross between a Cornish and a White Rock.
They were developed for the commercial market and they dominate it (so the chicken you buy at the grocery store is most likely this kind).
Those chickens are obsessed with feed and designed to reach butchering weight very quickly around 8 – 9 weeks of age. They can not be kept as pet chickens or as an egg layer as they will get sick or injured if left to live too long.
You can expect Cornish Cross chickens to dress (how much the bird will weight after butchering and cleaning) at around 5lb.
In this post, we will concentrate on Cornish Cross chickens but for the most part, all of this information will work for other breeds as well.
Freedom Rangers – these birds are more active than the Cornish. They are good to raise in a pasture and are better foragers. They have red or tri-colored feathers and mature slower.
Where the Cornish will reach butchering size at 8-9 weeks, it will take the Freedom Ranger between 9-11 weeks, probably closer to the 11 weeks mark, to reach butchering size, therefore, you will have to spend a bit more money on feed.
This bird has yellow skin and the breast is proportional to the legs (as opposed to the Cornish who have huge breasts).
If you plan to raise your meat birds in a pasture with other animals like cows, sheep, goats… You should probably lean more towards this breed since they can handle a free-range environment much better than the Cornish Cross chickens who are so slow and clumsy they get stepped on all the time (and never go far away from the feeder anyway…).
Freedom Rangers, as far as I understand, is a trademark name of the Freedom Rangers Hatchery and that is the only place you can get them. You have to order at least 25 birds at once.
Big Red Broilers – Murray McMurray offers these red broilers that are supposedly very similar to the Freedom Rangers. Here you are able to order less than 25 at a time with their minimum order requirements being 15 chicks if your shipment is between April-October.
They mature at around 11 weeks and also have yellow skin and proportional breast. They are also more active than the Cornish and are good foragers.
Note that these three are the main meat production chickens you can choose from. However, you could use a hybrid dual-purpose chicken or a heritage dual-purpose chicken for both egg and meat production.
After this experience of Cornish Cross chickens, I've decided to implement a more self-sustained chicken operation for meat and eggs with a heritage breed. You can read more about my beloved Black Australorp chickens in this post.

Buying Your Meat Chickens…
There are many hatcheries you can order from (here is a list from the Backyard Chicken forum), we ordered from Murray McMurray. It was a recommendation from a friend and we had a great experience with them.
You can order online through the hatchery's website, or you can call in.
Most of the time they will ask you if you want your chicks to be vaccinated and if you want minerals included in your order. The minerals are for the water you are going to give to the chicks in their brooder.
The vaccine is completely up to you. So far, we never had a problem with chickens dying due to disease (we didn't vaccinate) but I know this does not apply to everyone. If you feel you need to talk to someone more about this just call the hatchery and hear what they recommend.
Please do not make a big deal out of this. You can go on researching this topic for days and I can guarantee you one thing; at the end, you'll be more confused than ever before.
Some people say yes, some people say no… To vaccinate or not is a bigger concern to someone who has a huge flock of chickens or is running a poultry farm.
You will need the minerals, though, so you can either order them from the hatchery or you can buy them at the local farm supply store.
Lately, I have noticed that our local farm supply store started ordering Cornish Cross chickens for customers especially in the spring. This might be an option in your area as well so if you are more comfortable with buying locally make sure to check with your local stores.
Preparing for Your Cornish Cross Chickens…
So you ordered your chicks and it might take them a week or so to arrive. In most cases, the post office will call you once your chicks arrive so you can come to pick them up.
Here is what you need to have so you are ready for your Cornish Cross chickens…
A brooder – think 1/2 sq ft per bird for the start, therefore, what you use for a brooder will depend on the number of birds you are getting. It can be those plastic kid pools, cardboard put in a circle, a large bin, a wooden structure or box, a livestock water tub, or a wire cage (make sure the spaces in the wire are small enough so they can't get out and that other animals like snakes can't get in if you keep them outside).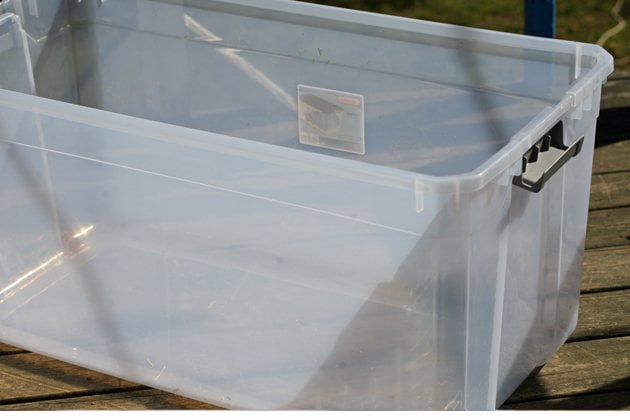 I looked for the biggest bin I could find at WalMart and used this at the beginning but it felt like it wasn't big enough…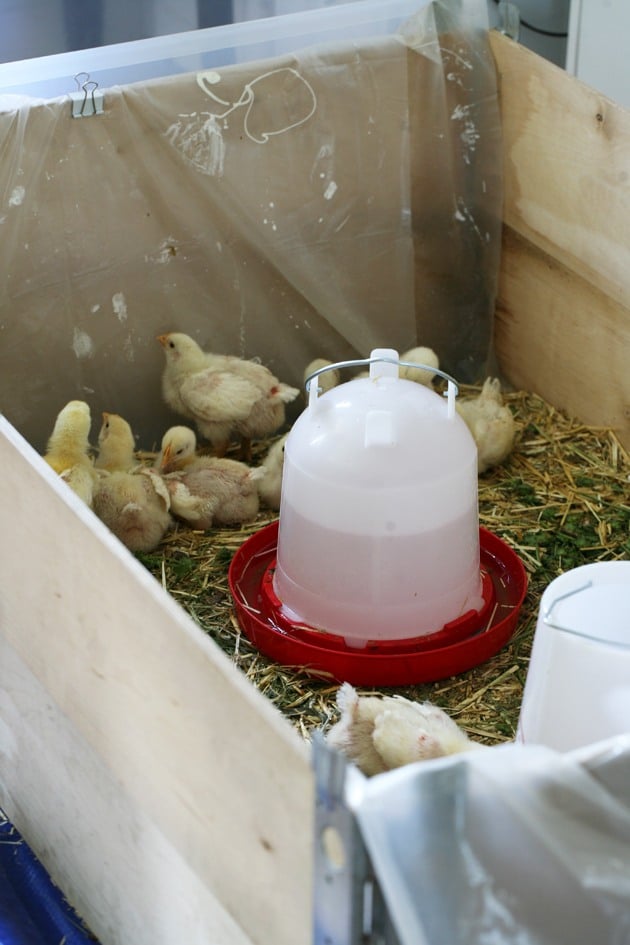 So I ended up transferring the chicks into a rectangular brooder made of wooden frames. The frame is 3'x4′ and it was a great size for the 24 chickens we got until it was time for them to go outside.
You have to remember that those little birds are a great snack for other animals, so be ready to protect them. I didn't think about that since I was going to have them inside the house, but then I saw my cat eyeing them in a concerning way… I ended up placing a bird net over the brooder.
Bedding – Pine wood shavings is a good choice (cedar is not recommended). The first time I ordered chickies I used straw but it's hard for the little chickies to walk on that. I later switched to wood shavings and they seemed much happier.
Do not use sawdust because it's too small and they might eat it instead of their feed (especially the Cornish).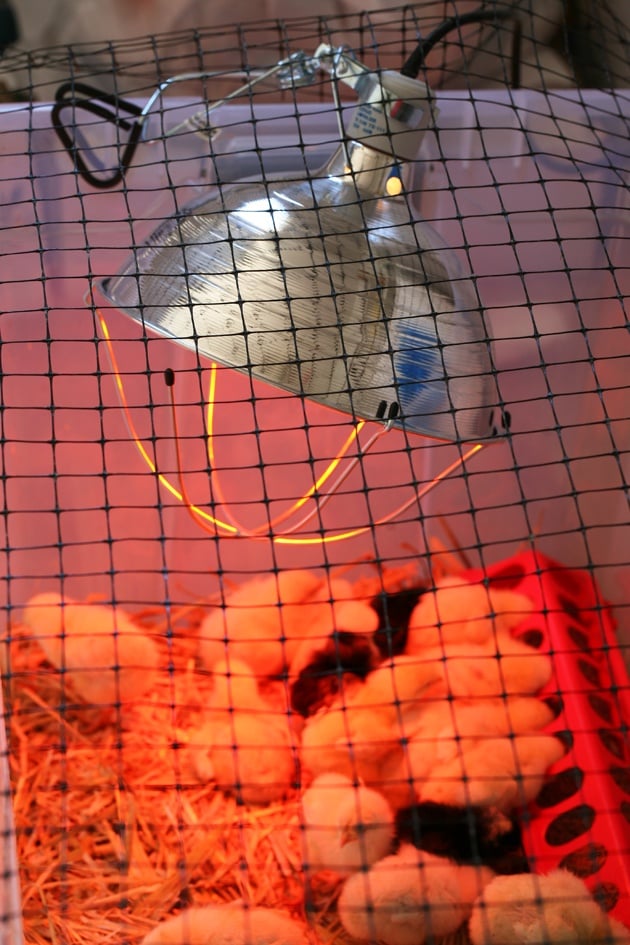 A Heat Lamp – for the first week, the temperature in the brooder should be 90F – 95F. You achieve that by placing a heat lamp above the brooder (two feet or so above ground).
I like to place it in one corner so the chicks have the choice of going under it or away from it if they are too hot.
It's recommended to lower the temperature gradually by about 5 degrees every week, but I just moved the lamp a little higher when they were two weeks old and it was just fine because they could get away from the heat any time anyway.
Feeder and Feed – you can probably find a couple of very affordable feeders at your local farm supply store. You can go with something like you see in the picture above or a 7lb hanging feeder for example. I ended up going back to the store and buying the hanging one because the one you see in the picture above became too small for the birds really quickly, so I suggest you just start with a hanging feeder from the beginning (you don't have to hang it).
Feed is another controversial topic… Should you choose medicated or non-medicated feed? You can read different opinions about that until next year so again, I tell you, don't waste your time and don't make a big deal out of it.
We started our first batch of chickens with medicated chick feed and had three die. I don't know if it was the feed or not, I can't be sure… But I quickly switched to non-medicated and since that moment everyone did great.
Then a couple of months later we got 20 guinea hens and since we had the bag of medicated feed sitting there 3/4 full we used it. We had 9 of those die… So, is it the feed? I don't know, chickies can die for many reasons, but it may be.
If organic and natural is important to you, you are probably gravitating more towards the non-medicated and that's fine. If you are concerned about disease and you want to start with medicated that's fine too, you can always switch at any time anyway if you want.
Another word here, it's recommended to start meat birds on broiler starter feed which has a higher percentage of protein. We just started our Cornish Cross chickens on regular chick starter feed and they did really well.
You may also choose to sprinkle chick grit on the chick feed starting on the third day, this will help them in digestion and help prevent pasty butt (more on that below), but again, it's optional.
Water and waterer – I suggest you buy the 5-quart waterer and not the tiny one they sell for chickies because then you'll have to refill the water three times a day and I know you have better things to do.
You may opt to add vitamins and electrolytes to the water. You might also choose to add a probiotic. Those come in a powder that you add to the water. You can order them from the hatchery when you order your chicks or you can buy them locally.
If you get them from the hatchery the bag will most likely be at the bottom of your box under the mat that the chickies are on (it was completely hidden in our box and I almost throw it away…)
Ok, that is it. That's all you'll need to be ready for your chicks. Make sure you place your brooder somewhere that the birds are protected from the elements and from predators and place your shavings and feed close by.
Getting Your Cornish Cross Chicks…
If you pick up your chicks from a local farm or store all you need to bring with you is a box big enough for the number of chicks you are picking up, if you ordered your chicks online, the post office will call you when they are ready for pick up.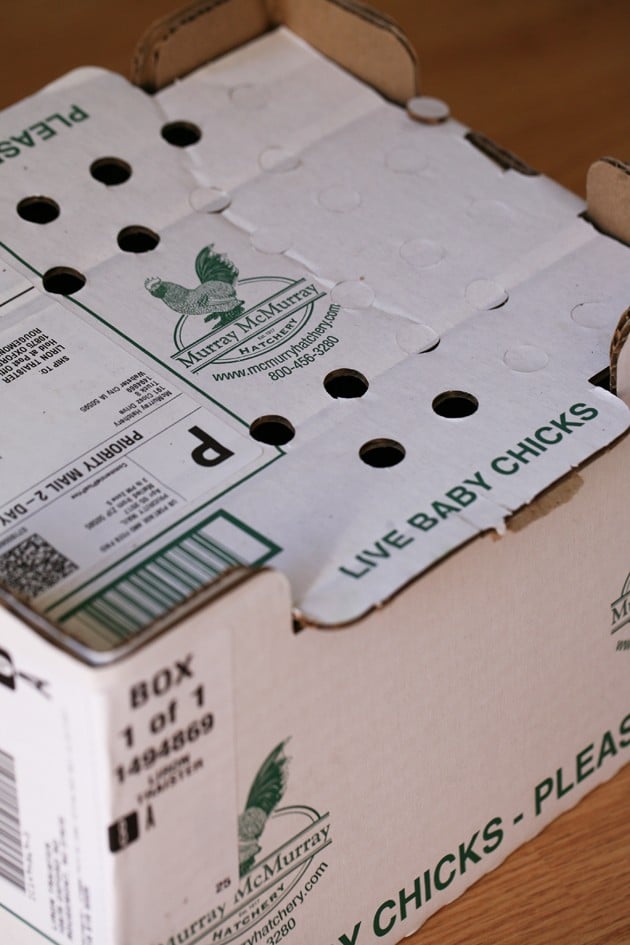 You will get them in a box that looks like the one in the picture and hopefully they all made it and didn't have a very difficult trip.
The post office employees will be so very happy to hand them over because those littles don't shut it.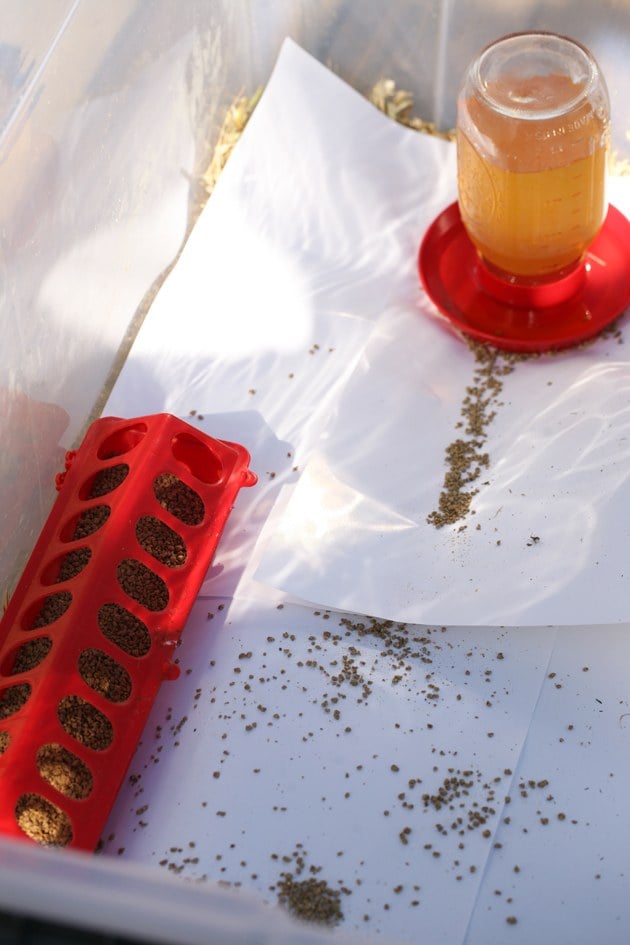 When you get home, before you take the chicks out of the box, fill your waterer with water and the electrolytes and fill the feeder. Lay down white paper on the bedding and sprinkle some feed on it so they can find the feed easily. You will remove this paper after a couple of hours.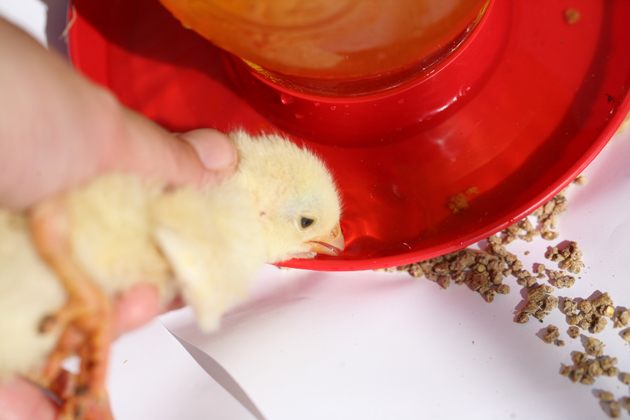 As you take the chicks out of the box, dunk their beak in the water…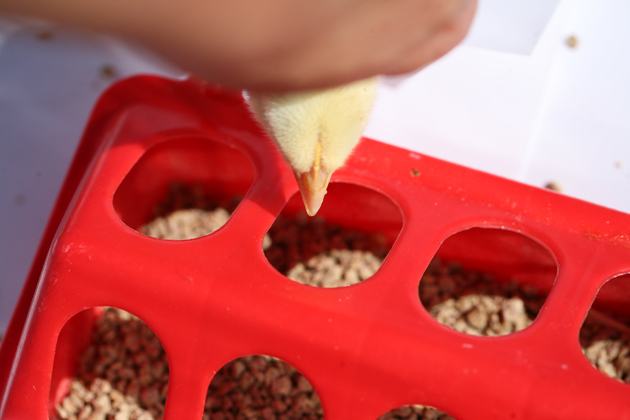 And then in the feed. You are playing mama hen here and letting them know where the water and feed are.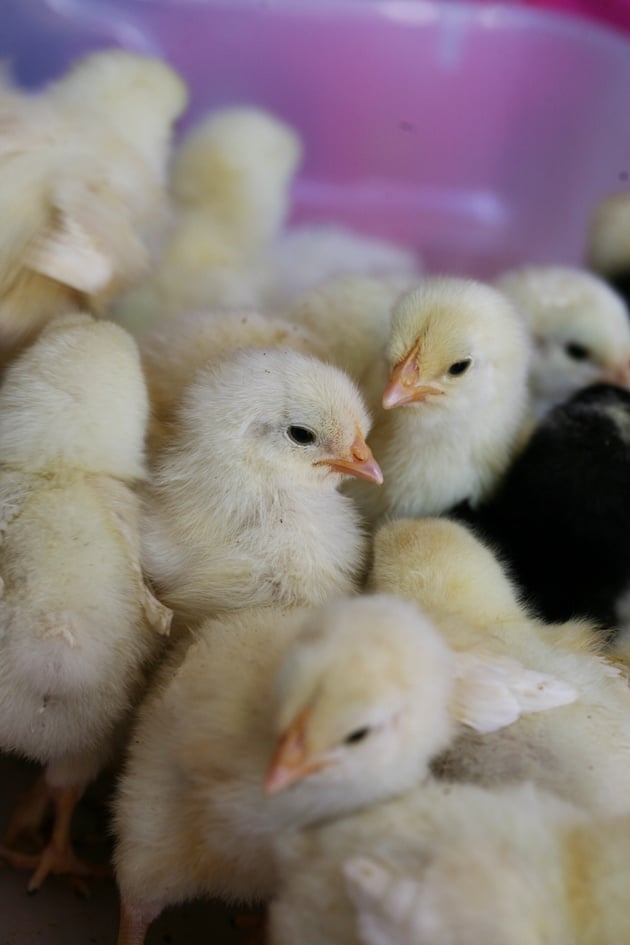 They will most likely be hungry and thirsty and a bit scared and oh so cute but they only stay so small and cute for a couple of days. Especially if you choose the Cornish, they'll be so big and dare I say, ugly, before you know it.
Congratulations! You are now the owner of your own schnitzel!
But the work has just begun…
How to Care for Baby Cornish Cross Chickens…
Water – make sure your chicks have clean water all the time. Add the electrolytes at least for the first ten days.
Feed – if you choose the Cornish, do not free feed them. Those birds are obsessed with feed and will just sit by the feeder and eat all day. I gave them a big scoop in the morning which disappeared around noon and another half scoop in the afternoon which disappeared later that night.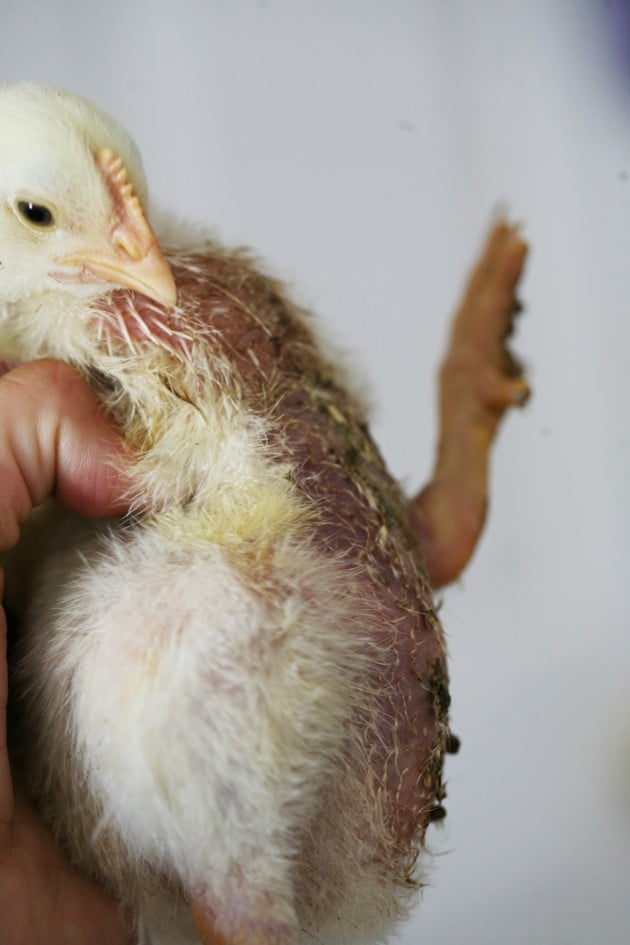 You'll have to watch your birds and make sure their tummy is not dragging on the ground, making it too hard for them to walk.
This is one of the things I was not ready for! I free fed them at the beginning just like you would do with all other kinds of chicks and about a week or so in I suddenly noticed that their tummy didn't have feathers and they had a real hard time walking because they were too fat.
This is one of the reasons that pushed me to use a heritage breed instead, the obsessive feeding just didn't feel right to me. I will prefer my chicken to grow slower but be much more active.
This also might be the reason some Cornish Cross have leg issues. I didn't experience any leg issues with my birds and I think it's because we didn't free-feed them and butchered them on time.
Bedding – they eat a lot so they poop a lot… You know how this works. Get ready to change bedding every other day or so.
Heat – your heat lamp should be on from the beginning. You control the temperature by moving the light up or down. Watch your birds, if they spend most of their time under the light they might be cold so you can try lowering the lamp a bit.
If they spend most of their time on the other side of the brooder, away from the lamp, they might be too hot so you will have to raise the lamp a bit.
Every week try to raise it a bit higher until the chickies are four or five weeks old where they can handle room temperature. If you raise chicks during the cold months of winter you might keep it on longer. If you raise chicks in the South in July and it's 95F with 200% humidity (good lord we are melting here!), you might not need the heat lamp for that long.
Feathers – the Cornish are not the prettiest bird. They are meant for the table. I thought that something was wrong with my chickens but it's completely normal for them to miss some feathers so don't panic.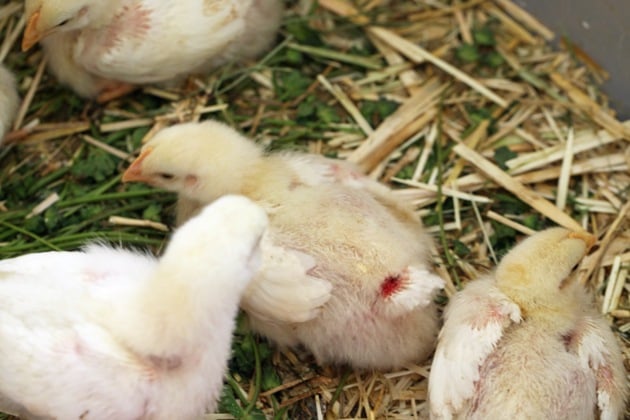 Picking – I suggest you keep your meat birds separate from other chicks. I had the Cornish in the same brooder with Leghorns and within a couple of weeks, the Leghorns went after my schnitzel.
They say chicks will pick each other if they are too crowded, too hot, if the light is too bright in the brooder, or if they don't have enough fresh air.
They say you can bring them some fresh grass clippings, move them to a bigger area, or even apply black grease or pine tar on the wound to keep other chicks away from going back to peck the same spot.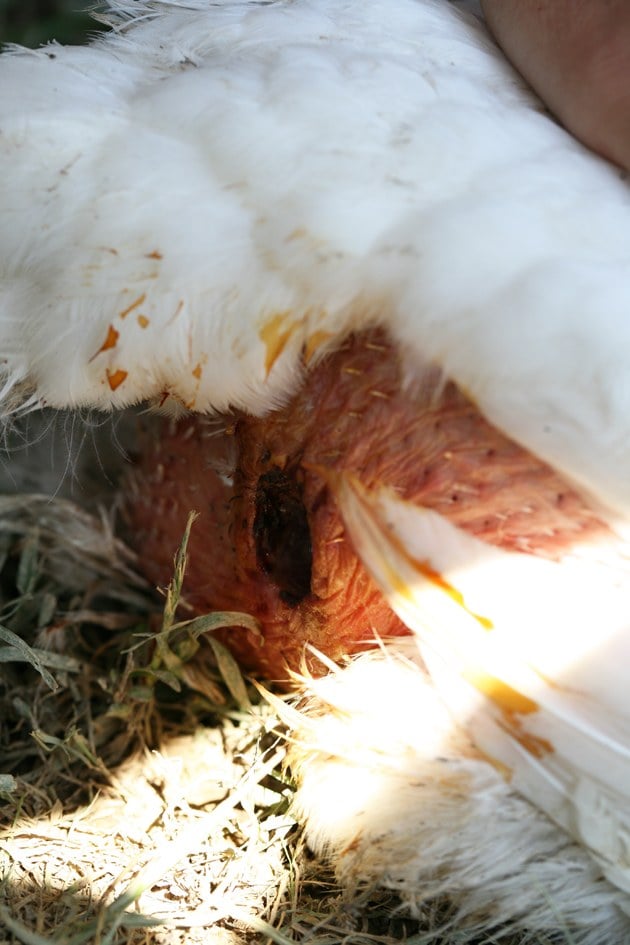 I tried all of the above and nothing worked. I even transferred them outside to the big fenced area so they have plenty of new things to explore but as you can see in the picture above, the Leghorns kept picking them.
The thing was, the Cornish just sit there, letting the other birds eat them alive! It was so disturbing. Anyway, I ended up separating the Cornish Cross chickens completely and putting them in the fence with the goats instead.
You might need to get ready for that ahead because I know many of you are probably thinking about placing the Cornish in the coop with other laying hens, this might be fine, but just be prepared that if it's not, you might need to find them their own space.
Note – this hen in the picture above healed after a couple of weeks and we did butcher her and ate her.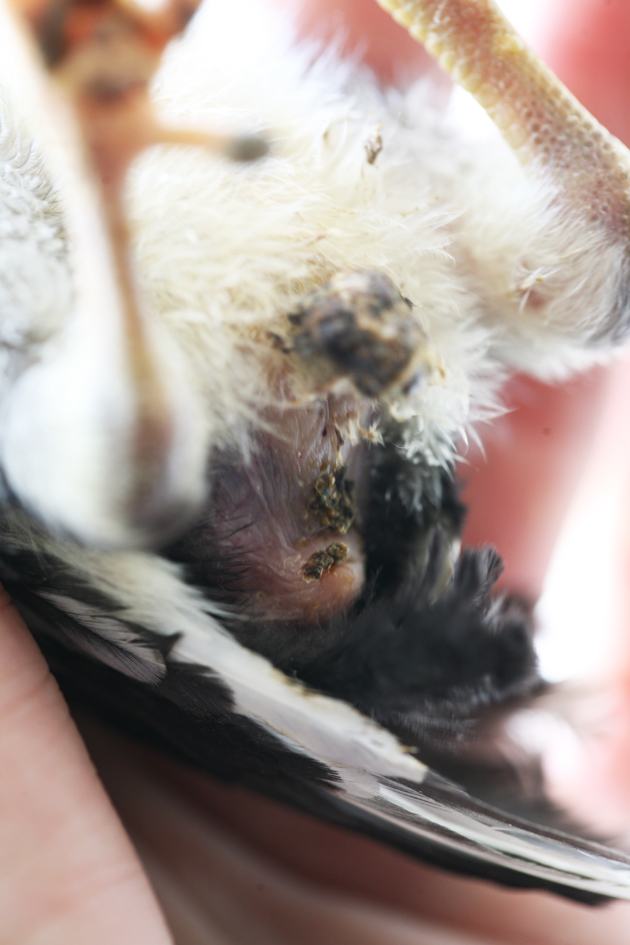 Rear End "Pasting-Up" – oh, this is a fun one! Sometimes the stress of shipping causes the manure to stick to the chickie's vent. Since you are mama hen, you need to check your chicks every day for the first few days to make sure they can poop right so they don't die on you.
The easiest way to get this off is to use warm water and a cloth. If you ask me, this is a great job for the homestead kids if they are old enough to handle it!
Moving the Cornish Cross Chickens Outdoors…
It has been four weeks or so in the brooder, the chicks have some feathers on and can handle room temperatures, It's time to go outside.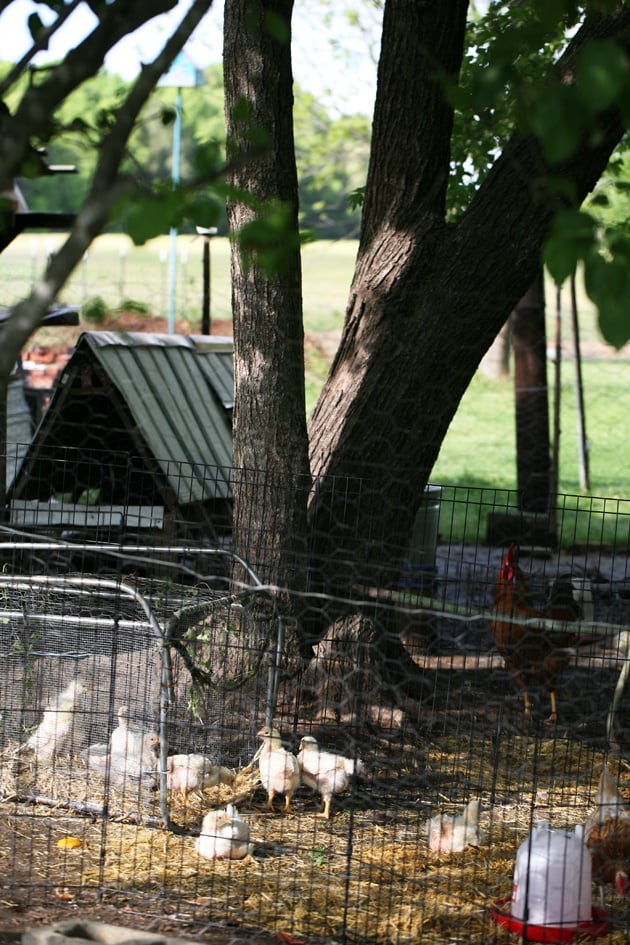 My first choice was to add my meat chickens to my existing egg-laying flock and let them live together and free-range together.
So I placed two black puppy-fences that I got at Walmart for my dogs when they were little, inside the fence of the laying hens and put the Cornish in there.
This is a good way to introduce new chickens to an established flock. I left them out inside this fence for a couple of weeks, turning the heat lamp on only at night.
You have to still make sure they have clean water, of course, and I filled the feeder with one big scoop of feed in the morning and one big scoop at night when doing the homestead chores (a little bit more food than when they were babies).
They don't need a fancy coop, just a simple shelter with a roof so they can get in if it's raining (and that your heat lamp doesn't get wet). Once the temperature stayed above 65F at night I didn't turn the heat lamp anymore.
It worked great and the meat birds looked very happy.
A couple of weeks later I opened the puppy fence and let them out. I wanted them to free-range, after all, one of my reasons for raising meat chickens was to give the birds a better life before they go in the freezer.
But Cornish Cross chickens never really free-range… They don't go far from the feeder and the other chickens started to peck them again…
That was when I moved the Cornish Cross chickens in with the goats. They slept in the goat house and had the goat yard to hang out in while they were growing. I did see the goats step on them a couple of times because they don't move out of the way fast enough but the goats are not heavy enough to cause damage.
The only thing that was hard for me to figure out was how to feed them without the goats taking over, spilling, stomping, and eating all their feed… I ended up placing an extra-large dog kennel in there and fed them in it at night and in the morning. I guess that the other option will be to have the goats on a leash while they eat. This might be easy to do with 3 goats but doesn't really make sense if you have 20…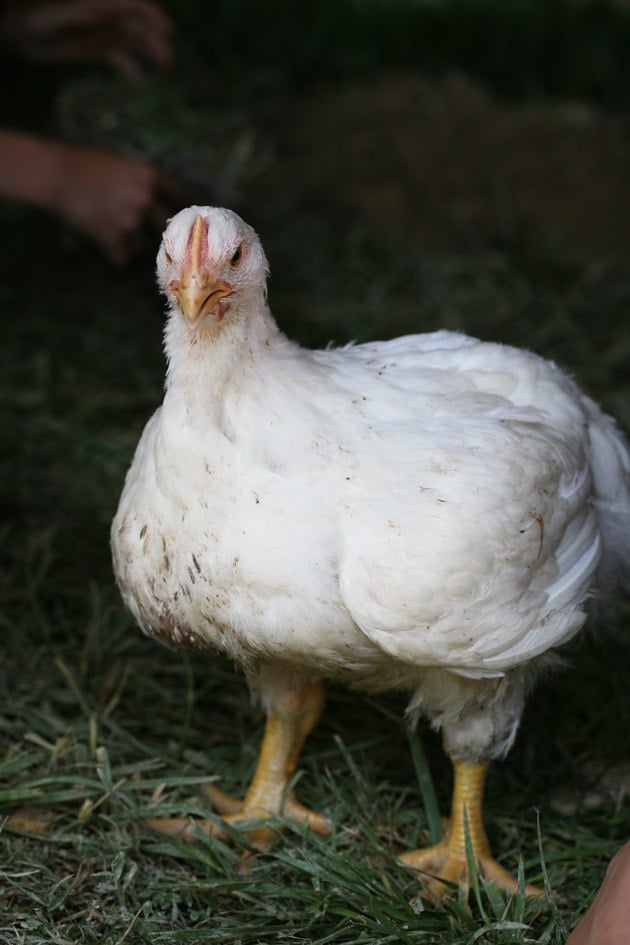 Preparing for Butchering Day…
Alright! Butchering day is getting closer, the chickens are doing good and it's almost time to send them to the freezer.
Schedule a butchering day. If you have many birds, invite some friends to help you and hang out with you. If you are up to it, check if there are any kids in the family, neighborhood, or friends' kids that want to come and help and learn where their nuggets are coming from. It's important to teach the next generation this lost (but maybe coming back?) art of home butchering.
Before we break down what equipment you'll need let me help you get a general picture in your head of how this is going to work.
Think about stations… You grab a chicken, kill a chicken (killing station), dunk the chicken in hot water (hot water station), pluck the chicken (plucking station), process the chicken (processing station), store the chicken (the coolers station).
Here is what you have to make sure you have on hand for each station so butchering day goes by smoothly:
Killing Station – what you'll need here are a killing cone, a five-gallon bucket, and a very sharp knife.
A killing cone can be homemade or you can purchase it online. We just used a piece of scrap metal that we had and bent it into a cone held by duct tape, fancy huh?
You'll see it in the pictures below, it did what it was supposed to do and cost nothing so that was fine with us. You can use an orange plastic cone or come up with a different idea. But having a cone is very helpful.
You'll hang the cone on a tree and under the cone, you want to have a five-gallon bucket to catch the blood. There will probably be less blood than you think but you want to collect this so you can bury it in the garden, it's sooo good for your plants.
A very sharp butchering knife is a must. The sharper the knife the easier the killing and processing will be.
Hot Water Station – after you kill your chicken you want to dunk it in hot water so it's easier to pluck the feathers.
If you choose to skin your chicken and be done with the feathers business than you can skip this step, but if you want your chicken with the skin you'll have to use hot water so it will be easier to pluck by hand or machine. You can see how to skin instead of pluck in my How to Butcher a Duck post.
What you need is a big pot that can fit the chicken, filled with water that is kept at 160F.
A turkey fryer works real good here. But again, we didn't have one so we made an easy outdoor oven from bricks and placed my water bath canner on it. It was big enough to fit the chicken. You can have a fire going under or we used a propane flame torch to keep it at 160 – 165 F (it was easier to control the temperature since we could easily turn the torch on and off).
Make sure to have a thermometer around so you can check the temperature of the water.
Now that I raise Black Australorps instead of Cornish Cross chickens I butcher a few birds at a time whenever we need meat. Since I only do two to four birds at a time I bring the chickens inside to my kitchen after I kill them. I still use my water-bath canner but it's much easier to control the temperature of the water when the pot is on my stove.
Plucking Station – Once you finished with the hot water, you want to have a way to control the feathery mess.
In my mind's eye, I saw feathers all over the place before we started the butchering process and I wasn't sure how I was going to control the mess, but remember that your chicken is wet, so the feathers are not going to fly all over the county.
You want to keep the feather! They are so food for your garden, so add them to the compost pile or bury them in the garden somewhere. Before you know it, they will disperse.
We used half a barrel that we had laying around. We simply put the chicken inside and plucked. You want to have it close to your garden hose so you can rinse the chicken once in a while.
If you did the water station right, plucking should be very easy. We will go over how to do it below.
If you are going to raise a lot of chickens or ducks for meat you might want to invest in a plucking machine. I personally don't mind doing it by hand. The whole time I set there plucking I was thinking about my grandmother who did this as a job.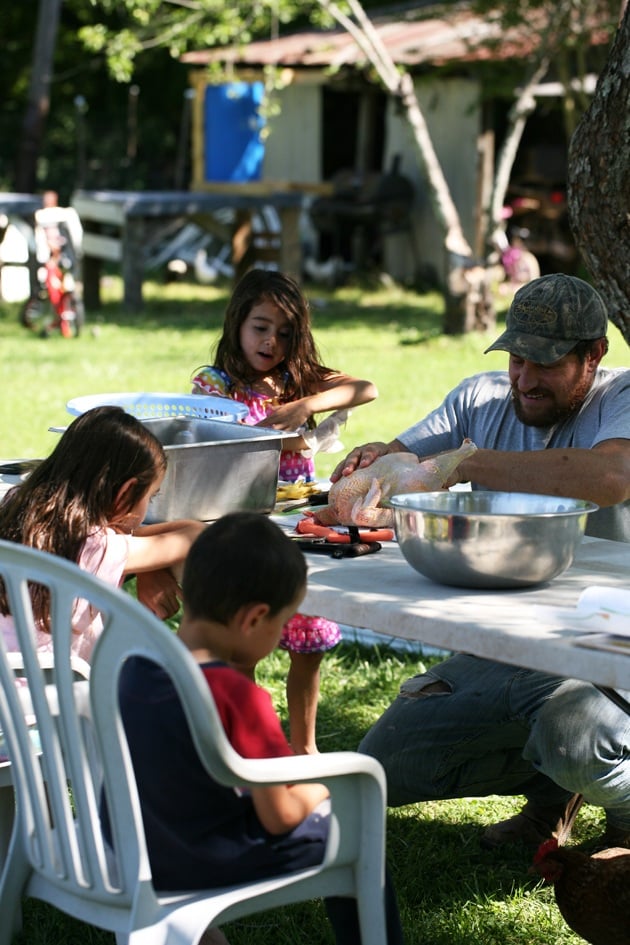 Processing Station – you have your naked chicken and you are ready for processing.
You will need a comfortable table to work on. Something that is easy to keep clean and gives you enough space (we used a folding table).
You must set your table next to a water source. We set it by our well house where the garden hose can reach it. We had to rinse things a few times so the hose came real handy because we could move around with it.
You'll also need your butchering knife, a large cutting board (if you can't cut directly on the table) and a few bowls to put the chicken legs heads and inner parts that you want to keep and the ones you don't.
Cooler station– depending on how many chickens you are processing, you will need coolers with ice to place your chickens in (unless you have enough room in the fridge). The opinions vary here, but your chickens should stay on ice for at least 12 hours or so (we left them for 24 hours and I've heard of people that left them for 6 hours and they were just fine, so it's up to you, a few hours will do).
Lastly, you will need butcher paper or heat shrink bags or something of the sort for packing.
Butchering Cornish Cross Chickens…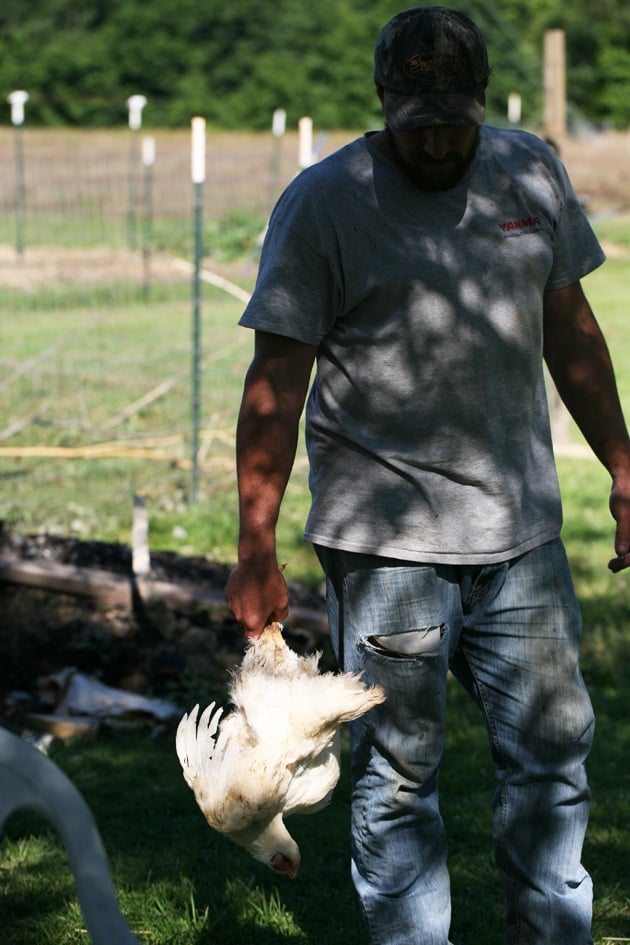 Ok, so you scheduled your butchering day, the chickens are fully grown and ready for the freezer and you gathered your equipment and set up a working place…
Before we start going through this process let me stop and tell you something…
Cutting an animal's throat with a knife, an animal that you raised from day one, is hard. Super hard. I found that there is a huge difference between doing something like that and hunting. The first time I did it I was literally shaking. It was emotionally hard but I believe our food is our responsibility. I want to hold the knowledge of how to feed myself, I don't want to depend on someone else.
I also want to teach my kids that when you face a task that is hard for you, you push through instead of letting someone else deal with it. So I pushed myself out of my comfort zone and did it. The first time was hard, the second a little less hard and by the third chicken I was much more relaxed.
It helped me to think about the poor chickens at the commercial chicken houses. I had the opportunity of working in one of those when I was younger. I lasted three days. I couldn't handle seeing the horrible conditions. For me, every chicken I processed saved a chicken from those commercial operations.
But please don't beat yourself down if you need some help here. Ask someone to help you with the killing, maybe a friend that did this before. Then, when you feel ready, take the responsibility and REALY connect to your food on a deeper, emotional level.
How to Butcher and Process A Chicken…
Around mid day of the day before butchering, take away to chickens' feed. They can still have their water but make sure they don't eat for 12-18 hours before butchering.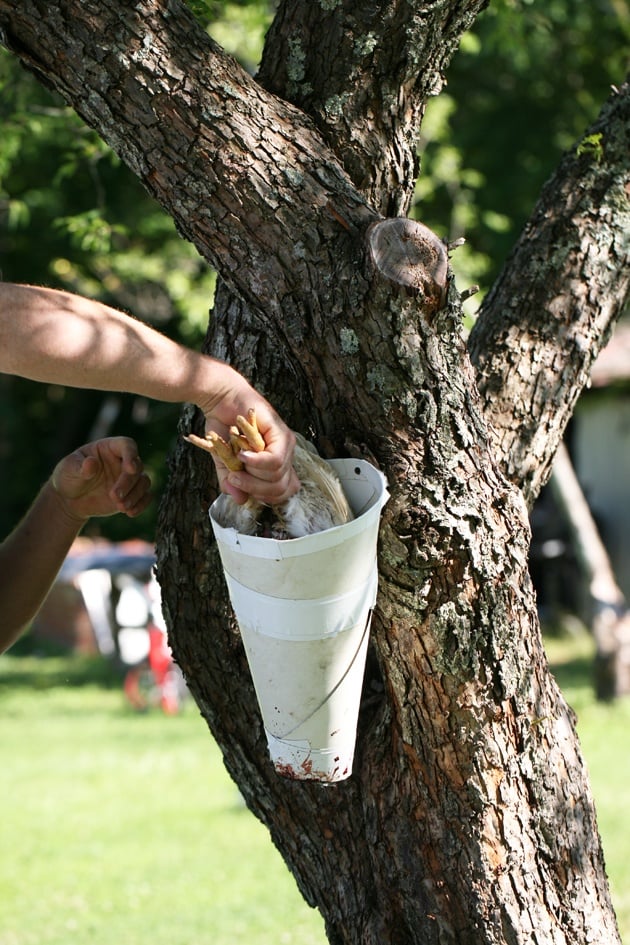 Grab your first chicken by its legs and place it head down in the killing cone…
Extend its throat, take a moment to thank the bird, and with your VERY sharp knife, make a cut on the side of the throat right under the jaw.
The bird will instantly lose blood pressure and go to sleep, even if you see it keep pulsing it doesn't feel a thing. This is a Kosher kill, it has been done this way for many many years and is the most humane way to kill a bird.
While the bird is unconscious, the heart keeps working for a couple more minutes. The pulsing of the heart pushes all the blood out of the bird, leaving you with very clean meat.
Did you ever notice purple/black color around the bones of a chicken you got at the grocery store? Those are blood clots. This chicken was killed by gassing which is inaccurate and not the best way for the chicken to die.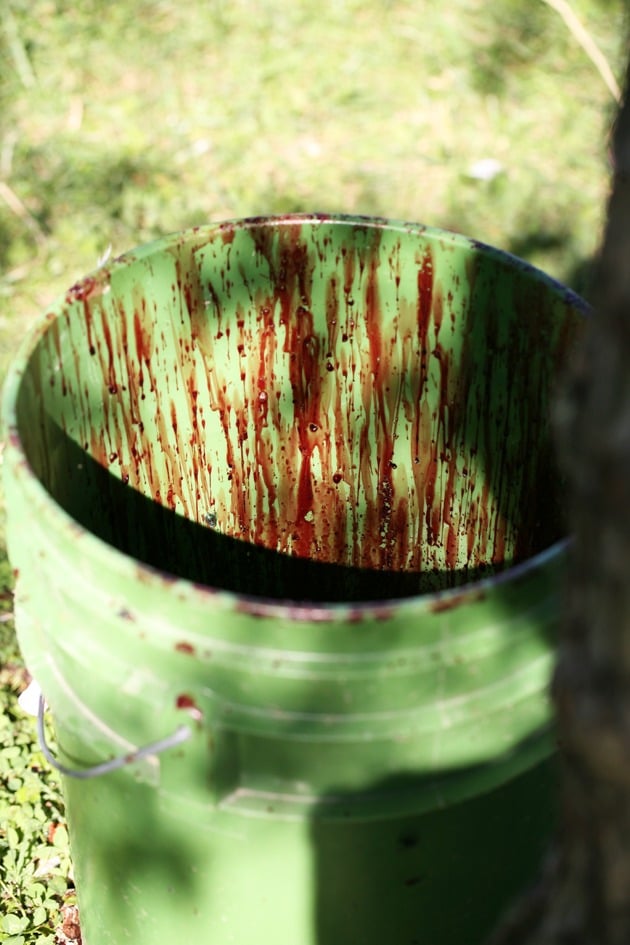 Keep the chicken in the cone for two minutes or so until all the blood is out…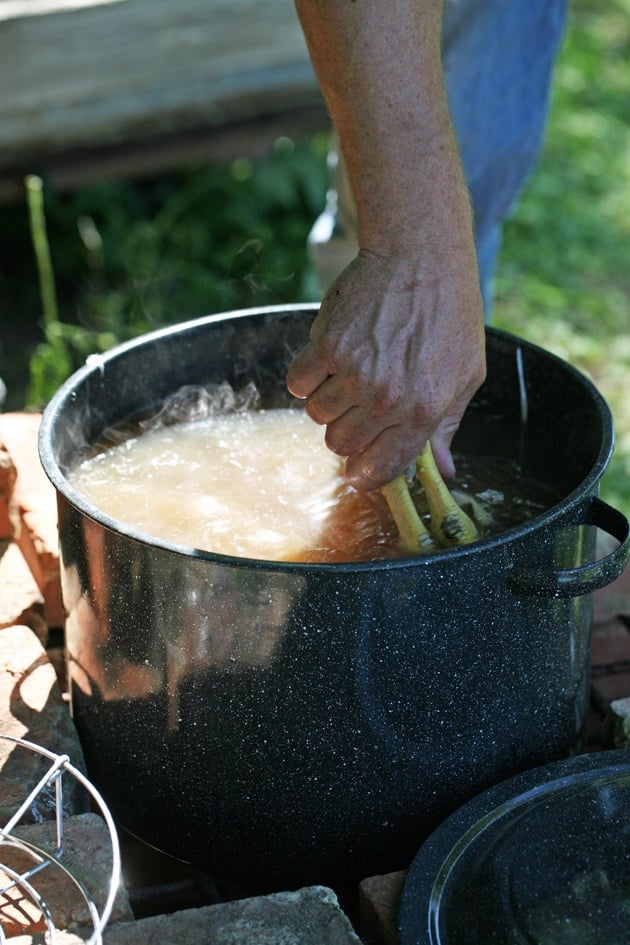 Next, you will take your chicken to the hot water pot. Hold it from its legs and keep it in the water for a few minutes.
Once in a while, take it out and try to remove a few feathers. If they come off easily, you are ready for plucking. If they don't, leave the bird in the water for another minute or so and then check again.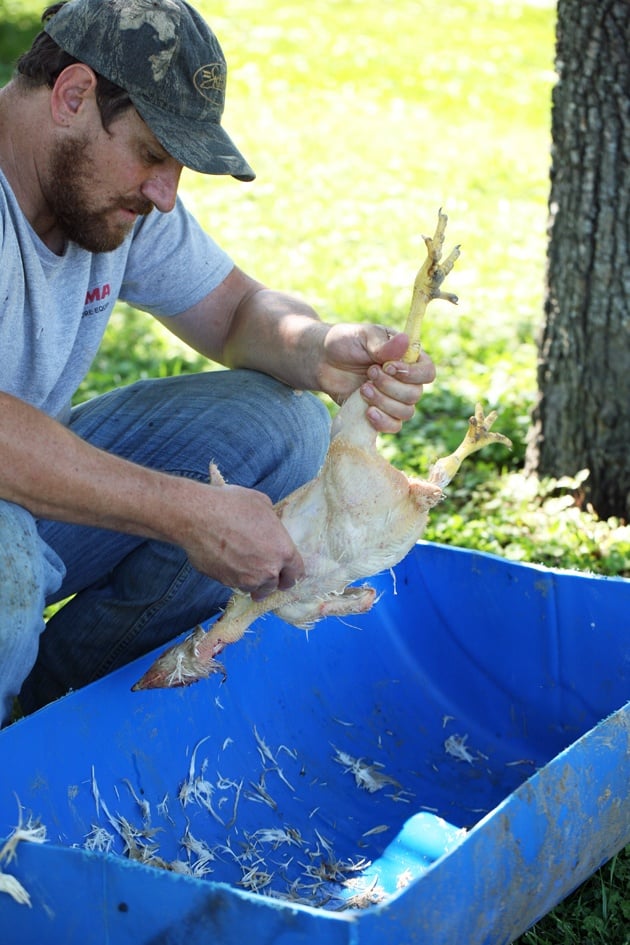 Plucking is just, well… Plucking. Nothing much to it. Get all the feathers off the bird. If there are tiny tiny feathers that you can't get, you can burn them with the blow torch. Simply run the flame over the chicken and it will burn all the tiny feathers off right away.
Go ahead and rinse your chicken to get rid of all the feathers and move to your cutting board.
Grab your butchering knife and remove the head (or pull it). Some people give it to their dogs, we buried it in the garden. You can also add it to your compost pile or burn it.
Next, remove the feet. It will be very easy and will keep your knife sharp if you find the valley between the bones and cut there. Don't try to cut through a bone, find the place where the bones connect and cut there.
If you are up to it, you can save the feet for soups or for homemade chicken stock or bone broth. They have a lot of gelatine in them and are very healthy. You will need to clean them before you use them.
Next step is to cut off the oil gland that is on the top of the tail. We did that with a few birds and then just started to remove the tail altogether AFTER we got all the guts out because we don't eat it usually anyway.
To remove it completely we made two small cuts on each side of the tail and bent it up to break the bone and disconnect it.
So now you want to flip your bird on its back again, pinch the chest skin between the breasts, lift it up a bit, and cut an opening. Be gentle, you don't want to cut the meat, you just want to make a little hole in the skin.
Then insert your thumbs and pull up with one hand and down with the other to enlarge the opening a little bit…
This will expose the chicken's crop (a part of the esophagus where food is stored after it's swallowed).
Remember this chicken did not eat in the past 12 to 18 hours so the crop should be relatively empty.
So, what we want to do now is release the esophagus and wind pipe. To do that, insert your thumb under the crop and the pipes and wiggle around a bit…
Until you can hold both of them in your hand. You don't want to pull them out or cut them, just loosen them so when we pull the guts of the chicken out they'll be able to get out too.
I found this part to be the hardest because the crop and the pipes are so slippery and snooty feeling. It was hard to hold on to anything.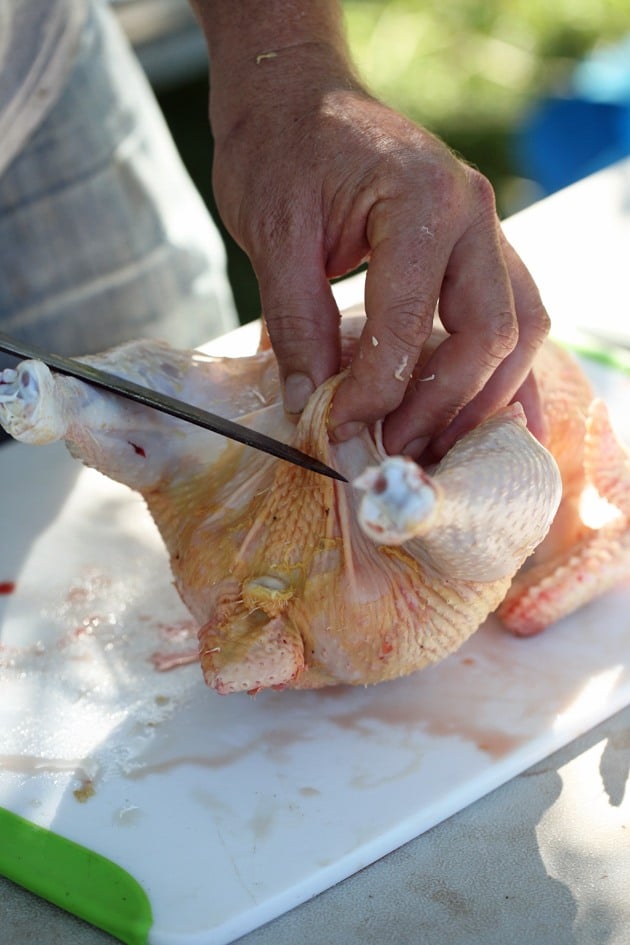 Now we flip the bird and make another small cut in the skin close to the vent.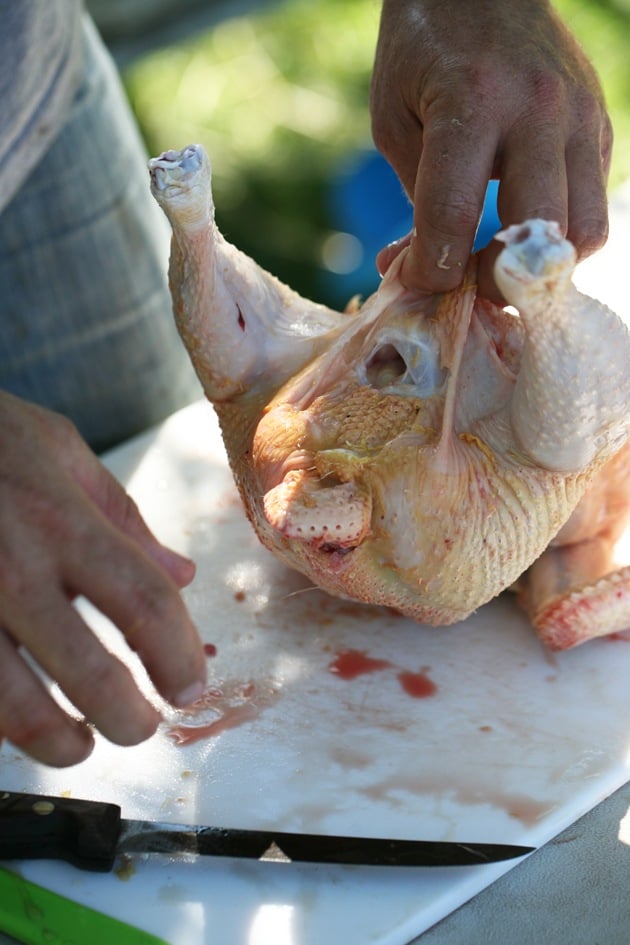 Just a little opening…
You want to be super careful with your knife here so you don't cut the intestines.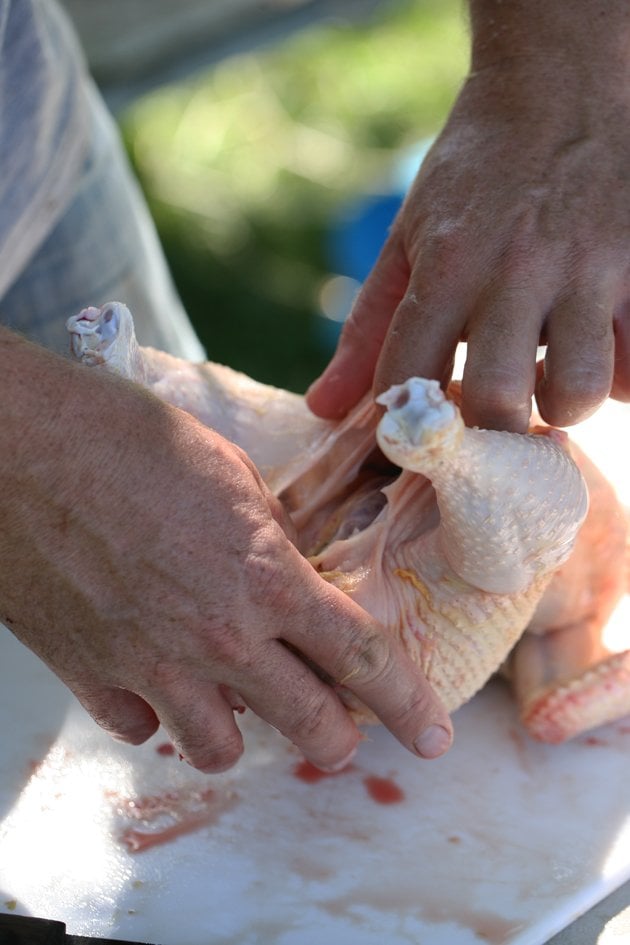 With both hands, enlarge the opening so you have access to all the inside of the bird.
Push your hand inside and what you are trying to do is to find this esophagus that you loosened before and kinda wrap it around your finger…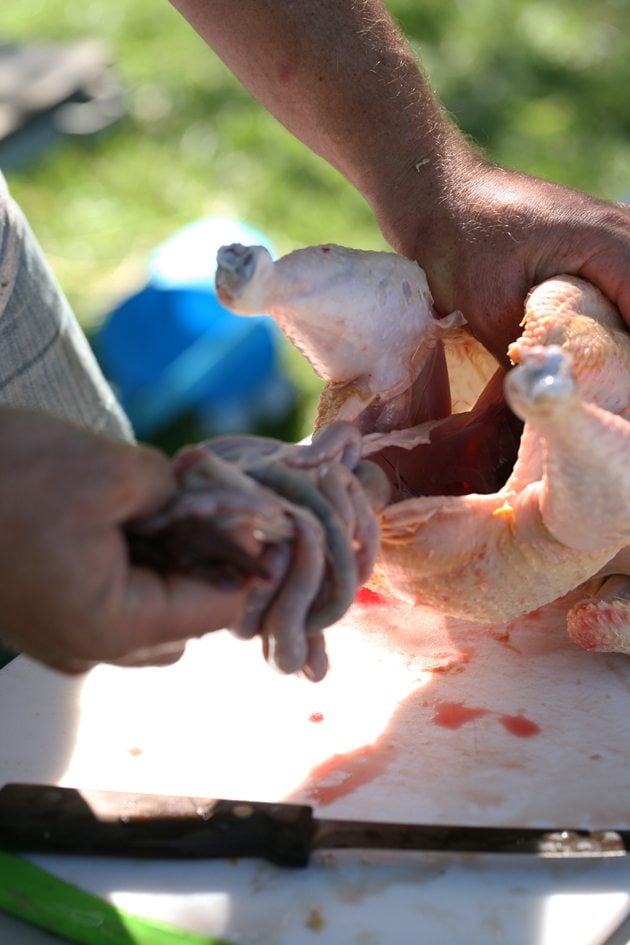 Then pull everything out.
This is easier said than done… It takes some practice but you'll figure it out after a few birds.
So now you have the intestines and some other organs, like the heart and the liver, in your hand but they are still connected to the vent. So to release it, make one cut on one side of the vent or the tail…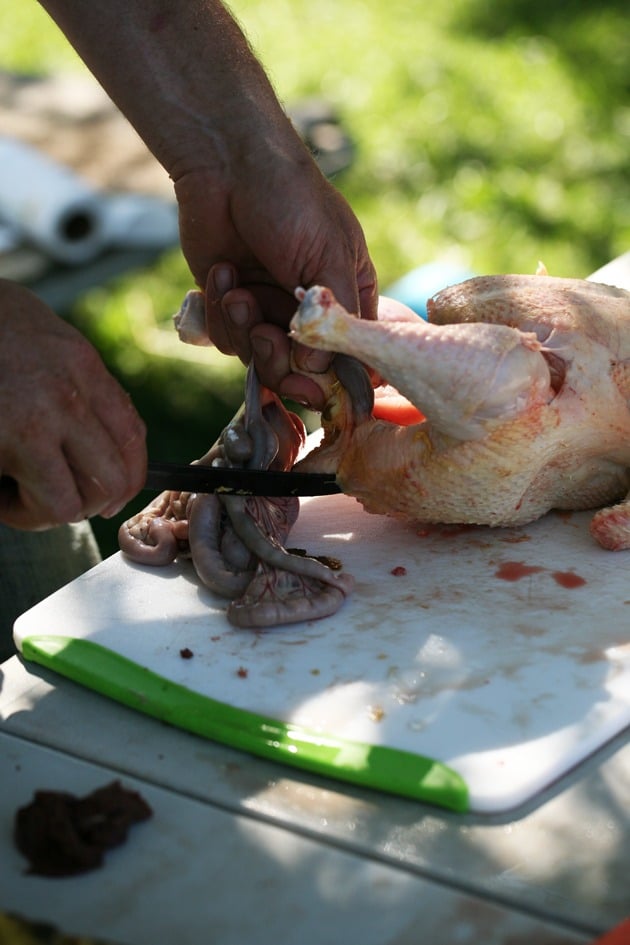 Then another cut on the other side and a final cut under the vent to release it (this is where we choose to remove the tail completely).
Connected to the digestive system that we just pulled out are the heart and the liver which you can save and eat. Here is a delicious recipe for those.
The intestines go to the garden or the compost pile.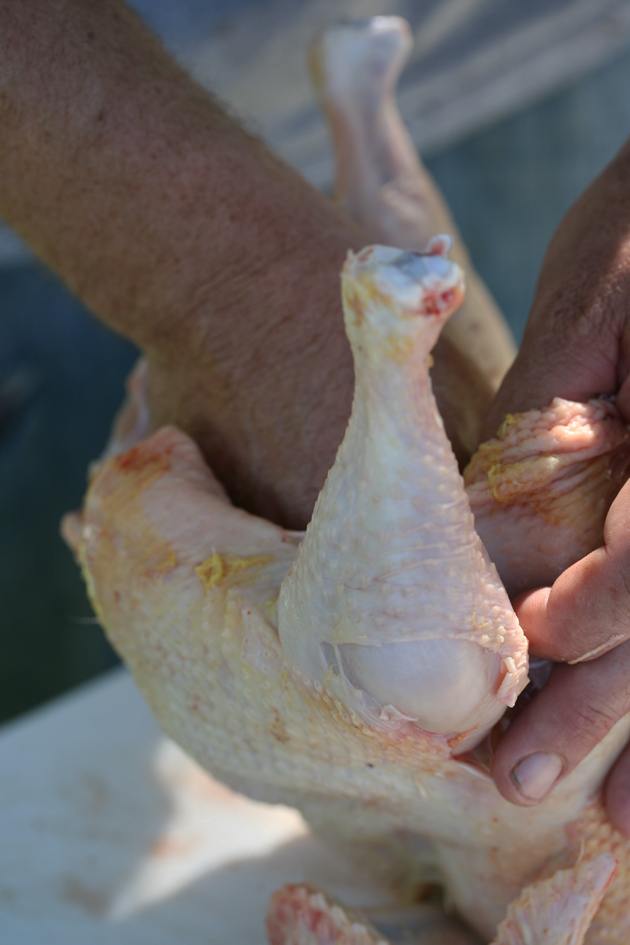 You will have to go in one more time…
To grab the lungs and the wind pipe before your chicken is clean.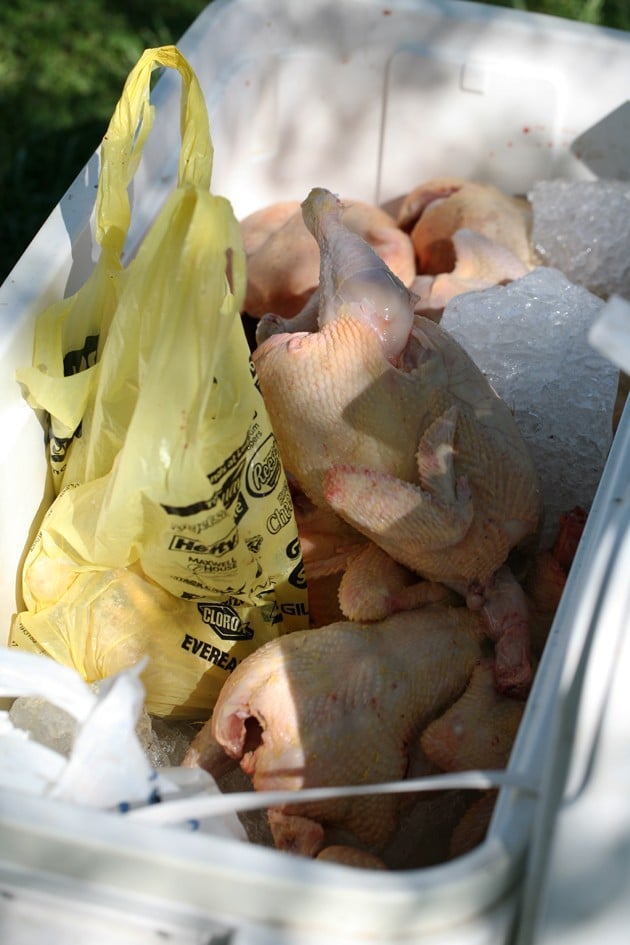 Rinse your chicken and place it in the cooler with ice. It will have to stay in the cooler for at least a few hours up to 24 hours before you wrap it and place it in the freezer.
To package your meat, you can use freezer paper or heat shrink bags. We didn't have either so we just used regular plastic food wrap but I don't recommend it. It will not protect from freezer burns.
We later removed the necks and saved them in a separate bag for soup.
That's it! You now have a freezer full of homegrown chickens! What an accomplishment.
If you would like to see the process of butchering a chicken done in a video, watch the amazing Joel Salatin do it here.
You will cook your homegrown chicken just as you will with a chicken you buy at the store. I found that our chicken meat, probably because the birds were actually moving around, had a bit more structure to it. It wasn't tough or hard to cook but I did need to cook it a little bit longer than the store-bought chicken (sometimes I process it in a pressure cooker before I use it).
It was a lot of work, to raise our own chickens, and you are probably wondering if it was financially worth it. I am not a mathematical person at all, and I usually do things mainly because I love doing them even if they don't make sense financially, but I tried to calculate it and in the 9 weeks that I had those 13 Cornish Cross chickens, they ate 3.5 bags of organic feed.
Each bag (40lb) cost me $25 for a total of $87.50.
We made it to butchering day with 12 chickens (one died, completely my fault! The 24 chicks I started with weren't all Cornich Cross, some were laying hens), so this comes down to $7.30 per bird.
If I went to the farmer's market at the closest city to buy an organic bird I'll probably pay around $25 a bird (they sell for about $6 a pound).
I did have a few more equipment expenses (feeders and such) but they are an investment and not something I'll have to spend money on again. And of course, we worked hard to get those birds in the freezer.
Money aside, in my eyes, this whole thing was worth it just because I know that the birds had a great, clean life, free of antibiotic, and full of sunshine and good food before they were butchered.
Since that experience with Cornish Cross chickens, I set up my little sustainable Black Australorps chicken operation (and I am also raising Muscovy ducks for meat). I don't need to order chicks anymore because the Australurps are great mothers and they go broody easily. I butcher them as we need meat.
This sounds great however you have to take into consideration that the meat from a heritage breed chicken who actually moved like a normal anomal is tougher than the meat of a Cornish Cross and it takes much longer for the Australorps to reach butchering size.
This is fine with me but doesn't work for many. The Cornish Cross chickens allow you to put a whole lot of meat in the freezer in a very short time. This is the main reason those birds are so popular.
I hope that you have a better understanding of the whole process of raising chickens for meat. If you have any questions or if you'd like to share your experience please comment below!