I go for a walk in my garden at least twice a day. It's not only a relaxing thing for me to do first thing in the morning and in the afternoon, it's also my bug patrol duty.
Last year I grew potatoes on our 20 acres of land. I didn't live close by back then, I lived an hour away in the city. I planted a 100 ft row of two kinds of potatoes and worked hard to hill them and care for them. Then came the colorado potato beetles and ate the 100 ft row in just a week or so.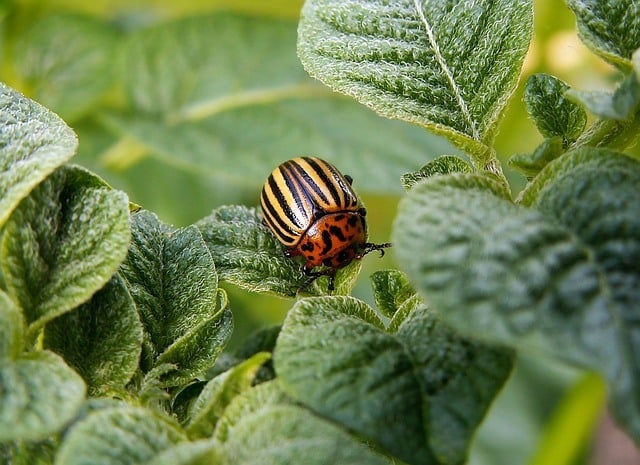 Since I wasn't close by to catch the problem when it started and I wasn't there to care for the plants every day, I've lost the battle very quickly. It only took them a few days to eat the whole 100 ft row of potato plants!
This year, I have a nice size garden close to our new house that is now across from our land (I am not growing anything there yet). And I promised myself that I am not going to lose any plants to vicious bugs this year.
The bugs don't know about my promise, though. Or they know and don't give a damn. because there are so many of them here in NC and they have found my garden yet again!
It's hot, it's wet, it's humid… It's the best place on earth for them to call home.
I am an organic gardener, so as long as the plants are doing good I didn't spray anything. I just make sure to feed them lots of compost and Espoma Garden-Tone — because we know that weak plants attract bugs much more than strong, healthy plants.
But it's the first year I am gardening here, and the soil is less than great, so I knew that even with compost and organic plant food my plants are not going to be at their best when it comes to fighting bugs.
And even if they were, well, I am sure the bugs will still try.
So I was waiting….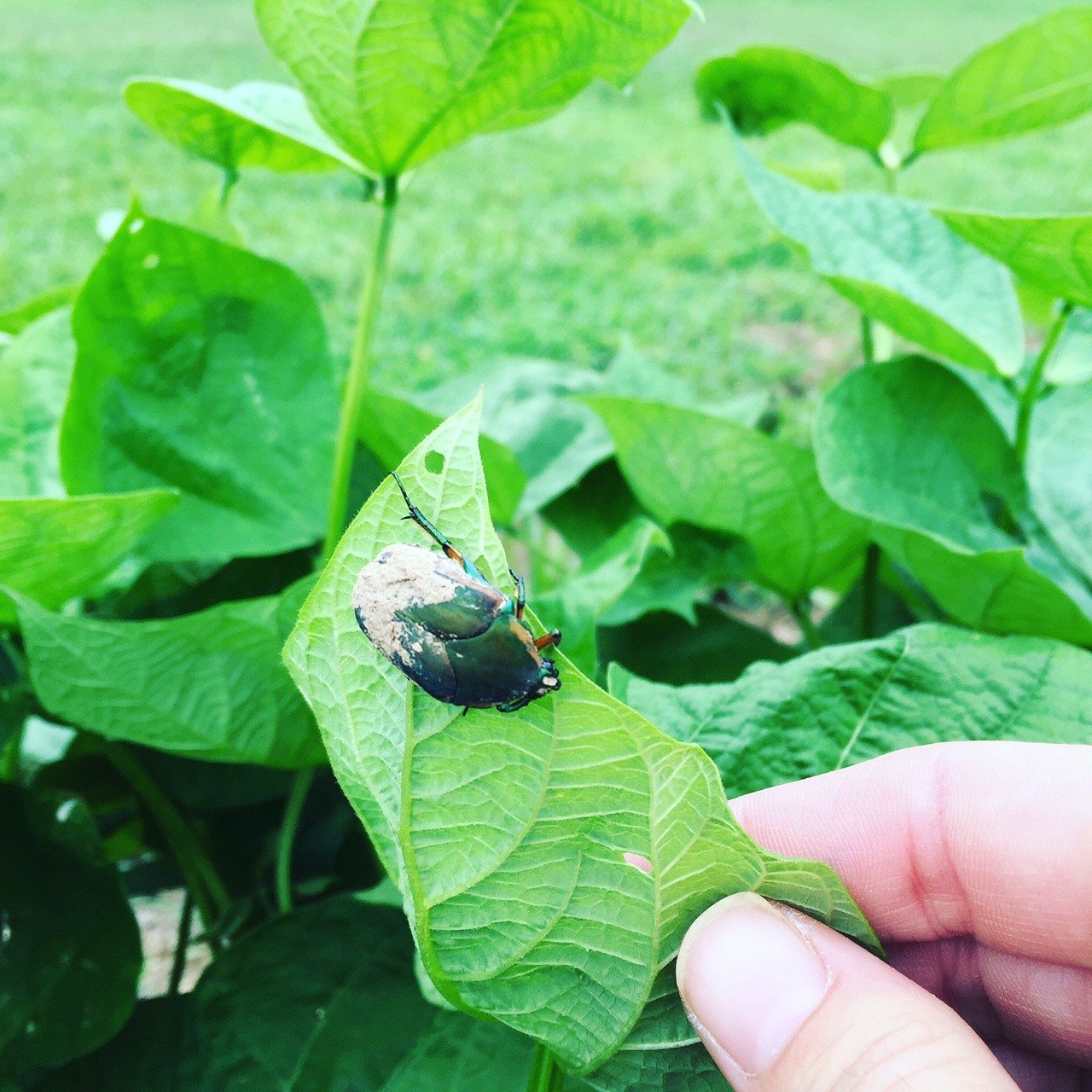 And a few day ago, on my walk in the garden, I spotted this lovely lady in the picture above on my bean plants. I later found her eggs (white tiny eggs in a cluster) on the underside of my pumpkin plants.
This is a Japanese beetle and I wish she would have stayed in Japan which is her original home and where she belongs. But I am originally from Israel and live in NC. America is totally awesome, so I kinda understand her…
I also spotted those eggs on the underside of my pumpkin plants. I didn't see the layer of those, which will be the ugly squash bug, but the eggs were everywhere.
OK, bugs, game on!
There are a few things one can do to fight those pests, but in this post, I am going to concentrate on one simple, organic solution… Because I am all about simple, man.
Neem Oil Extract.
The stuff is stinky but it kills the bugs all right.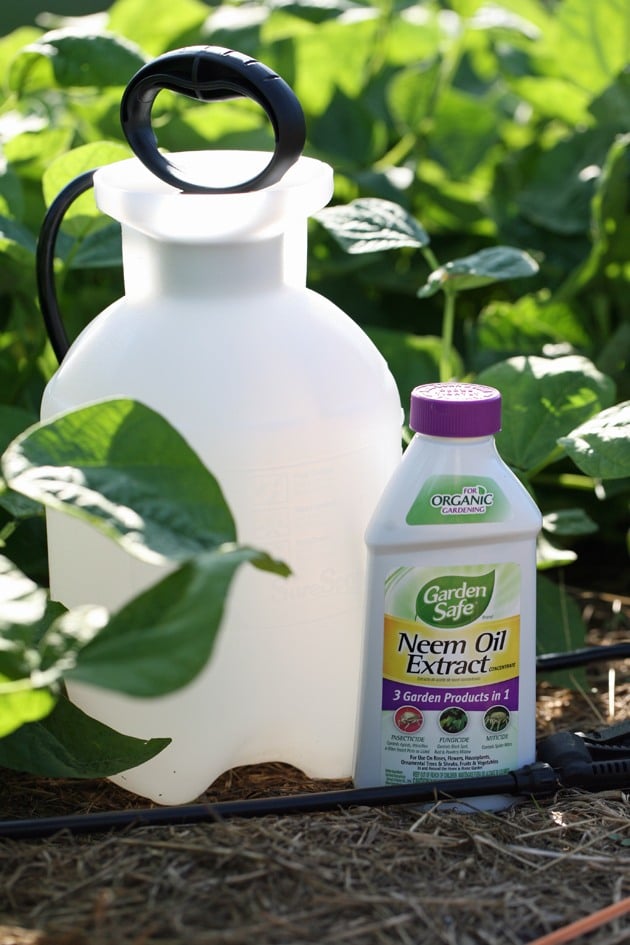 What is Neem Oil?
Neem oil is pressed from the fruit and the seed of the neem tree which is native to India.
It has a strong odor, which is probably one of the reasons it's so good at repelling insects. It can change in color a bit from golden yellow to dark or reddish brown.
Neem oil uses are not limited to the garden alone. It is used in preparing cosmetics, and in traditional Ayurvedic medicine (mostly for skin diseases, fever, and inflammation).
Use Neem Oil as Insecticide and Miticide
One of the many components of neem oil is called Azadirachtin. It acts as a repellent and reduces the ability of insects to feed. It also interferes with their hormones and makes it harder for them to make and lay eggs.
Here is a Japanese beetle I found in the garden a few days after spraying. Compare it to the first Japanese beetle picture from before. Do you see how its head is totally ruined?
Use Neem Oil as Fungicide
Neem oil is also supposed to be very helpful against root rot, black spots, mildew and scab, fungi, and mold. It can also be used to control bacterial diseases like fire blight.
Here is a picture of root rot on one of my pumpkin plants. This is from a few weeks ago before I found the beetles and started spraying neem oil. I guess next year I'll spray my pumpkin plants right from the beginning even if I don't see the bugs just to control rot and other fungi.
How to Apply Neem Oil
You will have to get some kind of sprayer when you get your neem oil if you don't already have one. I got this neem oil extract and this one-gallon sprayer for the job.
Then, just follow the directions on the bottle. I filled the sprayer with one gallon of water…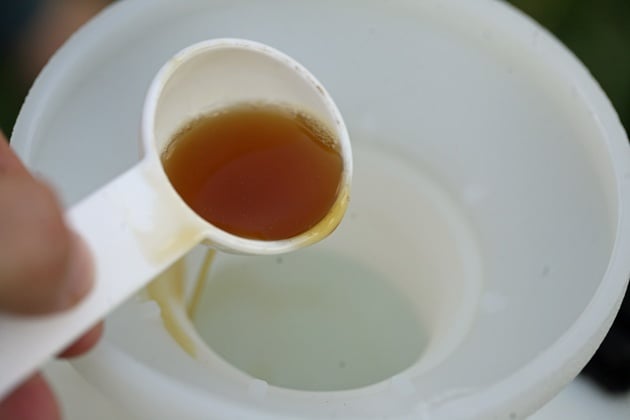 And added 3 tablespoons of oil. It says on the bottle to add between 2-4 tablespoons to each gallon of water, so I went with 3 tablespoons.
Then, just spray your plants.
Make sure to spray the underside of the leaves too. This is where the bugs like to lay their eggs.
Also, make sure to spray when it's not windy outside and every few minutes stop and shake the sprayer a bit to mix the solution.
You will have to repeat the spraying every seven days or so or after the rain washes it off the plants. If you are watering your garden, water at soil level so you don't wash the neem off the leaves.
I like to spray seedlings. It seems like the bugs here like to attack when the plants are young. This is my kale… Although it usually survives this stage, you can see how hard of a time it has to pass the seedling stage.
Those are lettuces that are coming up in a planter. I'll spray them when they are young, then when they are big enough to move to the garden, I will transplant them in the correct spacing, water well, and a few days later come and spray. The transplanting process is hard enough on them so hopefully the neem oil will at least keep the bugs away so they don't have to deal with them.
Is Neem Oil Safe?
Neem oil is considered an organic pesticide. It is non-toxic to birds, mammals, bees, and plants. It might be a bit toxic to fish and aquatic organisms so consider this before spraying around a pond, however, the aminal will have to eat the oil in order for it to harm it and the chance a fish will eat it is not likely.
In any case, try not to breathe it or touch it and make sure you dilute it according to instructions. It can cause irritation if it comes in contact with the skin or eyes (another reason not to spray when it's windy). If this happens, make sure to wash good with cold water and soap (if on skin).
I will show you, though, this poor dragonfly that I found dead on the bean plants after I sprayed. So I think neem oil will kill some insects that you don't necessarily want to kill.
I will also show you my cucumber plants. They were very green and beautiful before I sprayed.
I am not sure what happened, because, again, neem oil should be safe to all plants and flowers, and fruits. But those yellow spots appeared a few hours after I sprayed and some of the leaves died.
The plant is still alive, there are a lot of cucumbers that are growing and it doesn't seem like they are damaged in any way. This is the only plant this happened to, and I am really not sure why.
I think the lesson here is maybe to spray just one leaf first, give it a couple of hours and then spray the whole plant if it's a new plant you are spraying. But really, I should have not sprayed the cucumbers at all, they were beautiful and strong. I was just there with the sprayer so I sprayed. Looking back, it was a mistake.
Lastly, another thing to remember is to make sure you wash your vegetables and fruits good before eating them if you've been using neem oil.
I think that overall neem oil is a good thing to have around in case you find yourself under a bug attack. A small bottle will last a long time since it is concentrated. Remember to keep it at room temperature and sealed well, away from the reach of children.
I can already see cucumbers and tomatoes in this late garden I planted this year, but I sure hope I'll get to harvest some pumpkins and beans too. I have to say that aside from the bugs the biggest pests around here this year are the puppies. The two new puppies we got a few weeks ago seem to really love to wrestle in the hay mulch (squishing my young seedlings in their way) and they don't mind the neem oil much… But they are so darn cute there isn't much I can do about it.
Share with me your experience with neem oil. Have you been using it in your garden?