Neem oil is an organic pesticide that is safe for pollinators and plants yet can help you control insects, pests, and fungi in your garden. In this post, you'll learn how to use neem oil on plants.
---
I truly believe that with correct garden care you can prevent most of the problems that can come up in the garden like fungi, mold, pests, and rot.
However, sometimes there are stubborn bugs and difficult weather conditions that are not in our control. These garden guests and uncontrolled conditions can sometimes cause the loss of crop that you worked really hard to grow.
Every gardener should have a few "emergency" solutions ready just in case and if you are an organic gardener, you'd probably prefer the solution to be an organic one and one that is safe for the environment.
And that's where neem oil comes in!
How to Use Neem Oil on Plants…
If you make sure to improve your soil, to space your plants correctly, to prune your plants (if there is a need), to fertilize them with worm castings or another organic fertilizer, or if you make sure to add a lot of compost to your beds yet you still find yourself losing plants to mean and unwelcome pests, mold, or fungi, neem oil might be a great organic solution.
What is Neem Oil?
Neem oil is pressed from seeds obtained from the neem tree (Azadirachta indica) which is native to India. Its color varies from yellow to brown and it has a garlic/sulfur smell to it. The most active component in neem oil is called Azadirachtin, it has the ability to repel and kill pests.
Neem oil uses are not limited to the garden alone. It is used in preparing cosmetics, and in traditional Ayurvedic medicine (mostly for skin diseases, fever, and inflammation), however, in this post we'll focus on how to use neem oil in the garden.
Is Neem Oil Safe?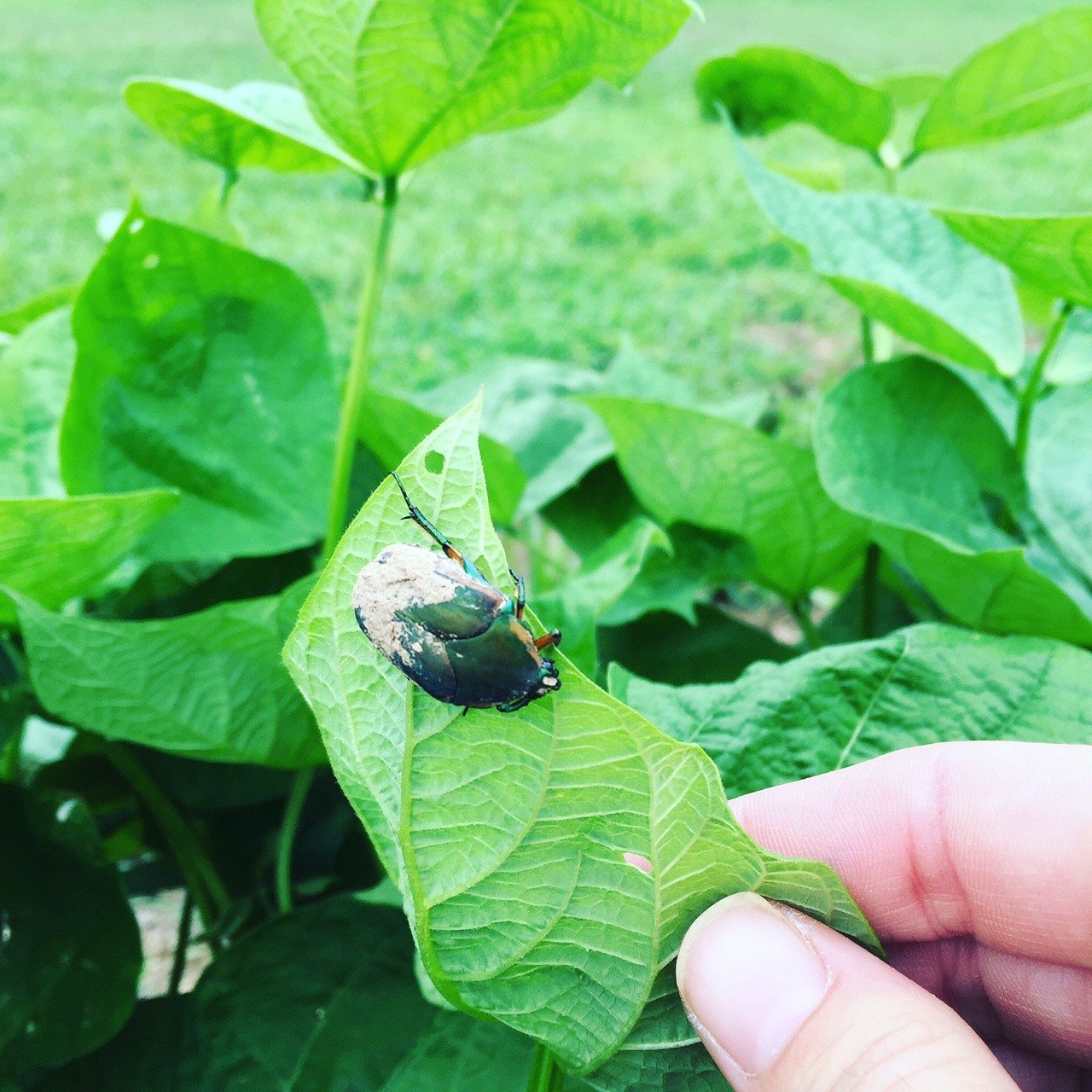 Neem oil is non-toxic to birds, fish, mammals, bees, and plants.
Neem oil will not harm bees and other beneficial pollinators because it's only harmful to pests when they eat it. Since bees and other pollinators don't eat the sprayed leaves of the plant, neem oil won't hurt them.
If you come in contact with the neem oil that you bought for your garden, it can cause irritation and redness to your skin but other than that it's not harmful. Take into consideration that children's skin is a bit more sensitive than adult skin.
Neem oil is also safe to spray if you have cats and dogs around. Since they don't eat the garden plants they'll be safe.
Where to Buy Neem Oil?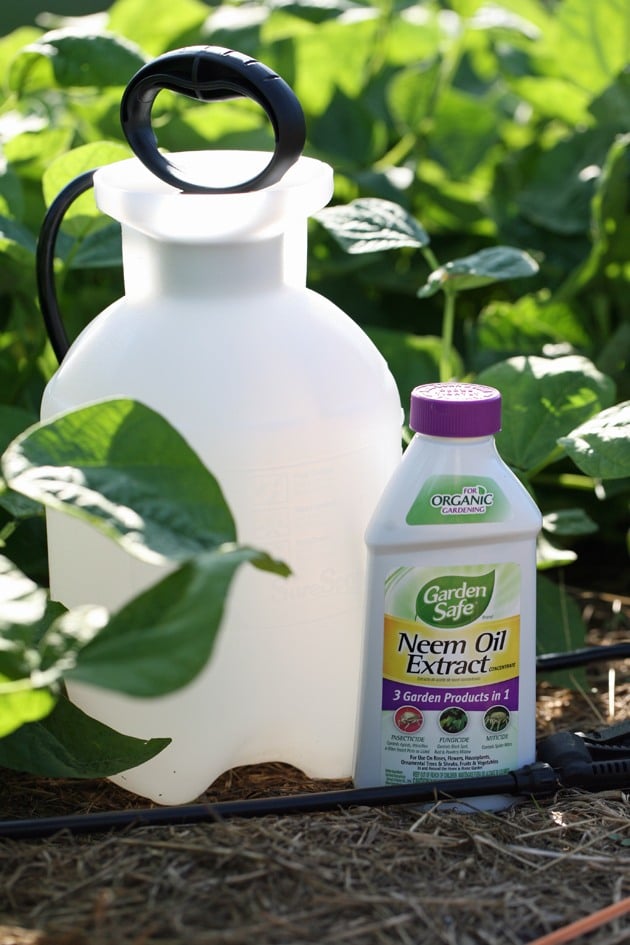 You can find neem oil in most garden centers during the spring and summer. You will most likely find it at stores like Walmart for example. If you want to purchase it online, you can find it on Amazon here.
Neem oil usually comes in a small bottle in a concentrated liquid form. You then mix some of the oil with water to create a diluted spray that you spray on your plants. So make sure that you have a spray bottle that you can use (I usually use a one-gallon pump sprayer).
Neem Oil Uses…
Neem oil can be used as an organic pesticide in the vegetable garden, flower garden, or even on fruit trees. It can't be used as a herbicide (to control weeds).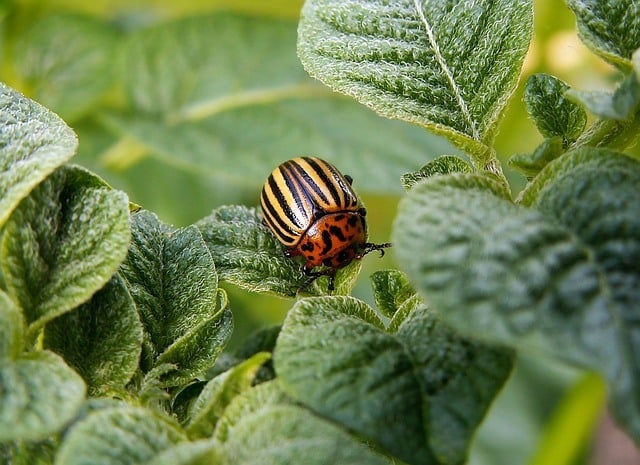 Neem oil as an insecticide – like I mentioned before, neem oil can be used to kill insects that eat the leaves of garden plants like the Japanese beetle, the Colorado potato beetle, aphids, and so on.
Once insects eat the sprayed plants, the oil damages their digestive system and makes it hard for them to eat. It also has a negative effect on their hormones making it hard for them to reproduce. After just a few hours, they'll die.
The smell of neem oil will also repel many insects from landing on your garden plants.
Neem oil as fungicide – neem oil is also helpful against root rot, black spots, mildew and scab, fungi, and mold. It can also be used to control bacterial diseases like fire blight.
The bottom line is that neem oil is safe for plants and won't harm beneficial insects so if you find that you have a problem in the garden that you can't find a solution for, maybe a sort of mold or an unrecognized insect, you can try spraying neem oil since it can be beneficial in many situations.
How to Mix Neem Oil For Plants…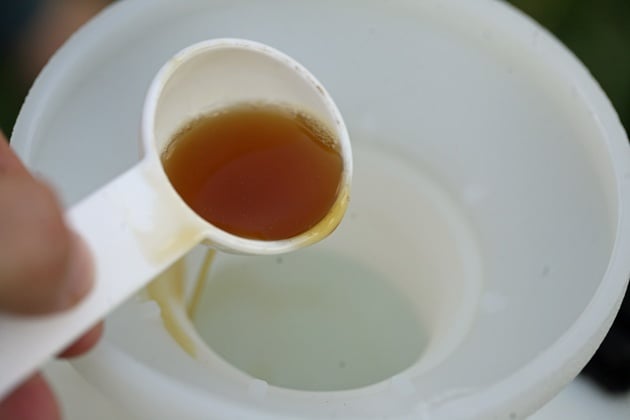 Mix 2-3 tablespoons of neem oil into a gallon of water. It's best to use a sprayer that is set aside just for neem oil.
How Often to Spray Neem Oil?
The only downside of neem oil is that it breaks down quickly.
The National Pesticide Information Center states:
The half-life of azadirachtin in soil ranges from 3 – 44 days. In water, the half-life ranges from 48 minutes to 4 days. It also rapidly breaks down on plant leaves; the half-life if 1 – 2.5 days.
This means that it's best to spray every few days. You'll also have to spray after every rainy day because the rain will wash the neem oil off the plants leaves.
Another reason to spray every few days is because neem oil doesn't kill the insect's eggs so you'll want to keep spraying and killing the new ones that hatch from the eggs.
It's also best to spray on a non-windy day and wear long sleeves, gloves and glasses. Make sure to spray the tops but also the bottom of the leaves since many insects live there and lay their eggs there.
I usually don't spray baby plants. I wait until the plants are at least 8 inches tall before I start spraying them.
---
Neem oil is a very easy solution for the organic gardener. If you make sure to have a dedicated sprayer for it and have it close to the garden, it's easy to spray every few days and keep the insects under control.
If you have experience with neem oil, please share it with us in the comments below.
If you liked this post, check out my other gardening posts…
How to Grow Mint From Cuttings
How to Plan a Vegetable Garden
Best Vegetable Varieties to Grow in a Kid Friendly Garden
Grafting Fruit Trees – A Step by Step Picture Tutorial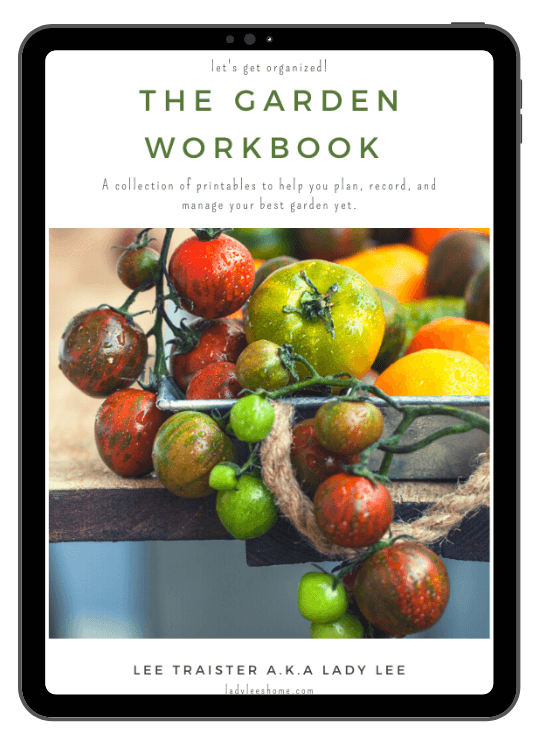 The Garden Workbook is Here!
In part one of this book, we'll go over how to set up and grow your best garden yet.
Part two consists of 16 garden printables to help you plan, record, and manage your garden properly!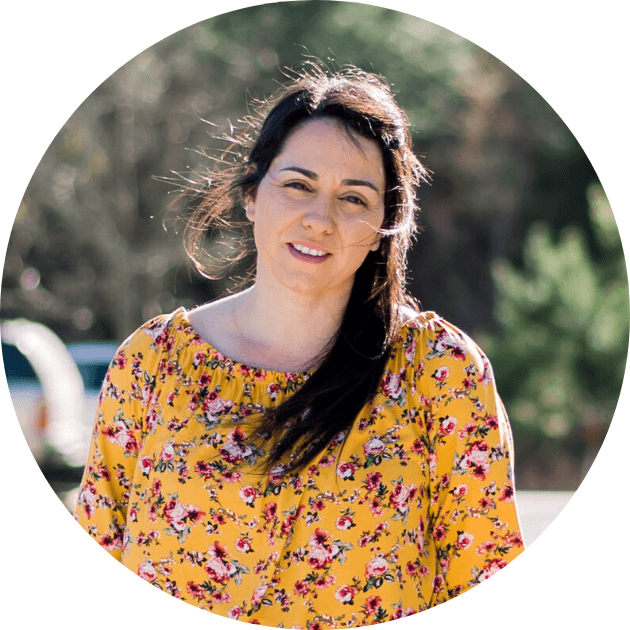 Hi! I'm Lady Lee. I help homesteaders simplify their homesteading journey while still producing a ton of food! I am a single mother of four, I was born in Israel and raised in an agricultural commune called a Kibbutz. Now I homestead in central NC.