In this post, I'll share with you 18 of my favorite vegetable varieties to grow in a kid-friendly vegetable garden. These vegetables are small, colorful, tasty, and fun to grow.
---
During the growing season, we spend most of our time outdoors. I spend a lot of my time in the garden and the kids are always around too. They love running between the rows, digging in the soil, planting, picking and so on.
I love that they love gardening. I love that they make it a mini world and play games there. I used to think about the garden only from the food production point of view. The main focus for me was to grow as much as I could in the space.
It's still the main focus, but after years of observing the kids, I now have the desire to make it pretty and fun in addition to it being productive.
Best Varieties For a Kid-Friendly Vegetable Garden…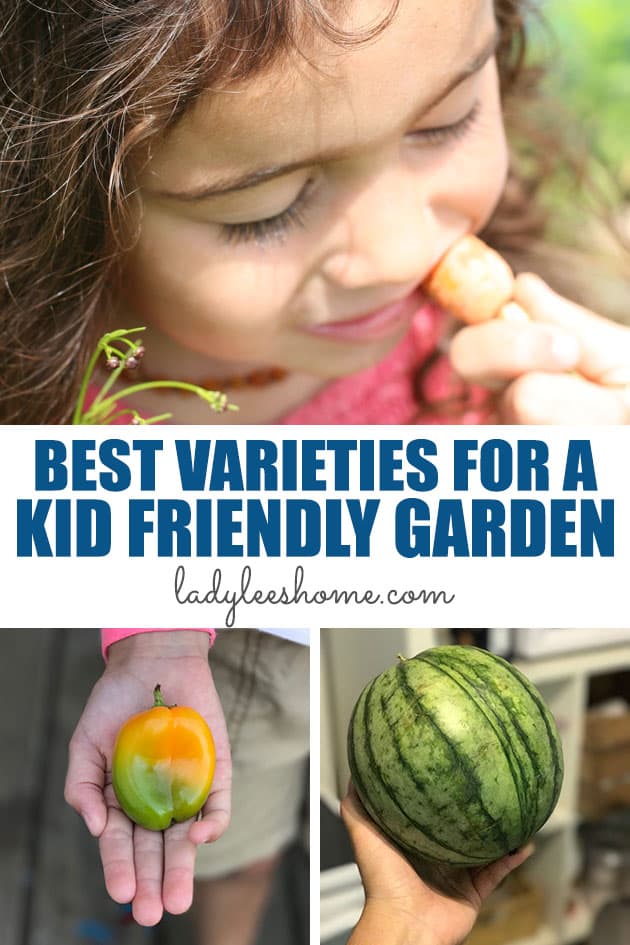 I want to create a place where they can let their imagination go wild and their hands get dirty. And while they are at it, let's make sure they have enough to keep their bellies full!
But let's be honest here for a second… If you have young kids you know that gardening with kids when you actually want to produce food is not always easy. My kids are getting older now so I can incorporate the main garden with the kids garden and this makes it easy for me but I have to admit that when they were all under 5 years old I had more than a few garden meltdowns.
There were times when my three year old decided to dig at that spot where I just spent three hours working the soil, spreading manure, pulling weeds, and planting new tomato transplants that I spent 8 weeks babying. Did I mention he stomped on, crushed, and killed the transplants?
It wasn't wonderful then.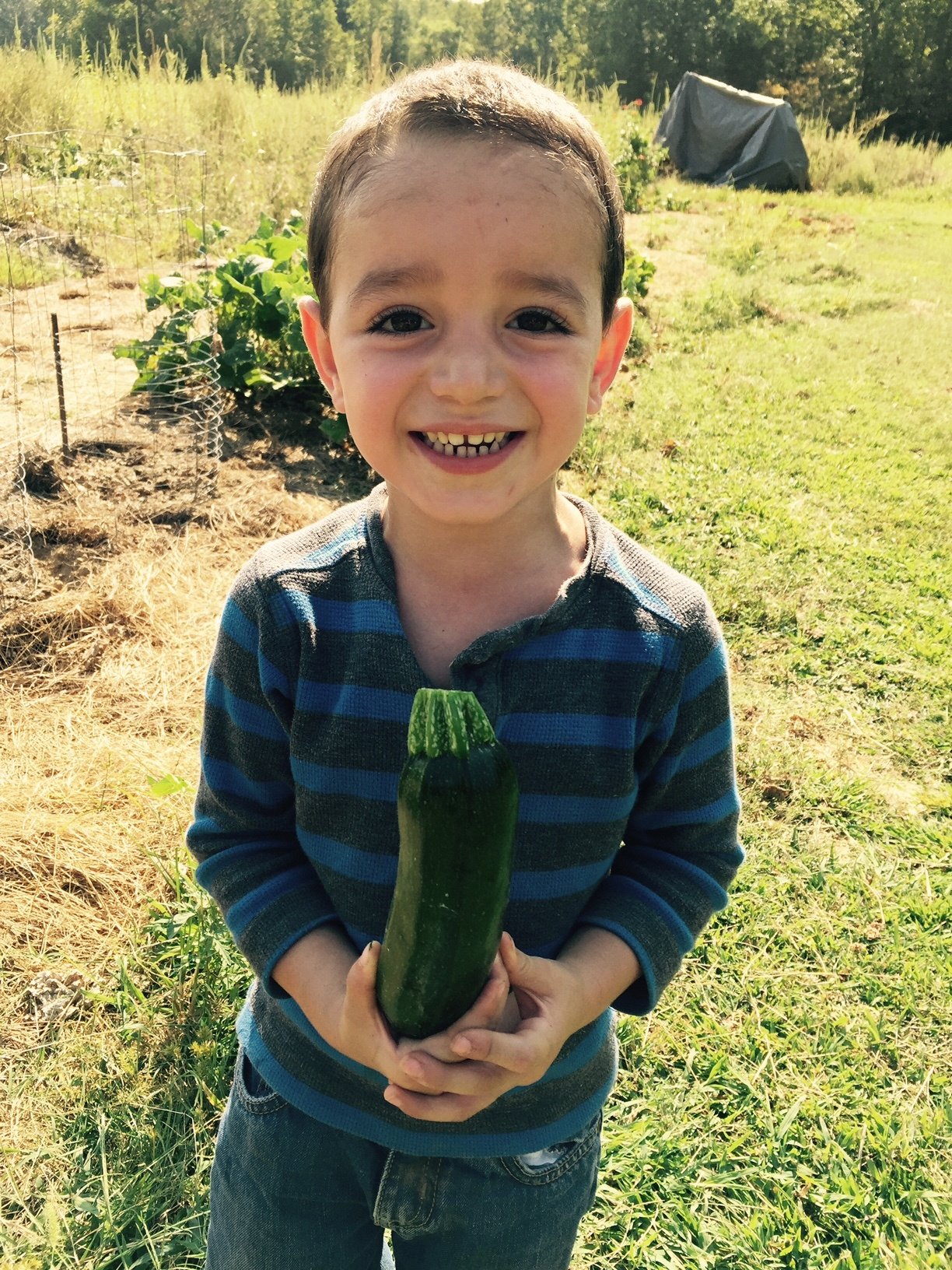 Maybe it's just me and my temper, God knows I have a lot to learn about being patient, but there were a few times I wanted to strangle the kid. In his eyes, though, he didn't do anything wrong, he was just working in the garden, being a good helper like everyone always wants him to be.
If you have young kids, it might be a good idea to section your garden and give them their own space where they can dig, plant, pull, harvest, plant again, picnic, pretend they are insects, dig some more, get dirty, eat, dig again, and eat some more.
A place that you don't count on for food production, a place where they can have fun and practice without messing your hard work. I struggled with this idea for a while because it felt like I was trying to keep my kids away when the whole point of living this homesteading lifestyle is to have them grow closer to me and to the land.
But I made peace with the fact that it's ok for them to know that there is a space we can play in and a space we don't play in because we rely on it to feed us. I also found that my kids love having their own space where they can make decisions and create something the way they want to.
Requirements For a Kid Friendly Garden…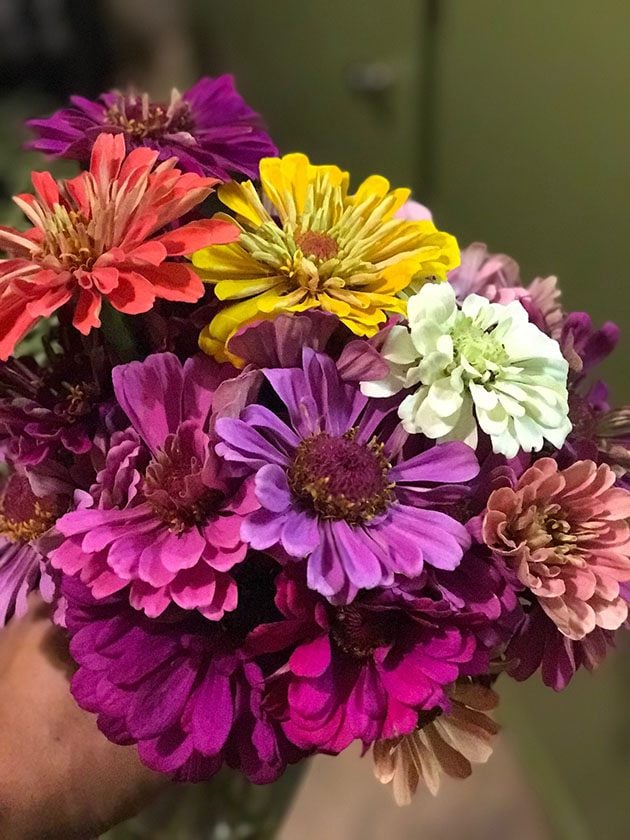 Colorful and pretty – think red, pink, orange, purple vegetables. Kids love colors! It makes them so excited when they pull a purple carrot from the ground.
To make the garden prettier, we added a couple of varieties of flowers. You can choose a seed mix and get many colors even for just one kind of flower. Flowers are not only beautiful and fun for the kids to pick they also attract butterflies and bees which are fascinating for the kids (and their mama) to watch.
Small vegetable varieties – we chose small varieties, for example, Matt's Wild cherry tomatoes instead of larger varieties of tomatoes, small cucumbers instead of the big, full-size ones. I wanted it to be easy for them to pick and eat straight from the garden. A growing snack bar is the main idea here.
Cool structures – there are so many cool structures that we can build in this garden like a bean teepee or an arched trellis for peas. I am thinking of structures that the kids can sit in or play in/with. We will create a picnic area, maybe from hay bales or logs or other natural materials. A fairy garden will also be fun to make.
Vegetables that they like to eat – it would be a waste of time to plant okra, they are not going to eat it. We are looking for things they can eat right there in the garden. Zucchini won't work either, cabbage or onions won't do. You'll see below that I mainly include varieties that they can eat right there in the garden. In the main "adult" garden I'll grow the rest of the stuff.
Grow fruits – this is a tough one because there aren't a lot of fruit plants that will give you fruit the first year. But there are a few, like watermelons or cantaloupe or ground cherries.
We now also grow strawberries! I planted them two years ago and they are doing great. They usually don't make it to the fridge.
18 Varieties For a Kid-Friendly Garden…
Beans – I had a lot of success with Fortex beans in the past so I am sticking with them (here is more about how to grow beans). They climb high and are great for a bean teepee and they produce a lot of beans. My kids eat beans fresh from the garden but we also steam beans and season them with butter and garlic.
I've never grown Red Noodle Beans but I think it will be nice to try them in the kids' garden. They are so long and cool looking, I think my kids will love them but I'm not sure they are good to eat fresh from the vine.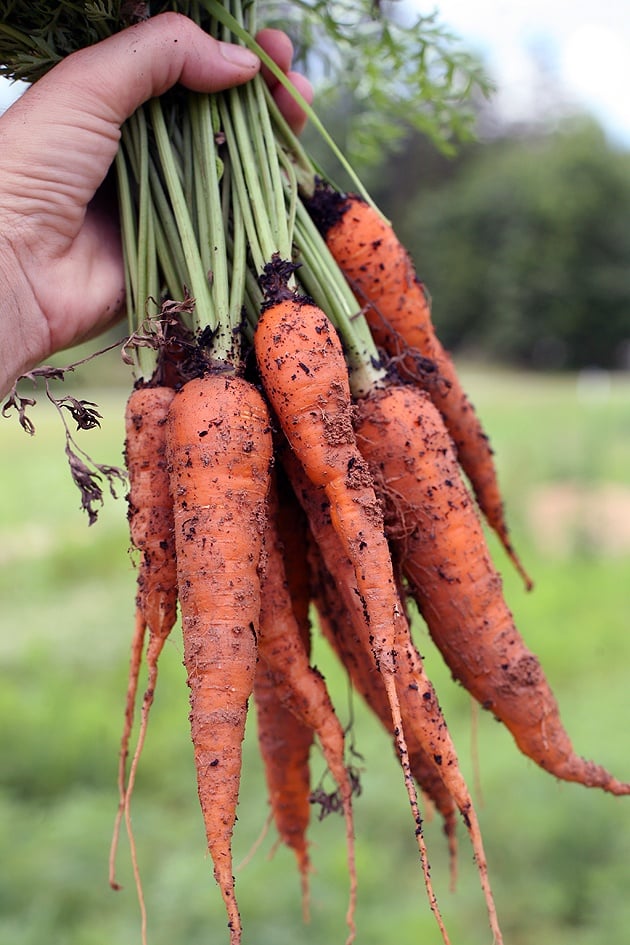 Carrots – I grow two varieties: Danvers which is the standard orange carrot and Purple Dragon which is a purple variety. I think that orange carrots taste better than colorful carrots but just for the fun of having a colorful carrot, I grow the purple ones too.
Pulling carrots is my kids' favorite activity! Many of the carrots don't even see the kitchen. I do make sure to keep the tops for carrot top pesto.
Cucumbers – my favorite is a variety called Muncher cucumbers. I've grown them a few times and they've never let me down. They are small and seedless and very crunchy.
Mexican Sour Gherkin is a new variety that I want to try. They are a 1" cucumber that looks like a tiny watermelon but tastes like a cucumber, isn't that fun? I think any kid will love picking those, hopefully, the flavor is good too!
We are also going to grow Arkansas Little for pickling. My kids LOVE Israeli fermented pickles and I hope that I can ferment enough for the whole year from the summer garden.
Cantaloupe – in the past, we had a lot of success with Sarah's Choice here (pictured above). It is sweet and juicy. This year we are going to try Sugar Cube. Should be just as sweet but a bit smaller.
Peas – if there is one veggie I can't grow enough of is peas. There are daily life-threatening fights in the garden over the peas. We grow Sugar Snap for fresh eating and Little Marvel Dwarf for shelling so they can mess with finding the treasure inside.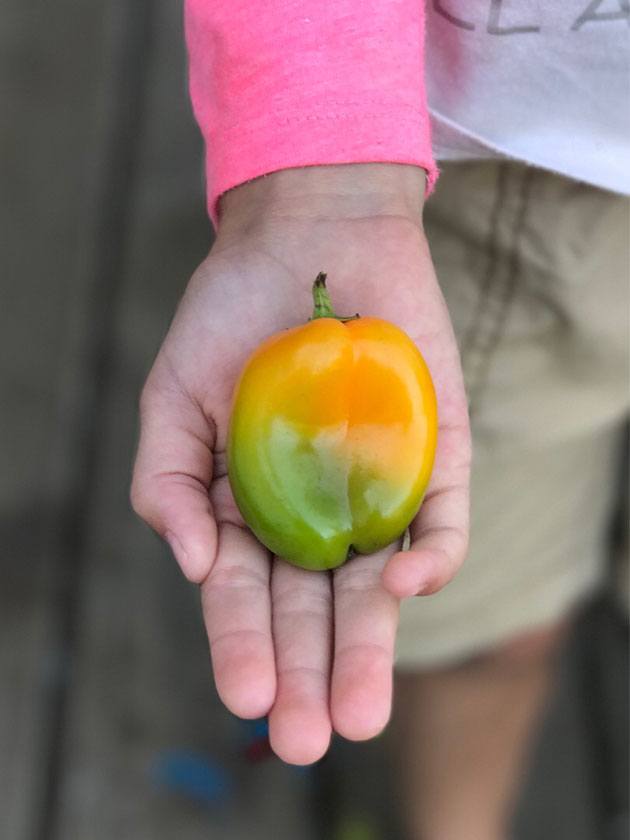 Peppers – I grow the red Lunchbox peppers from Johnny's (in the picture is an orange Lunchbox pepper from the mixed Lunchbox seed pack. I find that the red peppers are the sweetest so I grow only them now). They are small, they are beautiful, they are sweet, and the plants produce a lot of peppers. You also don't have issues like blossom end rot and such, the plant does not require as much from the soil.
Radish – Easter Egg radishes are colorful and fun. First, they are beautiful, and second, they are mild. They are also fast-growing which is great because kids aren't the most patient creatures. With what they don't eat right there in the garden I make a few jars of fermented radishes every spring.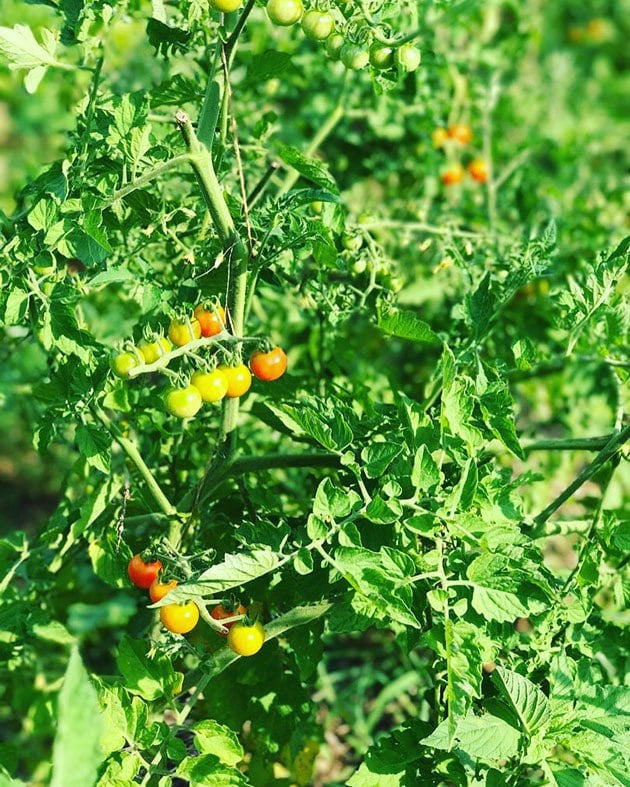 Cherry tomatoes – you can get a serious headache when trying to select tomato varieties for your garden. There are so many different tomatoes and they all look so tasty and beautiful.
After years of growing tomatoes, I have five favorite varieties. For the kids' garden, Matt's Wild tomatoes fit the bill just right. They are tinier than a cherry tomato and there are a ton of them on each vine. The kids pick them and snack on them in the garden and I throw them in a fresh summer salad.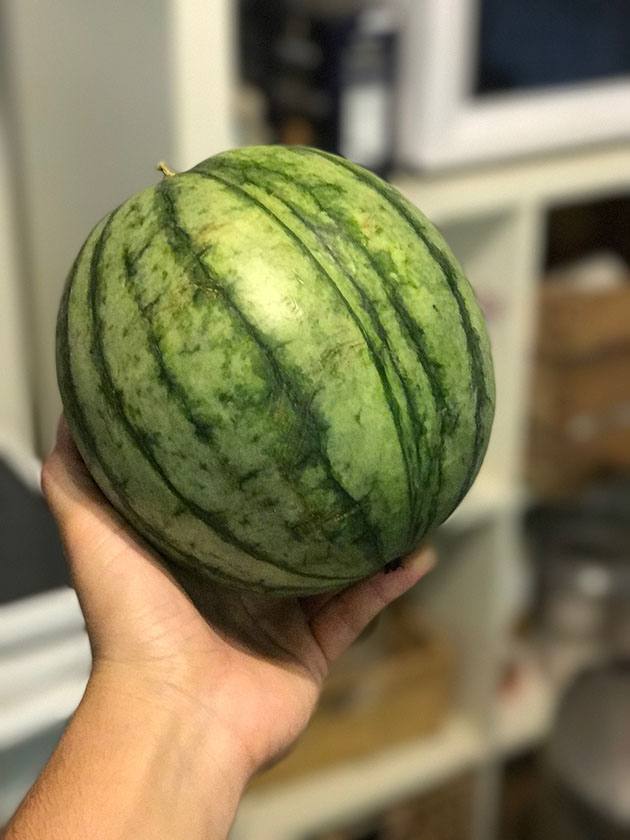 Watermelons – we grow Crimson Sweet watermelon. They are not too big and so very sweet.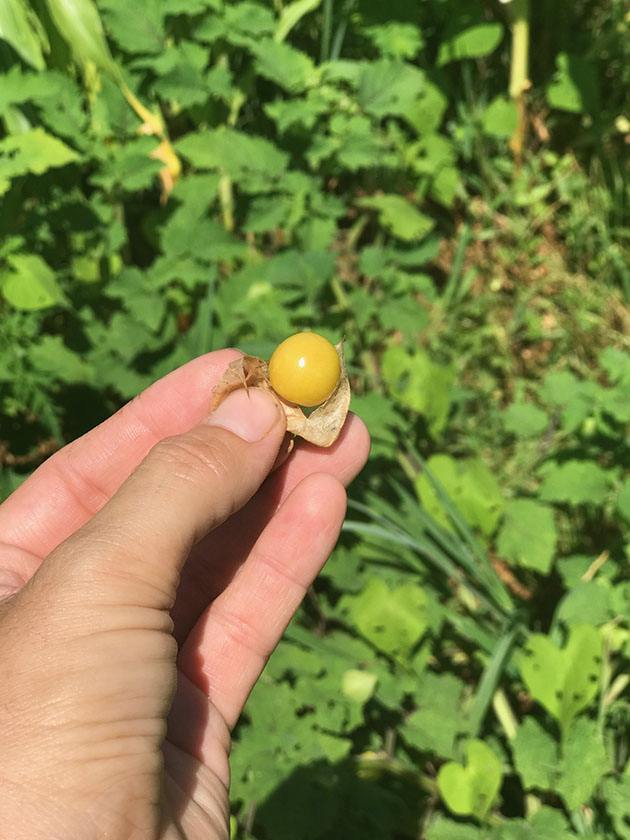 Ground Cherries – I came across this plant when I was looking for fruit plants that will produce fruit the first year. Ground cherries are smaller than cherry tomatoes, they are golden and are sweet and wild tasting with a bit of pineapple flavor.
They are so much fun! The seeds are tiny (smaller than carrot seeds!) but they grow into big plants with lots of little, yellow, round, marble-sized fruit that is inside the husk. They are fun to pick and peel (it's like hunting treasure…) and they are tasty.
Marigolds – this year I'll try Naughty Marietta. They have a strong stem so they will be great as cut flowers, they are annuals, and very beautiful.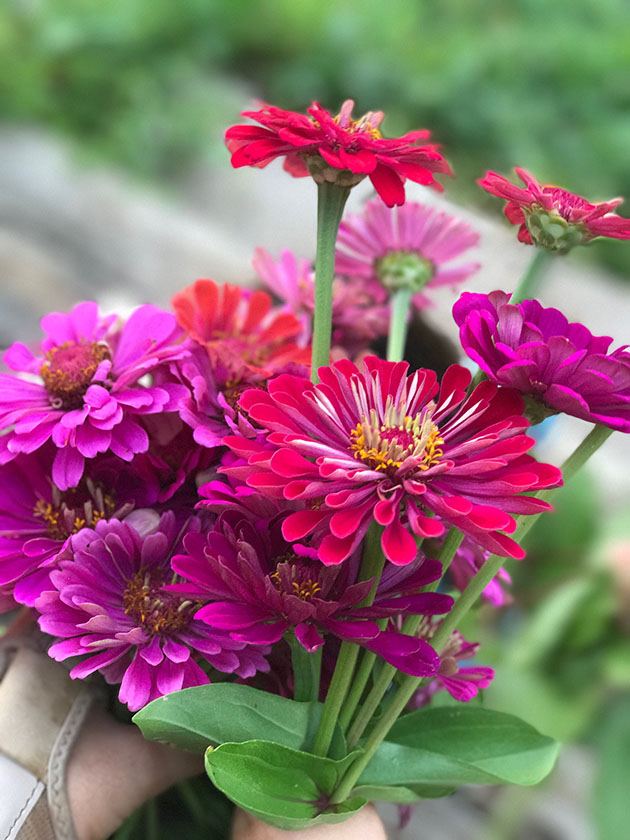 Zinnia – this is the only flower I have experience with. I have grown zinnias a couple of years and have to admit that sometimes they make it hard to concentrate on the vegetables. I'm sticking with Sunbow Mix here.
Gourds – I am so excited to try gourds! I think my kids will love this ornamental. Even though it's not a plant they would eat right there in the garden I wanted to list it here because I can only imagine how wild they will go when I show them how they can GROW birdhouses. This is going to be super cool. I am going to try Brandshaw's Ornamental.
Where to Buy Seeds For a Kid-Friendly Garden…
I buy all of my seeds from Johnny's Selected Seeds and Southern Exposure Seed Exchange.
Of course, there are many other plants my kids love to grow and help with. One good example is sweet potatoes. They love harvesting sweet potatoes but I didn't include them here because they can't eat them right in the garden.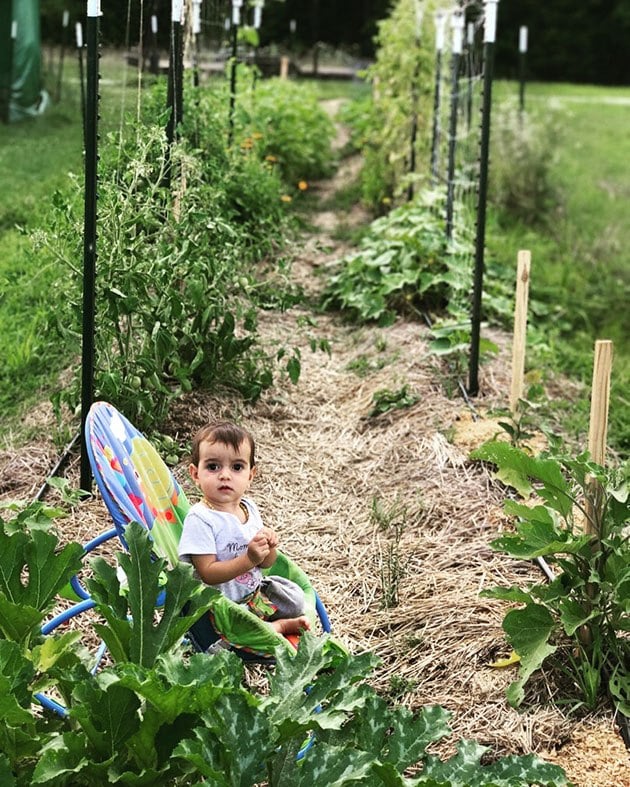 The funny thing is that after a couple of years of doing this I now find that it's actually much easier to grow these small vegetable varieties. For example, one vine of Matt's Wild tomatoes can literally produce all the tomatoes I need for fresh eating for all of us for the whole season!
There is no blossom end rot, I don't need to worry about the tomatoes being too heavy for the plant like Cherokee Purples are often… It's just so much easier to grow these.
The same goes for peppers. Growing Lunchbox Peppers is so much easier than growing bell peppers. They taste the same but there is no blossom end rot or anything like that. Supporting the plant simply means tying it to a stick. It's super simple and you get so many peppers from one plant.
So this experiment of a kid-friendly garden actually taught me a whole lot. I ended up changing many of the varieties in the main garden to the varieties that I chose for the kids and they became my main varieties. I found that it's much easier and more productive to grow small cantaloupes, the same with watermelons and many others.
---
Now that I feel like I have my varieties set and I know what I'm doing in that department, I want to concentrate a little bit more on fun structures. Arches, teepees, a sitting area, butterfly houses… It will be so much fun having those around and it will be fun working on those projects with the kids.
How do you garden with kids? Do you have a favorite variety to grow for and with the kids? I'd love to hear from you so take a moment to comment below and share your experience!
More gardening posts on the blog…
How to Plan a Vegetable Garden in 7 Simple Steps
Where to Plant a Vegetable Garden
How to Make Toilet Paper Roll Seed Starter Pots
How to Create a Planting Schedule For a Vegetable Garden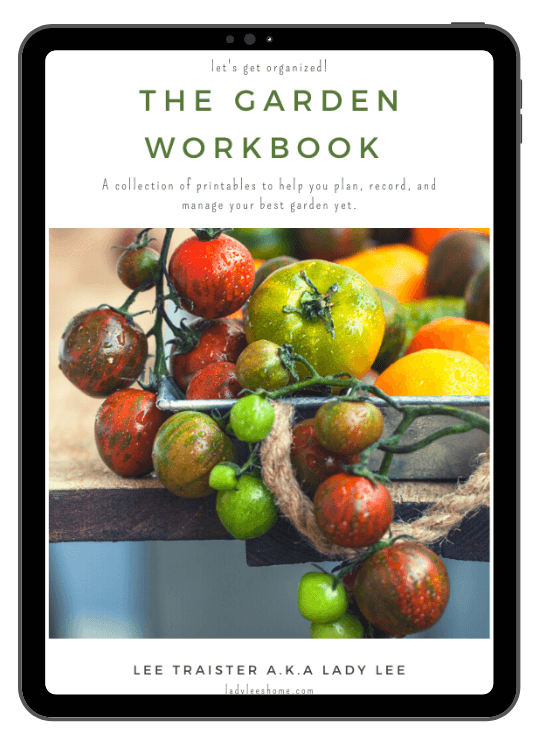 The Garden Workbook is Here!
In part one of this book, we'll go over how to set up and grow your best garden yet.
Part two consists of 16 garden printables to help you plan, record, and manage your garden properly!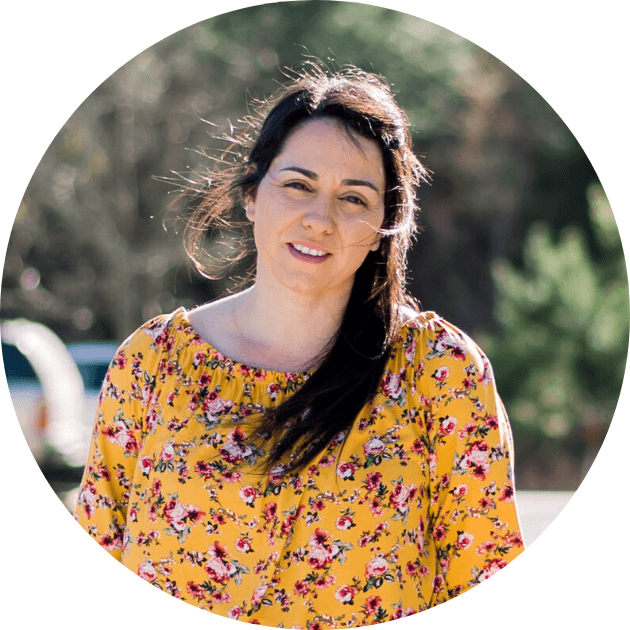 Hi! I'm Lady Lee. I help homesteaders simplify their homesteading journey while still producing a ton of food! I am a single mother of four, I was born in Israel and raised in an agricultural commune called a Kibbutz. Now I homestead in central NC.