Creating a garden for my kids is something that is on my mind for a while, now, after we moved out to the country, I finally have the space to do it.
During the growing season, we spend most of our time outdoors. I spend a lot of my time in the garden and the kids are always around too. But I think it's not only because of me that they hang around the garden. Even if I'm not there I often see them playing in between the plants, pretending they are insects or what not.
I love that they love the plants. I love that they make it a mini world and play games there. I want to create a place where they can let their imagination go wild and their hands get dirty. And while they are at it, let's make sure they have enough to keep their bellies full.
But let's be honest here for a second… It all sounds wonderful, "garden with your kids" they always say, "let them work alongside you", Yeah, I agree. So far, they always spent their time in the main garden, where we grow our food, the only garden we had, and it was great…
Until my three years old decides to dig at that spot where I just spent three hours working the soil,  spreading manure, pulling weeds, and planting new tomato transplants that I spent 8 weeks babying. Did I mention he stomped on, crushed, and killed the transplants?
It ain't wonderful then.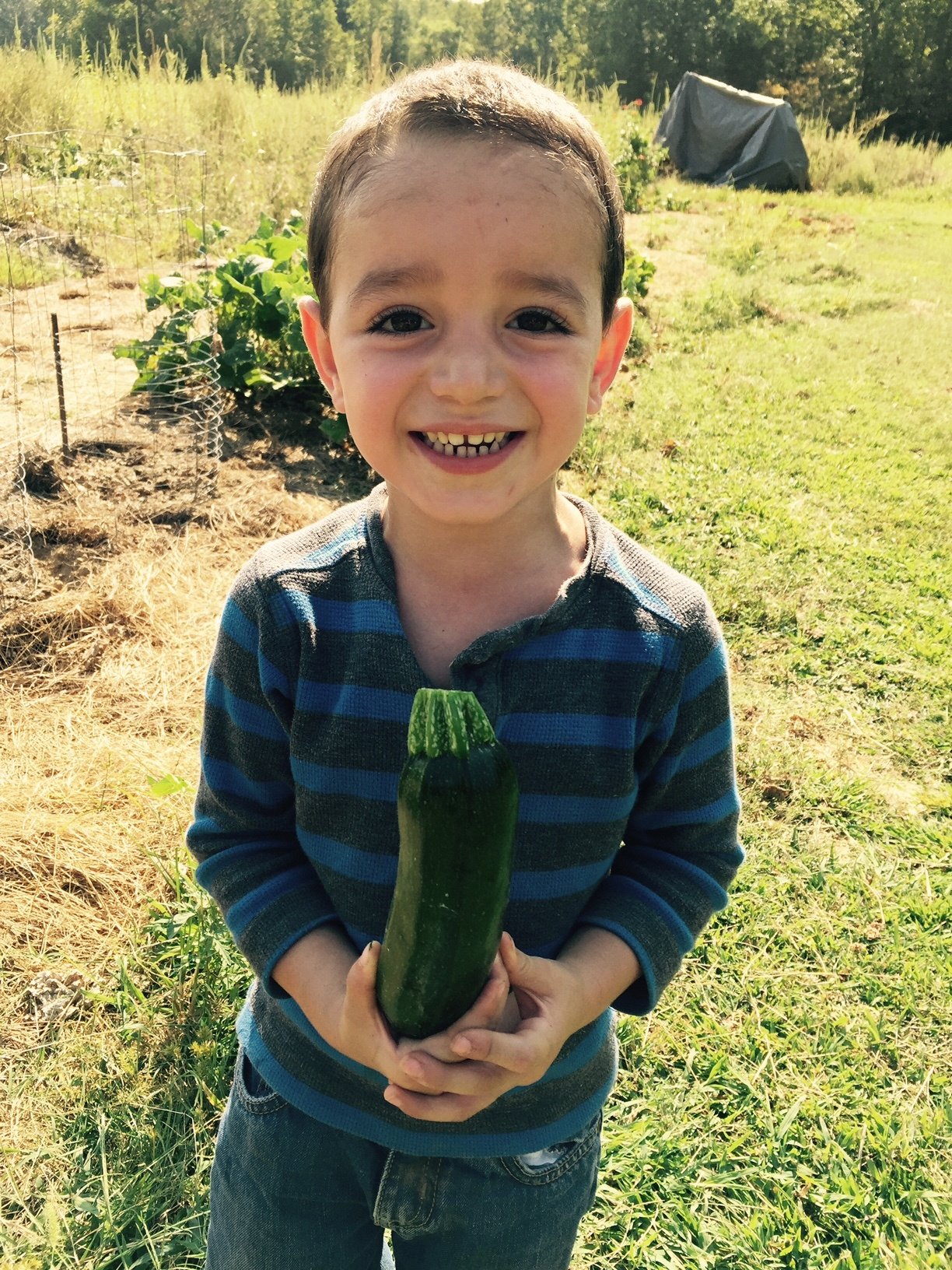 Maybe it's just me and my temper, God knows I have a lot to learn about being patient, but there were a few times I wanted to strangle the kid.
In his eyes, though, he didn't do anything wrong, he was just working in the garden, being a good helper like everyone always wants him to be.
So next year I plan to give my kids their own space where they can dig, plant, pull, harvest, plant again, picnic, pretend they are insects, dig some more, get dirty, eat, dig again, and eat some more.
I plan to create a space for them here in the garden behind the house because we are going to work a whole field at the farm so if they ruin whatever they planted it doesn't mean we lost our dinner. It will be a place for them to practice.
The kids' garden needs to…
Be Colorful and Pretty – we are going to try and use colorful verities of vegetables and also plant flowers. I don't know a lot about flowers so I'll have to sit down and do some research. I am looking for annual flowers that will be colorful and easy to grow. I don't want them to come back next year because we want the garden to be flexible and changing from year to year (crop rotation, etc…). We are looking for flowers that are easy to pick, no thorns and such. I will probably do zinnias again, but if you have a suggestion for other flowers we can grow please let me know in the comments bellow.
Include Small Vegetables – we are going to choose small varieties, for example, cherry tomatoes instead of larger verities of tomatoes, small cucumbers instead of the big, full-size ones. I want it to be easy for them to pick and eat straight from the garden. A growing snack bar is the idea.
Have Cool Structures – there are so many cool structures that we can build in this garden like a bean tepee or an arched trellis for peas. I am thinking structures that the kids can sit in or play in/with. We will try to create a picnic area, maybe from hay bales or logs or other natural materials. A fairy garden will also be fun to make.
Include Things They Like to Eat – it will probably be a waste of time to plant okra, they are not going to eat it. We are looking for things they can eat right there in the garden. Zucchini won't work either because we eat it cooked, cabbage or onions won't do. Bellow, I'll include the varieties I am thinking about with a link to the seed company.
Include Fruits Too – this is a tough one because there aren't a lot of fruit plants that will give you fruit the first year. But there are a few, like watermelons (we will choose the smaller verities) or cantaloupe. My kids love fruit and eat fruit at least twice a day so growing some fruit for them make sense. I have a few fruit trees in the back yard that are old and sick. I will try to treat them this winter and prune them and hopefully, it will help them produce more fruit for us in the summer.
Here Are a Few Verities I Was Thinking About:
Beans – I had a lot of success with Fortex beans in the past so I think I am going to stick with those. They climb high and will be great for a bean tepee and they produce a lot of beans. My kids eat beans fresh from the garden, my husband and I prefer them steamed with garlic and butter.
I never grew red noodle beans but think it will be nice to try them in the kids' garden. They are so long and cool looking, I think my kids will love them but I don't know if they are good to eat from the vine.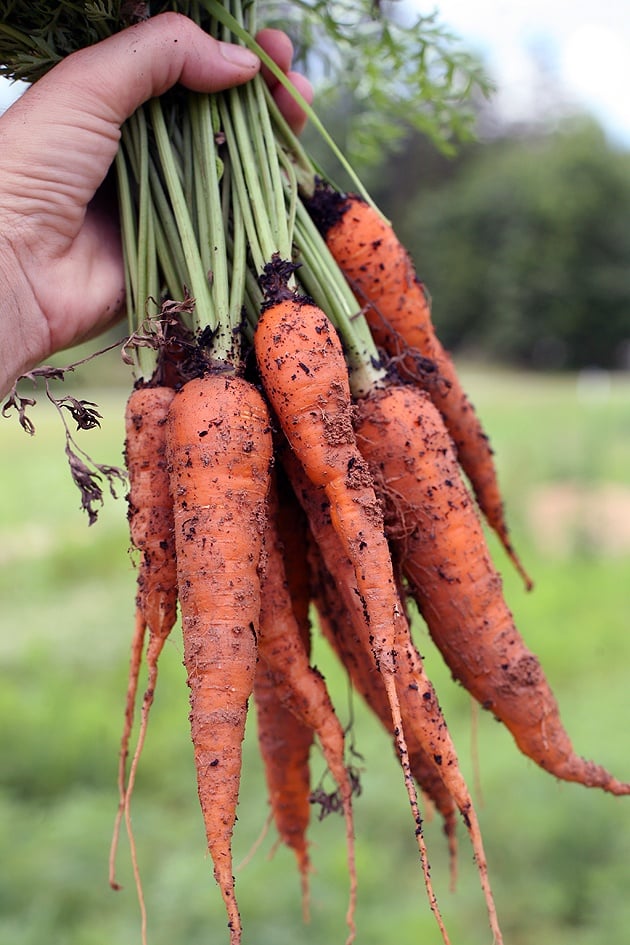 Carrots – I am going to keep it simple here and go with Sugarsnax carrots. I've tried the colorful carrots in the past but I don't think they are as flavorful as the orange carrots. I chose Sugarsnax because they are thin and long, I think my kids will like the shape.
Another option is Napoli, those are also sweet but not as thin and long as Sugarsnax. I might do a mix of those two since my kids eat carrots like a colony of hungry bunnies.
Cucumbers – Mexican Sour Gherkin is also going to be a new verity but I can't wait to try those. They are a 1" cucumber that looks like a tiny watermelon but tastes like a cucumber, isn't that fun? I think any kid will love picking those, hopefully, the flavor is good too!
We are also going to grow good old Diva cucumbers. I grew those a few times and they never let me down.
Cantaloupe – we are going to go with Sarah's Choice here. It should be sweet and juicy.
Peas – if there is one thing I can't grow enough of is peas. There are daily life-threatening fights in the garden over the peas. We are going to go with Sugar Snap  to eat fresh with the pod and then Sienna so they can mess with shelling and finding the treasure inside.
Peppers – a few Lunchbox pepper plants are all we need here. They are small, they are colorful, they are sweet, and they produce a lot of peppers. I grew those last year and we all loved them.
Radish – we are going to grow Easter Egg radishes in the kids' garden. First, they are beautiful, and second, they are mild.
Cherry Tomatoes – you can get a serious headache when trying to select tomato verities for your garden. There are so many different tomatoes and they all look so tasty and beautiful.
But I am going to keep it simple with two cherry verities. One is Lucky Tiger and the other one is Jasper.
A few years ago we had a tomato plant growing in the compost pile. I transplanted it to the garden and it turned out to be a cherry tomato plant that gave us so many tomatoes we didn't need any other tomato plants that year. I hope that if we feed them heavily, they will produce like this plant we had a few years ago, I am so sorry I didn't save seeds from it.
Watermelons – we will try Little Baby Flower watermelon. The fruit is around 5 1/2" round and supposed to be sweet and crisp.
Ground Cherries – another new verity for me. I came across it when I was looking for fruit plants that will give fruit the first year. Ground cherries are the size of cherry tomatoes, they are golden and supposed to be sweet and wild tasting with a bit of pineapple flavor. Should be interesting.
Marigolds – Giant Yellow Marigolds look like a nice flower to grow. They have a strong stem so they will be great as cut flowers, they are annuals, and very beautiful. I am just hoping that the southern summer heat won't be too much for them.
Zinnia – this is the only flower I have experience with (except for bulbs). I grew zinnias for a couple of years and have to admit that sometimes they make it hard to concentrate on the vegetables. It's hard to choose from all the wonderful zinnia options but I think we will do Oklahoma Carmine and Jazzy Mix. In the past, we planted Sunbow Mix and it was wonderful too.
Aster – another beautiful flower. I think the Tower Custom Mix will fit nicely with the zinnias and the marigolds.
So, Where Are We So Far With the Kids Garden…
We moved out here in the middle of the summer and since we needed our gardening fix ASAP we set up a basic garden in the back. I was surprised that it didn't do bad at all this summer and we got to harvest a nice amount of vegetables from it.
But the soil needs a lot of improvement. A few weeks ago, my husband did a job with the tractor for one of our neighbors and in exchange picked up a couple of scoops of cow's manure. Mr. S wanted to pay him but he didn't want to take money, still, Mr. S didn't want to let him go without some form of payment so they settled on cow's manure. I think it's way better than money!
A couple of weeks later, he did another job with the tractor and our dump truck in the city. This one was a gavel job and he paid for the gravel before he started the work. He ended up not needing as much as he thought and had a balance of $50 at the gravel yard. I don't know how he did it, but he convinced them to let him take a full truck of topsoil instead of refunding him the money. I love this man!
So we cleaned the garden and worked hard to spread the manure and the soil. Then, I planted some rye grass to add even more organic mass. I will till the grass under a couple of weeks before planting in the spring (if you want to read more about using cover crops, read this post).
Now what I have left to do is order drip irrigation because it takes a lot of time that I don't have to water this garden by hand, order my seeds, and plan and collect materials for the structures we want to build. I can do all those things during the winter months, then when planting time comes, we just need to till, set up the trellises and plant.
I am excited about this project. I think the kids will have a lot of fun in this garden next year!
If you think of any verities of vegetables or any flower that will fit this garden and I didn't mention above or if you have experience growing any of the vegetables and flowers we are going to grow and have some tips for me, I'll be happy to hear from you. Please comment bellow and share your experience with me.