In this post, I am going to share a fermented radish recipe with you. This is a very easy way to preserve some of your radishes. It takes just a few minutes to put together. The fermentation process takes a few days but you don't have to do much and you end up with a healthy snack for the whole family. Lacto fermented radishes are not as sharp as raw radish so even my kids enjoy eating them. I have a handy printable for you at the end of the post. Here is how to ferment radishes…
---
I used to grow radish in my garden but I stopped. Radishes are a cold weather crop so you can plant them in early spring and they are great for treating that garden fever all of us feel at the end of winter.
Do you know what I'm talking about? The feeling that if you don't stick your fingers in the soil soon you'll just die. That feeling.
I used to plant radishes at the beginning of March. They grow so quickly that by early April I had something to harvest from the garden! Add to that the fact that they come in all different amazing colors and pests don't really like them and you have a winner.
But… We didn't like eating them. We just didn't. They were simply too sharp for the kids and I could only eat so many radishes. So a couple of years ago I decided to just stop growing them.
Fermented Radish Recipe…
Then a couple of weeks ago, my neighbor stopped by with a ton of radishes to give me. I can't say no to vegetables so I took them. I washed them, removed them from the wilted greens and ended up with a huge bowl of radishes.
It was clear that there was no way for me to consume that many radishes so I had to figure out how to preserve them. I don't have a root cellar and I don't have too much room in my fridge so I decided to ferment them.
I've heard before that the fermentation process makes the radishes less sharp. I figured that if that was true then my kids would help me eat them.
It turned out true. Lacto fermented radishes are very easy to make and they are very tasty and healthy. Fermented radish is mild and still holds its crunchiness (just like lacto-fermented green beans, fermented beets and fermented cucumbers!). It's a great snack for the whole family.
Before we go through the steps of how to make fermented radishes, let's touch on the basics first…
What is Fermentation?
Fermentation is the process of using microorganisms, such as bacteria or yeast, to convert carbohydrates to alcohol or organic acids under anaerobic conditions.
There are a couple of types of fermentation…
Alcoholic fermentation is when we use yeast to break down sugars into carbon dioxide and ethanol. This is the process we use to make beer, wine, and bread.
Lacto fermentation is the process of using bacteria, named Lactobacillus, to convert sugars into lactic acid. This bacteria (some form of it) is actually present in our digestive system naturally and is also present on the surface of plants.
Lactic acid is a preservative that helps us preserve foods by preventing the growth of harmful bacteria. Lacto fermentation, which is the process we are going to use to preserve our radishes, also increases the vitamin and enzyme level of the vegetables we ferment.
Adding those foods to our diet can help us introduce additional probiotics, or in other words, beneficial bacteria to our digestive system in a natural way. Beneficial bacteria help us digest food, help us support a healthy metabolism (here is another way to support a healthy metabolism with essential oils), and an overall well functioning and healthy digestive system which we all know is super important for our overall health and strength (and here is another way to support a healthy digestive system with essential oils).
So let's recap… We take a vegetable (cabbage, cucumbers, peppers, radishes, even tomatoes…) we let it sit in a solution and steep for a few days, the sugars in the vegetable break down and start promoting the growth of beneficial bacteria. Lactic acid is formed and prevents the growth of harmful bacteria which makes it possible for us to preserve what's in the jar (in cold storage).
We get to add beneficial bacteria to our gut and are able to keep the food for a longer period!
That's like eating the cake and leaving it whole so you can eat it again. I say, let's do this!
How to Make Fermented Radish…
Ok, so, of course, we start with a gorgeous bunch of radishes. Can be any type of radish (in fact, you can use this recipe with beets, carrots, kohlrabi, cucumbers…). Make sure to wash your radishes well.
Next, we are going to slice them pretty thin…
Also, make sure you have your herbs. You can add garlic (I peel and crush a couple of cloves per quart jar), dill, mustard seeds, peppercorns, and so on…
This time, I kept it simple. I made a few jars with just the radish, a few jars with just radish and garlic, and to a few others, I also added mustard seeds.
Wash your jar with hot water and soap. after you wash it, make sure to not touch the inside of the jar or the rim with your fingers. We want to try to keep things clean here so we don't introduce the wrong bacteria to the mix.
Next, pack your jar with the radish (I used quart jars). I always put my herbs in the middle. So I fill the jar halfway, add the herbs, and fill it the rest of the way.
To make the brine, mix 1.5 tablespoons of salt into 2 cups of water. After you make this a few times you can change this according to your liking. You can add a little bit more salt or use a little less salt (not much less!) but use this as the basic solution.
Stir the salt in until it dissolves. I like to use pickling salt because it's very fine and it's easy to dissolve it.
Add your solution to the jar…
Now, this is important! We want all of the radishes to stay under the solution. Usually, normal people use glass fermentation weights like these ones.
I strongly, Strongly, STRONGLY suggest that you follow the normal people on this one and get the glass weights before you ferment a bazillion radishes.
However, yours truly here has been telling herself to buy the weights for a few years now and somehow I still did not do that. Don't ask me why… I just haven't gotten them yet. So what always happens is that I have to find all kinds of different tricks to keep the radishes under the solution.
This time, I decided to go with the apple trick. This is totally possible, however, I'll show you in a second what happens if you don't do this right…
So, in order to use the apple as a weight, you cut it into three…
You give the two ends to your kids and you peel the middle piece and remove the core. Again, make sure to do this with clean hands… Try to keep things as clean as possible.
Put the apple on top of your radish and push down to make sure the radish is under the liquid.
Now, this is all nice and pretty right? Right… However, it is best if you find a way to, at least by a tiny bit, cover the apple with some of the liquid too so funny things don't develop on it.
Now, let me show you what I mean when I say funny things… It ain't funny, though, and pretty gross but you have to know this…
If you don't peel the apple, and if the apple is sticking too much out of the liquid, you are going to have other types of organisms growing in your jar… The kind you don't want to eat.
This was disgusting, people, but I had to explore all the possibilities so I can have a full report for you. So there you have it… The chickens did enjoy this jar or fermented radish and wormy apple.
However, if you do this right, as I showed before the yucky photo, you should be fine. This photo above is from a week later and you can see that the apple also went through the fermentation process and everything in this jar is just fine.
So the conclusion is… Buy the fermentation weights so you don't waste your produce. But, if you are stuck with not enough weights or you are stuck on a deserted island where there is no Amazon delivery service and you just have to ferment radishes… Just know that there is this apple trick (it works with cabbage core too in case that the island you are stuck on doesn't have apples).
Ok, so after we placed the (hopefully glass) weight on top of the radish, go ahead and close your jar finger tight.
Place your jars on a baking sheet or some kind of tray because some of the liquid is going to spill out as the vegetables start to ferment. Place your jars in a warm place where they can stay for a few days undisturbed.
During the fermentation process, some gas is going to be created. We want to give it an out, or in other words, release it from the jar, or in other words "burp" the jars. This simply means that once a day you need to open the jar, let the gas out and close it back again.
If you want to save yourself this work you can purchase fermentation lids that let the gas out without you needing to do anything.
After a couple of days, you'll notice that the liquid in the jar becomes foggy and that there are some foam and bubbles on the top and that some of the liquid spills out… This is what needs to happen, it's all part of the fermentation process.
A few days later the solution will clear out and your fermented radish is ready.
Use a clean fork to remove the apple and store your radish in the fridge.
I like it better after it's been in the refrigerator a bit. Make sure that every time you go into that jar you use a clean fork.
If you used the glass weights, you can leave the weight in the jar, close the jar tight and store in a cool place, preferably a root cellar, for a few months.
We like to eat this fermented radish as a side to any sandwich meal. You can also use them as a healthy snack or add them to a salad.
They are simple to make and a great way to use radish. The salty solution breaks the sharpness of the radish but adds saltiness to it and the herbs add a great taste. You can play around a little bit with the amount of salt and you can try different combinations of herbs to find what you like the most.
---
Again, I do really recommend you buy the glass weights but now you also know about the apple trick just in case. Heather from mommypotamus.com has a couple more ideas for weights in her fermented radish recipe.
Happy fermentation my friends!
Here is the handy printable…
Fermented Radish
Total Time:
7 days
10 minutes
Easy fermented radish recipe that the whole family would love!
Ingredients
2 bunches of radishes
1.5 tablespoons of salt dissolved in 2 cups of water
Herbs and seeds of your choice (garlic, mustard seeds, caraway seeds, dill...)
Instructions
Wash your radishes. Remove tops and tails and slice or quarter your radishes.
Wash a quart jar with hot water and soap, make sure not to touch the inside or the rim of the jar after you wash it.
Pack your radish in the jar halfway, add your herbs and fill the rest of the way with radish.
Make the brine solution by dissolving the salt in the water. Fill the jar with the brine solution leaving one inch headspace.
Place a glass weight on top of the radishes to make sure they are all submerged.
Cover the lid with a fermentation lid or a regular lid. If you use a regular lid make sure to burp the jar once a day.
Place your jar to culture at room temperature for about 7 days (you'll notice the brine solution becomes foggy and you'll notice some foam and bubbles forming).
After a few days, the solution will clear and your radishes are ready.
If you used the glass weight, you can leave it in there and store the jars in a cool place for a few months. Or you can store the jar in the fridge.
Make sure to use a clean fork every time you reach for fermented radish.
Notes
If you don't have fermentation weights you can try to use an apple or a cabbage core (more details on how to do this are in the post).
I prefer using pickling salt because it's very fine and easy to dissolve in water.
You can choose to add beets, carrots, kohlrabi, or other root vegetables to your jar.
Nutrition Information:
Yield:

1
Serving Size:

1
Amount Per Serving:
Calories:

24
Total Fat:

1g
Saturated Fat:

0g
Trans Fat:

0g
Unsaturated Fat:

1g
Cholesterol:

0mg
Sodium:

9544mg
Carbohydrates:

3g
Fiber:

2g
Sugar:

0g
Protein:

1g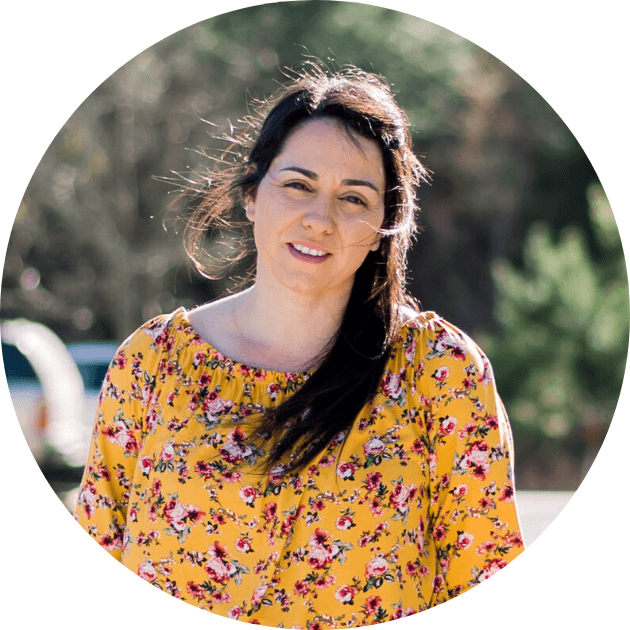 Hi! I'm Lady Lee. I help homesteaders simplify their homesteading journey while still producing a ton of food! I am a single mother of four, I was born in Israel and raised in an agricultural commune called a Kibbutz. Now I homestead in central NC.