This is a super simple BBQ venison neck recipe that is everyone's favorite. It's easy to put together and is a great pulled meat recipe for sandwiches. I'll walk you through how I make it step-by-step and then you can find the BBQ venison neck recipe printable card at the bottom of the post.
---
There is nothing better than making a dish of delicious meat and leaving it in the fridge for everyone to enjoy a good and filling sandwich whenever they want.
That is my favorite thing about this dish. Of course, you can serve it hot and you definitely won't want to wait to eat this BBQ venison neck dish, but leftovers are welcome because it's also delicious cold in a sandwich.
And also, it's nice that you are able to make a dish ahead of time if you need to. For example… If it's hunting season and you are not sure when you'll have to drop everything and go process a deer.
It's really great to have a simple meat dish ready to go!
BBQ Venison Neck Recipe…
I raise my own chickens for meat and I raise my own ducks for meat but I have to admit that my favorite meat of all is venison.
My ducks and chickens still eat feed from the store. I hope to one day be able to provide them with more room to roam around but for now, they are in smaller fenced areas.
The deer that we harvest over the hunting season, on the other hand, was free to run around, enjoy nature, and choose on its own what it wanted to eat.
I really don't believe that you can get any meat that is healthier than that!
So I use venison as much as I can. I make venison burgers and pulled venison wrap, and deer jerky in the oven, and I also can some of the meat so it's easier for me to make these dishes again in the future.
Today I am going to show you another favorite venison recipe: BBQ venison neck.
I try to use as much of the animal as I can (the legs, feet, some of the organs, and head go to the dog, and I tan the deer hide) but sometimes it's hard to find what to do with a piece like the neck.
After coming up with this recipe, and seeing how much everyone loves it, it's really not a problem for me to use the neck anymore.
Tools we Are Going to Need…
Before we start cooking this delicious venison neck recipe, let's gather the kitchen tools we are going to need in order to get the job done…
A cutting board – we are going to cut all the meat off of the bones so we'll need a cutting board for that.
A butchering knife – you can use a regular kitchen knife but I find that it's easier for me to use a butchering knife to cut the meat off of the bone. I think that it's because the blade is shorter.
Pressure cooker – we are going to pressure cook the meat to save some time.
Shallow pan – to cook all this goodness.
Measuring cups – to measure the broth and other ingredients.
Measuring spoons – to measure some of the ingredients for the sauce.
Wooden spoon – to mix it all.
Ok, we are ready to cook!
Removing Meat From Venison Neck…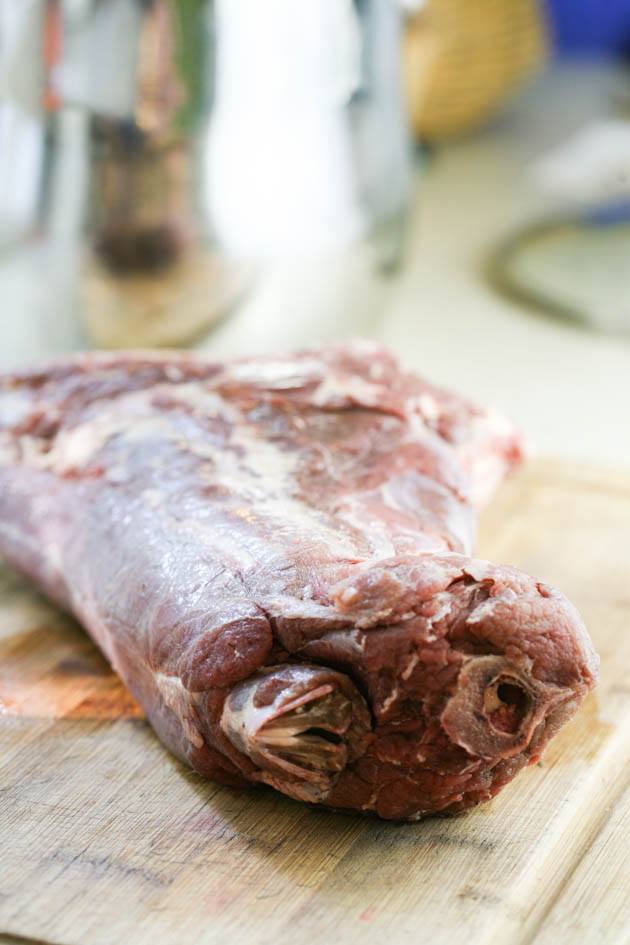 My first step here is to remove as much meat as I can from the neck…
There is no big secret on how to do this. I just start cutting the meat off with my butchering knife and put it aside.
After taking the meat off from the bottom of the neck, I make sure to remove the esophagus and give it to my dog (she loves it) before continuing to cut as much of the meat off as I can.
It doesn't matter if it's strips of meat or smaller pieces… I just get as much meat as I can.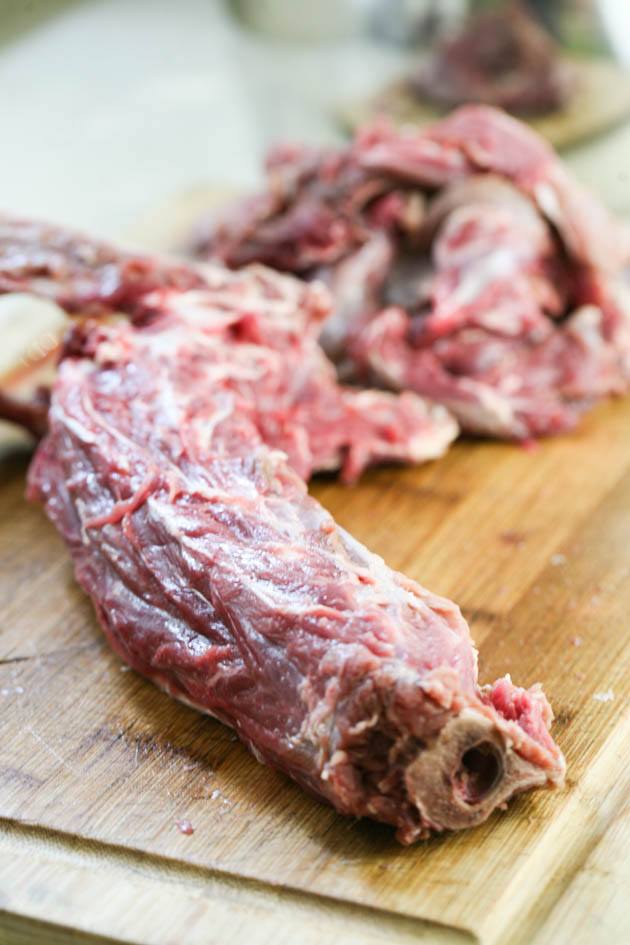 The bone is great to make bone broth or to add it to soups and such (some times, I can it as well). There is still a lot of meat on there and deer bones are really healthy for us so I always use it (usually in broth).
When you're cooking with things that come from nature or your backyard and that are not perfectly wrapped and weighed and waiting for you on a shelf in the store, it's sometimes hard to be exact on measurements.
I got 1.5 lb of meat from the neck of this deer but you'll probably get a different amount of meat. It's fine, just follow the basic recipe below and adjust according to the amount of meat that you are cooking.
Pressure Cooking the Deer Meat…
Next, I add my meat to the pressure cooker, add 4 cups of water, close the cooker and set it on the stovetop on medium-high heat…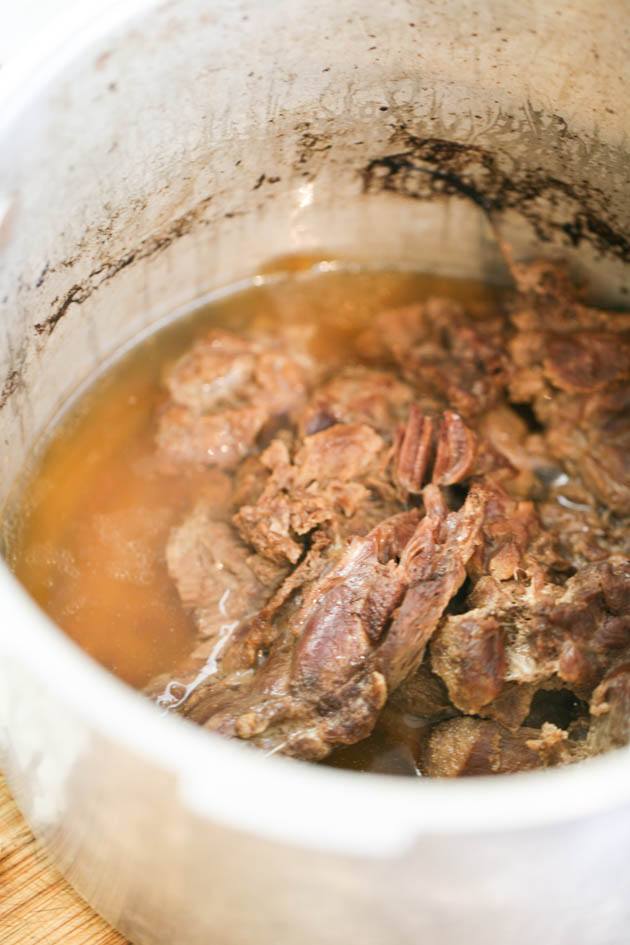 From the time that the weight on the cooker starts to rock, I process the meat for 40 minutes. This will make it super soft and the rest of the cooking is very quick.
Once the time of cooking is up, I take my pressure cooker to the sink and run cold water over it to cool it quickly. Then I open it and remove the meat into a bowl.
The meat is usually very soft at this point and the pieces are kinda falling apart but I help it a little bit by pulling the meat apart.
I leave the liquid inside the pressure cooker and set it aside; we are going to use this broth in the BBQ venison neck recipe.
Putting this Dish Together…
While the deer meat is in the pressure cooker doing its thing, I dice one medium onion.
When the meat is ready, I heat 3 tablespoons of oil (can be canola, vegetable, lard, tallow… Whatever you want to use…), and add the diced onion.
I lower the heat to medium-high and fry the onion just until it starts to brown.
It's going to take the onion a few minutes to brown, so meanwhile, I add to a bowl the ingredients of the BBQ sauce (I keep stirring the onion every couple of minutes so it doesn't burn).
I add 3/4 cup of BBQ sauce, 2 tablespoons of brown sugar, and 1/4 cup of ketchup…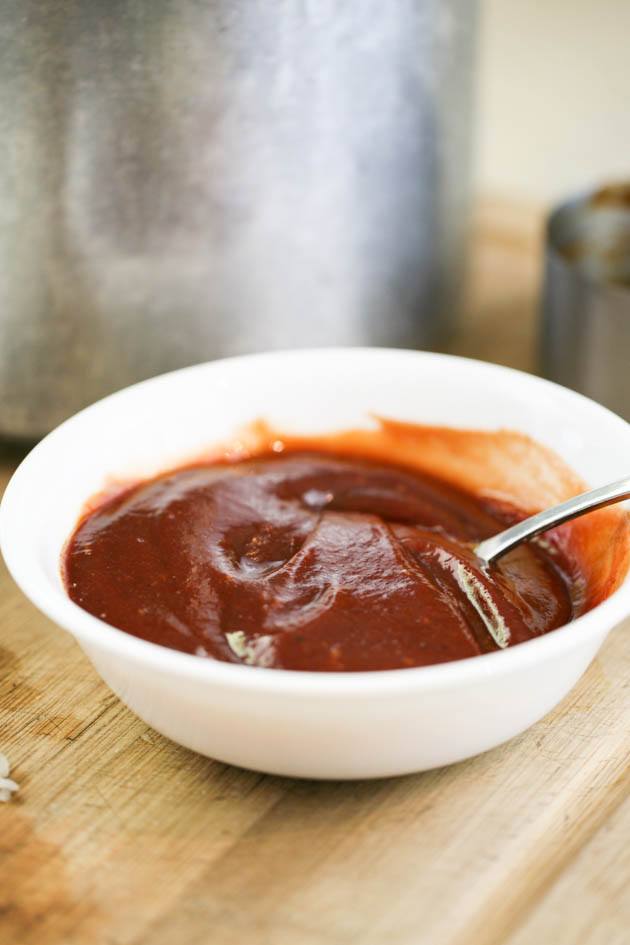 And mix it all together.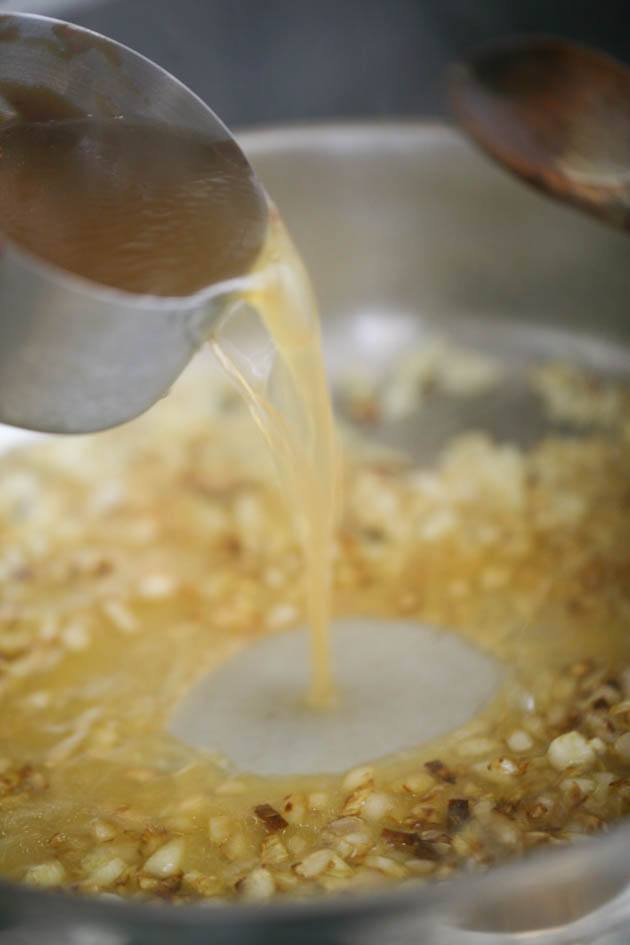 When the onion is starting to brown, I use the broth from the pressure cooker and add 1 1/2 cup of it into the pan…
Then I add the deer meat…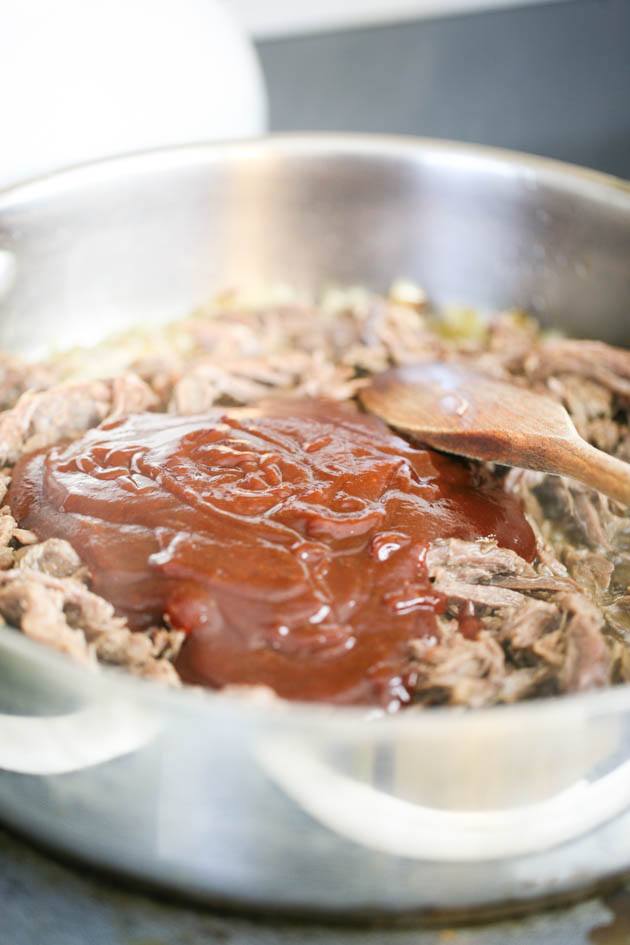 And then the sauce…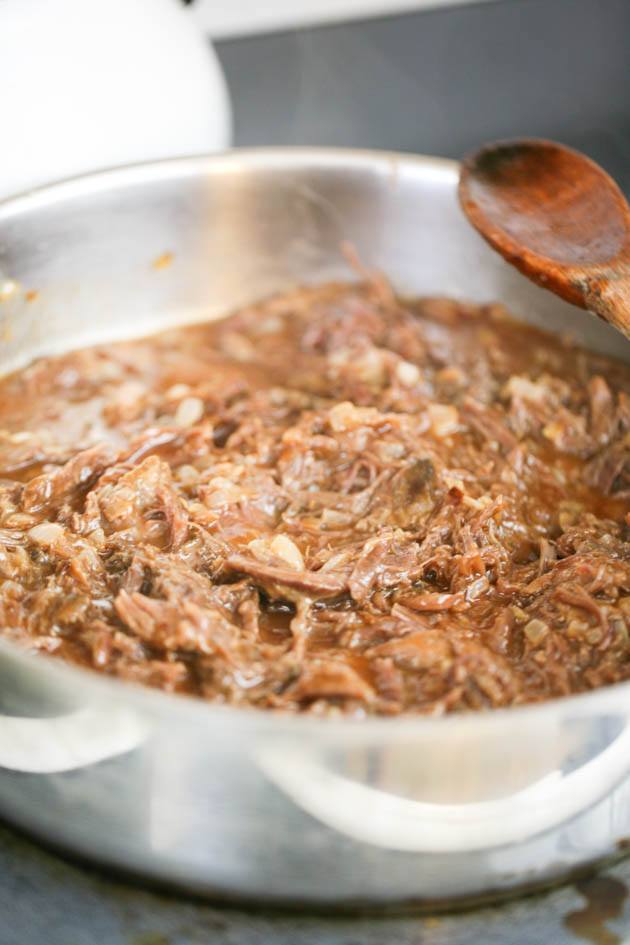 All I have left to do is mix everything together, lower the heat to medium, and let it cook until the sauce reduces to my liking.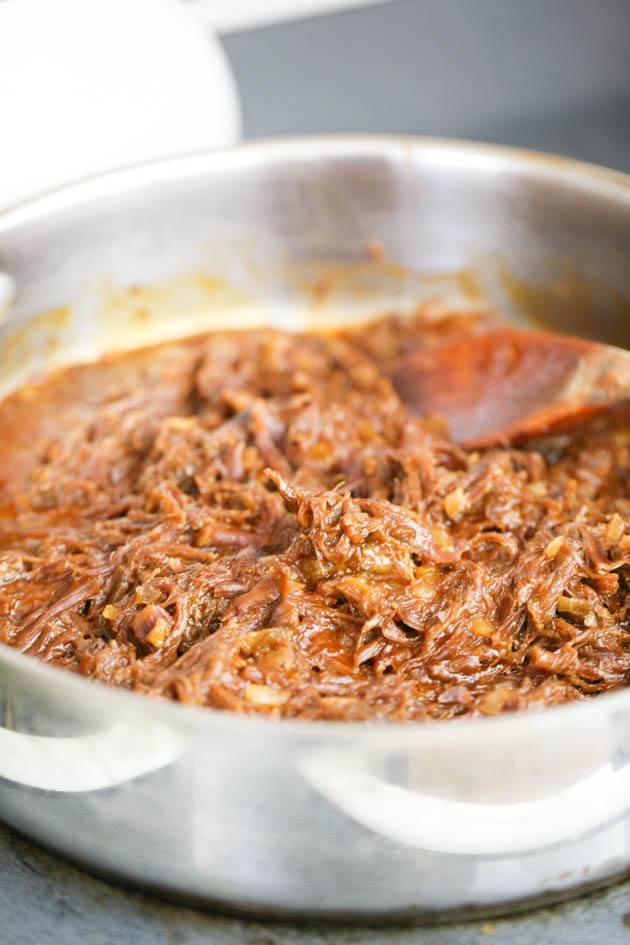 Usually, it takes about 10 to 20 minutes. I like to leave a little bit of sauce but for the most part, most of the liquid is gone.
This dish can be served with mashed potatoes, with rice, over quinoa or over bulgur, really in so many ways… But our favorite is a BBQ venison neck bun with this delicious red cabbage salad that just works so well with any kind of meat.
Again, you can serve it hot but it's also delicious cold. We usually enjoy it hot but there are enough leftovers to last us for a couple of extra meals.
It's also a great meal to pack for the road. This is one of the reasons that I cook it until the liquid is almost completely gone, this way, if I make sandwiches and take them with us when we get out of the house, the meat doesn't make the bread completely wet and soggy.
Sometimes I'll make it during the summer (I freeze the neck or use my canned venison meat) and I'll wrap them and take them to the lake with us. For some reason, swimming really makes everyone hungry and those sandwiches fill all of us right up!
---
Anyway, I hope you give it a try and come back to let me know how you liked it! I also found this recipe from Fox Valley Foodie that I think looks great in case you are looking for another venison neck recipe to try.
Here is the handy BBQ Venison Neck Recipe recipe printable card…
BBQ Venison Neck Recipe
Yield:
1.5 lb of BBQ meat
Pressure Cooking Time:
40 minutes
Total Time:
1 hour
25 minutes
Delicious venison neck meat in BBQ sauce.
Ingredients
1.5 lb pulled venison neck meat (instructions below of how to get to this point)
One medium onion, diced
3 tablespoons of oil (canola, vegetable, lard...)
1 1/2 cups of beef broth or venison broth
3/4 cup BBQ sauce
1/4 cup ketchup
2 tablespoons brown sugar
Instructions
Start with one deer neck. make a cut on the bottom of the neck and keep cutting around the esophagus to remove it. Then continue cutting as much meat as you can off of the bone (it doesn't matter if it's small pieces of meat or large).
Add the meat to a pressure cooker, add 4 cups of water, close the cooker and set on the stovetop on high heat. Once the weight on the cooker starts to rock, cook the meat for 40 minutes.
When the time is up, take the pressure cooker to the sink and run cold water over it to cool it quickly. Open the cooker and remove the meat pulling it a bit in the process. Keep the liquid in the pressure cooker and set it aside, we will use it later.
In a shallow pan, heat 3 tablespoons of oil. When the oil is hot, add the diced onion and lower the heat to medium. Saute the onion until it starts to brown, stirring frequently.
While the onion is sauteing, add the BBQ sauce, ketchup, and brown sugar into a mixing bowl and mix.
When the onion starts to brown (about 10 minutes) add the broth, meat, and sauce. Mix everything together.
Cook for about 20 minutes or until most of the liquid is gone.
Serve in a bun with coleslaw or other salad or with mashed potatoes or rice.
Notes
This dish is also really good cold. Feel free to keep it in the fridge and add the meat cold to sandwiches. You can find my red cabbage recipe here. It goes really well with this meat in a hamburger bun.
Nutrition Information:
Yield:

6
Serving Size:

1
Amount Per Serving:
Calories:

406
Total Fat:

13g
Saturated Fat:

3g
Trans Fat:

0g
Unsaturated Fat:

9g
Cholesterol:

119mg
Sodium:

821mg
Carbohydrates:

24g
Fiber:

1g
Sugar:

19g
Protein:

46g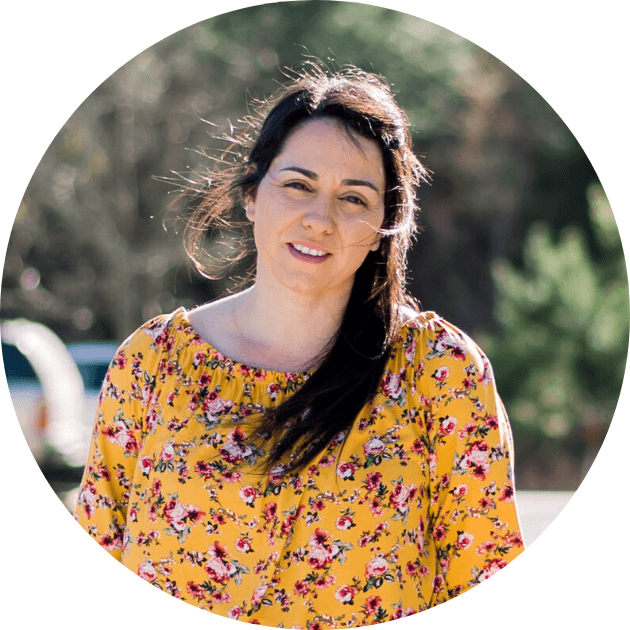 Hi! I'm Lady Lee. I help homesteaders simplify their homesteading journey while still producing a ton of food! I am a single mother of four, I was born in Israel and raised in an agricultural commune called a Kibbutz. Now I homestead in central NC.