This red cabbage salad is an Israeli classic! It's very easy to put together and it's fresh and garlicky. You can make a large batch of it and leave it in the fridge for a few days which makes it a great party salad!
---
You know those dishes that every bite you take makes you feel like a child again? The kind of dishes that remind you how it felt to sit at your mama's table, a whole delicious meal spread right in front of you.
This red cabbage salad does that for me. I know it's weird… After all, we are talking about red cabbage, raw garlic, and mayo. But back in Israel, this is a classic salad that accompanies many meals. Growing up, it was a regular at the dinner table.
Israeli Red Cabbage Salad…
Another reason to love this salad is that you can make it ahead of time if you have people coming over or you can make a whole lot of it and keep it in the fridge, it actually gets better when the cabbage has a chance to soak up the flavors a bit.
Ingredients For Red Cabbage Salad…
This salad is very simple. All that we use is red cabbage, minced garlic, fresh lemon juice, salt, and mayo.
Tools That You'll Need…
You'll need a cutting board and a knife to cut the cabbage. A large mixing bowl to mix everything in and then maybe a nicer one for serving. A garlic press to mince the garlic and measuring spoons to measure the salt and mayo. That's about it.
How to Make Red Cabbage Salad…
The recipe here will be for half a head of cabbage, but it's very easy to change the quantities of the ingredients if you want to make more. Start by slicing the cabbage into thin pieces or if you'd like, you can dice it. It doesn't really matter.
Add your cabbage to a large mixing bowl…
And then add the minced garlic. For half a head I usually add two large cloves or three medium ones…
Next, add the juice of a whole medium lemon…
And add salt to taste. I add probably around 3/4 of a teaspoon.
Last but not least is mayo. I add somewhere around three large tablespoons but if you feel that it's not enough by all means, add more!
Give it all a good mix and the salad is ready!
Serving Israeli Red Cabbage Salad…
It's the kind of salad that will benefit from sitting a little bit before you dig in because then the cabbage softens a bit and absorbs the flavors. If you want, you can make it during the day and have it for dinner but even a couple of hours is fine. And if you really can't wait, you can dig in right away.
I love serving this salad next to a meat dish. It goes very well with any kind of red meat and potatoes. I often add it to my venison wrap. I also love serving it next to my venison BBQ recipe (or BBQ beef) and serve mashed potatoes with it.
However, it also goes very well with vegetarian casseroles like this amazing Mediterranean zucchini casserole or any other. Or it's an amazing side to any sandwich as well.
Storing Red Cabbage Salad…
Another great thing about this salad is that it can easily be stored in the fridge in a container or you can just place a plastic wrap over the bowl and stick it in the fridge. It will last for three or four days and it actually gets better as it sits.
So, if you have a big party coming you can make this salad the day before and save you some work on the day of the event which is always great.
---
I really hope that you give it a try! I know that it sounds too simple to be so delicious but trust me, it's an amazing salad.
If you are looking for more salad and vegetable recipes, make sure to check my pumpkin and beetroot salad, easy green beans with garlic, celery salad, Mediterranean egg salad, and this amazing Israeli beet salad.
I also compiled a list of 32 winter salads that you should try so make sure to check those.
Israeli Red Cabbage Salad
This red cabbage salad is an Israeli classic! It's very easy to put together and it's fresh and garlicky.
Ingredients
1/2 head of a large red cabbage sliced thin or diced
3 garlic cloves, minced
Juice from one medium lemon
3 tablespoons mayo (or a little more!)
Salt to taste
Instructions
Add all the ingredients to a large mixing bowl.
Mix, taste and correct salt and mayo.
Enjoy!
Notes
In order to let the cabbage soften and absorb the seasonings, it's better to make this salad a couple of hours before serving it.
But, this salad stores very well in the fridge so you can even make it a day before. It's a great salad to make for a party because you can make it ahead of time and save yourself some work on the day of the party.
Any leftovers can be stored in the fridge for up to four days. Just give it a good mix before you serve it again.
Nutrition Information:
Yield:

4
Serving Size:

1
Amount Per Serving:
Calories:

141
Total Fat:

8g
Saturated Fat:

1g
Trans Fat:

0g
Unsaturated Fat:

6g
Cholesterol:

4mg
Sodium:

276mg
Carbohydrates:

18g
Fiber:

3g
Sugar:

11g
Protein:

2g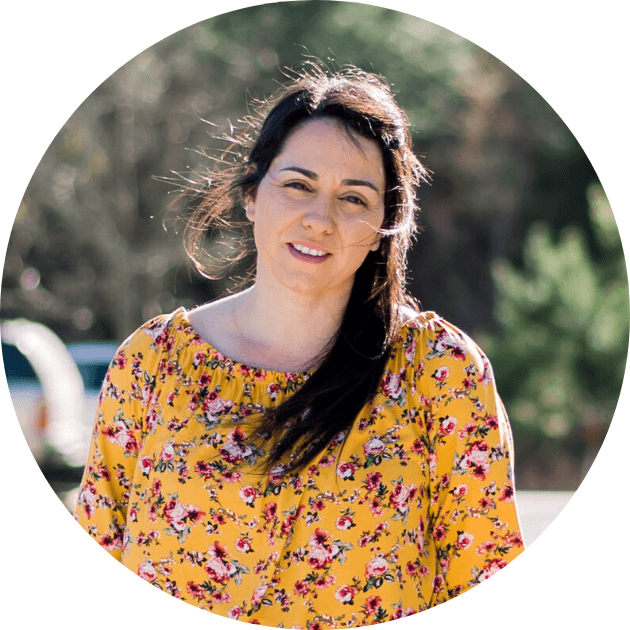 Hi! I'm Lady Lee. I help homesteaders simplify their homesteading journey while still producing a ton of food! I am a single mother of four, I was born in Israel and raised in an agricultural commune called a Kibbutz. Now I homestead in central NC.