This is a super simple liver and onions recipe. I actually added hearts too just because I had them, they went very well with the livers. It doesn't take long to put this dish together and it's very yummy! If you like livers, you'll like this simple liver and onions recipe.
---
Remember I showed you a few weeks ago how I butchered a few of my Muscovy ducks with the help of my neighbors?
Well, of course, I saved the livers and hearts. One of the main reasons I raise animals for meat is because it makes me happy to know that the animal lived a good life before it died for our benefit. Part of this, in my eyes, is to show respect by using as much of the animal as we can.
We can't use most of the inner parts as food (they are great garden food though!), but the liver and heart are completely good to eat.
I know many people are a bit disgusted by livers and heart but not me. This is a dish I grew up on. It's easy to put together and it's healthy for our body.
Livers are rich in protein, iron, and vitamin B, especially vitamin B-12 and B-9 (also known as folate which is important during periods of rapid growth). Livers are also rich in vitamin A which is linked to eye health.
And one more point… They are so cheap! A container of livers at the grocery store costs something like 98 cents (where I live), add a couple of onions and a couple of cups of rice or a few potatoes (and make a simple mash potatoes side) and you have dinner for the whole family for maybe $8.
Ok, so let's put this together!
Liver and Onions Recipe…
Again, I am going to use the livers and hearts from my ducks that I raise myself. I just butchered a couple of them that day so this is why you'll see in this post just a couple of hearts and a couple of livers.
But you can do this same recipe with livers and hearts (or just livers) that you get at the grocery store. Just double the number of onions, seasonings, and water that you see here.
Dice a couple of large onions. Melt a few tablespoons of butter (I used three for the two livers and two hearts that I cooked). When the butter has melted, add the onions.
My neighbor brought me a huge box of onions a couple of months ago so I ended up dicing all of them and freezing them (you can learn how to freeze onions here). This is why you see large chunks of onions in the pan. I just throw the frozen onions in the pan and it takes them a few minutes to thaw and start to cook.
Reduce the heat to medium and stir the onions frequently so they don't burn.
While the onions are browning, wash the livers and hearts so they are ready to add into the pan.
The onions will take around fifteen minutes to brown, when they get this nice color, add the seasonings.
I added some salt and black pepper (you can always add more later), a teaspoon of paprika (sweet or spicy, whatever you like), and a teaspoon of chicken bullion powder (like this one). Mix it all with the onions.
Next, I added a cup of water and mixed it all together. Turn the heat up a little and let the water come to a boil.
Reduce the heat to medium again and add the livers. Just lay them down in the pan. Don't stir them in or move them because they'll fall apart.
Cover your pan and cook the livers for about 15 minutes.
The liquid will reduce and the whole dish will get this beautiful brown color!
Turn the heat off and let it rest for a couple of minutes.
Then, dig in!
this dish goes best with mash potatoes in my opinion. It's soooo good! But you can also eat it with rice or on a yummy piece of homemade artisan bread…
However you want to eat it… Just eat it. And then come to tell me if you liked it.
'Till next time…
Here is a handy printable… The amounts are for a small number of livers, just double or triple everything if you are cooking a larger number of livers.
Simple Liver and Onions Recipe
Ingredients
3 tablespoons butter
2 large onions
Salt to taste
1 teaspoon chicken bullion
1 teaspoon paprika (sweet or spicy, whatever you like...)
Black pepper to taste
1 cup water
A few livers (2-4. Feel free to add hearts too!). Washed from blood and such.
Instructions
1. Melt the butter.
2. Add the diced onions and lower the heat to medium. Stir the onions frequently.
3. When the onions are brown (usually about 15 minutes or so...) add the seasonings and the cup of water. Increase the heat and bring to boil.
4. Reduce heat and add the livers.
5. Cover the pan and cook for 15 minutes or so.
6. Turn the heat off and let the onions rest for a few minutes.
7. Enjoy!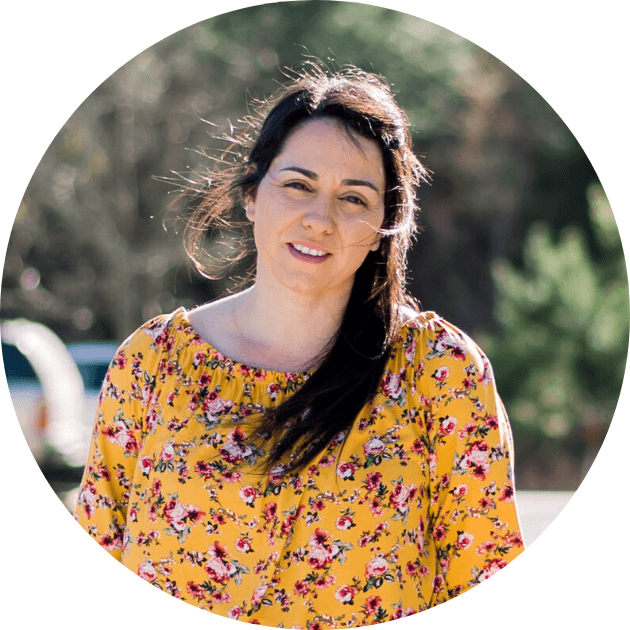 Hi! I'm Lady Lee. I help homesteaders simplify their homesteading journey while still producing a ton of food! I am a single mother of four, I was born in Israel and raised in an agricultural commune called a Kibbutz. Now I homestead in central NC.