In this post, I'll show you how to cook bulgur wheat. We'll learn what bulgur is, where to buy it, how to cook it, and I'll share some bulgur wheat recipes with you so you have a better idea of what you can do with this wonderful form of wheat. At the end of the post, you'll find the handy printable with the basic instructions on how to cook bulgur wheat.
---
I grew up in Israel where bulgur is a very common side dish. In the Middle East, we use bulgur a lot in the famous Tabbouleh salad, or to make kibbeh (a kind of meatball), or simply as a side dish instead of rice (I'll link to all recipes below).
You can find it in Israel in every grocery store just as you would find rice.
When I moved to the U.S. I was surprised that it wasn't as easy to find bulgur. In my first few years here I used to just bring a bag back with me every time I went to visit the family in Israel. These days, it seems as if it's much easier to find bulgur and it makes me happy that so many people want to learn how to cook bulgur wheat.
If you are tired of rice or quinoa, try bulgur. The coarse bulgur is made exactly as white rice is made. In 10 minutes or so, you'll have a fabulous side dish ready to go or a wheat addition to add to salads and such. We'll go over all the options soon.
How to Cook Bulgur Wheat…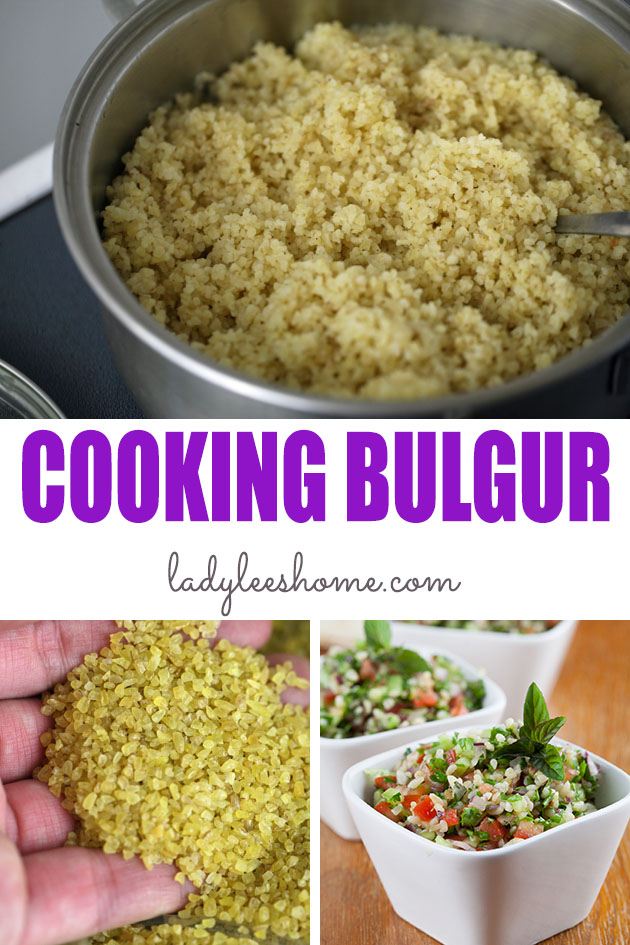 Let's start from the beginning so you have a better understanding of what are we dealing with here because bulgur looks a bit different than a wheat berry or a grain or a seed…
What is Bulgur?
This is from Wikipedia…
"Bulgur (from Arabic: bourghoul, "groats") is a cereal food made from the cracked parboiled groats of several different wheat species, most often from durum wheat. It originates in Middle Eastern cuisine."
Bulgur is often mistaken for cracked wheat (which is basically just wheat that was cracked). It's not cracked wheat, rather the wheat berries are parboiled, left to dry in the sun, and then cracked. This process makes it quick and easy to cook bulgur.
Bulgur is older than the bible! Its history goes way back to ancient times. It was the perfect food since it's stored dry and can last for long periods of time. Bulgur has a nutty flavor. You can find fine bulgur, medium, or coarse bulgur.
Is Bulgur Healthy?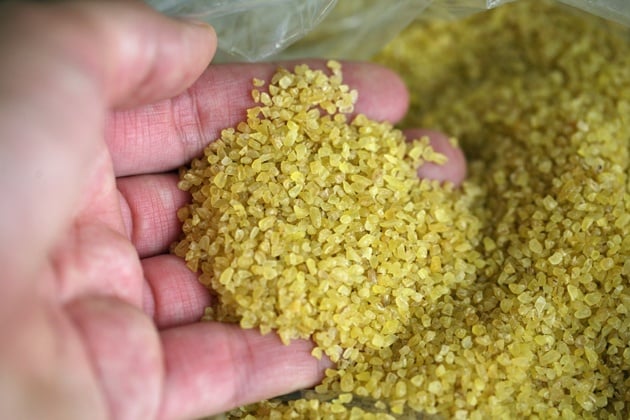 Bulgur is considered whole grain. Yes, it is processed (parboiled), but the processing is minimal so it's still considered by the United States Department of Agriculture to be a whole grain.
Since it's whole grain, it contains a large amount of fiber. Dietary fiber can help our body improve blood cholesterol levels and is great to assist with weight loss since a small amount of bulgur can make you feel very full.
In addition to fibers, whole grains…
"provide nutrients like thiamin (Vitamin B1), riboflavin (Vitamin B2), niacin (Vitamin B3), folate (Vitamin B9), iron, magnesium and selenium. These are all important for a variety of body functions like forming new cells, carrying oxygen in the blood, regulating the thyroid, and maintaining a healthy immune system."

Read more here.
So now that we understand better what bulgur is and how healthy it is, let's see how you can get it in your kitchen…
Where to Buy Bulgur…
I live out in the country. I love my local Wal-Mart but I can't say that we have a huge variety there. It boils down to rice, beans, and pasta pretty much.
So I still bring bulgur with me from Israel. It's one of those things that always goes in my suitcase. It's easy to find it there and so very cheap to purchase.
I assume that here in the U.S. you can probably find it in any large grocery store in a diverse city. I feel like it's becoming more common these days and that most people are open to give new things a try. I bet you can also find it in international food stores and you'll definitely be able to find it in a Middle Eastern food store.
It's also available on Amazon like everything else under the sun. You can find fine bulgur and coarse bulgur.
What I'll be using in this post is the coarse bulgur but I'll go over how to cook the fine bulgur as well.
How to Cook Bulgur Wheat…
For a side dish, we cook coarse bulgur wheat exactly the same way as we cook most kinds of rice.
Add the bulgur to a pot and for each cup of coarse bulgur, add 2 cups of water or chicken stock (I prefer chicken stock). Place on the stovetop and bring to a boil.
Once it comes to a boil, add your seasonings. You can add salt and black pepper, dry onion flakes, turmeric or paprika… Whatever you like.
After you added your seasonings, give it a stir, cover the pot and lower the heat to low heat. It will take a few minutes (10 or so depending on how coarse it is) for the bulgur to soak up the water.
Once all the water has been absorbed by the bulgur, turn off the heat. Leave the pot covered and allow it to sit for ten minutes.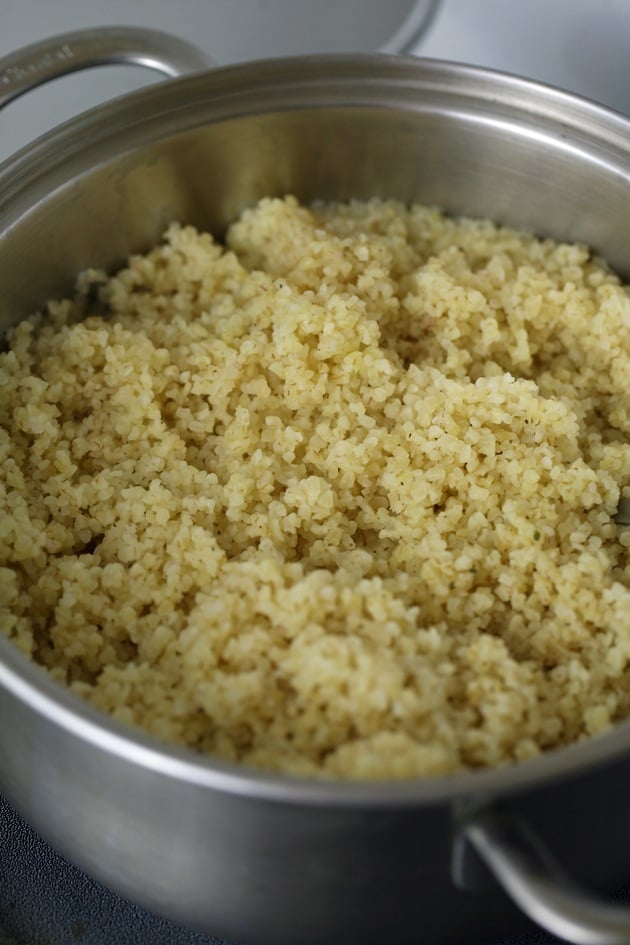 Then, uncover the pot and fluff the bulgur with a fork as we do for rice.
That's it. You have a side dish that goes great with just about anything. You can think about it as rice and serve it with a fish, chicken, beef, or pork dish.
Or you can also add it to salads (kinda like you'd add quinoa).
The fine bulgur doesn't need cooking. Add the fine bulgur to a bowl and for each cup of bulgur add one cup of boiling water (or chicken stock. Give it a good stir, season as you wish and let it sit for 20 to 30 minutes (preferably covered). Then, you can use it the same way you'd use the coarse bulgur.
This is how you can cook bulgur as a side dish. But since bulgur soaks up water easily and quickly, you'll find many dishes that will tell you to only wash it before you add it to the recipe. The recipe itself probably has some juices (like a salad) or sauce (like when you would use bulgur to stuff peppers instead of using rice). The bulgur will soak up those liquids so pre-cooking will not be required (this is especially true when using the fine bulgur in recipes).
Bulgur Wheat Recipes…
Ok, let's see how we can use bulgur. I'll point you to a few recipes and you'll take it from there. Simply keep in mind that anything you do with rice or quinoa, you can do with bulgur.
If you have used bulgur in the past and have a recipe or a way to use it that you like, make sure to share it with us in the comments below.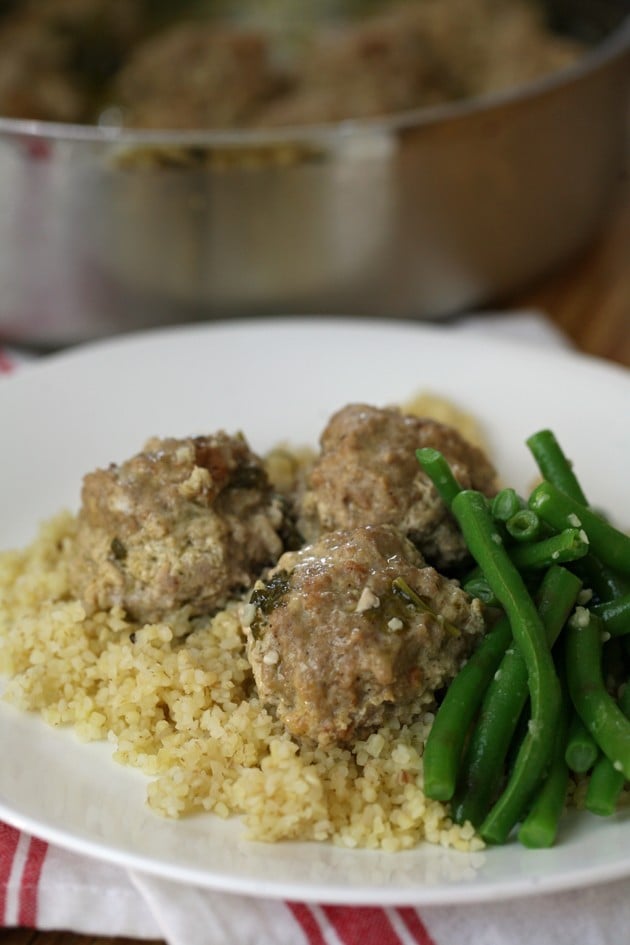 Those are my own turkey meatballs in lemon and cilantro sauce that we love so much. And this is a simple, and common way that I use bulgur; simply as a side dish.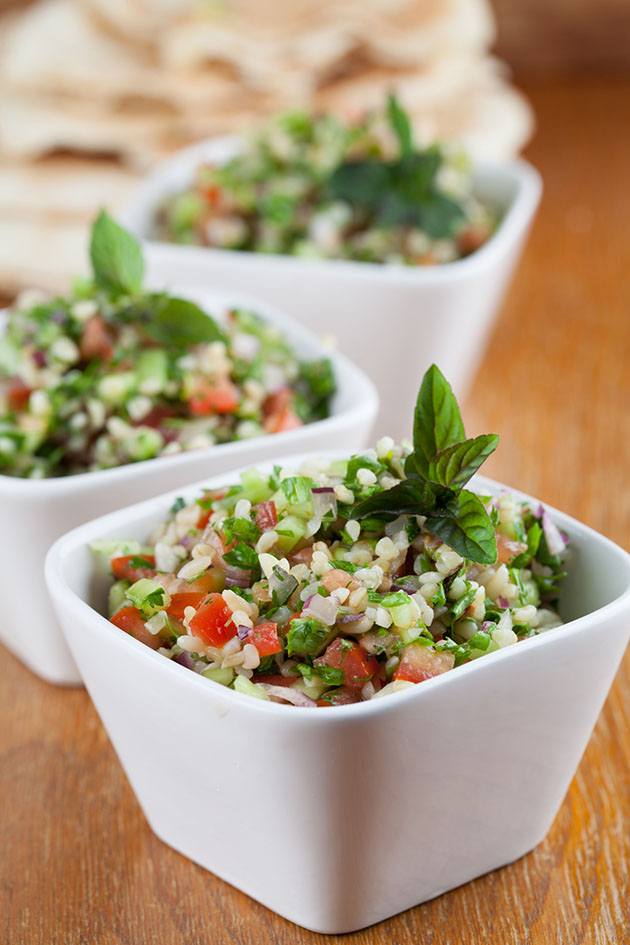 Tabbouleh is a great example of how you add bulgur to salads. Tabbouleh is a famous Mediterranean salad with cucumbers, onions, tomatoes, and a ton of parsley. To that, you add bulgur and season with lots of lemon juice, olive oil, salt, and black pepper.
But don't stop there, please! Think about any quinoa salad you know or look for a recipe for quinoa salad and you can simply switch the quinoa for bulgur.
Kibbeh is another traditional Middle-Eastern recipe. It's a shell of meat and bulgur stuffed with a delicious meat mixture. I know it might sound a bit off but, trust me, it's so good! Just make sure you make tahini sauce to go along with it.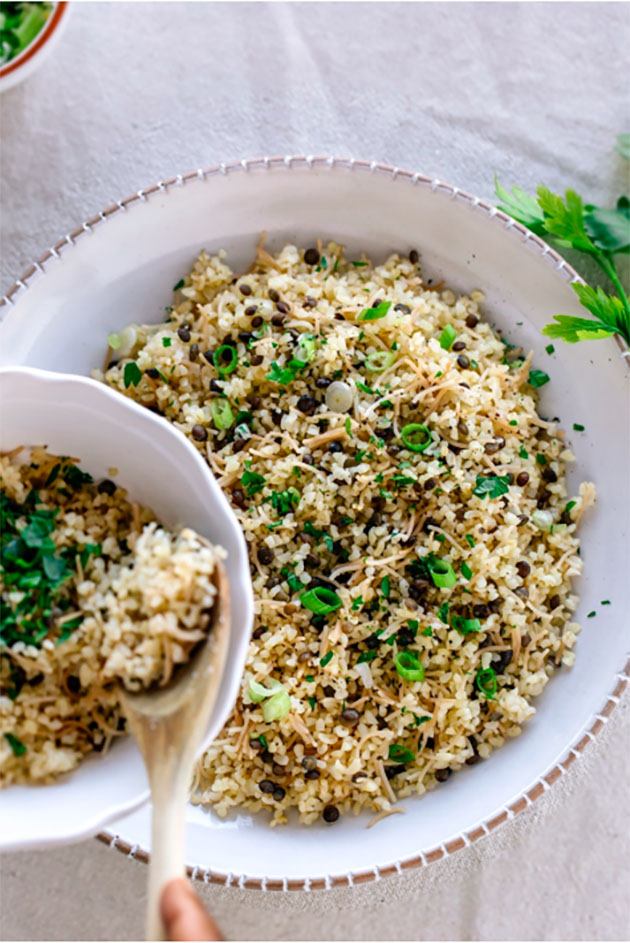 This recipe is for Turkish bulgur pilaf and it looks absolutely amazing. I imagine it can serve as a side for anything… Fish, beef, or chicken dish… Just a different, interesting, and I'm sure, delicious side dish and a way to use bulgur.
Ok, I hope that these examples gave you a better idea of how you can use bulgur in salads and more traditional Middle Eastern dishes and also how to cook bulgur wheat as a side dish.
I love having it on hand! If you store it in a dry and cool place it will last for a very long time. You can also store your dry bulgur in the refrigerator or the freezer but it's not required. It has a neutral flavor, a bit nutty, and there are a million ways to use it.
It gives us a break from rice and quinoa, a small amount of it fills the belly really good with healthy whole wheat, and the flavor takes us back home to the Middle East.
Again, if you have ever used bulgur, let us know in the comments below your favorite way of using it. If you have never used it before, in what way do you think you are going to try using it first?
Here is the handy printable on how to cook bulgur wheat as a side dish…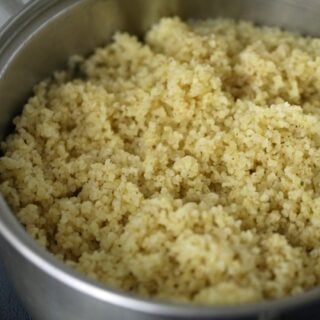 How to Cook Bulgur Wheat
Yield:
1 cup cooked coarse bulgur
Additional Time:
5 minutes
How to cook bulgur wheat as a side dish. This recipe is for cooking coarse bulgur. In the notes below, you will find instructions for preparing fine bulgur.
Ingredients
1 cup bulgur
2 cups chicken stock
Salt
Black Pepper
Instructions
Add one cup of bulgur to a pot.
Add 2 cups of chicken stock or water.
Set on the stovetop and bring to a boil.
Add salt and black pepper to taste (you can also add turmeric, paprika, garlic powder, dry onion flakes... Feel free to try different seasonings).
Stir the seasonings in, cover the pot and lower the heat to low. Cook for 5 to 10 minutes until the bulgur soaks up all the water.
Turn heat off and remove pot from the heat. Leave the pot covered and let it rest for 5 to 10 minutes.
Uncover the pot and fluff the bulgur with a fork.
Serve hot, use as a side dish.
Notes
To prepare fine bulgur, add 1 cup of boiling water to 1 cup of fine bulgur. Add seasonings if you like, stir, and let sit for 20 to 30 minutes.
Use as a side dish, add to salads, use to stuff peppers, or use in traditional Middle Eastern recipes.
If you use bulgur in a traditional recipe you might not need to cook it first. Just follow the recipe and the instructions in it on how to prepare the bulgur.
Nutrition Information:
Yield:

2
Serving Size:

1
Amount Per Serving:
Calories:

165
Total Fat:

3g
Saturated Fat:

1g
Trans Fat:

0g
Unsaturated Fat:

2g
Cholesterol:

7mg
Sodium:

639mg
Carbohydrates:

26g
Fiber:

4g
Sugar:

4g
Protein:

9g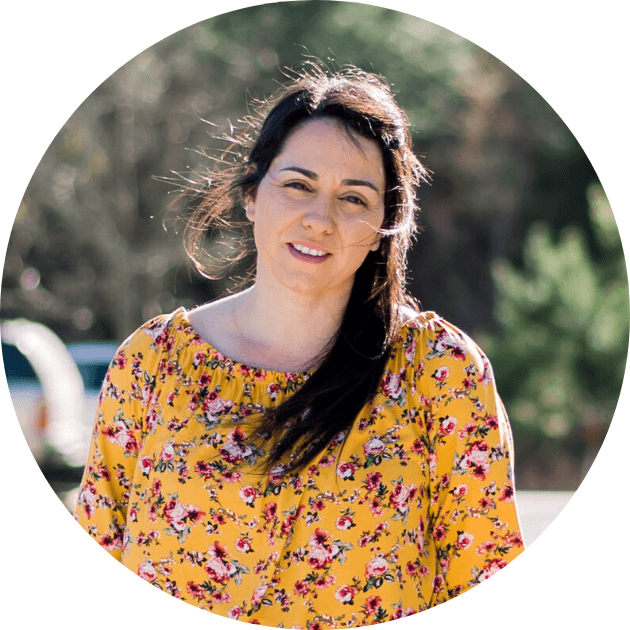 Hi! I'm Lady Lee. I help homesteaders simplify their homesteading journey while still producing a ton of food! I am a single mother of four, I was born in Israel and raised in an agricultural commune called a Kibbutz. Now I homestead in central NC.