This Southwest chicken chili recipe is easy to put together. It's healthy and filling. I make it with fresh tomatoes, corn, and beans that marry beautifully with the shredded chicken. I'll walk you through the recipe step-by-step and at the end of the post, you can find the Southwest Chicken Chili printable recipe card.
---
This Southwest Chicken Chili is one of my favorite meals to make.
First and foremost, I call it the smart-mommy-way-to-freedom dish and that's because I make a huge pot of it that lasts several days.
Second, because everyone loves it so much they will actually eat it for days without complaining! I just take the pot out of the fridge, heat it up, add some water if I need to thin it a bit and serve with tortilla chips.
I am a single mom of four who lives far away from family and has 50 animals in her backyard. Can you imagine what it means for me to not need to cook dinner for 3 or 4 days!?
Freedom, that's what it means.
And more time to take care of the other 7 million chores around here. You didn't think that I was just going to lay down on the sofa and watch the Kardashians, did you?
Although, that does sound good…
Southwest Chicken Chili Recipe…
Anyway, there is another reason why I love this dish so much and that is the fact that it's the perfect dish for a homesteader like me.
If you are not growing your own food, don't run away, please. All of the ingredients that I use are just common ingredients that you can easily find at the grocery store.
However, if you're a homesteader like me you can pretty much grow every ingredient in this dish which makes it even more attractive for those of us who live this lifestyle.
You can raise chickens for meat, you can grow the onion, garlic, corn, and beans in the garden…
You're most likely already growing tomatoes, and if you make this dish during the winter when there are no fresh tomatoes in the garden, you can use tomato sauce that I hope you canned from your garden during the season.
Even the cilantro that we are going to use for garnish can come from the garden!
It makes me so excited just writing it down. I've learned through the years that if you want to grow more of your food you might need to change your diet a bit and choose dishes that use ingredients that are possible for you to grow.
This Southwest chicken chili is one of those dishes!
Kitchen Tools we are Going to Need…
Here are the tools that you'll see me using throughout this tutorial. You might not need all of them. I have to use some of them because I grow some of the ingredients on the homestead which means I am the one who needs to do the processing…
Cutting board – when we mess with raw poultry, it's always better to use a non-wooden cutting board. I got lazy and just placed one of those plastic cutting board mats over my wooden one that is always on the counter.
Kitchen knife – to dice the onion and garlic.
Pressure cooker – I use a pressure cooker to process my chicken. We are going to use 3 cups of shredded chicken in this recipe. I go over a few ways you can get shredded chicken below. For me, it means processing my chicken in a pressure cooker.
Food processor – I am using fresh tomatoes from the garden, so I'm going to use the processor to make a quick tomato sauce.
Dutch oven – I love my dutch oven but it can be any pot.
Wooden spoon – my favorite tool for stirring a pot. Makes me feel like a witch…
Strainer – for washing the beans.
Half-pint mason jar – we are going to make a slurry to thicken the chili. I use a mason jar for that but you can just use a cup, it doesn't have to be a jar.
Measuring spoons – to measure seasonings and the flour.
Ok, let's start by preparing the chicken…
Preparing the Chicken…
If you don't raise your own chicken, you can skip this step and just get yourself 3 big cups of shredded chicken.
You can get a rotisserie chicken at the grocery store and shred the meat or you can buy raw chicken and boil it for 30-40 minutes in water before you take the meat off of the bones.
Or maybe you have some leftover chicken from a roasted chicken you made a few days prior. Another thing to keep in mind is that you can use leftover turkey from Thanksgiving.
Along with pot pie, this Southwest Chicken Chili is my favorite way to use leftover chicken or turkey.
Here on the homestead I raise Black Australorp chickens for both egg and meat production and I butcher my own chickens. I pack my whole chickens and store them in the freezer.
So for me, this dish starts by thawing a whole chicken…
Usually, I just throw the chicken in the pressure cooker with water and cook it for 40 minutes but this guy was really big and didn't fit in the pot so I had to remove the legs first…
Then I was able to fit the chicken in the pressure cooker, add 4 cups of water, and cook the chicken in the pressure cooker for 40 minutes.
Just a couple of notes here…
First, I took the time to remove the skin, we really don't have a use for it in this dish so I gave it to my dog (raw).
Since I've started making this dish more often, I now skin most of my chickens instead of plucking them when I butcher them.
The last note I have here is that if you raise ducks for meat and butcher them on the homestead you can definitely make this dish with duck meat as well. You can also use rabbit meat if you grow rabbits.
After 40 minutes, I take the pressure cooker to the sink and let the cool water wash over it and cool it quickly. After it's cooled, I open the pot…
The meat is falling off the bone at this point. I usually let the chicken cool for a few minutes and then just use my hands to pull and shred the meat. Reserve the liquid for later.
This rooster was really big. We are only going to use three cups of shredded chicken so I can either use the rest for another dish (like a chicken salad for example), freeze it for later, or can the extra chicken meat.
Preparing the Tomatoes…
I set the chicken aside and got to work on the tomatoes. I used four large tomatoes from the summer garden.
If you don't grow tomatoes, just use 2, 15 oz cans of tomato sauce from the grocery store or you can use four large tomatoes from the store.
If you use fresh tomatoes you might choose to peel them or grate them but you don't have to. If the skin doesn't bother you, you can just process them in the food processor or dice them.
My tomatoes were frozen. During the growing season, I often don't have time to process everything that I harvest. With tomatoes this is not a problem, all I do is place them in a plastic bag and send them to the freezer.
When you thaw frozen tomatoes the peel comes right off. It's a nice trick that saves you the process of blanching your tomatoes in order to remove the skin.
So I peel my tomatoes…
Cut them roughly and process them in the food processor. I set this aside and got to work on my onion and garlic…
Preparing the Onion and Garlic…
So, we are going to need one large onion but as you can see, I already used all of the large onions that I got from the garden this season and I'm left with all the little ones. So I just had to grab a few of them…
Peel them and dice them. Also, in addition to the onion, I peel and fine dice (or mince) 3 large garlic cloves. Now let's put all of this together…
How to Make Southwest Chicken Chili…
To my dutch oven, I add 3 tablespoons of oil (canola or vegetable) and heat it. When the oil is hot, I lower the temperature to medium-high and add the diced onion. I fry the onion until it starts to brown as you see in the picture.
Usually, this takes around 10 minutes. During this time, I make sure that I stir the onions every few minutes so they don't burn…
Then, I add the garlic, stir it in and let it cook with the onions for a couple of minutes…
Next, I add the 3 cups of shredded chicken, the 4 large pureed tomatoes, and 3 cups of chicken stock (for me, it's the water I added to the pressure canner when I cooked the chicken).
I stir all of this together, turn the heat to high and bring it to a gentle boil…
When the pot is boiling, I lower the heat back to medium to keep a gentle rolling boil and I add my seasonings: 1 tablespoon of cumin, 1 teaspoon of black pepper, one teaspoon of salt (you might want to add some more later), and one teaspoon of sweet paprika.
If you want this dish to be a little spicy, you can switch the paprika with ground chili pepper.
I stir in the seasonings, cover the pot, and let it cook for 15 minutes (I stir it every few minutes).
While the pot is cooking on the stove I empty 3 cans of beans into a strainer and wash them with cold water.
I used kidney beans here, but you can use black beans or any other kind you'd like.
I also open one can of corn and drain it.
After 15 minutes of gentle boiling, I add the beans and the corn into the pot and stir.
Next, I make a slurry to thicken the chili. I am using Mesa Harina flour which is corn flour. I do this to thicken the chili a little bit and I use the Masa Harina flour instead of regular flour because the taste of the flour adds this awesome Southwest taste to the chili.
So, in a mason jar I mix 3/4 cup water with 4 tablespoons of Masa Harina flour, mix it or close the jar and shake it well…
Then I add it to the chili, stir it in, and let the chili cook for ten more minutes.
Last but not least is the delicious cilantro. Sometimes I add this to the pot and sometimes I add it to the individual servings.
All I do is give it a rough chop and sprinkle it on the chili for a little garnish and freshness.
I serve it hot with tortilla chips. We don't eat cheese and meat together but of course, if you'd like, you can sprinkle some cheese on top (I would sprinkle the cheese on individual servings and not on the whole thing) and let the hot chili melt it.
If I added cheese, I'd probably add cheddar…
This pot will serve 8 adults but since my kids are little and they don't eat that much, it lasts us for about three meals. Sometimes, I'll even double the recipe if I want it to last longer.
I store it in the fridge and when I want to reheat it I just place it on the stovetop and turn the heat to medium-high. I stir frequently and if it's too thick I add a little bit of water and correct the seasoning.
---
It's a very filling meal! It's healthy and so many of the ingredients we can grow on the homestead which makes it an even more special dish.
Remember you can do this with leftover chicken or turkey (or with rabbit or duck meat too!). If I make too much I just freeze it in jars. It freezes very well. Then when we're ready to enjoy it again, I thaw it, transfer to a pot, and heat it up.
I hope you'll give this yummy dish a try!
Here is the handy Southwest Chicken Chili recipe card…
Southwest Chicken Chili
Total Time:
1 hour
15 minutes
Delicious, filling, and healthy Southwest chicken chili recipe.
Ingredients
3 tablespoons of canola oil
1 large onion, diced
3 garlic cloves diced or minced
3 cups shredded chicken (you can also use duck, rabbit, or turkey)
3 cups chicken stock
2 15 oz cans of tomato sauce or 4 large tomatoes, peeled and pureed in the food processor
1 tablespoon cumin
1 teaspoon salt
1 teaspoon black pepper
1 teaspoon paprika (or ground chili pepper if you want the dish a bit spicy)
3 15.5 oz cans of beans, washed (I used kidney beans but you can use any kind)
1 15.25 oz can of corn, drained
3/4 cup cool water + 4 tablespoons of Masa harina flour
Cilantro for garnish
Tortilla chips for serving
Instructions
Heat 3 tablespoons of canola oil.
When the oil is hot, turn the heat to medium-high and add the diced onion. Fry for about 10 minutes, stirring frequently, until it starts to brown.
Add the garlic, stir it in and cook for another 2 minutes.
Add the shredded chicken, chicken stock, and tomato sauce. Stir and bring to a boil.
Season with cumin, salt, pepper, and paprika. Stir, lower the heat to medium and cook for 15 minutes (stir frequently).
Add the beans and corn and mix them in.
Make a thickening slurry by mixing the Masa flour and water.
Add the slurry to the chili, stir it in and cook for an additional 10 minutes, stirring frequently.
Taste and correct seasoning.
Garnish with cilantro and serve hot with tortilla chips on the side.
Notes
For us (myself and my 4 little kids), this large pot is enough for 3 meals. I serve the chili hot and then keep the rest in the pot in the fridge.
When we are ready for another meal, I place the pot on the stovetop and heat it on medium-high. If the chili is too thick, I add some water and correct the seasoning.
This dish also freezes great. I freeze it in quart jars. When I want to serve it, I let the jar thaw, transfer the chili to a pot and heat it.
The calories below don't include the tortilla chips that I usually serve this dish with.
Nutrition Information:
Yield:

8
Serving Size:

1 cup
Amount Per Serving:
Calories:

408
Total Fat:

12g
Saturated Fat:

2g
Trans Fat:

0g
Unsaturated Fat:

9g
Cholesterol:

41mg
Sodium:

121mg
Carbohydrates:

56g
Fiber:

8g
Sugar:

17g
Protein:

25g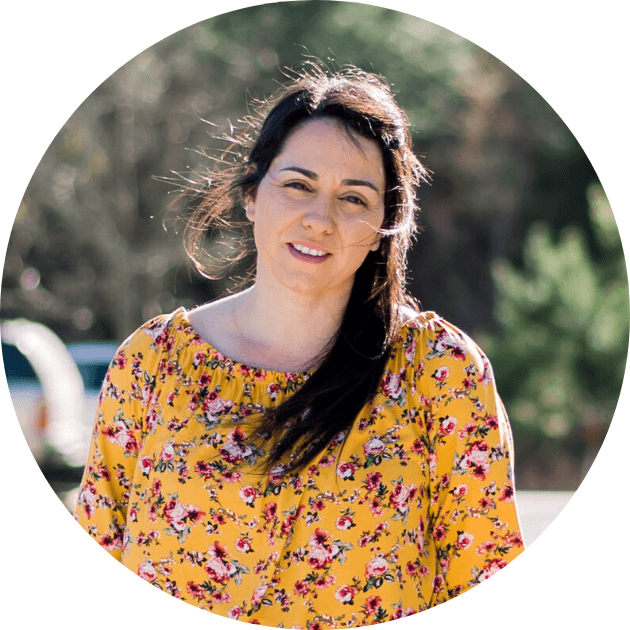 Hi! I'm Lady Lee. I help homesteaders simplify their homesteading journey while still producing a ton of food! I am a single mother of four, I was born in Israel and raised in an agricultural commune called a Kibbutz. Now I homestead in central NC.