You know the delicious whole roasted chicken you get at the grocery store? The one with the crispy seasoned skin and the juicy, falling off the bone meat?
You know why it comes out this way? I'll tell you why… Because it is hanging in the air instead of laying in its own juices while it roasts. That's why.
When you roast a chicken at home, you usually place it in a pan and when the chicken roasts a lot of liquid comes out of it and stays right there around it. It's not bad, don't get me wrong, but it's not crispy either.
Even if you place the chicken on a roasting rack inside a roasting pan, the liquid is still there, evaporating and softening the skin.
Super Easy Roasted Chicken in Salt…
So to get this crispy-on-the-outside-soft-on-the-inside thingie going at home, we are going to use an ancient Israeli trick that is super easy and quick (I have no clue if it's really an Israeli trick… I just learned it back home so I'll give Israel the credit…)
We are going to use salt. Coarse salt, not the fine table salt.
It's really simple, the salt doesn't touch the chicken, all it does is absorbs the liquid that comes out of the chicken while it's roasting, keeping the outside dry so it can crisp while locking the juices inside to make the meat super soft.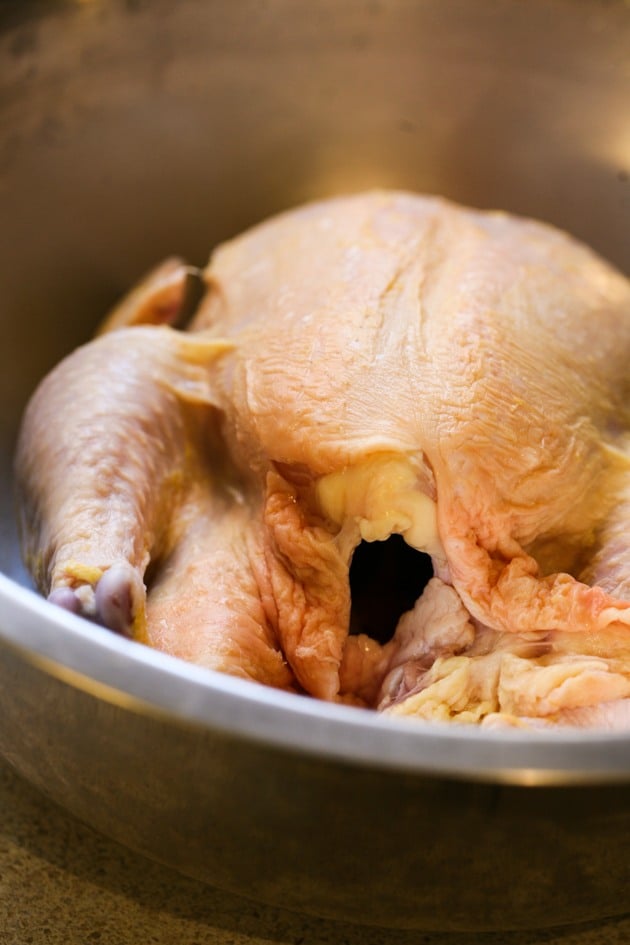 We start with, you guessed it, a whole chicken.
I wash it well…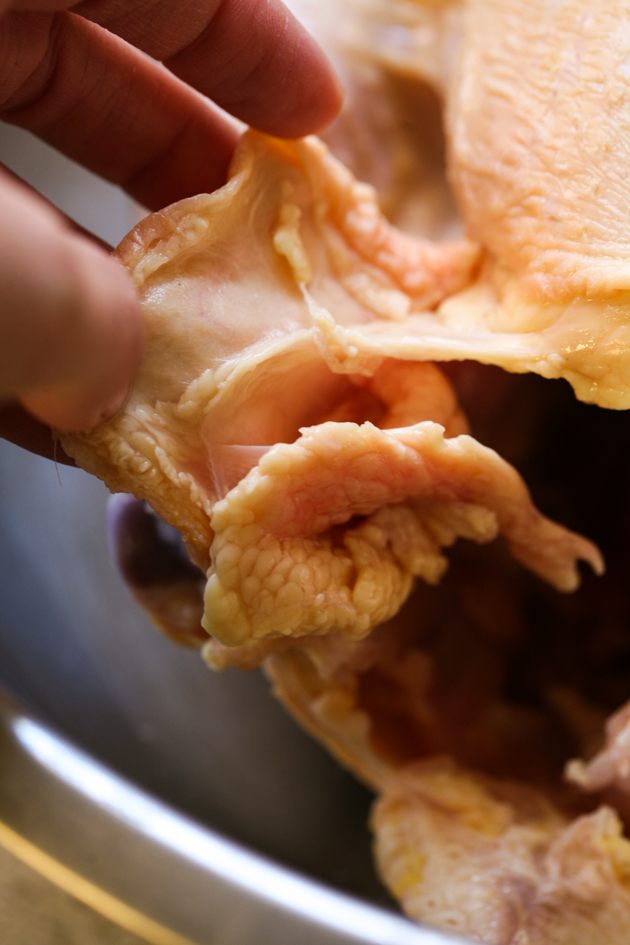 Then get rid of this access fat that they leave around the opening of the stomach.
Also, if your whole chicken has that bag with inners in its cavity, remove it (you know… The bag with the liver and heart…).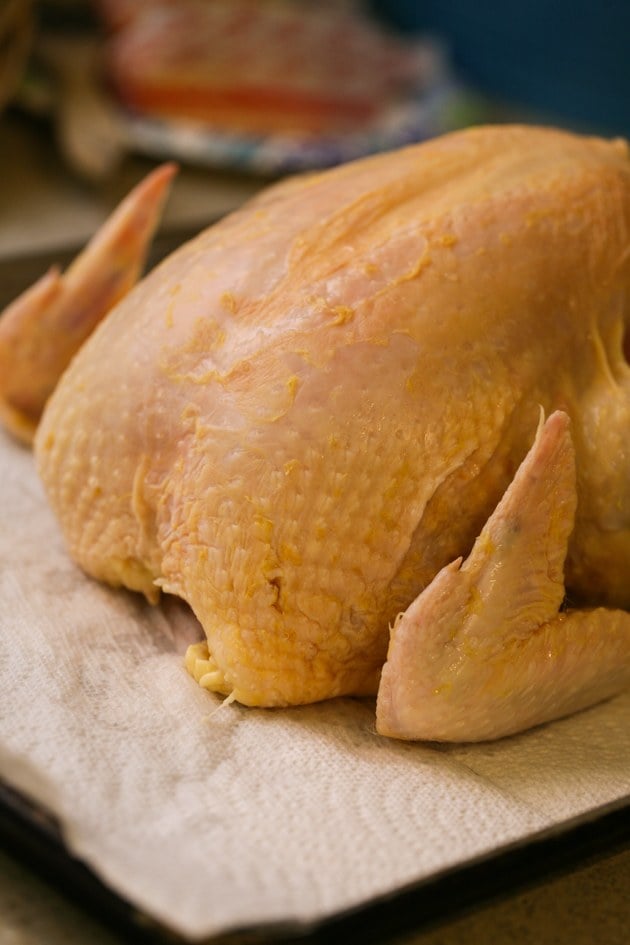 Transfer the chicken to a paper towel…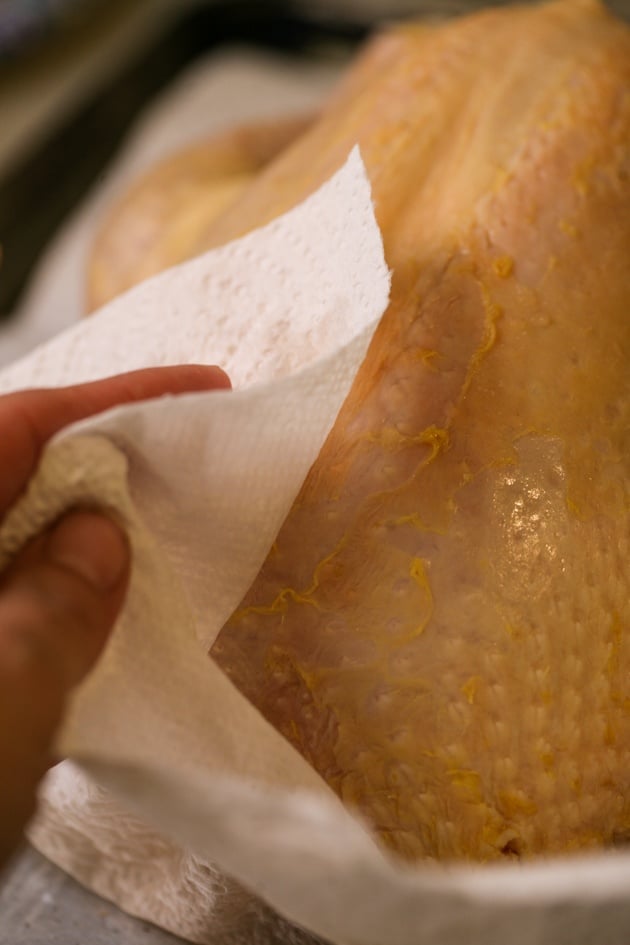 And pat it dry.
Then place it on a baking sheet that is lined with parchment paper.
In a small bowl, make your seasoning mixture. You can add about two million different things here… Dry oregano, thyme, rosemary, paprika, cayenne, cumin, chili, garlic powder, onion powder, black pepper… Whatever you like.
I kept it simple with a tablespoon of sweet paprika, a tablespoon of garlic powder, little less than a teaspoon of black pepper, and just a little bit of salt since you can always add more later.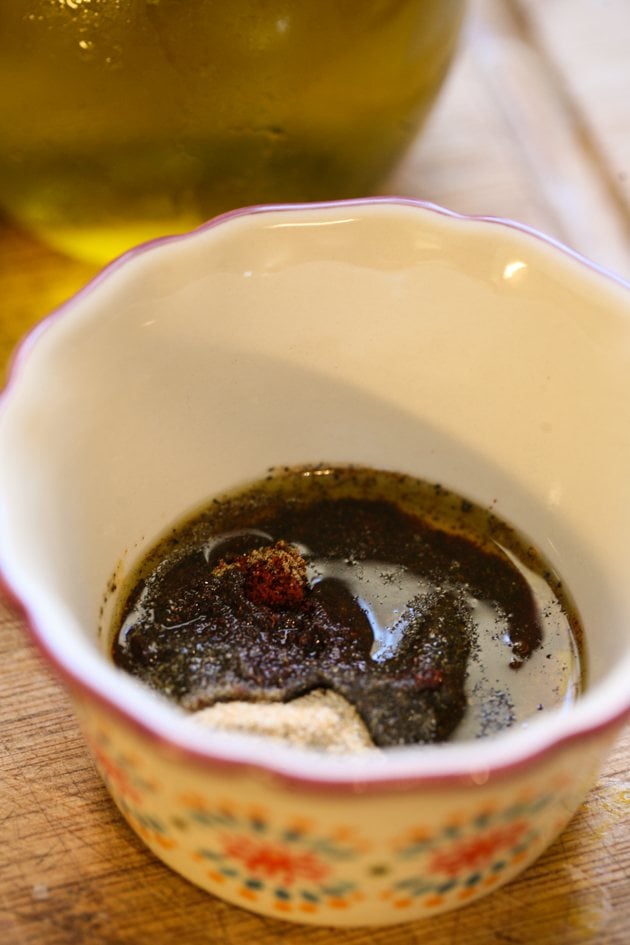 Add some olive oil…
Just enough to turn it into a runny paste.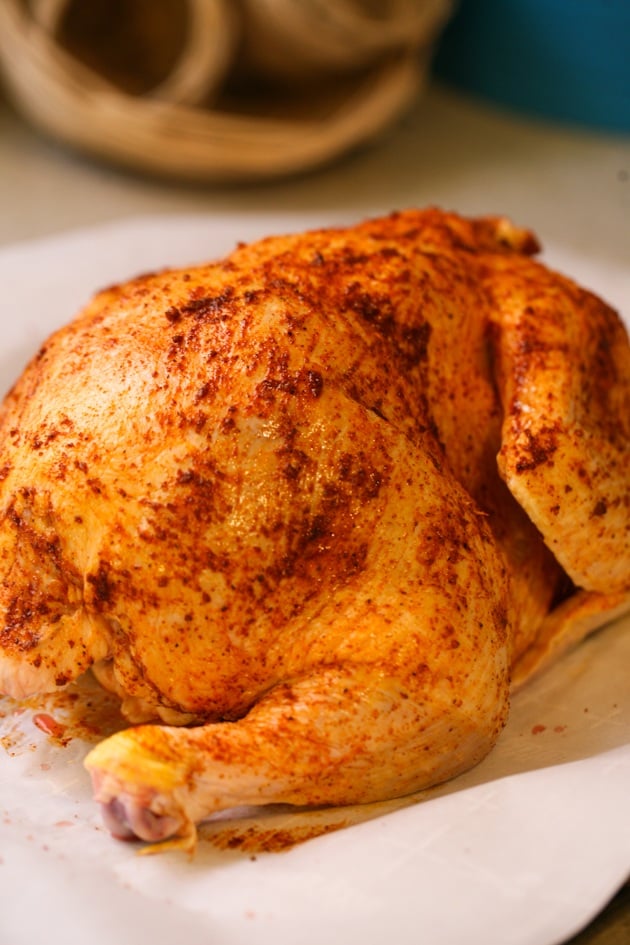 Then brush the chicken well from all sides with the seasoning mixture.
Now we are getting to the salt part… Along the two short sides of the pan, pile up some salt.
Don't be shy here, pile the salt up as high as it will go without touching the chicken.
Do this on both of the short sides of the pan. Lots of coarse salt piled up high without touching the chicken.
That's all it takes. Now preheat your oven to 400F, and roast the chicken for an hour and a half to two hours uncovered.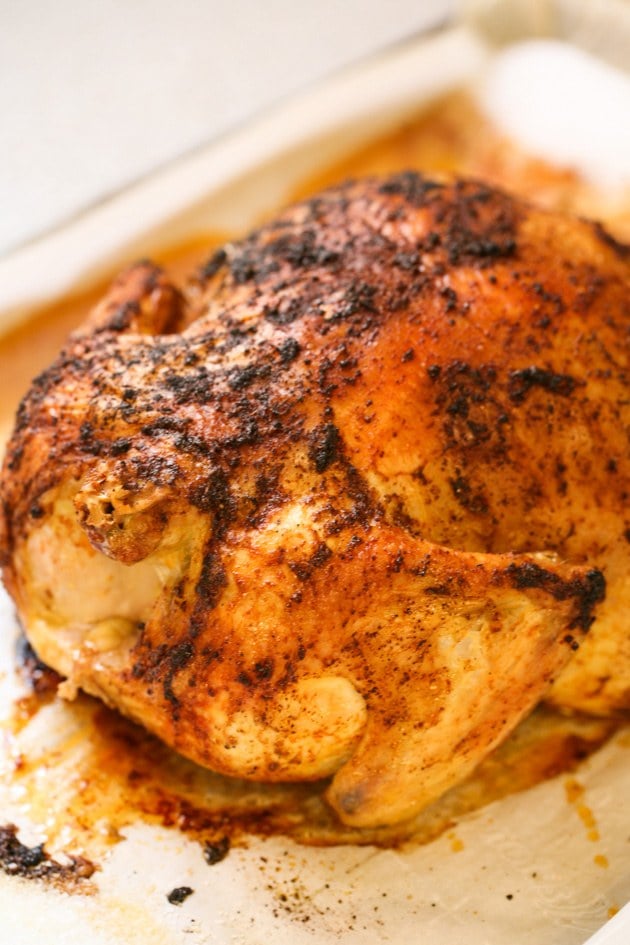 When you remove the pan from the oven you'll notice that there is no liquid around the chicken…
The salt absorbs all the liquid! Magic, huh?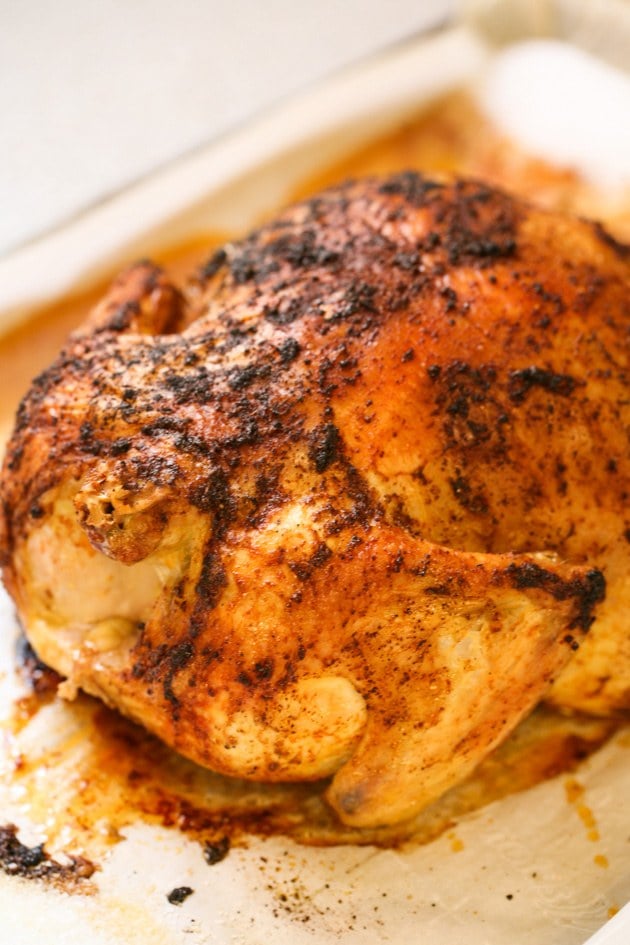 The skin of the chicken is crispy while the meat is falling off the bone.
This is such a simple way to roast chicken. It takes minutes to put it together. I usually serve this chicken with rice and a salad and if there are leftovers (usually there aren't…) I sometimes can the meat.
Here is the handy printable…
Super Easy Roasted Chicken in Salt
Ingredients
1 whole chicken, washed and dried
1 tbs sweet paprika
1 tbs garlic powder
Salt and pepper to taste
3 tbs olive oil
Coarse salt
Instructions
1. Pre heat your over to 400F.
2. Place your chicken on a baking sheet lined with parchement paper.
3. In a small bowl, mix all the seasoning, add enough olive oil to turn it into a paste.
4. Brush the chicken with the seasoning mixture.
5. Along the two short sides of the baking pan, pile as much salt as you can without the salt touching the chicken (about an inch high it good).
6. Roast for an hour and a half to two hours.
7. Remove from the oven and enjoy! I usually serve it with rice and a salad.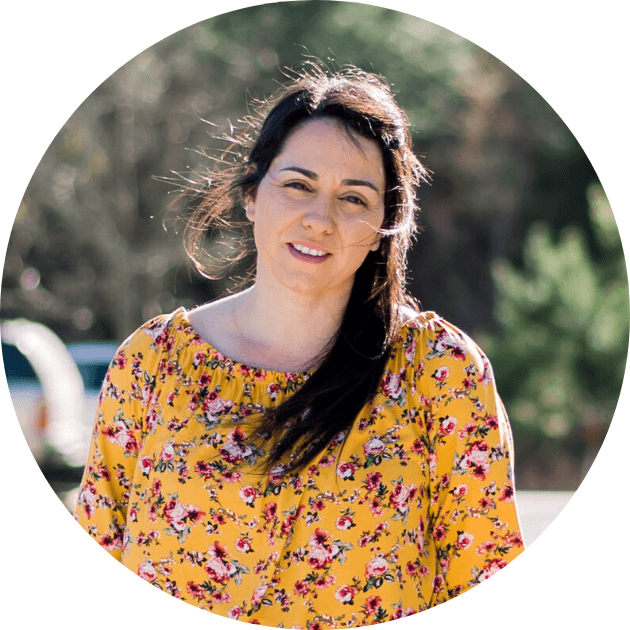 Hi! I'm Lady Lee. I help homesteaders simplify their homesteading journey while still producing a ton of food! I am a single mother of four, I was born in Israel and raised in an agricultural commune called a Kibbutz. Now I homestead in central NC.