No two cups of sugar, no canned pumpkin! This low sugar pumpkin bread recipe is moist and delicious and healthier than most. It has less sugar in it and is made with fresh pumpkin puree. You can use coconut oil and whole wheat flour to make it even healthier. It takes only minutes to put together and is a great snack, breakfast, or dessert. At the end of this post, I have the recipe printable for you.

I've decided once and for all to sit down and write my own easy low sugar pumpkin bread recipe.
I am not sure why, but every year it takes me an awful lot of time to find a recipe that doesn't have two cups of sugar and canned pumpkin in it.
So I took a few basic recipes and mixed things up and came up with an easy low sugar pumpkin bread recipe that I really like. A lot.
It's not too sweet but still uses some sugar, it takes minutes to put together, and it uses fresh pumpkin. We grow pumpkins here on the homestead, but even if you don't grow your own pumpkins, there are fresh pumpkins everywhere this season.
I honestly can't think of one reason why anyone would go buy a can of runny pumpkin puree when you can use fresh pumpkin from the field. It might take a tiny bit of extra work to make the puree but it's a super easy job and totally worth it.
Low Sugar Pumpkin Bread Recipe…
Let's make sure that we have all the kitchen tools we need before we begin making this low sugar pumpkin bread…
Kitchen Tools to Gather for this Pumpkin Bread Recipe…
A kitchen knife – to cut the pumpkin.
A cutting board – to work on.
A baking sheet – to place the pumpkin on when we bake it to make pumpkin puree.
A couple of large mixing bowls – for mixing the dry and wet ingredients.
A KitchenAid hand mixer – this one is my favorite thing to use for mixing any batter.
A whisk – you can always use a whisk instead if you don't have a mixer.
A mixer – or if you prefer, you can let the larger mixer do the work. I have this Bosch mixer but I honestly only use it to make a dough (pizza dough or bread…).
A spatula – to help us make sure we add all of the batter to the baking pans and don't leave anything behind.
Loaf pan – a 9 x 5 loaf pan works the best. The recipe below is for one loaf but you can easily double or triple this recipe so get as many loaf pans as you need.
Parchment paper – you'll see below that I oil my loaf pans but I actually think it's much easier lining them with parchment paper. Then, when the bread is ready you can hold the paper and pull the bread right out of the pan to cool. So you can either oil the pan or line it with parchment paper, it's up to you.
Ok, we have everything we need. Before we start with this low sugar pumpkin bread recipe, let me walk you through how you would make your own pumpkin puree from a fresh pumpkin…
How to Make Pumpkin Puree…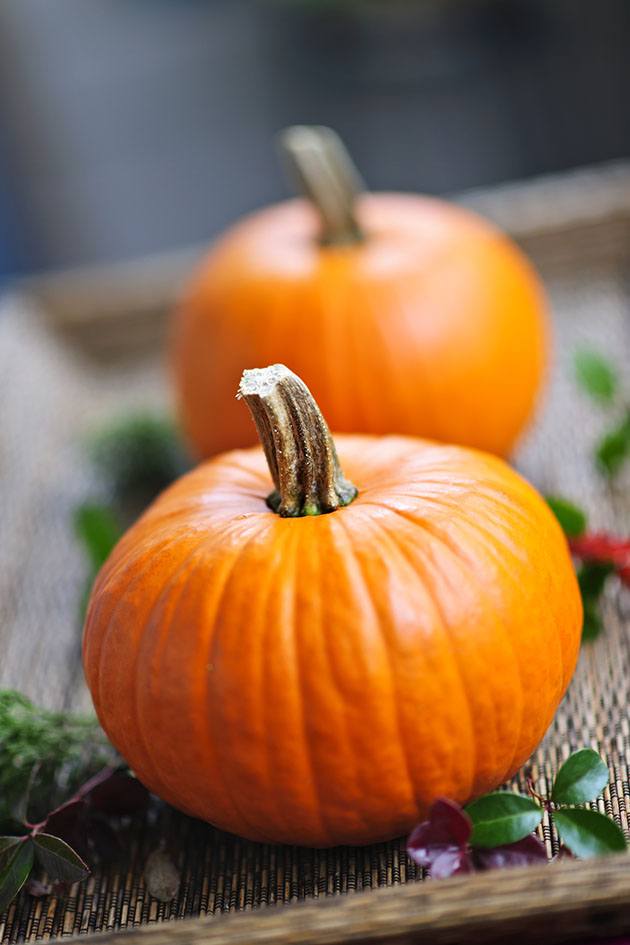 First, choose your pumpkin. It can be either a pie pumpkin or a carving pumpkin. It really doesn't matter.
A pie pumpkin (the one in the picture above) is the smaller of the two. It is round, orange, contains less water, and has a thick flesh that is less grainy.
A carving pumpkin, also called a Jack-o-lantern pumpkin, is the larger of the two. The flesh of this pumpkin is thinner and more grainy, and it contains more water.
Both kinds of pumpkins are just fine for any pumpkin recipe. You might want to use a pie pumpkin if you are making a pumpkin pie and a carving pumpkin if you are making a pumpkin salad, but they are really very similar.
I preserve them the same way (here is how to can pumpkin), I make pumpkin soup from both of them, I use either one to make my delicious pumpkin cheesecake, and I use the seeds of both and roast them with cumin and garlic powder.
In this low sugar pumpkin bread recipe that I share with you in this post I used a carving pumpkin.
To make pumpkin puree from a fresh pumpkin, cut around the stem and remove it. Then cut the pumpkin in half, clean out the center (make sure to keep the seeds for roasting!), and stick it in a 375F oven for about 40 minutes (depending on the size of your pumpkin) or until the pumpkin is soft.
When the pumpkin is soft, take it out, let it cool a bit, and use a spoon to scoop the flesh. You can then puree it in the food processor or with a fork.
We are only going to use 1 cup of pumpkin puree for this recipe. I puree the whole pumpkin, divide it into batches of one cup in each bag and freeze the bags. This way I have pumpkin puree ready for the next pumpkin bread or for any other pumpkin recipe.
Once you have your pumpkin puree ready we can bake some delicious pumpkin bread!
Mixing the Wet Ingredients…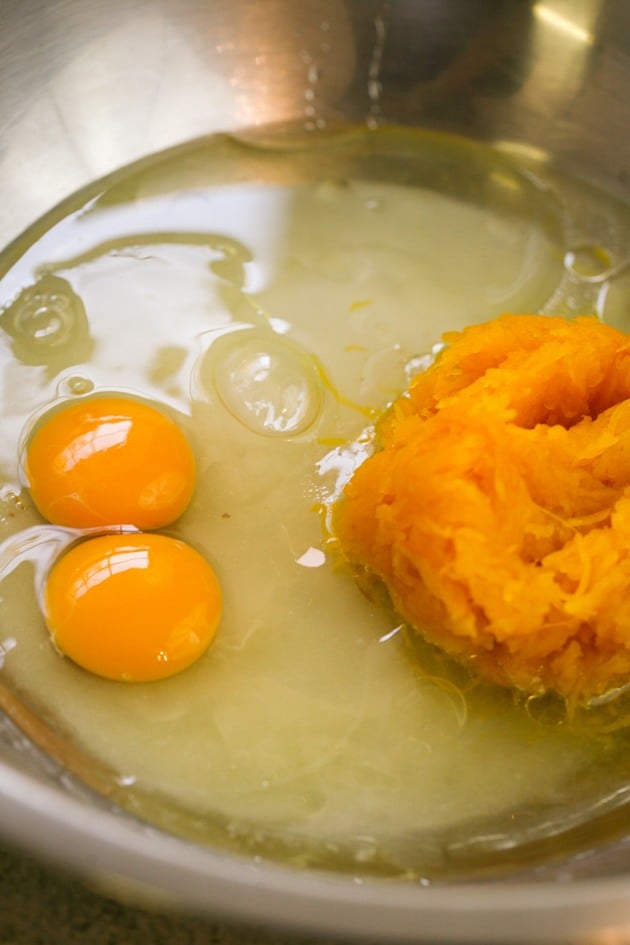 To a bowl, I add…
3/4 cup sugar (you can reduce to 1/2 cup if you'd like),
1 cup fresh pumpkin puree,
1/2 cup vegetable oil (or coconut oil),
1/2 cup of water,
and 2 eggs.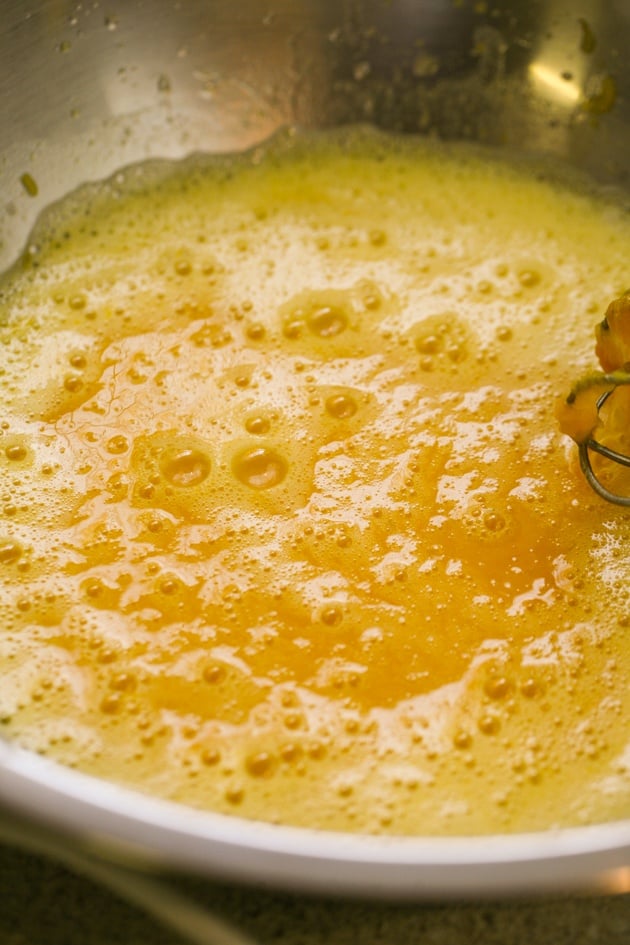 Using my hand mixer, I mix all the ingredients until they are well combined. Of course, you can do this with a stand mixer or with a whisk if you don't have a mixer.
Set this mixture aside for a moment.
Mixing the Dry Ingredients…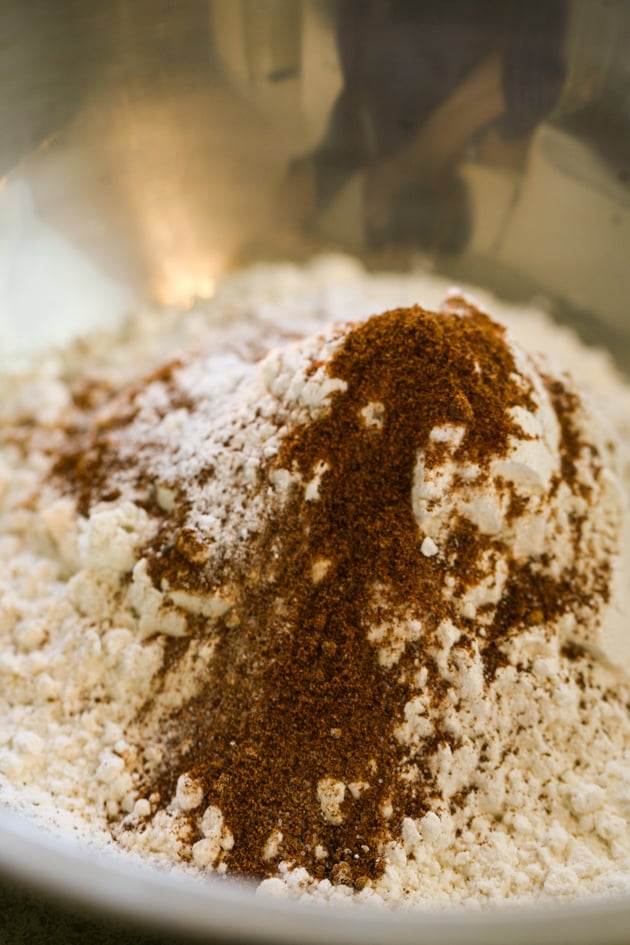 To a different bowl, I add…
1 3/4 cups of all-purpose flour (sometimes I sift it but sometimes not…),
1 tsp baking soda,
3/4 tsp cinnamon,
3/4 tsp salt,
1/2 tsp baking powder,
1/2 tsp nutmeg,
and 1/4 tsp clove.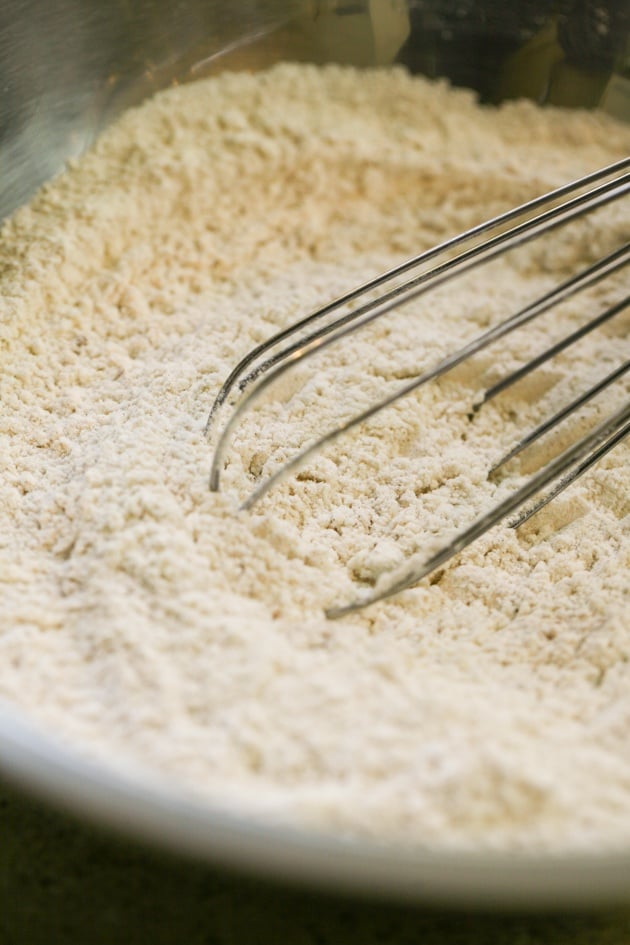 I use a whisk to mix the dry ingredients…
Combining the Wet and Dry Ingredients…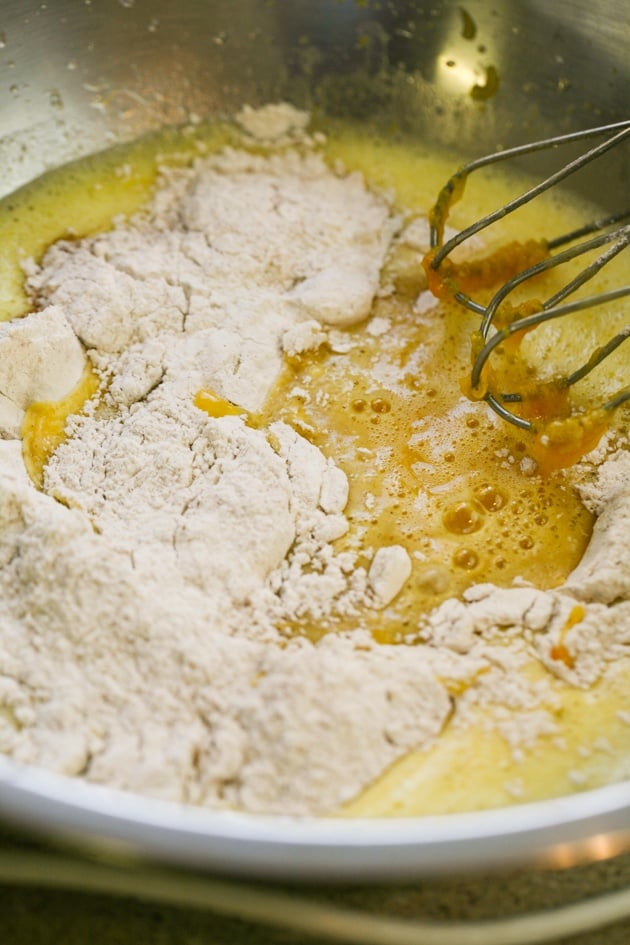 I add the dry ingredients to the wet ingredients…
And use my hand mixer on low speed to mix the wet and dry ingredients until combined.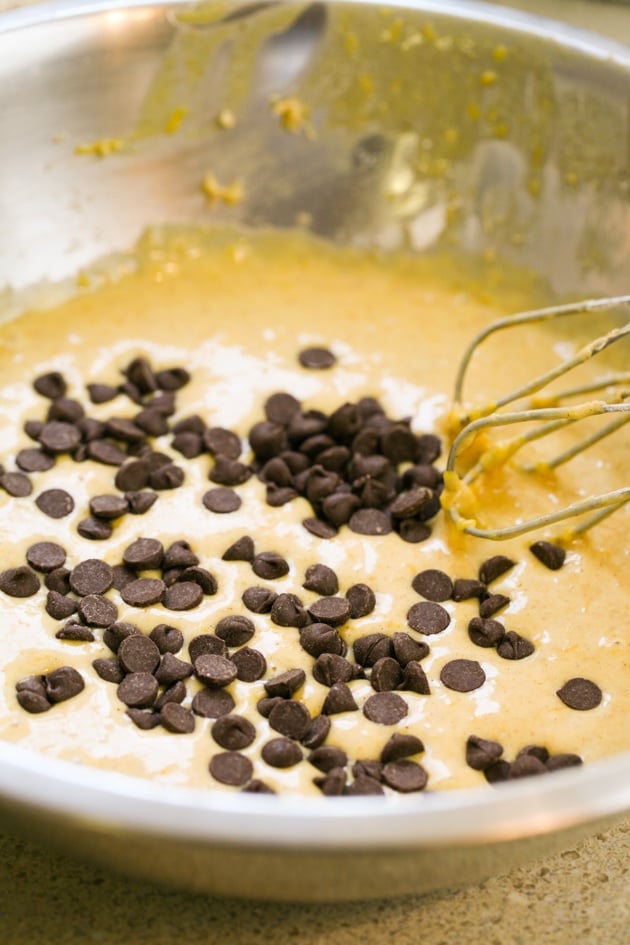 The last step is to add 1/2 cup of add-ins (or don't add anything at all). Sometimes I add raisins, sometimes chocolate chips, or walnuts, or whatever else I feel like at the moment.
Baking, Serving and Freezing this Low Sugar Pumpkin Bread…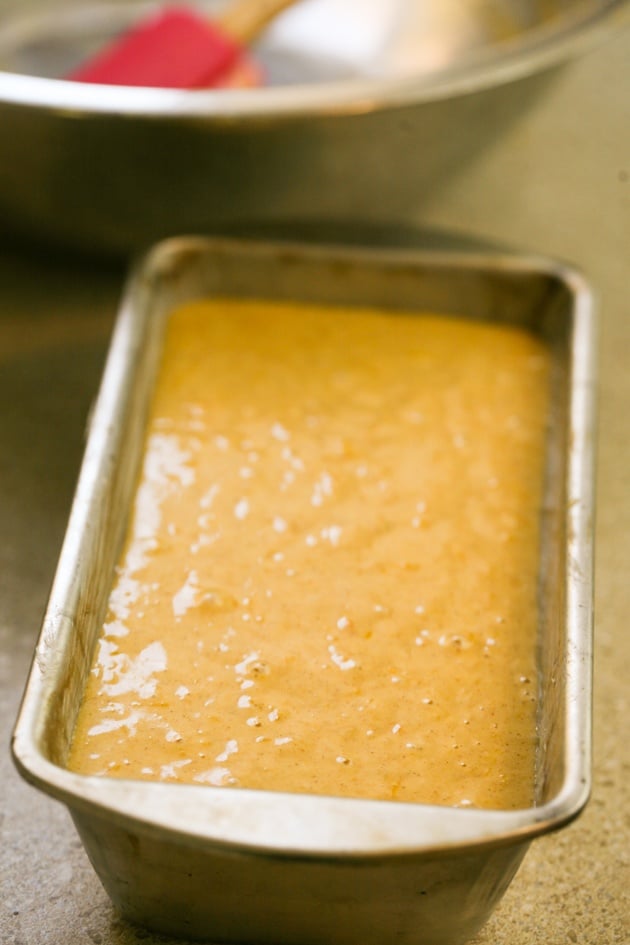 I butter or oil a loaf pan very well and add the batter to the pan.
This is how I used to do it but now I prefer lining the pan with parchment paper. When the bread is ready I hold the parchment paper and pull the bread right out of the pan to cool. I've never owned silicon pans, they might work well too.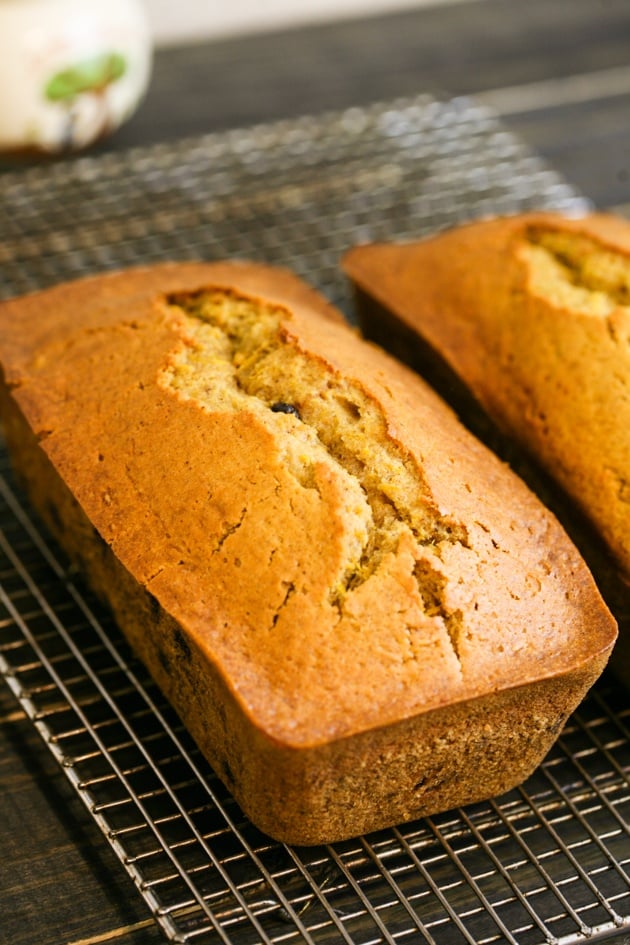 I bake my bread for about 65 minutes in a 350F preheated oven.
To check if the bread is ready, I insert a toothpick in the center. If the toothpick comes out clean, the bread is baked all the way. If it comes out wet, I bake for five more minutes and then check again.
I wrote the recipe for one loaf, but as you can see in the picture, I am never making just one. This is such a simple recipe and it makes sense to me to always double or even triple it.
We usually eat one loaf fresh and the other one (or two) I wrap and freeze. This low sugar pumpkin bread freezes really well. Whenever I want, I take it out of the freezer, let it thaw for a few hours and it's ready to eat. Sometimes I heat the individual slices in the microwave for a few seconds.
If you are up to it, take a few hours and make 10 or 20 loaves and freeze them all during the season when pumpkins are cheap and available. Then, you have pumpkin bread in the freezer for the whole year!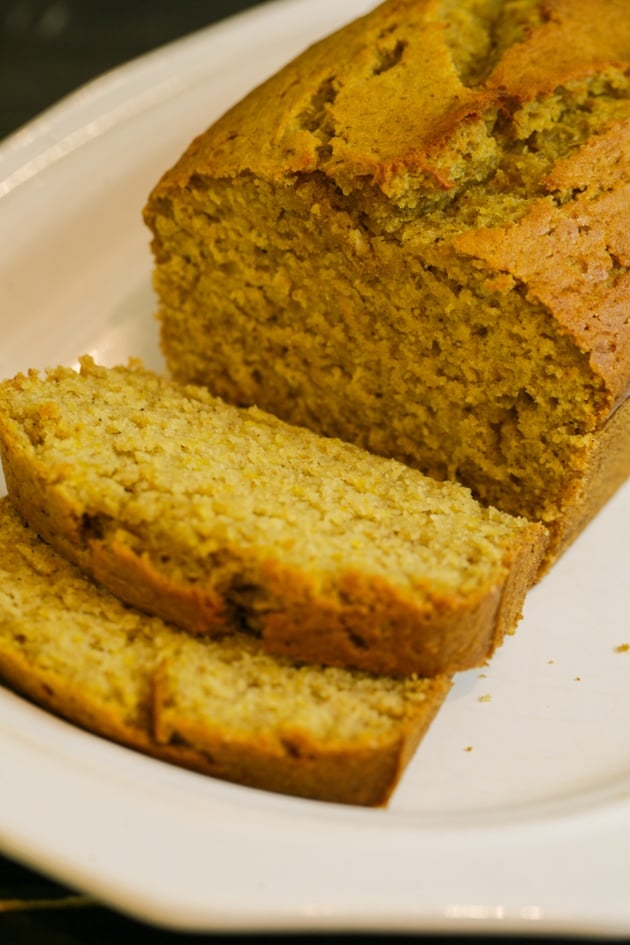 This pumpkin bread is soft, moist, easy, and delicious. If you find that it's not sweet enough for you, just drizzle some honey on your slice. For me and even for the kids it's plenty sweet.
We love to eat it for breakfast. I'll serve a slice of bread, a piece of yummy cheese, and a fruit (maybe a banana, or an orange). It's a filling and super easy breakfast to make for days that you have to rush out the door for school or whatever.
Also, I really enjoy having it with my afternoon coffee. It's a great seasonal coffee cake in my opinion.
I hope you enjoyed this tutorial! If you give this low sugar pumpkin bread a try, please comment below and tell me how you liked it.
Make sure to check my Homestead Pumpkin Recipe page for a list of all of the pumpkin recipes that I have here on the blog.
Also, if you liked this recipe you might also want to try my Death by Chocolate Zucchini Bread, Low Sugar Zucchini Bread, or delicious Apple Cake Recipe.
Here is the handy pumpkin bread printable: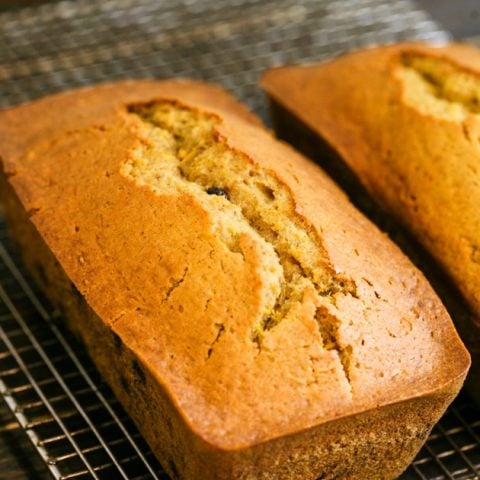 Easy Pumpkin Bread
Bake Time:
1 hour
5 minutes
Total Time:
1 hour
20 minutes
Easy to make low sugar pumpkin bread. It's moist and flavorful, using fresh pumpkin puree, less sugar, and delicious fall spices.
Ingredients
3/4 cup sugar
1 cup fresh pumpkin puree
1/2 cup vegetable or coconut oil
1/2 cup water
2 eggs
1 3/4 cups flour
1 tsp baking soda
3/4 tsp ground cinnamon
3/4 tsp salt
1/2 tsp baking powder
1/2 tsp ground nutmeg
1/4 tsp ground clove
Optional: 1/2 cup chocolate chips, raisins, walnuts...
Instructions
Heat oven to 350F.
In a mixing bowl mix sugar, pumpkin puree, oil, water, and eggs.
In a different mixing bowl mix flour, baking soda, cinnamon, salt, baking powder, nutmeg and clove.
Combine dry ingredients with the wet ingredients.
Add chocolate chips or other add-ins you'd like (or nothing at all) and mix them in.
Add batter to an oiled loaf pan (or a loaf pan lined with parchment paper) and bake for 65-70 minutes or until the center is set (I insert a toothpick in the middle of the bread, if it comes out clean it means the bread is baked all the way).
Enjoy!
Notes
If you'd like even less sugar, you can add 1/2 cup instead of 3/4 of a cup.
You can let this bread cool and serve it right away. Keep at room temperature or in the fridge.
This bread also freezes very well. You can let the loaf cool completely, then wrap the bread in plastic food wrap and freeze.
To thaw it, just leave it at room temperature for a few hours. Then serve at room temperature or warm each slice in the microwave for a few seconds before serving.
Nutrition Information:
Yield:

10
Serving Size:

1
Amount Per Serving:
Calories:

176
Total Fat:

3g
Saturated Fat:

2g
Trans Fat:

0g
Unsaturated Fat:

1g
Cholesterol:

37mg
Sodium:

344mg
Carbohydrates:

35g
Fiber:

2g
Sugar:

16g
Protein:

4g