Learn how to freeze pumpkin puree so you can enjoy pumpkins year-round. Freezing pumpkin puree is a simple and quick way to preserve pumpkins for up to a year.
---
There are so many ways to use pumpkin puree and even though it's pretty simple to can pumpkins, it's not safe to can pumpkin puree.
So if you want to have pumpkin puree ready to use in a recipe, or if you used pumpkin puree and you have some leftover, the best way to preserve it is by freezing it.
How to Freeze Pumpkin Puree…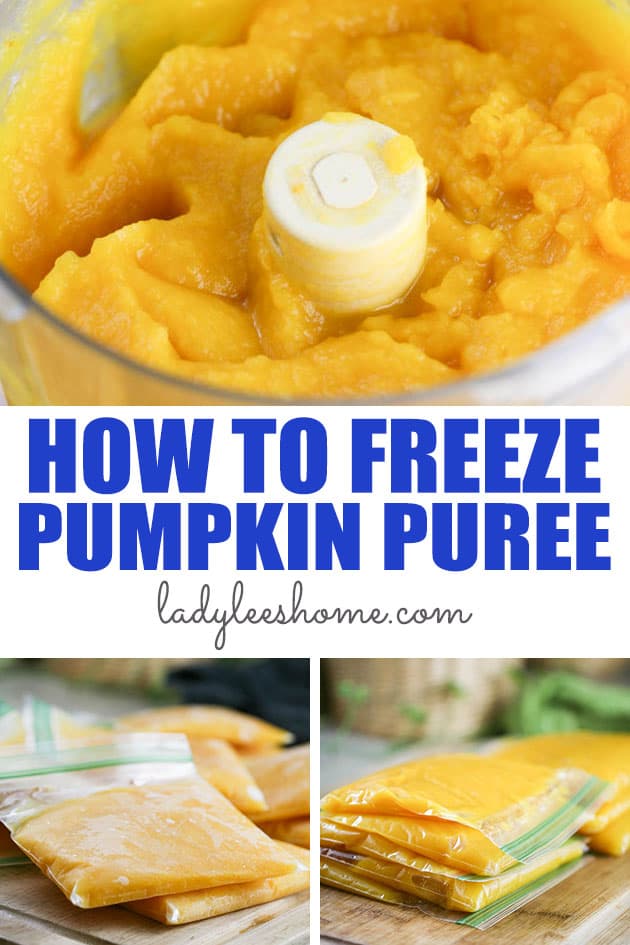 You can easily freeze homemade pumpkin puree or store-bought pumpkin puree in ziplock bags or another container for up to a year. There is no difference between the two, you'll freeze them, thaw, and use them the same way.
Choosing Pumpkins For Pumpkin Puree…
For cooking and baking, there are generally two kinds of common pumpkins that we can find at the store in the fall… Sugar pie pumpkins are small, dense, and their flesh is creamier.
Jack-O'-Lantern pumpkins are the larger ones that most people use for carving but they can also be used for cooking and baking. Their flesh is a little less creamy and a little less orange, but they still taste great.
You can use either kind for making pumpkin puree and freezing it but I do think that the Sugar Pie pumpkin is a better choice.
How to Make Pumpkin Puree…
Making pumpkin puree at home is very simple. When preparing to make pumpkin puree, you have two options…
Cut your pumpkin and remove the seeds before baking.
Leave your pumpkin whole, bake, and then cut open to remove the seeds.
I find that it's easier (for me) to remove the seeds before I bake my pumpkin because then I can scrape the seeds and the stringy stuff right out. If I do it when the flesh is soft, a lot of it comes up with the stringy stuff and I have to separate it.
However, some sugar pumpkins are so hard that it's really hard to cut into them before they are baked. So generally, if I use a Jack-O'-Lantern pumpkin, I prefer cutting it (like I did in this post), removing the seeds, and then roasting it.
If I use a Sugar Pie pumpkin I roast it whole and then cut it and remove the seeds.
Once your pumpkin is ready for roasting, place it on a baking sheet and roast in a 375 degrees Fahrenheit oven. The length of roasting time will depend on how you prepared your pumpkin. If you cut it open it will probably take 30 minutes to an hour to soften. If you left it whole it might take an hour or two.
To check if your pumpkin is ready, just stick a fork of a knife into it. It's ready when the flesh is soft.
Next, you'll have to remove the skin. It usually separates easily from the soft flesh.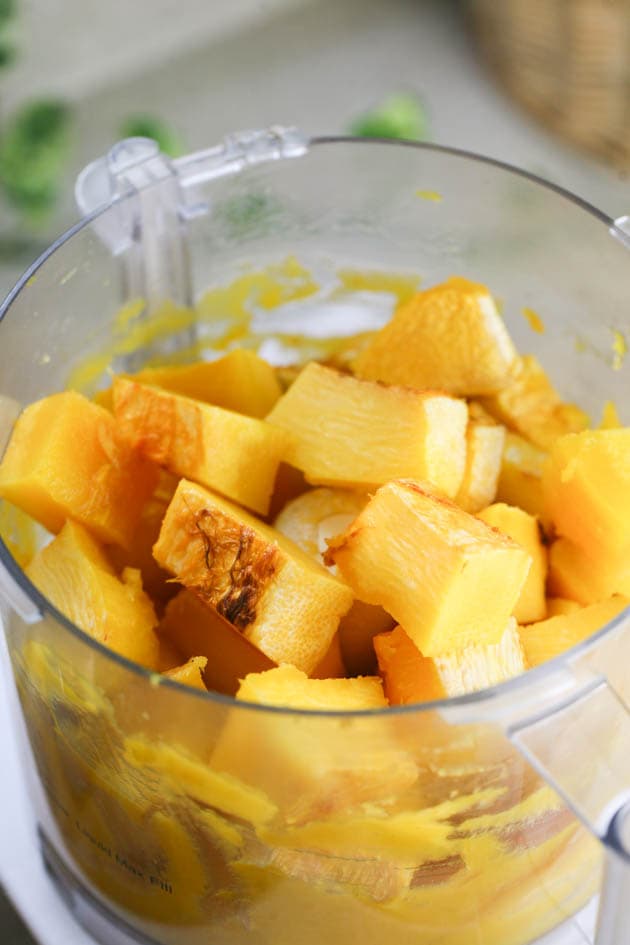 Add the flesh of the pumpkin to the bowl of the food processor…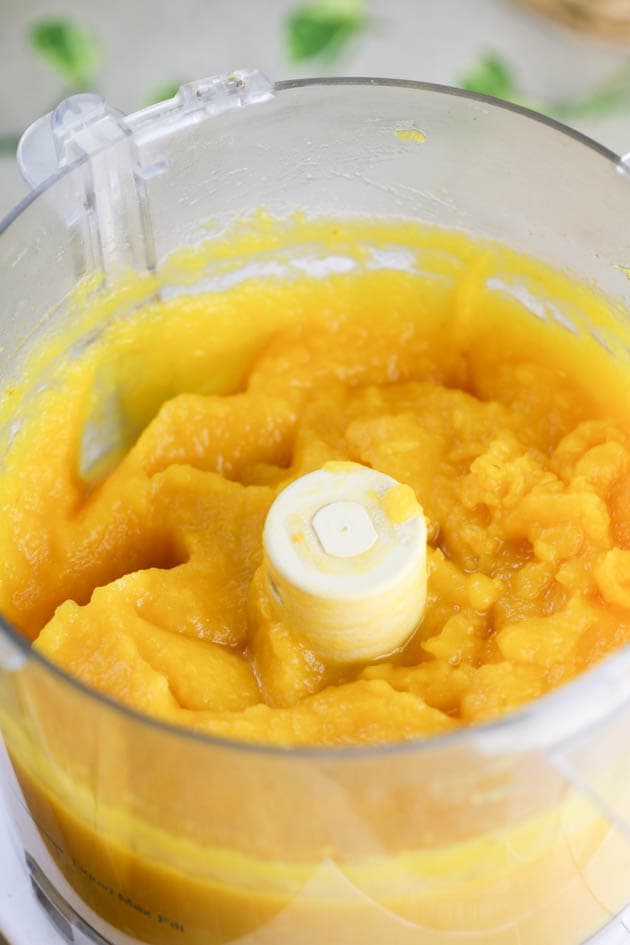 And puree your pumpkin. Sometimes, especially with Sugar Pie pumpkins, you'll have to add just a little bit of water to make the puree a little thinner. If you feel that you need to add water, just add a tablespoon at a time.
Containers For Freezing Pumpkin Puree…
You can use different types of containers to freeze your pumpkin puree.
You can use a muffin tin to neatly freeze up to one cup of pumpkin puree (I've never tried it but I imagine that it would actually be easier to remove the pumpkin puree if you use a silicon muffin tray instead of tin).
You can also use ice cube trays if you want to freeze a very small amount of pumpkin puree.
If you use these containers, you would remove the pumpkin puree after it's frozen and add it to a bag for long term storage.
But I like keeping it simple by using ziplock bags. I use different size bags depending on how much pumpkin puree I want to freeze.
When choosing your containers for freezing pumpkin puree, think about how you are going to use it later. If your favorite pumpkin bread recipe calls for a cup of pumpkin puree, then freeze one cup portions so the pumpkin puree is measured and ready for you for later.
Freezing Pumpkin Puree…
Once your puree is ready (if you are freezing homemade pumpkin puree, let it cool a bit before you freeze it), measure your puree…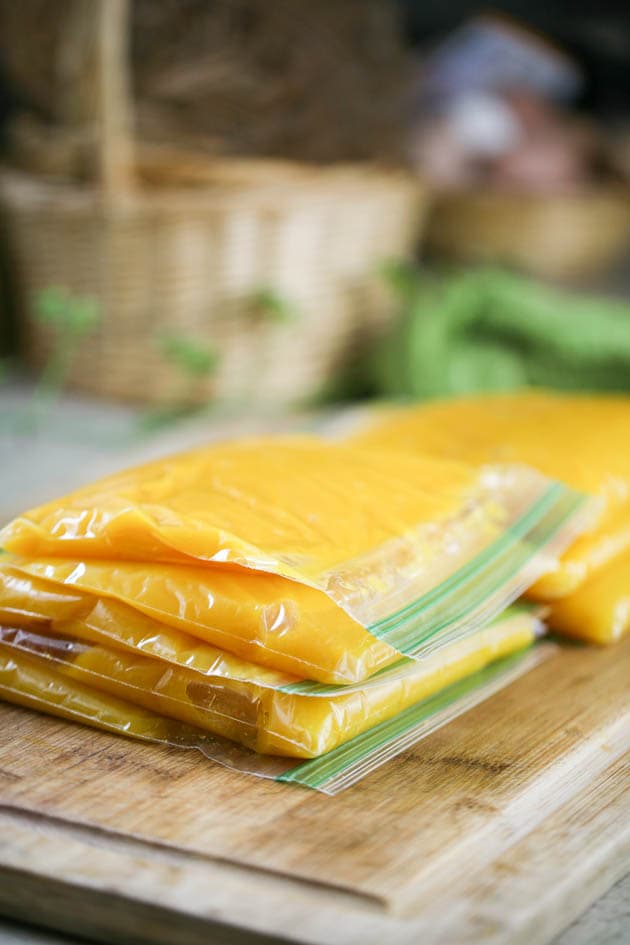 And add it to your desired container or bag. I used sandwich bags here to freeze one cup portions of pumpkin puree.
It will be easier for you to thaw the bags if you flatten them. It will also be easier to stack them in the freezer. Place your pumpkin puree in the freezer. Once it's frozen it will last up to a year.
Thawing and Using Frozen Pumpkin Puree…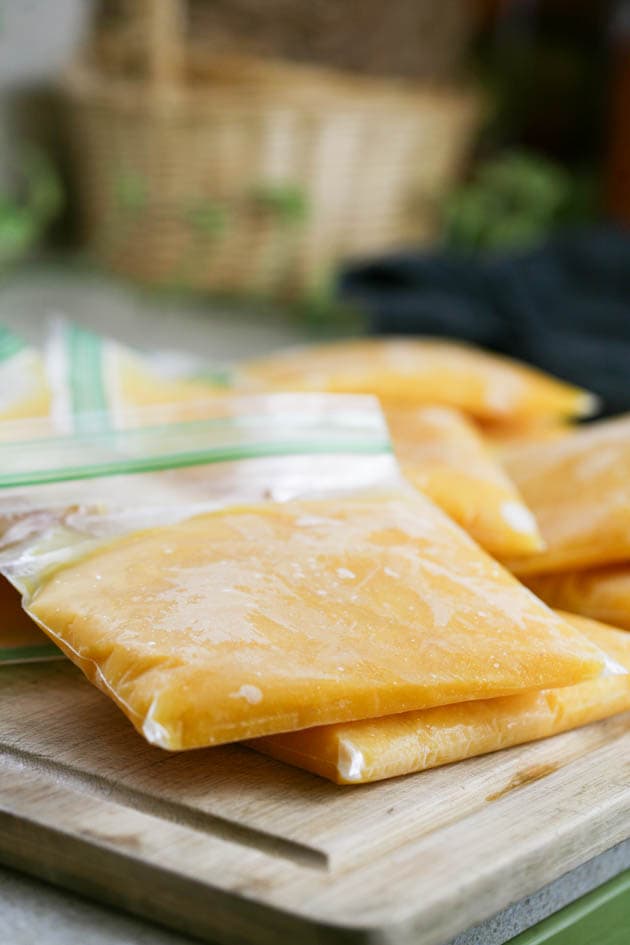 All that you have to do to thaw pumpkin puree is take it out of the freezer. Place it in a bowl and let it thaw and come to room temperature. This will probably take a few hours (might be a good idea to get the puree out of the freezer the night before you want to use it).
Once your pumpkin puree has thawed, you can use it to make your favorite pumpkin bread, pumpkin cheesecake, Mediterranean pumpkin soup, or any other recipe that calls for pumpkin puree (here is a list of 47 pumpkin recipes to choose from).
---
Freezing pumpkin puree is very simple. Remember that you can also freeze store-bought pumpkin puree the same exact way, so if you bought one of those large cans of pumpkin puree and didn't use all of it in your recipe, don't throw away the leftovers! Freeze it.
You Might Also Like…
If you are looking for other ways to enjoy fall pumpkins try to make some pumpkin salads too! I love making these three… Pumpkin and beetroot salad, pumpkin and lentils salad, and this pumpkin and feta salad.
Don't forget that you can use the seeds of the pumpkin too! They are very healthy. I love making these simple roasted seeds with cumin and garlic.
And if you are interested in learning how to preserve other vegetables by freezing check out how to freeze sweet potatoes, how to freeze carrots, blanching potatoes for freezing, blanching green beans for freezing, and how to freeze leeks.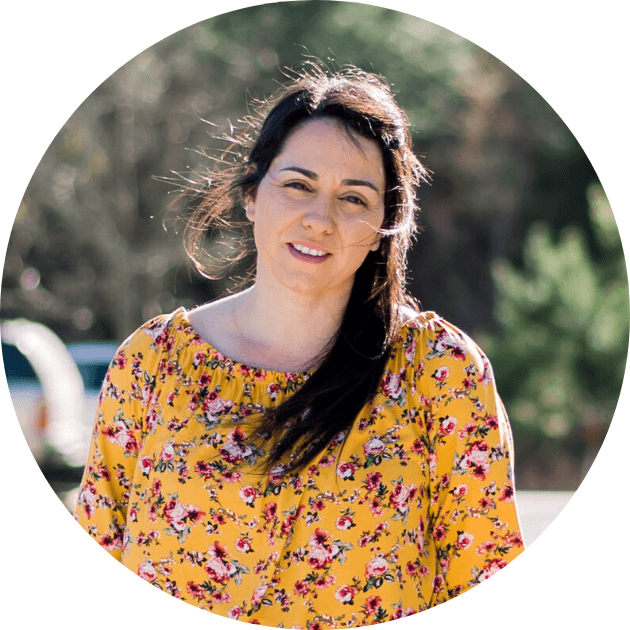 Hi! I'm Lady Lee. I help homesteaders simplify their homesteading journey while still producing a ton of food! I am a single mother of four, I was born in Israel and raised in an agricultural commune called a Kibbutz. Now I homestead in central NC.