In this post, we are going to learn how to freeze shredded carrots. After harvesting a huge amount of carrots, I decided to freeze some of them shredded for future carrot cake. Let me show you how I blanch and freeze shredded carrots.
---
I've been doing a bit of carrot preserving the past couple of weeks since I harvested 300 (or so) carrots from the garden.
There are many ways to preserve carrots. You can can them, dry them, freeze carrot soup, store them in a root cellar, leave them in the ground if the weather is cool enough, or freeze them diced or shredded.
I made some carrot soup to freeze. I left some carrots for us to eat fresh or cook with, and the rest I shredded, blanched and froze because I make a carrot cake almost every month.
How to Freeze Shredded Carrots…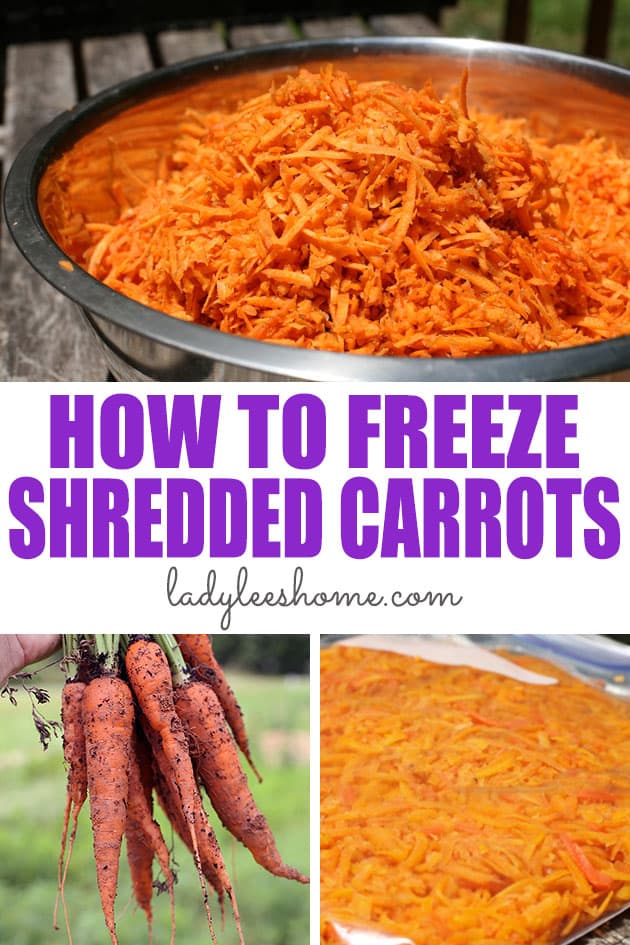 I made sure to divide the shredded carrots into portions according to the recipe I am using for the carrot cake, so next time I make a carrot cake I only need to defrost a bag, and I am good to go.
If carrot cake is not your thing, or if you don't specifically need shredded carrots for a certain dish but still want to freeze your harvest I actually suggest you dice the carrots and freeze them diced. The process will be the same as below but much easier with diced carrots.
But since you are here, I assume you want to freeze your carrots shredded so let's do this!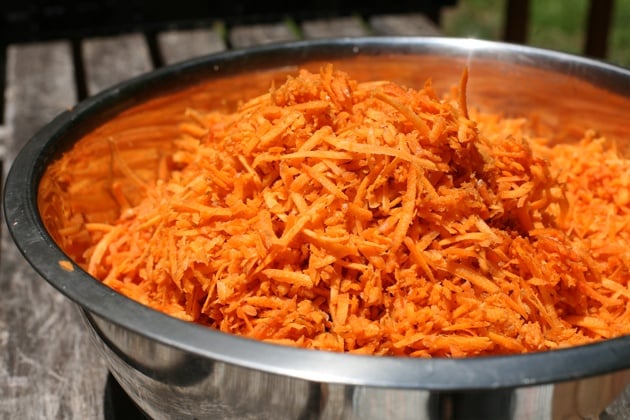 First, shred your carrots. I did that in my food processor since it was a large amount. It only took a few minutes.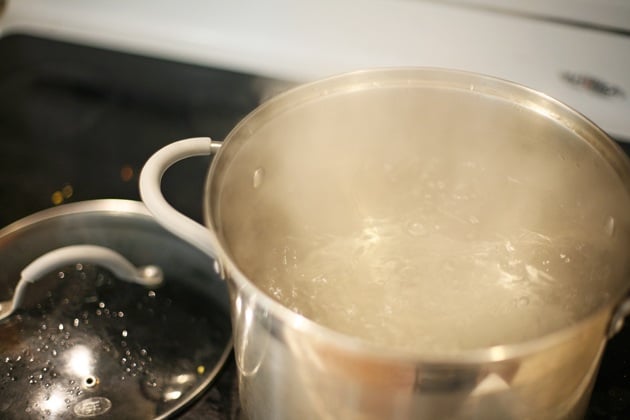 If you're going to use your shredded carrots within three months, you don't have to blanch them.
However, if you're going to leave your carrots in the freezer for a longer period, you will have to blanch them to stop the enzyme action and prevent food poisoning.
So… Bring a large pot of water to a boil.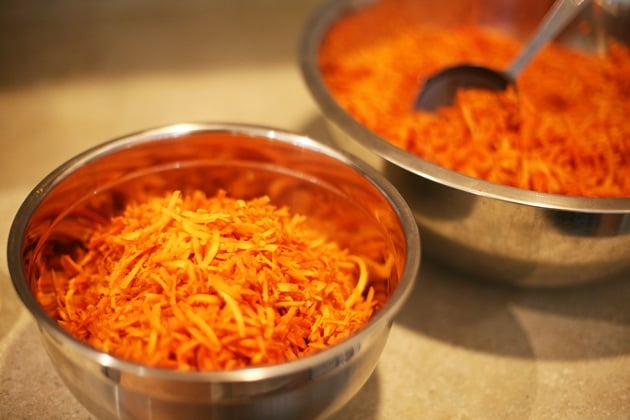 While the pot of water is on the stovetop you have two things to do…
First, set a colander in the sink, and second, make an ice water bath in another big bowl and set it next to the sink (just a large bowl with water and ice cubes in it).
When everything is ready, place 6 cups of shredded carrots in a smaller bowl so you can dump the whole amount into the boiling water at the same time. You can do more than six cups or less, depending on your pot size.
Once the water is boiling, add the carrots into the pot and set your timer to two minutes. Stir the carrots around a bit.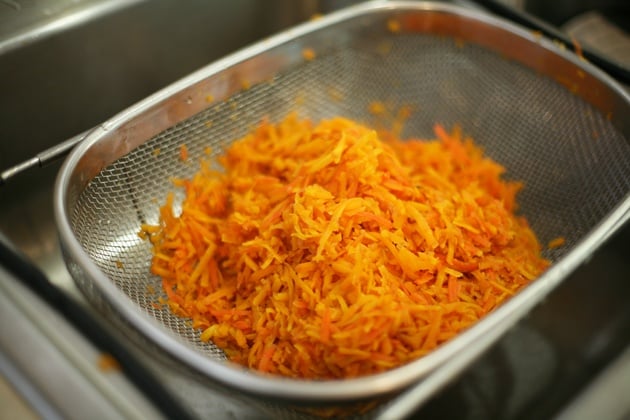 When the two minutes are up, dump the whole pot of boiling water and shredded carrots into the colander.
Yes, you can try to fish out all the carrots with a slotted spoon but it will take you 15 minutes and by the time you fish out the last pieces your shredded carrots will be fully cooked.
Yes, you'll have to reheat water for the next batch, but I think it's easier than standing next to the pot and trying to fish out all the little carrots shreds before they turn into mush.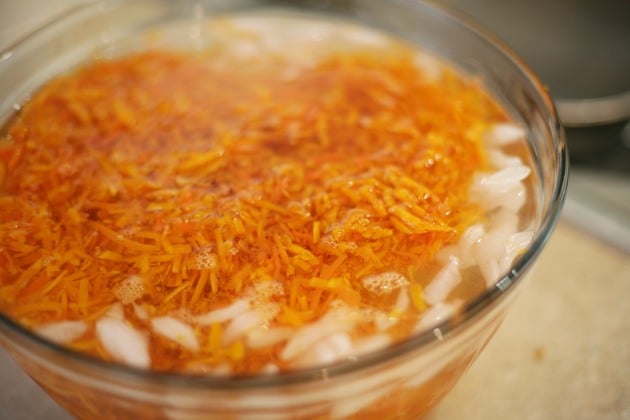 Next, they go into the ice water bath. Move them around a little bit, so they all cool quickly. This will stop the cooking process.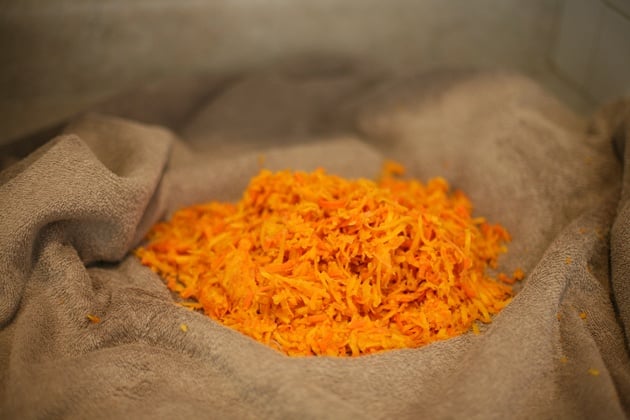 Next, you'll need to dry the carrots. I used a big bath towel instead of a small kitchen towel. Just move the carrots around and pat them dry.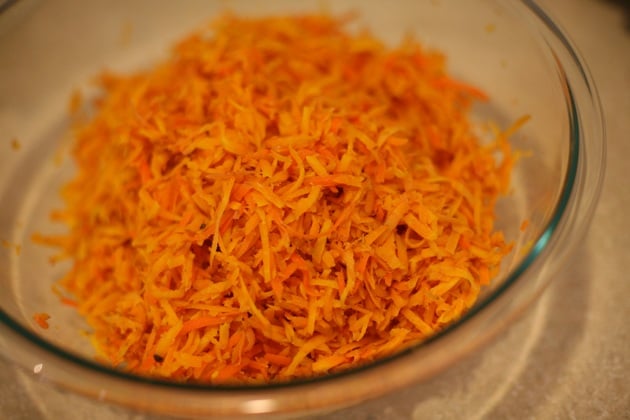 From here they go into a clean bowl…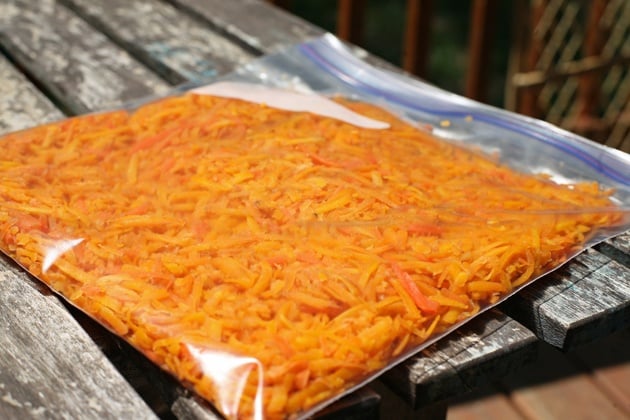 And the only thing left to do is divide the carrots into zip lock bags. I placed 4 cups in each bag and flattened them inside the bag, so it's easier to defrost them later.
Try to get as much air as you can out of the bag (if you are using ZipLock bags) before you close the bag. I read somewhere that if you use a ZipLock bag you can place a straw in the corner of the bag and suck the air out before you seal it. This didn't work for me so I just did my best to get as much air out as I could.
I now have a Nesco vacuum sealer that I use with these bags and it works wonderfully to keep the food from getting freezer burnt. You can see how I use it in my freezing leeks post.
Don't forget to label and date the bag before you put it in the freezer. Sometimes frozen things are hard to recognize…
It took a couple of hours to process all the shredded carrots, but I ended up with 10 Zip Lock bags in the freezer and for the next year, making a carrot cake will be the simplest thing!
Here are some more freezing posts for you…
Blanching Potatoes For Freezing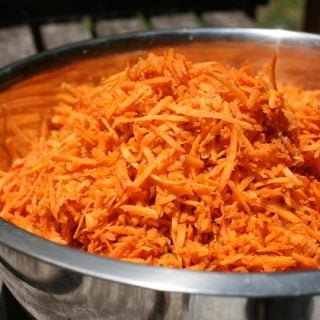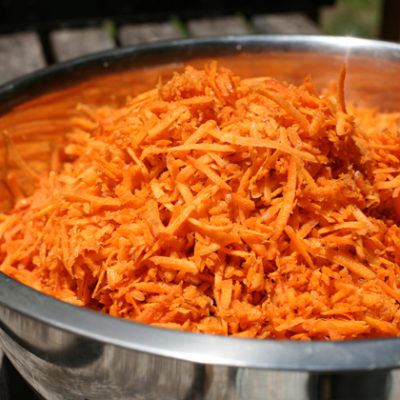 How to Freeze Shredded Carrots
Yield:
Freezer bags of shredded carrots
Additional Time:
10 minutes
Blanching and freezing shredded carrots.
Instructions
Shred your carrots in a food processor.
Put water into a large pot to boil.
Set a colander in the sink.
Add ice cubes to a large bowl and add cold water.
When the water is boiling, add your batch of shredded carrots all at once. Blanch for 2 minutes while stirring.
Once the two minutes are up, dump the carrots and water into the colander and drain the carrots.
Transfer the drained, hot carrots into the ice water and let them cool for a few minutes.
Transfer the shredded carrots onto a large towel to dry.
measure cups of shredded carrots into a ziplock or freezer bags. Divide into portions according to the recipe you plan to use the shredded carrots for and flatten the shredded carrots inside the bag so it's easier to defrost them later. Lable your bag and freeze.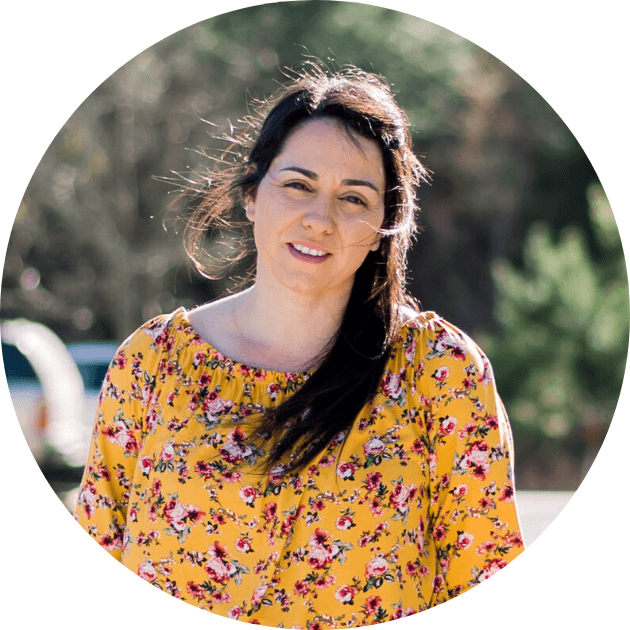 Hi! I'm Lady Lee. I help homesteaders simplify their homesteading journey while still producing a ton of food! I am a single mother of four, I was born in Israel and raised in an agricultural commune called a Kibbutz. Now I homestead in central NC.