Freezing carrots is a simple process. The main benefit is that the carrots stay as fresh as they can be and they are ready to be added to any dish. Let me show you how to freeze carrots.
In my garden, the stuff that we have to dig is the stuff we love growing most of all. The potatoes, the sweet potatoes (or the purple sweet potatoes), the carrots…
It's like a game… You plant the seeds and then you have to gauge how your vegetable is doing without actually being able to see it.
You are dying to see it… But you have to find patience and just wait.
Then the time comes and you get to dig your hands into the soil and actually pull the hidden gem! It's so rewarding and so much fun.
How to Freeze Carrots…
Carrots are even more fun than potatoes because you get to eat them right away. There is nothing like a fresh carrot from the garden.
They aren't the easiest to grow, I have to admit, especially if you don't have a way to keep the ground moist at all times after planting the seeds, but they are totally worth the effort.
Another great benefit of carrots is that they can last in the ground all winter long here in the South (and in many other areas).
I plant a ton of carrots in my Autumn garden in time for them to be fully grown and ready for picking in the middle of November.
But instead of harvesting them, I leave them in the ground and cover them with a thick layer of mulch. The ground becomes their refrigerator during the winter and they last the whole time.
Every time during the winter, when I want carrots, I go to the garden and pull a few. Not only do I get fresh carrots in the middle of the winter, it's also a little bit of garden therapy for the soul.
If you live in a colder climate, you still might be able to do this but in addition to the thick layer of mulch, I'll probably create a small hoop house over the garden with greenhouse plastic.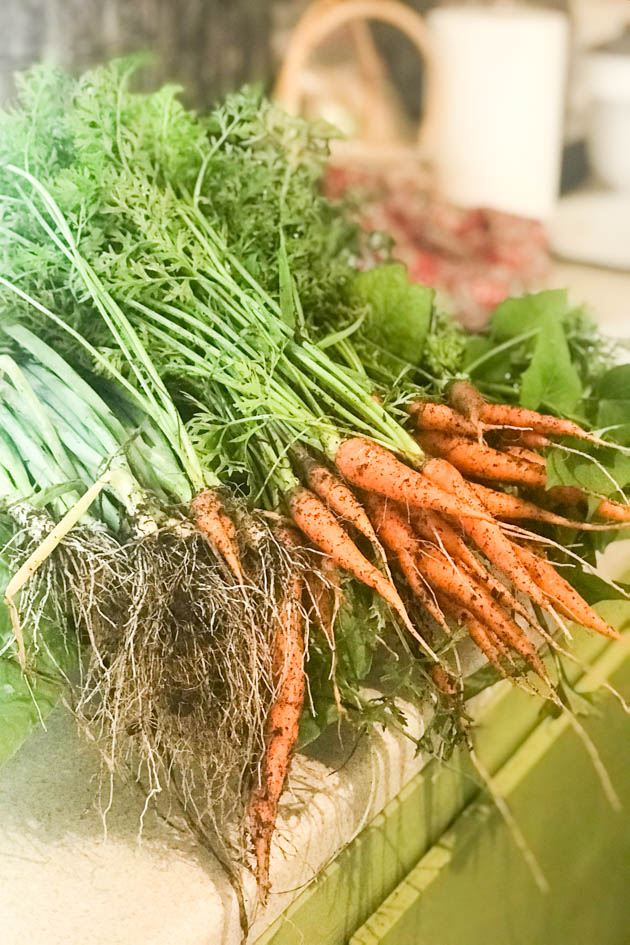 This is a great easy solution for fall carrot storage, however, I can't do this with my spring-planted carrots.
By the time they are ready to harvest, it's way too hot to leave them in the ground and I have to harvest all of them.
As I do this more and more, over and over every year, I realize that a root cellar is really a must for this kind of lifestyle. But at the moment I don't have one and my refrigerator space is limited.
My next favorite way to preserve carrots after just keeping them in cold storage is freezing them. I freeze them cut into smaller pieces and I also freeze shredded carrots so I have them ready for carrot cake.
Reasons to Freeze Carrots…
Again, I usually try to store as many carrots as I can in the fridge, but if I run out of room there I prefer freezing them over canning them.
In the canning process, the carrots soften and even though I usually use my carrots in dishes where they are cooked and softened (let's say in vegetable soup), I still prefer to start with carrots as fresh as possible.
We are going to blanch the carrots (more on this later) before freezing them, but the cooking process is very short and the carrots stay firm and fresh.
I like that they are already peeled and ready to go and that all I need to do is add them to whatever dish I want.
What Kind of Carrots Are Good For Freezing?
In the grocery store, we usually see the orange carrots. But carrots come in so many other shapes and colors and this is one reason why it's so much fun to grow your own vegetables.
You get to try different varieties that you don't see in the store.
Some carrots are orange, some are purple, and some are yellow. Some might be round and short, some narrow but short, or narrow and longer.
All of them are great for freezing, just make sure that you choose firm and fresh carrots.
Tools We Are Going to Need…
We are only going to need a few things to do this…
Peeler – to peel the carrots. You don't have to peel them if you don't like but I like to peel mine before I freeze them.
Cutting board – to cut the carrots on.
Knife – for cutting the carrots.
Pot – to boil water in for blanching.
Large bowl – to make an ice bath. We will move the carrots into the ice bath from the boiling water to stop the cooking.
Skimmer ladle – to help us scoop the carrots from the boiling water and into the ice bath.
Kitchen towel – to dry the carrots.
Vacuum sealer – packing the carrots in a vacuum sealer will make them last longer in the fridge. You can also use zip lock bags but a vacuum sealer is preferred.
Vacuum sealer bags – I use the rolls I linked to but you can use whatever bags fit your sealer.
Paper towels – I'll show you a nice trick that I do with a paper towel to help the bag seal better.
Ok now that we've gathered everything that we need, let me show you how I do this…
Preparing Carrots For Freezing…
Again, I start with fresh and firm carrots. These in the photo above are not from my garden. They are just carrots I bought at the grocery store so that I can show you how this is done.
Remember that if you grow purple carrots or yellow carrots, you can do the same exact thing.
I start by peeling my carrots with the vegetable peeler…
Then I slice them into round pieces that are approximately 1/4 of an inch thick. You can change this around and cut them in a different way if you like, just make sure that the pieces are not too large.
Blanching Carrots…
You might wonder what blanching is and why we are doing it before freezing vegetables…
Here is a great explanation from The National Center For Home Food Preservation…
"Blanching (scalding vegetables in boiling water or steam for a short time) is a must for almost all vegetables to be frozen. It stops enzyme actions which can cause loss of flavor, color and texture.

Blanching cleanses the surface of dirt and organisms, brightens the color and helps retard loss of vitamins. It also wilts or softens vegetables and makes them easier to pack."

You can read more here.
So really, the blanching process is done by boiling the vegetables for a short time, then cooling them rapidly in ice water to stop the cooking. Then we pack the food and freeze it. Since we blanched it before freezing it will keep fresh for a longer period of time in the freezer.
It might be a little bit of work and an extra step, but I want to encourage you not to skip it…
So I fill a pot with water and set it on the stovetop. I turn the heat to high, cover the pot and bring the water to a boil. I usually do this first and then go to work on preparing my carrots (peeling and cutting).
When the water in the pot is boiling, just before I add the carrots to the boiling water, I make an ice bath in a large bowl and set it on the counter close to the stovetop.
Next, I scoop some of my carrots and drop them into the pot of boiling water (I sometimes use my skimmer ladle to help me do this).
I make sure to work in batches and not crowd the pot too much. Then I let the carrots cook in the boiling water for two to three minutes.
You can go up to five minutes but I usually do only two or three because my goal is for the carrots stay as fresh as possible.
Also, once I add the carrots to the pot, the water stops boiling. I do not wait for the water to start boiling again before I start my timer.
Once the time is up, I use my ladle to scoop the carrots from the boiling water right into the bowl of ice-cold water.
Packing and Freezing Carrots…
After I let the carrots hang out in the cold water for a few minutes, I use my ladle again to scoop them out and onto a kitchen towel to dry.
Once they are more or less dry, I transfer them into a vacuum sealer bag…
Then, here is a neat trick… Before I seal the bag, I fold a paper towel and stick it above the carrots inside the bag…
When I vacuum the bag in the vacuum sealer, it draws out all the moisture that is still left in the vegetables and it makes it hard for the bag to seal properly.
I used to waste so many vacuum bags because they did not seal right and they were all wet so I couldn't reseal them.
The trick with the paper towel solves this problem. The little moisture that is left in the carrots, gets trapped and absorbed by the paper towel and allows the sealer to seal the bag properly.
So there you have it… A bag of carrots ready for the freezer!
I work in batches. Once I have this batch ready, I move to the next one. I might need to add some water to the pot of boiling water after every few batches and I definitely will need to add new ice to the ice bath.
How to Use Frozen Carrots…
If you don't skip the blanching step, and if you vacuum seal your carrots, they will last for a long time in the freezer (probably up to 18 months but as a general rule, I try to use all the things that I preserve within a year).
I add the frozen carrots to many dishes like vegetable soup, meatballs with peas, chicken chili, pumpkin soup, and many others.
You can add these to any dish that calls for cooked carrots.
I hope this was helpful!
If you like this tutorial, make sure to also check my other freezing tutorials…
Here is the handy printable…
How to Freeze Carrots
Additional Time:
5 minutes
How to freeze carrots the right way so they last longer in the freezer.
Instructions
Wash and peel your carrots.
Cut your carrots into discs 1/4 of an inch thick (or any other way but make sure the pieces are not too thick).
Bring a pot of water to a boil.
Also, set a large bowl of cold water and ice close by on the counter.
Add your carrots to the pot of boiling water and blanch for 2-5 minutes.
Use a slotted spoon to scoop the carrots out of the boiling water and into the bowl of ice water.
Let them stay in the ice water for a few minutes (this will stop the cooking).
Scoop the carrots out of the bowl of ice water and onto a kitchen towel.
Pat the carrots with the towel and dry them.
Add the carrots into a vacuum sealer bag. Place a folded paper towel above the carrots inside the bag.
Seal the bag. The paper towel will absorb any moisture that comes out of the carrots and will allow the bag to vacuum and seal properly.
Store in the freezer.
Notes
You don't have to peel the carrots but I like doing that.
Once you add the carrots to the pot of boiling water the water will stop boiling. Personally, I do not wait for the water to come back to a boil before I set my timer. Also, I usually blanch my carrots for 2 or 3 minutes.
You can go up to 5 minutes but I prefer keeping them as fresh as possible so I cook them as little as possible.
They will last for a long time in the freezer (probably around 18 months). My general preference is to use my preserved food within a year.
Add your frozen carrots to any dish that calls for carrots (like a soup or a sauce for meatballs for example). You don't have to wait for them to thaw before adding them to most dishes.
Nutrition Information:
Yield:

1
Serving Size:

1
Amount Per Serving:
Calories:

97
Total Fat:

1g
Saturated Fat:

0g
Trans Fat:

0g
Unsaturated Fat:

0g
Cholesterol:

0mg
Sodium:

160mg
Carbohydrates:

23g
Net Carbohydrates:

0g
Fiber:

8g
Sugar:

10g
Sugar Alcohols:

0g
Protein:

2g
Lady Lee is a single mother of four, she was born in Israel and raised in an agricultural commune called a Kibbutz. From a very young age, she was very interested in agriculture and farming.
She is a former IDF fitness trainer and is passionate about simple, natural living. She now lives in NC with her four kids, dog, cat, goats, ducks, and chickens.