In this post, we will go over how to thin carrots. We will go over two possible ways to do this. The second way is not very common but still totally possible and can be done in the small home garden. I'll also give some suggestions of things you can do with the precious seedlings so you don't waste a thing. Let's go…
How to Thin Carrots…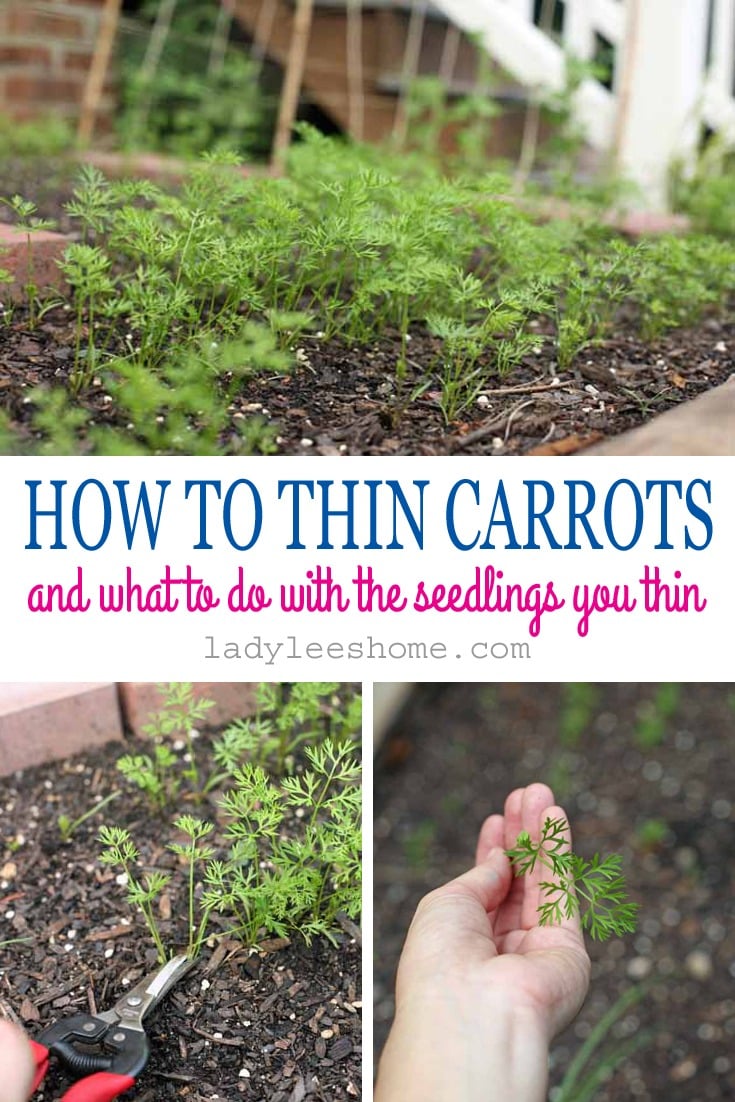 In our old house in town, I turned an area in my front yard into a small but productive vegetable garden bed. I planted carrots, peas and green onions in that space for us to enjoy over the winter.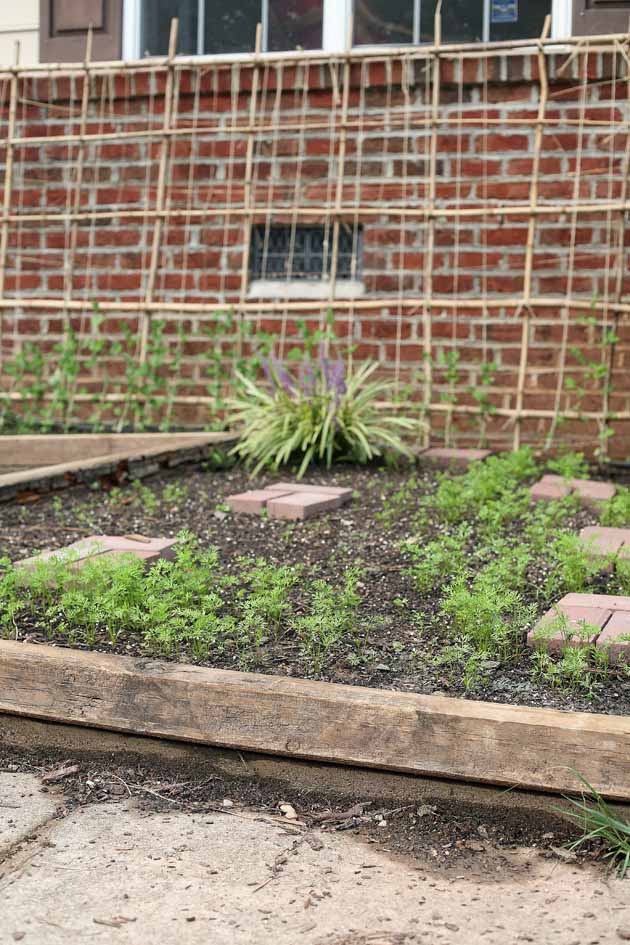 Everything has germinated nicely; however, I lost some seedlings to a couple of monsoons we had. They were too small and fragile to handle the heavy rains.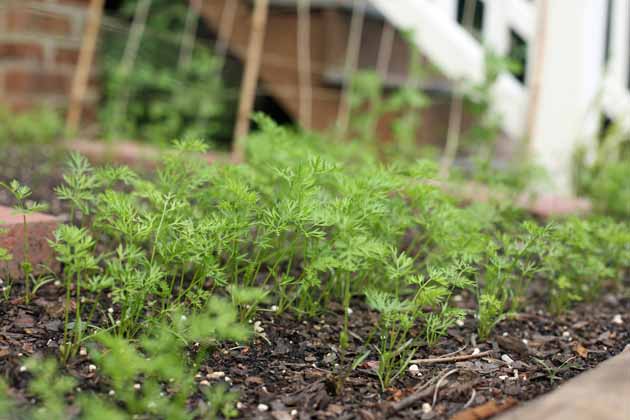 Anyway, I still had a lot of carrots growing in that bed, and when they were three or four inches tall, it was time to thin them out.
Why Should I Thin my Carrots?
If you have ever planted carrots, you know how tiny their seeds are. Spacing those tiny seeds is a difficult job (although there are a few tricks to help with this problem like seed tapes and pelleted seeds but this is a topic for another post).
Thinning is removing some seedlings to provide enough space for the remaining seedlings to develop and mature.
Thinning is almost always required if you want to get a nice crop of healthy carrots.
How to Thin Carrots Without Wasting One Seedling…
Option 1 – Thin in Two Stages
Wait until your seedlings are about 4" tall…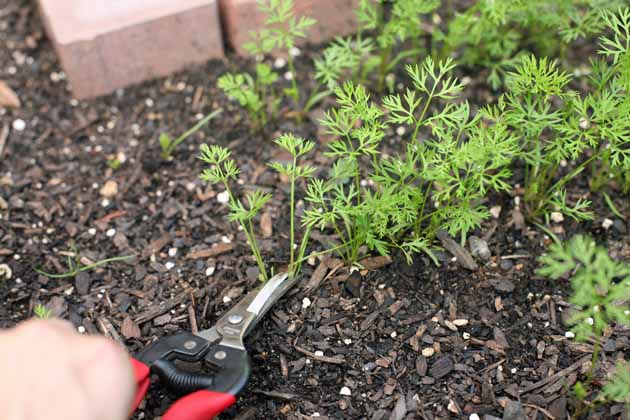 Then, cut some of the seedlings at their base, as close to the soil as possible.
I do this in two stages…
First, when the seedlings are 4" tall I thin them so the remaining ones are 1/2" apart from each other. Then, I let them grow a few more weeks and thin again when the carrots are baby size, so the remaining carrots are about an inch apart. I let those fully mature.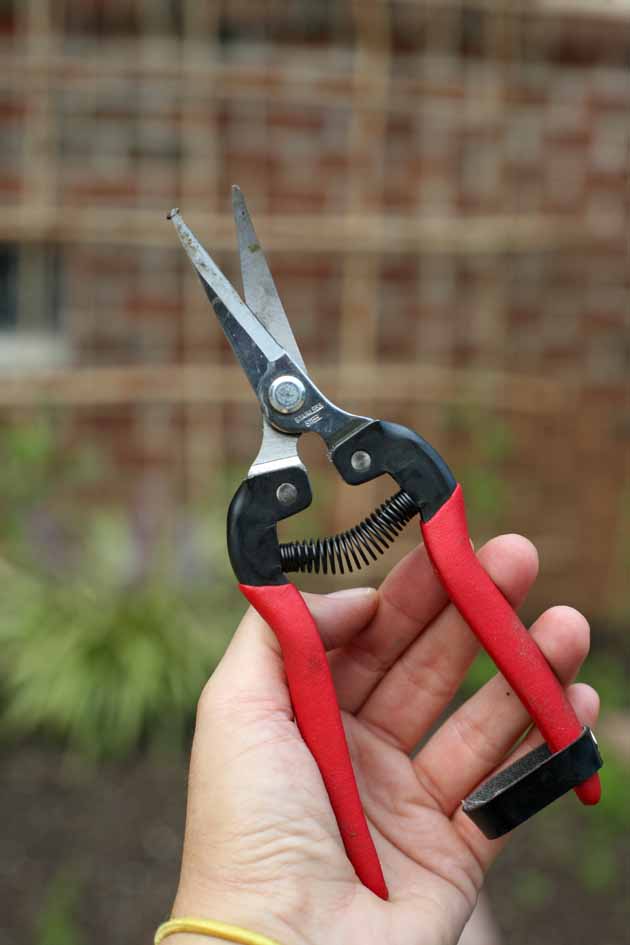 For the thinning, I use this awesome tool from Johnny's Selected Seeds. Those are actually grape and tomato shears, but they are great for thinning carrots too.
You can pull the seedlings by hand, but sometimes the roots are tangled and by using the shears and cutting above the soil we make sure not to disturb the seedlings that we choose to leave.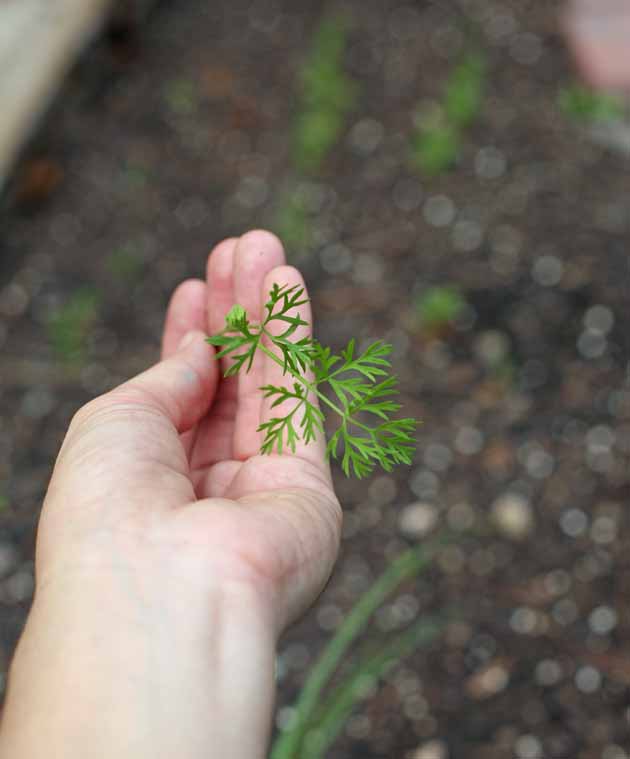 Make sure not to waste a thing.
You can add the seedlings from the first thinning to your salad. They are very tasty!
The baby carrots from the second thinning are great as a snack and you can make pesto from the tops.
You won't believe how good carrot top pesto is!
Of course, you can always just throw them in the compost pile if you don't have time to make pesto.
Whatever you do, make sure to clean the soil of any cut carrot tops even if you are not going to use them. The fresh smell of cut carrot tops can invite the carrot fly over, and we don't want that.
Option 2 – Replant the Seedlings
I know they say you are not supposed to replant root crops. And you probably won't find a farmer that does that simply because it takes too much time. But for the small home garden it's totally possible. I do it sometimes with my radish, and it can be done with carrots as well.
You should wait until your seedlings are about 5-6" tall. This job is best done after a rainy day when the ground is saturated. Try to choose an overcast day or maybe do this later in the evening, so the newly transferred seedlings are not exposed to direct sun right after being transplanted.
Gently pull the seedling out, making sure not to break the root. Stick a pencil deep into the soil where you want to transplant the seedling and place the seedling in the hole. Pack the hole around the seedling.
Here is a nice video I found that shows how to do this.
Carrots are not an easy crop to grow. It's hard to space them, they take forever to germinate, they are very fragile at the beginning, and they need thinning. But after that, you can pretty much forget about them. They are very hardy and fun to pull out of the ground. And, of course, delicious!
I had a great crop of carrot that year!
Since then I now always plant carrots in raised beds full of cow's manure. They love the additional "soil" and the manure.
I fill the bed with manure, sprinkle the seeds all over and cover with more manure. I wait for the seeds to germinate and thin when they are 4'' tall. Then a few weeks later I'll thin again.
This seems to work great and we usually have a great carrot crop. I also love that I can leave the carrots in the ground through the winter. I cover them with straw and pull them as I need them.
Do you have a system for growing carrots?