Preparing a garden bed for planting without tilling is so easy! It's healthier for the soil and it's much less work for the gardener. And, the plants love it. So really, this garden prep method is a win no matter which way you look.
---
Sometimes we do things in a traditional way because, well, that's what everyone is doing so it must be the right thing to do. Sometimes it is.
But then sometimes you decide to try a different way, it works, and you ask yourself, why in the world did I work so hard all this time, following the traditional method.
That's how it is with traditional soil preparation. Why they teach us we should "work" the soil before planting I have no idea. Mr. Soil doesn't want us to poke around, I assure you.
Preparing a Garden Bed For Planting…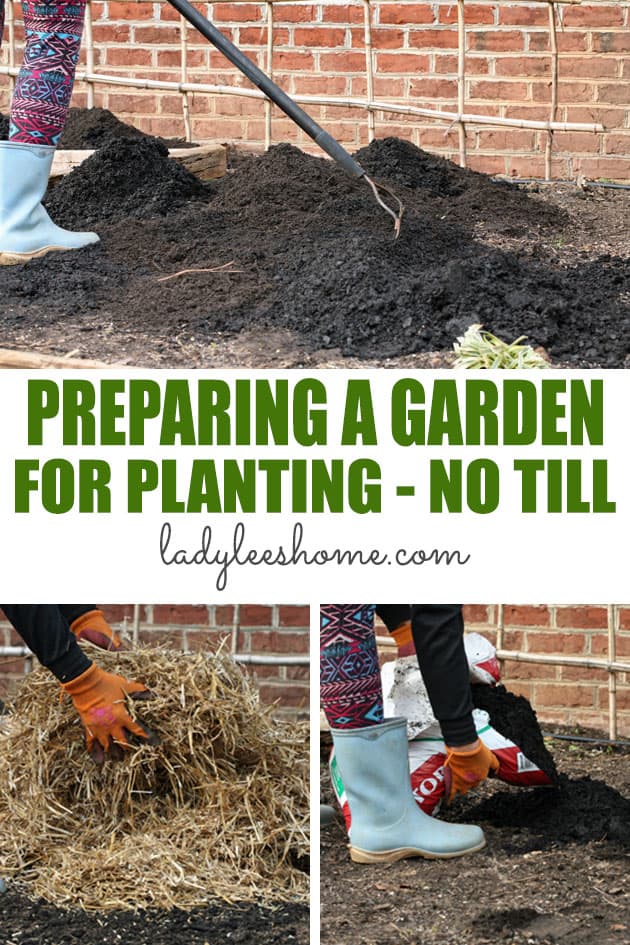 Before I share with you how I prepare my garden soil easily without tilling it, let's learn why tilling is really not that healthy for our garden soil…
Disadvantages of Tilling Garden Soil…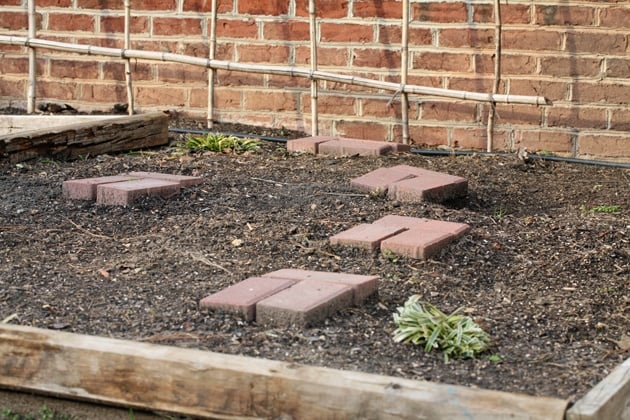 Exposing weed seeds to the sun – some people till their garden to get rid of weeds. By doing that, they actually make the problem much worse because now, not only have they mixed the new weed seeds in the top layer of the soil, they also bring dormant weed seeds that were buried deep in the soil to surface level, exposing them to the sun and allowing them to germinate.
Disturbing earthworms and other organisms – imagine you are a hard-working earthworm. You dig beautiful tunnels so the roots of plants will have oxygen, you eat bad soil and poop good soil, you eat decaying plants and poop compost, you make sure the compost can find its way to the root level of the living plants in the garden, you interact with other organisms, you make babies and teach them how to work hard for mother nature… You know, you're living a good life in your natural environment.
Then one day a scary machine with huge teeth enters your home and ruins the place. It's an earthquake, a hurricane, a tornado, all your hard work is gone and you have to start again, that is if you can still find all the parts of your body.
Friends, this makes no sense what so ever!
Loss of nitrogen – many crops leave nitrogen behind, which is very beneficial to the following crops. Tilling the soil can cause the release of this nitrogen into the atmosphere as nitrogen oxide, a highly potent greenhouse gas, or can cause it to drain into waterways.
Erosion – if done regularly, tilling can cause the soil to erode.
Poor water retention – tilling reduces the amount of water the soil can retain because it breaks it apart into a non-natural stage.
Hard work and expensive – a good tiller may cost $400 to $600, money that will be much better spent on good compost or mulch. And those machines are, simply put, not much fun to work with.
How to Prepare Your Garden Space for Planting Without Tilling
The space that you'll see below, is a small garden space I had to the left of the front steps of our house when we lived in the city. Back then I only had a few garden beds in the front yard but I was able to grow a good amount of food there.
Even though I garden in a much larger space now, I still prepare my garden soil the same way. And it doesn't matter if I prepare traditional rows, wooden raided beds, raised rows or beds or whatever… The process is exactly the same.
Step 1 – Clean the Bed…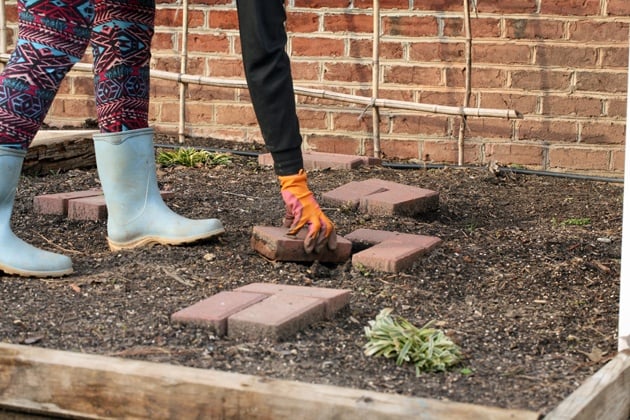 In that odd-shaped bed, I first removed the stepping bricks that I placed there to step on. If there is anything else on the soil, remove it. There might be some old plants or whatever… Remove everything and expose your garden soil.
Step 2 – Add Garden Soil…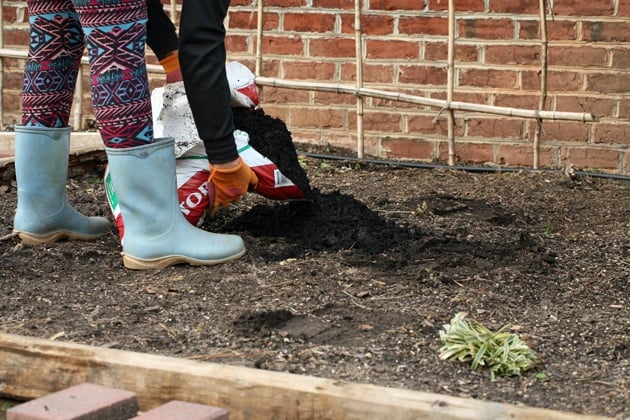 This step is completely optional. Sometimes, as we harvest plants from the garden we lose some of the soil in the bed (usually because some of it stays on the roots of the plants that we pull out). I find, that every few years, I need to add a little bit of soil to my beds.
This was a new bed and the year before we didn't fill it with enough soil, so I added about 6 bags of soil that year. I used the basic soil from the garden store because I grow organically and I didn't want the fertilizers they add in the garden soil.
Step 3 – Add Compost…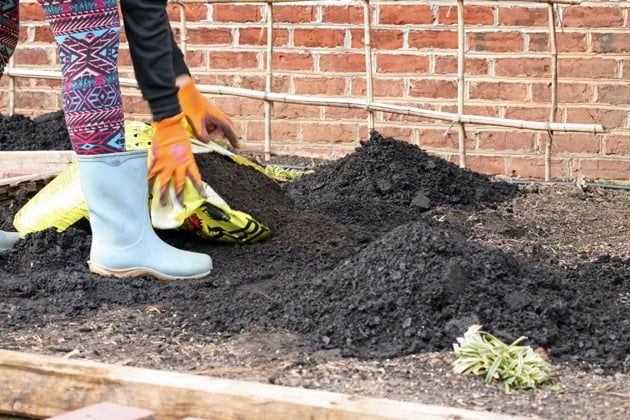 Next, add compost. The more the merrier. I usually use my animals' manure (you can see how I do that in this video). You can buy composted cow's manure (like I did when we lived in the city and didn't have animals yet), or compost from a local plant nursery or another local source… Or you can use your own compost if you make it yourself.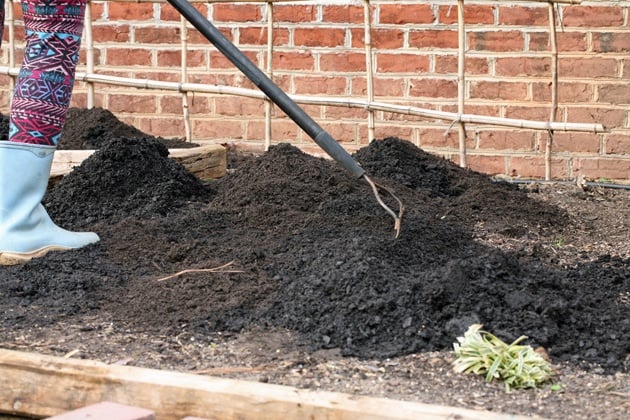 With a rake, mix the soil (if you added any) with the compost…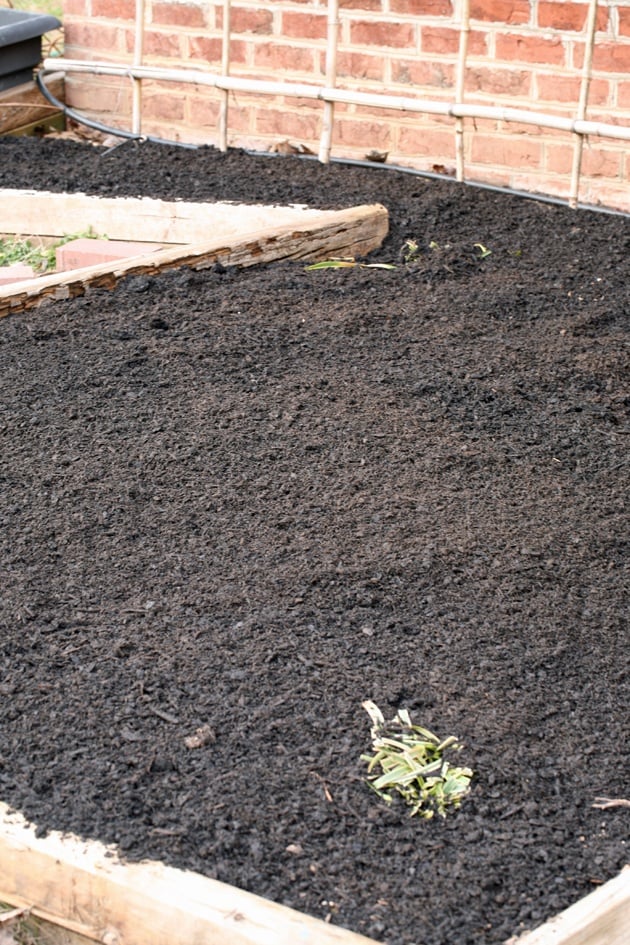 And spread it evenly all over the bed.
Step 4 – Add Plant Food…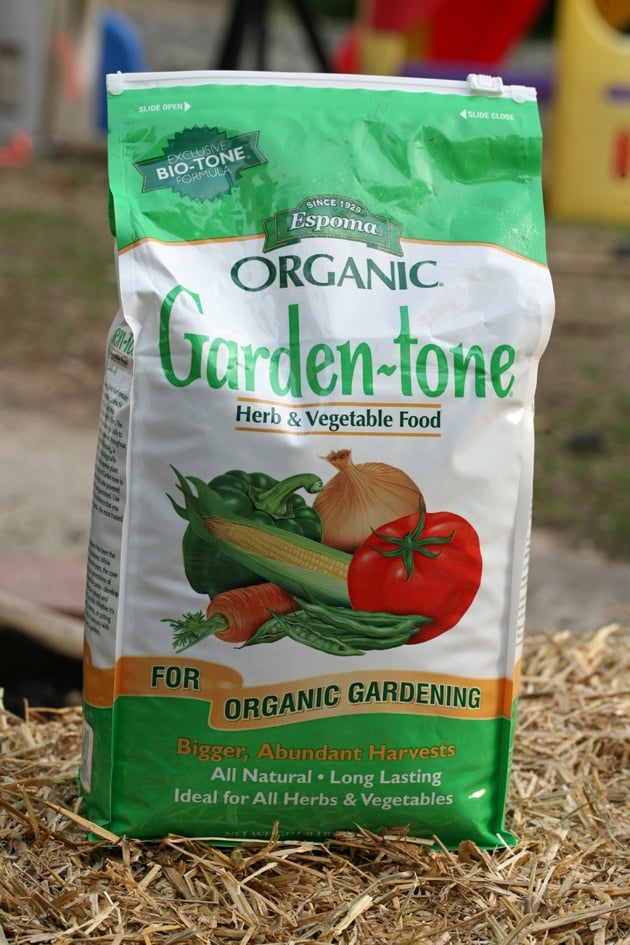 Yes, compost is plant food, but let's be even nicer to our plants and take it one step further by adding some more concentrated and rich plant food.
I love Espoma. I add this Garden Tone when I prepare the bed or sometimes just before planting.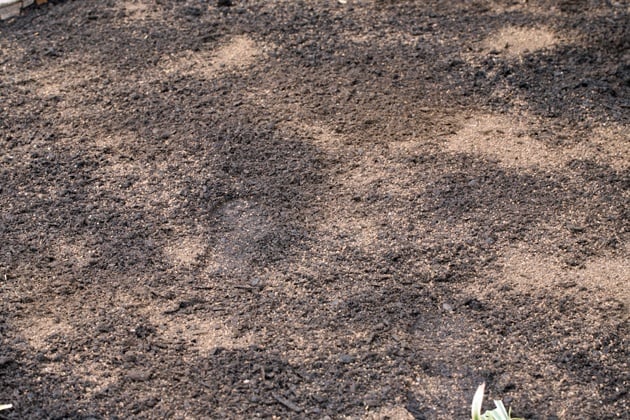 Read the instructions on how much to use on the back of the bag. Then just spread it on top of the soil. Water, worms, and other organisms will carry it down to root level for you.
Another great option that I use a lot is worm castings. I actually love it even more than the Espoma fertilizer! It's very very rich and it's available to the plants immediately. I either spread some on top of the soil or add it at planting time in the transplant hole or around each plant.
Step 5 – Mulch Your Garden Bed…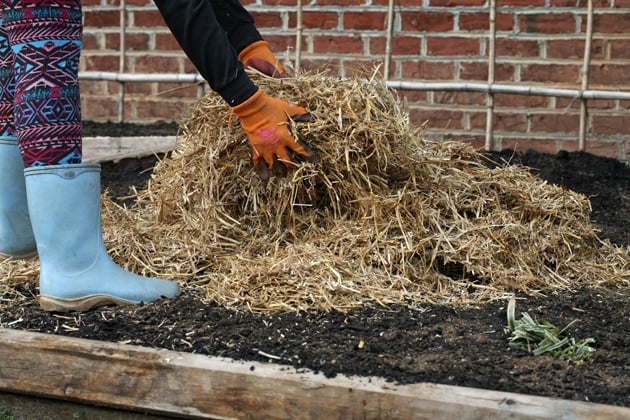 Lastly, mulch. Mulching is a very important part of no-till gardening. You can use dry leaves, wood chips, grass clippings… But my favorite is straw.
Mulch keeps the soil moist and soft, it eliminates weeds almost completely, and it's composting right there in the garden, providing your plants with food.
It's a pain in the you-know-where at planting time, to be honest. You have to move the straw, plant, wait for the plant to germinate, and bring the straw back around it. In very large gardens, it makes it impossible to use a seeder so it's probably not a good idea to use it, but for small gardens, where you plant by hand, mulch is great and worth the extra time.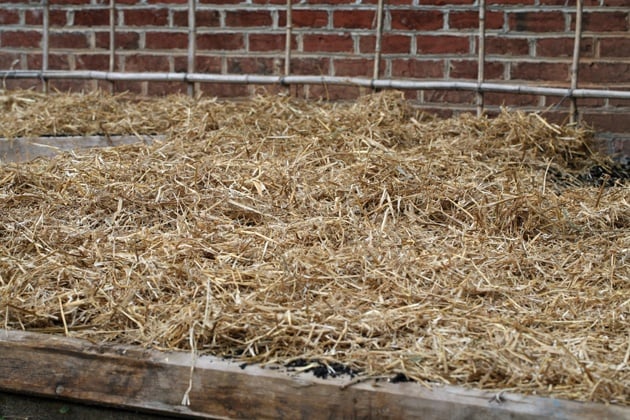 With straw, a layer of 6"-8" is a good start. The straw breaks down and turns into compost right there in the garden, so you will have to keep adding straw once in a while.
One note about using straw… It contains some wheat seeds, and when those wheat seeds germinate in your garden, please don't come to find me.
Yes, it's a pain. Yet, for me, straw mulch is worth it. To minimize the painful experience, open the bale and spread the flakes a couple of weeks before you use the straw in the garden. Let it stand in the elements, in the rain and in the sun and most of the seeds will germinate in clumps. Then, before you use the straw in the garden, remove the clumps of green grass.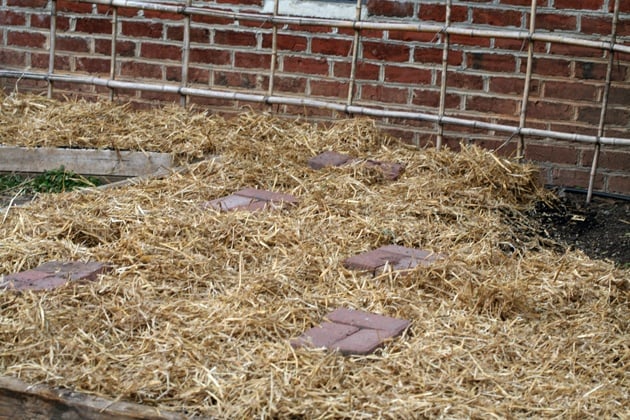 That's it! Your garden space is ready for planting. In this bed, I had to replace the bricks so I knew where I could step, but of course, in a regular bed or row you won't need to do that.
From now on there is nothing else you have to do besides planting, harvesting, and adding straw (there might be a few weeds here and there). You can move the straw back at the beginning of the season or in the fall and add more compost if you like, before replacing the mulch.
---
It really is the easy way to garden. And you should move the straw back once in a while, stick your fingers in the soil and feel and see how amazing it is! This is also the same way that I prepare my garden for winter.
Here are a few more gardening posts that you'd like…
How to Start a Raised Garden Over Grass
How to Create a Planting Schedule For a Vegetable Garden
How to Plan a Vegetable Garden in 7 Simple Steps
Where to Plant a Vegetable Garden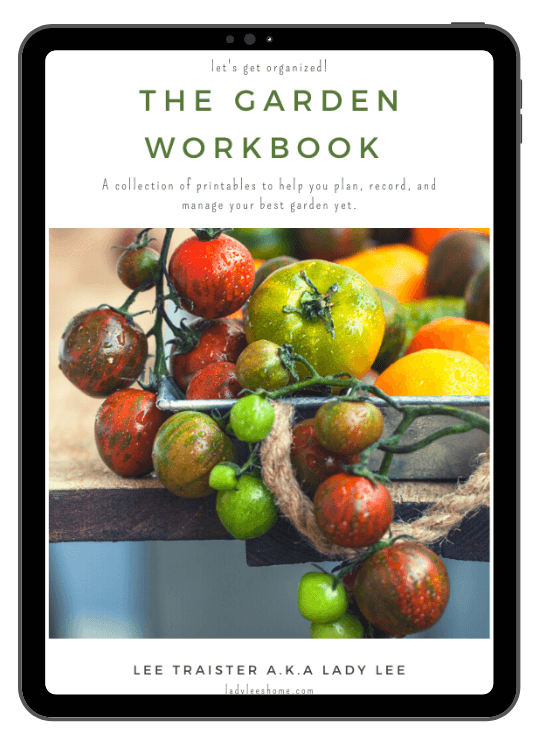 The Garden Workbook is Here!
In part one of this book, we'll go over how to set up and grow your best garden yet.
Part two consists of 16 garden printables to help you plan, record, and manage your garden properly!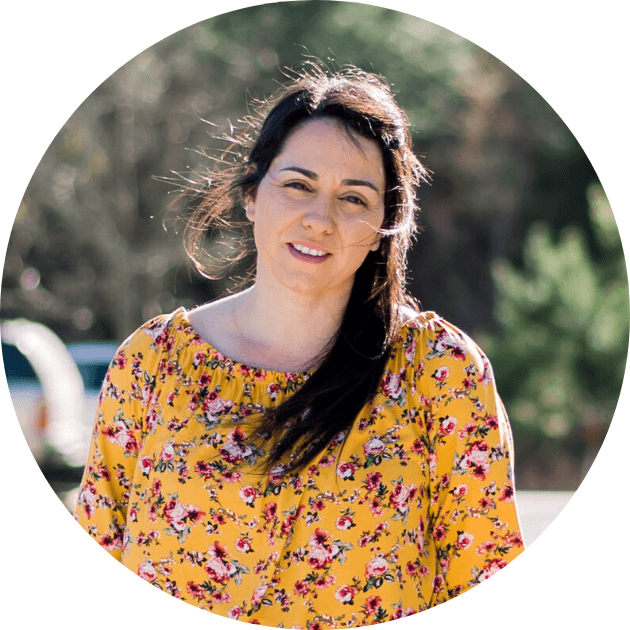 Hi! I'm Lady Lee. I help homesteaders simplify their homesteading journey while still producing a ton of food! I am a single mother of four, I was born in Israel and raised in an agricultural commune called a Kibbutz. Now I homestead in central NC.