Sometimes we do things in a traditional way because, well, that's what everyone is doing so it must be the right thing to do. Sometimes it is.
But then sometimes you decide to try a different way, it works, and you ask yourself, why in the world did I work so hard all this time, following the traditional method.
That's how it is with traditional soil preparation. Why they teach us we should "work" the soil before planting I have no idea. Mr. Soil doesn't want us to poke around, I assure you.
Disadvantages of Tilling Your Garden Soil
Exposing Weed Seeds to the Sun – some people till their garden to get rid of weeds. By doing that, they actually make the problem much worse because now, not only they mixed the new weed seeds in the top layer of the soil, they also bring dormant weed seeds that were buried deep in the soil to surface level, exposing them to the sun and allowing them to germinate.
Disturbing Earthworms and Other Organisms – imagine you are a hard working earthworm.
You dig beautiful tunnels so the roots of plants will have oxygen, you eat bad soil and poop good soil, you eat decaying plants and poop compost, you make sure the compost can find its way to the root level of the living plants in the garden, you interact with other organisms, you make babies and teach them how to work hard for mother nature… You know, you're living a good life in your natural environment.
Then one day a scary machine with huge teeth enters your home and ruins the place. It's an earthquake, a hurricane, a tornado, all your hard work is gone and you have to start again, that is if you can still find all the parts of your body.
Loss of Nitrogen –  many crops leave nitrogen behind, which is very beneficial to the following crops. Tilling the soil can cause the release of this nitrogen into the atmosphere as nitrogen oxide, a highly potent greenhouse gas, or can cause it to drain into waterways.
Erosion – if done regularly, tilling can cause the soil to erode.
Poor Water Retention – tilling reduces the amount of water the soil can retain.
Hard Work and Expensive – a good tiller might cost between $400-600, money that will be much better spent on good compost or mulch. And those machines are, simply put, not much fun to work with.
How to Prepare Your Garden Space for Planting Without Tilling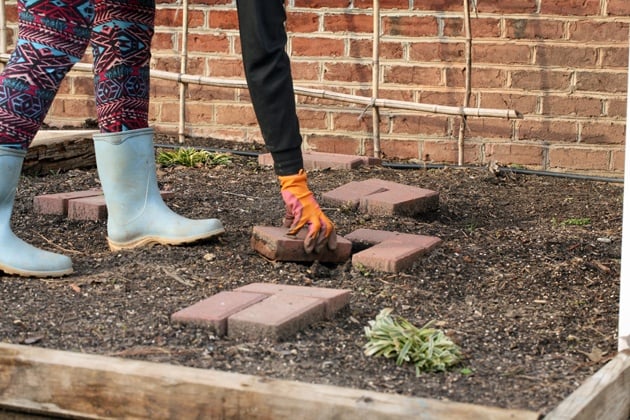 This is a small garden space I have to the left of our front steps. I shared with you here, a few months ago, how I turned it into a vegetable bed.
Last fall I planted peas (to add nitrogen to the soil), green onions, and many carrots here (to open up the soil). I just recently harvested the last of them, and since we are getting closer to spring planting, it's time to prepare this bed.
So first, I removed the stepping bricks. This is an odd shaped garden bed, and I can't get to all the vegetables from the outside, so I place the bricks to make sure I don't step on the plants and that I always step in the same spot.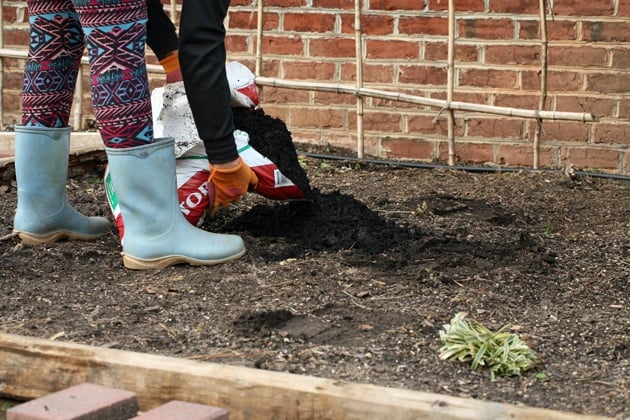 Next, I added some soil on top of the existing soil.
This is a new bed and last year we didn't fill it with enough soil, so I added about 6 bags of soil this year. I use the basic soil from the garden store because I grow organically and I don't want the fertilizers they add in the garden soil.
If you have an established garden bed, you will find that every few years it might need additional soil added to it. At the end of this post, we will talk about how to start a new no-till garden (on a lawn, for example).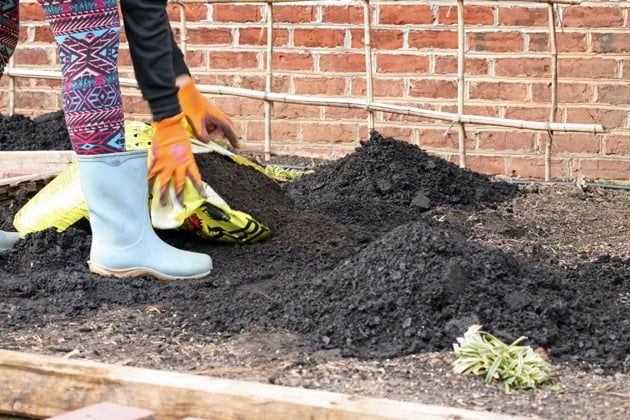 Next I added compost. The more the merrier. I used composted cow's manure that I bought in a bag because my own compost is not ready to use yet.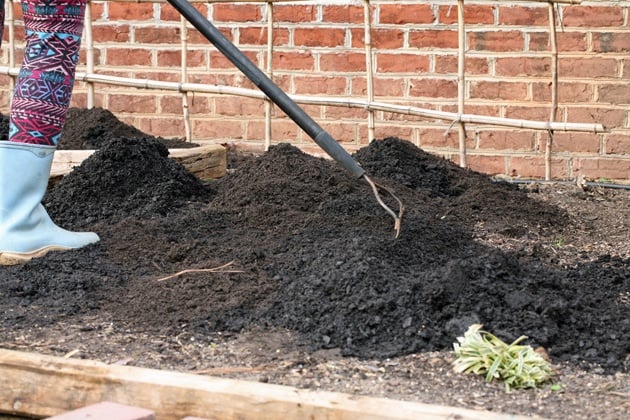 With a rake, I mixed the soil with the compost…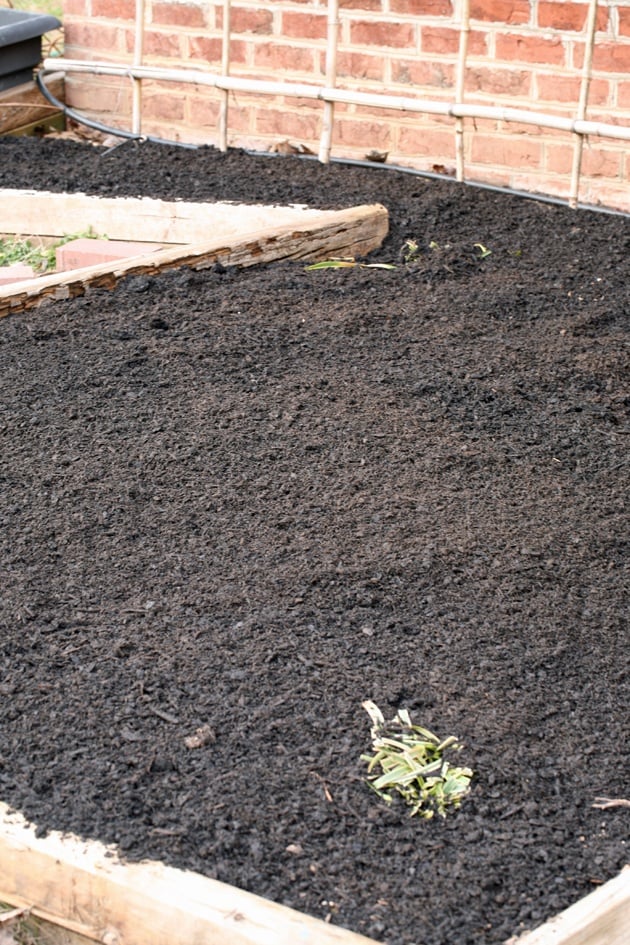 And spread it evenly all over the bed.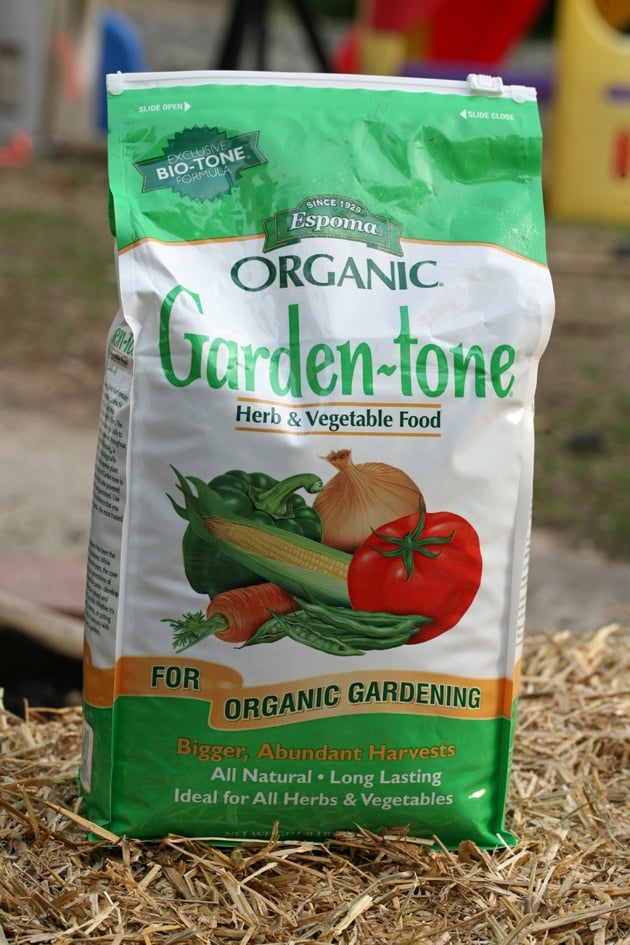 I love Espoma. I added this Garden Tone at the time I prepared the bed because I am going to plant in it shortly, but you really supposed to add it at the time of planting.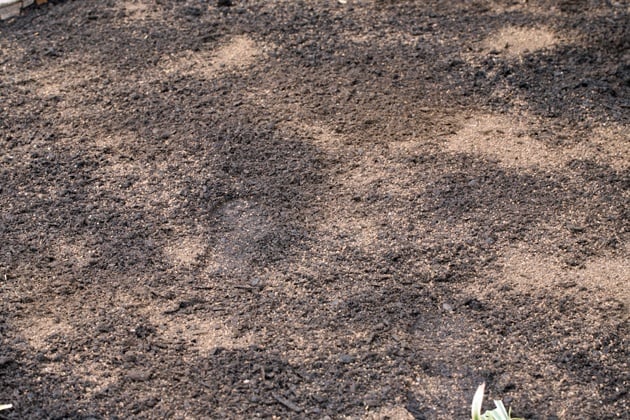 Read the instructions on how much to use on the back of the bag. Then just spread it on top of the soil. Water, worms, and other organisms will carry it down to root level for you.
You don't have to do this, especially if you added a lot of good compost, but since this soil is new, I wanted to make sure my vegetables have enough to eat.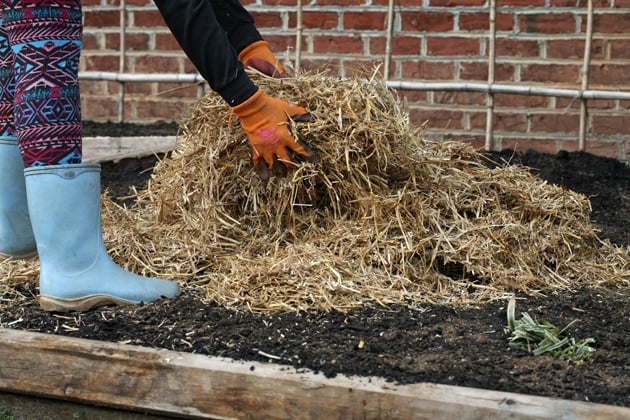 Lastly, mulch.
Mulching is a very important part of no-till gardening. You can use dry leaves, wood chips, grass clippings… But my favorite is straw.
Mulch keeps the soil moist and soft, it eliminates weeds almost completely, and it's composting right there in the garden, providing your plants with food.
It's a pain in the you-know-where at planting time, if to be honest. You have to move the straw, plant, wait for the plant to germinate, and bring the straw back around it. In very large gardens, it makes it very hard to use a seeder, but for small gardens, where you plant by hand, mulch is great.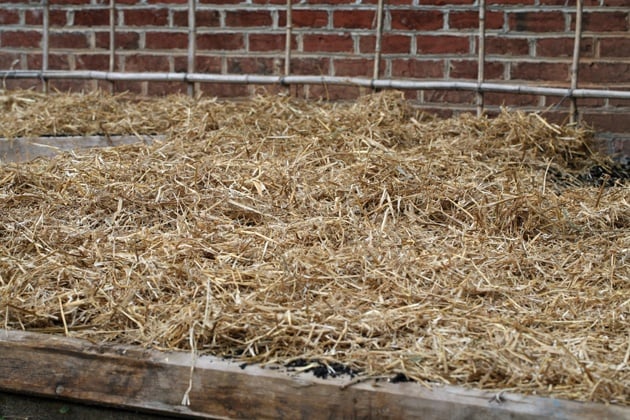 With straw, a layer of 6"-8" is a good start. The straw breaks down and turns into compost right there in the garden, so you will have to keep adding straw once in a while.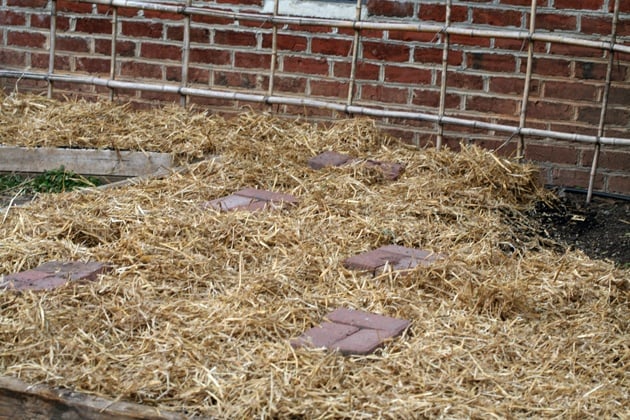 Lastly, I placed the bricks back in place.
From now on there is nothing else I have to do besides planting, harvesting, and adding straw (there might be a few weeds here and there). You can move the straw back at the beginning of the season or in the fall and add more compost if you like, but since the straw is turning into compost, you'll find that your plants are doing great even if you don't add compost.
It really is the easy way to garden. And you should move the straw back once in a while, stick your fingers in the soil and feel and see how amazing it is!
How to Start a New No-Till Garden
Ok, so let's say you want to start a no-till garden on part of your lawn…
Your first step will be to cover the area in the fall. You can do that with a black greenhouse film (you can buy those at your local farm supply store), or, an even better way is to cover the area with an old carpet. The carpet won't let the sun through and it is also heavy, whatever is under it is not going to live for long.
You let this be for the winter and in the spring, you pull the film or the carpet off. If there is still too much dead grass or maybe too many dead weeds that didn't break down you can remove them by hand or with a hoe.
Then do the same thing I did with my small garden space. Add compost and soil, about 8". Add some organic fertilizer and cover with straw. You are now ready to plant!
Last year, I tried gardening for market. I set up 66 30′ x 30" garden beds and I thought it will be the easiest to do the same even on a large scale. So I purchased many bales of straw and mulched all of my beds. It turned out to be very hard to maintain my large garden. It took a lot of time to move the straw so I can plant with a seeder, and since the space was so large and I only could afford so many bales of straw, I ended up mulching only 3" or so and many many weeds still found a way to grow.
Anyway, I was thinking back then that maybe this is the reason you don't see many large farms use mulch. I know there is still a way to make this work on a larger scale (watch Under Cover Farmers if it interests you), but for the small home garden, I really don't think there is a better way.
No-till gardening is so simple and easy, and you will notice in the first season how much your plants love it.
I would love for you to comment bellow and let me know how you prepare your garden soil before planting.