This is a very easy, delicious, and healthy carrot top pesto recipe. If you grow your own carrots or buy them with the tops at the farmer's market, it's a great way to use the tops.
---
Carrots are a must in my home garden (learn how to grow carrots)! I think that from all the vegetables that we grow we love picking carrots the most. I plant carrots in early spring right when I can work my soil. Then I plant them again in the autumn garden for winter harvest.
Whenever they are ready, the kids will literally fight over them and I have to admit that even though I love to freeze carrots and freeze shredded carrots (so they are ready for carrot cake), not many of them make it to the kitchen.
Carrot Top Pesto Recipe…
We eat most of our carrots fresh, right from the garden as a snack. I love it because it saves me some kitchen time (preparing snacks for the kids) during the busy growing season.
When you grow your own food, when you work so hard to plant carrots and thin them and water them and weed and so on, it kinda makes your heart hurt to throw away anything. We used to pull carrots from the garden, eat the carrot and toss the tops.
The ducks and the chickens don't like them much. The goats will eat them sometimes, I don't have a compost pile (cause I give everything to the animals) and I didn't want to throw them back in the garden because they invite the carrot fly over and that's bad news.
I don't know where I got the idea to make carrot top pesto years ago… I just remember that one day I decided that instead of tossing the tops I'm gonna make something with them. I was so surprised with the result!
Carrot top pesto is super simple to make, very tasty, and behaves much better than basil pesto. It lasts in the refrigerator for a long time, you can freeze it in a mason jar, and it doesn't oxidize (turns brown) as basil pesto does.
Ingredients For Carrot Top Pest…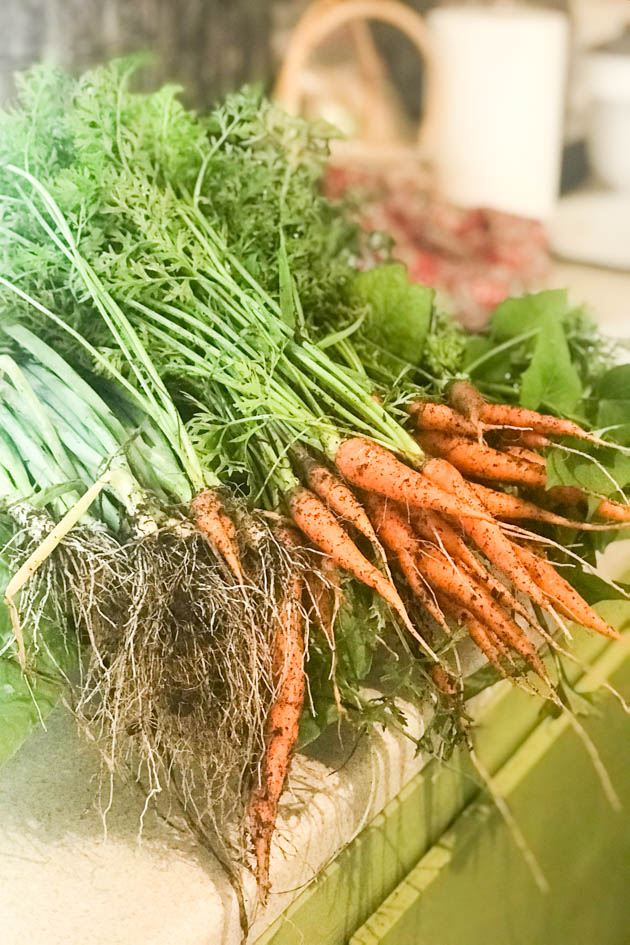 Carrot tops – you can use tops from any variety of carrots. They are all good to eat. The best thing about growing your own food is that you get to try different varieties. You might choose to grow purple carrots, round carrots, yellow carrots, short carrots, or long carrots…
The tops of all of them are great for pesto, however, I recommend that you try to use young leaves. You can use just the center leaves if you pick an older carrot or you can use the tops from carrots that you thin.
I usually thin my carrots in two stages. The first time that I thin my carrot bed is when the seedlings are about 4" tall. The second time that I thin my carrots is when they already developed a root but the carrot is still small. We use those as a snack and their greens are fresh and young and perfect for carrot top pesto.
If you use tops from older carrots they might be a little bitter. But the young tops aren't bitter at all and taste faintly like carrots.
Parmesan cheese – you'll also need parmesan cheese. You can grade it yourself or but the already grated one. If there is any other hard cheese that you like, you are welcome to try and replace the parmesan with it, but generally, we use parmesan cheese in pesto.
Garlic – there is no good pesto without garlic! You'll only need a couple of cloves per batch.
Nuts – use any kind of nuts that you want. In this recipe, I used walnuts but you can also use almonds or pine nuts or try anything else that you think will work.
Olive oil – use the best olive oil that you can find!
Salt and black pepper – not much seasoning is required for pesto, just some salt and pepper to taste.
Tools That You'll Need…
You'll need a cutting board and a knife to chop the carrot tops. You'll need a measuring cup to measure the ingredients and a food processor to process the pesto.
You might need a spatula to scrape the bottom of the food processor and of course a container to store the pesto in. I like to use half-pint jars but you can use any container that you'd like.
How to Make Carrot Top Pesto…
Add 1/2 cup of walnuts (or other nuts) and two peeled garlic cloves to the bowl of the food processor.
Pulse the food processor a few times…
Add 1/2 cup of grated Parmesan cheese and 3 oz of carrot tops (approximately 3 cups). Before you add the carrot tops, make sure to cut off the stems and only use the leaves.
Close the food processor and turn it on. As it's working, add olive oil. Keep adding olive oil until the pesto reaches your desired consistency. I ended up adding about 3/4 cup of olive oil. If you like it a bit more runny, add a little bit more. If you like it thicker, add a bit less.
You might need to stop a couple of times and scrape the bottom of the food processor to make sure that nothing is sticking to the bottom. Lastly, add salt and black pepper to taste.
How to Store Carrot Top Pesto…
Transfer my pesto to a small container or jar to store in the fridge. It will last for a few weeks in the refrigerator.
It also freezes very well so if you made more than you can eat fresh, Just add it to half-pint mason jars, close the jar with a freezer lid and store it in the freezer where it will last for months (I usually use all of my frozen food within a year).
How to Use Carrot Top Pesto…
We use carrot top pesto manly in sandwiches just as we would use basil pesto (in fact their taste is very similar). I've never cooked with my carrot top pesto before so I am not sure to tell you how it behaves when heated but it might do exactly the same as basil pesto.
We use it as a spread before adding muenster cheese or roasted turkey to a sandwich. It's great as a spread in grilled cheese sandwiches and It's also great to spread on crackers or pretzels with some cheese.
---
This carrot top pesto recipe is really simple and takes just a few minutes to put together. I think that you'll be surprised by how tasty it is. I love that I now have a way to use another part of my crop, that less is going to waste, and that I found a way to produce one more thing from a vegetable I grow anyway. I hope you'll give it a try!
If you liked this post, you might also like…
Carrot Top Pesto
Yield:
Approximately one cup.
Simple, healthy, and tasty carrot top pesto recipe.
Ingredients
1/2 cup walnuts
2 cloves of garlic, peeled
1/2 cup grated parmesan cheese
3 oz carrot tops (leaves only)
3/4 cup olive oil
Salt and pepper to taste
Instructions
To the bowl of the food processor, add the walnuts and garlic and pulse the food processor until they are combined.
Add the cheese and the carrot leaves.
Turn the food processor on and while it's working, add olive oil until the paste reaches your desired consistency (I added approximately 3/4 cup).
Lastly, add salt and black pepper to taste
Store in the fridge or freeze.
Notes
Make sure to remove the stems and use young carrot top leaves.
Instead of the walnuts, you can try almonds or pine nuts. They all work well but my favorite is the walnuts.
Instead of the parmesan, you can use Asiago cheese. It's really tasty and works great.
Carrot top pesto will last a few weeks in the fridge and months in the freezer.
We use it mainly as a spread on sandwiches or with crackers.
Nutrition Information:
Yield:

24
Serving Size:

1 tablespoon
Amount Per Serving:
Calories:

85
Total Fat:

9g
Saturated Fat:

1g
Trans Fat:

0g
Unsaturated Fat:

7g
Cholesterol:

2mg
Sodium:

53mg
Carbohydrates:

1g
Fiber:

0g
Sugar:

0g
Protein:

1g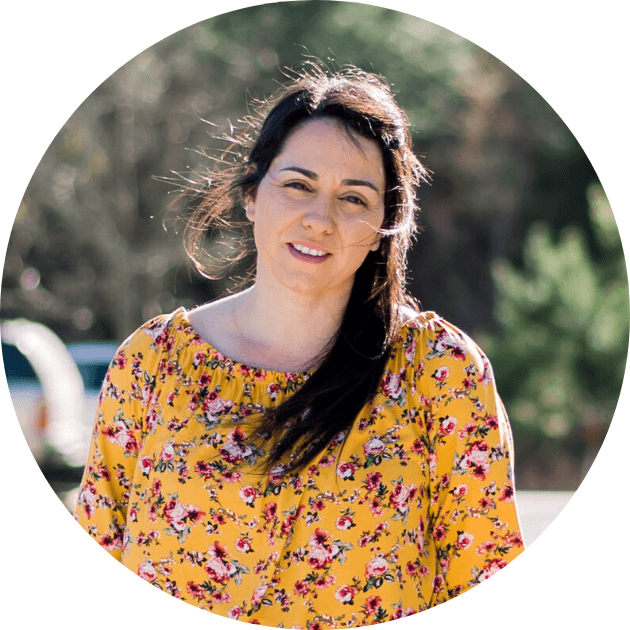 Hi! I'm Lady Lee. I help homesteaders simplify their homesteading journey while still producing a ton of food! I am a single mother of four, I was born in Israel and raised in an agricultural commune called a Kibbutz. Now I homestead in central NC.