In this post, I'll show you how to make red pepper paste. This red pepper paste recipe is delicious and very easy to put together. You can use it to spread on a slice of bread when you make a sandwich or in pasta sauce or any other way you'll want. It's also a great way to preserve peppers because you can easily freeze this paste. You can use this same red pepper paste recipe with other kinds of peppers as well.
---
I've planted a few bell pepper plants in the garden this year but for some reason, they are not doing so great.
They had a hard time after I transplanted them and even months later they still seem to struggle. They are green and they are there but they're not producing many peppers and aren't looking so great.
I had made peace with the fact that we wouldn't be eating many peppers this season and that I wouldn't be able to preserve peppers in vinegar and salt like I always do until the day a couple of weeks ago when my neighbor rolled down my driveway with a gigantic box of red bell peppers!
They were soooo red and ripe (you'll see in the picture below) that I knew I had to process them right away.
How to Make Red Pepper Paste…
I decided to make a few different dishes with the thought of preserving the peppers…
First, I made this red pepper paste that I am sharing with you today. Those jars went to the freezer.
It's an amazing way to preserve a large number of peppers. It's an easy recipe and you can use it in so many ways. You can spread it on bread, or make a pasta sauce with it, or use it when cooking and add it to different dishes. Kind of like you'd use basil pesto or cilantro pesto.
You can make red pepper paste with different kinds of peppers and it can be made spicy or not. It will last a couple of weeks in the fridge or a very long time in the freezer.
The second dish that I made was roasted red peppers. I canned those and you can find this tutorial in my post How to Can Peppers. I love roasted red peppers!
And the third dish I made was Mediterranean Stuffed Peppers. Oh goodness, these are so good! I meant to freeze them since they make a really great freezer meal but they were so good that I ate so many and shared with anyone who entered the house within a couple of days after I made them.
I made a huge pot but nothing was left for freezing. Oh well.
Of course, I also left us a few to eat fresh…
For the red pepper paste, I choose the smaller peppers. It would have been hard to peel or stuff the small peppers for the other dishes that I made, but for a paste, the small peppers are perfect!
I started with 2.9 pounds of small red bell peppers…
Red Pepper Paste Recipe…
I wash the peppers well and then cut around the stem and pull it out…
I remove the seeds from the peppers and cut them in half. After de-seeding the peppers I was left with almost 2 pounds (1lb 14oz to be exact) of peppers.
Next, I added all of the peppers and 4 peeled garlic cloves to the bowl of the food processor…
I processed the peppers and garlic for a couple of minutes.
Now it's time to cook this red pepper paste…
Cooking Pepper Paste…
I heat 5 tablespoons of olive oil in a shallow and wide pan…
When the oil is hot, I add the pepper/garlic mix and stir. I bring this to a soft boil and hold it there for 5 minutes while stirring before lowering the heat to medium-low.
After lowering the heat I season with 1/2 teaspoon cumin, 1 teaspoon salt, and one teaspoon black pepper. If you want the paste to be spicy you can add some cayenne pepper.
Another way to make this paste hot is to add a couple jalapeno peppers (or other spicy pepper) to the food processor when you process the peppers and the garlic before cooking.
You can get really creative and try this with many kinds of peppers or combinations of peppers. Since I am feeding 4 little kids here and I myself don't like spicy food, I leave our paste mild.
Ok, after I add the seasoning, I give this a good stir and now it's just a matter of cooking it (uncovered) to my desired consistency. Kinda like with jam.
Also like making jam, make sure to stir every few minutes.
It took about 20 minutes of cooking to get to my desired consistency. We are making a paste here so of course, I want it paste-like. Thick and spreadable.
Basically, I cook this red pepper paste until all the liquid is gone and then a little longer. Just make sure to stir so you don't burn the paste especially toward the end when there is not much liquid left.
Once the pepper paste is ready, I turn off the heat and let it cool for a few minutes. Then I taste it and add seasonings if I feel that I am missing something.
Storing Red Pepper Paste…
I let the paste cool completely before transferring it to jars. The 2 pounds of fresh red peppers I started with ended up making 2 one-half pint jars of red pepper paste that went into the freezer plus another half jar that I left in the fridge for us to enjoy.
Make sure you use the plastic freezer lids to cover the jars and that you label your jars. Also, make sure that you leave 1/2 inch headspace.
Using Red Pepper Paste…
Simple, right?
This red pepper paste is really tasty! I feel that it tastes like a spread of roasted red peppers a little bit.
I love using it in sandwiches. I'll make a sandwich with mayo, rep pepper paste, lunch meat, and tomato or cucumber slices. It's so good.
Another great way to use it is to make a simple alfredo pasta sauce and add a few spoons of this red pepper paste to it. It gives it a wonderful taste and a fun color.
I love making zucchini casserole when I have fresh zucchini in the garden. Aside from my low-sugar zucchini bread, a casserole is my favorite way for preserving zucchini.
I make a few of them, divide them into dinner (or lunch) portions, wrap each piece individually and freeze them for an easy meal.
When I eat my zucchini casserole, I always add some red pepper paste on the side to go with it. They work so well together! Add a fresh salad and you have yourself an amazing and very healthy vegetarian meal right from the garden.
You can probably think up a million other ways to use this paste but these three are my personal favorites.
---
I hope you liked this How to Make Red Pepper Paste tutorial! Remember that you can try to make this with different kinds of peppers and different combination of seasonings. Here is a similar recipe for making pepper paste but with hot chili peppers in case you want to try a spicy version.
If you liked this recipe, make sure to check out my carrot top pesto recipe and my tutorial on how to preserve lemon peel. I think that you'll love both of those. Also, if you happen to come by many jalapenos peppers, try making cowboy candy (which is a delicious candied jalapenos dish), or try fermenting some of the jalapenos.
Here is the handy printable…
How to Make Red Pepper Paste
Yield:
Two and a half 1/2 pint jars
A delicious and easy to make red pepper paste that you can use in many different ways!
Ingredients
2 lb red peppers, stem removed, seeds removed, and cut in half
4 garlic cloves, peeled
5 tablespoons of olive oil
1/2 teaspoon cumin
1 teaspoon salt
1 teaspoon black pepper
Optional: to make this paste spicy, add a couple of fresh jalapenos or another kind of spicy fresh pepper or add cayenne pepper when seasoning.
Instructions
To the bowl of the food processor, add the de-seeded peppers and the peeled garlic cloves. Process for a couple of minutes.
In a shallow and wide pot, heat the olive oil.
Add the red pepper/garlic mixture and bring to a boil.
Let boil for 5 minutes, stirring frequently, then lower the heat to medium-low.
Add the seasonings and stir them in.
Cook uncovered, stirring frequently, for about 20 minutes or until the paste reaches your desired consistency.
Turn the heat off and let cool for a few minutes.
Taste and correct seasonings if you'd like.
Let the paste cool completely before scooping it into jars. You can freeze it for later or store in the fridge and enjoy.
Notes
To freeze this pepper paste, add it to a jar and cover with a freezer lid before freezing. It should last in the freezer for 12-18 months.
Spread it on sandwiches, season other dishes with it, add it to an alfredo pasta sauce, use it in a pasta salad, or eat it with a good casserole. There are many ways to use it.
You can use this same process and recipe with many different kinds of peppers. It doesn't have to be bell peppers. Feel free to add some heat by using a combination of hot and mild peppers or just use mild or just use hot. You can mix it up however you want!
Nutrition Information:
Yield:

25
Serving Size:

1 tablespoon
Amount Per Serving:
Calories:

35
Total Fat:

3g
Saturated Fat:

0g
Trans Fat:

0g
Unsaturated Fat:

2g
Cholesterol:

0mg
Sodium:

86mg
Carbohydrates:

3g
Fiber:

0g
Sugar:

2g
Protein:

0g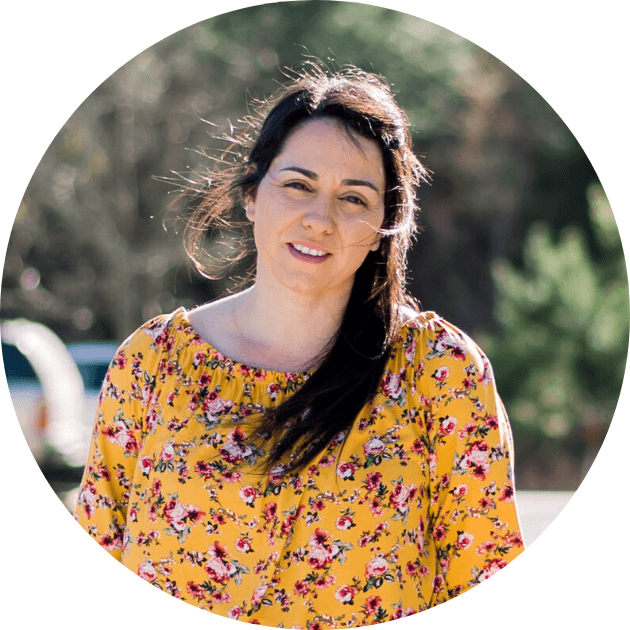 Hi! I'm Lady Lee. I help homesteaders simplify their homesteading journey while still producing a ton of food! I am a single mother of four, I was born in Israel and raised in an agricultural commune called a Kibbutz. Now I homestead in central NC.