This is a recipe for a simple Mediterranean zucchini casserole. It takes minutes to throw together and it's healthy and delicious. It's also a great way to preserve some of your zucchini because you can freeze this casserole easily. Here is my favorite zucchini casserole recipe…
---
I love zucchini and summer squash!
I always have them in my summer garden. I try to grow a green variety and a yellow variety.
I have to admit that they might not be the easiest thing to grow… The stink bugs love them and are very persistent.
Nevertheless, squash plants always manage to produce a ton before they are taken away by the bugs.
Every vegetable gardener is familiar with the zucchini season… A few weeks in which you eat so much zucchini in so many different ways that you think you'll never want to see a zucchini or summer squash ever again!
Mediterranean Zucchini Casserole…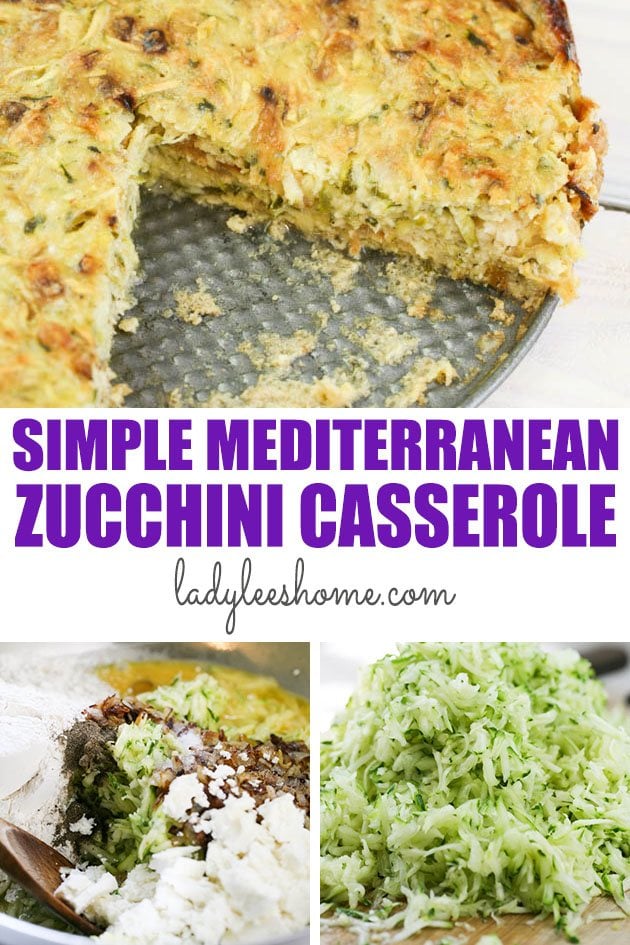 Here is the thing… It's kinda like having a baby. A couple of months pass by and you completely forget the struggle and are ready for the next one (or so it is for some of us).
However, during zucchini season, you are constantly looking for things to do with zucchini and ways to preserve it.
In the past, I tried freezing zucchini. I did not like the result… The zucchini was mush after defrosting. I don't like canning vegetables, the process of canning also turns them to mush… besides that, it's not recommended to can zucchini.
So when it comes to zucchini, at some point, I made peace with the fact that I'll have to bake it or cook it in some way in order to preserve it.
I make my low-sugar zucchini bread and I also make my Death by Chocolate zucchini bread.
I can make a million of them if I want… I can always sell some at the farmers market (people love them!) and it's super easy to freeze them. I can pull a loaf of bread from the freezer and enjoy it in January. I love it!
But when it comes to a savory way to "preserve" zucchini, my Mediterranean zucchini casserole takes first place!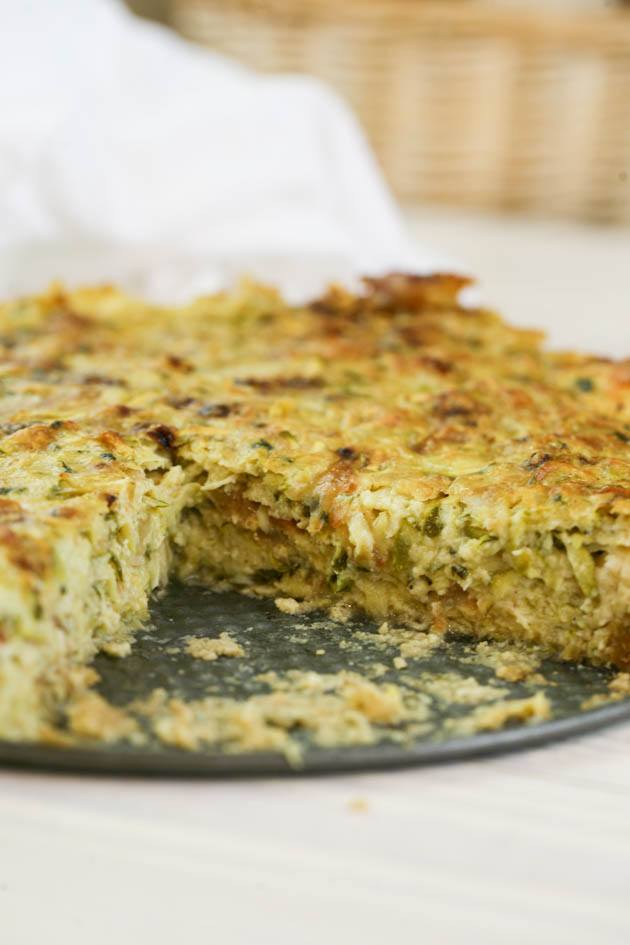 Here is what I do… During the zucchini season, I make a whole lot of casseroles. I enjoy as much as I want to and then divide the rest to serving portions. I wrap each portion individually and stick it in the freezer.
All I have to do later is place a piece on a baking sheet and stick it in the oven (no need to thaw it before). While it heats up, I make a fresh salad…
And voila! Lunch (or dinner) is ready.
So you get it, yes? This casserole is both a delicious dish AND a wonderful way to preserve your zucchini harvest!
Kitchen Tools That We Are Going to Need…
All right, let's get to it! Let's gather the kitchen tool that we are going to need in order to make this healthy, easy, and delicious Mediterranean Zucchini Casserole…
Cutting board – I love my wooden board for chopping vegetables.
Chopping knife – to dice the onion.
Small frying pan – we are going to fry the onion before adding it to the casserole.
Grater – to grate the zucchini. If I'm doubling or tripling this recipe, I sometimes use my food processor instead of doing this by hand.
A large mixing bowl – to mix all of the ingredients together.
Wooden spoon – I prefer using a wooden spoon for mixing instead of my hands…
Measuring cups – to measure the ingredients.
Measuring spoons – to measure the spices.
9" springform pan – I used a springform pan this time but I actually prefer using 2 loaf pans instead. Especially if I make this casserole with the intention of freezing it, it makes it much easier if I use loaf pans.
Parchment paper – I line the loaf pans with parchment paper and when the casserole is ready I let it cook for a minute before taking it out of the pan to cool all the way. I divide each casserole into three large portions and wrap them individually before freezing.
All right, let's start with the onions…
Frying the Diced Onions…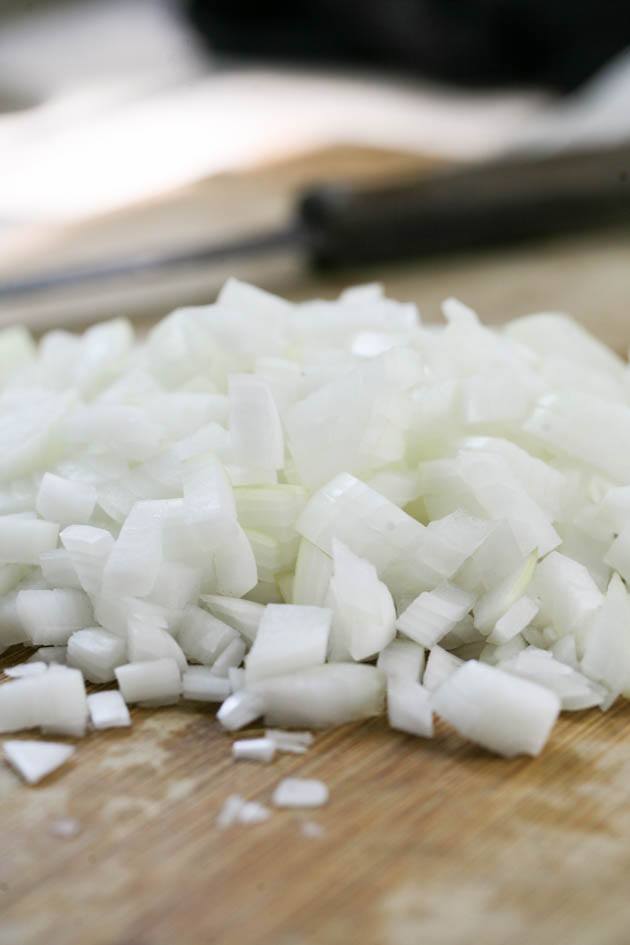 Like every good Mediterranean recipe, this one too starts with a couple of medium onions.
I dice them…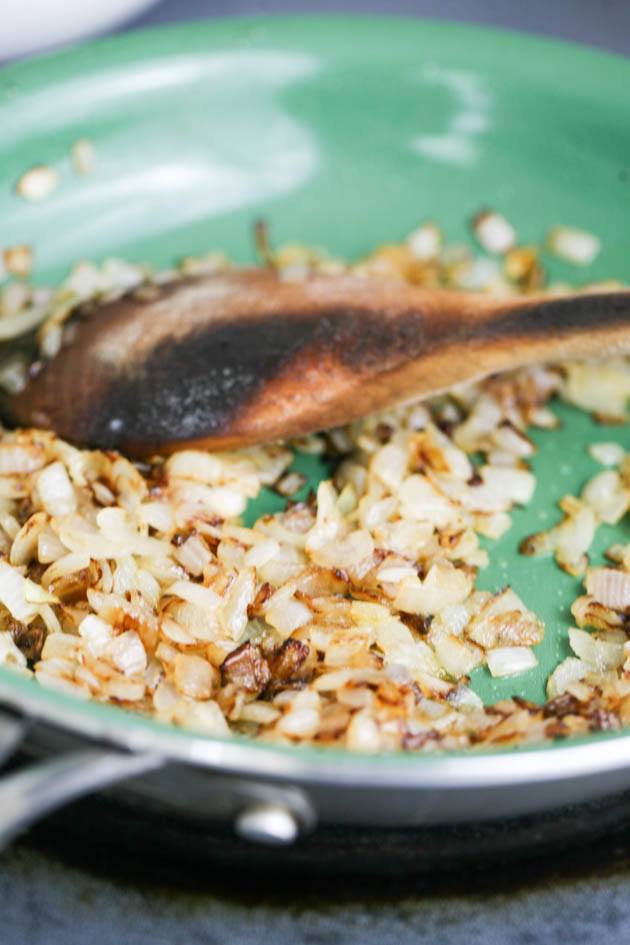 Then, I heat two tablespoons of butter in a frying pan and when the butter is melted I add the diced onions.
I lower the heat to medium-high and fry the onions until golden (as you can see in the picture above). This takes about 10 minutes. I make sure to stir the onions frequently so they don't burn.
Once they are ready, I remove them from the heat and set aside to cool while I work on the rest of the ingredients.
Preparing the Zucchini for the Casserole…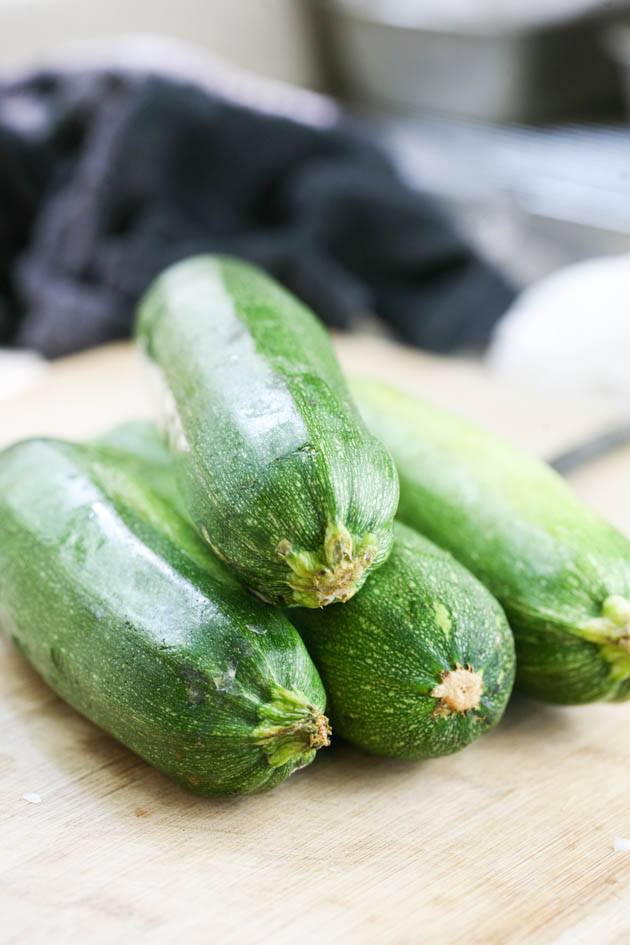 I use 4 zucchinis. Again, this casserole can also be made with summer squash or a combination of summer squash and zucchini.
I wash my zucchini and remove both ends but I don't peel my zucchini…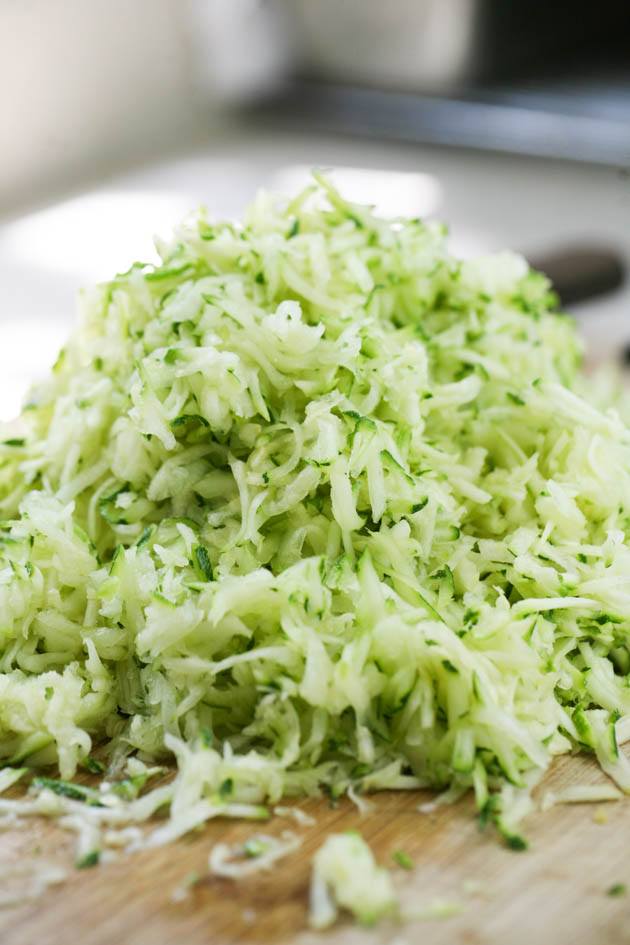 Then I grate it by hand or in the food processor (I usually get about 6 cups of grated zucchini).
Mixing the Ingredients for this Mediterranean Zucchini Casserole…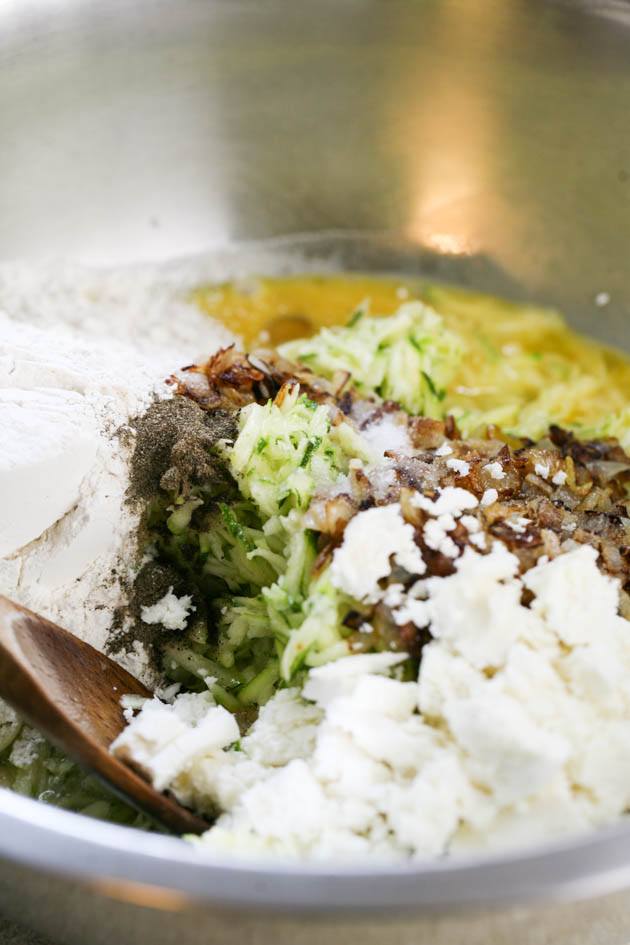 Once the onions are ready and the zucchini is grated, it's time to add all of the ingredients to a large mixing bowl.
I add…
4 zucchinis (make sure to squeeze any liquid from them),
The fried onions,
3 eggs,
4 tablespoons of melted butter,
3/4 cup of flour,
1 teaspoon of baking powder,
1/2 teaspoon of black pepper,
1 cup of crumbled feta cheese,
And 1/2 teaspoon of salt.
A word about the cheese… I use feta because I love feta and it's a kind of cheese that I always have on hand. Feel free to use mozzarella instead or even chevre cheese.
A word about the salt… If you are using feta cheese, go easy on the salt because feta is salty. You can always add more salt later but you can't take it away.
I give it all a good mix to combine all of the ingredients but I make sure not to over mix.
Baking This Zucchini Casserole…
As I said before, I sometimes use a springform pan and sometimes I use loaf pans. I actually prefer the loaf pans because it's easier to divide the casserole into portions that I can freeze.
If I am using a round pan, I use the 9" springform. If I am using the loaf pans I use 2 of them (5 x 9).
No matter what pan I'm using, I butter it well (or use parchment paper, it's even better!), and I spread some breadcrumbs at the bottom of it (about 2 tablespoons for the springform or one tablespoon of breadcrumbs in each of the loaf pans)…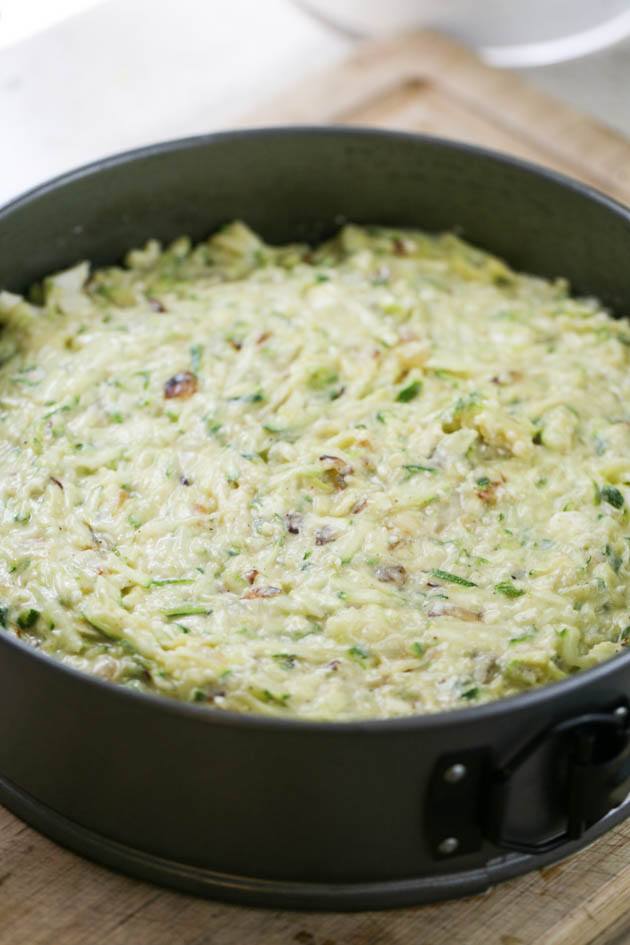 Before I transfer the casserole mixture into the pan…
I preheat the oven to 350 degrees F and in the zucchini casserole goes (uncovered).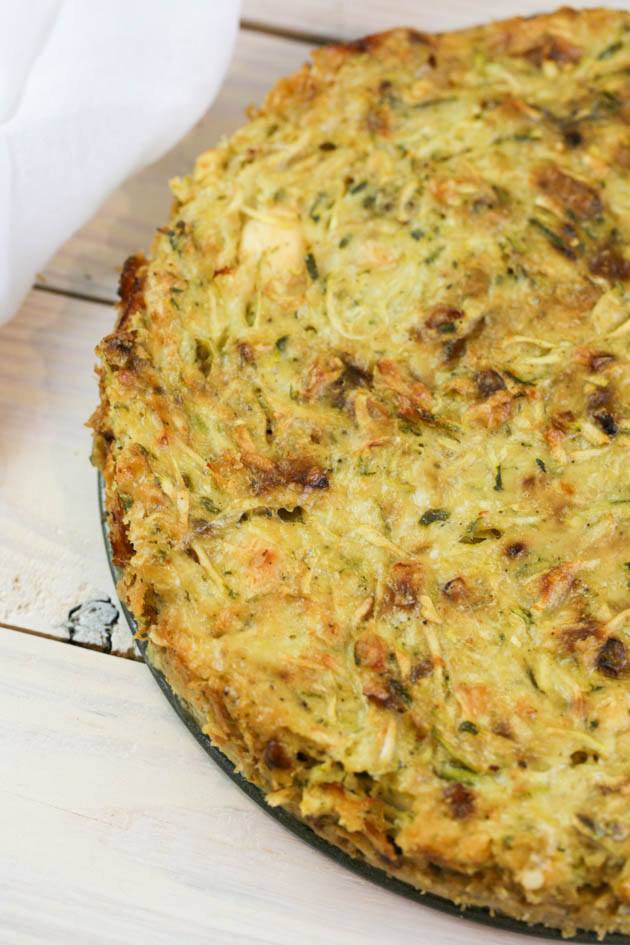 I bake it for about 55 minutes.
This is a moist casserole, but to make sure that it's ready, you can check the center by inserting a toothpick. It will come out moist but not completely wet when the casserole is ready.
It will also have this golden color that you can see in the picture.
Serving This Mediterranean Zucchini Casserole…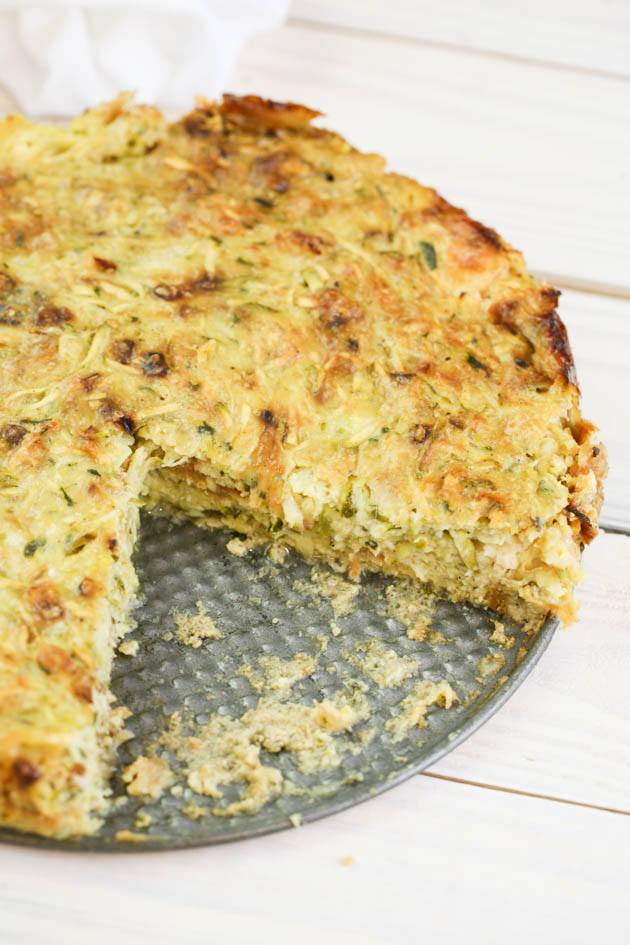 I let the casserole cool a little bit after I remove it from the oven.
I always serve it hot but you can try serving it at room temperature or cold as well.
You can serve it as a side, but for me it's a whole meal. All that I need next to it is a good salad (like a beet salad, or a celery salad, or a cucumber salad or a cabbage salad or whatever!).
Sometimes I also serve it with fermented vegetables instead of the salad like fermented beets, fermented radish, or fermented tomatoes.
Can I Freeze This Mediterranean Zucchini Casserole?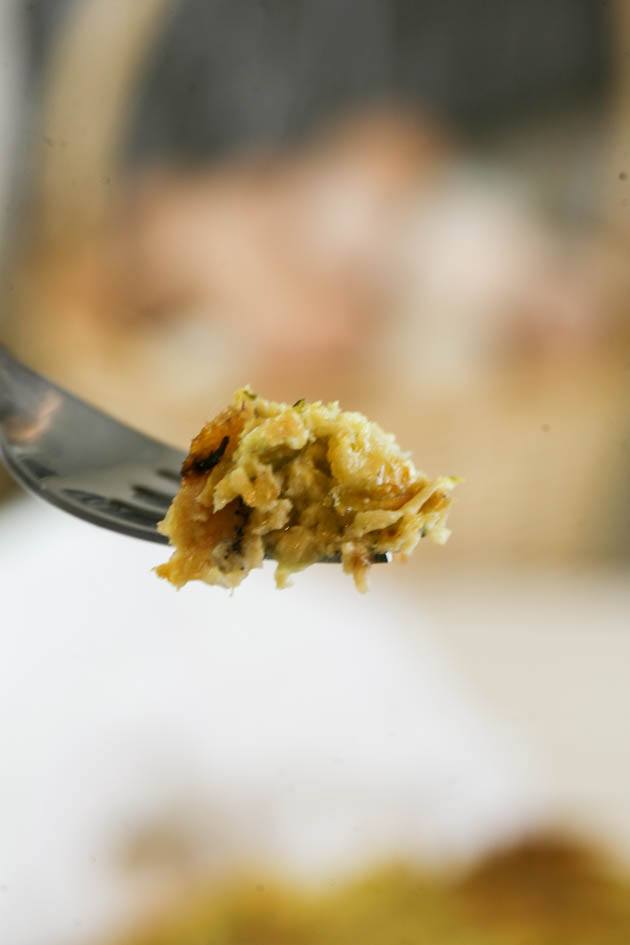 The best thing about this casserole, aside from the fact that it's healthy and delicious, is that it's super easy to freeze it.
All that you have to do is divide the zucchini casserole into portions. I prefer dividing it into individual portions (it's an easy mommy meal for me when the kids are not around).
I then use food plastic wrap to wrap each serving and stick them in the freezer.
When I'm ready to serve the casserole, I take a frozen piece out of the freezer. I line a baking sheet with parchment paper, remove the plastic wrap and set the frozen piece on the baking sheet.
I preheat the oven to 350 degrees F and bake the casserole for 10 -15 minutes until it's hot.
While it's heating up I make a good salad to serve with it.
Can I Add Meat to this Zucchini Casserole?
You can. Whatever meat you choose to add, make sure it's precooked and shredded or ground.
I'd add a couple cups of meat right into the mixing bowl when mixing all of the ingredients.
Also, I'd use mozzarella instead of feta if I added meat, I think that it would work better than the feta.
This casserole might be a great time to use canned chicken or canned beef or venison but honestly, I've never tried. I prefer to leave this casserole a vegetarian dish.
---
I love this dish! It's easy, healthy, and tasty. I love that I can preserve my garden zucchinis this way and enjoy them in the middle of January when the garden is asleep.
And I love that I can make it just a little bit different each time by using summer squash or a different kind of cheese. I hope that you'll give it a try!
And, if you liked this recipe, you might like these ones as well…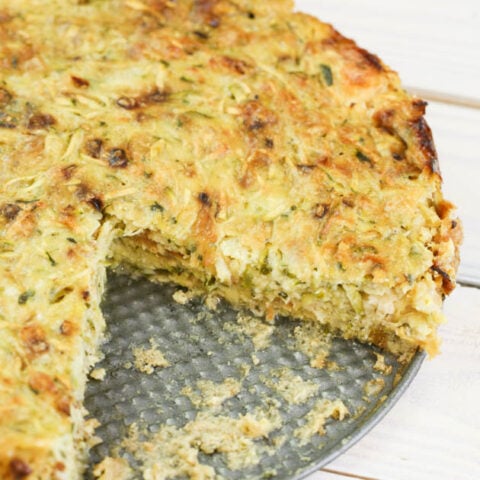 Mediterranean Zucchini Casserole
Yield:
9'' springform pan or 2 loaf pans of zucchini casserole
Total Time:
1 hour
15 minutes
Easy, healthy, and delicious Mediterranean zucchini casserole.
Ingredients
4 large zucchinis, grated (about 6 cups of grated zucchini)
2 medium onions, diced
2 tablespoons butter for frying
3 large eggs
4 tablespoons of melted butter
3/4 cup flour
1 teaspoon baking powder
1/2 teaspoon black pepper
1 cup crumbled feta cheese (or mozzarella or goat cheese)
1/2 teaspoon salt (careful with the salt if you are adding feta cheese)
2 tablespoons of bread crumbs
Instructions
Preheat your oven to 350 F.
Heat 2 tablespoons of butter in a frying pan. Add the diced onions, turn the heat to medium-high and fry until golden (about 10 minutes) while stirring constantly. Remove from heat and set aside to cool.
To a large bowl, add the grated zucchini (squeeze any access liquid from it), the fried onions, eggs, melted butter, flour, baking powder, black pepper, crumbled cheese, and salt.
Use a wooden spoon to mix all of the ingredients together. Make sure not to over mix.
Line a pan (can be 9'' springform or 2 loaf pans) with parchment paper or use butter to grease the pan. Spread breadcrumbs on the bottom of the pan and transfer the mixture to the pan.
Bake uncovered for about 55 minutes until the center is set and casserole is golden.
Remove from oven and set aside to cool a little bit. Serve warm with a salad or as a side dish.
Notes
This casserole can be made with zucchinis or summer squash or a combination of the two.
Salt to your taste. Remember to go easy on the salt if you added feta cheese since the cheese is already salty.
You can easily freeze this casserole. Divide it to individual portions and wrap each portion in plastic food wrap. Place in the freezer. When you are ready to enjoy it, unwrap and place on a baking sheet lined with parchment paper. Heat in a 350 F preheated oven for about 15 minutes.
Nutrition Information:
Yield:

6
Serving Size:

1
Amount Per Serving:
Calories:

263
Total Fat:

16g
Saturated Fat:

10g
Trans Fat:

0g
Unsaturated Fat:

5g
Cholesterol:

136mg
Sodium:

603mg
Carbohydrates:

21g
Fiber:

2g
Sugar:

4g
Protein:

10g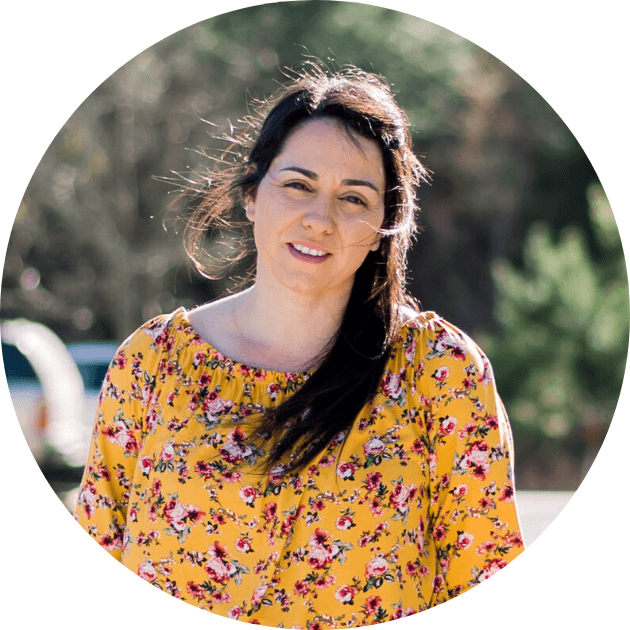 Hi! I'm Lady Lee. I help homesteaders simplify their homesteading journey while still producing a ton of food! I am a single mother of four, I was born in Israel and raised in an agricultural commune called a Kibbutz. Now I homestead in central NC.