This low-sugar zucchini bread recipe is moist and dense. Obviously, it's not as sweet as most zucchini bread loaves are because we're going to use just 1/4 cup sugar per loaf. If you find that you need a little more sweetness you can always drizzle honey on your slice. Sometimes I add chocolate chips to make it a bit sweeter for my kids. Also, I'll share with you how you can easily turn this recipe into a healthy zucchini bread. Let's make this delicious low-sugar zucchini bread! I have the handy printable for you at the end of the post.
Every year I plant fewer zucchini plants and every year I am overwhelmed with the amount of zucchini I harvest! I am not sure how this is making any sense but it's just how it is…
Not that I'm complaining… I love zucchini, but, in my house, when it comes to preserving zucchini it takes a bit more work than most other vegetables.
I don't can zucchini (can you can zucchini? I've never tried…) and I don't like freezing it. I've tried before to pack it nicely in a vacuum bag and it did last a good long time in the freezer, but I have to admit that I didn't like it much when I thawed it.
It was mushy and lost most of its taste. So in the past couple of years, I've been preserving my zucchinis in three ways: chocolate zucchini bread, a delicious zucchini casserole, and this simple low-sugar zucchini bread that I am going to share with you today.
We pick our zucchini, eat as much as we can during the season and what we can't eat fresh I turn into zucchini bread. I bake a couple of loaves of bread, wrap them and send them to the freezer. During the year, they will serve as a snack or breakfast (a slice of bread with some fruit, and a piece of cheese is a meal in my book).
Low Sugar Zucchini Bread Recipe…
I would love to make my zucchini bread a completely healthy zucchini bread and I will show you what ingredients you can change to make it really healthy. But for me, for now, it's a matter of saving a bit of money.
It's simply much more affordable to use 1/4 cup of sugar per loaf than 1/2 cup of honey. Especially if you're making twenty loaves of bread.
So you can definitely replace the sugar with honey and the white flour with whole wheat, but I am good with this simple low-sugar zucchini bread that is still pretty healthy and saves me some money.
It's all about balance, baby!
Here is How to Make This Low Sugar Zucchini Bread…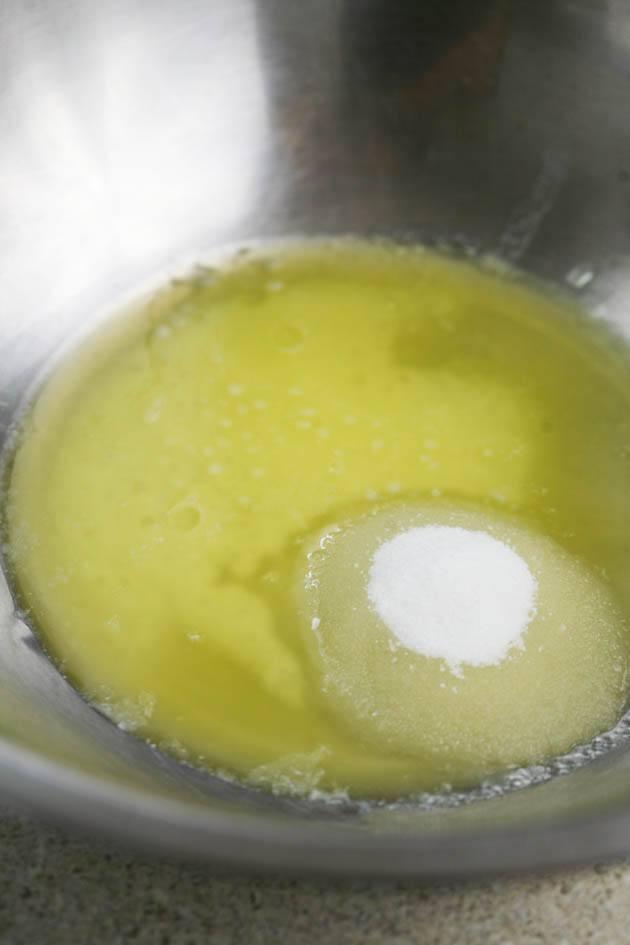 Start with half a cup of melted butter (or coconut oil) and a 1/4 cup of sugar (or replace with 1/2 cup of honey). I prefer using my KitchenAid hand mixer for this (I use it for pretty much everything except for bread making), but, of course, you can use a stand mixer as well.
Mix the two until they are combined…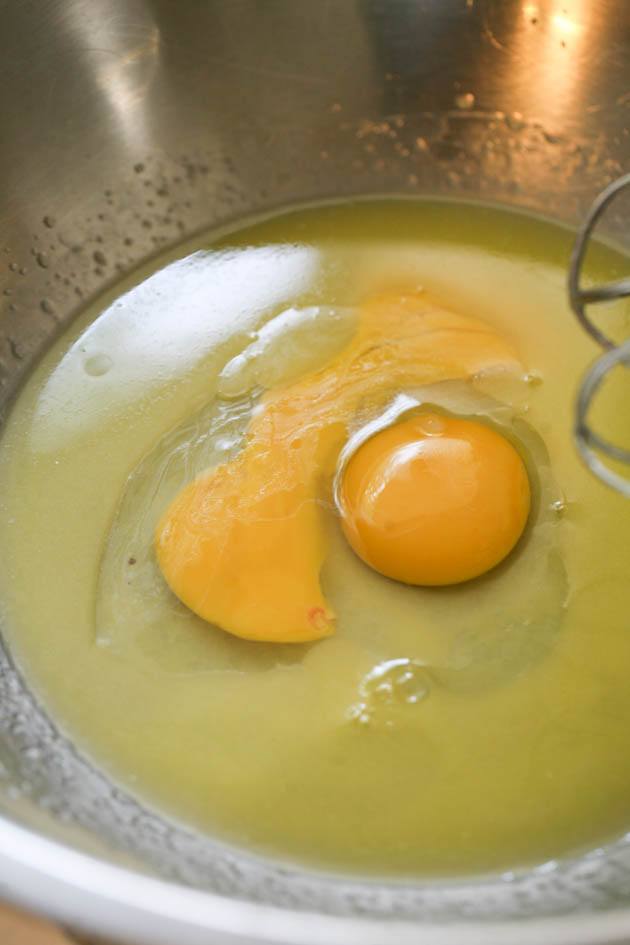 Add two eggs, a tablespoon of vanilla extract, and 1/2 cup of milk and mix them in as well for a couple of minutes. These are our wet ingredients; let's move on to the dry ingredients…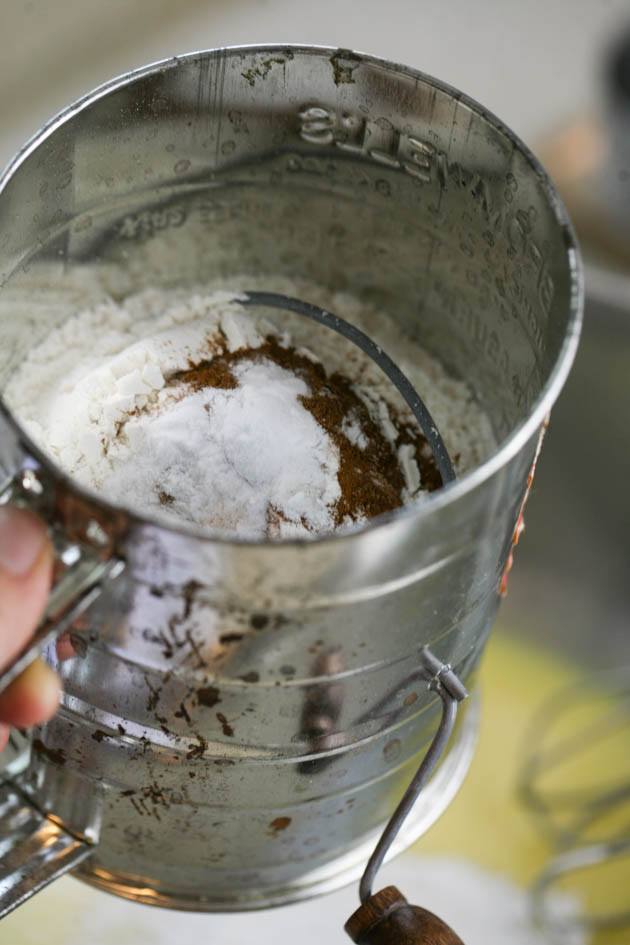 I place all of the dry ingredients in the sifter and sift them onto the wet ingredients. Add 1 3/4 cups of flour (I use white, but you can use whole wheat white flour or just whole wheat), one teaspoon of baking soda, 1/2 teaspoon of cinnamon, and 1/4 teaspoon of salt.
Sift the dry ingredients into the bowl…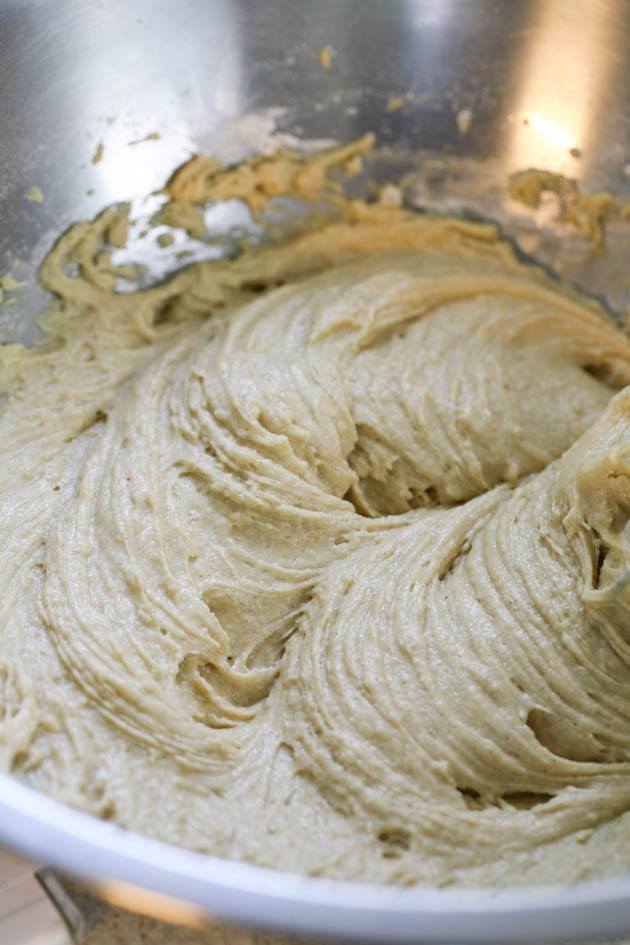 And use the mixer to mix the dry and wet ingredients.
This is a pretty forgiving recipe as far as how much zucchini to use, as long as you don't use more than 2 cups because then the bread is just too moist. I have two zucchinis in the picture above because they were rather small, but you might not need two. It just depends on how large are your zucchinis.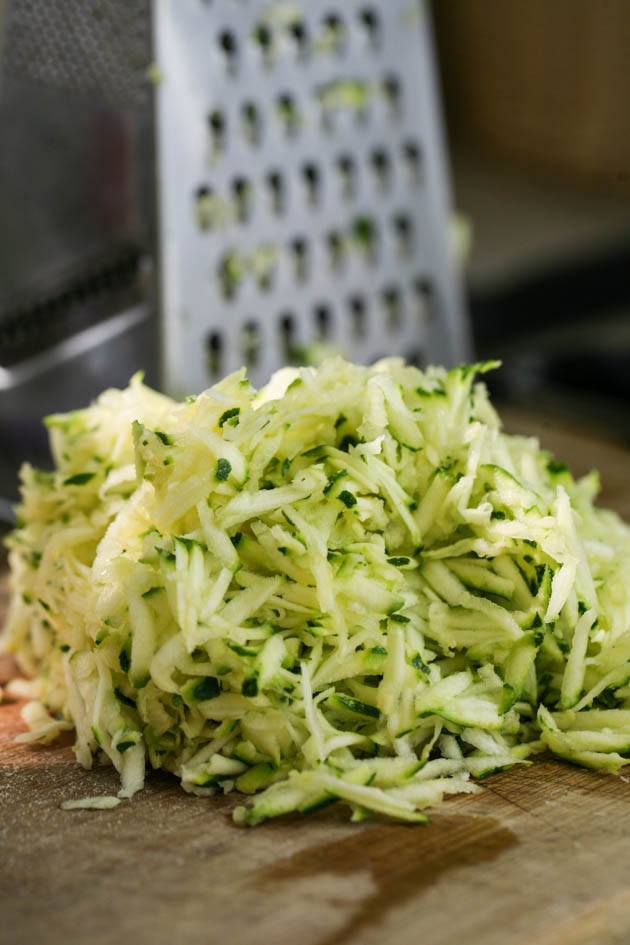 I remove the two ends and grate the zucchinis. I do not peel my zucchinis, there is really no need to do that. Then add 1 1/2 cups of grated zucchini (again, you can try to add a bit more or a bit less it would be fine).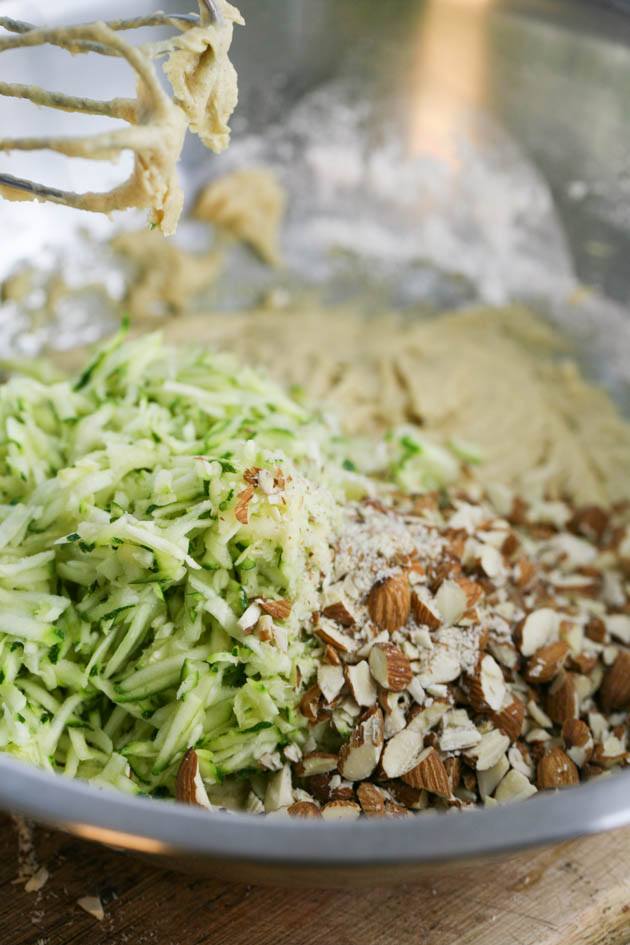 In addition, add up to a cup of almonds, or walnuts, or pecans, or chocolate chips, or raisins if you'd like.
Almonds are great here but other nuts will be great as well. Raisins and chocolate chips make this bread a bit sweeter so I often add those to make it a bit sweeter for my kids. You can also add half a cup of nuts and half a cup of chocolate chips. I do this often and it's very tasty!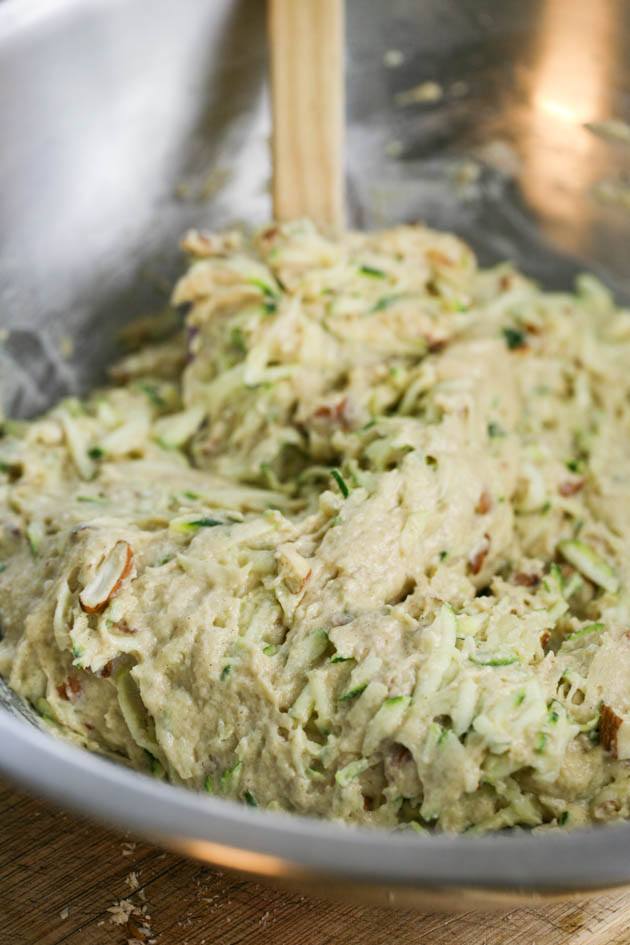 Use a spatula or a wooden spoon to gently mix the zucchini and the add-ins in.
Butter a 9″x5″ loaf pan and pour the batter into the pan. I actually found that it's better to line the pan with parchment paper. It makes it easier to remove the bread when it's ready and it makes for a very easy clean up.
Bake in a pre heated oven for 60-75 minutes.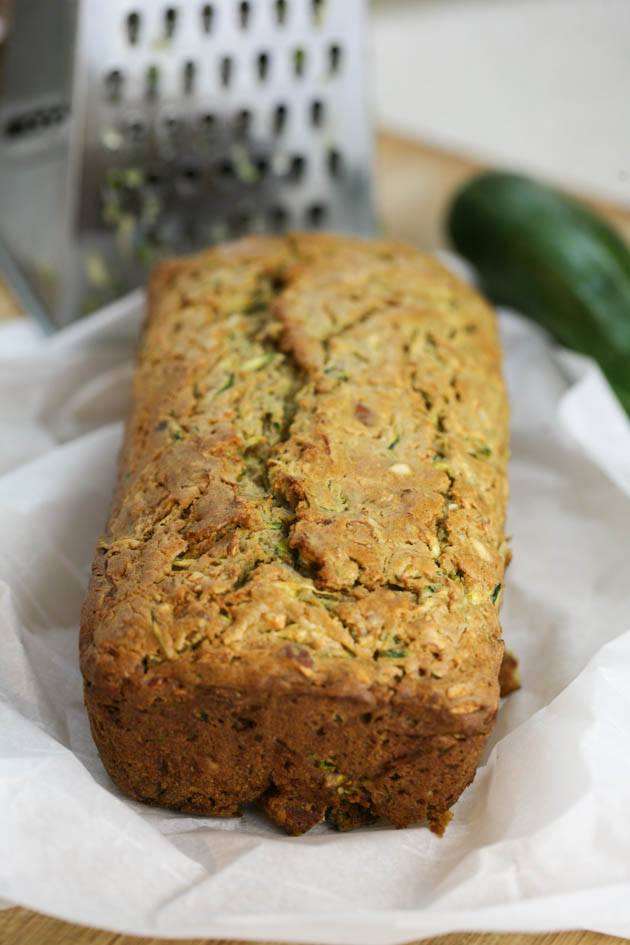 To check if the bread is ready, you can insert a toothpick in the center of it. If it comes out clean then the bread is baked all the way, if it comes out wet then the center is not baked and the bread needs some more baking time.
I usually check if the bread is ready after 60 minutes, but most of the time in my oven, it takes about 75 minutes. Every oven is a bit different so make sure you check your bread after 50 or 60 minutes. After you make it a couple of times you'll know better how long you need to bake it.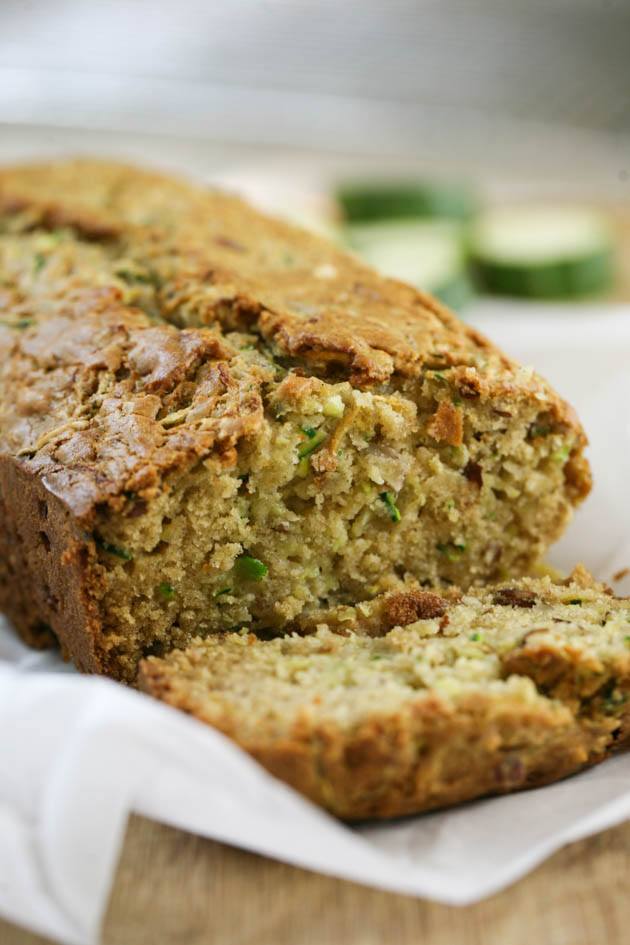 This bread is dense and very moist. If you want to make it a bit dryer you can try to use less zucchini.
Remember that you can always replace the butter with coconut oil, the sugar with 1/2 cup of honey and the flour with a healthier flour. I never tried making it with only whole wheat flour so I am not sure how it will come out but I think a better bet is to replace just half of the amount of flour with whole wheat and leave the other half white flour because this bread is already pretty dense.
If you try to replace the flour let me know how it turned out in the comments below.
If you find that it's not sweet enough for you, you can always drizzle honey on your slice. I have to admit that I sometimes eat it with my chia blueberry jam, or my strawberry or peach jam (all with less or no sugar). I am not sure how zucchini and berries or peaches taste good together but they just do…
In fact, you can't really tell that there is zucchini in there from how it tastes and the zucchini softens during the baking so you don't feel it when you eat this bread.
I usually let it cool for a few minutes after it's done baking. Then I remove it from the pan and set it on a wire rack to cool all the way. When it's cooled all the way, I wrap it well with food plastic wrap and send it to the freezer (don't forget to label it). I take it out of the freezer before I go to sleep and in the morning it's ready for us for breakfast.
It makes a super easy breakfast! I slice it, drizzle some honey on top (sometimes) and serve it with cheese and fruit. It takes me about a minute to make breakfast and it sure helps when you have four kids and a bunch of animals to feed.
In fact, I love to always have loaves of bread in the freezer for easy breakfast or as a snack during the day. I make this healthy banana bread, pumpkin bread, and this zucchini bread every year (Also, check out my Rosh Hashanah honey cake!). Just as I have meat in the freezer I also always have a few kinds of loaves!
Here is another great recipe that I found with agave instead of honey or sugar, should be a good substitute for the sugar as well.
And here is the handy printable…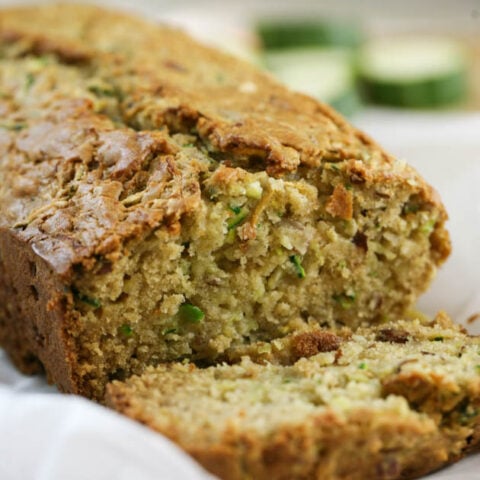 Low Sugar Zucchini Bread
Cook Time:
1 hour
15 minutes
Total Time:
1 hour
30 minutes
Moist, dense, and delicious low sugar zucchini bread that is very quick and easy to put together.
Ingredients
1/2 cup melted butter
1/4 cup sugar
2 eggs
1/2 cup milk
1 tablespoon vanilla extract
1 3/4 cups of all purpose flour
1 teaspoon baking soda
1/2 teaspoon cinnamon
1/2 teaspoon salt
1 cup of add-ins like nuts, raisins, or chocolate chips
1 1/2 cups of grated zucchini
Instructions
Pre-heat oven to 350F.
In a bowl, mix the melted butter and sugar.
Add the eggs, milk, and vanilla extract.
Add the flour, salt, baking soda, and cinnamon into a sifter and sift onto the wet ingredients.
Mix the dry ingredients with the wet ingredients.
Add the add-ins and grated zucchini and mix them in with a spatula or a wooden spoon.
Line a loaf pan with parchment paper and transfer the batter to the loaf pan.
Bake for 60 to 75 minutes. To check if the bread is ready, insert a toothpick in the center of it. If the toothpick comes out clean, the bread is ready.
Let cool slightly after removing from the oven. Then remove the bread from the pan and set on a wire rack to cool all the way. Serve or wrap in food plastic wrap and freeze for later.
Notes
To make this bread even healthier, you can replace the 1/4 cup sugar with 1/2 cup honey and the white flour with whole wheat flour.
If you have any problem with butter you can replace it with coconut oil.
Nutrition Information:
Yield:

9
Serving Size:

1
Amount Per Serving:
Calories:

360
Total Fat:

21g
Saturated Fat:

9g
Trans Fat:

0g
Unsaturated Fat:

11g
Cholesterol:

70mg
Sodium:

405mg
Carbohydrates:

36g
Fiber:

3g
Sugar:

12g
Protein:

8g
Lady Lee is a single mother of four, she was born in Israel and raised in an agricultural commune called a Kibbutz. From a very young age, she was very interested in agriculture and farming.
She is a former IDF fitness trainer and is passionate about simple, natural living. She now lives in NC with her four kids, dog, cat, goats, ducks, and chickens.